Please note that this post may contain affiliate links.
This Thanksgiving week I have been considering the abundant changes in my life and the many things for which I am thankful. I am thankful for my health, my family, my friends, and the incredible gift of loving what I do for a living. I love to cook and I love to write. The fact that I am able to do both as my profession and see the world while doing it, fills me with gratitude each and every day. It's also made me consider 10 reasons cooks have to give thanks this time of year.
In terms of a cook's gratitude, there's nothing that will get the heart of many cooks racing, this one included, than the anticipation of preparing a great meal. Thanksgiving is a very special time as the holiday is intrinsically linked to the grand celebratory feast. It's not solely about serving the meal for me. The shopping, planning, execution, and serving are woven together into one grand event.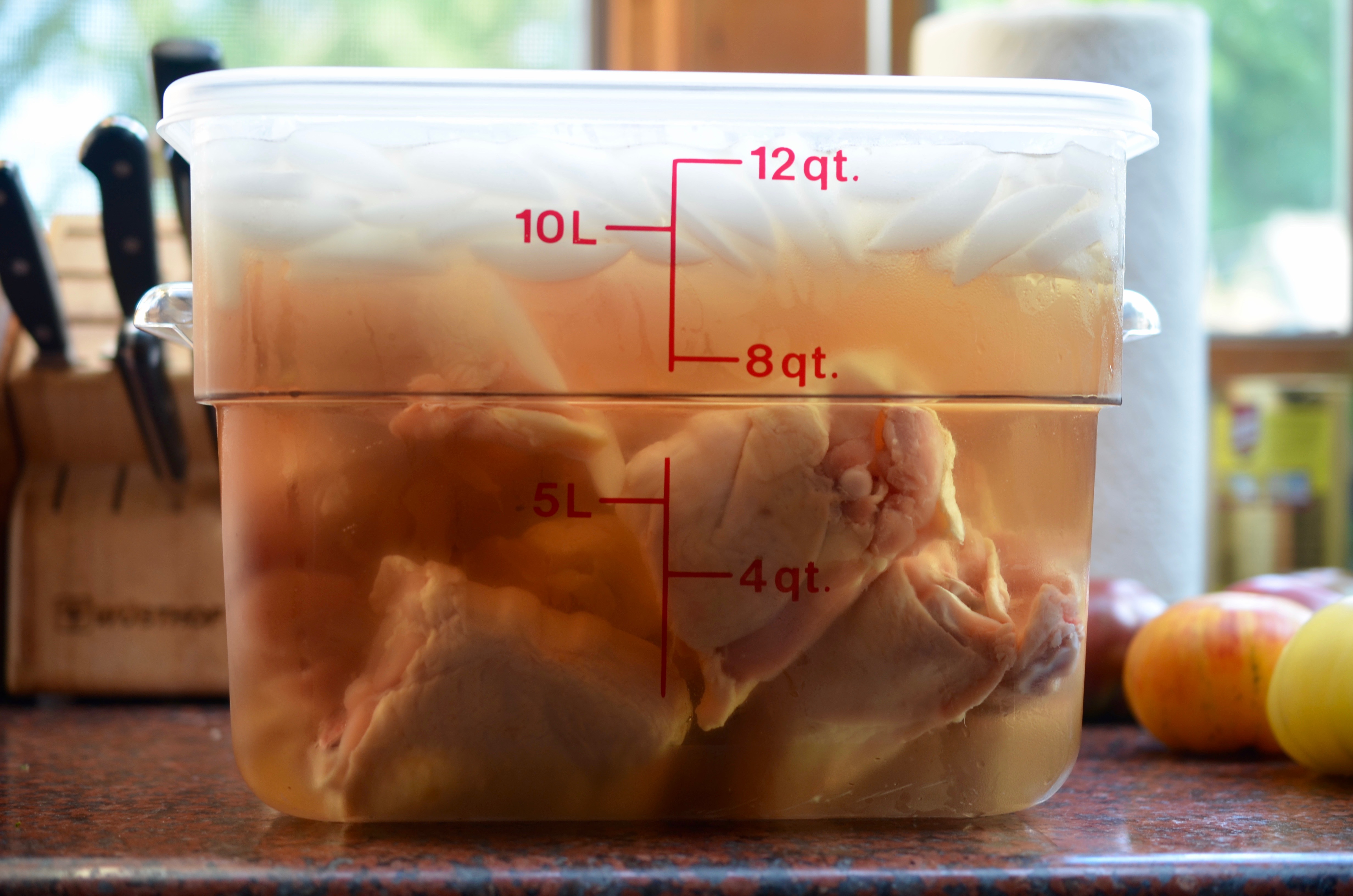 1. I'm very thankful for brining We've all suffered through tasteless dry white meat and rubbery dark meat. Brining to the rescue! Muscle fibers absorb liquid during the brining period. Moisture loss is inevitable when you cook any type of muscle fiber. The heat causes the coiled proteins in the fibers to unwind and then join together with one another, resulting in shrinkage and moisture loss. Normally meat loses about 30 percent of its weight during cooking. But if you soak your turkey in brine first, it reduces the moisture loss during cooking to as little as 15 percent.
For a very basic overnight (12 to 14 hour) brine dissolve 1 cup Diamond Brand Crystal Kosher Salt per gallon of cold water brine in a large stockpot, if storing in the refrigerator or an insulated cooler, if not. Two gallons of water will be sufficient for most birds; larger birds may require three gallons. Add the turkey and refrigerate for overnight. If using a cooler, add ice or freezer packs to keep the bird very cold. Also, salts are different! Remember that 1 cup Diamond Crystal Kosher Salt = 3/4 cup Morton's Kosher Salt = 1/2 cup of table salt.
2. Most professional chefs have an instant-read thermometer tucked in a jacket pocket. They are indispensable when cooking a large beast. The plastic pop-up timers found in many turkeys are terribly unreliable, often resulting in an overcooked bird. According to the USDA the internal temperature must reach a 180° deep in the thigh or 165° in the breast or stuffing. (For more Turkey 101 including brining, roasting, and carving, click here.)
3. I am eternally grateful throughout the year for my cast iron skillet, and especially at Thanksgiving. It's my go-to pan for toasting nuts or baking the cornbread for the Cornbread Dressing.
4. Pecans According to the Georgia Pecan Commission, Georgia leads the nation in pecan production, averaging 88 million pounds each year. That is enough pecans to make 176 million pecan pies! What Thanksgiving dessert buffet would be complete without a Pecan Pie?
5. Brassicas I am oh-so thankful for kale, collards, turnip greens, and mustard greens that are nutritional powerhouses and familiar friends at the Southern Thanksgiving feast. Look for bright-colored, greens without brown spots, yellowing edges, or limp-looking leaves. Be thankful too for flavorful seasonings such as smoked turkey or ham hock for the meat eaters, and smoked salt or chipotle peppers for the vegetarians. Check out my recipe for Collard Greens on Down-Home Comfort on Food Network.
6. Pomegranates signal the holiday season. The brilliant vermillion orbs are only available September through January. Pomegranates are often used as festive table decoration, but this cook knows better! Break them open and sprinkle the seeds, known as arils, on salads for garnish or add a spoonful to sparkling wine for a very festive Thanksgiving toast.
7. Celeriac or celery root is a tannish-brown root vegetable often topped off by a cluster of leafy green stems. (It's not the root to a bunch of celery, but the plants are related and taste very similar.) The thick skin is still often dirty with the soil and must be washed before peeling. Once peeled, the creamy white interior may be used in a variety of ways. Its use is limitless and especially good when cooked with potatoes for a mixed mash, giving simple mashed potatoes a defining layer of flavor.
8. Who isn't thankful for gravy? Drizzled over the Mashed Potatoes, sopped up with a warm flaky biscuit, or served on a sandwich the day after Thanksgiving.
9. Good gravy starts with good stock. Make a thick gelatin-rich stock with bony chicken wings combined with onions, carrots, celery, and a flavorful sachet of parley, bay, thyme and peppercorns. It's full of flavor and will be a welcome addition to many Thanksgiving dishes.
 1o. Lastly, I am thankful for Sweet Potatoes. Good and good for you, sweet potatoes are a must-have on my Thanksgiving table. There are many colors, sizes, shapes, and flavors of sweet potatoes. What are often sold as yams are actually sweet potatoes. Botanically speaking, yams are tubers and members of the lily family. A tuber is essentially an underground stem. Sweet potatoes are roots and members of the morning glory family. Yams originated in Africa, and sweet potatoes are a New World plant.
Bon Appetit, Y'all! 
Virginia Willis 
Sweet Potato Gratin with Herb Crumble
Serves 8
Earthy, rich sweet potatoes are one of fall's most delicious vegetables and pair wonderfully with pecans, one of fall's most delicious nuts. You'll be shocked when you take a bite of this dish. Everyone always assumes they will be hit with a rush of sugar, and yet this sweet potato dish is distinctively full-flavored and savory, a welcome departure from typical marshmallow-topped and bourbon-drenched sweet potato dishes. This recipe utilizes whole wheat pastry flour, which is more nutritionally dense than refined all-purpose flour but also is not as dense and heavy as regular whole wheat flour. Look for Bob's Red Mill whole wheat pastry flour in well-stocked grocery stores. I know Thanksgiving can be tricky. No one wants to give up a favorite dish, but slip this one into the mix and it's certain to become a family favorite.
If you want to take a serious shortcut for this dish, you can substitute one 29-ounce can of pumpkin puree or canned sweet potatoes. The herb-pecan topping tastes equally great with both.
3 large sweet potatoes
½ cup coarsely chopped pecans
½ cup whole wheat pastry flour, plus more for your hands
2 tablespoons freshly grated Parmigiano-Reggiano cheese
½ teaspoon baking powder
¼ teaspoon fine sea salt, plus more for seasoning
¼ teaspoon freshly ground black pepper, plus more for seasoning
3 tablespoons 2 percent milk
1 tablespoon pure olive oil
1 tablespoon chopped fresh sage
1 teaspoon firmly packed dark brown sugar
1/8 teaspoon freshly grated nutmeg
Preheat the oven to 400°F. Line a rimmed baking sheet with a silicone mat or parchment paper. (This will help with cleanup.) Spray a 2-quart shallow baking dish with nonstick cooking spray. Set aside.
Using a fork, pierce the sweet potatoes in several places and place on the prepared baking sheet. Bake until fork-tender, about 50 minutes. Remove to a rack to cool.
When the potatoes are almost tender, prepare the topping: In a small bowl, combine the chopped pecans, flour, Parmesan, baking powder, salt, and pepper. Stir to combine. Add the milk, oil, and sage. Stir until well combined. Set aside.
When the sweet potatoes are cool enough to handle, peel the potatoes, discarding the skin. Place the pulp in large bowl. Add the brown sugar and nutmeg. Season with salt and pepper. Smash the potatoes with a potato masher until chunky.
Transfer the sweet potatoes to the prepared baking dish. Lightly flour your hands and crumble the topping in small, cherry size pieces on top of the sweet potatoes. Transfer to the oven and bake until golden brown, about 30 minutes. Serve immediately.
Order Lighten Up, Y'all and I'll send you a signed bookplate! 
If you are interested in having me speak to your company or hosting me for a cooking class or a book signing, let me know! Send an email to info@virginiawillis.com and we'll be back in touch as soon as possible.
Please be nice. Unauthorized use and/or duplication of this material without permission is prohibited. All photos and content are copyright protected. Please do not use photos without prior written permission. If you wish to republish this recipe, please rewrite the recipe in your own words and link back to this recipe on virginiawillis.com. Thanks so much.
Photography by Angie Mosier
Want to keep up with my culinary wanderings and wonderings?
Lets connect on Facebook , Twitter, Instagram, and Pinterest!
Please note that this post may contain affiliate links.