Please note that this post may contain affiliate links.
Can You Eat Raw Asparagus?  Yes, You Can!

Funny how things work. I never really cared for asparagus, but since I lived for a time in prime asparagus country, where it's known as "Hadley Grass" in Western Massachusetts, I can't get enough of it. Coming to love asparagus makes me realize sometimes things just need a fresh look.
Fresh Asparagus
Most often asparagus is simmered in water, or perhaps grilled or broiled. This salad is completely raw, which is something really fresh and different. The lemon gives the salad real punch, the pine nuts a nice fatty richness, and the parmesan rounds it all out with a lovely sharp mouthful of umami. There's no fancy equipment needed, just the swift use of an old-fashioned sharp vegetable peeler. It's pretty simple stuff. Good ingredients, just enough done to them to maximize flavor without going overboard. It's a new perspective on things. I hope you enjoy and thanks for reading.
Bon Appétit Y'all!

Virginia Willis
Raw Asparagus and Lemon Salad
Ingredients
Zest of 1 lemon

Juice of 1 lemon

1

small shallot

very finely chopped

1

teaspoon

Dijon mustard

1

tablespoon

pine nuts

toasted

1

pound

asparagus spears

tough bottoms removed

2

tablespoons

extra-virgin olive oil

1/4

cup

loosely packed shaved Parmesan cheese

1

tablespoon

coarsely chopped fresh Italian parsley leaves

Coarse kosher salt and freshly ground black pepper
Instructions
Combine the lemon zest, lemon juice, shallot, mustard, and salt and pepper in a bowl. Meanwhile, toast the pine nuts in a medium pan over medium heat, stirring often, until golden brown, 3 to 5 minutes. Remove to a small bowl to cool.

Using a vegetable peeler, thinly slice the asparagus lengthwise into strips and place in a large bowl. (If you have any trouble peeling the asparagus, place the spear on the flat wooden handle of a spatula. This will lift it high enough to allow the peeler to move freely.)

Whisk the olive oil into the lemon-vinegar mixture in a thin and steady stream. Taste and season the dressing with salt and pepper.

Add the reserved pine nuts, dressing, half of the Parmesan, and the parsley to the asparagus and toss to combine. Taste and season with salt and pepper. Let sit at least 10 minutes before serving.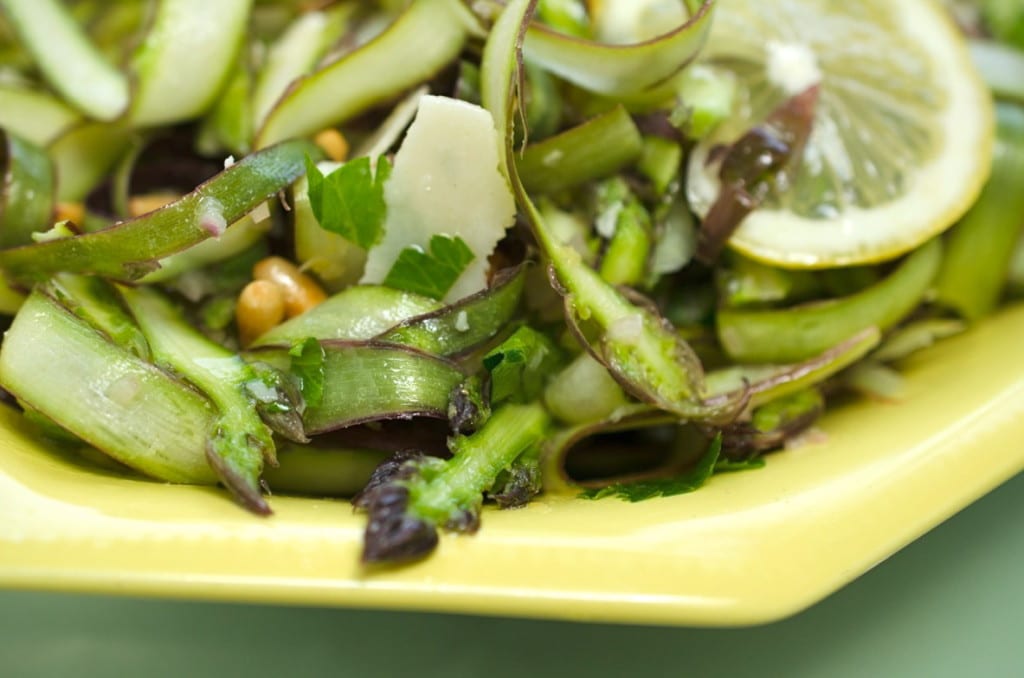 Please be nice. Unauthorized use and/or duplication of this material without permission is prohibited. Feel free to excerpt and link, just give credit where credit is due and send folks to my website, virginiawillis.com. Thanks so much.
Want to keep up with my culinary wanderings and wonderings? Lets connect on  Facebook, Twitter, Instagram, and Pinterest.

Please note that this post may contain affiliate links.