Please note that this post may contain affiliate links.
When my dear grandmother was alive and I would come home to visit, it did not matter if it was 2:00 in the morning or 2:00 in the afternoon—I would walk in the door and she would be standing at the stove frying chicken for me. Yes, clearly I was spoiled absolutely rotten. But also I think it's pretty clear how I feel about the subject: there are few foods in this world I love as much as I love as Southern Fried Chicken. 
Last meal request? Fried Chicken.
Tired and grumpy?  Fried Chicken.
Homesick and missing Mama? Fried Chicken.
Celebrating a momentous occasion? Fried Chicken.
Wait, what? Where'd Lighten Up, Y'all go?
Well, here's the deal and I even write about it in the headnote for Oven Fried Chicken on a Stick in Lighten Up, Y'all. Oven fried chicken is NOT Fried Chicken. It's a good substitute, but we all know that a Broadway understudy is really, really good, but just not quite the star that everyone wants to see.
Fried Chicken is so loved in the South it's become a caricature, a cartoon. But, to define Southern Food by only Fried Chicken is a gross oversimplification. Especially when there's fast food fried chicken, gas station fried chicken, and grocery store fried chicken, none of which can hold a candle to real honest-to-goodness homemade skillet fried chicken. So, I save my calories for incredible fried chicken, not mediocre fried chicken. Southern Fried Chicken is serious business. And, if you thought there was only one Southern classic, I would simply remind you that there are as many Southern Fried Chicken recipes as there are Southern grandmothers.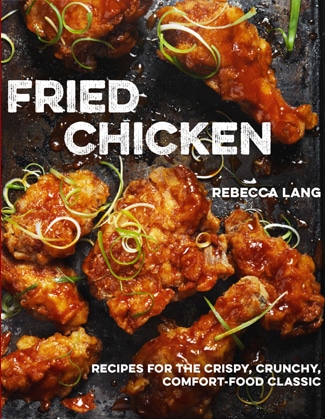 As if I didn't love her enough, my dear and wonderful friend Rebecca Lang has written an entire book that celebrates and glorifies my favorite Southern recipe, Fried Chicken: Recipes for the Crispy, Crunchy, Comfort-Food Classic. Rebecca is one of my absolute favorite people on this planet. She is smart, beautiful, kind, talented, sweet, sassy, a great cook, and a positively brilliant cookbook author.  Her latest book goes straight to my heart! A whole book dedicated to Fried Chicken!
She covers all the Southern favorites such as Buttermilk-Soaked Fried Chicken, Fried Chicken Smothered in Gravy, and Nashville-style Tennessee Hot Chicken. Yet she goes beyond Southern Fried Chicken and explores international fried chicken—fried chicken from Saigon, China, Brazil, Mexico, and Korea. She's even created a Gluten Free Fried Chicken!
The photography is mouthwateringly beautiful and these recipes are guaranteed to work. She's a diligent and expert recipe tester and cooked through a whole hen house to make sure these recipes are the best they can be. This is the end-all, be-all book if you want to know how to fry chicken.
This blog post, as Rebecca's lovely book, celebrates Fried Chicken. To tantalize your taste buds, I'm including Rebecca's recipe for Chinese Lollipop Chicken and my recipe for my grandmother's classic Southern Fried Chicken. And, at the end, I am sharing a short photo tutorial on "How to Cut Up a Chicken. I find it's cheaper to buy a whole bird and break it down yourself.
Bon Appétit Y'all!
Virginia 
Southern Fried Chicken
Serves 4 to 6
1 (4-pound) chicken, cut into 9 pieces (see below)
Coarse kosher salt and freshly ground black pepper
2 cups all-purpose flour, plus more if needed
1/4 teaspoon cayenne pepper
2 cups canola oil
Season the chicken generously with salt and pepper. Set aside. Place the flour in a shallow plate and season with cayenne, salt, and pepper. Set aside. Line a baking sheet with several layers of paper towels. Heat the oil in a large skillet, preferably cast iron, over medium-high heat until the temperature measures 375°F on a deep-fat thermometer.
Meanwhile, to fry the chicken, starting with the dark meat (since it takes longer to cook) and working one piece at a time, dredge the chicken in the seasoned flour, turning to coat. Shake to remove excess flour. Reserve any leftover seasoned flour for the gravy.
One piece at a time, slip the chicken into the hot fat without crowding; the fat should not quite cover the chicken. Adjust the heat as necessary to maintain the temperature at 375°F. At this stage, a splatter guard (a wire cover laid over the pan) may prove useful to contain the hot grease. The guard lets the steam escape, while allowing the chicken to brown nicely.
Fry the pieces, turning them once or twice, until the coating is a rich, golden brown on all sides, 10 to 14 minutes. Decrease the heat to medium-low and cover the skillet. Continue cooking until the chicken is cooked all the way through and the juices run clear when pricked with a knife, an additional 10 to 15 minutes. (An instant-read thermometer inserted into a thigh should register 170°F.) Remove the pieces and drain on the prepared baking sheet. (Do not hold the chicken in a warm oven; it will get soggy.) Enjoy immediately.
Rebecca's Chinese Lollipop Wings 
Serves 4
1 (2-inch) piece fresh ginger, peeled and sliced 
1
1
⁄
2 
teaspoons kosher salt 
1 tablespoon hot chile sauce, such as Sriracha 
2 teaspoons light sesame oil 
3 tablespoons all-purpose flour 
1
⁄
2 
teaspoon ground white pepper 
2 pounds chicken drumettes 
Peanut oil, for frying 
Cilantro, chopped, for serving
To make the marinade, process the garlic and ginger in a food processor fitted with the metal blade until finely chopped. Add the 
salt, chile sauce, soy sauce, sesame oil, egg, cornstarch, flour, and pepper and pulse twice to combine. Transfer the marinade to a 
large mixing bowl. 
To form the lollipops, grab the exposed bone at the end of each drumette and use a paring knife to push all of the meat to the other 
end, exposing the bone and forming a rounded lump of meat at one end (to look like a lollipop). The bone should be stripped of all 
meat to form about a 1-inch stick for the lollipop. Transfer the chicken to the bowl with the marinade, toss to coat, cover, and 
refrigerate for 1 hour. 
In a deep fryer or large, deep stockpot, heat 2 inches of peanut oil over high heat to 350°F. Set a wire rack over a rimmed baking 
sheet. 
Remove the chicken from the marinade and discard the marinade. Carefully place the lollipops in the hot oil. Fry for 6 to 8 minutes, 
or until golden brown. Maintain a frying temperature of 325°F. Drain the lollipops on the wire rack.  
Serve sprinkled with cilantro.
Reprinted with permission from Fried Chicken, by Rebecca Lang, copyright © 2015, published by Ten Speed Press, an imprint of Penguin Random House LLC. Photographs copyright © 2015 by John Lee. For more information about Rebecca, please visit www.rebeccalangcooks.com
How to Cut Up a Chicken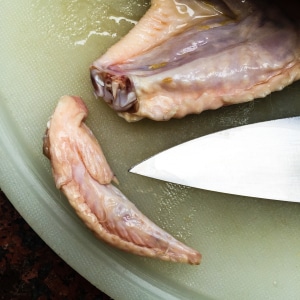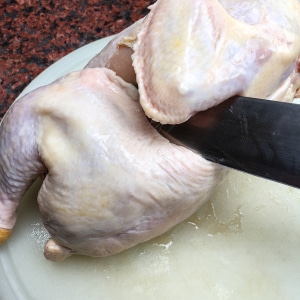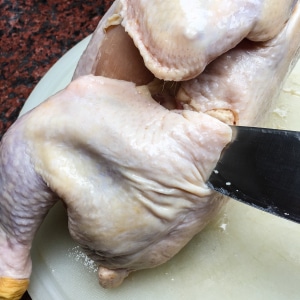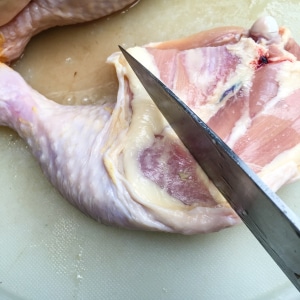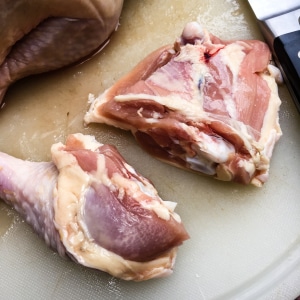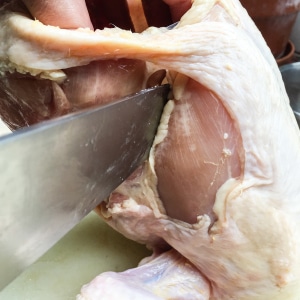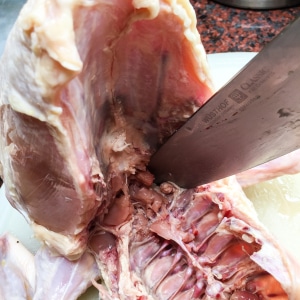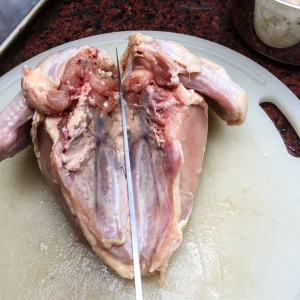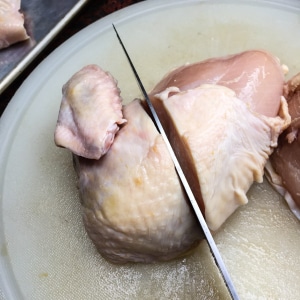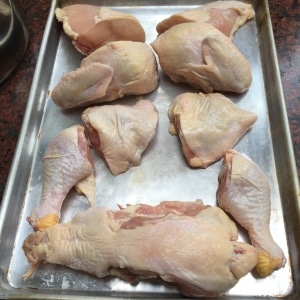 ***
Order Lighten Up, Y'all and I'll send you a signed bookplate!
If you are interested in hosting me for a cooking class or a book signing, let me know! Send an email to info@virginiawillis.com and we'll be back in touch as soon as possible.
Please be nice. Unauthorized use and/or duplication of this material without permission is prohibited. All photos and content are copyright protected. Please do not use photos without prior written permission. If you wish to republish this recipe, please rewrite the recipe in your own words and link back to this recipe on virginiawillis.com. Thanks so much.
photography by Virginia Willis
Want to keep up with my culinary wanderings and wonderings?
Lets connect on Facebook , Twitter, Instagram, and Pinterest!
Please note that this post may contain affiliate links.