Please note that this post may contain affiliate links.
Several weeks ago I was asked by Dr.Oz's website to do a 7-day Vegan challenge. I approached it with a plan of eating as many minimally processed fruits, vegetables, and grains, as possible. I knew that bean, umami-rich vegetable, and toothsome whole grain recipes would the keys to my success.
Whole grains are key part of a healthy lifestyle and balanced diet. Whole grains contain all three parts of the grain or kernel: the bran, endosperm, and germ. Typically, the refining process removes the bran and the germ, leaving only the starchy endosperm.Whole grains are high in fiber and have the highest protein-to-carbohydrate ratio. Protein, along with fiber, helps quell hunger and make us feel full. I knew that if my family was going to give up all animal products for the week, I needed to make sure we still felt satiated.
I realized over the course of the week that I can do without meat, but dairy is my weakness. I drink 2% milk in my coffee. Milk is the rich, creamy liquid from a cow. Flax, almond, quinoa, soy, rice, and coconut milk are not. (Before anyone gets frothed up and faux-milk flustered, the great thing about me not particularly liking vegan milk means there's more for you.)
To be honest, being vegan felt a bit limiting, but it was also truly enlightening. I relish experimenting and trying new things with food. Kathy Hester's incredible Oatmeal "Sausage" Crumbles made from steel-cut whole grain oats (as seen below) are definitely something I will make again. It was really cool to try steel-cut whole grain oats in a new way.
Always on the lookout for healthful inspiration and whole grain recipes, one of my absolute new favorite books is Simply Ancient Grains: Fresh and Flavorful Recipes for Living Well by Maria Speck. Maria's first book, Ancient Grains for Modern Meals was a beautiful, ground-breaking, award-winning cookbook. It's very exciting to see her next culinary exploration into whole and ancient grains.
Some less-practiced cooks might worry that whole and ancient grains are too difficult and time-consuming to prepare. No worries. Maria's Two-Step method of cooking grains, the technique of par-cooking the grains to speed things up, makes it easier to add whole grains to meals, especially for today's time-strapped families. In Simply Ancient Grains, Maria has created easy and accessible ancient whole grain recipes for breakfast, lunch, dinner, and dessert that are both interesting and inspiring. I promise you this – Maria's recipes will make you hungry; Maria's recipes will make you want to cook.
What are "ancient" grains? All whole grains in the larger sense are "ancient" — they all can trace their roots back to the beginnings of time. However, ancient grains are loosely defined as grains that are mostly unchanged over the last several hundred years and are largely intact, as opposed to grains that have been extensively modified and cross-bred in recent years. Ancient grains are becoming increasingly popular because they are a high plant-based protein and many are gluten-free, including quinoa, oats, and millet, the grains I am featuring in this post.
This post's whole grain recipes include my recipe for BBQ Meatballs. Everyone loves a meatball! Even vegans make "meatballs" out of lentils! They are always a popular hors d'oeuvre at a party and can also be easily made ahead and reheated. Meatballs are present at everything from baby showers to SEC football tailgates all across the South. In this version I sub the super whole grain quinoa in place of the typical binder of breadcrumbs, leaner ground turkey for the traditional beef, and bake instead of fry. The results are lighter, healthier, and more nutritionally dense than most meatballs — and still absolutely delicious.
I am also sharing Maria's recipe for Lemony Millet Pudding with Caramelized Grapes. It's creamy, rich, and bright with flavor, a great example of the vibrant whole grain recipes in her beautiful book.
Bon Appétit Y'all!
Virginia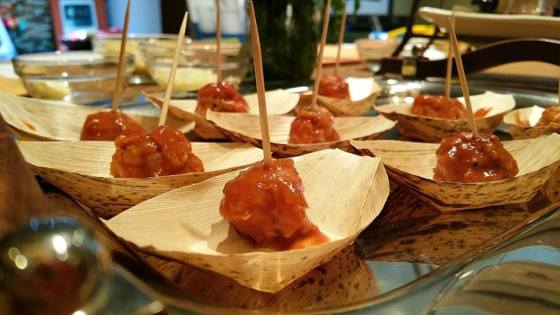 The tasty photo above by Colby Shipwash from DaysofaDomesticDad.com. We met last week at the Type A Parent Blogger Conference in the Best Buy Suite. The attendees, including those from the Best Buy Blogger Network, loved them and thought their kids would, too. Sounds like a winner to me.
Barbecue Meatballs
Makes 32 to serve 8
2 tablespoons finely chopped sweet onion
1 pound ground turkey
½ cup cooked quinoa
2 tablespoons chopped fresh flat-leaf parsley
1 clove garlic, very finely chopped
Coarse kosher salt and freshly ground black pepper
1½ cups homemade or best-quality BBQ Sauce
Preheat the oven to 400°F. Set an ovenproof rack on a rimmed baking sheet. Spray with nonstick cooking spray and set aside. Place
the onions in a ramekin or microwave-safe bowl and microwave
on medium power until soft and translucent, about 25 seconds. Set aside to cool slightly. Meanwhile, in a large bowl, combine the turkey, onion, quinoa, parsley, and garlic. Season with salt and pepper. Stir to combine with a rubber spatula. (To taste and adjust for seasoning, simply cook a teaspoon or so of the mixture in the microwave.)
To form the meatballs, using a 1-ounce ice cream scoop or a tablespoon measure, scoop out the meat mixture and roll into a ball about the size of a walnut. Place onto the prepared rack. Repeat until all the meat mixture is used up. Transfer to the oven and cook until firm and the temperature reads 165°F on an instant-read thermometer, about 15 minutes. Remove from the oven and let cool slightly. (These can be made ahead up to this point and stored in an airtight container in the refrigerator for up to 3 days.)
Using a spatula, transfer the meatballs to a medium ovenproof baking dish. Pour over the barbecue sauce and shake the pan a bit to roll and coat the meatballs in the sauce.
Serve immediately or return to the oven and cook until the sauce is bubbly, about 10 minutes. Serve with toothpicks or skewers.
Barbecue Meatballs
Calories 155
Fat 8 g
Carbs 12 g Fiber .5 g Protein 11 g
Lemony Millet Pudding with Caramelized Grapes
SERVES 6
MILLET
1 cup water
1⁄2 cup millet
2⁄3 cup whole or low-fat milk
1⁄2 teaspoon vanilla extract
Pinch of fine sea salt
PUDDING
3⁄4 cup dry white wine such as Pinot Grigio, or apple juice
1⁄4 cup honey
2 tablespoons turbinado sugar
2 cups halved seedless grapes, preferably red or purple (about 10 ounces), plus about 1⁄4 cup (2 ounces) for garnish
3 whole cloves or a pinch of ground cloves
1 (4 by 1⁄2-inch) strip lemon zest, white pith removed
1 1⁄2 cups whole milk Greek yogurt
2 tablespoons limoncello or apple juice, or more as needed
1 1⁄2 teaspoons finely grated lemon zest, plus a little more for garnish
To prepare the millet, add the water and the millet to a small heavy saucepan and bring to a boil. Decrease the heat to maintain a simmer, cover, and cook until the water is absorbed, 18 to 20 minutes. Stir in the milk, vanilla, and salt. Return to a simmer, cover, and cook until the liquid is absorbed, about 10 minutes more. Remove from the heat and let sit, covered, for 5 minutes. Uncover and allow to cool for about 25 minutes.
While the millet is cooling, make the pudding. Add the wine, honey, sugar, grapes, cloves, and the zest strip to a heavy medium saucepan. Bring to a boil over medium- high heat, stirring gently a few times for the sugars to dissolve, then cook at a lively simmer for about 2 minutes to just soften the grapes.
Gently tip the grapes into a sieve, placed over a medium bowl to retain the liquid. Return the liquid, including the cloves and the zest, to the pot and bring to a boil. Cook at a vigorous simmer, adjusting the heat as needed, until the syrup starts to caramelize and turns a deep amber color, 7 to 9 minutes. Remove the pan from the heat and set aside to cool for about 15 minutes.
To finish the pudding, be sure that both the millet and the syrup are not more than slightly warm to the touch. Remove the zest strip and the cloves from the syrup (you will have about 1⁄2 cup); set aside 2 tablespoons of the syrup for garnish. Add the remaining syrup, the yogurt, limoncello, and grated zest to a medium bowl and beat with a wooden spoon until smooth. Fluff the millet with a fork and stir it into the yogurt mixture. Gently stir in the grapes as well. Divide the dessert between six bowls and chill, covered with plastic wrap, for 2 hours to allow the flavors to mingle.
When ready to serve, garnish each bowl with a few grape halves. Spoon a bit of the reserved syrup on top (stir in a teaspoon of boiling water to loosen it if needed) and garnish with a bit of lemon zest.
Reprinted with permission from Simply Ancient Grains by Maria Speck, copyright (c) 2015. Published by Ten Speed Press, a division of Penguin Random House, Inc. 2015. 
If you are interested in hosting me for a cooking class or a book signing, let me know! Send an email to info@virginiawillis.com and we'll be back in touch as soon as possible.
Please be nice. Unauthorized use and/or duplication of this material without permission is prohibited. All photos and content are copyright protected. Please do not use photos without prior written permission. If you wish to republish this recipe, please rewrite the recipe in your own words and link back to this recipe on virginiawillis.com. Thanks so much.
Quinoa photograph by Angie Mosier
BBQ Meatball photograph by Colby Shipwash
Millet Pudding photograph by Erin Kunkel
Want to keep up with my culinary wanderings and wonderings?
Lets connect on Facebook , Twitter, Instagram, and Pinterest!
Please note that this post may contain affiliate links.