Please note that this post may contain affiliate links.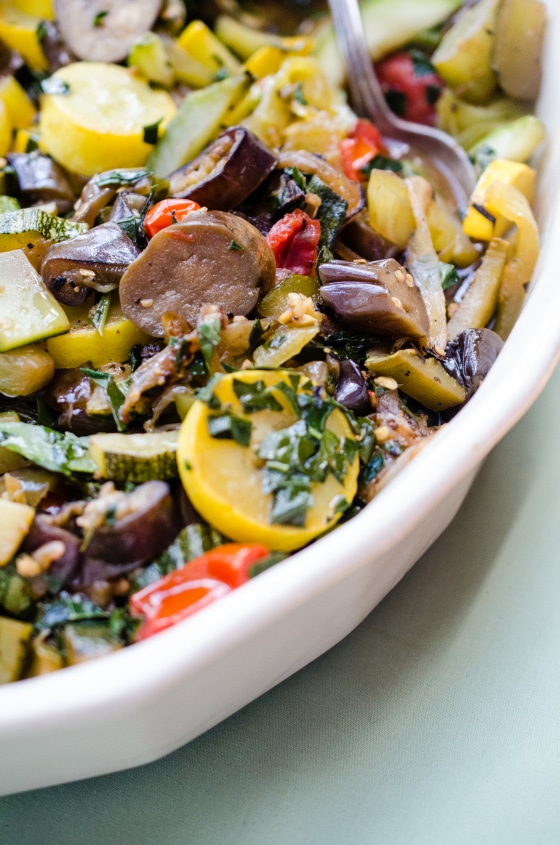 A recent evening's garden harvest rewarded me with the ingredients for a vibrant, tasty, and easy summer ratatouille — as well as the realization that the garden has suffered a bit from all of our recent travel. Much of the broccoli is flowering and the collard green leaves have grown large and tough. The chili peppers have had a bit too much competition with the weeds, yet there are a couple of scraggly volunteer cherry tomato plants that will likely continue to perpetuate until the end of time. The summer squash are doing sub-par, which thankfully means they are producing amounts that we can keep up with! I do get extreme garden guilt when I see our little patch choked with weeds. As a cook, there's nothing more satisfying to me than harvesting from the garden and walking immediately into the kitchen to prepare it. The vegetables sing and easy summer ratatouille is the perfect way to save the flavors of the season.
One vegetable that's done rather well despite neglect is eggplant. This year we planted six different varieties of eggplant, including this Little Finger Eggplant, seen above and the purple striped eggplant below. I adore eggplant. At a typical grocery store, shoppers have grown accustomed to finding one or two different types of eggplant: Italian, which is the large smooth, black bell-shaped and sometimes, maybe, depending on the store, there also might be small display of long, skinny violet-hued Asian eggplant. Why is there such a difference of what's in our gardens and what's available at a typical grocery store?
How is it that typical grocery stores have everything all at once, and small, specialized co-ops only contain what's in season? It's pretty simple. Essentially, the post WWII approach to food and agriculture has been that size, durability for shipping, and appearance are far valued over flavor and seasonality. Modern agriculture has effectively narrowed the varieties of fruits and vegetables available for purchase to most people, and the result is that consumers and cooks have often forgotten that there are multiple varieties of individual vegetables. Folks are limited because they  rarely know any different, and we all don't have the ability to have a garden, growing and cooking our own food. The availability of certain vegetables is reflected in  this Endangerment Meter.

Imagine the produce department at the grocery store and consider the tomato section. Regardless of the time of year, very often there's an installation of perfectly red, perfectly round globes of tomatoes and stacks of ready-to-eat pint containers of grape or cherry. Now, think about the farmer's markets in the summer where there are all sorts of different kinds of tomatoes with exotic names like Cherokee Purple, Green Zebra, Brandywine, and Arkansas Traveler. Those tomatoes don't find their way very often into the grocery store. According to Barry Estabrook, author of Tomatoland: How Modern Agriculture Destroyed Our Most Alluring Fruit,  "For the past 50 years tomato breeders have concentrated essentially on one thing and that is yield." Those exotic heirloom tomatoes aren't durable enough for shipping and don't produce high enough yields to make sense for large-scale farming.
Now, cast your eyes towards the apple section. As consumers, we're still accustomed to seeing different kinds of apples. Even in the smallest little po-dunk market there are often many different kinds of apples: Granny Smith, Red Delicious, MacIntosh, and sometimes a few more. In the fall the gourmet markets and more robust grocery stores will offer Honey Crisp, Gala, and Fuji. Our hyper-local, ultra-seasonal co-op offers up a wide and varied selection of obscure heirloom apples such as Ananas Reinette, Sheep's Nose, and Maiden's Blush from local farms in the fall.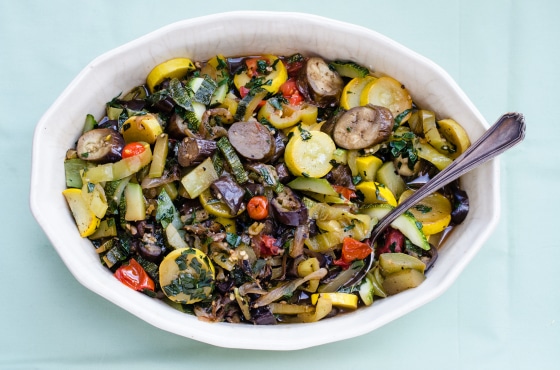 Save the Flavors
As a chef and cookbook author who specializes in creating recipes for home cooks, I want more people to have more accessibility to flavor, more variety, and fewer limitations. I want vegetables that are "scarce" to move up the meter to "abundant." I want to save the flavors in a real and meaningful way.
How can we change this? In my home garden, we very often use the Seeds of Change online catalogue, other heirloom specialty seed companies, and seek out heirloom seedlings at our local nursery. The seeds from Seeds of Change are organic, non-GMO, heirloom or traditional varieties, and the mission of the company is to preserve biodiversity and promote sustainable agriculture. This simple mission very effectively promotes vegetables with flavor.
What can you do? How can you save the flavors? We've got to eat it to save it; we've got to increase demand.
Modern agriculture listens to money — think about how many more organic fruits and vegetables are available in comparison to only 5 years ago. It's because the public demanded it and created a market. The best way to save endangered species is to eat them!
I'm not alone; click here to check out my friend and colleague Hugh Acheson's video (along with another friend, Atlanta Eats Radio Host Mara Davis) promoting Endangered Eats.
This week I am sharing a recipe for Easy Summer Ratatouille, perfect for this time of year, and a great way to save the flavors of summer in your freezer.  It's a bright and flavorful melange of fresh-from-the-garden flavor and a welcome bit of summer sunshine in the cooler months. You'll notice I'm suggesting a total weight for most of the vegetables so you can mix and match the variety you are able to use.
I would also like to suggest that you consider what you can do to save the flavors.  Thanks so much for reading and watching. Take part; seek out unusual varieties of fruits and vegetables. Eat seasonally and make sure to tag your heirloom vegetable dishes with the hashtag #SavetheFlavors
Bon Appétit Y'all! 
Virginia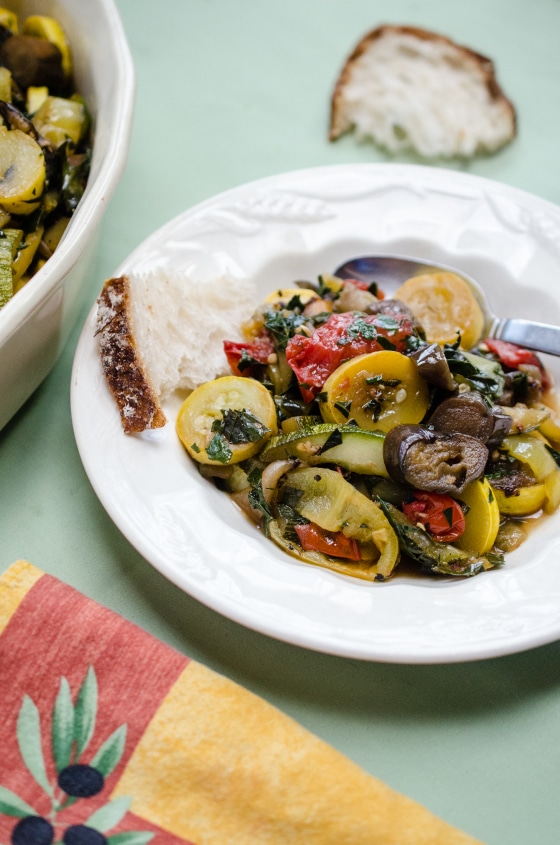 Easy Summer Ratatouille
Serves 6 to 8
The French have ratatouille; the Sicilians, caponata; the Basque, pipérade; Indians, chutney; and Southerners have relish. All nationalities have a way to preserve and save the flavors of summer. Freeze this ratatouille in airtight containers for up to six months to serve later as an appetizer, side dish, or main dish.
Chopped kale and collard greens aren't normally an ingredient in ratatouille, but I love the nod to the food of my people, the increased flavor, and best of all, the addition pumps up the nutritional density.
2 tablespoons pure olive oil
1 onion, chopped
2 cloves garlic, finely chopped
2 pounds eggplant,  cut into ¾-inch cubes
2 pounds green and yellow summer squash, cut into 1-inch cubes
Coarse kosher salt and freshly ground black pepper
¾ cup water
1-2 large sweet peppers, such as red bell, banana, or Hungarian Wax, cored, seeded, and chopped
3 heirloom tomatoes, cored, seeded, and chopped, or 2 cups cherry tomatoes
1/2 cup finely chopped fresh winter greens, such as kale or collard greens
½ cup finely chopped fresh basil
2 tablespoons of sherry vinegar
Heat the oil a large, heavy saucepan with a tight-fitting lid over medium heat. Add the onion and cook, stirring occasionally, until translucent, 3 to 5 minutes. Add the garlic and cook until fragrant, 45 to 60 seconds. Stir in the eggplant: season generously with salt and pepper. Stir fry until lightly browned, 3 to 5 minutes.
Add the water and squash; cover, and simmer, stirring once, until the vegetables are beginning to soften, about 5 minutes. Stir in the peppers; simmer, covered, until softened, about 5 minutes. Stir in the tomatoes and chopped greens;  bring to a boil.
Decrease the heat to medium-low. Partially cover; simmer, stirring often, until the vegetables are just tender, about 8 to 10 more minutes. Remove from the heat.
Just before serving, stir in the basil and splash with vinegar. Taste and adjust for seasoning with salt and pepper. Serve warm, at room temperature, or cold. Or, freeze in airtight containers for up to 6 months.
This is a sponsored post written by me on behalf of Seeds of Change and their Save the Flavors campaign. All opinions are 100% mine. 
***
Order Lighten Up, Y'all and I'll send you a signed bookplate!
If you are interested in hosting me for a cooking class or a book signing, let me know! Send an email to info@virginiawillis.com and we'll be back in touch as soon as possible.
Please be nice. Unauthorized use and/or duplication of this material without permission is prohibited. All photos and content are copyright protected. Please do not use photos without prior written permission. If you wish to republish this recipe, please rewrite the recipe in your own words and link back to this recipe on virginiawillis.com. Thanks so much.
Photography by Virginia Willis
Want to keep up with my culinary wanderings and wonderings?
Lets connect on Facebook , Twitter, Instagram, and Pinterest!
Please note that this post may contain affiliate links.