Please note that this post may contain affiliate links.
Tips on Preventing Food Waste – Reduce, Reuse, Recycle — and Rethink! 


I have a near daily ritual in that I scope out the fridge and repurpose what needs to be eaten, compost what needs to go, and freeze what needs to chill out until a later date. I make stock of some sort from those bits and pieces that make sense. And, of course, there's a small amount that's past its prime. It's a smart habit, one that I heartily encourage.
Cooking from scratch can be expensive. I know I'm guilty of being seduced by produce at the farmer's market or a sale at our local co-op. I know I wind up with more than we can eat every now and then. Other than a goal of not creating scary science experiments, I strongly feel it's a crime to waste food, and an expensive one, too.
Recently, we had a lot of friends and family in town and after the dust cleared I spent a day puttering about the kitchen and turning old into new. Nearly limp vegetables were grilled for salad and slightly bruised berries and stone fruits were made into smoothies
Planning Tips for Preventing Food Waste
Planning, prepping, and storing food can help your household waste less food. Below are some tips to help you do just that:
By simply making a list with weekly meals in mind, you can save money and time and eat healthier food. If you buy no more than what you expect to use, you will be more likely to keep it fresh and use it all.
Keep a running list of meals and their ingredients that your household already enjoys. That way, you can easily choose, shop for and prepare meals.
Make your shopping list based on how many meals you'll eat at home. Will you eat out this week? How often?
Plan your meals for the week before you go shopping and buy only the things needed for those meals.
Include quantities on your shopping list noting how many meals you'll make with each item to avoid overbuying. For example: salad greens – enough for two lunches.
Look in your refrigerator and cupboards first to avoid buying food you already have, make a list each week of what needs to be used up and plan upcoming meals around it.
Buy only what you need and will use. Buying in bulk only saves money if you are able to use the food before it spoils.

Banana Mango Muffins
Overly ripe fruit can be tricky. I am pretty persnickety about bananas. I only eat bright yellow and firm bananas. I had to take a medicine when I was a little girl that was banana flavored. The result? For most of my life, I have despised bananas. I saw the light and changed my ways a few years ago. Now, I always keep bananas in the kitchen and when I have bananas past their prime, I make banana bread.
It's also an easy and automatic way to transform brown, spotty, mushy fruit into a delicious quick bread or muffins. We also had a mango left over so I chopped it up and added it to the batter, as well. Since I added the mango and knew it would contribute moisture, I also knew I needed to back off on the butter.
Fruit flies be gone! With just a little effort I had breakfast muffins for the family. Reuse, reduce, recycle — and rethink. I hope you enjoy this recipe as much as we did.
Bon Appétit Y'all! 
Virginia
For more food waste tips check out my blog post with the James Beard Foundation.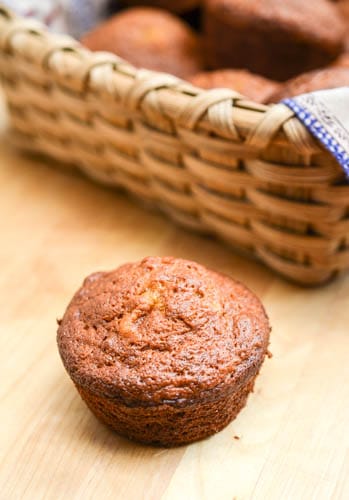 Banana Mango Muffins
The recipe calls for 1 cup of flour. To amp up the nutrition, I sometimes will substitute half with whole wheat pastry flour. It needs to be pastry flour, however, not regular whole wheat flour. Regular whole wheat flour will produce a heavy dense pucket-muffin.
Ingredients
nonstick cooking spray

3/4

cup

sugar

1/2

cup

all purpose flour

1/2

cup

whole wheat pastry flour

1

teaspoon

fine sea salt

1

teaspoon

baking soda

2

large eggs

at room temperature

6

tablespoons

unsalted butter

melted

3

ripe bananas

mashed

1

mango

chopped

1/2

cup

chopped pecans
Instructions
Preheat the oven to 350°F. Spray a 12-cup muffin tin with nonstick cooking spray. In a bowl, whisk together the sugar, pastry flour, all purpose flour, salt, and baking soda. Set aside.

Add the eggs, melted butter, then the mashed bananas and diced mango. Add the reserved dry ingredients and pecans and stir to combine. Transfer the batter to the prepared pan.

Bake until a rich, golden brown and the muffin start to pull away from the sides of the muffin tin, 20 to 25 minutes. Transfer to a rack to cool slightly, then invert onto the rack. Serve warm or at room temperature. Store in an airtight container for up to 3 days.
Please be nice. Unauthorized use and/or duplication of this material without permission is prohibited. Feel free to excerpt and link, just give credit where credit is due and send folks to my website, virginiawillis.com. Thanks so much. 
Want to keep up with my culinary wanderings and wonderings? Lets connect on  Facebook , Twitter, Instagram, and Pinterest.

Please note that this post may contain affiliate links.