Please note that this post may contain affiliate links.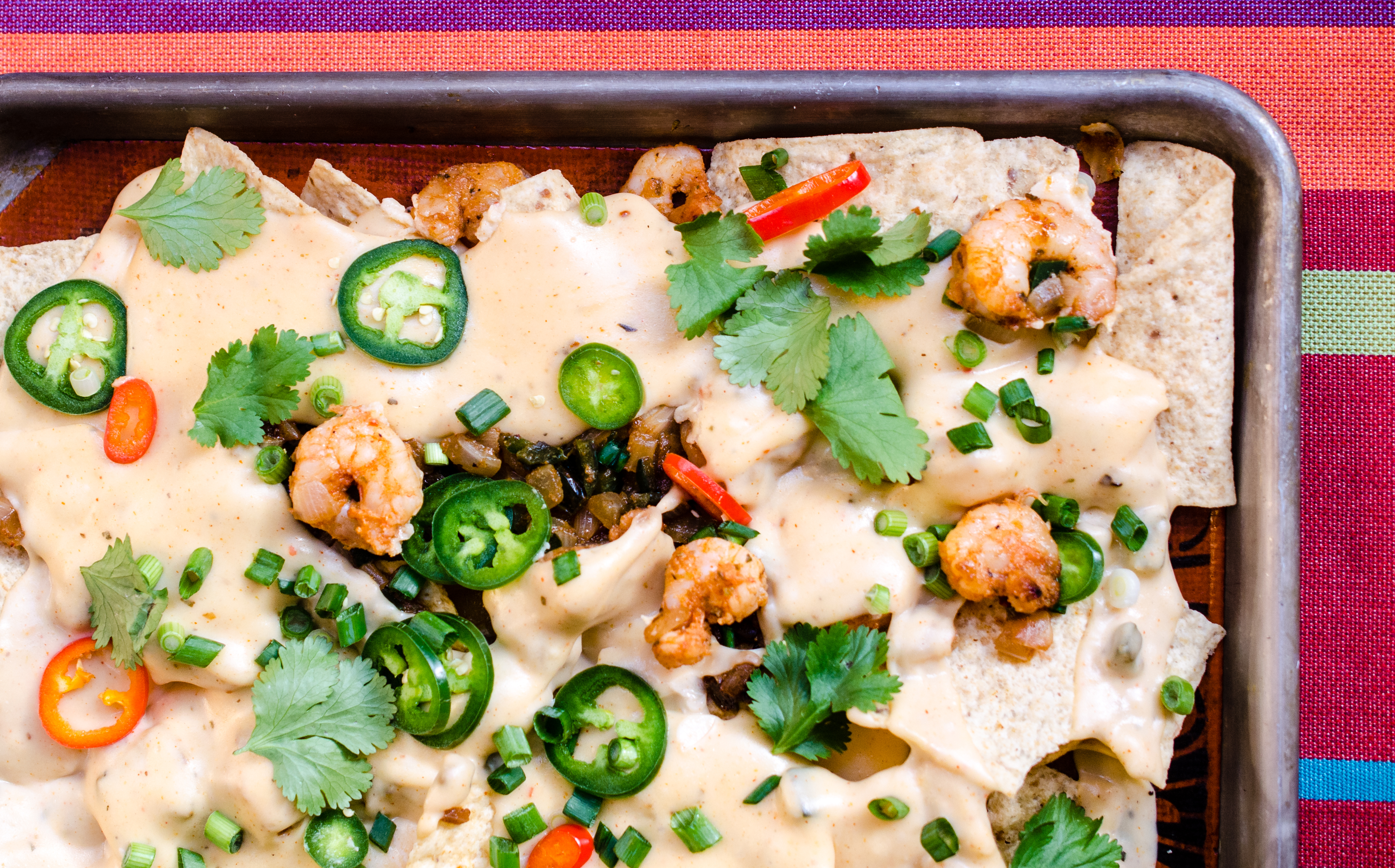 Nachos started as a Mexican snack, have become an American staple — and are absolutely mandatory for The Big Game Day menu. Chips and salsa are one thing, but nachos are on a whole other level. The best part is that nachos are quick and easy – a few vegetables and a bit of protein tossed in a hot skillet, scattered on top of crispy corn tortilla chips, topped with a bit of cheese, and you're good to go. Who doesn't like nachos!!? They're positively craveable.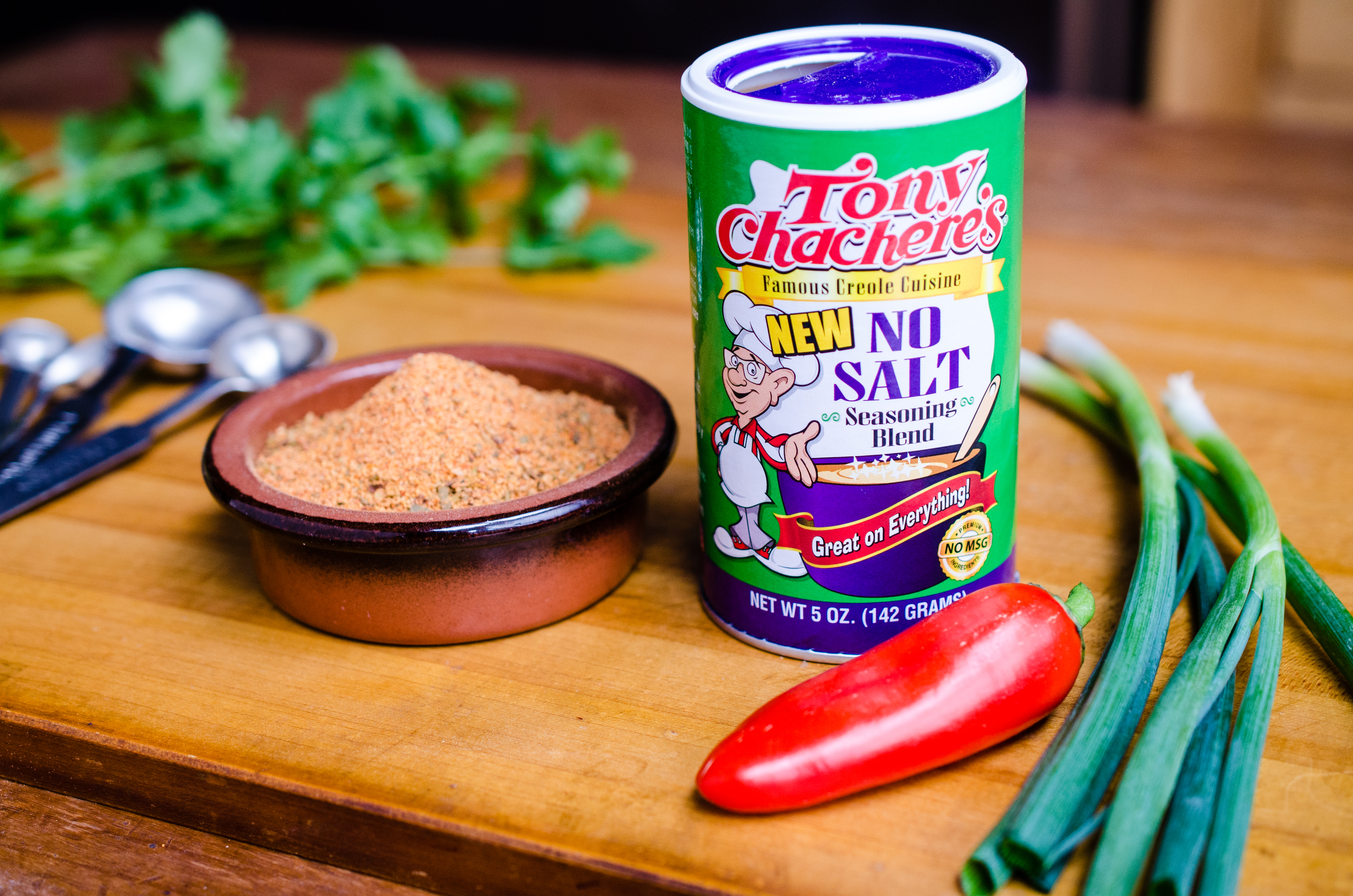 Creole Can DO!
It's so exciting that Super Bowl LIII is in Hot-lanta! One of my favorite ways to give food a little heat is to use Creole seasoning. I use it on chicken thighs, pork chops, turkey tenderloin, and seafood. I was born in Georgia, but I spent my entire elementary school-age experience in Louisiana. Growing up in Creole country had a huge impact on my palate. Our family attended and hosted crawfish and fresh-from-the-Gulf shrimp boils. Mama also cooked different kinds of gumbo, jambalaya, etouffée, and red beans and rice. More often than not this had her reaching for a container of Tony Chachere's Famous Creole Seasoning.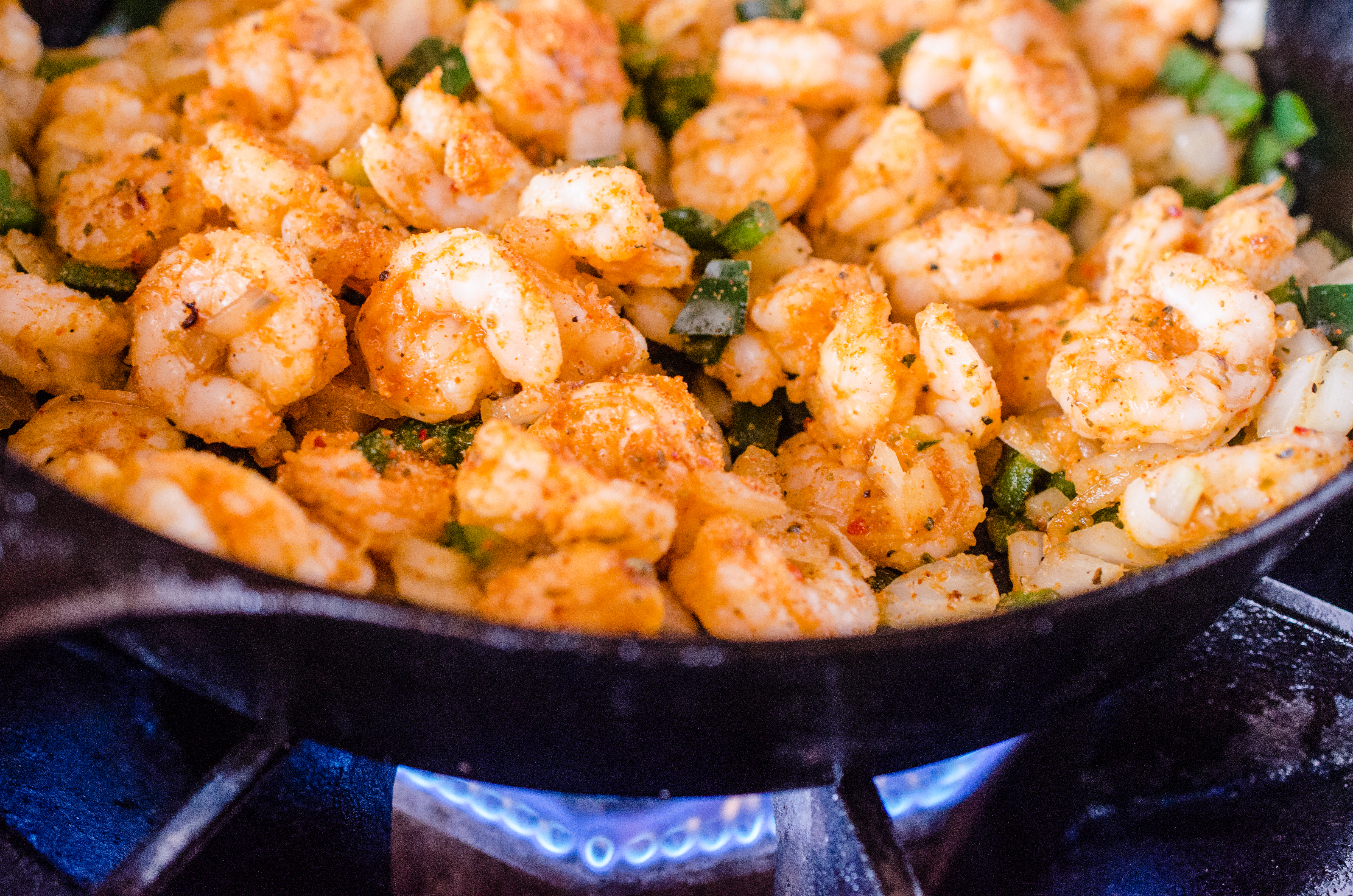 Spice it Up!
Often when I make nachos, I simply sprinkle the cheese on top of the chips and pop them in the oven. What makes nachos first string for the Super Bowl?  Queso! In my recipe for Shrimp Nachos with Creole Queso, I double down on the bold Creole flavor by sautéing the sweet onion, earthy poblano pepper, and tender shrimp with Creole Seasoning and using a heaping tablespoon in the creamy queso sauce.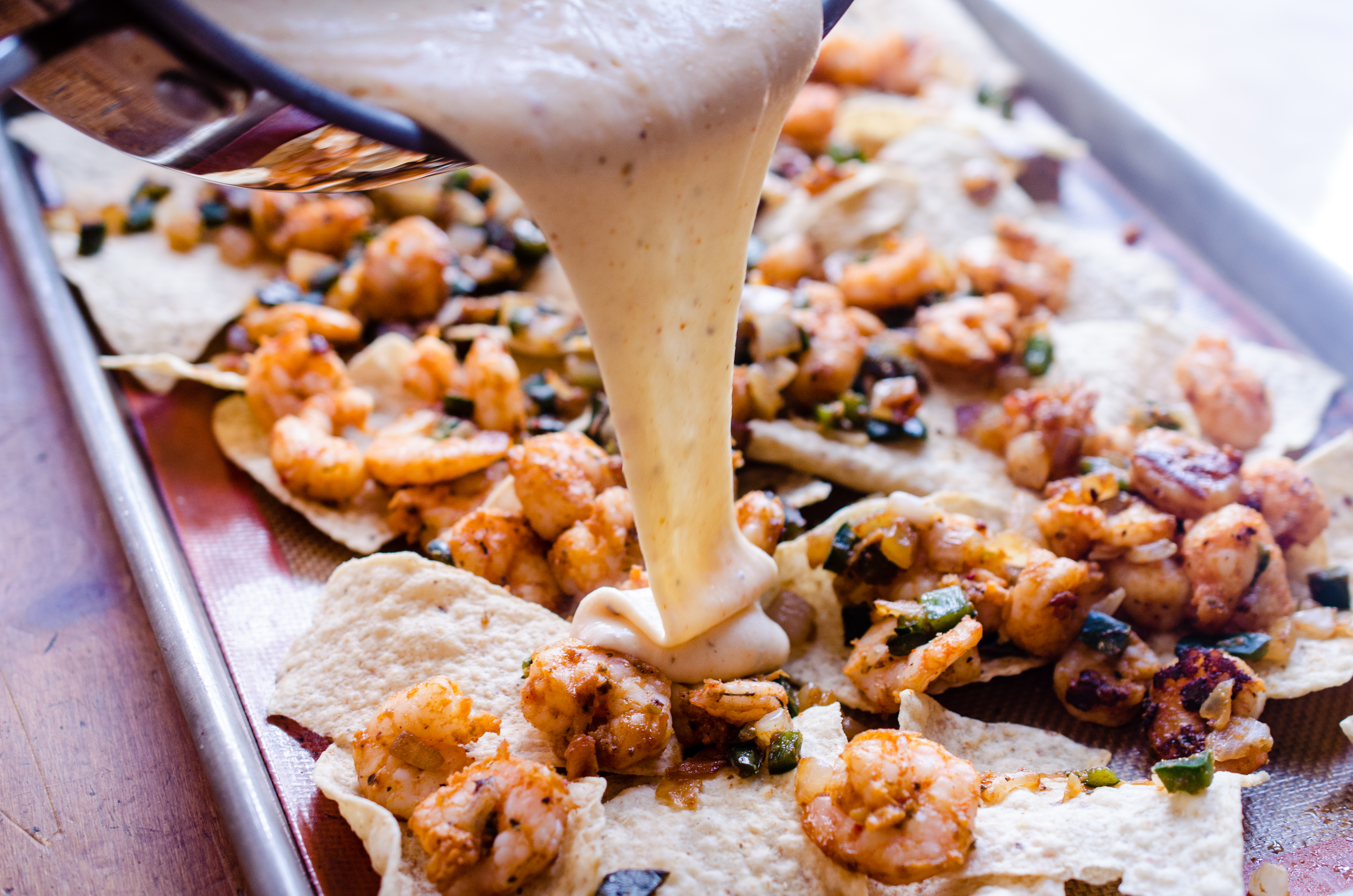 How-to Make Nachos
The key to toppings for nachos is that all the bits of goodness are the right size for the chips. The onion and poblano are diced and I use small shrimp instead of larger shrimp so they'll fit on top. You could use larger shrimp and dice them, but why pay more for larger shrimp that you then have to chop? I sprinkle the Creole-spiced shrimp and vegetables on top of the chips, then pour over the Creole-spiked queso. Every single bite has a little bit of everything — and is topped with cheesy, melted goodness. Oh-so-good and ready for your Super Bowl menu!
Bon Appétit, Y'all!
Virginia Willis
(PS Need more for your game day spread? Check out my Dirty Bird Wings — with Coca Cola, hot chiles, and lime!)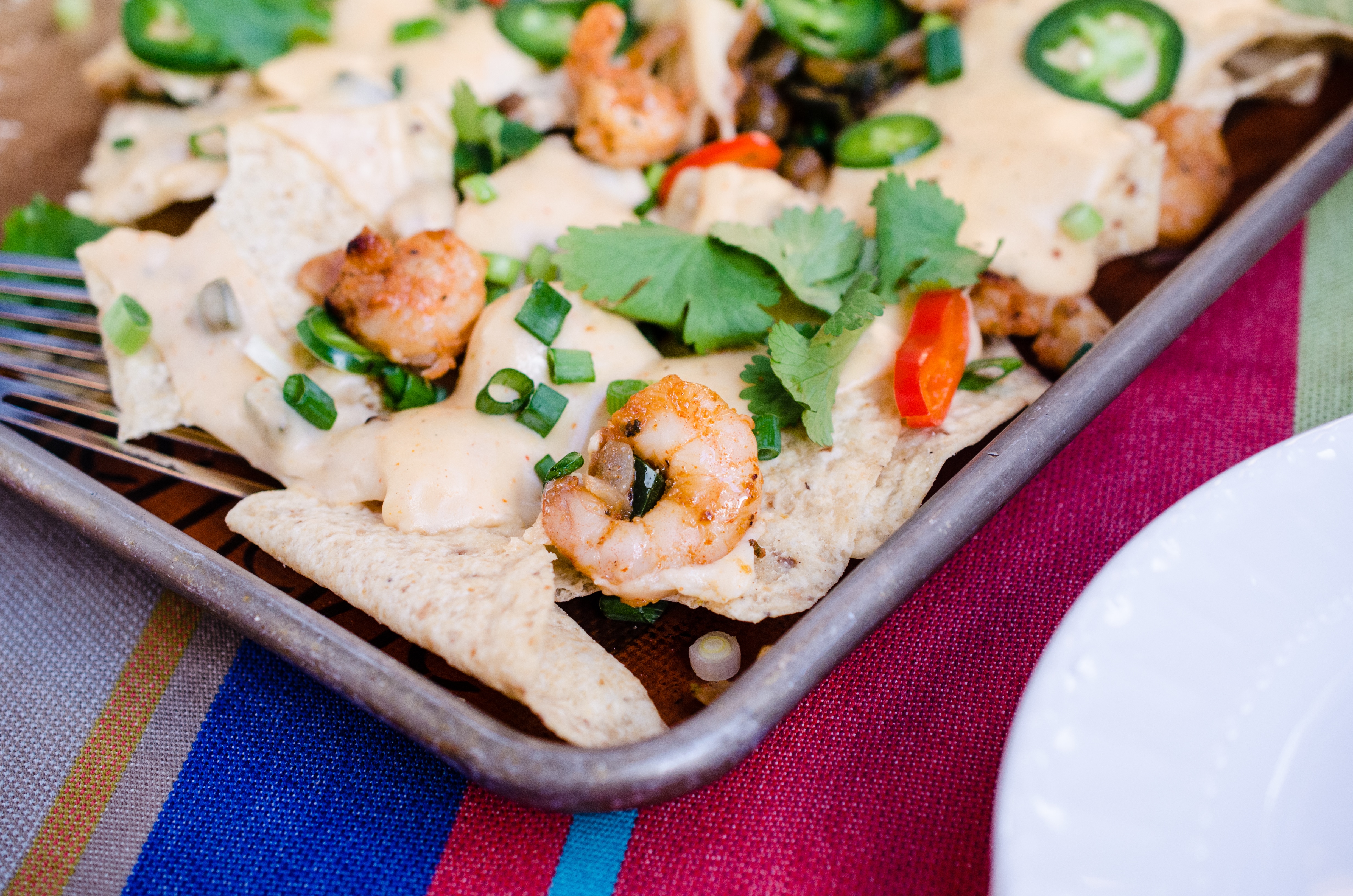 Print Recipe
Creole Shrimp Nachos with Creamy Queso
Need a quick and easy weeknight supper? How about these Creole Shrimp Nachos with Creamy Queso that satisfy ALL the cravings -- because you know, queso!
Ingredients
6

ounces

reduced sodium or no salt Tortilla Chips

(about ½ of a 12 ounce bag)

1

tablespoon

canola oil

1

sweet onion

diced

1

poblano pepper

cored, seeded, and diced

1

pound

shrimp

40/60 count peeled and deveined

2

tablespoons

Tony Chachere's Seasoning Blend

divided

2

tablespoons

unsalted butter

2

tablespoons

canola oil

4

tablespoons

all purpose flour

2

cups

low fat milk

8

ounces

grated Monterey Jack cheese

3

scallions,

chopped

1

jalapeno,

sliced

1

sweet red pepper,

sliced

¼

cup

cilantro leaves
Instructions
Heat the oven to 400°F. Line a baking sheet with a nonstick silicone baking sheet, aluminum foil, or parchment. Sprinkle over the chips in one layer; set aside.
Heat the oil in a skillet over medium high heat. Add the onion and poblano pepper. Cook, stirring occasionally, until the onions are translucent and the peppers are tender, 3 to 5 minutes.
Meanwhile, place the shrimp in a bowl and pat dry with paper towels. Sprinkle over the Tony Chachere's No Salt Seasoning and stir to combine.
Add the seasoned shrimp to the onion-pepper mixture and stir to combine. Cook, stirring occasionally, until the shrimp are pink, about 3 minutes. Remove from the heat and keep warm.
Heat the butter and oil in a saucepan, whisk in the flour and cook for a minute or two until foaming. Pour in the milk and bring to a boil, whisking constantly until the sauce thickens. Simmer until the sauce coats the back of a spoon, about 2 minutes. Add the cheese and the Tony Chachere's No Salt Seasoning; stir to combine.
Once the queso is ready, evenly scatter the shrimp, onions, and peppers over the tortilla chips. Pour the warm queso over the chips and shrimp mixture. Top with chopped scallions, jalapeno, and sweet red pepper. Transfer to the oven and cook just until everything is heated through, about 5 minutes. Remove from the oven and scatter over cilantro leaves. Serve immediately.
Disclaimer: When there's an appropriate mutually beneficial opportunity I partner for sponsored blog posts. In full disclosure, in 2018 I was provided product to work with by Tony Chachere's for recipe development and compensated for this blog post and its social media promotion. 
Let's connect on Facebook, Instagram, Twitter, and  Pinterest! 

Please note that this post may contain affiliate links.