Please note that this post may contain affiliate links.
Healthy Turkey Meatballs: Keto-Friendly, No-Salt, and Perfect for Weeknight Summer Supper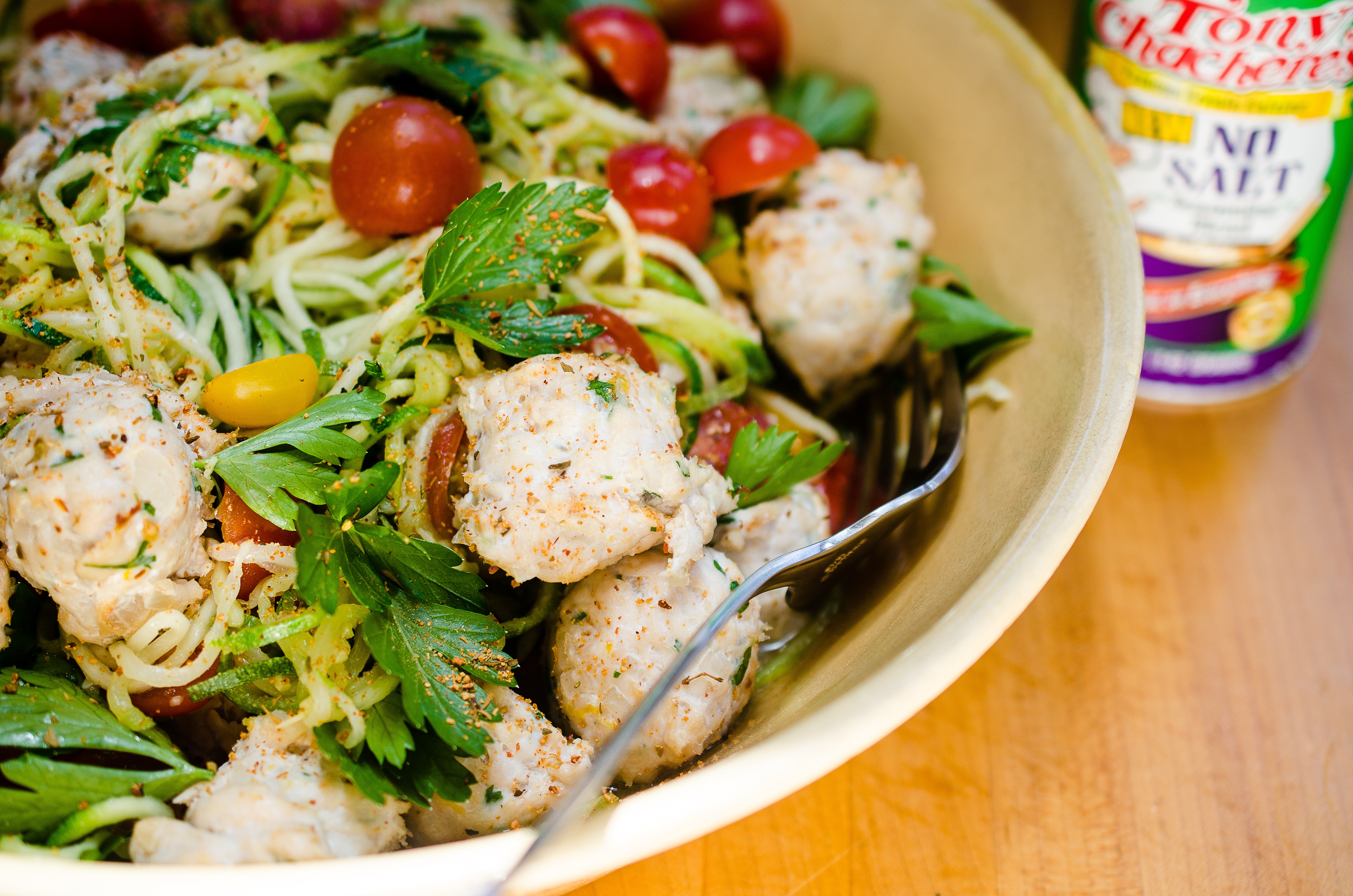 Summer is great for grilling and barbecues, but in the height of summer when it's as hot as blue blazes, it's nice to lighten things up with fresh flavors, more vegetables, and lighter proteins. (Hey, you've gotta balance out all all those racks of ribs!) Ground turkey is a go-to in my kitchen. It's incredibly adaptable, making it an easy choice for weeknight dinners. Not to mention, it can be the base for almost any kind of cuisine. I use it for meatballs, meatloaf, spaghetti sauce, tacos, burgers, and more. There are few limitations to what you can do with a package of ground turkey. It's also one of the most affordable proteins out there, so if you see it on sale or a "BOGO", you can easily store it in the freezer — it will keep for about three months.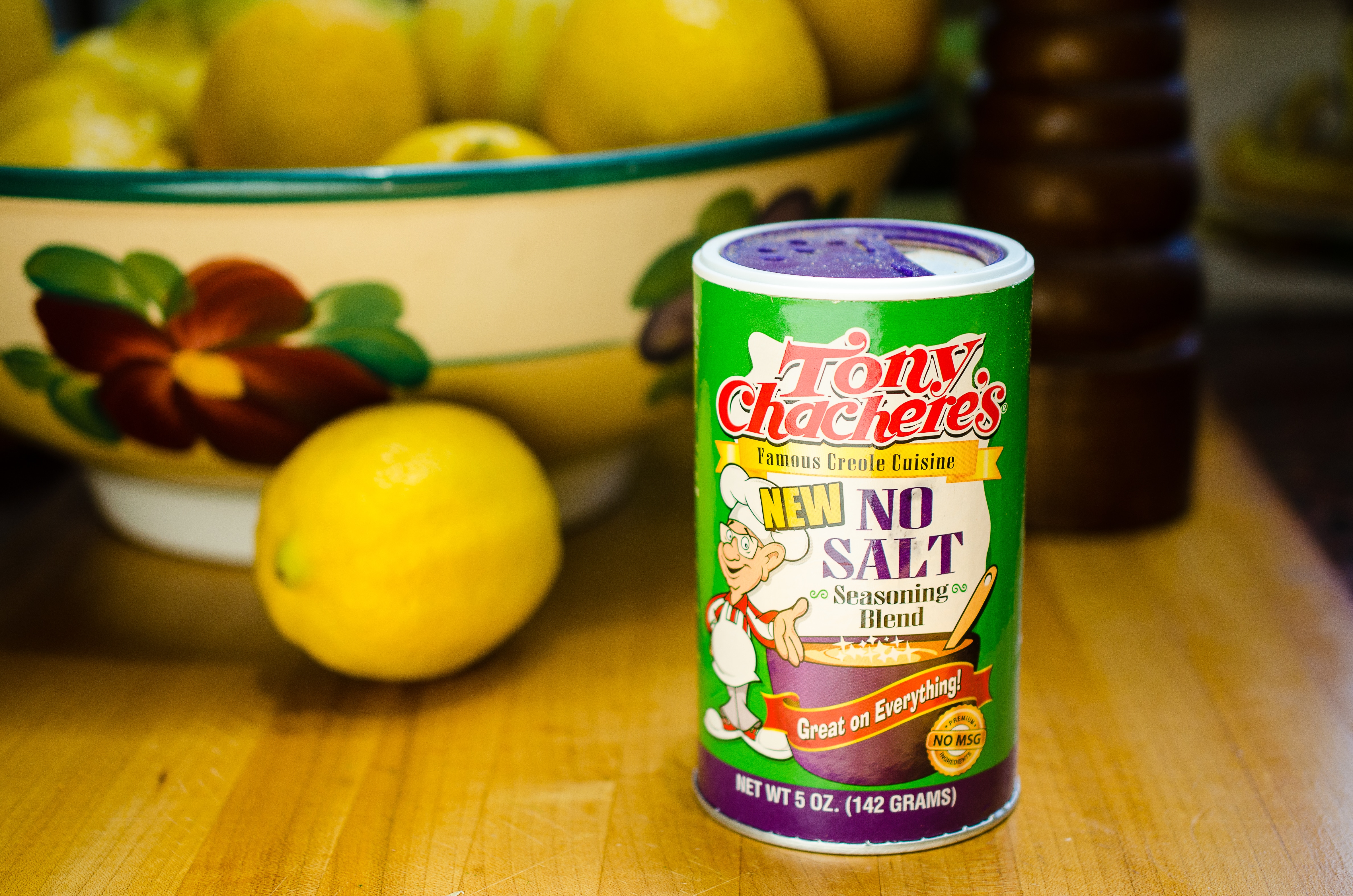 Seasoning Blend
Seasoning blends are like having an ace up the sleeve in the kitchen and can be helpful for making good food, fast. It's just as simple as giving a shake from one container, not a handful. It's no secret I am a huge fan of Tony Chachere's Seasoning Blend. I grew up in Louisiana and my Mama always had a container in her pantry. I grew up eating Seafood and Duck Gumbo, Chicken and Tasso Jambalaya, Shrimp Creole, and Crawfish Étouffée — all lovingly prepared with a hearty dose of Tony Chachere's Creole Seasoning Blend.
Last year, the entire family became big fans of the Tony Chachere's No Salt Seasoning Blend when I developed these Creole Shrimp Nachos with Creamy Queso. Salt is an essential part of a balanced diet. However, too much salt can be detrimental. Sodium causes water retention, which puts extra pressure on your blood vessels and forces your heart to work harder to pump blood. It only make sense to use salt wisely, and when you can use a great no salt or reduced salt blend, I say go for it! 

Zippy Zip Zip
The ingredients in the Tony Chachere's No Salt Seasoning include brown sugar, onion, garlic, chili pepper, bell pepper, lemon powder, paprika, and other spices. It's slightly less spicy than their traditional Creole Seasoning Blend. And, while it certainly can be used as a Creole spice blend, the No Salt version is tremendously adaptable and can be used in recipes other than Creole.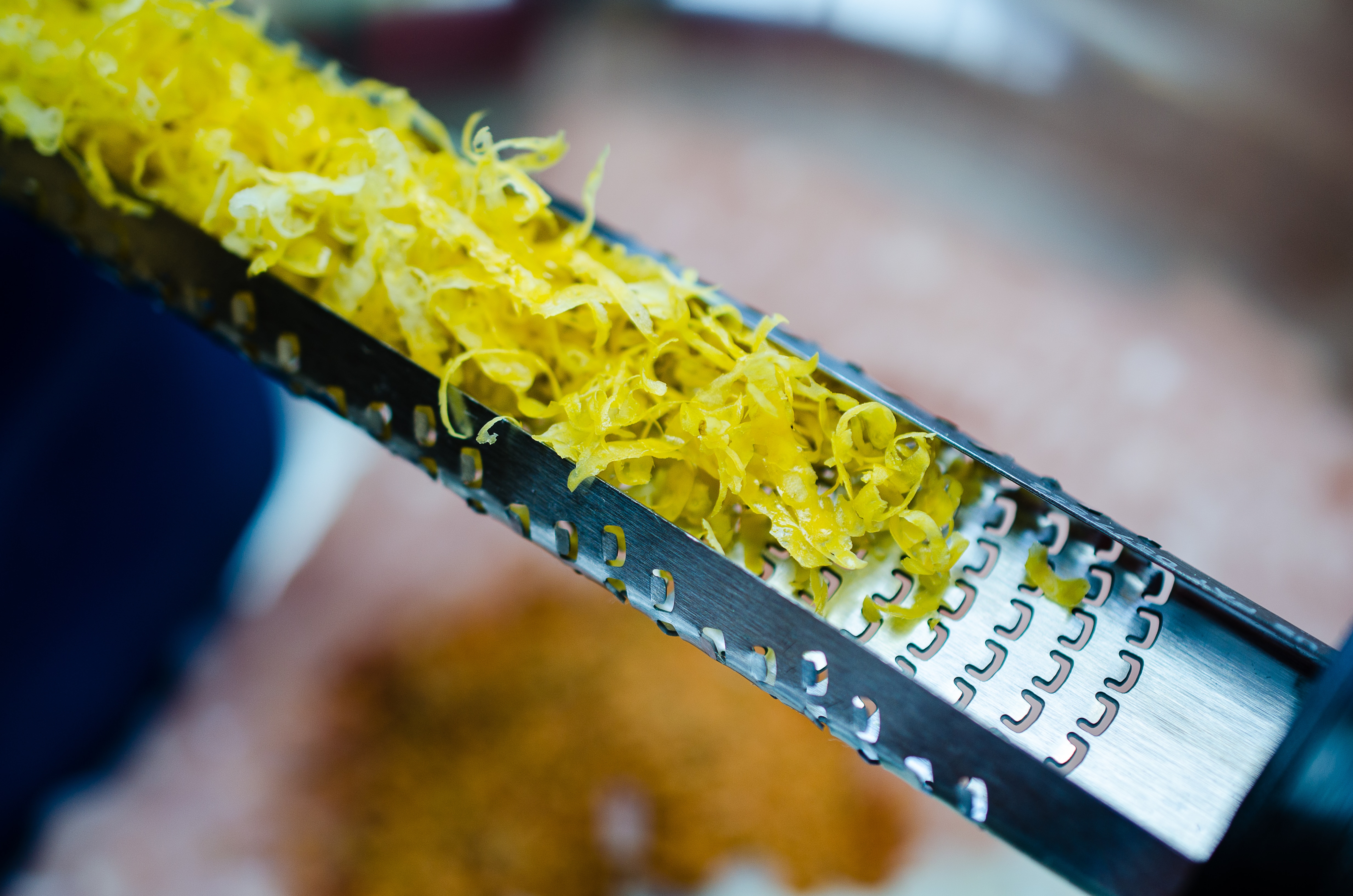 Pucker Up
A burst of lemon make the flavors pop! Using lemon juice and lemon zest is a great way to enhance flavor in food, especially if you are trying to reduce the sodium content.  With this in mind, I wanted to amp up the fresh lemon zest and herbs to create layers of bright flavor for my weeknight summer supper.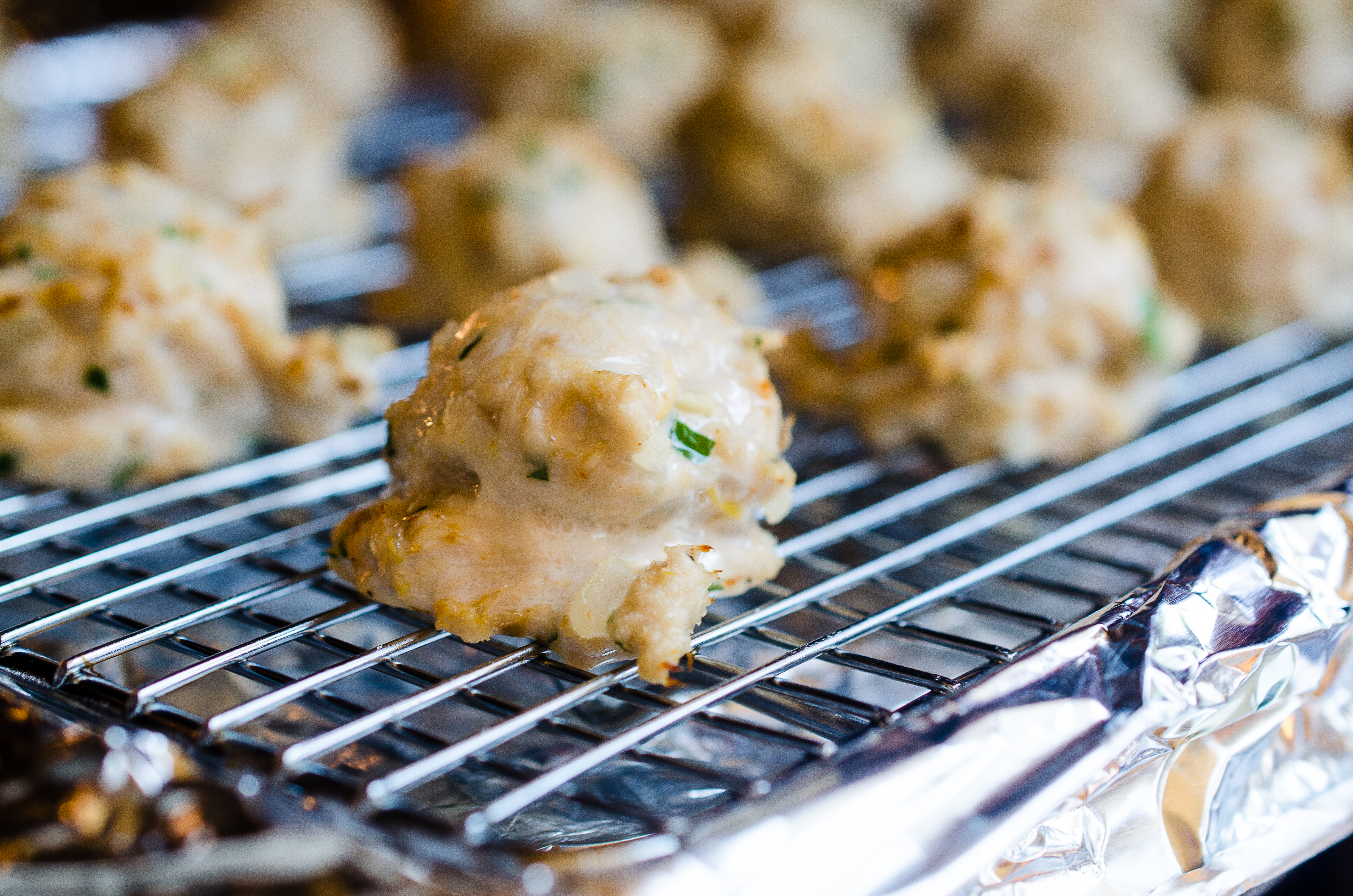 Rack 'em!
If you can, I suggest you bake these meatballs on a wire rack above a foil-lined baking sheet. A stainless steel rack is one of the most useful tools in the kitchen. Sure, it's great for cooling cookies, but it's equally useful when heating things up! When you cook meat or vegetables on a rack it allows the hot air to circulate evenly around the food. I prefer this to standing over a sizzling skillet and having to cook the meatballs in batches. That makes me hot just thinking about it.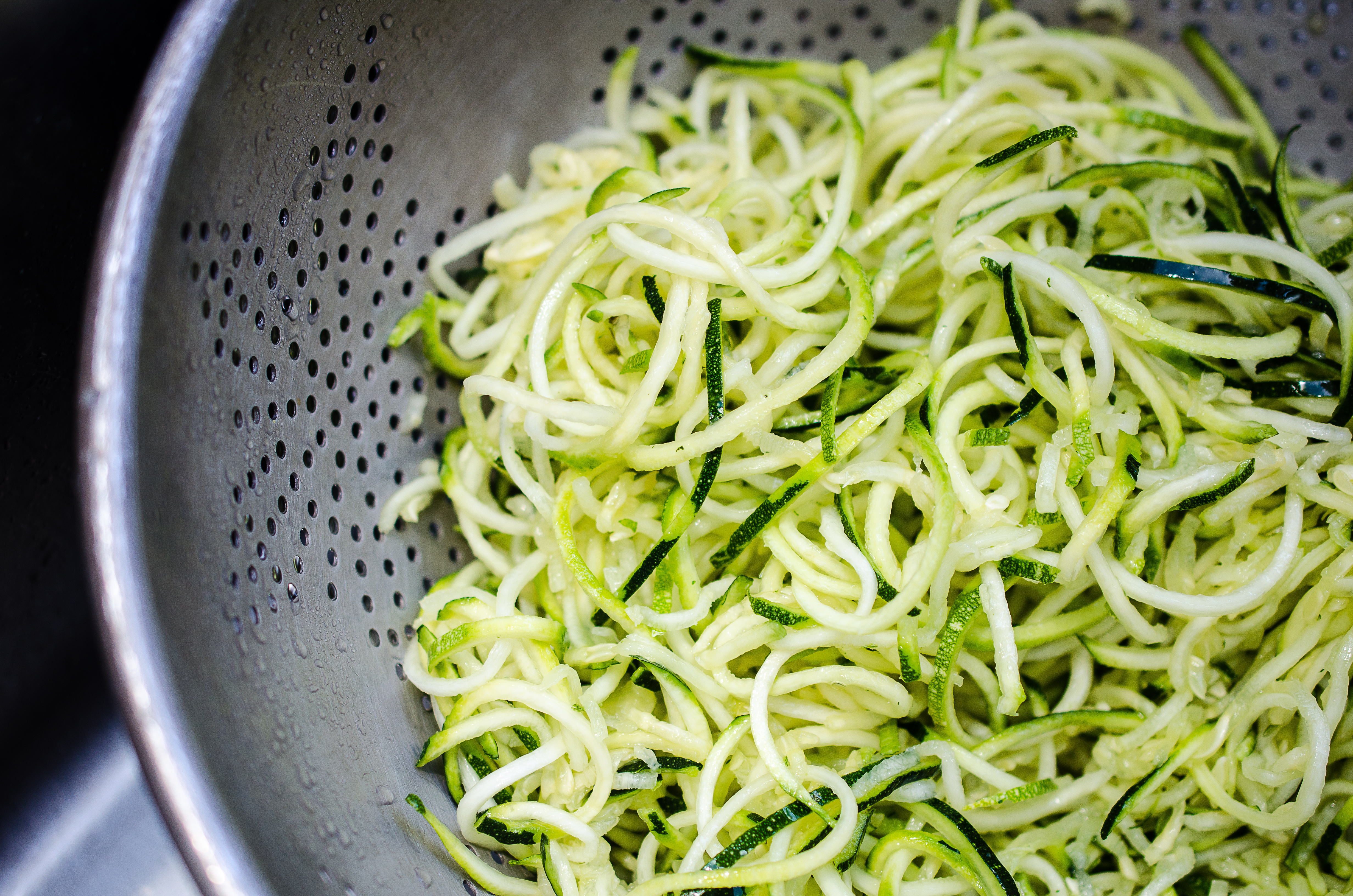 Oodles of Zoodles
Ok — so zoodles look like pasta, but aren't pasta, don't taste like pasta, and will never ever replace the luxurious seduction of actual pasta bathed in extra virgin olive oil and doused in parmesan. But, pasta can be heavy and too filling, especially in the summer. (See oil and cheese.) Don't let the summer's bounty of zucchini spiral out of control — spiralize it instead! If it am busy, I admit to purchasing already prepared zoodles. If you do the same, make sure to tip them into a colander to remove excess liquid.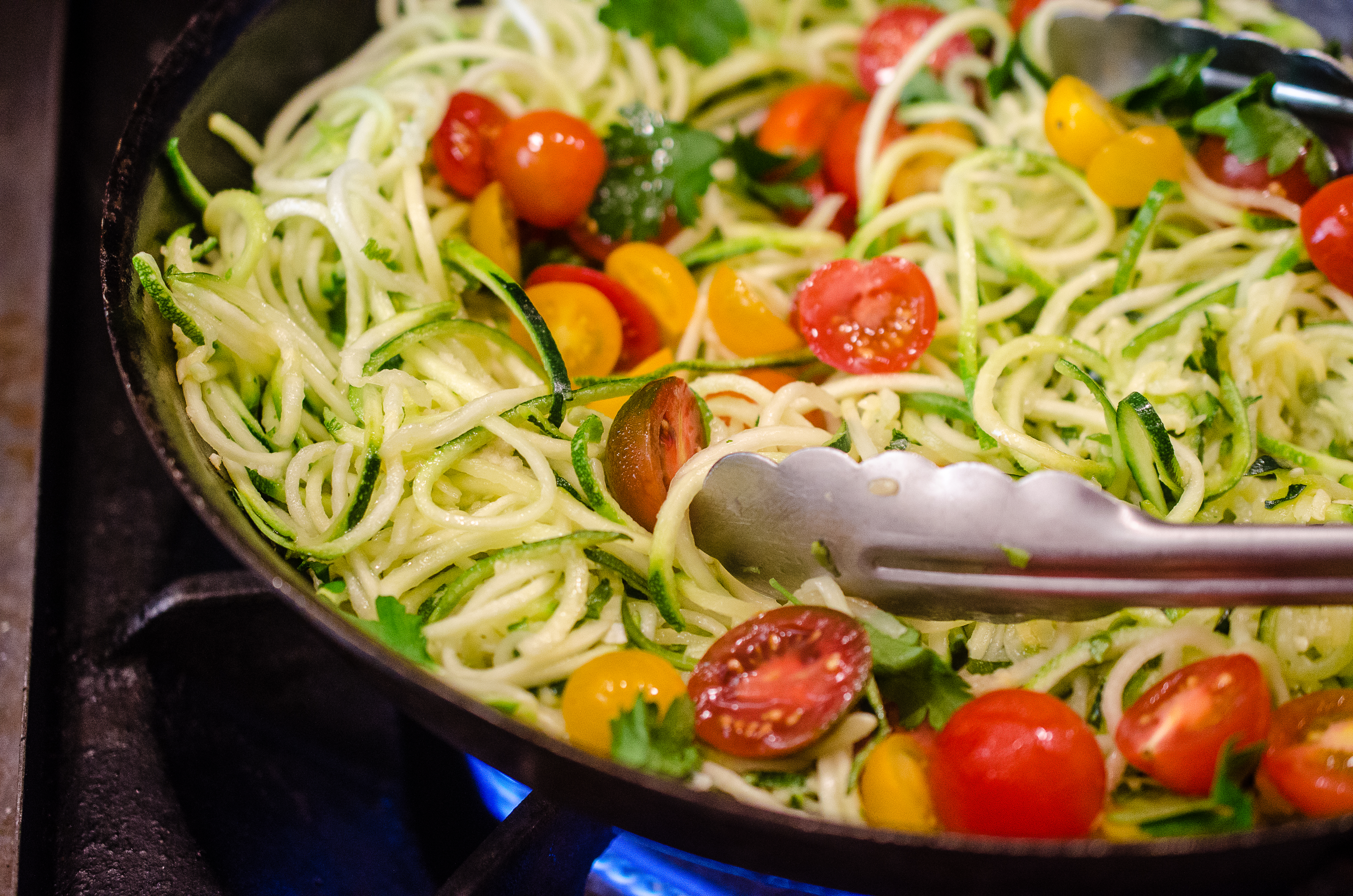 Keep it Simple
Zoodles will fall apart if cooked in water. They simply need a minute or two in a hot skillet. In summer, zucchini and tomatoes are a perfect marriage of flavors. A quick toss in the pan with a bit of extra virgin olive oil, garlic, and herbs with ripe and juicy tomato is all that's needed. Once the meatballs are cooked through it's just as simple as combining them with the wilted zoodles and tomato, topped of course, with another fresh sprinkling of Tony Chachere's No Salt Seasoning.
Thanks for reading! I hope you enjoy this recipe for Turkey Meatballs with Zoodles as much as we did!
Bon Appétit, Y'all!
Virginia Willis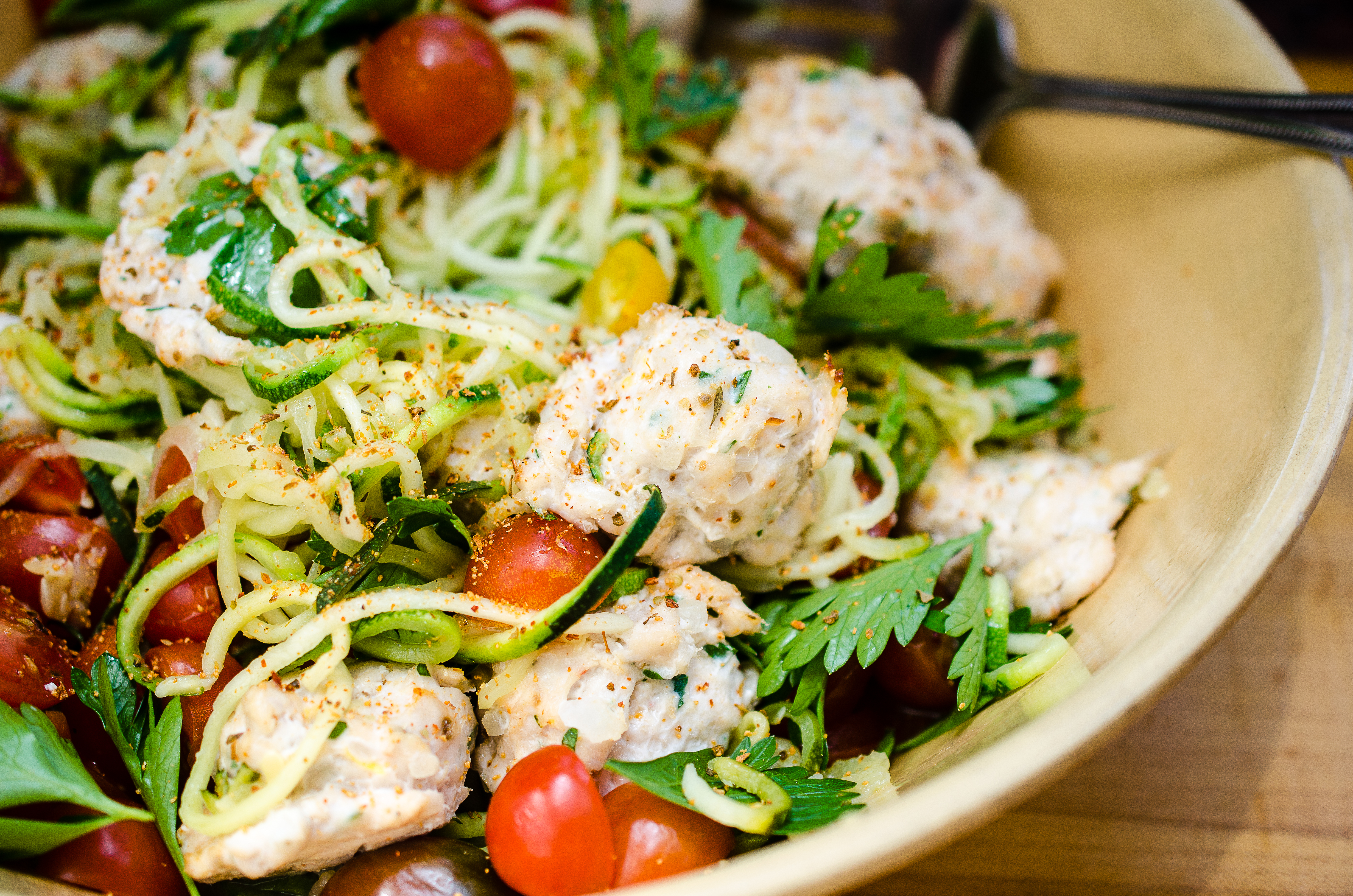 Tony Chachere's Turkey Meatballs with Zoodles
Healthy, lean ground turkey is combined with No Salt seasoning and served with crisp zucchini zoodles, lemon, herbs, and fresh cherry tomatoes.
Ingredients
½

sweet onion,

finely chopped

1

pound

ground turkey

2

tablespoons

chopped fresh flat-leaf parsley

2

cloves

garlic,

very finely chopped, divided

2

teaspoons

Tony Chachere's No Salt Seasoning,

more for serving

Zest of 1 lemon

1

tablespoon

olive oil

4

medium zucchini,

cut into noodles with a spiralizer or 32 ounces prepared zucchini zoodles

12

ounces

cherry tomatoes,

halved

Handful whole flat-leaf parsley leaves,

for serving

Freshly grated Parmigiano Reggiano,

for serving
Instructions
Heat the oven to 350°. Line a rimmed baking sheet with aluminum foil. Set an ovenproof rack on top. (If you don't have a rack you can skip it and cook the meatballs on the foil, parchment paper, or a nonstick silicone baking mat. The rack simply allows the meatballs to cook more evenly.) Spray the rack or the foil with nonstick cooking spray and set aside.

Place 
the onions in a ramekin or microwave-safe bowl and microwave
 on medium power until soft and translucent, about 45 seconds. Set aside to cool slightly.

Meanwhile, in a large bowl, combine the turkey, onion, chopped parsley, 1 clove of garlic, Tony Chachere's No Salt Seasoning, and lemon zest. Stir to combine with a rubber spatula. (To taste and adjust for seasoning, simply cook a teaspoon or so of the mixture in the microwave.)

To form the meatballs, using a 1-ounce ice cream scoop or a tablespoon measure, scoop out the meat mixture. The meatballs should be about the size of a walnut. Place onto the prepared rack. Repeat until all the meat mixture is used. (You should have 24 turkey meatballs.)

Transfer to the oven and cook until firm and the temperature reads 165°F on an instant-read thermometer, about 15 minutes. Remove from the oven and let cool slightly.

Meanwhile, heat the oil in a medium skillet over medium-high heat. Add the zucchini zoodles, remaining clove of garlic, and halved tomatoes. Cook until just tender and heated through, 2 to 3 minutes. Drain off any excess liquid. Add the cooked turkey meatballs and parsley leaves; toss to coat. Taste and adjust for seasoning. Serve immediately with freshly grated Parmigiano Reggiano.
Disclaimer: When there's an appropriate mutually beneficial opportunity I partner for sponsored blog posts. In full disclosure, I was provided product to work with by Tony Chachere's for recipe development and compensated for this blog post and its social media promotion.
Let's connect on Facebook , Twitter, Instagram, and Pinterest!
Please note that this post may contain affiliate links.