Please note that this post may contain affiliate links.

You know the story. "Chicken Recipes" are the number one recipe-related search item on the internet. Well, not really. According to Google that worthy topic actually comes in at Number Four. (Who knew Pumpkin Seeds were so popular?!) Nonetheless, chicken is easy, quick, and inexpensive.  One of my all-time favorite recipes is the classic dish Hunter's Chicken with Mushrooms.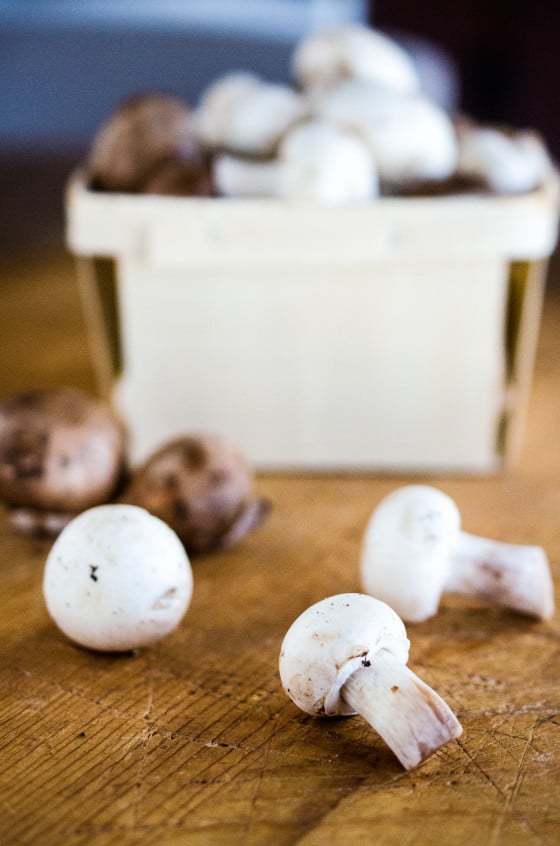 Mushrooms = Umami
This satisfying, comforting recipe for Hunter's Chicken with Mushrooms has roots in both Italian and French cuisine as Pollo a la Cacciatora and Poulet au Chasseur.  You may ask why it is called Hunter's Chicken with Mushrooms when it contains no game. The dish can actually be made of rabbit and it does speak to a time that game birds and mushrooms were a typical foraged combination in the fall. (Or, a hapless hunter returns home from his walk in the woods with no game, but a sack full of mushrooms he found along the way.) Either concept works for me.
You can use inexpensive white button or cremini, as seen above. However, if you really want to amp up the umami and flavor, add dried mushrooms, as well. The white button and cremini are mild and ready to soak up intense dried mushroom flavor like a sponge.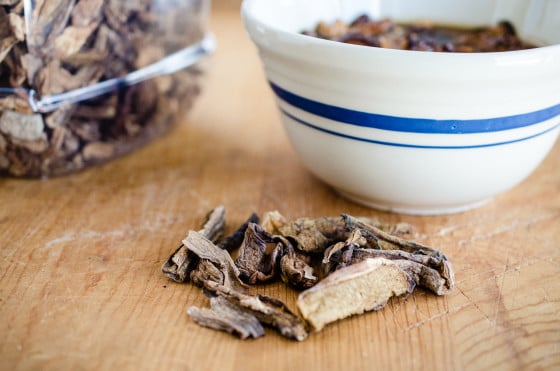 King of Mushrooms
If I were walking in the woods in Italy or France I might come across wild porcini, known as cèpes in French, "king bolete" in English, or "Boletus Edulis" in Latin. Alas, that's not likely as in my part of the United States. They are one of the Western world's most popular mushrooms. Personally, when fresh, I love these aromatic intoxicants as much as the sought-after black truffle.
Porcini are prized for their meaty texture, great depth of flavor, and distinct shape. They are rich and amazingly versatile, delicate enough to give grace to an elegant stew or salad, and yet vigorous enough to stand up to something as powerful as a thick grilled steak.
Fresh porcini are very costly, rarely found even in a gourmet consumer market, and either ordered online or solely reserved for high end restaurants. Dried porcini are, however, increasingly available even at my local "regular" grocery store. The best part is that only a small amount of dried porcini are needed when combined with less expensive fresh white button or cremini mushrooms.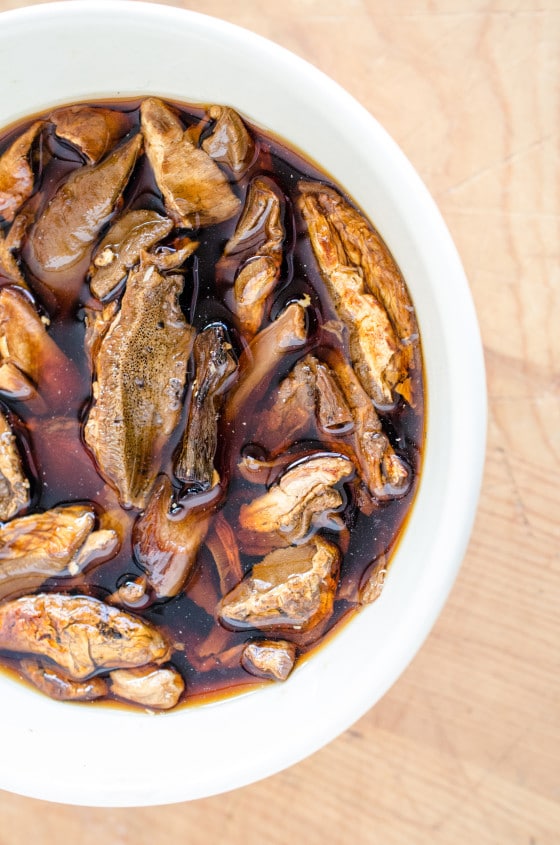 How to Rehydrate Dried Porcini
One of the big challenges with dried porcini is the grit. (Not grit like my kind of grits, but sand and soil.) Cheaper mushrooms tend to have more grit, and the amount of grit can vary from producer to producer, depending on how they handle and clean the raw mushrooms before drying. In general, Italian dried porcini are finer and more expensive than other commercially available dried mushrooms produced in China.
Set up a fine mesh sieve with cheesecloth or a coffee filter. Set aside. Place the dried porcini in a bowl and pour over hot water. I've found that hot tap water will suffice, there's no need to use boiling water. Stir to combine and to submerge the mushrooms. Set aside to hydrate until plumped, about 20 minutes.
Then, remove the mushrooms with a slotted spoon. DON'T THROW AWAY THE LIQUID! It's the added bonus of intensely flavored mushroom and can make a real difference in the overall flavor of the dish. However, this is likely where the grit will be. Decant the mushroom liquid through the cheesecloth, stopping at the very end leaving any possible grit in the bowl.
I'm certain you'll enjoy this simple, comforting braised dish. I'm suggesting using skinless thighs, not only does it cut down on the fat, I find the chicken has a more pleasurable texture for stewed dishes. Traditionally, Hunter's Chicken with Mushrooms would be served with egg noodles or potatoes; if you want to amp up the nutrition, serve it aside toothsome farro or nutty quinoa.
Bon Appétit Y'all!
Virginia Willis
PS Check out this sheet pan supper for a super easy winner winner chicken dinner!

Hunter's Chicken with Mushrooms
Serves 6 to 8
Ingredients
2

ounces

dried porcini

1

cup

hot water

1

tablespoon

pure olive oil

8

bone-in chicken thighs

skin removed

1

onion

chopped

1

pound

small mushrooms

such as white button and cremini, stem ends trimmed and halved

2

cloves

garlic

chopped

1/2

cup

red wine

1 28-

ounce

can crushed tomatoes

1

bay leaf

preferably fresh

1

sprig fresh rosemary

more for garnish

Coarse kosher salt and freshly ground black pepper
Instructions
Place the porcini in a bowl. Pour over the hot water and set aside to rehydrate. Meanwhile, heat the oil in a large enameled cast-iron casserole over medium high heat until shimmering. Season the chicken with salt and pepper. Add the chicken without crowding to the casserole. Cook over moderately high heat, turning occasionally, until browned all over, about 5 minutes. Transfer to a plate.

Reduce the heat slightly. Add the onion and cook, stirring occasionally, until clear and translucent, 3 to 5 minutes. Add the mushrooms and cook, stirring occasionally, until no longer squeaky when stirred, about 5 minutes. Add the garlic and cook until fragrant, 45 to 60 seconds then add the wine and cook until almost dry, about 3 minutes. (Add the garlic after the mushrooms are cooked so it's less likely to burn.)

Remove the rehydrated porcini with a slotted spoon and decant the liquid as described above. Add the porcini, strained porcini broth, crushed tomatoes, bay leaf, and rosemary. Nestle the chicken in the sauce, cover and simmer over moderately low heat until nearly cooked, about 20 minutes. Remove the bay leave and rosemary. Taste and adjust for seasoning with salt and pepper. Serve immediately.
Let's connect on Facebook , Twitter, Instagram, and Pinterest!
If you are interested in hosting me for a speaking engagement, event, cooking class, or a book signing, let me know! Send an email to jaimee@lisaekus.com and we'll be back in touch as soon as possible.
Please be nice. Unauthorized use and/or duplication of this material without permission is prohibited. All photos and content are copyright protected. Please do not use photos without prior written permission. If you wish to republish this recipe, please rewrite the recipe in your own words and link back to this recipe on virginiawillis.com. Thanks so much.

photographs by Virginia Willis
Please note that this post may contain affiliate links.