Please note that this post may contain affiliate links.

Other than the recent reports concerning Georgia's Fifth District, the big deal right now in The ATL is that the Falcons are playing the Green Bay Packers for the NFC Championship — and a ticket to the 51st Super Bowl. In honor of the Falcons, also known as the "Dirty Birds," I thought I'd share a few of my favorite recipes for wings. The sweet heat glaze for the Dirty Bird Chicken Wings is made with none other than Coca-Cola, which of course, also hails from Atlanta. And, the Curried Wings are served with a (Georgia) Peach Dipping Sauce. Both recipes are guaranteed winners. It's a toss up to which one will score more points at your Falcon's Tailgate! Each wing recipe can be made ahead and reheated; both recipes are baked, not fried, making for healthier wings; and lastly, no oil means a pretty easy clean-up. I'm also including a short video on how to make the Dirty Bird Chicken Wings. Check it out below or on my Facebook page. I've got a feeling! 
#TCOB  for No Kid Hungry
While I hope the Falcons will Take Care of Business on the field, there's some other business we need to take care of – child hunger.  No child should grow up hungry in America, but one in five children struggles with food insecurity — and one in four in the state of Georgia. Share Our Strength's No Kid Hungry campaign is working to end child hunger in America by ensuring all children get the healthy food they need, every day. This is something we really need to win!
I am pleased and honored to announce that I have been named as a member of the inaugural No Kid Hungry Atlanta Society. The No Kid Hungry Atlanta Society is comprised of individuals committed to increasing philanthropic support and awareness of No Kid Hungry.  Twenty three members, including myself, were specially selected to join the groundbreaking 2017 inaugural class. We have an initial cumulative fundraising goal of $125,000 and we will celebrate at Atlanta's 29th Annual Taste of the Nation for No Kid Hungry on Thursday, April 20th, 2017. (You can buy tickets for this grand tasting event featuring Atlanta's top chefs here.) If this groundbreaking program proves to be successful it will be rolled out in other cities!! It's a huge honor — and a huge job. Please consider donating to my fundraising page.
Thanks for reading. Hey — let me know what you think about the wing recipes and which one scores at your party!
Bon Appétit Y'all — and let's go Falcons! 
Virginia Willis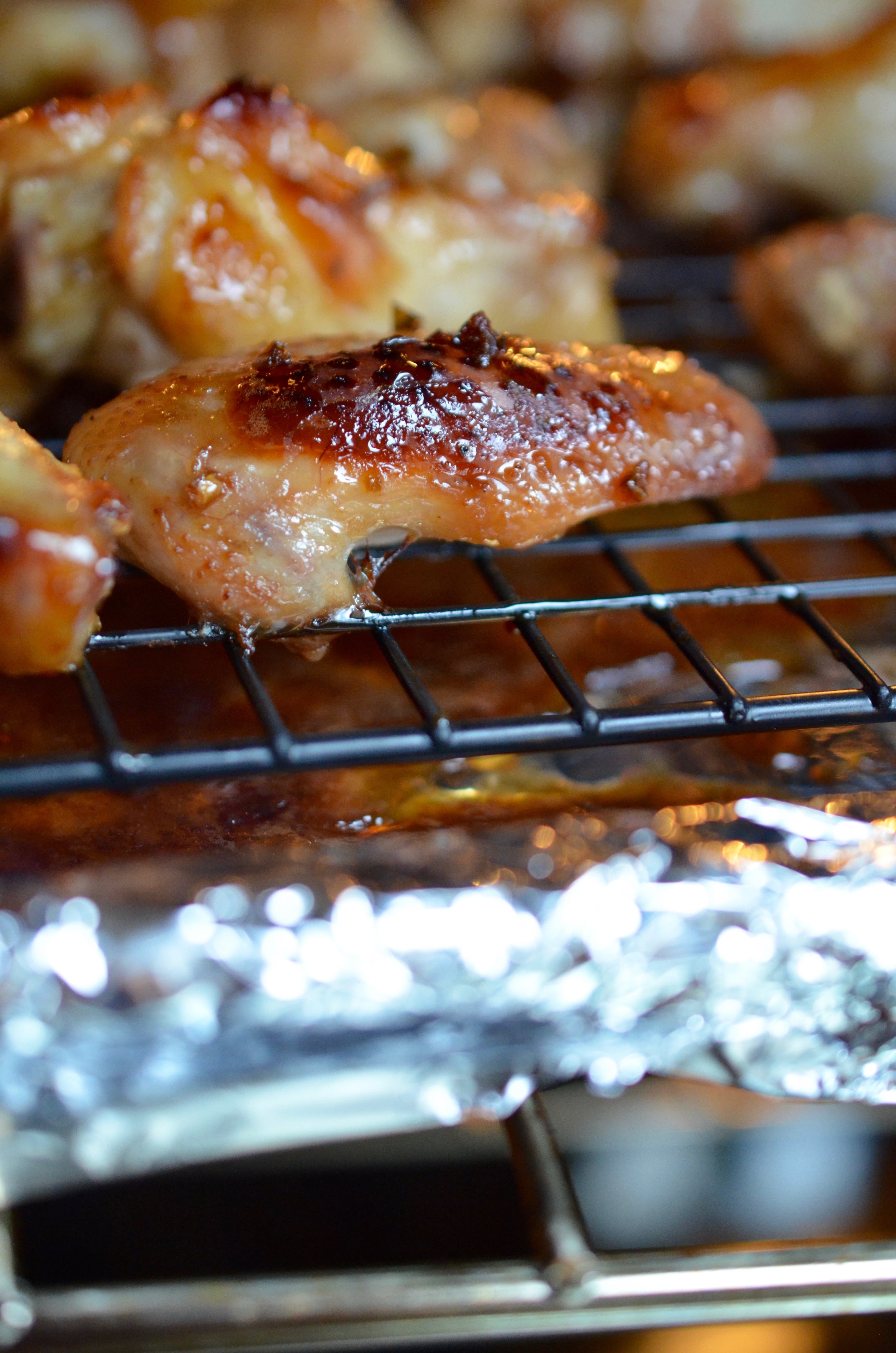 Dirty Bird Chicken Wings
Serves 4 to 6
1 12 ounce can Coca-Cola Classic
Juice of 2 limes
1 1/2 cups firmly packed light brown sugar
1 tablespoon tamari or sauce
1 hot chiles, finely chopped, plus 2 more, sliced, for garnish, or to taste
3 pounds chicken wings, separated into drummettes and flats
Coarse kosher salt and freshly ground black pepper
Position an oven rack 4 inches below the broiler element. Preheat the broiler. Line a baking sheet with several sheets of aluminum foil and place an ovenproof rack on the lined baking sheet. (Really make sure you cover the pan well so your Dirty Bird Wings will clean up easily.) 
To make the glaze, in a shallow saucepan, bring the soda, lime juice, brown sugar, soy sauce, and the chopped chiles to a boil over high heat. Decrease the heat to medium-low and simmer until syrupy, about 30 minutes; keep warm over low heat.
Place the wing pieces in a large bowl and season with salt and pepper. Pour about half the glaze over the wings and toss to coat. Keep the remaining sauce warm over low heat.
To broil the wings, place the glazed wings on the rack set on the baking sheet. Broil for 10 minutes per side, brushing twice on each side with the reserved glaze. Transfer to a warm platter, garnish with the sliced chiles, and serve immediately.
 Making ahead: The glaze can be made ahead, cooled, and refrigerated in an airtight container for up to 3 days. The wings can be completely prepared ahead and reheated in a 350°F oven until warmed through, about 10 minutes.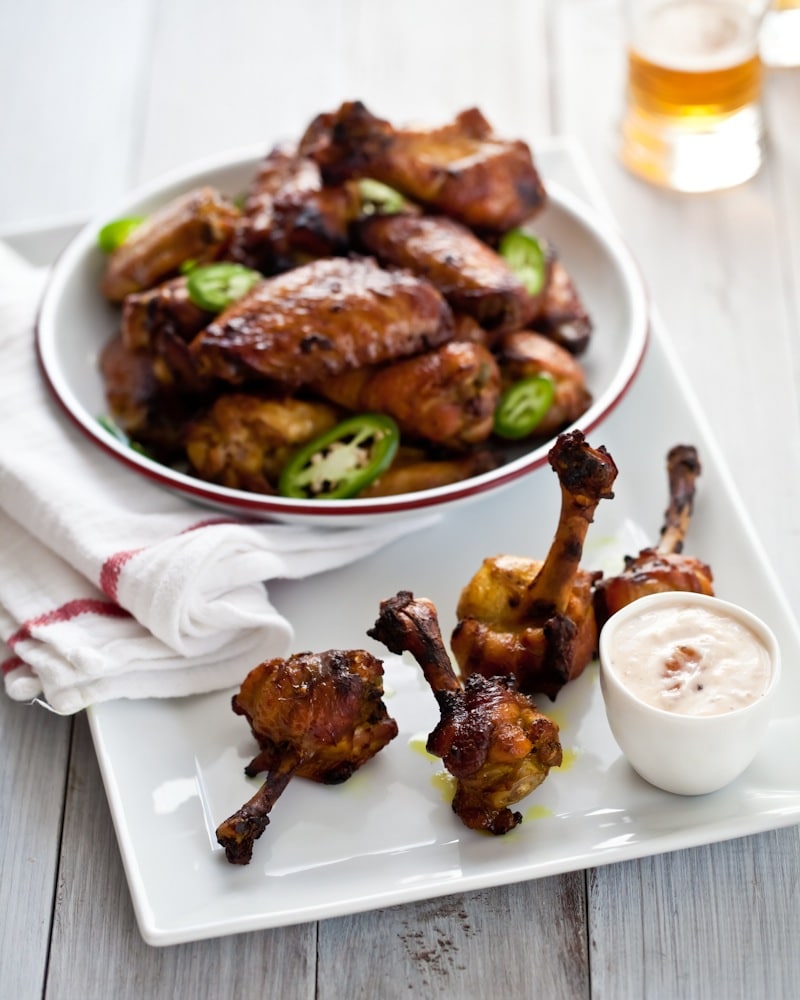 Curried Chicken Wings with Georgia Peach Dipping Sauce
Serves 4 to 6
For the Wings:
3 pounds chicken wings, separated into drummettes and flats
1 teaspoon Madras or spicy curry powder
½ teaspoon ground turmeric
1/4 teaspoon cayenne pepper, or to taste
2 tablespoons soy sauce
2 tablespoons canola oil
2 to 3 jalapeños, cored, seeded, and very finely chopped, plus more for garnish
2 cloves garlic, very finely chopped
Coarse kosher salt and freshly ground black pepper
For the Dipping Sauce:
½ cup plain low-fat or whole-milk Greek-style yogurt
3 tablespoons peach preserves
¼ teaspoon hot sauce, or to taste
Coarse kosher salt and freshly ground black pepper
Cilantro sprigs, for garnish
In a large bowl, combine the wings, curry powder, turmeric, cayenne, soy sauce, canola oil, jalapeños, garlic, salt, and pepper. Toss to coat. Cover and refrigerate for at least 1 hour, or overnight.
Meanwhile, to make the sauce, combine the yogurt, preserves, and hot sauce. Season with salt and pepper. Cover and refrigerate until serving.
Remove the marinated wings from the refrigerator and let come to room temperature.
Preheat the oven to 400°F. Line a rimmed baking sheet with aluminum foil, then set a large wire rack on the foil. (I don't like to use a nonstick baking liner on the baking sheet in this instance because the curry can stain the silicone.)
 Transfer the wings without crowding to the prepared baking sheet. Bake until the wings are deep brown and the juices run clear, turning once, 15 to 20 minutes per side. (If you like charred bits, after the 40 minutes, turn the oven on to broil for about 5 more minutes.)
Taste the yogurt dipping sauce and adjust for seasoning with salt and pepper. Garnish with cilantro and serve the hot wings with the dipping sauce on the side.
***
Let's connect on Facebook , Twitter, Instagram, and Pinterest!
photo credits: Dirty Bird Chicken Wings by Virginia Willis and Curried Wings by Helene Dujardin
Please note that this post may contain affiliate links.