Please note that this post may contain affiliate links.
Please note that this post may contain affiliate links. (That means I make a commission if you use my affiliate link to buy the product.) 

Snow, sleet, and freezing rain means that soups are on the menu in my kitchen. There's nothing like a steaming hot bowl of soup in in the winter to take off the chill. And, not being adverse to leftovers I love making a pot  early in the week and enjoying it for lunch for a few days. Towards the end of the pot, I usually freeze a pint or two for later. Then, when I am at a loss for what to have for lunch or dinner or don't have time to cook, I go "shopping" on the soup shelf of the freezer.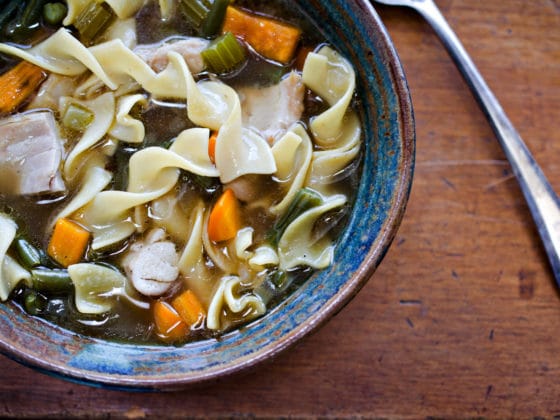 Soup Swap
A few years ago, my friend and colleague Kathy Gunst.wrote Soup Swap:Comforting Recipes to Make and Share. Kathy is an award-winning cookbook author, journalist, and radio host. She's the resident chef for NPR's "Here and Now" and I love her sense of taste, well-written recipes, and writing style.
Sharing is Caring
The book's premise is that there is no better way to cultivate community, foster friendship, or simply nourish family than over bowls of homemade soups. Kathy offers 60 terrific recipes, featuring such classics as Tomato Soup with Grilled-Cheese Croutons and New England Fish and Clam Chowder, plus international favorites like Provencal-Style Fish Soup with Rouille; Portuguese Kale, White Bean, and Chorizo Soup; and Sopa de Lima, the recipe I am sharing with you in this blog post.
Kathy has suggested side dishes for each recipe that will make a pot a soup a meal (Buttery Biscuits, Skillet Cornbread, and Salads and Slaws) as well as tips for easy transporting, which makes them just right to bring to a soup swap where everyone can sample the offerings and then take home a variety of leftovers to enjoy all week. Love it! (In fact, Kathy's cookbook inspired my own Soup Swap blog post with recipes for Vegan Vegetable, Baked Potato, and Chicken and Dumplings.)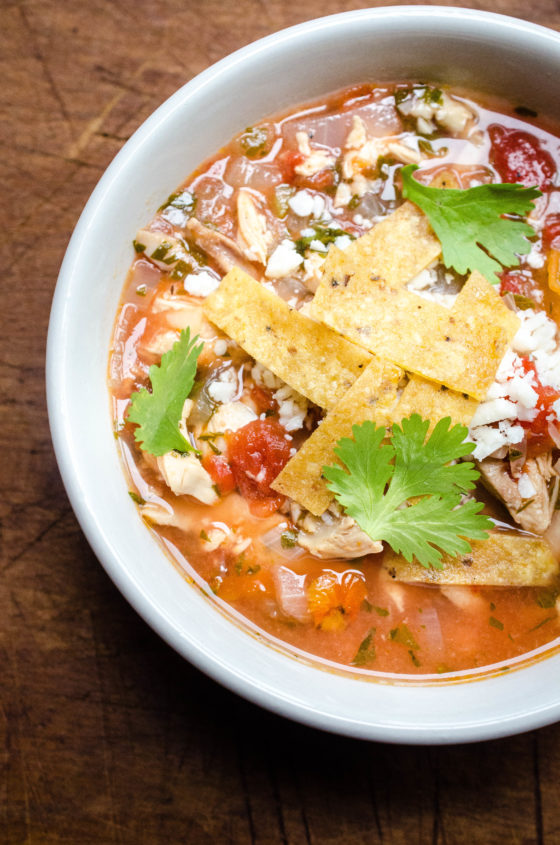 A Chicken in Every Pot
Both of the soups I am sharing today use a rotisserie chicken! If you start with a store-bought rotisserie chicken and work with a little zip, you can have homemade soup on the table in under an hour.
So, about those rotisserie chickens. Costco sold 91 millions rotisserie chickens last year according to a report on CNN. That is a whole lot of chickens! The company is so determined to keep its rotisserie chickens at $4.99 that it's been willing to lose money selling them in the past. Are they free-range? Organic? Pastured poultry? The answer is no to all of the above. But, I know plenty of families that these rotisserie chickens are a dinner-time lifesaver. Costco or not, rotisserie chickens can be a game-changer for getting dinner on the table in a hurry.
Thanks so much for reading. I hope you enjoy Kathy's recipe for Sopa de Lima as much as I did! I am also sharing my quick and easy recipe for Chunky Chicken Noodle. Shhh. Don't tell. It's really vegetable soup with just enough chicken and noodles in it to warrant the name.
Bon Appétit Y'all!
Virginia Willis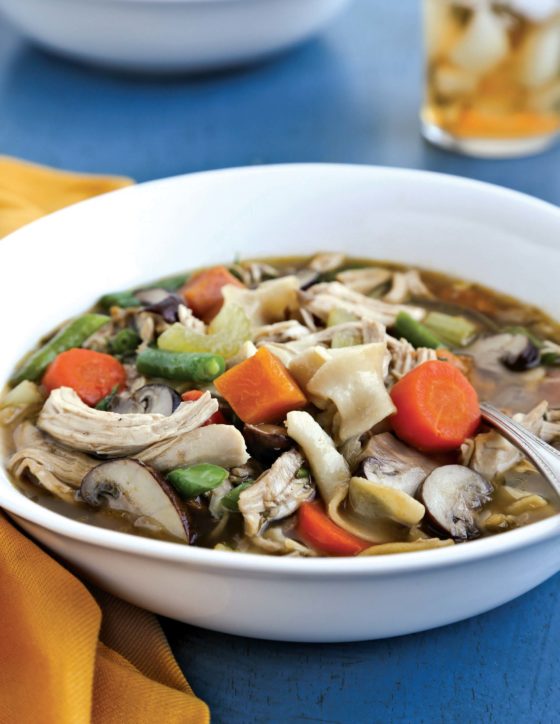 Chunky Chicken Noodle Soup
Makes 9 cups to serve 6
Ingredients
2

teaspoons

pure olive oil

1

sweet onion

chopped

1

carrot

chopped

1

celery stalk

chopped

1

garlic clove

very finely chopped

8

ounces

sliced cremini mushrooms

Coarse kosher salt and freshly ground black pepper

12

cups

homemade chicken stock or reduced-fat

low-sodium chicken broth

Bouquet garni

see note, below

1

medium sweet potato

peeled and cut into 1-inch cubes (about 2 cups)

6

ounces

green beans

stem ends trimmed and cut into 1-inch pieces (about 1 1/3 cups)

2

ounces

1 cup uncooked egg noodles

3

cups

shredded rotisserie chicken

about 12 ounces, from 1 (4- to 5-pound) rotisserie chicken
Instructions
Heat the olive oil in a large pot over medium heat. Add the onion, carrot, and celery and cook until the onion is soft and translucent, 3 to 5 minutes. Add the garlic and cook until fragrant, 45 to 60 seconds. Add the mushrooms and season with salt and pepper. Cook, stirring occasionally, until the mushrooms start to wilt and brown, about 5 minutes. Add the chicken stock and stir to combine. Add the bouquet garni and sweet potato. Bring to a boil over high heat. Decrease the heat to simmer and cook until the sweet potato is just tender, 15 to 17 minutes.

Add the green beans, egg noodles, and chicken. Stir to combine and poke with your spoon to make sure the beans and noodles are submerged. Simmer until the noodles and green beans are tender, 8 to 10 minutes. Taste and adjust for seasoning with salt and pepper. Ladle into warmed bowls and serve immediately.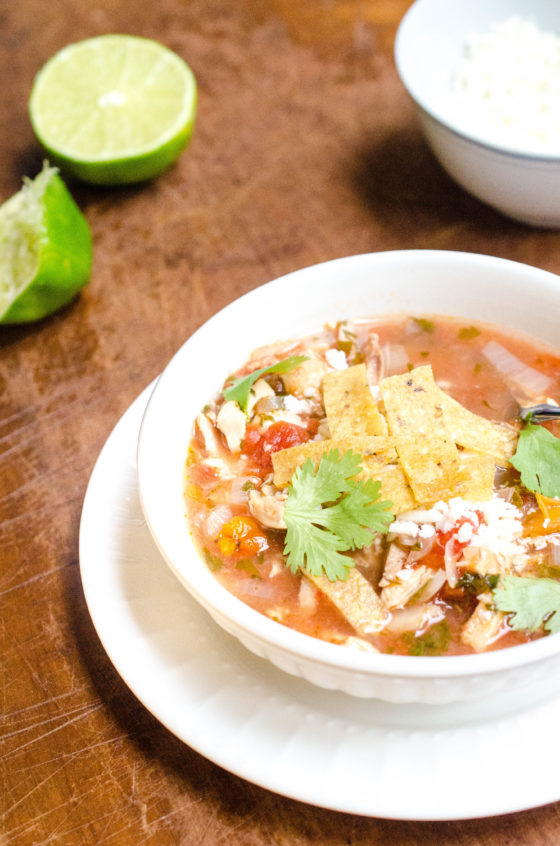 Sopa De Lima
Makes 8 to 10 tasting portions or 6 full servings
Ingredients
For the Tortilla Strips

Canola oil for frying

6

corn tortillas

about 51/2 in [14 cm] in diameter, cut into 1/2-in- [12-mm-] thick strips

Sea salt

For the Soup

2

Tbsp

olive oil

1

large onion

chopped

3

garlic cloves

finely chopped

Sea salt and freshly ground black pepper

1

jalapeño chile

cored, seeded, and finely chopped, plus more as needed

1

cup

[240 g] diced tomatoes

fresh or canned

1

Tbsp

chopped fresh oregano

4

cups

[960 ml] Roasted Chicken Stock or canned low-sodium broth

1

cup

[110 g] cooked shredded chicken

1/4

cup

[60 ml] fresh lime juice

plus more as needed

For the Garnishes

1

poblano chile

seeded and chopped

1

ripe but not overly ripe or mushy avocado

cut into 1/2-in [12-mm] cubes

1/4

cup

[10 g] finely chopped fresh cilantro

1

cup

[80 g] cotija Mexican cheese or feta

grated or finely chopped

1

lime

cut into wedges
Instructions
In a medium skillet over medium-high heat, add enough canola oil to reach a depth of 1/2 in [12 mm] and heat until a small piece of tortilla or a speck of salt immediately sizzles on contact. Cook the tortillas, one at a time, for 1 to 2 minutes on each side, or until golden brown and slightly puffed. Using tongs, transfer the tortillas to paper towels to drain; sprinkle with salt.

In a large stockpot over low heat, warm the olive oil. Add the onion and garlic and cook for 10 minutes. Season with salt and pepper, stir in the jalapeño, and cook for another 2 minutes. Stir in the tomatoes and oregano and cook for 5 minutes more. Turn the heat to high, add the chicken stock, and bring to a boil. Turn the heat to low, cover, and cook for 30 minutes. Add the chicken and cook for another 5 minutes.

Just before serving, add the lime juice to the soup. Taste and adjust the seasoning, adding more salt, pepper, jalapeño, or lime juice if needed.

Ladle the soup into mugs or bowls, top each with two or three tortilla strips, and serve. Have all the garnishes arranged decoratively on a large serv­ing plate and let guests add their own.
Please note that this post may contain affiliate links. (That means I make a commission if you use my affiliate link to buy the product.) 
If you are interested in hosting me for a speaking engagement, event, cooking class, or a book signing, let me know! Send an email to jona@virginiawillis.com and we'll be back in touch as soon as possible.
Please be nice. Unauthorized use and/or duplication is prohibited. All photos and content are copyright protected. If you wish to republish this recipe, please link back to this recipe on virginiawillis.com. Thanks so much!
Let's connect on Facebook , Twitter, Instagram, and Pinterest!

Please note that this post may contain affiliate links.