Please note that this post may contain affiliate links.
Sustainable Seafood and Wild Alaskan Salmon


The handwritten recipe in the photo is one of my favorite dishes. We've been buying Copper River Sockeye Salmon at the local fishmonger and I've asked for it 2 times in less than 2 weeks. I love it. I love the dish, it's so tasty. I love it's a family dish with a well-loved, spattered recipe. (I also love it's being made for me instead of the other way round!)
See the note in the corner under the splotch? Where it says "NY Times" and directly underneath it the word "superb?"  I adore that the descriptive is the word "superb" not "good" or a star or checkmark. Considering my beloved cookery wordsmith, of course it is. ❤️
Recipe Attribution and Testing
When I said I was going to write about it in this week's blog my highly ethical salmon chef said, "It's not an original (meaning hers) I think it's from the NY Times." (It wasn't until a bit later I understood the scribble in the corner.)  I googled a bit and discovered the original recipe was from 1996. There's been a lot of fuss and worry about recipe testing – or the lack thereof – and plagiarizing amongst a group of culinary professionals in the blogosphere of late.
I admit it makes me a bit crazy to read blog posts that have recipes that I can tell clearly don't work or that are essentially overblown uncredited ads. Several weeks ago I saw a post with a recipe for really delicious looking grilled herbed chicken — but the bean recipe was to heat the can of beans. I saw another popular blogger had softly lit, shallow focus bags of frozen vegetables in her post. Seriously.
Earlier this week a journalist interviewed me and relayed praise thatCentral Market Cooking School raved about my recipes and how well they work. I was thrilled and it brought a big smile to my face. I love teaching at Central Market and it's very professionally satisfying that I have their respect. (By the way, I am teaching at Central Market next week and seats are still available! Sign up today!)
In terms of the "NY Times Salmon" I've made a small number of changes in the original. There's some magic number, supposedly 3, that transfers recipe attribution. Frankly, my version is probably altered enough that I could more than likely get away with not acknowledging the original source from 16 years ago. After all, there's no copyrighting of recipes, which is part of the larger issue, and no one would know.
I would know — as would my much-loved, kind, and honest salmon-cooking wordsmith.
Bon Appétit Y'all
VA
PS need more great salmon recipes? Check THIS out and download a FREE ebook on cooking fish!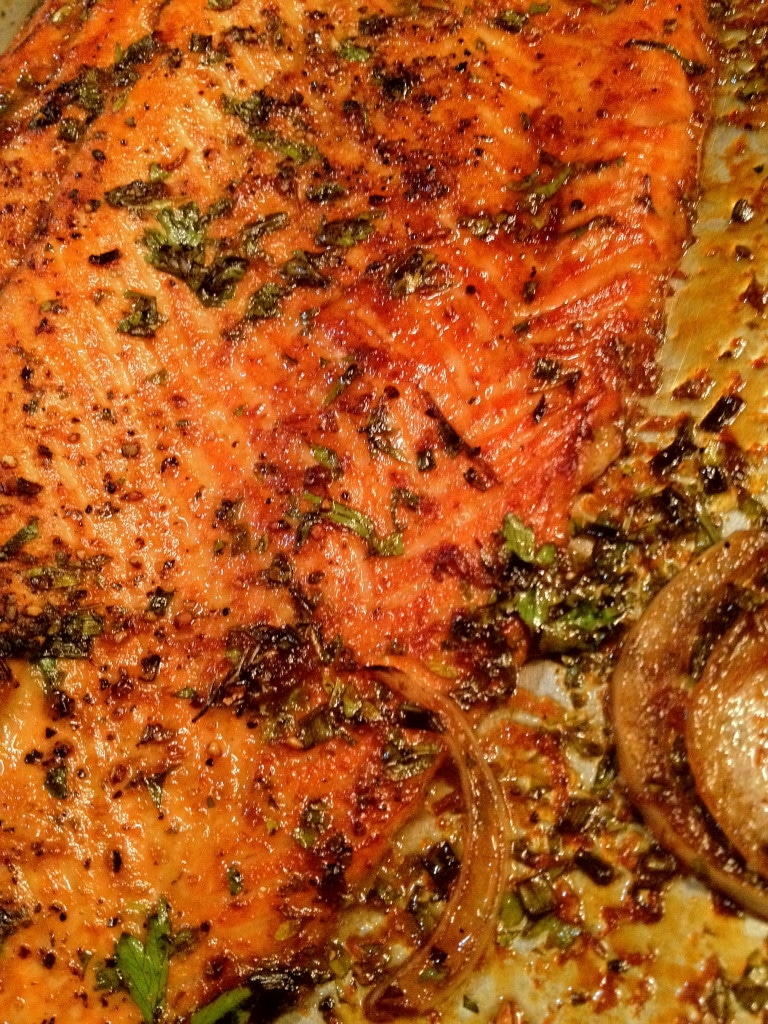 NY TIMES SALMON
SERVES 4
Ingredients
1

large salmon filet

scaled, with skin and pin bones removed (about 1 1/2 pounds)

3

cloves

garlic

very finely chopped

3

tablespoons

dark brown sugar

3

tablespoons

tamari

preferably wheat free

6

tablespoons

finely chopped fresh herbs

such as parsley, thyme leaves, cilantro, and chives

3

tablespoons

sesame oil

1/4

cup

extra virgin oil

Zest and juice of 1 lemon

1

sweet onion

preferably Vidalia, thinly sliced, optional

Coarse Kosher salt and freshly ground black pepper
Instructions
Place the salmon in a shallow ovenproof baking dish or rimmed half sheet pan. Set aside. Combine the garlic, sugar, soy sauce, herbs, oils, lemon zest and lemon juice in a bowl. Stir to combine and pour over salmon. Turn to coat. Cover and refrigerate to marinate, 30 minutes to an 1 hour. (Set the table and do your other food prep. Pour a glass of wine.)

Meanwhile, place the top rack about 4-inches from the heat source. Heat the oven to broil. About 15 minutes before ready to cook, remove the salmon to the counter to take the chill off and come to room temperature. Scatter around sliced onions. Broil to medium rare, 5 to 7 minutes depending on the strength of your broiler. Serve immediately.
Please be nice. Unauthorized use and/or duplication of this material without permission is prohibited. Feel free to excerpt and link, just give credit where credit is due and send folks to my website, virginiawillis.com. Thanks so much.

Please note that this post may contain affiliate links.