Please note that this post may contain affiliate links.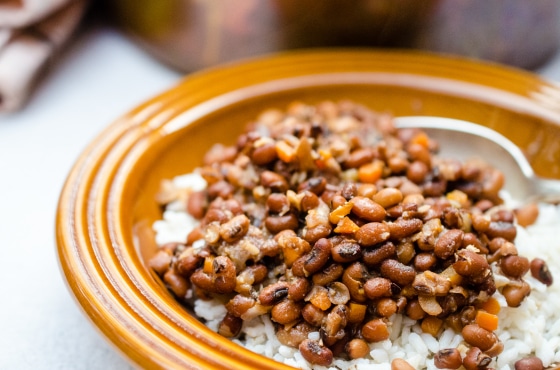 Eating black-eyed peas and rice in the form of a dish called Hoppin' John and Stewed Greens on New Year's Day is a Southern tradition. Folklore says the combination will bring luck and money in the upcoming year. Typically, the dried peas are black-eyed peas and there is generally a hunk of meat bobbing in the pot. This year, I wanted to mix things up and create a recipe for a Vegetarian Hoppin' John.
While I like the starchiness of the mildly flavored black-eyed pea, another change I wanted to make was in the type of pea I used in the dish. I set out to cook the pea that was likely the original pea used in Hoppin' John, an heirloom pea that was once grown along the Georgia and South Carolina coast known as the Sea Island Red Pea.  (Groups like the Southern Foodways Alliance and the Carolina Gold Rice Foundation — are working to bring back heirloom seeds and plants including field peas such as the Sea Island Red, available from Anson Mills.)
Both the commonly available black-eyed peas and more rare Sea Island Red Peas are legumes, the seeds of any of various bean or pea plants that consists of a case that splits along both sides when ripe and have the seeds attached to one side of the case. More commonly, both peas are known as field peas or cowpeas. These colloquial terms come from the farming practice in which the remnants of the plants from the pea harvest were left in the field for grazing cattle. It should be also be mentioned that field peas are actually beans, not peas.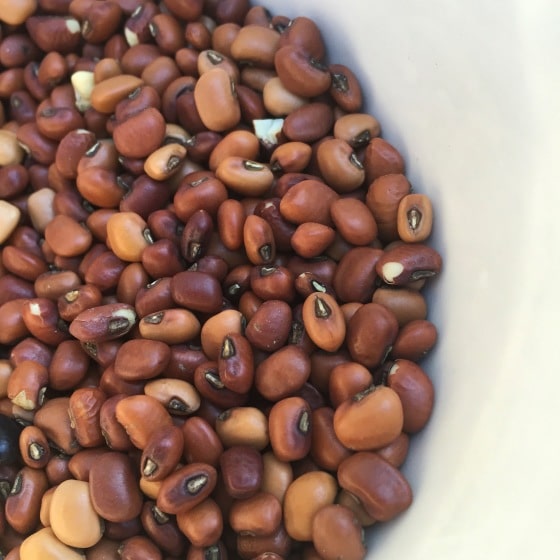 The importance of field peas in Southern foodways cannot be overstated. They were eaten fresh in the summer and dried for use in the winter. A simple dish like Hoppin' John is one of the cornerstones of Southern cuisine. Field peas became a staple food among Southerners, rich and poor, black and white, in the deep south as they are drought resistant and easily adaptable to varying types of soils. Peas have long been intercropped with rice, corn, and wheat. According to the Clemson University Cooperative Extension, most varieties of Southern peas produce their own nitrogen, making them good choices for soil-building summer crops.
My dear friend and colleague Sandra Gutierrez  has written Beans and Field Peas, a UNC Press Savor the South® cookbook.  In it she explores classic Southern recipes like Hoppin' John, shares recipes for New-Southern dishes, and rounds out her wide-ranging list of dishes with international bean and field pea recipes. She also examines the culinary history and cultural nuances of field peas and observes that what has long been a way of life for so many is now trendy. Indeed, all over the world, people rich, poor, or in between rely on legumes, the "culinary equalizer," as she puts it. Sandra's recipes are delicious and well-written. If you are interested in trying new or just new-to-you recipes for field peas (and beans) then this is definitely the book for you.
I'm sharing my recipe for a Vegetarian Hoppin' John and her recipe for a more traditional Hoppin' John. Best wishes for a healthy and Happy New Year!
Bon Appétit Y'all!
Virginia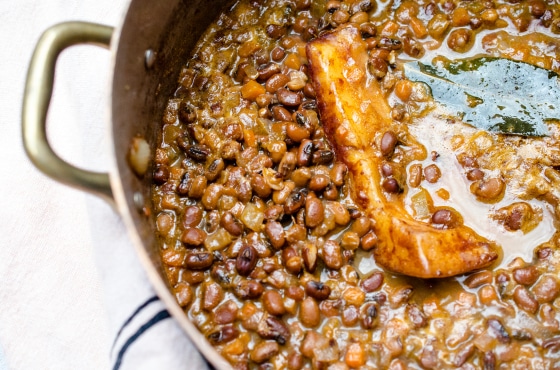 Vegetarian Hoppin' John 
Serves 8 to 10
Changing the pea was easy-peasy enough, but what about the salty, smoky, creamy broth typically associated with Hoppin' John? I exchanged smoked ham hock with a rind of Parmigiano Reggiano, used rich vegetable stock, and added a teaspoon of smoked paprika and a fresh bay leaf for good measure. Ok, so it's not completely vegetarian, but this combination allowed the meaty mineralogy of the Sea Island Red Peas to still maintain center stage. The peas produce a light gravy which I further enhanced by smashing some of the peas with an old-fashioned potato masher. So as to not overcook the peas, cook the rice separately and serve the peas on top.
2 cups dried field peas, such as Sea Island Red or Black-Eyed peas, soaked overnight
1 tablespoon pure olive oil
1 onion, finely diced
1 carrot, finely diced
1 stalk celery, finely diced
2 garlic cloves, very finely chopped
2 quarts vegetable or chicken stock, if preferred
1 parmesan rind
1 bay leaf
1 teaspoon smoked paprika
Cooked rice, for serving
Coarse salt and freshly ground black pepper
Drain the peas. Heat the oil in a pot over high heat. Add the onion, carrot, and celery and cook until the onion is soft and translucent, about 5 minutes. Add the garlic and cook until aromatic, 45 to 60 seconds. Add the drained peas, stock, parmesan rind, bay leaf, and smoked paprika. Season with salt and pepper. Stir to combine. Bring to a boil over high heat. Reduce heat to simmer and cook until the peas are tender, 1 to 1 -1/2 hours.
Remove the parmesan rind and bay leaf. Using an old-fashioned potato masher, mash some of the peas into the broth to form a gravy. Taste and adjust for seasoning with salt and pepper. Spoon the peas and gravy over the rice. Serve immediately.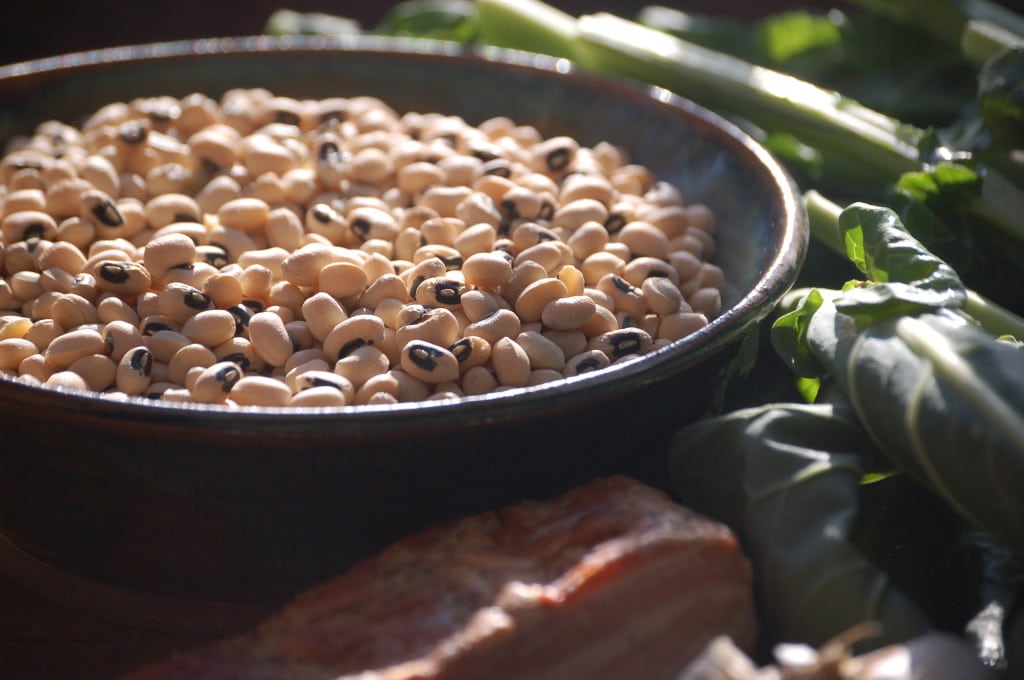 Sandra Gutierrez's Hoppin' John 
Serves 6
¼ pound bacon or smoked ham
½ cup finely chopped yellow onion
½ large green bell pepper, cored, seeded and finely chopped (about ½ cup)
2 large garlic cloves, minced
1 cup long grain rice
½ pound cooked black-eyed or cowpeas or red peas (about 1½ cups)
2 cups water
⅛ teaspoon cayenne pepper
1 teaspoon salt
¼ teaspoon freshly ground black pepper
Place the bacon in a 3-½ to 4-quart Dutch oven, set over medium-high heat. Cook until the bacon renders and begins to brown and get crispy, about 3 to 4 minutes. Add the onion and bell pepper; cook until they begin to soften, about 2-½ to 3 minutes. Add the garlic and cook until fragrant or about 30 seconds. Add the rice and stir well to coat all the grains with oil, about 30 seconds. Add the water and stir the brown bits at the bottom of the pan. Add the peas, salt, cayenne, and pepper. Bring the liquid to a boil; cover, reduce the heat to low, and simmer the rice for 20 to 25 minutes or until all of the liquid has been absorbed.
Photography by Virginia Willis
Want to keep up with my culinary wanderings and wonderings?
Lets connect on Facebook , Twitter, Instagram, and Pinterest!
Please note that this post may contain affiliate links.