Please note that this post may contain affiliate links.
Sweet Corn Recipes for Summer

Corn is one of the premier vegetables of summer all across the United States. Long hot Southern summers produce delicious corn, but some of the best I ever had in entire my life was from New Jersey! The farmer had a stand on the side of the road in front of his cornfield. He would ask how many ears you wanted, and march back into the green, rustling stalks to pick your order. Freshness is important, since the moment it's picked, the sugars begin converting into starch.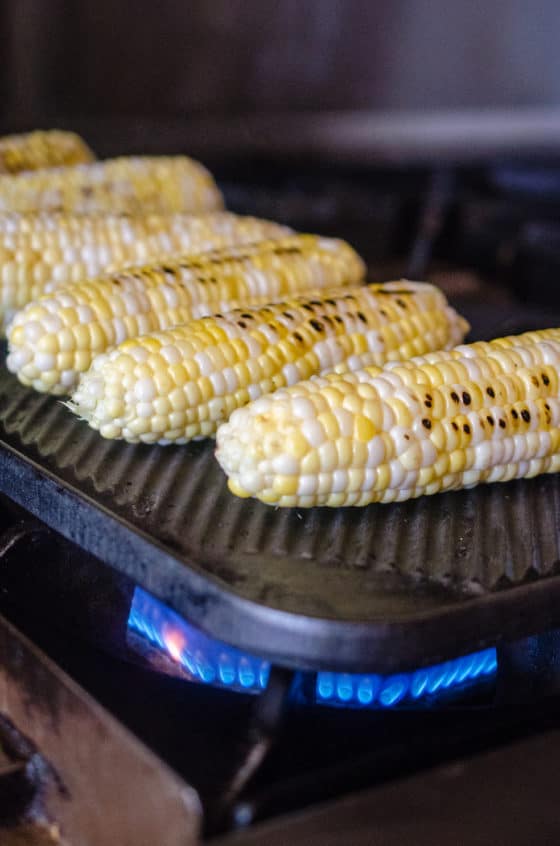 How to Pick Corn
My grandfather always preferred to plant his corn in the fruitful black soil at the river's edge. He taught me that when it is ripe and ready to be picked, the silk at the top of the ear should be dark brown, almost black. It is not unusual to see people peeling back the husks in search of ears with perfect rows of kernels. The truth is, perfect rows of kernels don't really matter all that much. Just take a peek to make sure the ear is plump, full, and free of worms, but keep the husk on to keep the ear moist and sweet.
The silks play a role in corn biology. Did you know that each strand of silk on an ear of corn represents a kernel of corn — but only if pollen falls on the silk! Otherwise, a kernel does not develop. A corn plant produces silk surrounding each ear about two months after the plant emerges from the ground. Tassels, the male part of the plant, emerge at its top and shed pollen for a week or two, fertilizing the individual silk strands below. Pollination occurs when the falling or wind-borne pollen grains are caught by these new moist silk strands. A captured pollen grain takes about 24 hours to move down the silk to the ovule, where fertilization occurs. The fertilized ovule then develops into a kernel.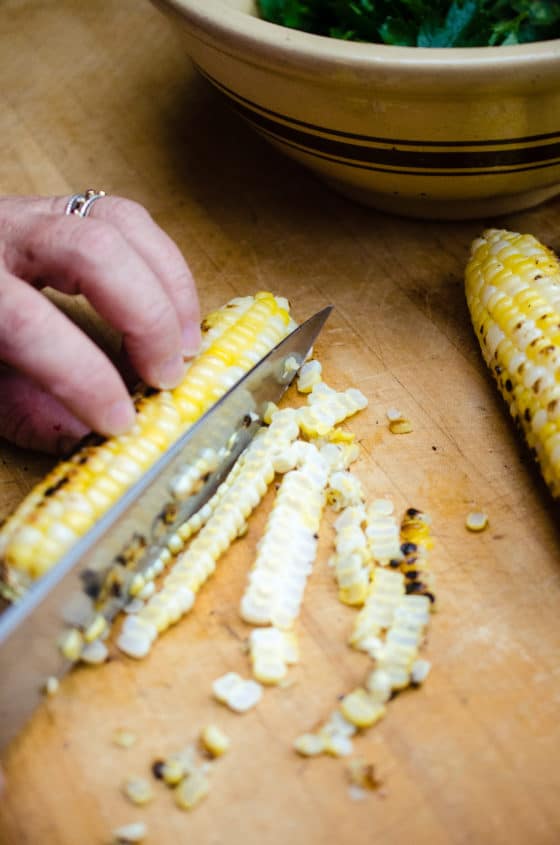 How to Cut off the Cob
When corn is just coming into season it doesn't have as much flavor as it does at peak season. During peak season it's enough to simply boil it and eat it plain — even butter is optional! However, I do like to mix things up a bit and char it on the grill (or grill pan) and serve with compound butters or char it and use it in a salad or salsa.
To cut the kernels off of the cob, many cooks suggest to place the ear vertical to the cutting board and using a knife to remove the kernels.  I find that holding the ear straight up causes the kernels to scatter all over the place. Instead, place the ear horizontal on the cutting board. Use a chef's knife and slice the kernels from the cob. They fall a shorter distance to the cutting board and are less likely to scatter.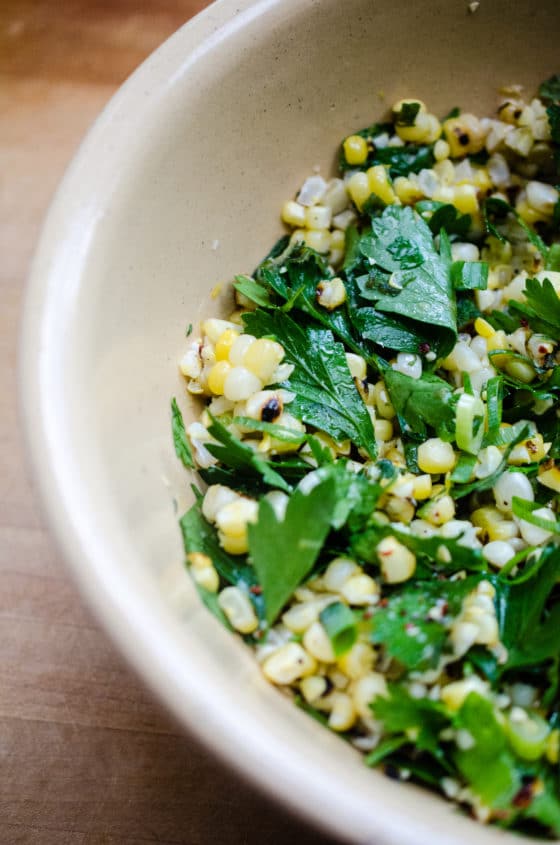 Summer Sides
As summer has heated up, I've found myself cooking more and more Mediterranean and Middle Eastern recipes. They are both perfect cuisines for hotter months. One thing led to another with a half-dozen ears of early corn and I came up with this recipe Grilled Corn Tabouleh. Tabouleh is a Middle Eastern grain salad that most often uses cracked wheat or bulgur. We really like this version made with fresh grilled corn and hope you do, too. Let me know what you think!
Bon Appétit, Y'all!
Virginia Willis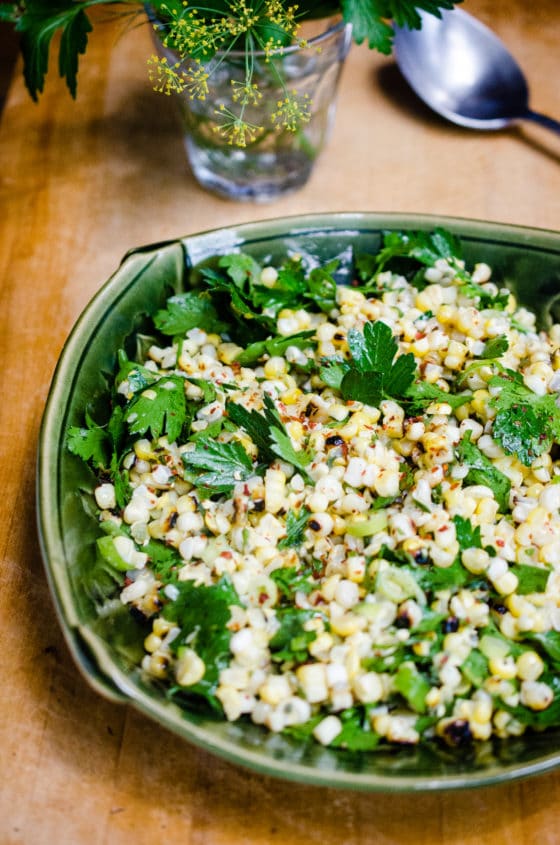 Grilled Corn Tabouleh
Ingredients
6

ears corn

shucked and silks removed

1/4

jalapeno

very finely chopped, or to taste

1

clove

garlic

grated on a microplane or very finely chopped

1/2

cup

freshly picked flat leaf parsley leaves

2

tablespoons

freshly chopped mint

1

teaspoon

Aleppo pepper or red pepper flakes

or to taste

1

teaspoon

ground coriander

Zest of 1 lemon

Juice of 1/4 lemon

Fleur de sel or best quality sea salt and freshly ground black pepper
Instructions
Heat a grill pan to very high heat. Add the corn and cook until tender and lightly charred on all sides, about 8 minutes. Remove the corn from the cob and transfer to a bowl. Add the jalapeno, garlic, parsley, mint, pepper, coriander, lemon zest, and lemon juice. Season with salt and pepper. Serve immediately.

Please note that this post may contain affiliate links.