Please note that this post may contain affiliate links.
Get Your Grill On This Weekend!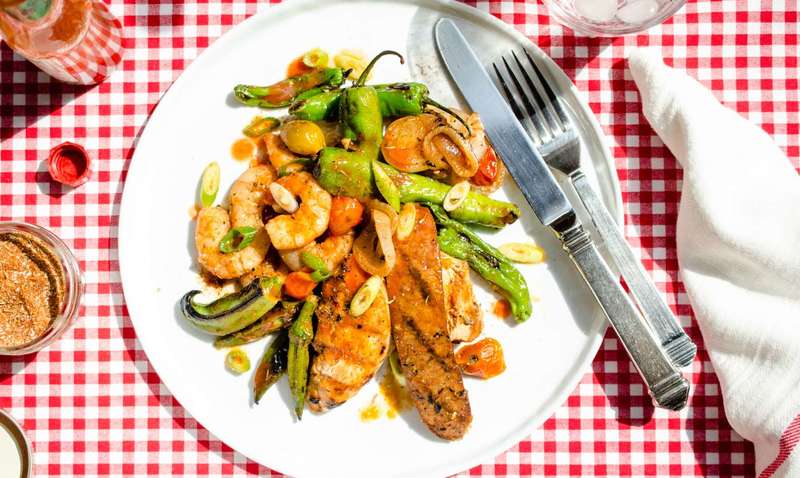 It's hump day and the weekend is right around the corner — and that means folks will be grilling! There is simply nothing in this world or the next that tastes like food kissed by fire and bathed in smoke.

BBQ vs Grilling
There are two normal routes for outdoor cooking in the South: barbecuing and grilling out. Barbecue, as both a noun and a verb, hovers between religion and sport in the South, none of which are taken lightly. Whether you go old school and dig a pit or fire up a brand-new komodo for pulled pork, cooking barbecue is a long, slow process, the alchemy of transforming a simple hunk of meat into a moist, tender delicacy.
Grilling out is something else entirely. Firing up a grill is quick and easy. Whether you are a gas or charcoal fan, grilling means burger and brats, chops or chicken — and don't forget the vegetables. Eggplant on the grill is sublime, zucchini is fantastic – check out my Grilled Zucchini with Tomatoes and Mint in Southern Living — and thick slices of Vidalia nicely charred onions are Standard Operating Procedure. Grilling out is as all-American as baseball and apple pie.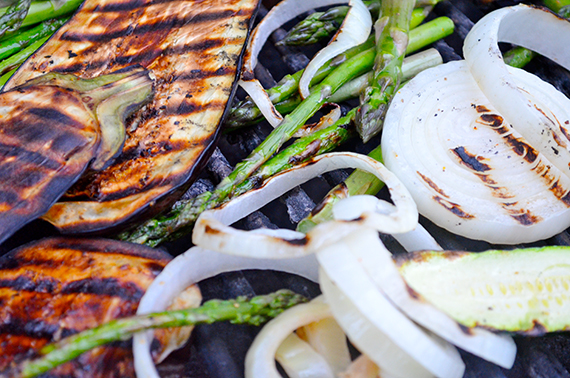 Grilling Tips
Sadly, sometimes the results of those tantalizing smoky scents don't meet expectations. Sometimes the results are shrunken, charred burgers with more bun than beef or chicken that is as dry as a Sunday dinner on the grounds at a Baptist church.
First things first — great grilling means following a few tips for best results.
Clean it Up!

A clean grill is the secret to better-tasting food. And it

make

s future

grilling much easier

because your food will be less likely

to stick to the grill. The best time to clean grill is while it is still warm. When it has cooled completely particles harden on the grate, making cleaning more difficult.So after you've enjoyed your meal and your grill has simmered down, use a good, strong wire brush to clean the grill.
It's Getting Hot in Here! Preheat your grill 15 to 25 minutes before you start cooking to make sure it reaches the right temperature (and to kill any bacteria). Your grill should be 400-450°F for high, 350-400°F for medium-high, 300-350°F for medium and 250-300°F for low heat. A properly heated grill sears foods on contact, keeps the insides moist and helps prevent sticking.
Strike Oil! Even on a clean grill, food may stick when placed directly on the rack. Reduce sticking by oiling your hot grill rack with a vegetable oil-soaked paper towel or rag: hold it with tongs and rub it over the rack. Do not use cooking spray on a hot grill — unless you want some pyrotechnics. 😉
Keep a Lid on It! Keeping the lid shut keeps the grates hot, speeds up the cooking time, traps the smoke, and helps prevents flare ups.
Flame Out! If the flames are getting out of control, move the food over indirect heat temporarily, until they die down. Too many flare-ups can scorch the food. I keep a spray bottle of water on the side to help extinguish flames ups.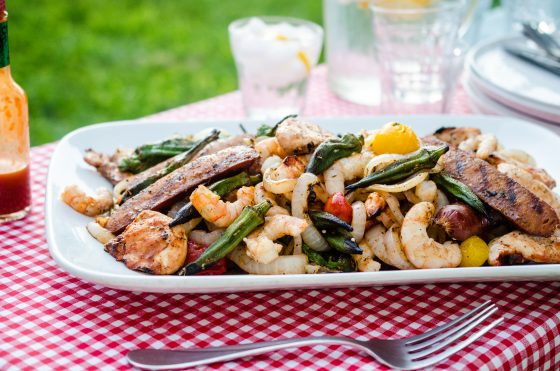 More than Burgers — plus, a Secret Ingredient!
I like to mix things up on the grill, like with this recipe for "Grilled Gumbo." Yes! Grilled Gumbo. (Purists are now fainting all across the parishes of Louisiana.) True Gumbo is a dish from my childhood spent in Louisiana. It's a soup thickened with okra pods or filé and containing meat or seafoods and usually vegetables.
In this recipe, I take those flavors to the grill!  Succulent shrimp, juicy chicken, and spicy andouille sausage team up with sweet onions, peppers, tomatoes, and okra for a delicious dish that tastes like gumbo — but doesn't take hours to cook.
What's the secret ingredient? Ketchup! After the meat and vegetables are cooked on the grill they are tossed in a bit of warmed ketchup and Creole seasoning, coating the dish in a light flavorful sauce. It's easy, quick and delicious – give it a try!
Bon Appetit Y'all!
Virginia Willis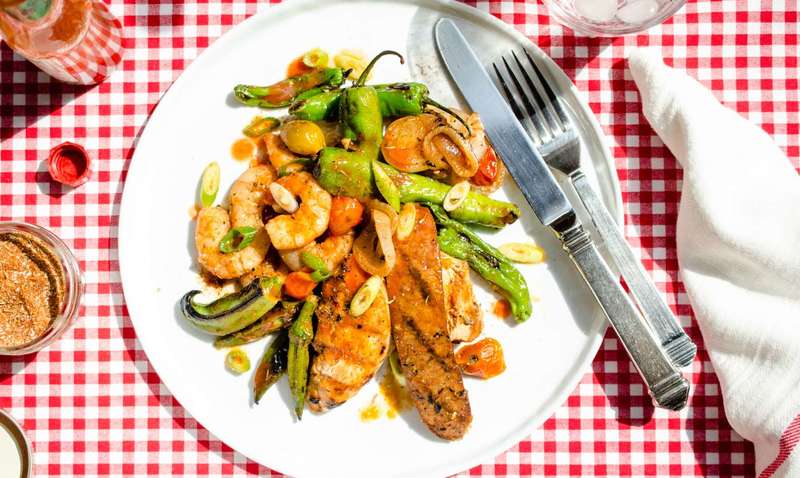 Grilled Gumbo
Ingredients
4

boneless skinless chicken breasts,

cut into 3-inch pieces (about 2 pounds)

1 1/2

pounds

large shrimp,

21/25 count, peeled and deveined

12

ounces

fully cooked Andouille sausages,

halved lengthwise

1

pint

grape or cherry tomatoes

12

ounces

finger-size okra,

stems trimmed

2

onions,

preferably Vidalia, sliced into 1/4-inch rings

1

pint

shisito peppers,

or 2 poblano or green bell peppers, cored, seeded and cut into strips

1/4

cup

extra-virgin olive oil

2

teaspoons

Creole seasoning,

plus more to taste

1/4

cup

ketchup,

warmed

4

scallions,

white and pale green parts only, chopped

Coarse kosher salt and freshly ground black pepper
Instructions
Prepare a charcoal fire using about 6 pounds of charcoal and burn until the coals are completely covered with a thin coating of light gray ash, 20 to 30 minutes. Spread the coals evenly over the grill bottom, position the grill rack above the coals, and heat until medium-hot (when you can hold your hand 5 inches above the grill surface for no longer than 3 or 4 seconds). Or, for a gas grill, turn on all burners to high, close the lid, and heat until very hot, 10 to 15 minutes.

In a large bowl, combine the chicken, shrimp, sausage, tomatoes, okra, onion and shisito peppers. Add the oil and Creole seasoning, and toss to evenly coat the ingredients. Thread the shrimp, tomatoes and okra onto separate skewers. (The chicken, onions, and shisito peppers will go directly on the grill. If using pepper strips, thread onto skewers.) You could skewer and then season, but coating ahead of time ensures an even coating of spices — and messy fingers, but you can always wash your hands!

Now, it's a matter of cooking in batches, working the grill, and trying to make sure everything is ready about the same time. However, don't overthink this — set a second bowl beside the grill and as the items are ready, simply toss them into the bowl and cover to keep warm.

Place the chicken pieces on the grill and cook until firm, turning once until the juices run clear when pierced with a knife and the center registers 165 degrees, about 4 minutes per side. Meanwhile, place the onions and peppers on the grill and cook until tender and charred, about 7 minutes. Add the okra and tomatoes to the grill and cook until charred and tender, about 5 minutes. Arrange the sausage over slightly cooler heat and cook until charred and warmed through. Towards the end of cooking when everything is nearly done, add the shrimp and cook, turning once or twice, until the shrimp is opaque, about 2 minutes per side.

Transfer the cooked ingredients to the second large bowl, removing from the skewers as needed. Top with the warm ketchup and scallions and toss to coat. Cover the mixture tightly with plastic wrap and let the vegetables steam and wilt slightly, about 3 minutes. Remove the plastic wrap. Taste and adjust the seasoning with salt, pepper and Creole seasoning to your liking. Serve immediately with additional hot sauce on the side.
Want to keep up with my culinary wanderings and wonderings?
Please be nice. Unauthorized use and/or duplication of this material without permission is prohibited. Feel free to excerpt and link, just give credit where credit is due and send folks to my website, virginiawillis.com. Thanks so much.

Please note that this post may contain affiliate links.