Please note that this post may contain affiliate links.
Please note that this post may contain affiliate links. (That means I make a commission if you use my affiliate link to buy the product.) 
Rev it Up!
It's the season of root vegetables, winter squash, and bitter greens. Sweet potatoes and butternut squash are nature's candy! (Admittedly, it's still easy at this point in the season to be excited about root vegetables… check back in late February.) One of my favorite winter vegetables is the lowly, oft-overlooked rutabaga. All manner of turnips are the okra of winter vegetables. People despise them. I love their sweet-bitter delciousness. Granted, in comparison, it's pretty hard to get excited about rutabaga when thinking about a vine-ripe summer tomato….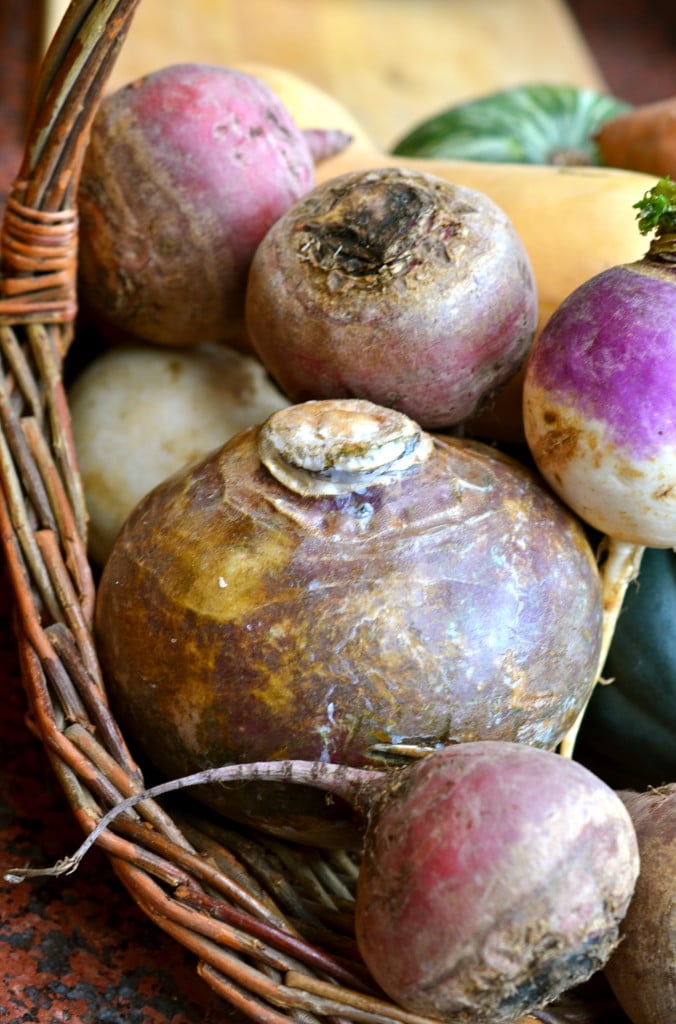 Vegetable Cookbook Authors and Chefs 
Need some inspiration? Check out this list of some of my favorite vegetable chefs and cookbook authors. (Some of vegan or vegetarian, but not all.)
One of my go-to vegetable cookbooks  Eat Your Vegetables: Bold Recipes for the Single Cook by my friend and colleague Joe Yonan food editor for the Washington Post.
Please note that this post may contain affiliate links. (That means I make a commission if you use my affiliate link to buy the product.) 
Eat Your Vegetables
It's perfect for anyone looking to expand their vegetarian and plant-based repertoire. The recipes are eclectic, flavorful, and yes, inspired. The ideas are fresh and out of the box. This cookbook will help you get more plants on your plate — even in the dead of winter. Yes, it's a cookbook for cooking for one, but I've found the many of the recipes are very agreeable to scaling up or, as with the recipe I am featuring below, the portions are fine to share with one person. The main thing is that this book will help you think about cooking vegetables in a whole new light.
Winter Vegetable Recipes
I hope you enjoy scoping out some new authors and enjoy Joe's recipe from Eat Your Vegetables for a Sweet Potato Galette. Just to prove these rustic rutabagas can be rewarding, I'm sharing my recipe for a Revved Up Rutabaga Puree. I'm certain you will like them both. 😉
Bon Appétit Y'all!
Virginia Willis 
Revved Up Rutabaga Puree
Serves 4 to 6
Ingredients
4

cups

homemade chicken stock or reduced fat low sodium chicken broth

1

large rutabaga

peeled and cubed

1

tablespoon

unsalted butter

1

clove

garlic

finely chopped

2

sprigs thyme

Coarse kosher salt and freshly ground black pepper
Instructions
Place the stock, cubed rutabaga, and butter in a medium saucepan and season with salt and pepper. Bring to a boil over high heat then reduce the heat to simmer. Cook, uncovered and stirring occasionally, until the rutabaga is tender to the point of a knife, about 30 minutes.

To make the puree, using a slotted spoon, transfer the cubes to the work bowl of a food processor fitted with the metal blade or the jar of a blender. Add the garlic and process until a smooth puree. If the mixture is too thick, add some or all of the cooking liquid, if necessary. If too thin, transfer to a clean saucepan and cook over low heat to evaporate some of the moisture. Add thyme leaves and pulse to combine. Taste and adjust for seasoning with salt and pepper. If needed, re-warm the puree over medium-low heat. Serve immediately.
Sweet Potato Galette with Mushrooms and Kale
Serves 1-2
Ingredients
1

cup

lightly packed kale leaves

2

tablespoons

extra-virgin olive oil

1/2

teaspoon

smoked Spanish paprika

pimentón, or 1/4 teaspoon crushed red pepper flakes (for more heat)

1

very small onion or large shallot lobe

finely chopped

1

clove

garlic

thinly sliced

4

ounces

oyster or other variety meaty mushrooms

stemmed and chopped

Kosher or sea salt

1

small

6- to 8-ounce sweet potato, scrubbed but not peeled, cut in 1/8-inch slices

2

tablespoons

grated Comté

Gruyère, or other nutty mountain cheese

2

tablespoons

raw unsalted pecan or walnut halves

1

green onion

trimmed and thinly sliced
Instructions
Preheat the oven to 400°F. Strip the kale leaves from the stems and coarsely chop the leaves. Thinly slice the stems and keep them separate from the leaves.

Pour 1 tablespoon of the oil into a medium skillet over medium heat. When it starts to shimmer, sprinkle in the pimenton and let it sizzle and bloom for a few seconds, then add the onion, garlic, and sliced kale stems and sauté until tender. Add the mushrooms and sauté until they collapse and release their liquid, then add the kale leaves and continue cooking until the liquid has evaporated. Season with salt to taste and remove from the heat.

Pour the remaining tablespoon of oil into a small, well-seasoned cast-iron skillet over medium heat. Carefully arrange half of the sweet potato slices in the skillet in concentric circles, overlapping to form a couple of layers; sprinkle each layer with a little salt as you go. Spoon on the mushroom-kale mixture, and top with the grated cheese.

Arrange the remaining sweet potato slices on top, sprinkling each layer lightly with salt as you go. Press the galette with a spatula, cover the skillet tightly with aluminum foil, and bake until the sweet potatoes are easily pierced with a fork, 20 to 25 minutes.

While the galette is baking, sprinkle the pecans into a small skillet over medium-high heat. Cook, shaking the pan frequently, until the nuts start to brown and become fragrant, a few minutes. Immediately transfer them to a plate to cool; if you leave them to cool in the pan, they can burn. Once they are cool, chop them.

Remove the galette from the oven and take off the foil. Turn the oven to broil and slide the skillet under the broiler element or flame until the sweet potatoes just brown on top.

Let the galette cool for a few minutes, then run a knife around the edges of the skillet to loosen it. Invert a plate over the skillet and, using oven mitts, hold the skillet and plate together and quickly flip the two so the plate is on the bottom and set it on the counter. Lift off the skillet. Some of the potato slices may stick to the pan; use a spatula to scrape them out and patch up the galette.

Sprinkle with the green onion slices and nuts and eat. (If you prefer, you can leave the galette in the pan and cut wedges out of it for eating.)
All Photos by Virginia Willis – except the Sweet Potato Galette
Sweet Potato Galette: Reprinted with permission from Eat Your Vegetables by Joe Yonan, copyright © 2013. Published by Ten Speed Press, a division of Random House, Inc. Food Photography credit: Matt Armendariz © 2013
If you are interested in hosting me for a speaking engagement, event, cooking class, or a book signing, let me know! Send an email to jona@virginiawillis.com and we'll be back in touch as soon as possible.
Please be nice. Unauthorized use and/or duplication is prohibited. All photos and content are copyright protected. If you wish to republish this recipe, please link back to this recipe on virginiawillis.com. Thanks so much!

Let's connect on Facebook , Twitter, Instagram, and Pinterest!
Please note that this post may contain affiliate links.