Please note that this post may contain affiliate links.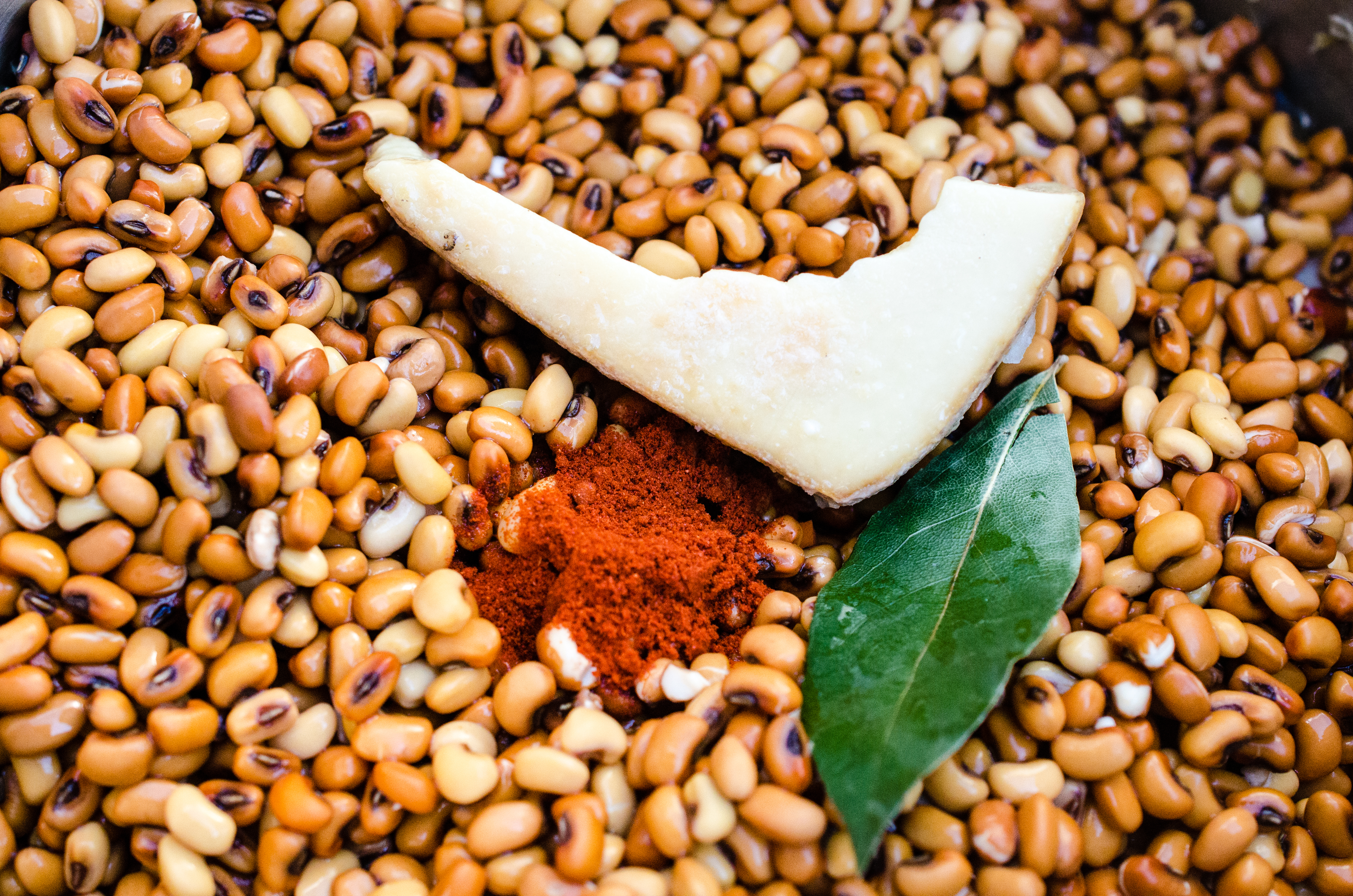 Eating Hoppin' John, a dish made of peas and rice, with greens and cornbread on New Year's Day is a Southern tradition. Folklore says the combination of eating peas and greens will bring luck and money in the upcoming year. Typically, the dried peas are black-eyed peas and there is generally a hunk of meat bobbing in the pot. In my family, we traditionally don't mix the peas and rice, but cook them separately. And, while my mother and grandmother typically cooked their peas and greens with meat, I often keep my New Year's Day feast vegetarian!

What are Cow Peas and Field Peas?
The term "cow peas" comes from the farming practice in which the remnants of the plants from the pea harvest were left in the field for grazing cattle. Cow peas are also sometimes called field peas. The importance of field peas in Southern foodways cannot be overstated. They were eaten fresh in the summer and dried for use in the winter. A simple dish like Hoppin' John is one of the cornerstones of Southern cuisine. Field peas became a staple food among Southerners, rich and poor, black and white, in the deep south as they are drought resistant and easily adaptable to varying types of soils.
Although called peas, they are actually beans. Cowpeas are very easy to grow and very popular in the Southern US, Africa, and Asia. They originated in Africa, and tolerate heat, drought and humidity much better than common beans do. Common examples include Black Eyed Peas, Crowder Peas, and the more rare heirloom cow pea known as the Sea Island Red Pea.  The Sea Island Red Pea was likely the original pea used in Hoppin' John, and was once grown along the Georgia and South Carolina coast. (Read more about field peas in this NYT article by Kim Severson.)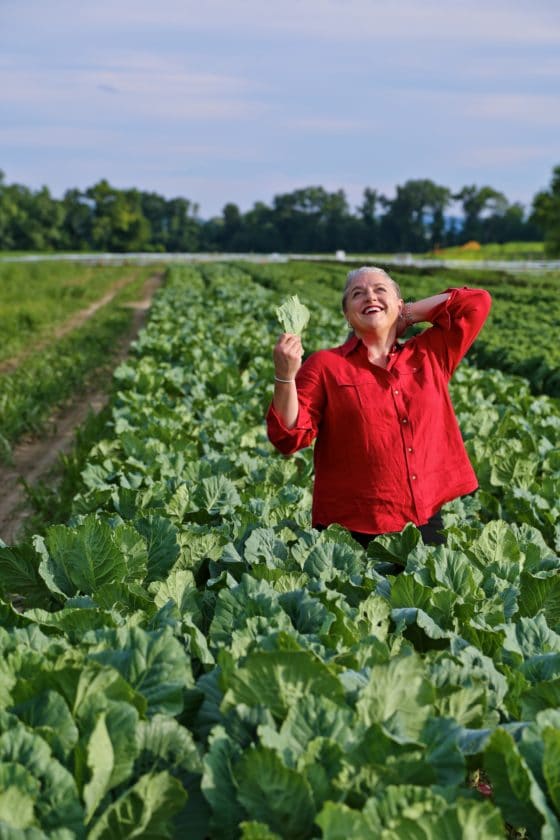 How to Cook Greens
I love greens. Collard greens, mustard greens, turnip greens, kale, cabbage — you name a green and I love them. All these greens are nutritional powerhouses and familiar friends on the Southern table. When buying greens look for brightly colored crisp leaves free of brown spots and yellowing edges.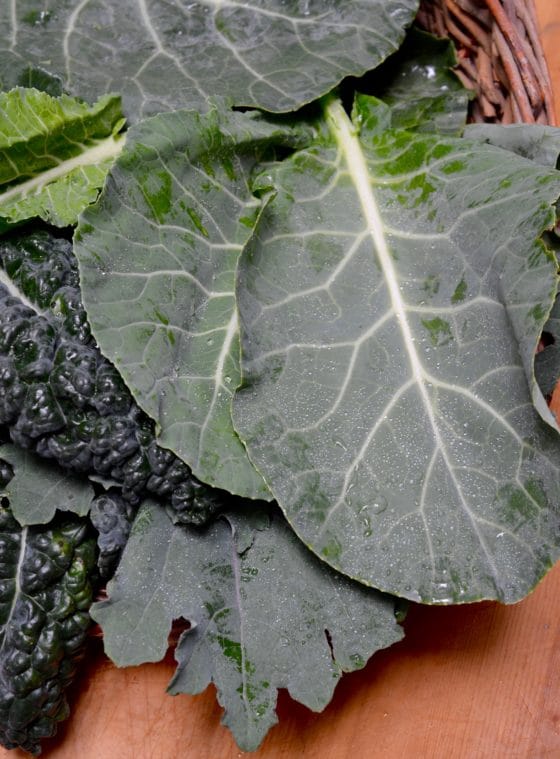 How to Clean Greens
The best way to clean greens is to fill a clean sink with cold water, add the greens, and swish them around. The dirt will fall to the bottom of the sink. Lift the greens out, drain the sink, and repeat until the water is clear and the greens are free of dirt and grit.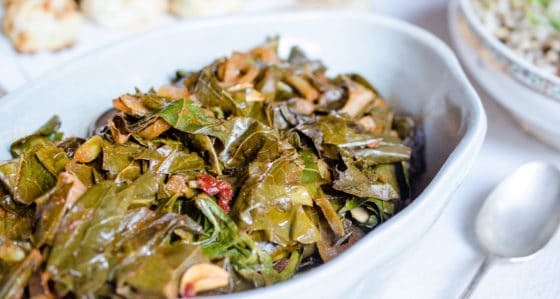 Greens Recipes for New Year's Day
Below is a collection of some of my Greens Recipes for you to try. Heads up, I often keep them vegan so it's one pot for everyone — and less pots for me to cook! And, I promise, no one will miss the meat!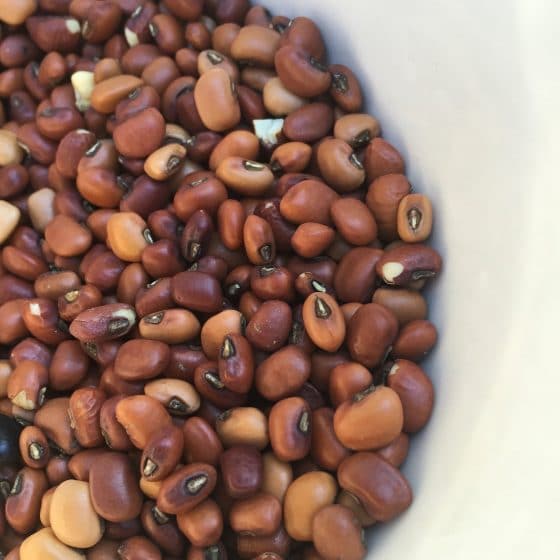 Tis' the Season 
As we continue into winter aka dried bean season I want to share information about the great cookbook Beans and Field Peas, by my dear friend and colleague Sandra GutierrezIn it she explores classic Southern recipes like Hoppin' John, shares recipes for New-Southern dishes, and rounds out her wide-ranging list of dishes with international bean and field pea recipes. She also examines the culinary history and cultural nuances of field peas and observes that what has long been a way of life for so many is now trendy. Indeed, all over the world, people rich, poor, or in between rely on legumes, the "culinary equalizer," as she puts it.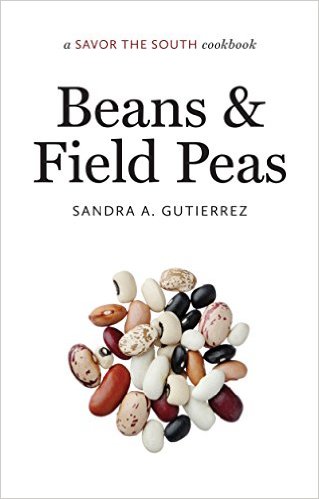 Pea Recipes for New Year's Day
I'm sharing my recipe for a Vegetarian Hoppin' John and her recipe for a more traditional Hoppin' John. Still need more ideas for dried peas? Check out these recipes for a Black-Eyed Pea Paella
Best wishes for a healthy and Happy New Year! I for one, am mighty ready to put 2019 behind me and looking forward to a thriving 2020. You can guarantee I'll be having peas and greens on New Year's Day!
Bon Appétit Y'all!
Virginia Willis 
PS I wanted to share that Food Network has a great new app called Food Network Kitchen with cooking classes on demand, live classes, and more. Check it out — lots of great things happening. 
AND When you purchase a Food Network Kitchen Premium Annual Subscription, Discovery will donate ten dollars ($10) to No Kid Hungry or a maximum donation of one million dollars ($1,000,000)/10 million meals!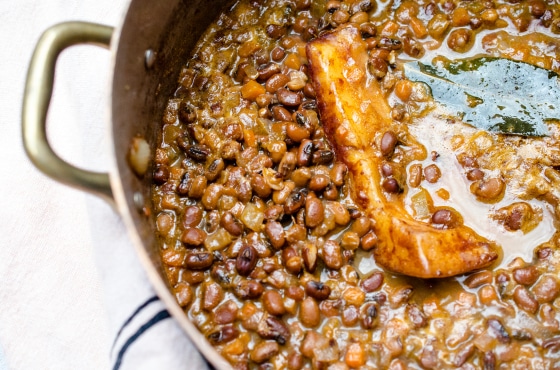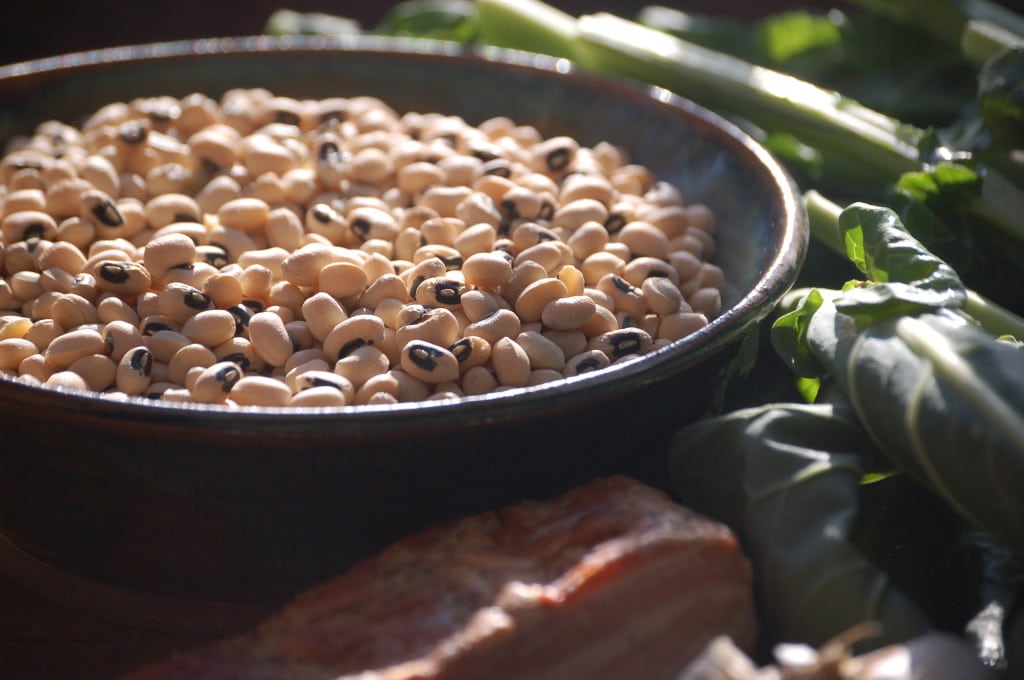 Sandra Gutierrez ' Hoppin' John 
Serves 6
Ingredients
¼

pound

bacon or smoked ham

½

cup

finely chopped yellow onion

½

large green bell pepper

cored, seeded and finely chopped (about ½ cup)

2

large garlic cloves,

minced

1

cup

long grain rice

½

pound

cooked black-eyed or cowpeas or red peas

(about 1½ cups)

2

cups

water

⅛

teaspoon

cayenne pepper

1

teaspoon

salt

¼

teaspoon

freshly ground black pepper
Instructions
Place the bacon in a 3-½ to 4-quart Dutch oven, set over medium-high heat. Cook until the bacon renders and begins to brown and get crispy, about 3 to 4 minutes. Add the onion and bell pepper; cook until they begin to soften, about 2-½ to 3 minutes. Add the garlic and cook until fragrant or about 30 seconds. Add the rice and stir well to coat all the grains with oil, about 30 seconds. Add the water and stir the brown bits at the bottom of the pan. Add the peas, salt, cayenne, and pepper. Bring the liquid to a boil; cover, reduce the heat to low, and simmer the rice for 20 to 25 minutes or until all of the liquid has been absorbed.
If you are interested in hosting me for a speaking engagement, event, cooking class, or a book signing, let me know! Send an email to jona@virginiawillis.com and we'll be back in touch as soon as possible.
Please be nice. Unauthorized use and/or duplication is prohibited. All photos and content are copyright protected. If you wish to republish this recipe, please link back to this recipe on virginiawillis.com. Thanks so much!
Want to keep up with my culinary wanderings and wonderings?
Lets connect on Facebook , Twitter, Instagram, and Pinterest!

Please note that this post may contain affiliate links.