Please note that this post may contain affiliate links.
How to Cook Okra and Okra Recipes


Of all the Southern recipes and ingredients I might love okra the most. I love this vegetable so much I wrote a book about it. Yup, a few years ago, I wrote an entire book about okra!
However, folks are confused. Excited, they gasp, "You wrote a book about Oprah?! OMG! Did you get to meet her?"
"No", I reply, "I wrote a book about Okra." The humble, oft-maligned vegetable, not the  celebrated media mogul…..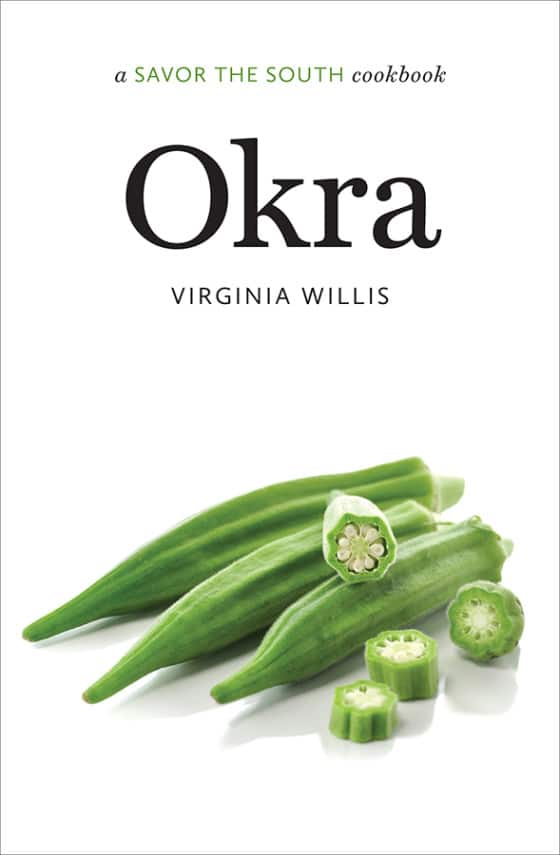 Missionary
The book is part of the Savor the South® series by UNC Press. Each cookbook in the collection is a celebration of a beloved food or tradition of the American South. I have to tell you, I had lots of choices regarding Southern ingredients – sweet potatoes, pecans, catfish, and bourbon. I wanted to write about it, because, as I say in the very first sentence of the book, okra is a contentious vegetable. Folks love it or hate it. There are very few people in the middle.
My little book has 50 recipes, yes, 50!! The first half come from the Southern kitchen and range from old-fashioned to chef-chic. The second half of the recipes spans the globe. Okra grows best where it is hot. We begin our journey in Africa. Then, I follow the slender pod around the globe starting in the Mediterranean, including Egypt. Greece, Turkey, Morocco, and Iran. We then travel to India, a large country with many regions and styles of cuisine. We make a brief stop in Malaysian for a quick stir-fry. Lastly, we travel to the Caribbean and to South America. Whether you are an avid fan or a recent convert I am certain you will find recipes you and your family will savor. It got a lot of attention including these pieces in the New York Times, the Los Angeles Times, and  the Chicago Tribune!
For information on buying my book, please click HERE.
10 Slime Busting Tips
The proverbial elephant in the room is the slime. When I was writing the book, my editor didn't want me to use the word "slime" and suggested the word mucilaginous. Well, I'm not too sure that sounds any better. The mucilage is a type of soluble digestible fiber. In the plant it aids in water storage, prevents the seed from drying out, and assists with seed germination. Here are my ten tips on busting slime, or um, mucilage.
Choose small pods.
Wash and dry okra "very, very thoroughly."
Cook whole pods instead of chopped okra. Adjust cooking time, if necessary.
Wipe the knife clean after each slice when cutting up okra.
Add tomato, lemon juice, vinegar, wine or some other acid when cooking.
Don't overcook.
Don't crowd the pan when cooking.
Cook it quickly over high heat.
Don't cover when cooking.
Cook the vegetable separately, and add it to the finished dish.

Worldwide Appeal
I am sharing with you a recipe for Spicy Pickled Okra. Pickling the contentious vegetable minimizes the slime, the elephant in the room. Folks that love it don't mind the slime. My mother cooks it until it's more akin to a vegetal oyster and will very nearly slide down your throat on its own volition. I like it that way, too. The deal is, folks that love okra love it any which way – pickled, boiled, grilled, fried, steamed – you name it, we like it. The other bonus of pickled okra is that it's great as a garnish for a martini — and bobbing in a glass of vodka can usually coerce people to at least try it.
Okra Recipes
Here's are a handful of okra recipes for your enjoyment! Please share your favorite recipe ideas in the comments. Thanks so much for reading.
Bon Appétit Y'all!
Virginia Willis
Spicy Pickled Okra
Ingredients
2

pounds

medium okra pods

4 

small dried chiles

2 

teaspoons

yellow mustard seed

1 

teaspoon

whole black peppercorns

8

cloves

garlic

peeled

4

cups

distilled white vinegar

2

cups

water

2

tablespoons

pickling salt
Instructions
Wash the okra and trim the stems to 1/2 inch. Place 1 chile, 1/2 teaspoon mustard seed, 1/4 teaspoon peppercorns, and 2 cloves of garlic in the bottom of each of 4 sterilized pint-sized canning jars. Divide the okra evenly among the jars, placing the pods vertically, alternating stems up and down.

In a medium saucepan over medium heat, bring the vinegar, water, and salt to a boil. Carefully pour the boiling mixture over the okra in the jars, leaving 1/4 inch of headroom between the top of the liquid and the lid. Seal the lids.

Process the jars in a boiling-water canner for 15 minutes. Store the unopened jars at room temperature for up to 1 year. Once the jars are opened, store in the refrigerator for up to 1 month.

Variation: For refrigerator pickles, skip the boiling-water canner and refrigerate for up to 1 month.
Please be nice. Unauthorized use and/or duplication of this material without permission is prohibited. Feel free to excerpt and link, just give credit where credit is due and send folks to my website, virginiawillis.com. Thanks so much.
Want to keep up with my culinary wanderings and wonderings? Lets connect on  Facebook , Twitter, Instagram, and Pinterest.

Cornmeal Cakes photo by Helene Dujardin
All other photos by Virginia Willis
Please note that this post may contain affiliate links.