Please note that this post may contain affiliate links.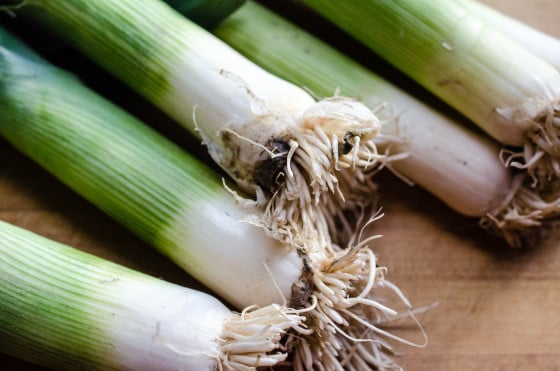 Yikes! Take a look at that muddy mess of leeks! Soil or grit in food is the culinary equivalent to nails scratching a chalkboard. Yet buried beneath that dirt and soil are real kitchen treasures. Leeks are used as a base for soups, stews, stocks, and sauces. They can be poached, chilled, and served as a sophisticated salad or sautéed and served as a warm vegetable. Leeks are a great addition to your kitchen repertoire as we transition from winter to spring. This week, I've paired them with celery for a delicious, yet decidedly simple and inexpensive side dish, Sautéed Leeks and Celery.
How to Clean Leeks
How to cook leeks? Well, the first question has to be "how to clean leeks?" It's not as simple as running them under cold water — the soil may be between the layers. And, simply placing them in a colander won't work either. All that does is move the dirt around. Sounds like leeks are a lot of trouble? Well, check out this easy way to clean leeks. You'll never cringe at a bite of gritty leeks again.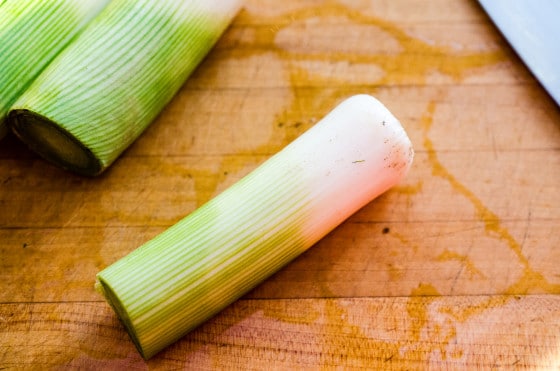 Trim away the dark green tops and root bottoms.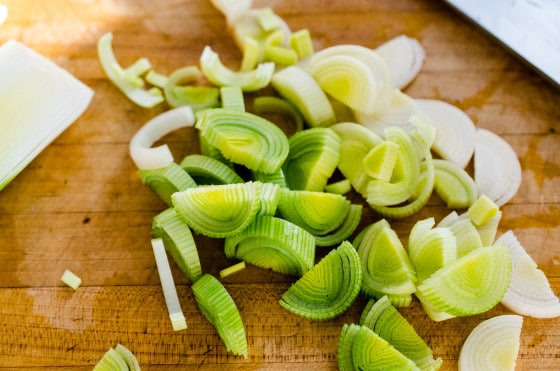 Slice the leek lengthwise, then into half moons.
(The trimmed portion can also be sliced lengthwise into julienne for similar results.)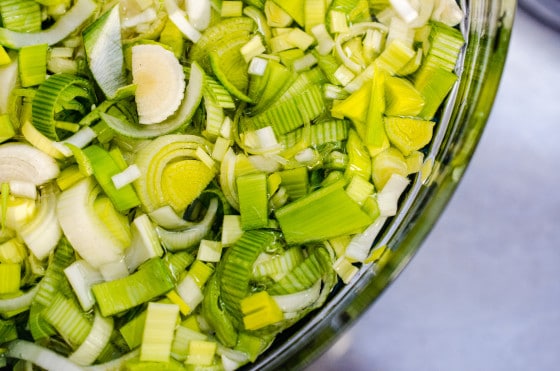 Place the half moons in a bowl of cold water and swish them around so the dirt falls to the bottom.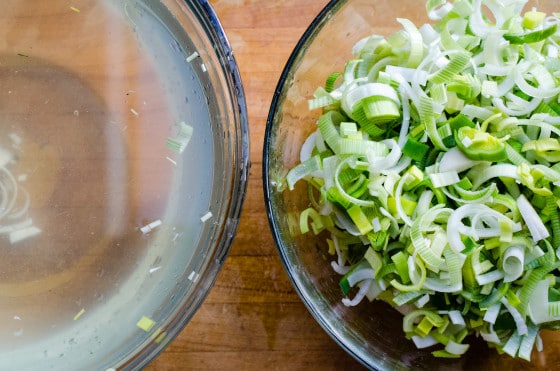 Lift the half moons from the water, leaving the grit behind. Repeat until the water is completely clear. (BTW, this technique of submerging in water is the same way I recommend to clean dirt from salad greens, winter greens, and herbs, as well.)
All in the Allium Family
You may have seen leeks before in the produce department and haven't been quite certain what to do with them. Leeks are a member of the onion family and are related to shallots, garlic, chives, and scallions. They are very harsh and tough when raw. When cooked they are much sweeter with a more delicate flavor, and can be used in nearly any dish that you would use an onion. Look for leeks with fresh bright dark green tops and glossy white ends with small roots. Store them unwashed in the refrigerator. When time to cook, simply peel away the tougher outside layer, just like with an onion or scallion. They are absolutely beautiful when cooked, varying from the palest green to ivory-white. And, they literally seem to melt away, becoming smooth and creamy.
Thanks for reading! I hope you enjoy this week's simple, flavorful recipe for Sautéed Leeks and Celery. If you give it a try, let me know what you think and please make sure to tag me on Instagram @virginiawillis.
Bon Appétit Y'all! 
Virginia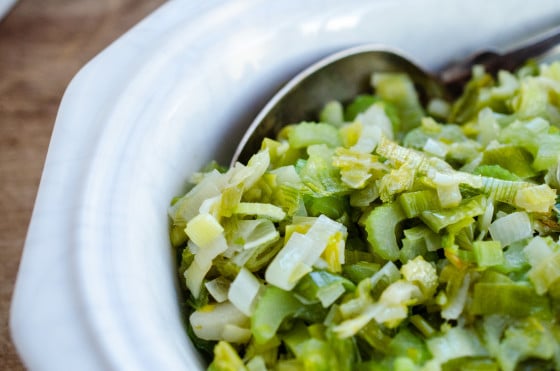 Sautéed Leeks and Celery
Leeks are often unassuming. They often tend to anchor a dish, providing flavor and depth, but rarely star. This recipe for Sautéed Leeks and Celery lets the leek take center stage and allows the flavor of the leeks to shine through. This dish would be wonderful with broiled fish, seafood, and simple roasted chicken.
Ingredients
1

tablespoon

unsalted butter,

more if needed

8

leeks,

cut into half moons, cleaned, and drained

1

clove

garlic,

very finely chopped

8

stalks celery,

ends trimmed and sliced

1/2

cup

homemade chicken stock or reduced fat low sodium chicken broth

1

bay leaf,

preferably fresh

Coarse kosher salt and freshly ground white pepper
Instructions
Heat the butter in a large skillet over medium heat until sizzling. Add the leeks and season with salt and pepper. Cook, stirring occasionally, until the white part of the leek starts to become translucent, 3 to 5 minutes. Add the garlic and cook until fragrant, 45 to 60 seconds.

Add the celery, chicken stock and fresh bay leaf; stir to combine. Reduce the heat to simmer and cook until the leeks and celery are tender, about 20 minutes. Taste and adjust the seasoning with salt and pepper. Stir in additional butter, if desired. Serve immediately.
Lets connect on Facebook , Twitter, Instagram, and Pinterest!

photographs by Virginia Willis
Please note that this post may contain affiliate links.