Please note that this post may contain affiliate links.
Where is the Low Country?
Stretching from the northern reaches of the Atlantic coast of Florida to north of Charleston, the Low Country is part of the largest saltwater marsh in the world. For centuries, men and women have made their livelihoods harvesting fish and shellfish from Low Country estuaries, those magical places where the meandering ocean tide flows in, mixing the seawater and fresh together. There, islands are separated from the mainland by tidal marshes, some as long as six miles wide. When flying overhead, the coast looks like intricate lace with long black curving lines of rivers and creeks running through the green wiregrass marsh.
Gold Coast
We sometimes vacation at Jekyll and St. Simons Islands, part of a region that Georgians call the "Golden Isles" or "Gold Coast." For many years, it was the vacation retreat of very wealthy families from the Northeast. But it was another sort of gold that inspired the name: according to a local historian, it was named centuries ago by the first settlers, who were dazzled by the golden glow of the marshes at dusk. These marshes, the clear estuaries, and the surrounding waters are also home to sweet wild Atlantic shrimp.
The region has a distinct culture, geography, architecture, economy, and cuisine all its own. The Low Country teems with aquatic life, and for centuries local cooks have turned to the water for culinary inspiration. Crabs, shrimp, fish, and oysters form the basis of any traditional menu, and seafood dishes are offered at every meal.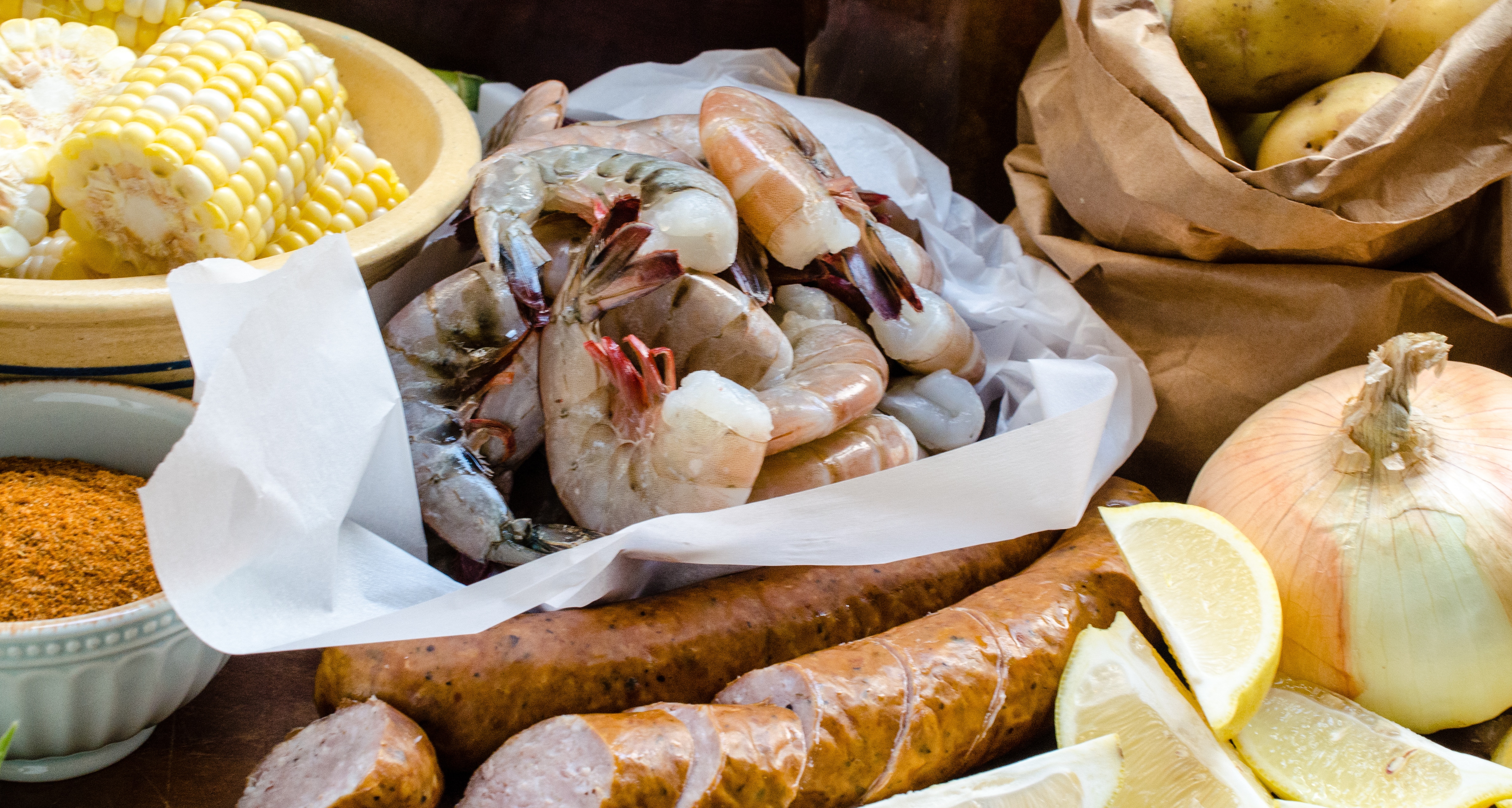 Frogmore Stew
With a long list of dishes famous to the area, the Low Country is especially renowned for a seafood dish known as both Low Country boil and Frogmore stew. Some food lore states the dish was created by Richard Gay, of the Gay Seafood Company, who was on National Guard duty in Beaufort in the 1960s, but my instinct tells me that this is one of those rustic dishes of that simply came into being many, many years ago. There's a long history of Southerners of all races harvesting from the ocean, creeks, rivers, forests, and woods in the South, mostly driven from need. The Low Country boil may grace fancy restaurant menus in Charleston and Savannah, but it is at its core a simple country recipe.
Gullah and Geechee
According to The History of Beaufort County, South Carolina 1541-1861, Frogmore was the largest plantation on St. Helena Island, a barrier island near Beaufort and Hilton Head during the colonial and antebellum eras. It also held the most enslaved Africans. Slaves were first brought to the region in the early part of the 18th century to grow indigo. After the American Revolution, the planters turned to cotton, which came to be called Sea Island cotton, and rice. The descendants of these early enslaved Africans who live in the Low Country region of South Carolina and Georgia are known as Gullah or Geechee. (Geechee is a term some historians consider to be related to the Ogeechee River near Savannah, Georgia.) The Gullah Geechie tradition has had one of the largest and lasting influences on how Low Country citizens eat today, and the Low Country boil is but one example.

What to Cook This Weekend?
My slightly scaled-down version brings the party indoors for every night cooking. This recipe serves about six, but it's easy to adjust. Just allow about a half-pound of shrimp, roughly a quarter pound of sausage, a potato or two, plus a few pieces of corn, per person. It is very important not to overcook the shrimp; they will get rubbery and tough. Basically, add the shrimp at the end and cook them until they just turn pink. It just takes a few minutes.
Bon Appétit, Y'all!




Virginia Willis

 
PS Need a few more shrimp recipes? Check out my Shrimp and Grits recipe on Food Network or my Smoky Shrimp Étoufée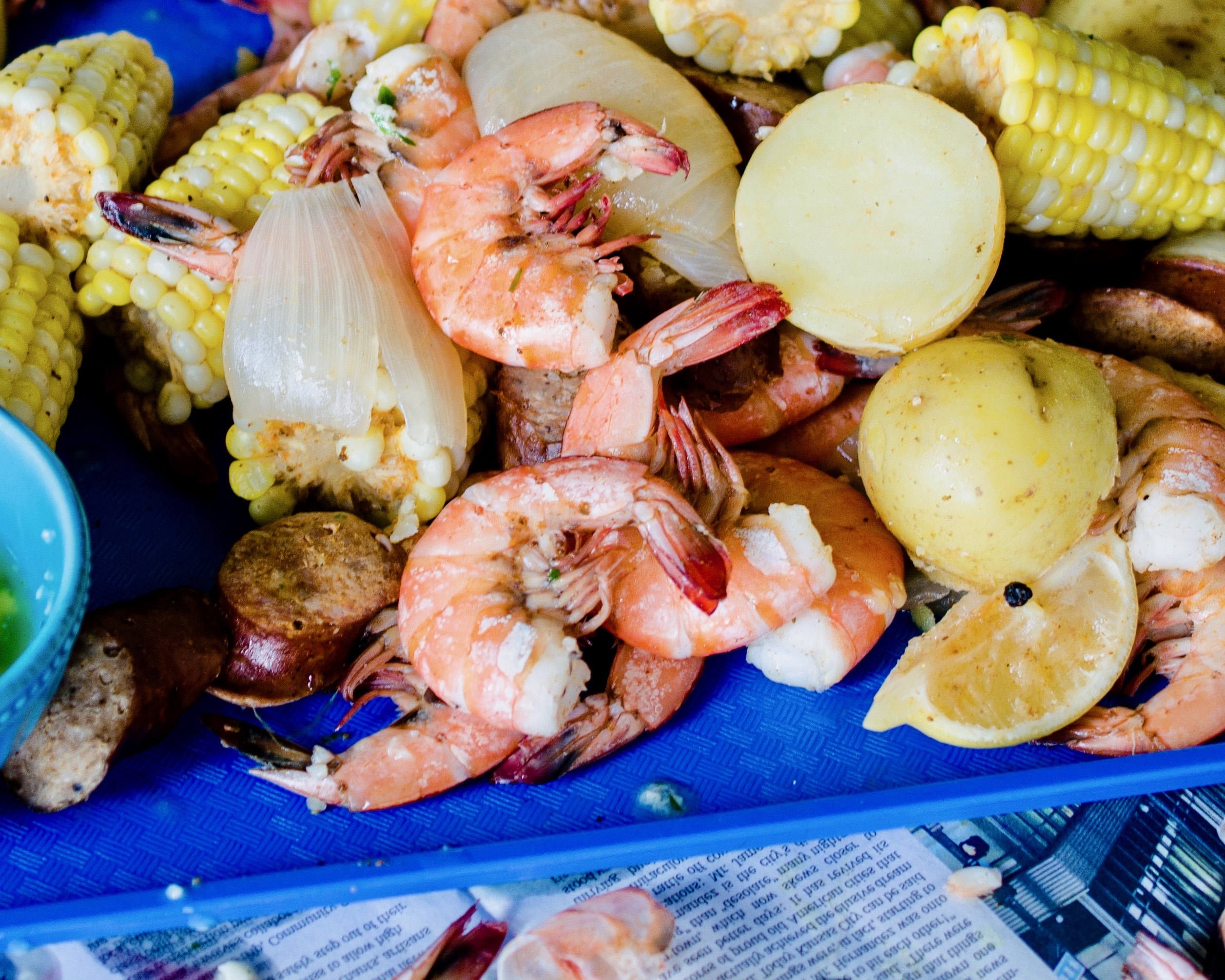 Stovetop Low Country Boil
Ingredients
1

12-ounce can beer, such as a pale ale or summer wheat

2

sweet onions, quartered

4

lemons, quartered

1/2

cup

seafood boil seasoning

2

bay leaves, preferably fresh

2

tablespoons

whole black peppercorns, plus additional ground pepper for seasoning

Coarse kosher salt

3

pounds

new potatoes

each about the size of golf balls

1 1/2

pounds

smoked spicy sausage, such as andouille or kielbasa, each cut into 6 pieces

6

ears fresh corn, shucked and broken into 3- to 4-inch pieces

3

pounds

shell-on large shrimp

Hot sauce and melted butter, for serving
Instructions
Fill a large pot with 5 quarts of water. (Add more if needed; the volume will depend on the size and shape of your pot.) Add the beer, onions, two of the lemons, seafood boil, bay leaves, peppercorns and 2 tablespoons salt. Cover and bring to a rolling boil. Reduce the heat to a lazy simmer and let cook until the flavors marry, about 15 minutes. The liquid should be highly seasoned and aromatic.

Once the cooking broth is flavorful, add the potatoes and cook, covered, until just tender, about 10 minutes. Add the sausage and corn, and cook until tender, 5 to 7 minutes. Add the shrimp and cook until just pink, about 3 minutes. Drain through a large colander.

Transfer the shrimp, sausage, and vegetables to a large platter or tray. Serve immediately with hot sauce and melted butter on the side.
If you are interested in hosting me for a speaking engagement, event, cooking class, or a book signing, let me know! Send an email to jona@virginiawillis.comand we'll be back in touch as soon as possible.
Please be nice. Unauthorized use and/or duplication is prohibited. All photos and content are copyright protected. If you wish to republish this recipe, please link back to this recipe on virginiawillis.com. Thanks so much!
Let's connect on Facebook ,Twitter, Instagram, and Pinterest!

photo of moss by Ashley Knedler
photo of marsh by Angie Mosier. Food photos by Virginia Willis
Please note that this post may contain affiliate links.