Please note that this post may contain affiliate links.

Shrimp are perhaps the original fast food. A few years ago while visiting the Low Country I stopped at the pier in Mount Pleasant, SC to pick up some shrimp. The man in front of me asked the young dockhand how to boil them. Before he could answer a lady with a slow Southern drawl interrupted, " Bring seasoned watah to a boil and add ya shrimp. Take two sips 'a wine. Stir thuh pot. Thay are done." This recipe isn't for boiled shrimp, but it's nearly just that quick so get your skillet — and your wine glass ready.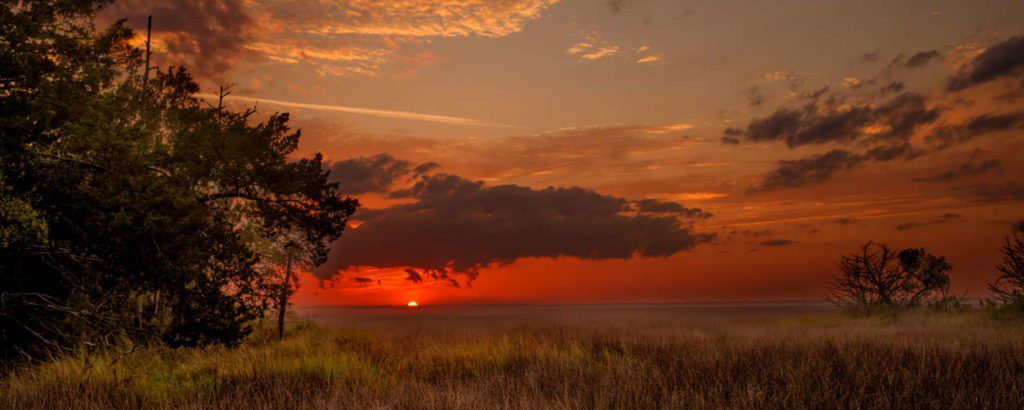 The Gold Coast
The Low Country, also known as the Lowcountry, is part of the largest saltwater marsh in the world. The Low Country stretches from the Northern reaches of the Atlantic coast of Florida to above Charleston, near Pawley's Island. Men and women have made their livelihoods for centuries harvesting fish and shellfish from the Low Country estuaries, where the tide flows in, causing the fresh and saltwater to mix.
Jekyll and St. Simons Islands are part of that region and Georgians call this area the "Golden Isles" or "Gold Coast." For many years, it was the vacation retreat of very wealthy families from the Northeast. But it was another sort of gold that inspired the name: according to a local historian, it was named centuries ago by the first settlers, who were dazzled by the golden glow of the marshes at dusk. These marshes, the clear estuaries, and the surrounding ocean are also home to sweet wild Atlantic shrimp. Some of the finest shrimp in the world come from these waters and it has long been both a way for people to live off the land, or ocean, as the case may be, and also make a living. (Want to get geeky with me? Check out the life cycle of a shrimp!)

Tail On or Tail Off?
I was recently able to procure some flash-frozen Georgia shrimp from the Gold Coast via my dear friend Gena Berry. Now, I love the look of a tail-on shrimp. I know it's not practical. I know that you have to use a knife and fork to eat them. And, pretty much the only shrimp I cook tail-off is for a po-boy. I like the way the tails look! 
Gena grew up on St. Simons Island, Georgia, in the heart of the fishing and shrimping community. One day years ago, we were in the kitchen getting ready for a party. She jumped in, helpful as always, and offered to peel the shrimp. When she saw my technique of leaving the tails on, she raised her eyebrows perilously high (as only Gena can do), and informed me that "coast folks" don't peel shrimp like that. I still think it looks better.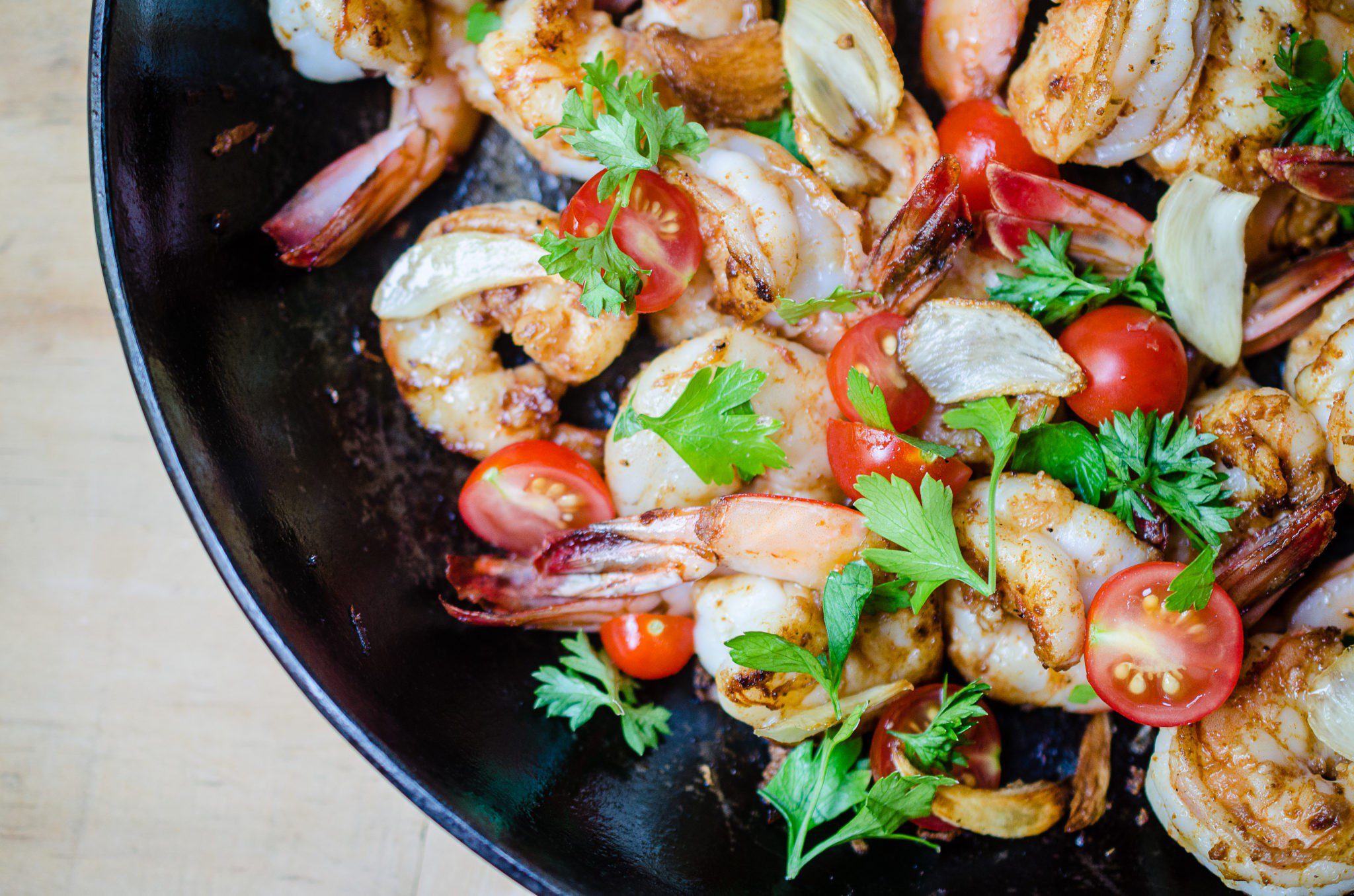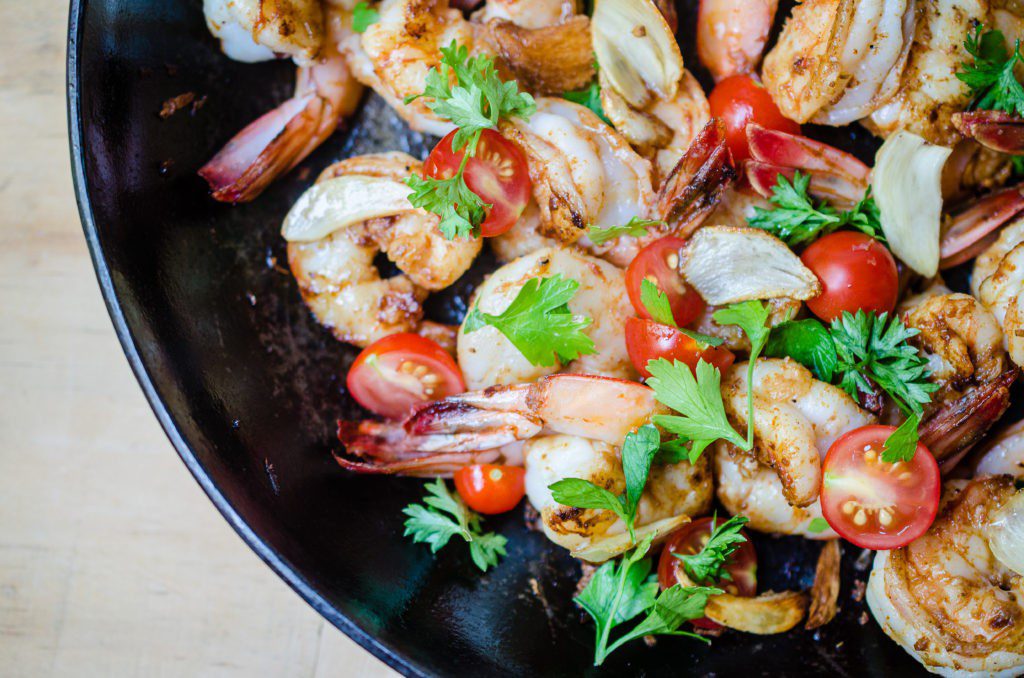 Wild American vs. Farmed Shrimp
There are over 300 types of shrimp in the ocean! We're lucky that in the South there are two coasts, the Atlantic and the Gulf of Mexico. Shrimping is a way of life throughout both regions. I am a huge proponent of wild American shrimp. Many farm-raised imports are not sustainable, the farms damage the delicate ecosystem in the mangroves, and the shrimp are proactively fed antibiotics to keep them free from disease in the crowded ponds.
If you can't get your mind wrapped around hippy-dippy concerns about the environment, perhaps you can get your head wrapped around the fact that if you are buying wild American shrimp you are supporting American workers and putting money back into local economies.
Making responsible seafood choices is one of the best ways to ensure healthier oceans. Sustainable seafood is caught or farmed with minimal environmental and social impacts. Having said that, not all farm-raised shrimp are bad, but it's tricky. (I hope you don't think the All-You-Can-Eat Shrimp for $4.99 is sustainable. Ahem.) For best practices, refer to the Monterey Bay Aquarium's Seafood Watch website or app. Our seafood choices matter.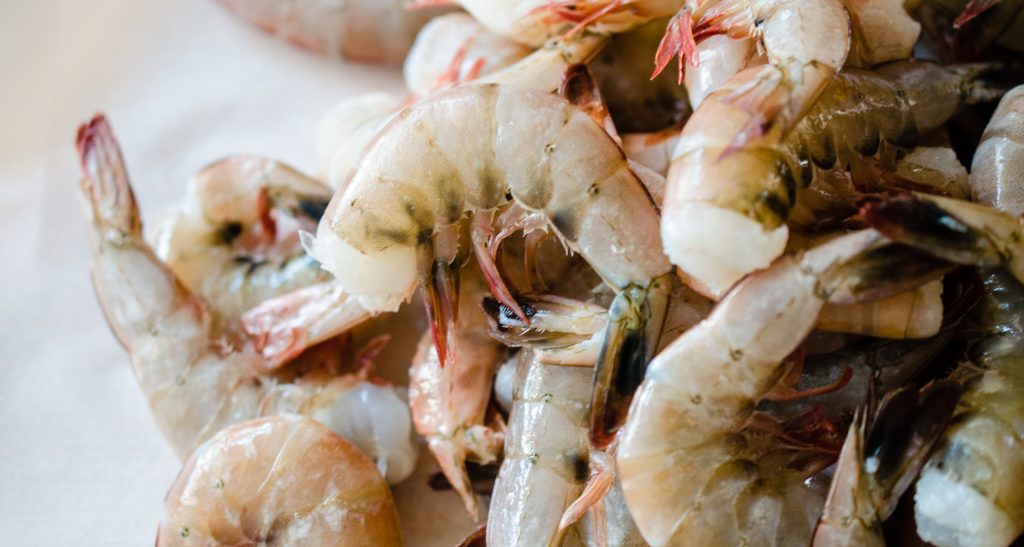 How to Peel and Devein Shrimp
Now that you are clear on buying shrimp let's talk about freshness. If there is any scent of ammonia or fishy smell, when buying shrimp it's a sign the shrimp is no longer fresh. The frozen shrimp I purchased smelled sweet and fresh, even frozen!
In terms of size, jumbo, large, and medium are all arbitrary designations. Chefs purchase these tasty crustaceans according to the count per pound. 21/25 count indicates that there are between 21 and 25 pieces per pound.
Check out this quick video on How to Peel and Devein Shrimp – no gadgets needed! The black "vein" running down the back of a  is actually its intestinal tract. It can sometimes taste gritty and muddy. If you see an orange tube running down the back, that is roe. Typically, if the vein is thick I will remove it. Check it out.
Rice Pilaf
Rice pilaf makes a great accompaniment for this quick and easy supper. And, it's a classic Low Country combination. What can take this simple side dish from simple to spectacular is a quick shrimp stock made with the shrimp shells. Peel and devein the shrimp, reserving the shells in a medium pot and discarding the vein. Top with 3 cups of water. Bring to a boil and reduce heat to simmer. Cook until the broth is slightly colored and smells lightly sweet, about 5 minutes. Strain, discarding the shells, and set aside. Use the shrimp stock as the liquid for cooking the rice. It's little steps like this that can really transform a meal.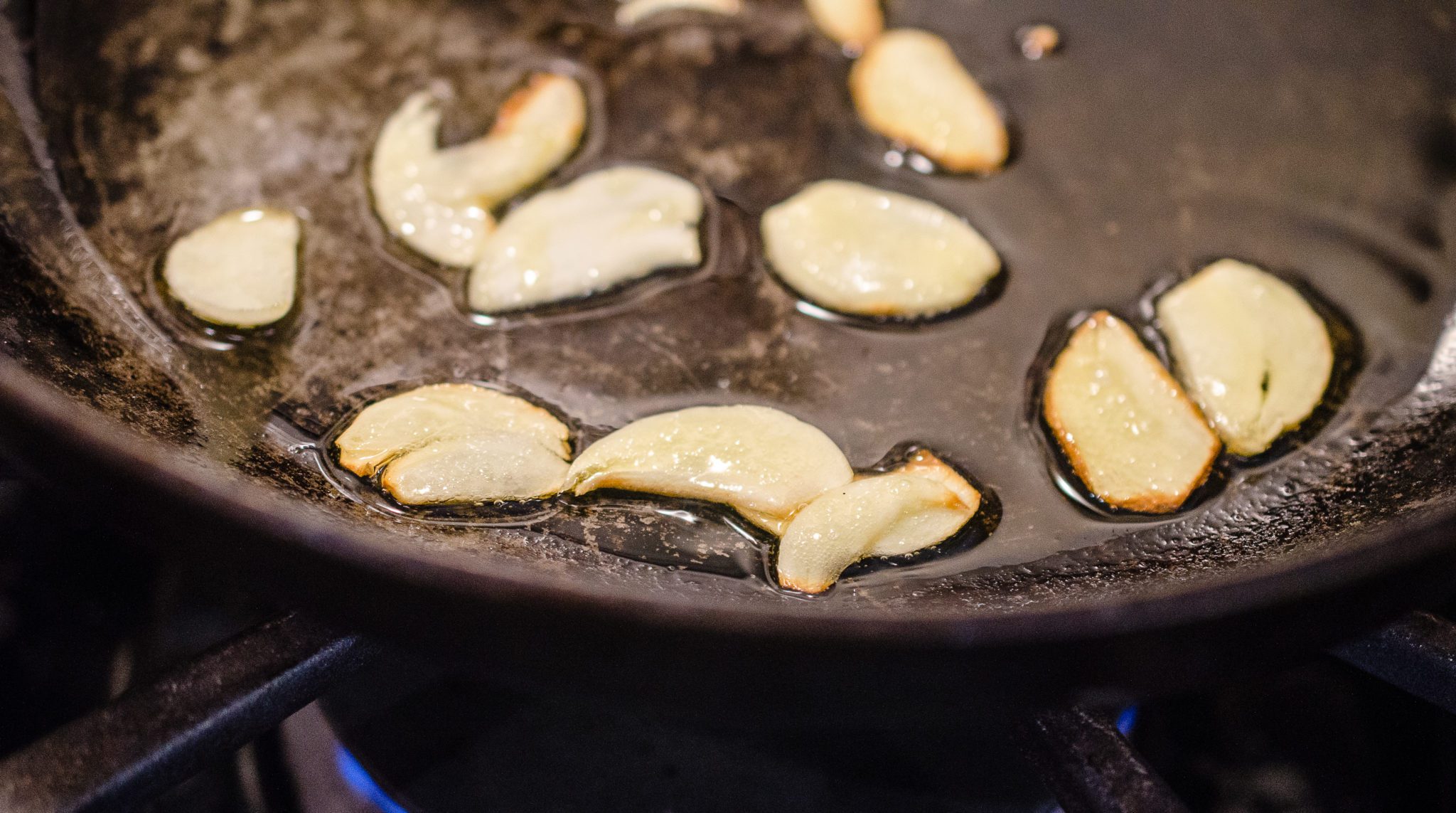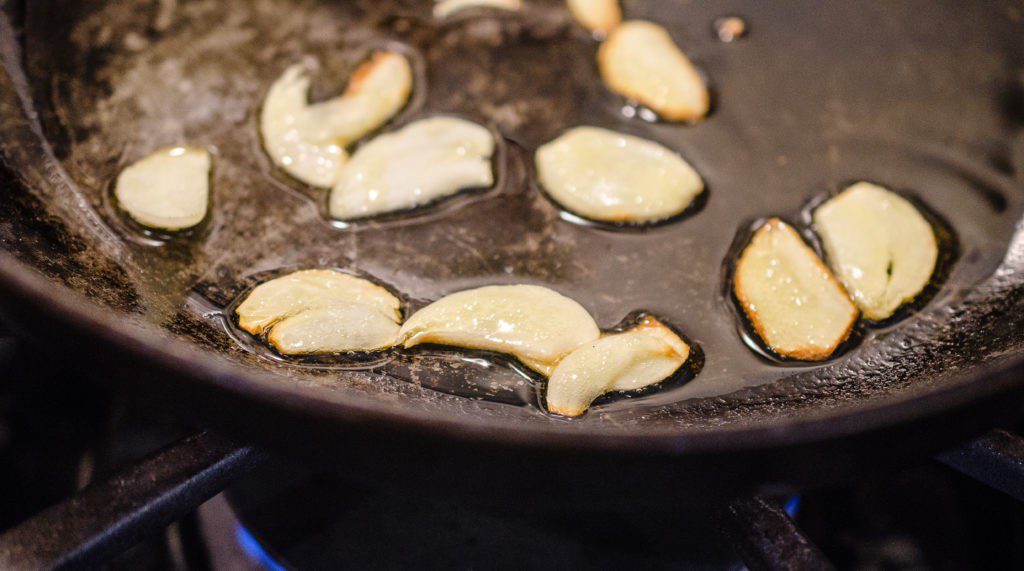 How to Make Garlic Shimp
This recipe uses two kinds of garlic – sliced and chopped for a big hit of garlic flavor. The key is not to burn the sliced garlic, but take it to a golden brown. I also use smoky hot Spanish paprika also called pimenton. You can substitute regular paprika and a little cayenne in a pinch. It's loosely based on a traditional Spanish tapas dish that uses copious amounts of olive oil and served with bread for dipping. I've lightened things up with just enough oil to saute the shrimp and suggest serving it on rice or potatoes. (You could also skip the starch.) It's a fantastic combination of flavors and can be on the table in less than 10 minutes after the shrimp are peeled.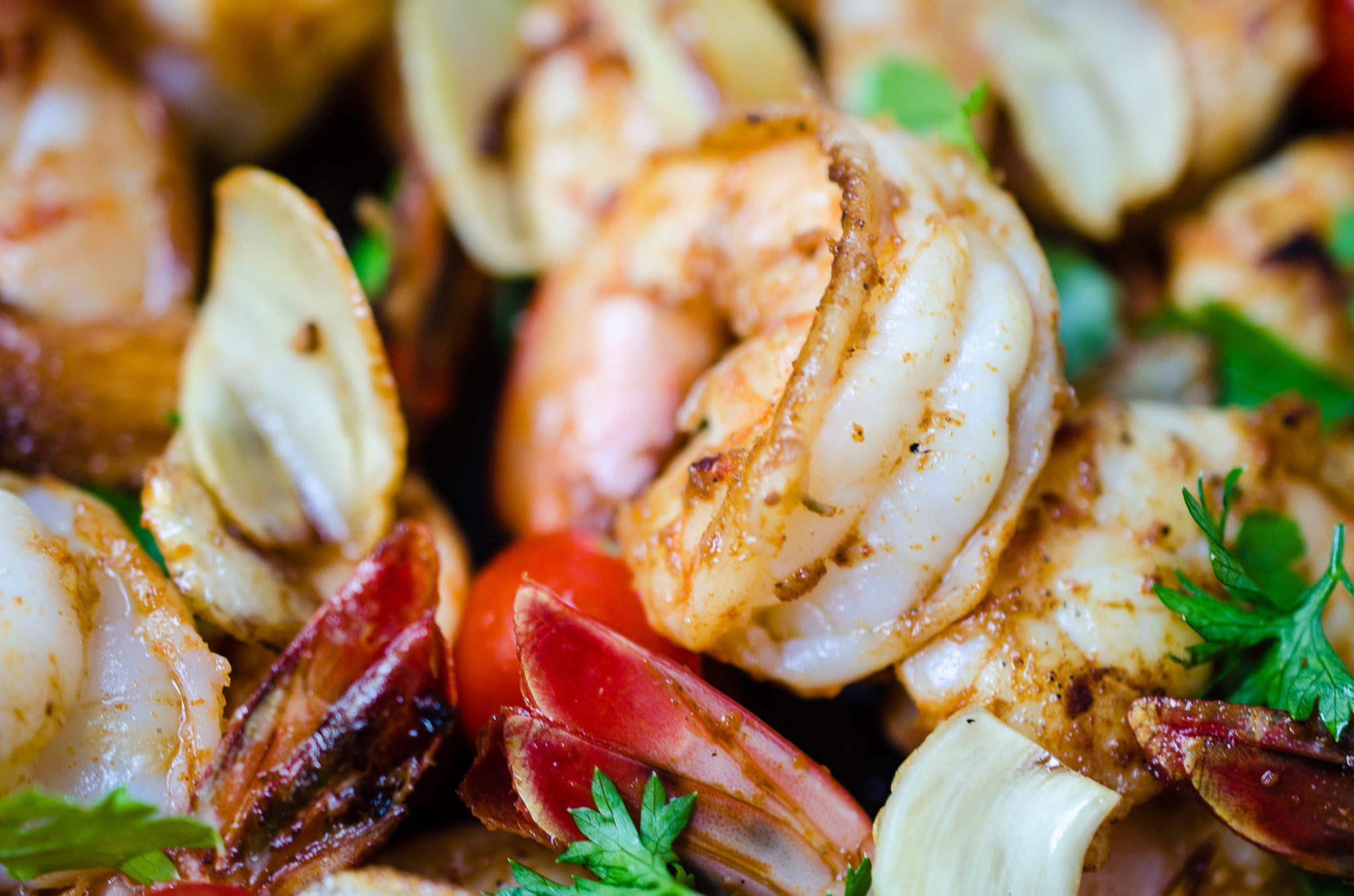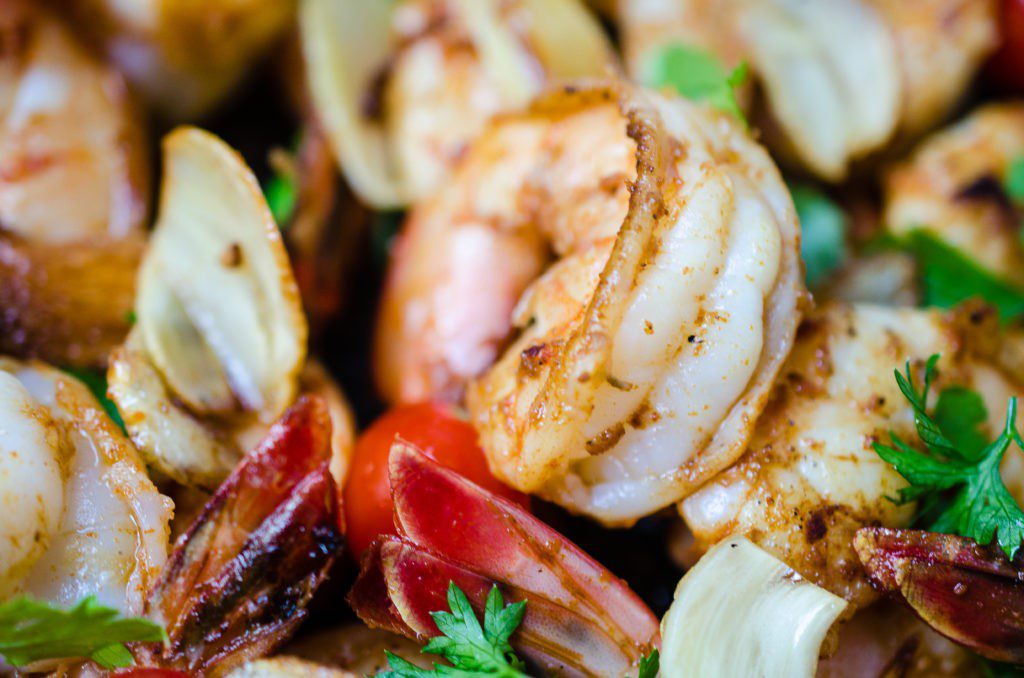 How to Tell When Shrimp are Cooked
Raw, peeled shrimp naturally curve into a semi-flattened "C." Shrimp cook very fast and when overcooked are dry, tough, and rubbery. When properly cooked, the flesh should be firm, white, and cook into a loose "C." When they are overcooked they tighten and curl into the shape of an "O." (O is for overcooked!)
Here's my video of the dish using a deep water variety of shrimp called Royal Reds. Check it out.
Thanks for reading! I really hope you enjoy this recipe. Stay safe and well.
Bon Appétit, Y'all
Virginia Willis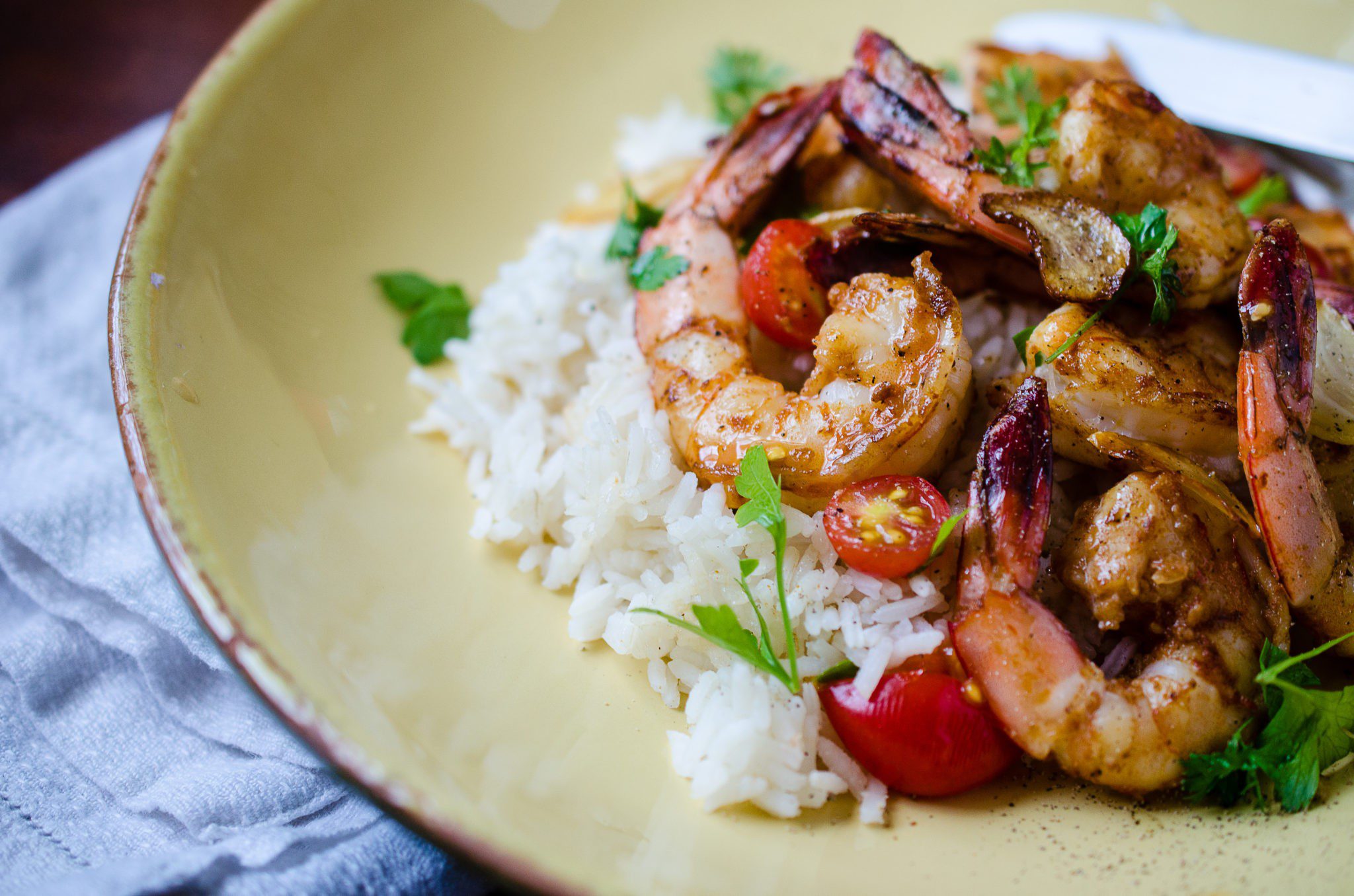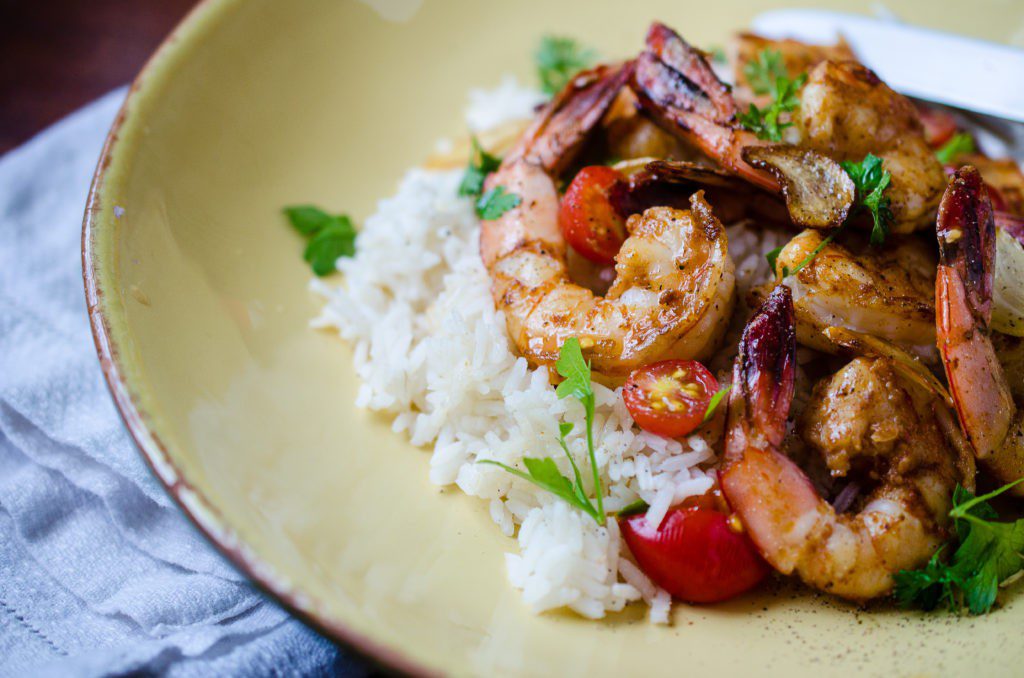 Quick and Easy Garlic Shrimp
Ingredients
1

pound

peeled and deveined shrimp

4

large garlic cloves

2 chopped and 2 thinly sliced

1

teaspoon

hot smoked Spanish paprika

1

tablespoon

pure olive oil

2

tablespoons

freshly chopped parsley

1

handful

cherry tomatoes, halved

steamed potatoes

rice, or bread, for serving

Coarse salt and freshly ground black pepper
Instructions
In a bowl combine the shrimp, chopped garlic, and paprika. Season with salt and pepper. Heat the oil in a skillet over medium high heat. Add the sliced garlic and cook until golden, about 30 seconds. Add the shrimp and cook until firm and white, 1-2 minutes. Add herbs and tomatoes; stir to combine. Taste and adjust for seasoning with salt and pepper. Serve immediately.
Rice Pilaf
Take this rice from simple to spectacular with a quick shrimp stock. Peel and devein the shrimp, reserving the shells in a medium pot and discarding the vein. Top with 3 cups of water. Bring to a boil and reduce heat to simmer. Cook until the broth is slightly colored and smells lightly sweet, about 5 minutes. Strain, discarding the shells, and set aside. Use the shrimp stock as the liquid for cooking the rice.
Ingredients
1

teaspoon

pure olive oil

1

shallot, chopped

2

cups

long-grain white rice

such as Carolina Gold, jasmine, or basmati

Coarse kosher salt and freshly ground black pepper

3

cups

shrimp stock

chicken stock, or water

2

tablespoons

chopped fresh flat-leaf parsley
Instructions
Heat the oven to 350°F. In a large, ovenproof saucepan, heat the oil over medium heat until foaming. Add the shallot and cook until clear and translucent, 2 to 3 minutes.

Add the rice and stir to combine. Cook, stirring constantly, until the rice is coated and lightly toasted. Season with 1 teaspoon of the salt and pepper to taste. Add the stock and stir to combine. Bring to a boil over medium-high heat. Cover with a tight-fitting lid and transfer to the oven. Cook until the liquid is absorbed and the rice is tender, 17 minutes. Remove from the oven and let stand, covered, for 5 minutes before serving. Add the parsley and fluff with a fork just before serving.
If you are interested in hosting me for a speaking engagement, event, cooking class, or a book signing, let me know! Send an email to jona@virginiawillis.com and we'll be back in touch as soon as possible.
Please be nice. Unauthorized use and/or duplication is prohibited. All photos and content are copyright protected. If you wish to republish this recipe, please link back to this recipe on virginiawillis.com. Thanks so much!
Let's connect on Facebook, Twitter, Instagram, and Pinterest!

Please note that this post may contain affiliate links.