Please note that this post may contain affiliate links.

Somewhere along the way when women were "liberated" from the kitchen, processed and convenience foods became Standard Operating Procedure. One-pot casseroles became the go-to for many busy moms and families. An all-time favorite is Broccoli Rice Casserole. What's not to love? Tender, creamy rice topped with cheese. Broccoli Rice Casserole is serious comfort food. What about easy modern comfort?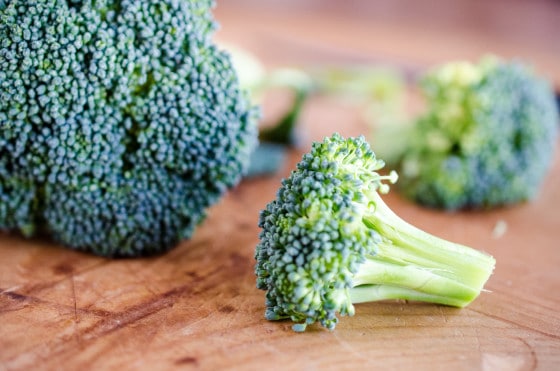 Good and Good for You
Most often old-fashioned Broccoli Rice Casserole is made with frozen broccoli and a familiar red-and-white can or two of cream of mushroom soup. The truth of the matter is that all too often those "shortcuts" are packed with salt and food additives. I've even seen recipes for Broccoli Rice Casserole with additional mayonnaise and cream cheese. The broccoli is an afterthought – a sad, soggy garnish.
My updated, upscale version, Baked Broccoli Risotto, is made with fresh, wholesome ingredients. Yes, it takes a little more time, but it's pretty much a dump-and-stir that's nearly all "hands-off" in the oven.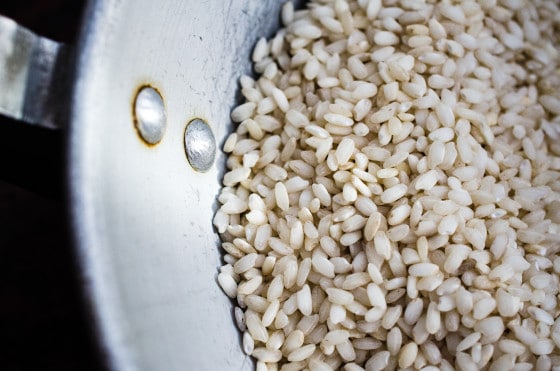 The Long and Short of It
Old-fashioned Broccoli Rice Casseroles are often made with long grain rice. My Baked Broccoli Risotto counts on the natural starch in the rice for creamy comfort. Varieties of rice are grouped as long, medium, or short grain according to their length and width. Long-grain rice is about four times as long as it is wide, medium grain is twice as long, and short grain is almost round. Long grain rice contains less starch and shorter grain rice contains more starch. Remember this by thinking about the letter S: The Shorter the grain means higher Starch content and the Stickier the rice will be. Short = Starchy and Sticky. (Having said all of that, if you have long grain on hand, use that. Or, give sushi rice a try. It's flexible.)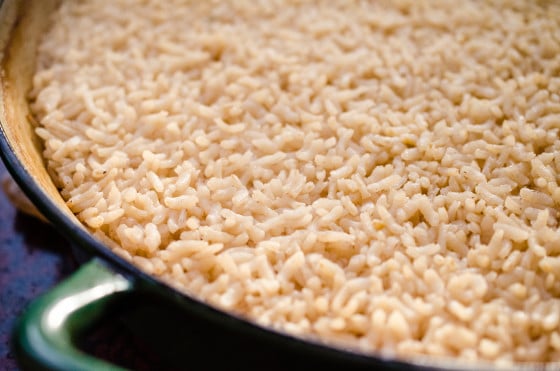 Hands Off
Typically, risotto is made by adding heated liquid to the short grain rice, known as Arborio, a little at a time. This cooking technique activates the starch on the outside of the grain of rice, resulting in creamy risotto. Risotto is incredible when properly prepared, but frankly, it can be a bit tedious standing and slowly, constantly stirring a pot for 30 minutes.
In my recipe for Baked Broccoli Risotto, the risotto is baked, then stirred vigorously at the end of cooking to activate the starch and make the risotto creamy. The broccoli is folded in and the "casserole" is topped with a judicious amount of cheese. Here, I am using broccoli, and of course you could use asparagus, mushrooms, cooked chicken, or even seafood. Baked Risotto gives a whole new meaning to comfort food.
Thanks for reading. Hope you enjoy my Baked Broccoli Risotto! Let me know what you think.
Bon Appétit Y'all!
Virginia Willis
 
Baked Broccoli Risotto
Serves 6
1 1/2 cups Arborio rice
5 cups reduced fat low sodium or homemade chicken stock, divided
1 head broccoli
1 cup freshly grated Parmesan cheese, divided
1/2 cup dry white wine
3 tablespoons unsalted butter, diced
Coarse kosher salt and freshly ground black pepper
Heat the oven to 350°F. Place the rice and 4 cups of the chicken stock in a heavy-duty Dutch oven. Cover and bake for 45 minutes, until most of the liquid is absorbed and the rice is al dente.
Meanwhile, prepare the broccoli about 10 minutes before the risotto is ready to come out of the oven. Cut the head into florets. Peel the stem and slice it in into "coins" about 1/4-inch thick. Place the prepared stems in a glass bowl and add 1/4-cup water. Cover with a tight-fitting lid. Cook in the microwave until just barely tender, about 3 minutes. Remove from the microwave and add the florets to the partially cooked stems. Cover again and cook in the microwave until the florets are bright green and the vegetables are tender, 3 to 5 minutes. Drain, discarding the water. Set the broccoli aside.
After 45 minutes, remove the risotto from the oven, add the remaining cup of chicken stock, half of the Parmesan, wine, butter, salt, and pepper, and stir vigorously with a wooden spoon or a whisk until the rice is thick and creamy, about 2 minutes. Fold in the steamed broccoli. Top with the remaining Parmesan cheese and return to the oven until melted, about 5 minutes. Serve immediately.
Lets connect on Facebook , Twitter, Instagram, and Pinterest!
Please note that this post may contain affiliate links.