Please note that this post may contain affiliate links.

Classic Italian risotto is creamy and comforting. Tender rice flavored with wine and nutty-rich Parmesan cheese and sweet butter. Do you love risotto, but standing at a stove-top and stirring for 30 minutes is more than you can take? Try my easy Baked Risotto that can be a blank canvas for all sorts of add-ins.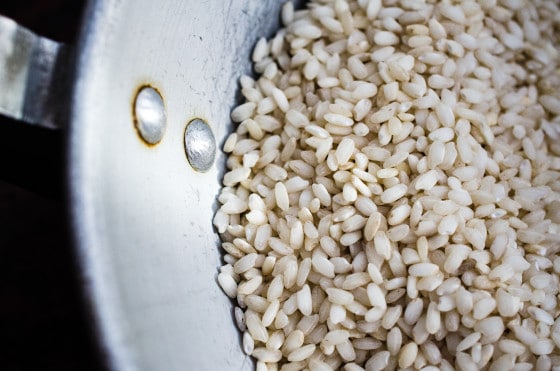 What Type of Rice Makes the Best Risotto?
Typically, risotto is made by adding heated liquid to the short-grain rice a little at a time. This cooking technique activates the starch on the outside of the grain of rice, resulting in a creamy risotto. There are three primary cultivars of Italian short-grain rice found in the United States used to make risotto. Arborio rice is the most widely available. It is short-grained rice named after the town of Arborio, in the Po Valley, in the main region of Piedmont in Italy. The second, Carnaroli is considered the "caviar" of risotto rice. It has great flavor and each grain maintains its shape, producing a very creamy risotto. Its thick, short kernels can absorb twice their weight in liquid, yet retain a firm, satisfying texture. Lastly, the Protected Geographical Indication "Nano Vialone Veronese" refers only to rice obtained from seeds rigorously selected from the japonica species of the Vialone Nano variety and grown to mandated specifications. It's considered to be the finest of all the Italian short-grain rice.

What does short-grain mean? Varieties of rice are grouped as long, medium, or short grain according to their length and width. Long-grain rice is about four times as long as it is wide, the medium grain is twice as long, and short-grain is almost round. Typically, long-grain rice contains less starch and shorter grain rice contains more starch.
Remember this by thinking about the letter S: The Shorter the grain means higher Starch content and the Stickier the rice will be. Short = Starchy and Sticky. (Having said all of that, if you have long grain or sushi rice on hand, use that. It may not be risotto, but it's a flexible recipe and you'll still have an oven-baked rice casserole.)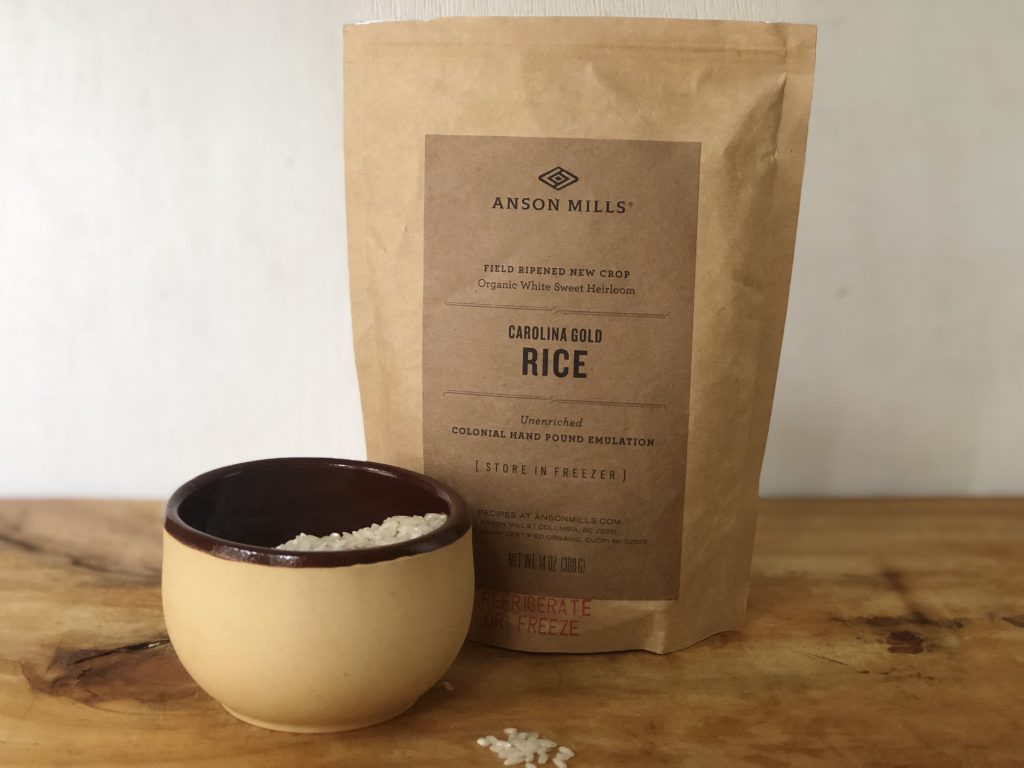 Carolina Gold 
One of the primary grains of the South has always been rice. (The other primary grain is corn, not wheat.) Rice farming started on the coastal sea islands of South Carolina and Georgia in the late 1600s. For the next 100 years, the economy of South Carolina was overwhelmingly based on the cultivation of rice, making it one of the richest of the North American colonies. As a result of the capital and its principal port, Charleston, became one of the wealthiest and most fashionable cities in early America. Later, because of the extraordinary success in South Carolina, the rice plantation system was extended farther south into coastal Georgia, where it also prospered.
Food folklore has it that the first rice was delivered to Charleston by a ship weathering a storm. That may have been a spot of luck, but it ended there. Initially, the South Carolina planters were ignorant of how to grow and cultivate rice. They soon began importing slaves from the traditional rice-growing regions of West Africa and were willing to pay higher prices for slaves from the "Rice Coast." During the Colonial period, coastal South Carolina was the largest producer of rice in America. The primary product, "Carolina Gold," so named because of the golden color of its husk, developed a reputation in Europe as the finest rice in the world and was exported to kitchens and tables all over the globe — including Italy! 
Glenn Roberts is the founder of Anson Mills, an artisan milling company that specializes in organic heirloom and landrace grains, including Carolina Gold. (Landrace is a crop cultivar or animal breed that has been developed through traditional farming practices for many years in a particular area without influence from modern agricultural science.) I've featured Anson Mills in my books for years and a huge fan of the folks at of the good work they do to preserve heirloom grains. Always, and especially now, I am trying to support privately-owned small businesses and farms. Carolina Gold makes an incredible traditional risotto and works fantastic in this Baked Risotto, too. Please check their website and give them some support.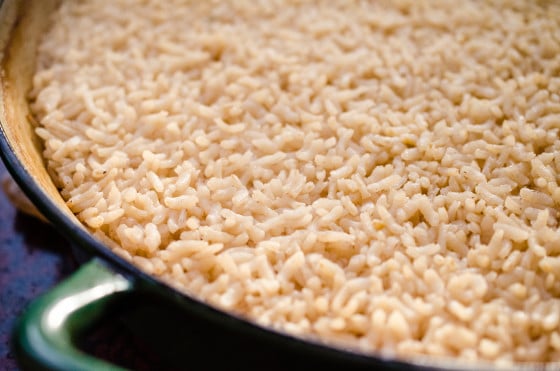 Hands Off
Risotto is incredible when properly prepared, but frankly, it can be a bit tedious standing and slowly, constantly stirring a pot for 30 minutes. In my recipe for Baked Risotto, the risotto is baked, then stirred vigorously at the end of cooking to activate the starch and make the risotto creamy. Here, cooked broccoli is folded in and the "casserole" is topped with a judicious amount of cheese. You could use also use sauteed asparagus, mushrooms, spinach, cooked chicken, or seafood. And, this blank canvas could be a smart way to use up leftovers such as roasted or grilled vegetables. Baked Risotto gives a whole new meaning to easy comfort.
Thanks for reading. Hope you enjoy my Baked Risotto! Let me know what you think. Stay safe!
Bon Appétit Y'all!
Virginia Willis
PS Need another broccoli recipe? Check out my version of Wicked Healthy Broccoli Slaw. 
 
Baked Risotto
Ditch standing at the stovetop and stirring risotto! Give this easy oven-baked version a try -- and treat it like a blank canvas. This technique is perfect for folding in many different cooked vegetables or proteins. And, if you keep it loaded up with vegetables, it's a perfect pillow of creamy goodness for baked chicken or fish.
Ingredients
1 1/2

cups

Arborio rice

5

cups

reduced-fat low sodium or homemade chicken stock

divided or vegetable stock

4 cups

broccoli or cauliflower florets (or see other suggestions)

1

cup

freshly grated Parmesan cheese

divided

1/2

cup

dry white wine

3

tablespoons

unsalted butter

diced

Coarse kosher salt and freshly ground black pepper
Instructions
Heat the oven to 350°F. Place the rice and 4 cups of the chicken stock in a heavy-duty Dutch oven. Cover and bake for 45 minutes, until most of the liquid is absorbed and the rice is al dente.

Meanwhile, if using raw broccoli or cauliflower, prepare the broccoli about 10 minutes before the risotto is ready to come out of the oven. Cut the head into florets. Peel the stem and slice it in into "coins" about 1/4-inch thick. Place the prepared stems in a glass bowl and add 1/4-cup water. Cover with a tight-fitting lid. Cook in the microwave until just barely tender, about 3 minutes. Remove from the microwave and add the florets to the partially cooked stems. Cover again and cook in the microwave until the florets are bright green and the vegetables are tender, 3 to 5 minutes. Drain, discarding the water. Set the broccoli aside.

Or, you could also saute mushrooms, asparagus, spinach, or your favorite vegetable. (I would stay away from watery ones such as zucchini or yellow squash.) And, if using previously cooked (aka leftovers) here's the time to heat them up before adding to the baked risotto. Ditto if adding a protein like chicken or seafood - both must be already cooked before adding at the end of cooking the Baked Risotto.

After 45 minutes, remove the risotto from the oven, add the remaining cup of chicken stock, half of the Parmesan, wine, butter, salt, and pepper, and stir vigorously with a wooden spoon or a whisk until the rice is thick and creamy, about 2 minutes. Fold in your vegetable or protein of choice. Top with the remaining Parmesan cheese and return to the oven until melted, about 5 minutes. Serve immediately.
Please note that this post may contain affiliate links. (That means I make a commission if you use my affiliate link to buy the product.) 
If you are interested in hosting me for a speaking engagement, event, cooking class, or a book signing, let me know! Send an email to jona@virginiawillis.com and we'll be back in touch as soon as possible.
Please be nice. Unauthorized use and/or duplication is prohibited. All photos and content are copyright protected. If you wish to republish this recipe, please link back to this recipe on virginiawillis.com. Thanks so much!
Let's connect on Facebook, Twitter, Instagram, and Pinterest!

Please note that this post may contain affiliate links.