Please note that this post may contain affiliate links.
Blueberry Benefits and Nutrition

Blueberries are the Doris Day of summer fruit – happy-go-lucky, bright bouncing balls of flavor. Blackberries are moody, musky, and complex. Raspberries are posh and fancy. Watermelon is refreshing, juicy, and crisp. Cantaloupe is just a bit exotic. Peaches are downright racy — seductive, sexy, and sensual.
Blueberries however, are rated G. They are all-American, signify summer and are good and good for you. Blueberries will put a smile on your face. And, the season in the Southeast is now!

The Highs and Lows
There are two basic kinds of blueberries: high bush and low bush. High bush blueberries belong to the same family of plants as cranberries, rhododendrons, and azaleas and will grow up to eight feet! My home state of Georgia is in the top 5 high bush blueberry producing states in the nation.
Low bush blueberries will only grow up to 24 inches. These wild bushes are native to eastern and central Canada and the northeastern United States. Maine is famous for its wild low bush blueberries, barely a foot y'all. Low bush blueberries grow as far south as West Virginia and west to the Great Lakes region, Minnesota and Manitoba.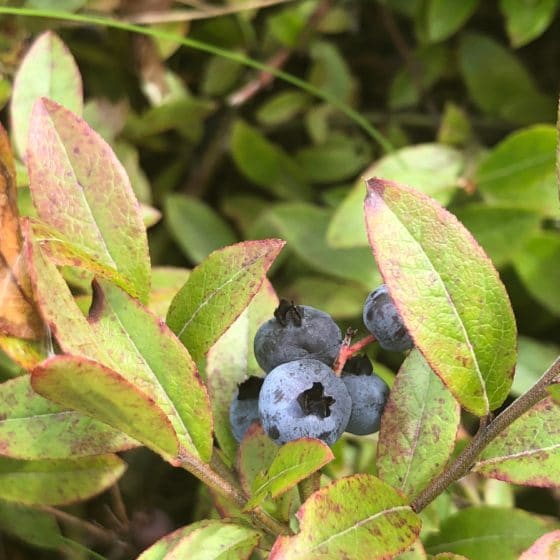 Blueberry Benefits
Both high and low bush blueberries are low in fat and sodium, have just 80 calories per cup. According to the Mayo Clinic, "The deep-blue hue comes from anthocyanin, an antioxidant that could help protect the body from heart disease and cancer, as well as reduce inflammation and increase immune function. Research also suggests the compounds found in blueberries may delay the effects of vascular dementia or Alzheimer's disease." Blueberries berries are great sources of fiber, a nutrient important for a healthy digestive system. High or low, blueberries are good and good for you.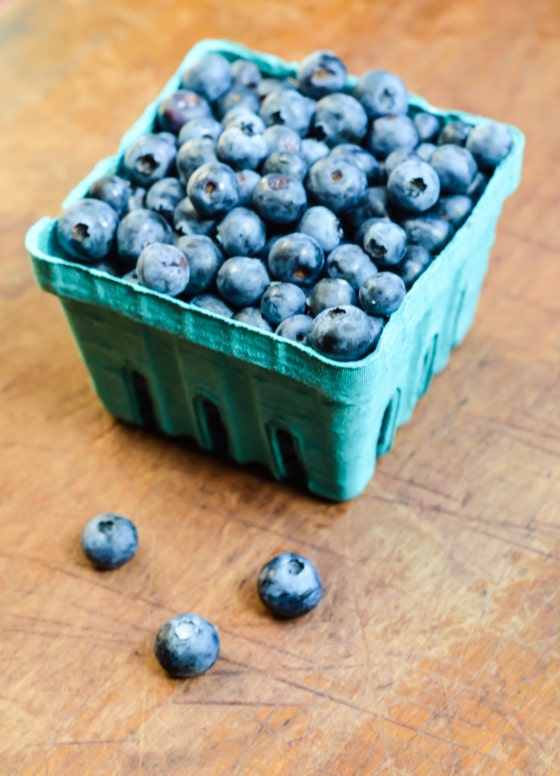 Harvesting Blueberries
A few years ago, a friend and I drove a few hours south of Atlanta to pick some of those delicious Georgia blueberries so that we could put up some jam. Let me tell you, it was hot as absolute blue blazes in that blueberry patch. The sun mercilessly beat down on our efforts for a farm-fresh harvest. Sweat ran in rivulets into our stinging eyes. Sunscreen washed off of us in waves. Gnats buzzed about our faces, pestering our eyes, ears, nose, and mouths.
Birds dive-bombed our heads in competition for the fruit. Mosquitoes freely fed at our ankles like they were at a Las Vegas buffet. The combination of the smothering humidity and brutal sun caused our clothes to adhere to our flushed skin in awkward, uncomfortable configurations much like misdirected plastic wrap. It was 100% pure misery. So, I have now officially decided buying blueberries nicely packaged in containers is the way to go. 😉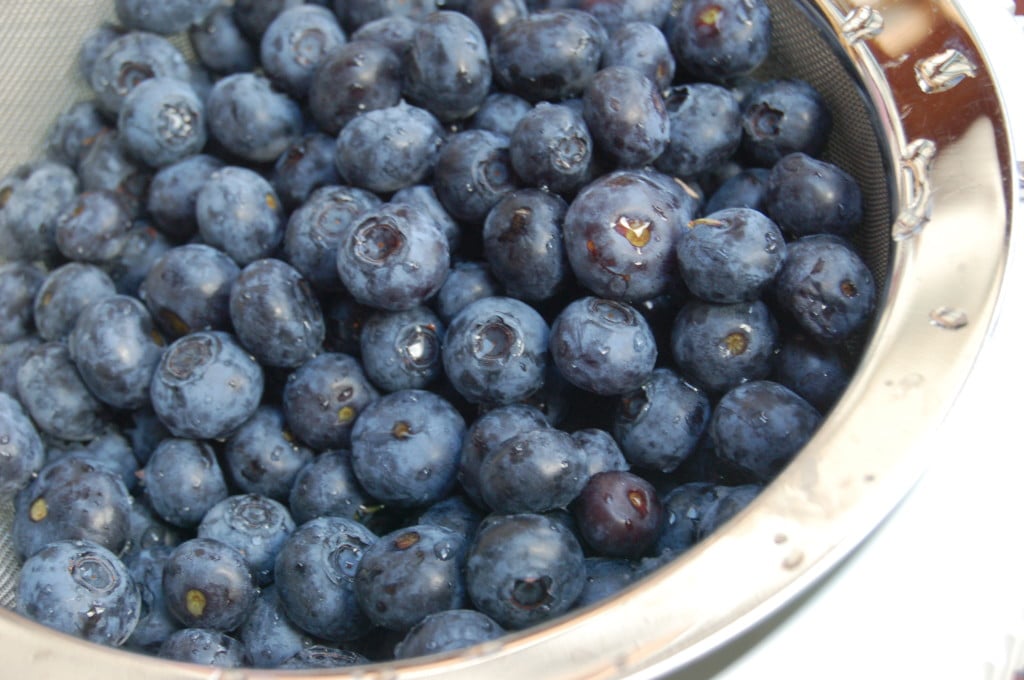 Blueberry Recipes
Please check out one of Garden & Gun's all-time most popular recipes, my Cast-Iron Skillet Blueberry Cobbler
You can also watch this video I shot for the Washington Post for my Almond Jelly with Blueberry Ginger Compote. SO cool and refreshing. It's a fantastic summer dessert.
I hope you enjoy the following recipe for Healthy Blueberry Muffins. Thanks so much for reading.
Bon Appétit Y'all!
Virginia Willis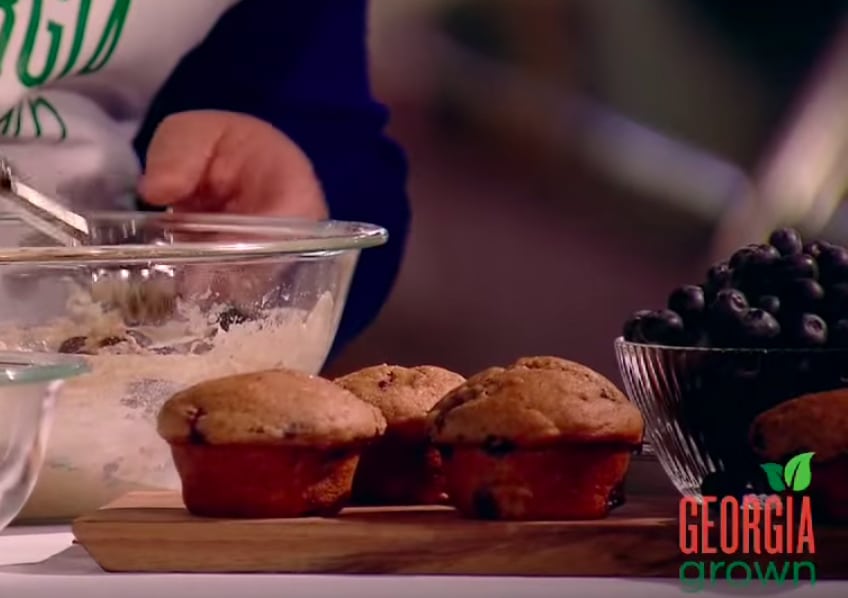 Blueberry Banana Muffins
That blueberry muffin you're grabbing at the coffee shop in an attempt to be healthy very likely has around four hundred fifty calories, 15 percent of your recommended daily allowance of saturated fat, and weighs in at a whopping twelve points (eleven points for the reduced fat version!) That's no good!
Breakfast is one of the most important meals of the day. Skipping it to "save calories" is nothing but a bad idea—breakfast gets your metabolism going, and if you miss it, I promise you'll just end up scarfing down too much food at lunchtime! But, I understand. I don't like to eat first thing in the morning, either. I will often have a banana and a coffee to get going then, after I work out, I have some protein, maybe an egg or some yogurt. These muffins come in around five points. Good and good for you, if you're looking for a great grab and go, this is it.
Ingredients
2

cups

whole-wheat pastry flour

2/3

cup

sugar

1/2

teaspoon

fine sea salt

1/2

teaspoon

ground ginger

1

teaspoon

baking soda

1

large egg

2

ripe

medium bananas, mashed

1/2

cup

plain 2 percent Greek yogurt

1/4

cup

canola oil

1/2

cup

low-fat buttermilk

1

pint

fresh blueberries
Instructions
Preheat oven to 325°F. Grease a 12-cup muffin pan generously with nonstick cooking spray, including the top surface.

In a medium bowl, combine the flour, sugar, salt, ginger, and baking soda. In a small bowl, whisk together the egg, bananas, yogurt, oil, and buttermilk. Stir the wet ingredients into the dry ingredients just until moistened. Using a rubber spatula, gently fold in the berries.

Divide the batter evenly between the prepared cups (the batter will come to the top of the cups). Fill the greased muffin cups three-fourths full. Bake until a toothpick inserted near the center comes out clean, about 30 minutes, rotating pan halfway through baking. Cool for 5 minutes before removing from pan to a wire rack. Serve warm.
If you are interested in hosting me for a speaking engagement, event, cooking class, or a book signing, let me know! Send an email to jona@virginiawillis.com and we'll be back in touch as soon as possible.
Please be nice. Unauthorized use and/or duplication of this material without permission is prohibited. All photos and content are copyright protected. Please do not use photos without prior written permission. If you wish to republish this recipe, please rewrite the recipe in your own words and link back to this recipe on virginiawillis.com. Thanks so much.
photography by Virginia Willis
Want to keep up with my culinary wanderings and wonderings?
Let's connect on Facebook , Twitter, Instagram, and Pinterest!

Please note that this post may contain affiliate links.