Please note that this post may contain affiliate links.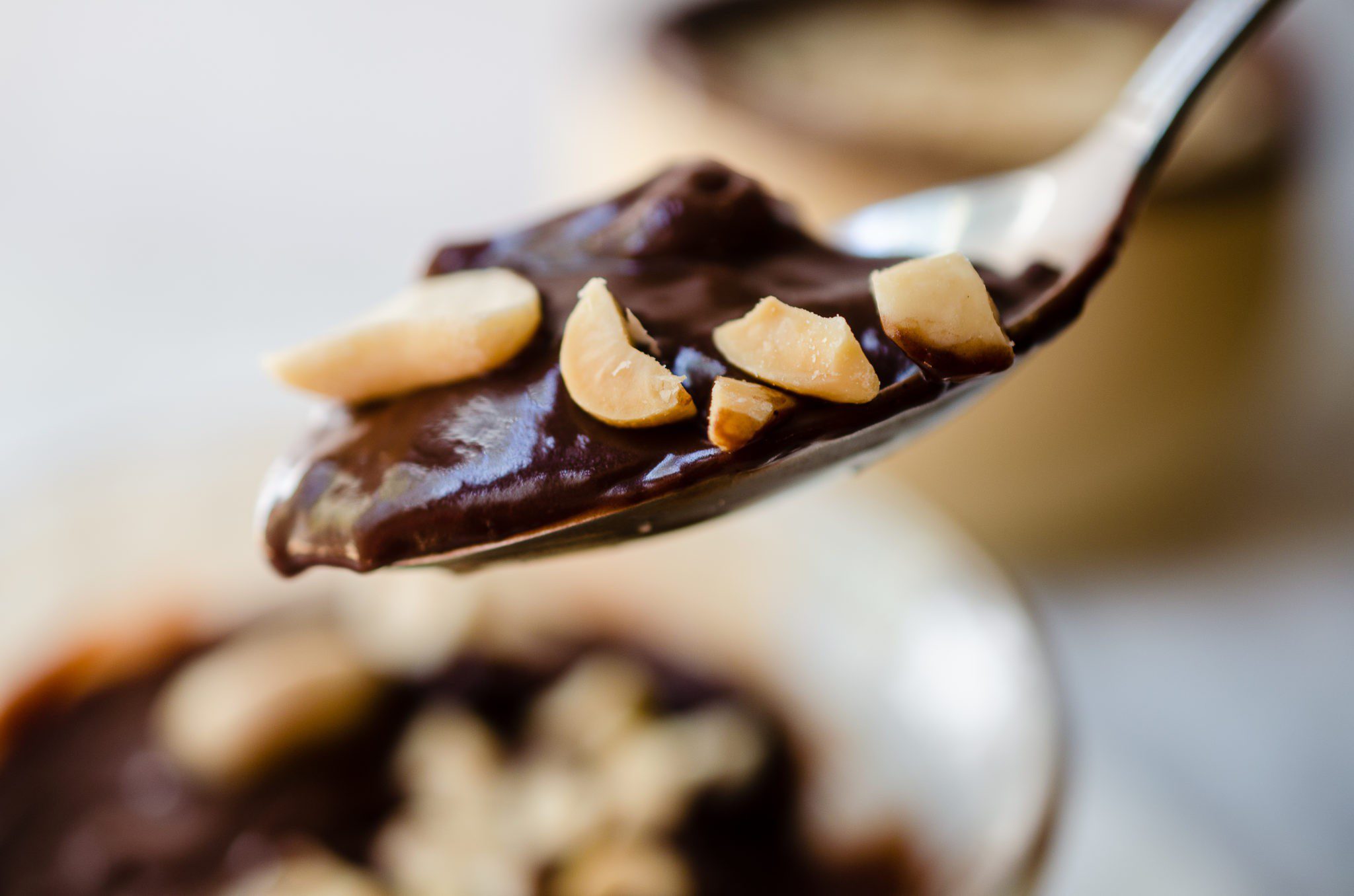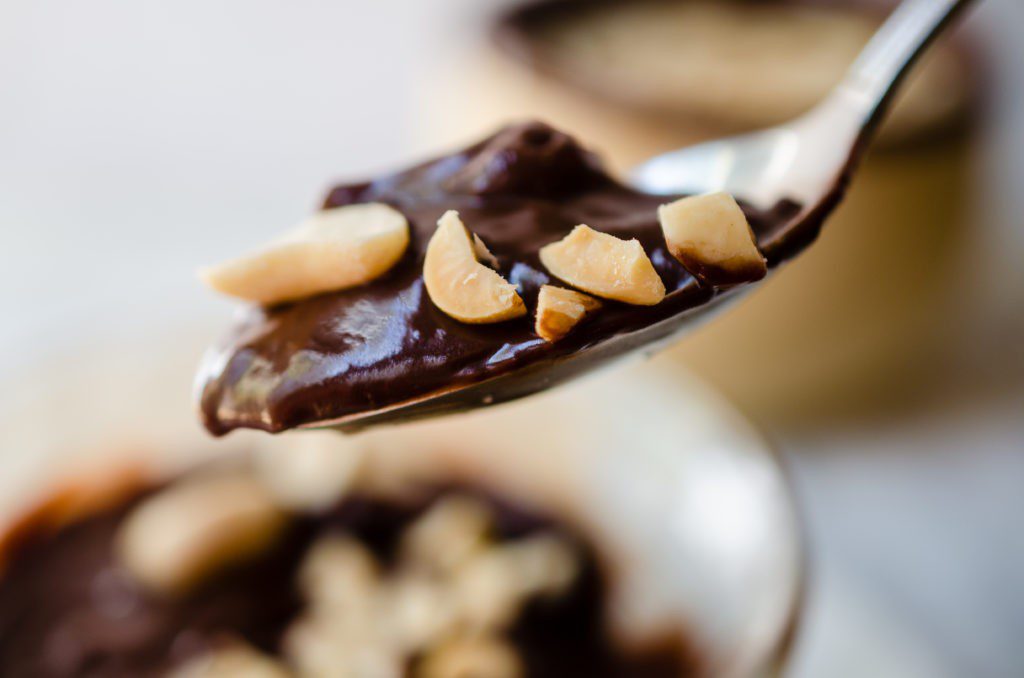 "You got peanuts in my chocolate!" "You got chocolate in my peanuts!" Well, who cares, right?! It's all good. I've got a combination that is going to blow your mind. Rich, dark, and creamy chocolate pudding meets bittersweet caramel and salty peanuts. It's a flavor combination reminiscent of a Snickers Bar. Snickers are hands-down, my favorite candy bar. It's been my favorite candy bar for as long as I can remember. Chocolate, caramel, and peanuts are a confectionery trifecta like no other – and now I'm putting that combo in a pudding cup. Check it out.

Inspiration
I'm often asked where I get ideas for recipe development. My answer is that pretty much everything I eat can be an inspiration. The idea for this dessert actually sprung from something I saw on Instagram. In this case, the spark was a butterscotch pudding topped with peanuts from Sofra Bakery in Boston. (I LOVE their food!) It looked so rich and creamy, but somewhat cool and refreshing at the same time. However, I am a huge chocolate fan and quickly decided to flip the pudding from butterscotch to chocolate. It was short trip to add caramel! In the end, it's not really all that much like the original, but it was inspirational just the same.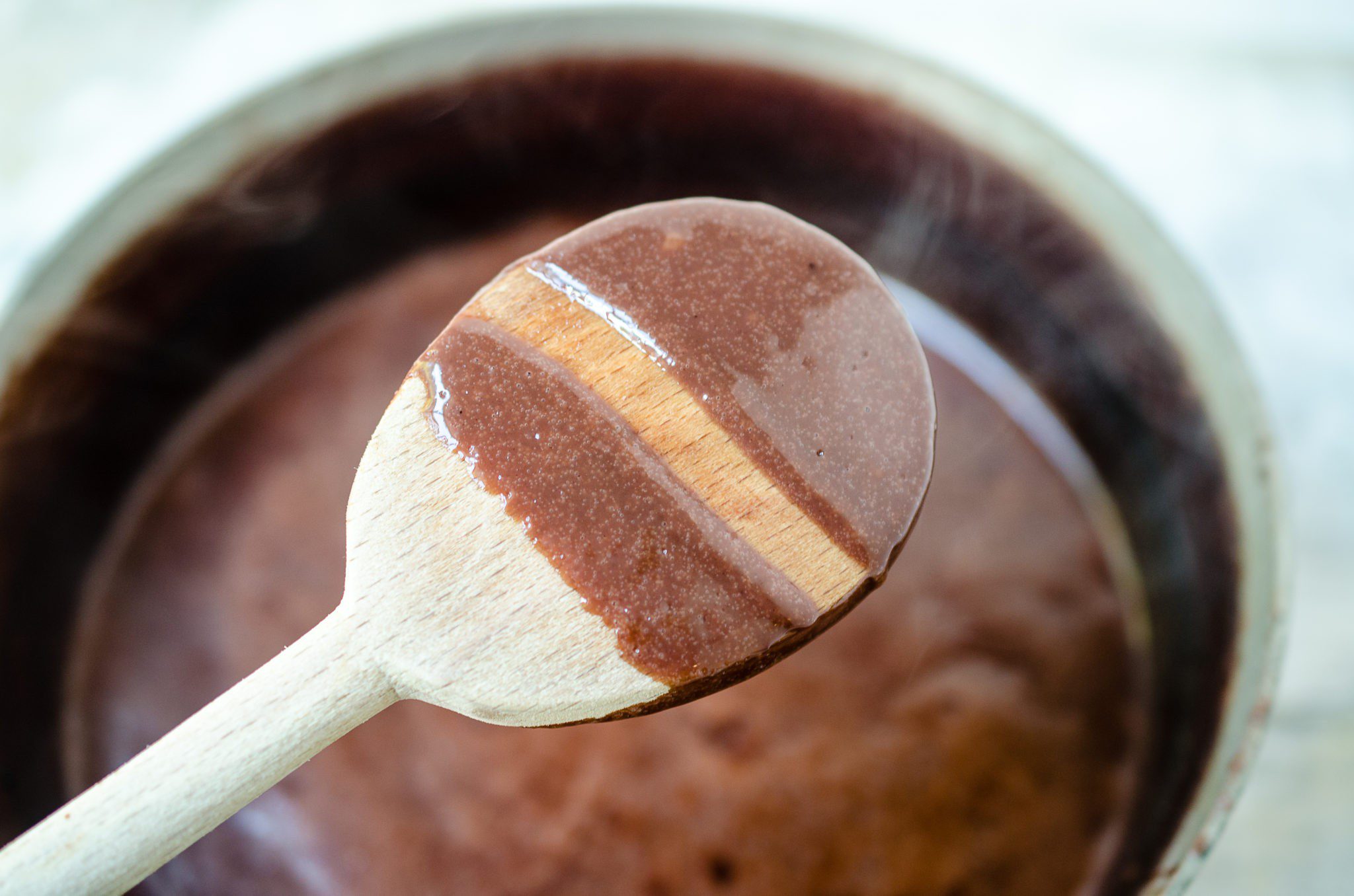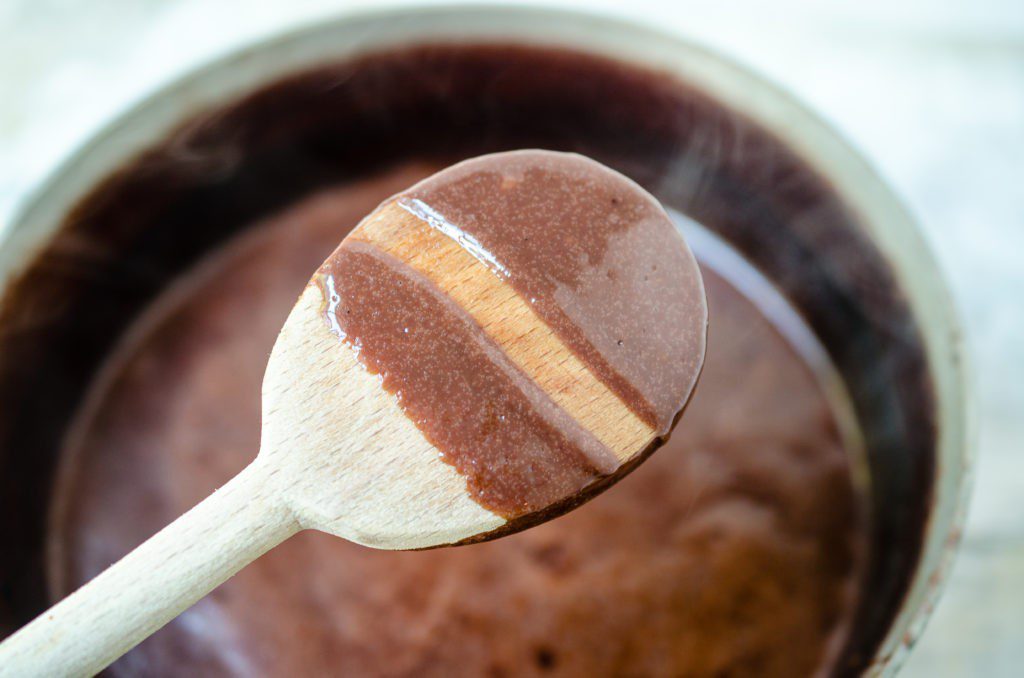 Comfort Food
According to the data, healthy snacks are out. Comfort food is in. Amid the coronavirus shutdown, consumers are seeking familiar favorites. I've been watching various webinars, reading marketing materials, and hell, just talking to friends. Everyone wants comfort food and nostalgia. As far as comfort food goes, Chocolate Pudding is right up there next to Mac and Cheese, PBJ, and Grilled Cheese Sandwiches.
Growing up, Mama would make chocolate pudding after school. My sister and I would watch her measure and prepare the ingredients, combine everything, and then cook until the dark mixture would suddenly thicken. She'd pour the molten chocolate pudding into those glass cups with thick ruffled edges and let us swipe our little fingers against the side of the pan to get every last bit. One spoonful of this Snickers Chocolate Pudding Cup takes me right back to those simpler times.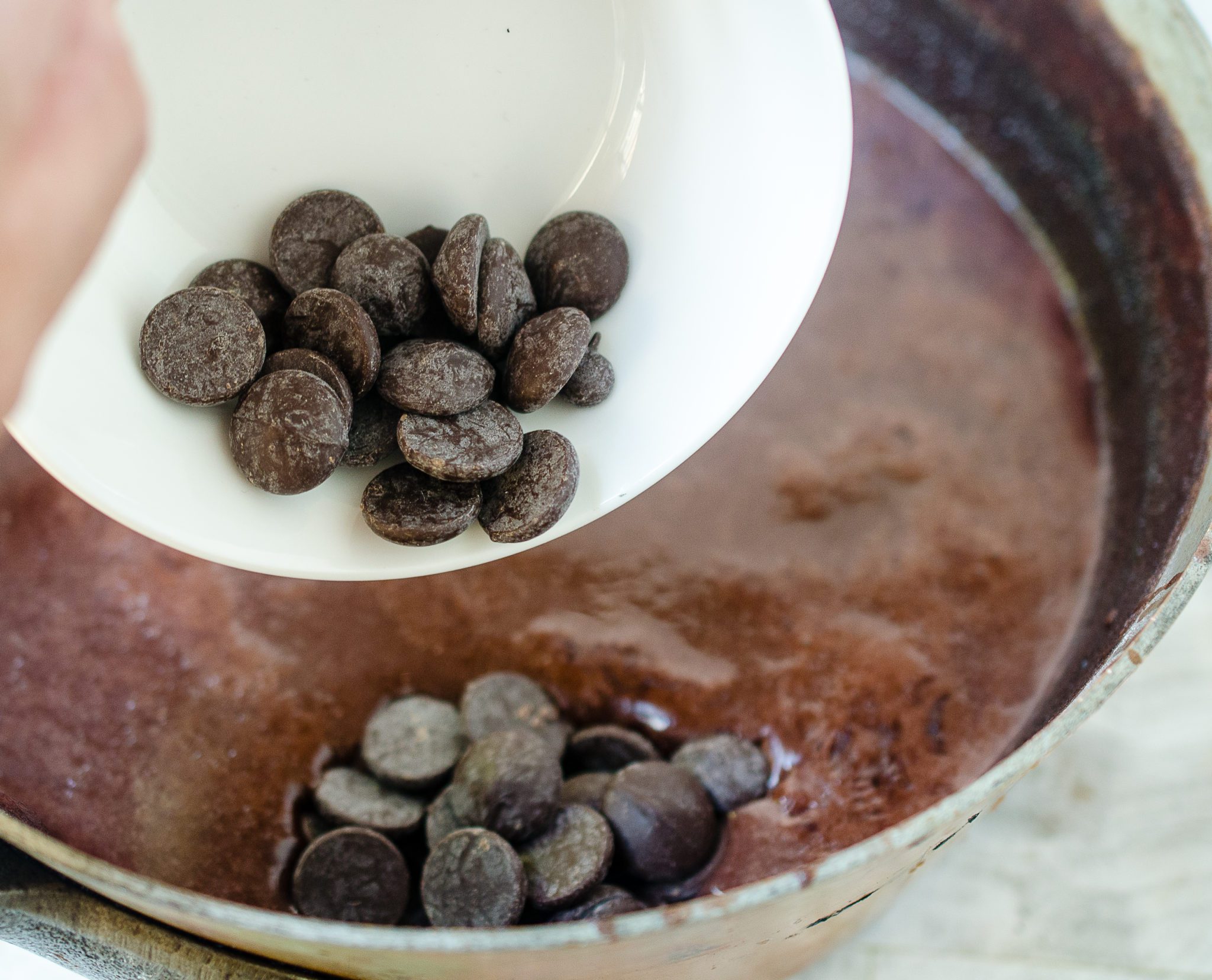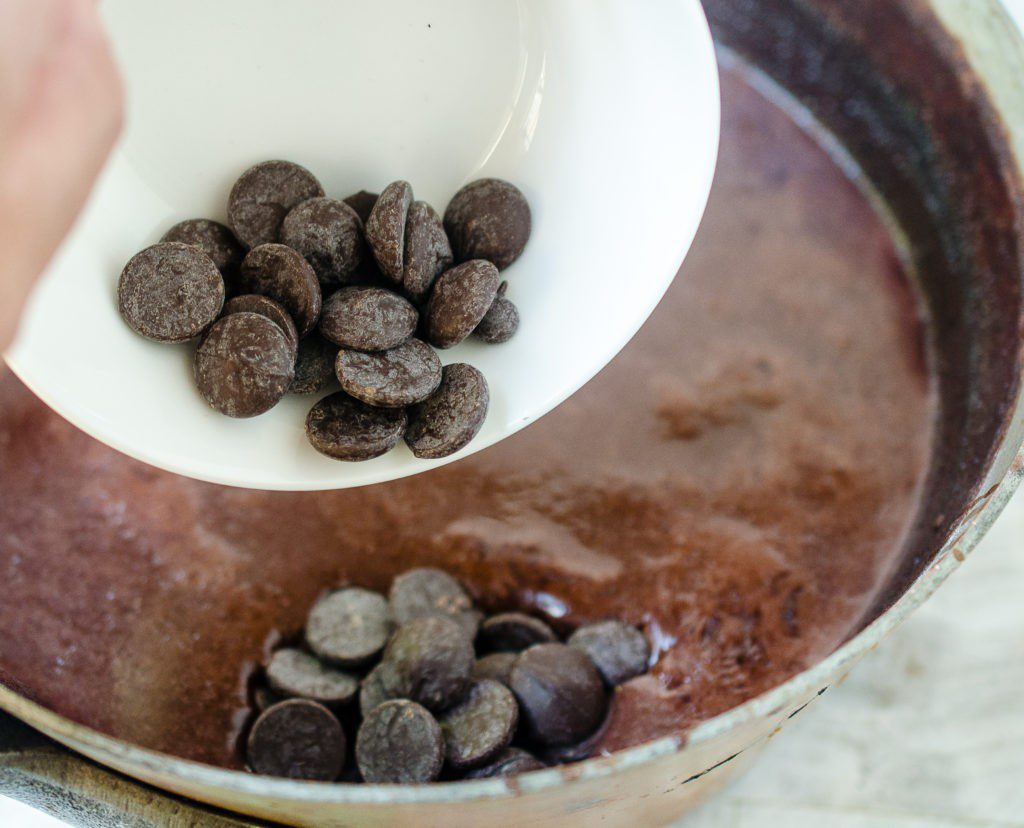 Lighten Up, Y'all
There's a running joke that the 19 in COVID19 is in reference to the pounds that people have put on these past months. Phew. It has been a struggle. I've really stuck to Weight Watchers because I need guardrails. Otherwise, I would stress eat by faceplanting in pizza and ice cream and wash it all down with my favorite "brown water." Nope. I just can't do that. Short term pleasure means long term pain.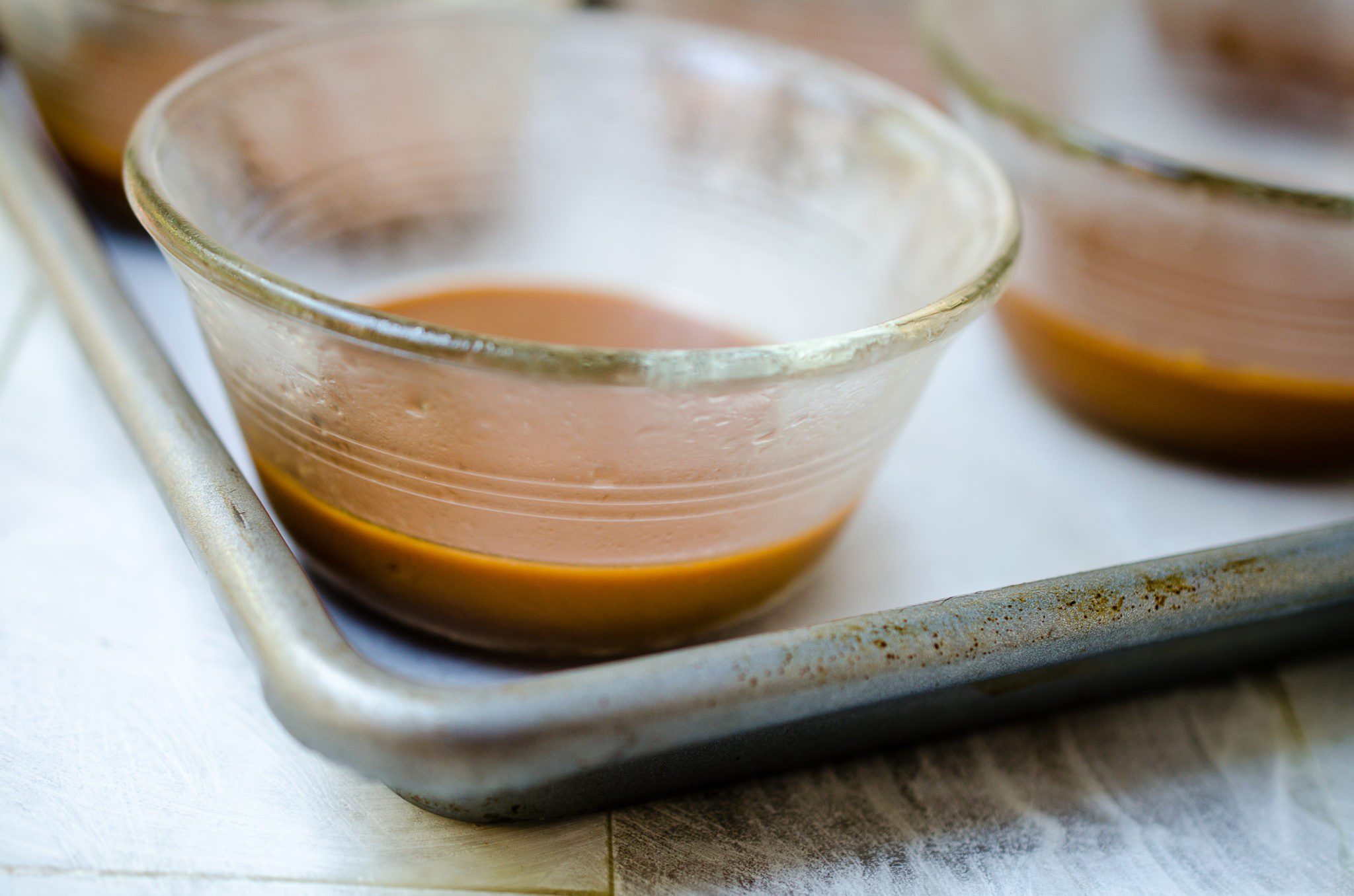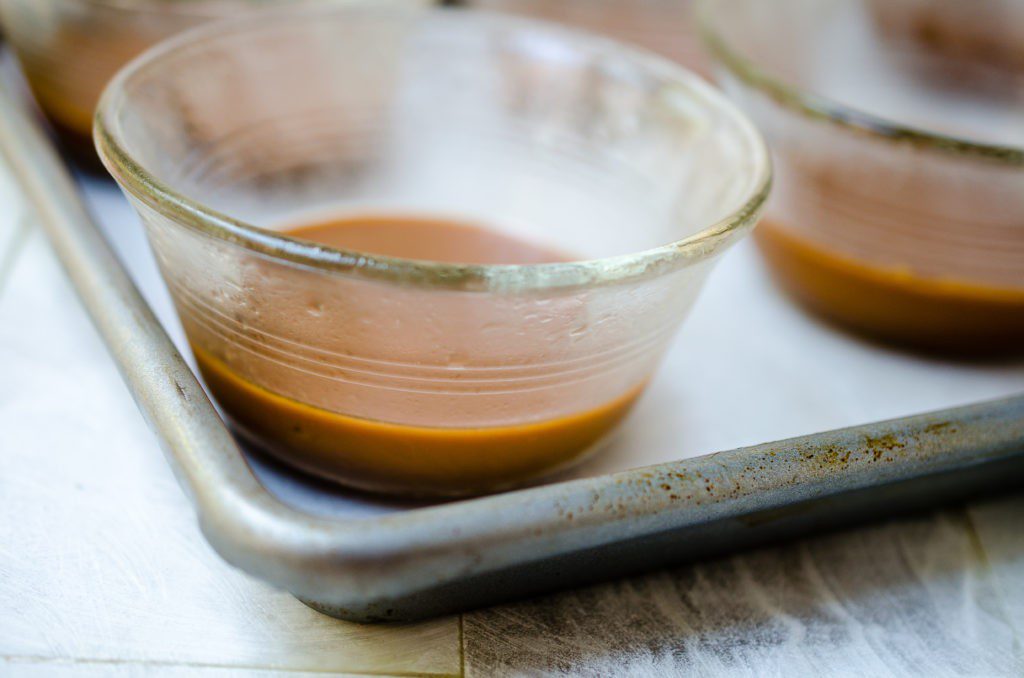 What's the Difference between Evaporated Milk and Condensed Milk?
Believe it or not, these luscious, indulgent pudding cups are a fraction in carbs, calories, and fat of what the full-fat heavy cream version would be. I promise that you won't miss a thing. I want to be super clear — this is not "health food." However, for comparison consider the dairy in my regular pudding recipe. It's is a combination of heavy cream and milk hitting a hefty 200 calories per serving. This version with soy milk or low-fat milk and evaporated fat-free milk comes in at 40 calories per serving. I like to make changes in recipes where I simply can't taste the difference.
I have not made this dessert completely dairy-free. The main reason that I use unsweetened soy milk is that's what I keep in the fridge for my coffee. For this dessert, I chose to use 1/2 the fat-free evaporated milk in the caramel and half in the pudding.
Make sure you use evaporated milk, not condensed milk. Both are forms of concentrated milk in which approximately 60% of the water content has been removed. The major difference between the two is sugar content; sweetened condensed milk, as the name implies, is always sweetened, while evaporated is unsweetened. Fat-free evaporated milk has the viscosity of half and half and can be great for fat-free cooking.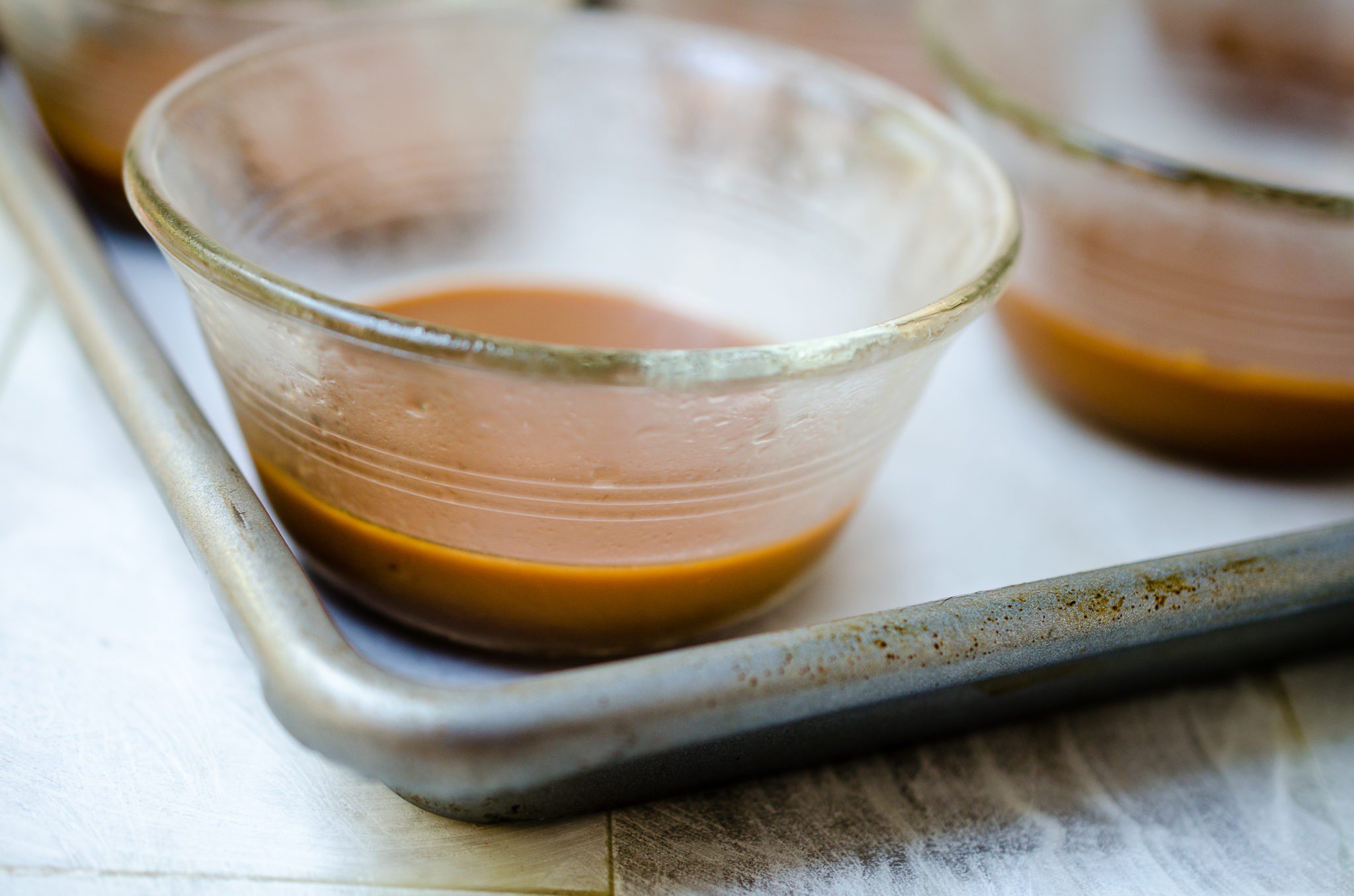 Key Ingredients
The bottom layer of the Snickers Pudding Cup is the caramel sauce. You could skip it, but it really is what takes this dish from simple to spectacular. If you want a shortcut, microwave some Brach's caramels for the bottom layer or seek out a quality storebought Caramel Sauce like this one from Stonewall Kitchen. You only need a few tablespoons per cup.
The pudding is extra luxurious with two kinds of chocolate, but not heavy or dense. In contrast to the silky caramel and creamy dark chocolate layers are crunchy, salty peanuts to round out the Snickers effect. You could also use pecans or almonds; the textural pop is nice.

Give it a Try!
If you decide to go homemade all the way with my recipe for full-on Snickers Chocolate Pudding Cups or figure it out a version that works for you, I hope you enjoy this recipe. Dig into a cool and creamy bowl of comfort.  Let me know what you think and if you give it a try, please tag me on social media.
Bon Appétit, Y'all
Virginia Willis
Times are tough. Need more chocolate in your life? I've got you chocolate-covered!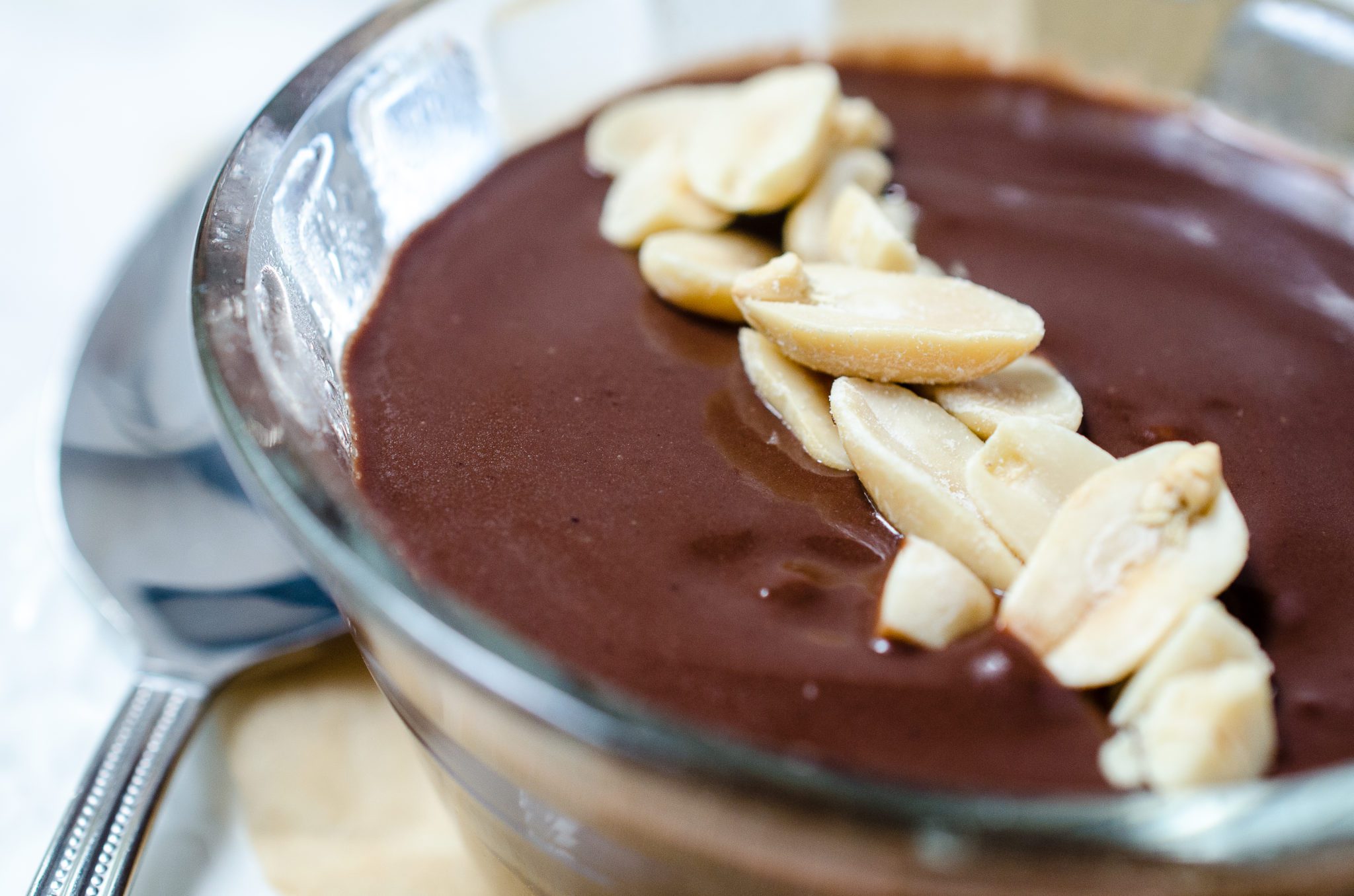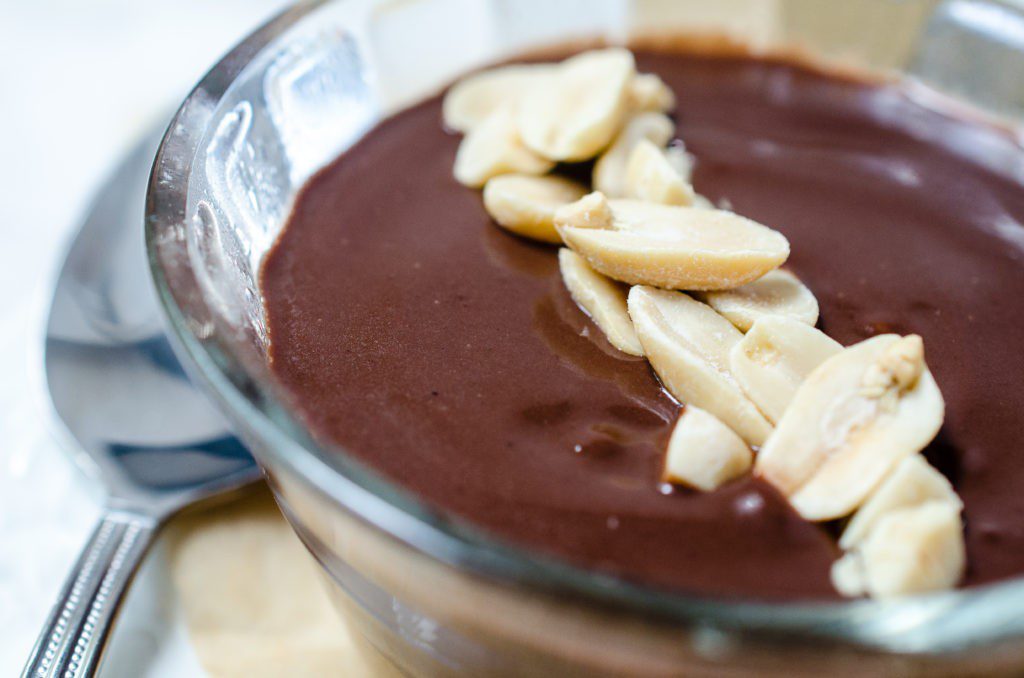 Snickers Chocolate Pudding Cups
The pudding alone is 8 WW smartpoints, 1 tablespoon of peanuts is 3 WW smartpoints, and caramel sauce is also about 3 tablespoons per tablespoon. You can have this dessert for "only" about 13 points a serving!
Ingredients
Caramel Sauce

see recipe below

1/3

cup

granulated sugar

¼

cup

cornstarch

3

tablespoons

unsweetened cocoa

1/4

teaspoon

fine sea salt

2

cups

1% low-fat milk or unsweetened soy milk

6

ounces

evaporated fat-free milk

3

ounces

about ½ cup bittersweet chocolate chips (60 to 70 percent cocoa)

6

tablespoons

chopped salted peanuts
Instructions
Place a few tablespoons of Caramel Sauce in 6 8-ounce heatproof bowls. Transfer to the freezer.

Whisk to combine the 4 ingredients in a medium, heavy saucepan; stir with a whisk. Gradually add milk and evaporated milk, stirring with a whisk. Bring to a boil over medium-high heat, stirring constantly with a whisk. Reduce heat, and simmer 1 minute or until thick.

Remove from heat; add chocolate, stirring until melted and mixture is smooth. Transfer to a pourable measuring cup or bowl. Let cool slightly, whisking constantly to prevent lumps. Remove the now-hard caramel-lined bowls from the freezer.

Pour about 2/3 cup pudding into each of 6 (8-ounce) ramekins; cover surface of each serving with plastic wrap. Chill at least 4 hours. Remove plastic wrap. Top with chopped peanuts. Serve immediately.
Salted Caramel Sauce
I'm particularly excited about this Salted Caramel Sauce and I know you are going to love it. Caramel Sauce is typically made from sugar, heavy cream, and butter – not a good candidate for lightening up. Here I'm using low-fat evaporated milk, a shelf-stable canned milk product with about 60% of the water removed from fresh milk to mimic the cream and just enough butter to give it a silky texture. You will have some leftover from making the pudding cups. Store in a jar in the refirgerator for up to 1 month.
Ingredients
1

cup

sugar

¼

cup

water

2

tablespoons

unsalted butter

6

ounces

low-fat evaporated milk

1

vanilla bean

split and scraped, or 1 teaspoon pure vanilla extract

Sturdy pinch of fine sea salt
Instructions
Combine the sugar and water in a small heavy saucepan. Heat over medium high heat, swirling the pan occasionally, until the sugar dissolves. Continue to cook, without stirring, until it begins to turn golden around the edges. about 7 minutes (It is important not to stir, or the syrup may crystallize).

When the syrup begins to color, remove from heat, and very gradually add the milk. (Be very careful because the syrup will furiously bubble up in the pan.) Add the butter. Return the pan to low heat and stir with a wooden spoon until the caramel is completely dissolved, about 3 minutes. Add the vanilla and a pinch of salt. Stir to combine.

Serve warm or at room temperature. Store the cooled sauce in an airtight container in the refrigerator for up to 1 month; it will solidify. Reheat it over a double boiler or in a heavy saucepan over very low heat.
Please note that this post may contain affiliate links. (That means I make a commission if you use my affiliate link to buy the product.) 
If you are interested in hosting me for a speaking engagement, event, cooking class, or a book signing, let me know! Send an email to jona@virginiawillis.com and we'll be back in touch as soon as possible.
Please be nice. Unauthorized use and/or duplication is prohibited. All photos and content are copyright protected. If you wish to republish this recipe, please link back to this recipe on virginiawillis.com. Thanks so much!
Let's connect on Facebook, Twitter, Instagram, and Pinterest!

Please note that this post may contain affiliate links.