Please note that this post may contain affiliate links.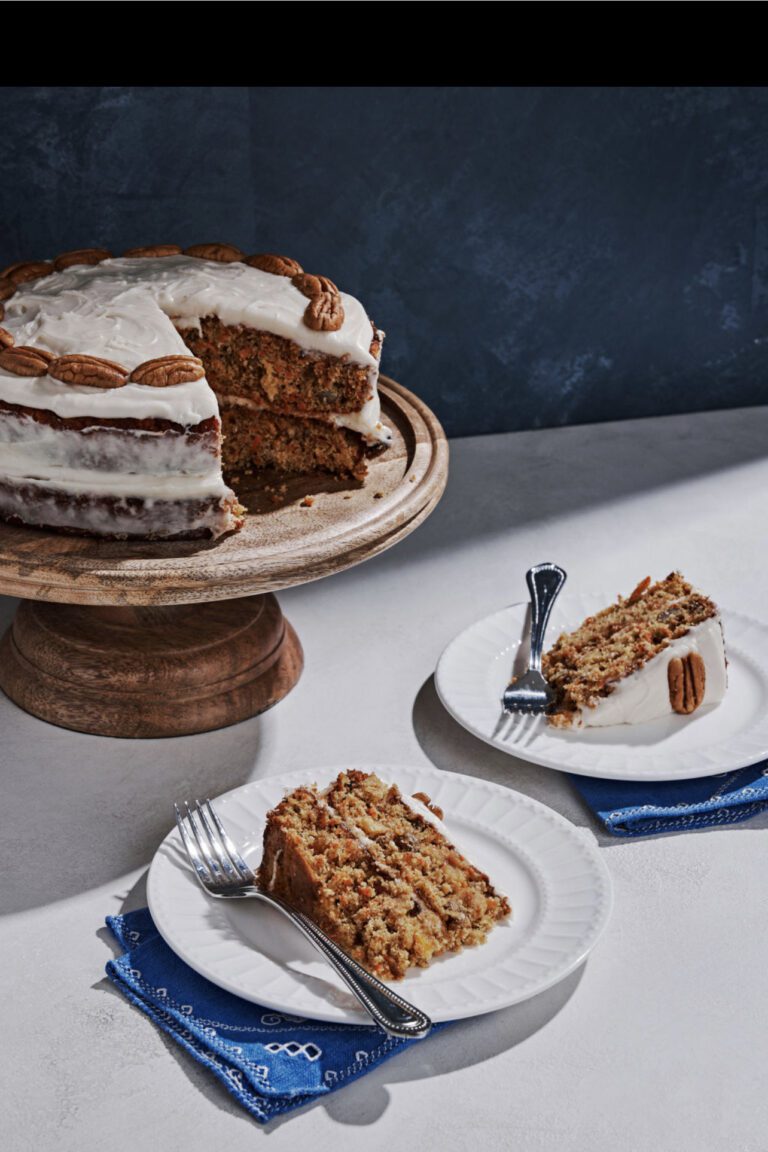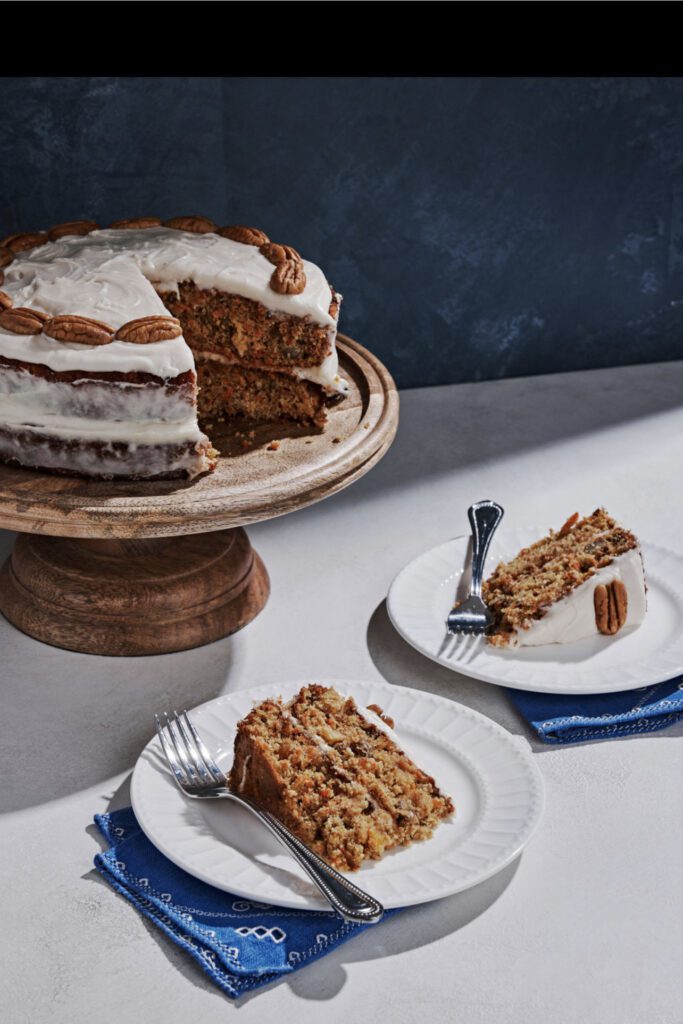 Astonishing how many carrot cake fans I've met through my Lower Fat Layer Carrot Cake and weight loss journey being featured in AARP magazine!  (Seen above.) This classic celebration layer cake is studded with fruit, nuts, and sweet shreds of carrot. Sounds healthy, right? Well, no. Many Carrot Cake recipes are made with copious amounts of oil. One of my secret techniques is that I replace part of the oil with drained pineapple, effectively acting how applesauce replaces oil in some healthier cakes. This recipe is lower in fat, yet it's still rich, moist, and flavorful. I wanted to see if I could adapt the recipe into a super easy dump-and-stir snack cake. Success! Please read on for the recipe snack cake adaptation and video.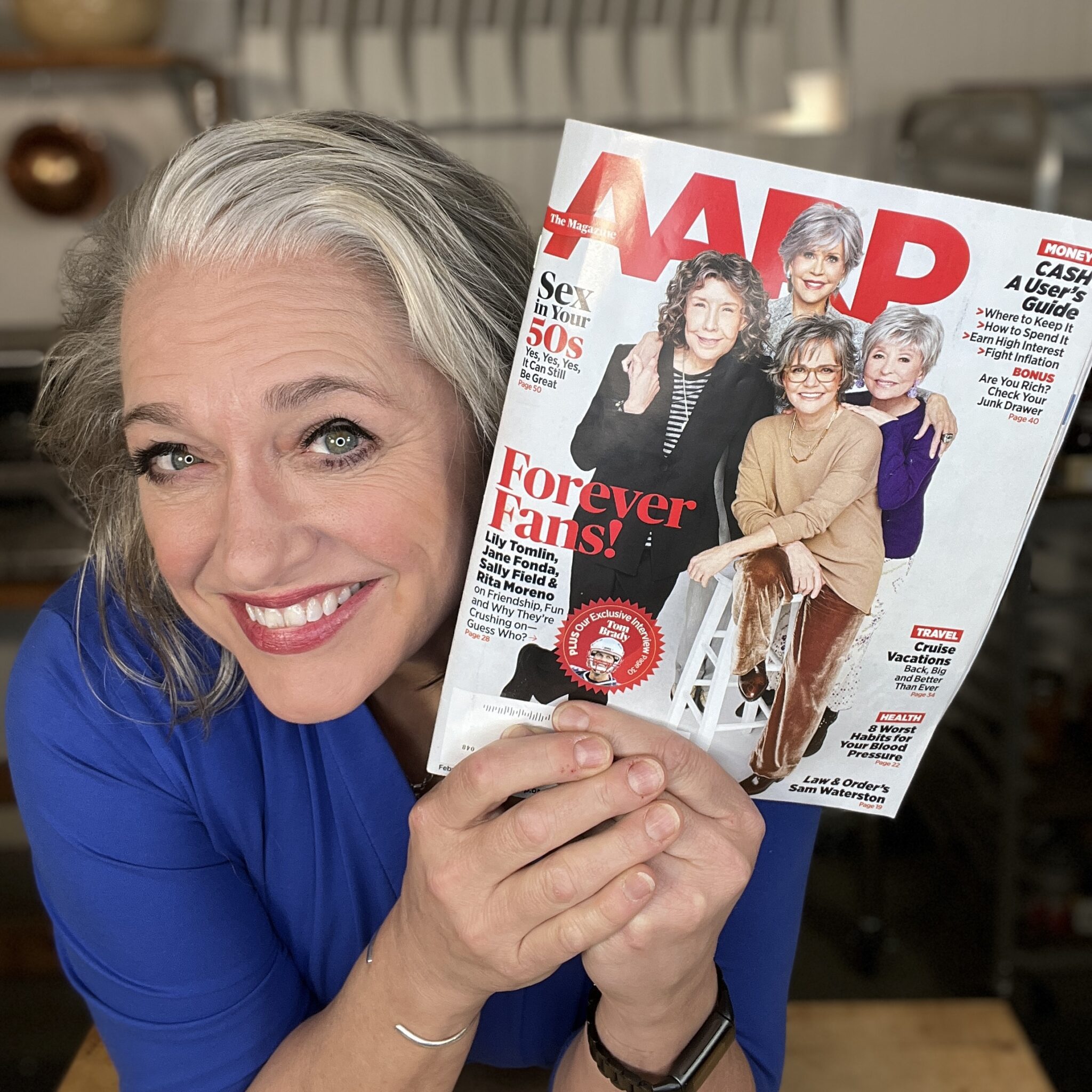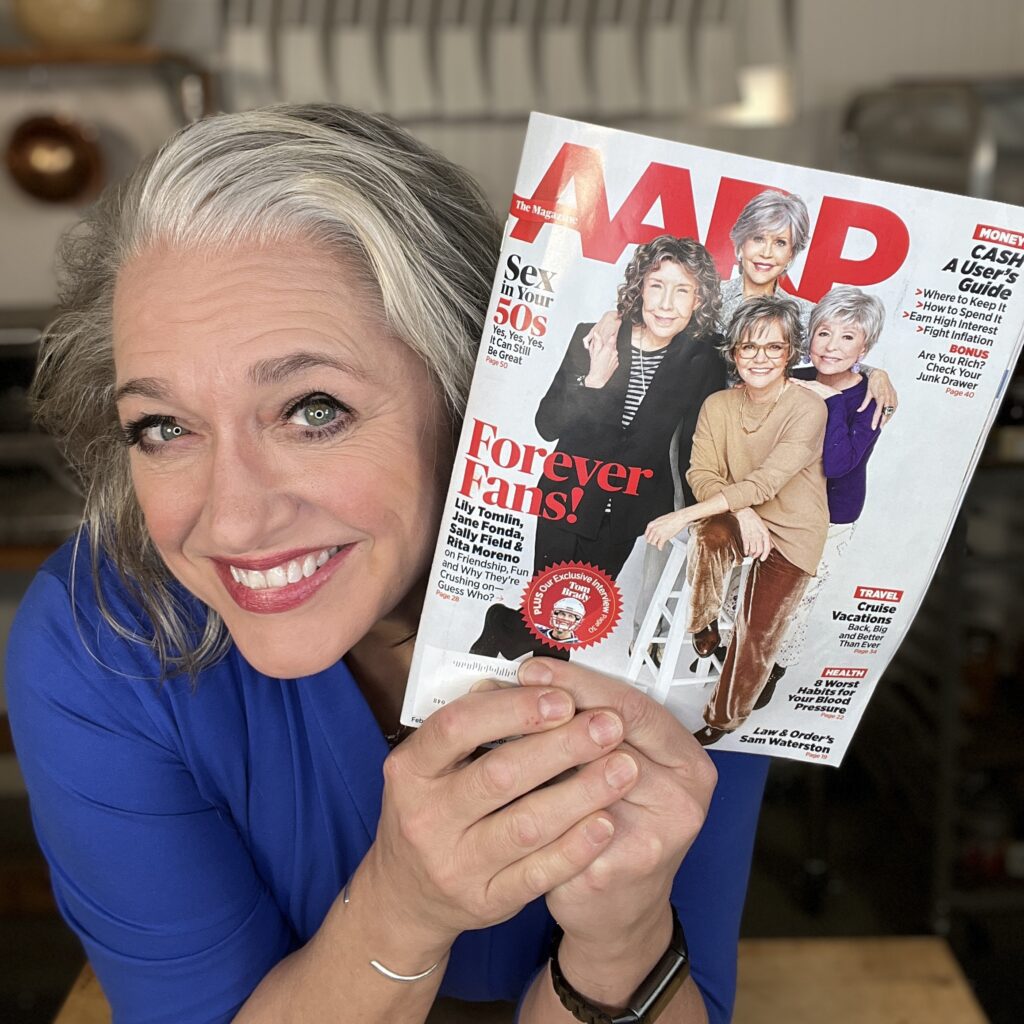 80 for Brady
I still cannot believe I am in a magazine that has my sheroes Lily Tomlin, Jane Fonda, Sally Fields, and Rita Moreno on the cover!  And, Sally Field followed me on Instagram. It was all I could do not to post a screengrab with the caption, "She likes me, she really likes me." 😉 IYKYK
Some friends have teased me about being in AARP. Heck. I am 56 years old and don't deny a day of it! Everything I am doing right now regarding my health and wellness has to do with me aging as best I can.
AARP is dedicated to people over 50. However, there is no minimum age requirement. I joined because my 20-year-old AT&T rep turned me onto it so I could get a discount on my iPhone.
She had joined, too. How's that for a sales conversion?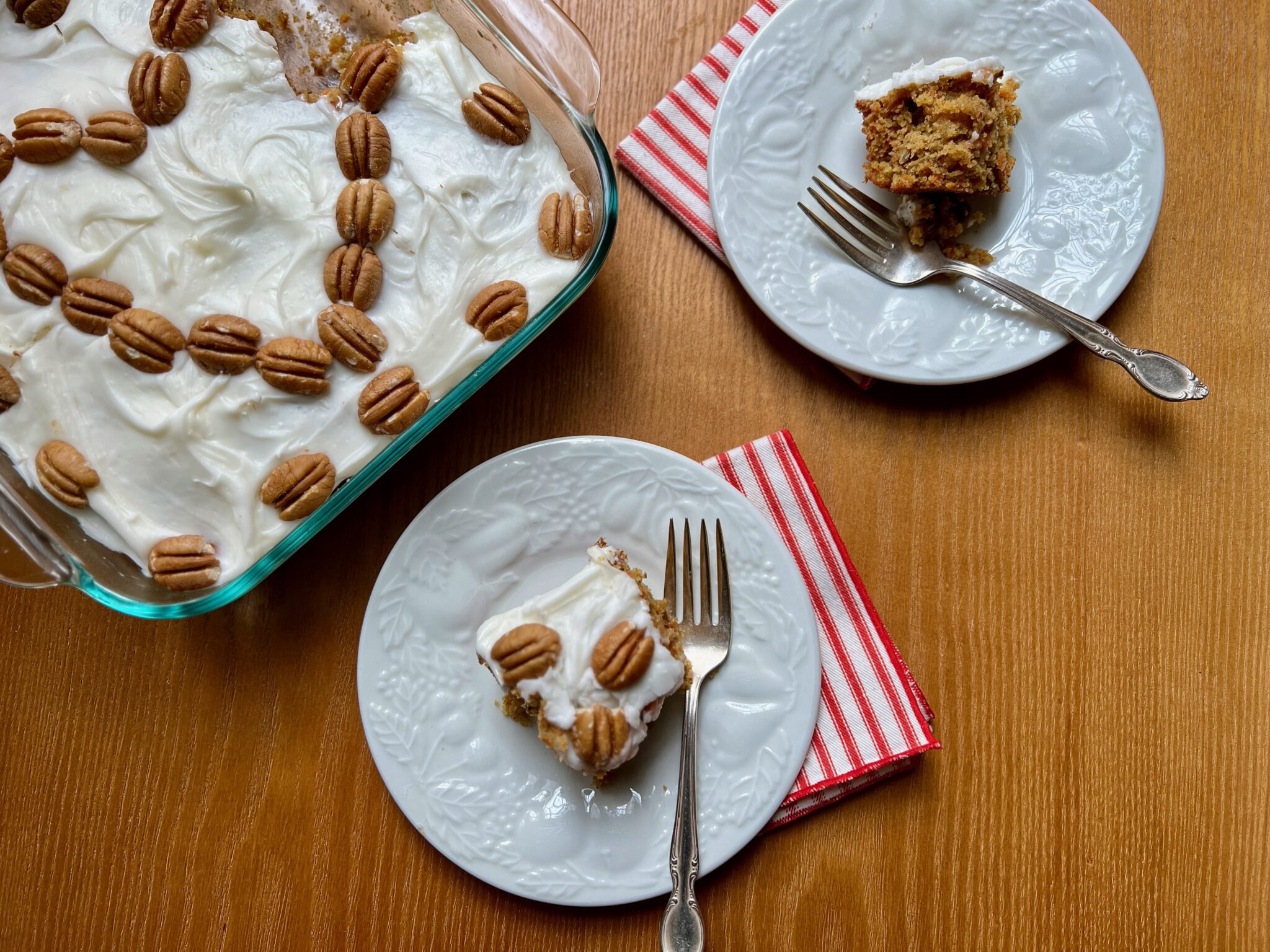 Better-for-You Baking
Part of aging well is eating well, one of my Life Guardrails. (You can read more about that here.) Eating well includes my better-for-you-baking approach. This means small batch bakes, cakes included, that are pushed to the edge of being "healthy" — and still taste like a dessert. Often, I use traditional ingredients, just lesser quantities of the more indulgent ones. Of course, there are some desserts that don't need lightening up and some you just flat out can't. One way or the other, my philosophy is "eat the dang cake!"
Heart Healthy Georgia Pecans
Here's a step-by-step making my Carrot Snack Cake on Daytime TV for Valentine's Day. Made with heart-healthy Georgia pecans from Pearson Farm, they fit the bill.
Pecans play a role in reducing the risk of heart disease because they have an abundance of unsaturated fats. These "good" fats can have a protective effect by lowering total blood cholesterol when eaten in moderation.
Pecans are also a good source of fiber, protein, and antioxidants. Antioxidants can help protect the body from the cell damage that causes Alzheimer's disease, Parkinson's disease, and cancers. The USDA has ranked over 100 foods by antioxidant levels, and pecans made the top 20!
You can see the pecans on my cake are slightly smaller and rounder. Those are my absolute favorite variety, called Elliots. They are rich and buttery, with a big bang of pecan for the buck. I love them.
For yet another version of this cake — clearly, I like carrot cake — check out the Carrot Cake I developed for Weight Watchers that you bake in your slow cooker!
Thanks for reading and watching. For more videos and my February #LoveYourself series, check out my Instagram feed!
Bon Appétit Y'all!
Virginia Willis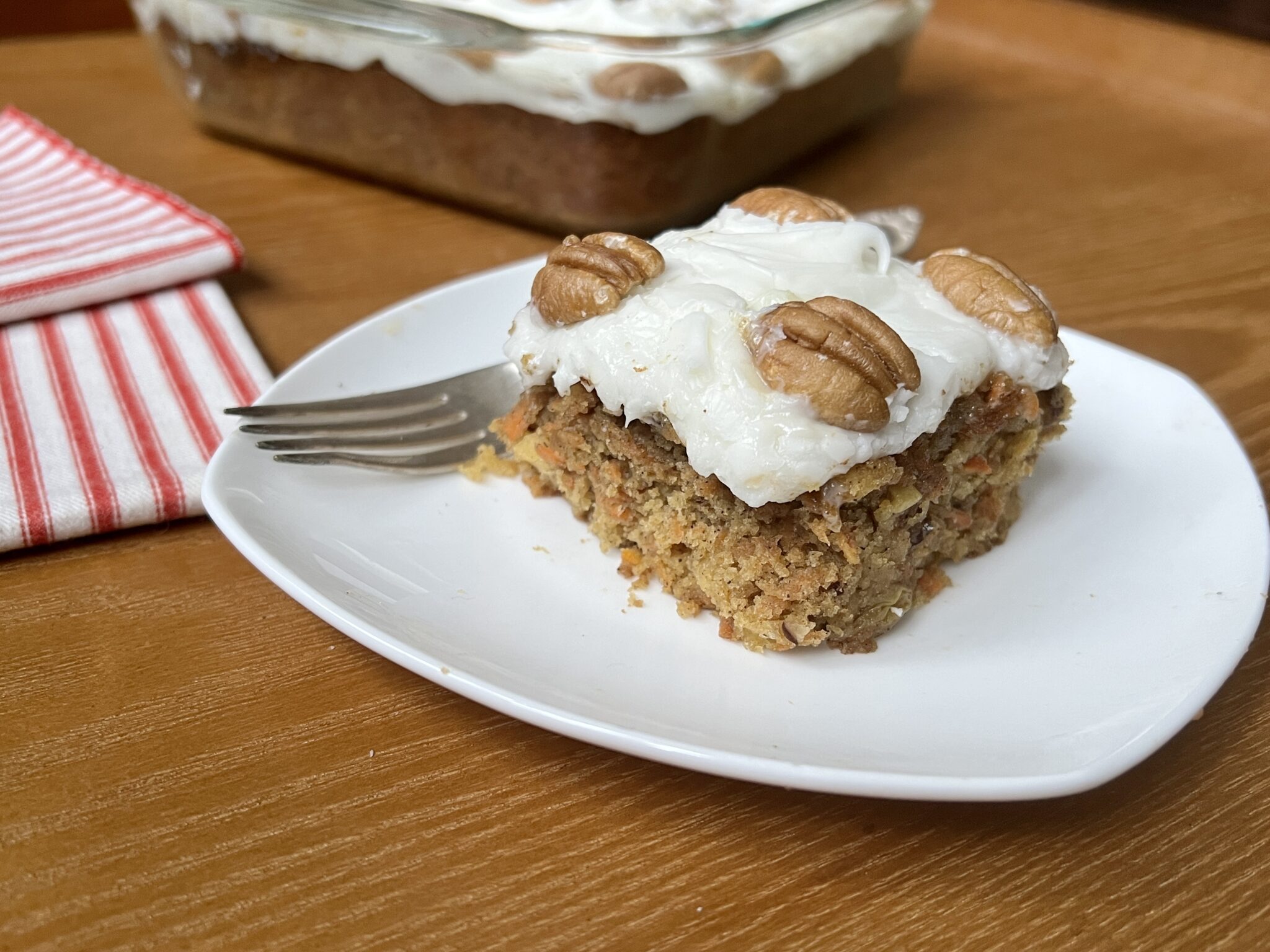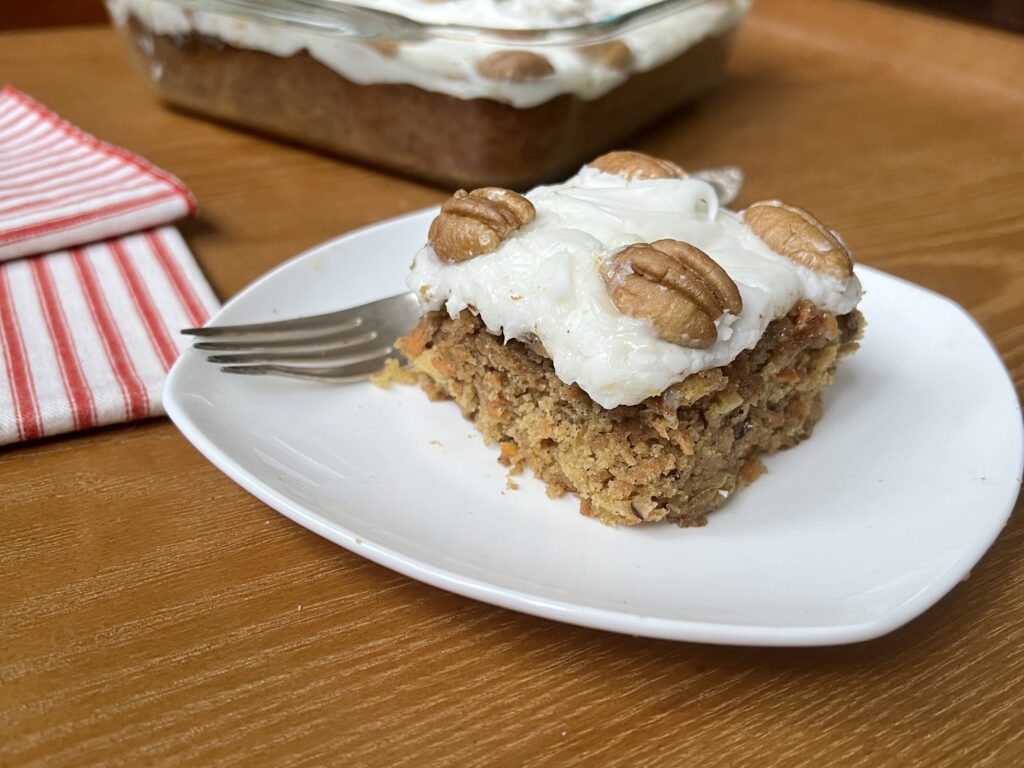 Lower-Fat Carrot Snack Cake
Ingredients
1

8-ounce can crushed pineapple in juice

1

cup

whole wheat pastry flour

¾

teaspoons

baking powder

½

teaspoon

baking soda

½

teaspoon

fine sea salt

½

teaspoon

ground cinnamon

⅛

teaspoon

ground allspice

⅛

teaspoon

freshly grated nutmeg

½

cup

chopped pecans

¼

cup

golden raisins

¾

cups

granulated sugar

2

large eggs

¼

cup

canola oil

1

teaspoon

vanilla extract

3

cups

grated carrots

4 to 6 medium

Pecan halves

for garnish

1/2

8-ounce package low-fat cream cheese, at room temperature

1

teaspoon

vanilla extract

Pinch

of fine sea salt

½

pound

confectioners' sugar

sifted
Instructions
Heat the oven to 350°F. Spray an 8 inch square baking pan with nonstick spray; dust with flour. Set aside.

Drain the pineapple in a sieve set over a bowl, pressing on the solids. Reserve the drained pineapple and pineapple juice.

In a large mixing bowl, combine the pineapple, pecans, and raisins. Add sugar, eggs, and oil. Stir to combine. Add flour, baking powder, baking soda, salt, cinnamon, allspice and nutmeg. Add carrots and stir to combine. Transfer to the prepared pan.

Bake until a wooden pick inserted in the center of each layer comes out clean and the sides start to pull away from the edges of the pans, 35 to 40 minutes. Remove to a rack to cool. Brush the cake with the reserved pineapple juice.

Frosting: Using a hand held mixer combine the cream cheese, vanilla and salt. With the mixer at low speed, add the confectioners' sugar. Blend until smooth and consistent.

Once the cake has cooled completely. Top with the frosting. Garnish the top with the pecan halves. To serve, slice with a serrated knife. Store in an airtight container in the refrigerator for up to 3 days.
Let's cook something up! If you are interested in hosting me for a speaking engagement, event, cooking class, or book signing, let me know! Send an email to assistant@virginiawillis.com and we'll be back in touch as soon as possible.
I am not a doctor, RD, health professional, or WW representative. I am simply sharing what works for me. My blog is for informational or educational purposes only and does not substitute professional medical advice or consultations with healthcare professionals.
Note that this post may contain affiliate links and I may make a commission if you use my affiliate link to buy the product.
Please be nice. Unauthorized use and/or duplication is prohibited. All photos and content are copyright protected. If you wish to republish this recipe, please link back to this recipe on virginiawillis.com. Thanks so much!

Please note that this post may contain affiliate links.