Please note that this post may contain affiliate links.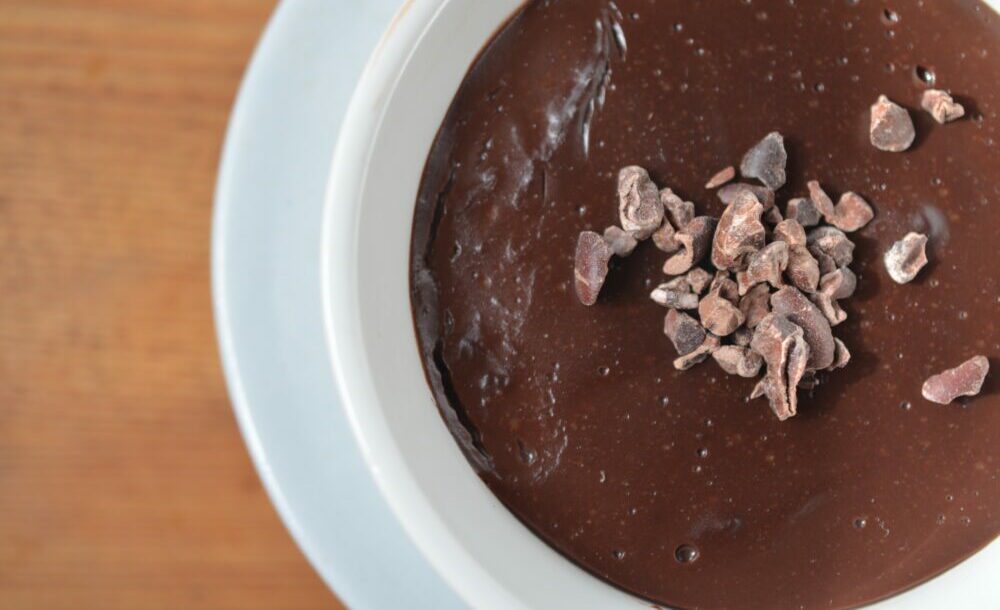 What other dessert brings out the kid in us more than chocolate pudding?  Sometimes Mama would make chocolate pudding after school, and my sister and I would watch her measure and prepare the ingredients, combine everything, and then cook until the dark mixture would suddenly thicken. She'd pour the molten chocolate pudding into those glass cups with thick ruffled edges and let us swipe our little fingers against the side of the pan to get every last bit. 

#LoveIsLove
When Mama made this original recipe it felt like a rich and creamy cup of love. This is a super short Valentine's Day card to you and your loved ones. Love comes in all shapes and sizes. It seems clear to me that we need love and acceptance now, more than ever.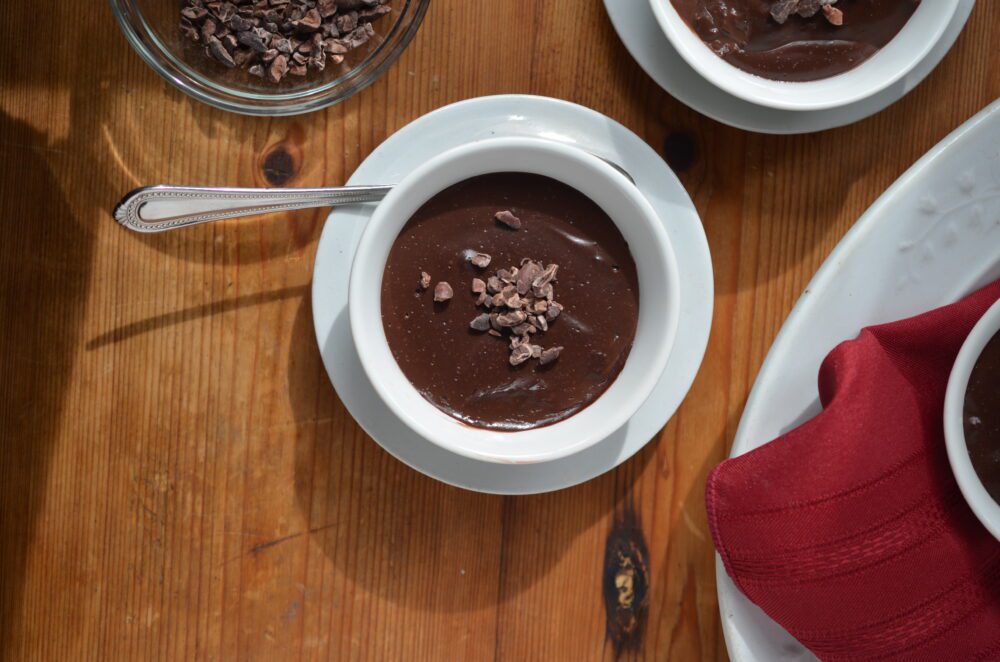 WW-Friendly Indulgence
Chocolate pudding is iconic — and I am going to let the recipe speak for itself. I have made a few small changes to be more WW-friendly. I've subbed out soy milk for cow's milk. I am not dairy-free and do still use cow's milk, but sometimes I am not fond of the soy flavor. In this instance, this rich double dose of chocolate masks any lingering soy tastes. I prefer bittersweet chocolate and it is also lower in points than semisweet or milk. Lastly, I'm topping these chocolate pudding cups with cacao nibs instead of whipped cream. (This has about 10 points per VERY satisfying 4-ounce portion.)
Thanks so much for reading. It's been a hard year for our heads, homes, and hearts. I hope this little bit of sweetness will bring you joy.
Bon Appétit, Y'all
Virginia Willis
PS To read more about chocolate check out this blog post on the French version of pudding, Chocolate Pots de Creme.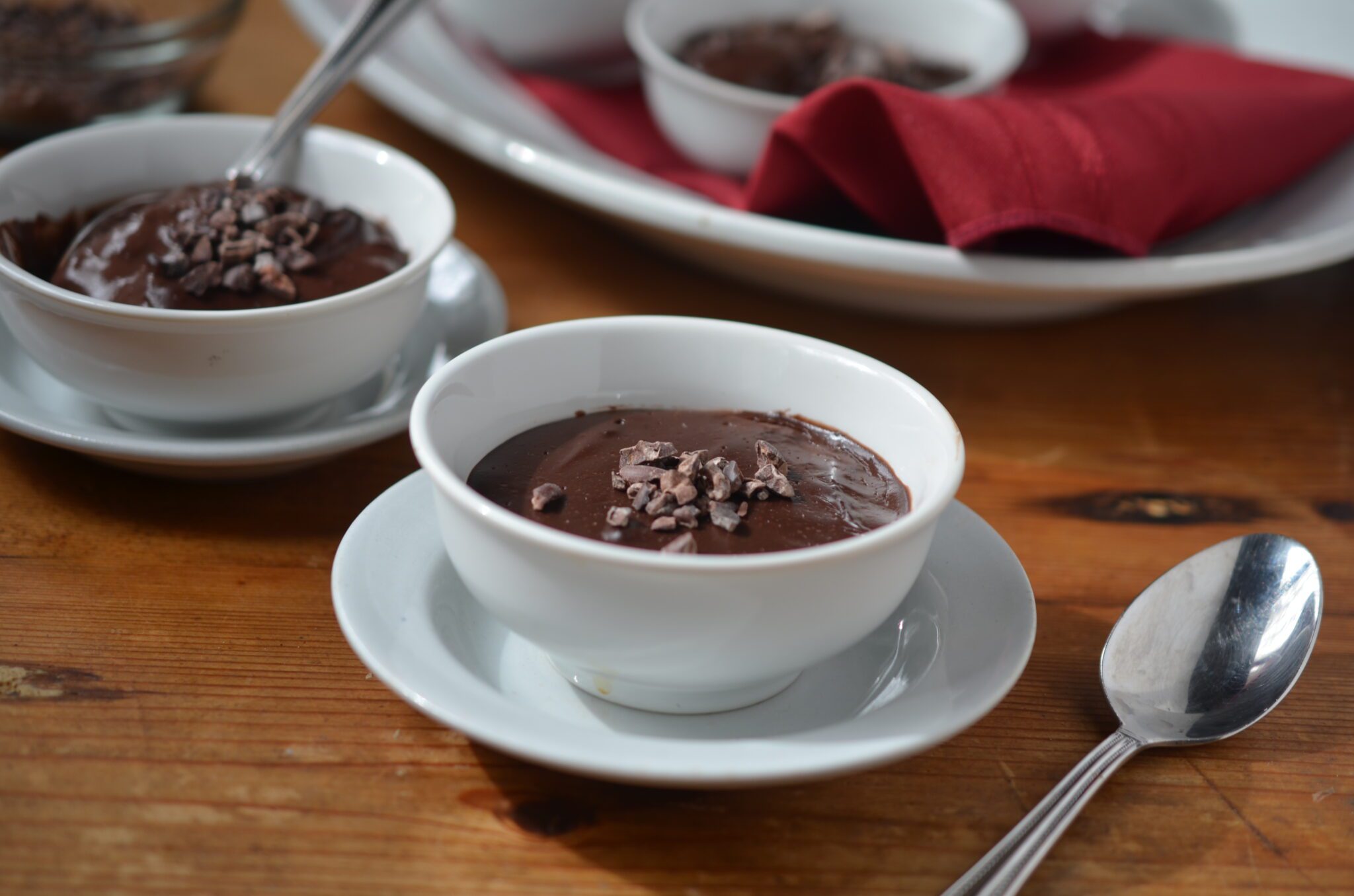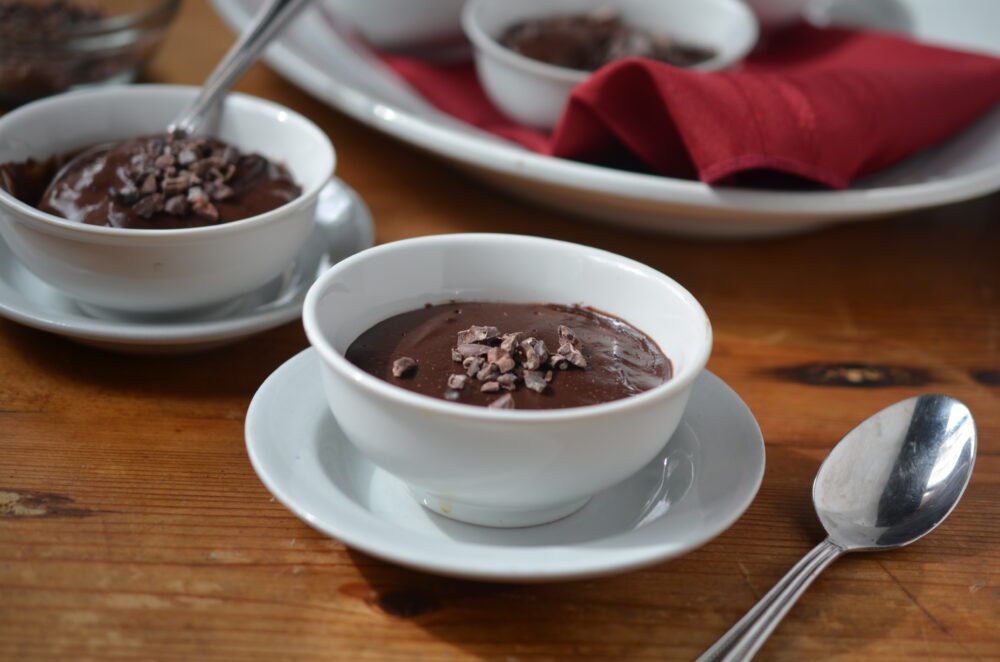 Chocolate Pudding
Makes 5 4-ounce portions
Ingredients
¼

cup

granulated sugar

¼

cup

cornstarch

3

tablespoons

unsweetened cocoa

1/4

teaspoon

fine sea salt

2 3/4

cups

unsweetened soy milk or 1% low-fat milk

3

ounces

bittersweet chocolate chips (60 to 70 percent cocoa) (about 1/2 cup)

5

teaspoons

cacao nibs

for garnish
Instructions
Whisk to combine the 4 ingredients in a medium, heavy saucepan; stir with a whisk. Gradually add milk stirring with a whisk. Bring to a boil over medium-high heat, stirring constantly with a whisk. Reduce heat, and simmer 1 minute or until thick.

Remove from heat; add chocolate, stirring until melted and mixture is smooth. Let cool slightly, whisking constantly to prevent lumps.

Pour 1/2 cup pudding into each ramekin. Let set just slightly and garnish with cacao nibs. Serve immediately. (Or cover with a piece of plastic wrap flush to the surface of the pudding and chill until cold.) It's good warm or cold!
Please note that this post may contain affiliate links. (That means I make a commission if you use my affiliate link to buy the product.) 
If you are interested in hosting me for a speaking engagement, event, cooking class, or a book signing, let me know! Send an email to jona@virginiawillis.com and we'll be back in touch as soon as possible.
Please be nice. Unauthorized use and/or duplication is prohibited. All photos and content are copyright protected. If you wish to republish this recipe, please link back to this recipe on virginiawillis.com. Thanks so much!
Let's connect on Facebook, Twitter, Instagram, and Pinterest!

Please note that this post may contain affiliate links.