Please note that this post may contain affiliate links.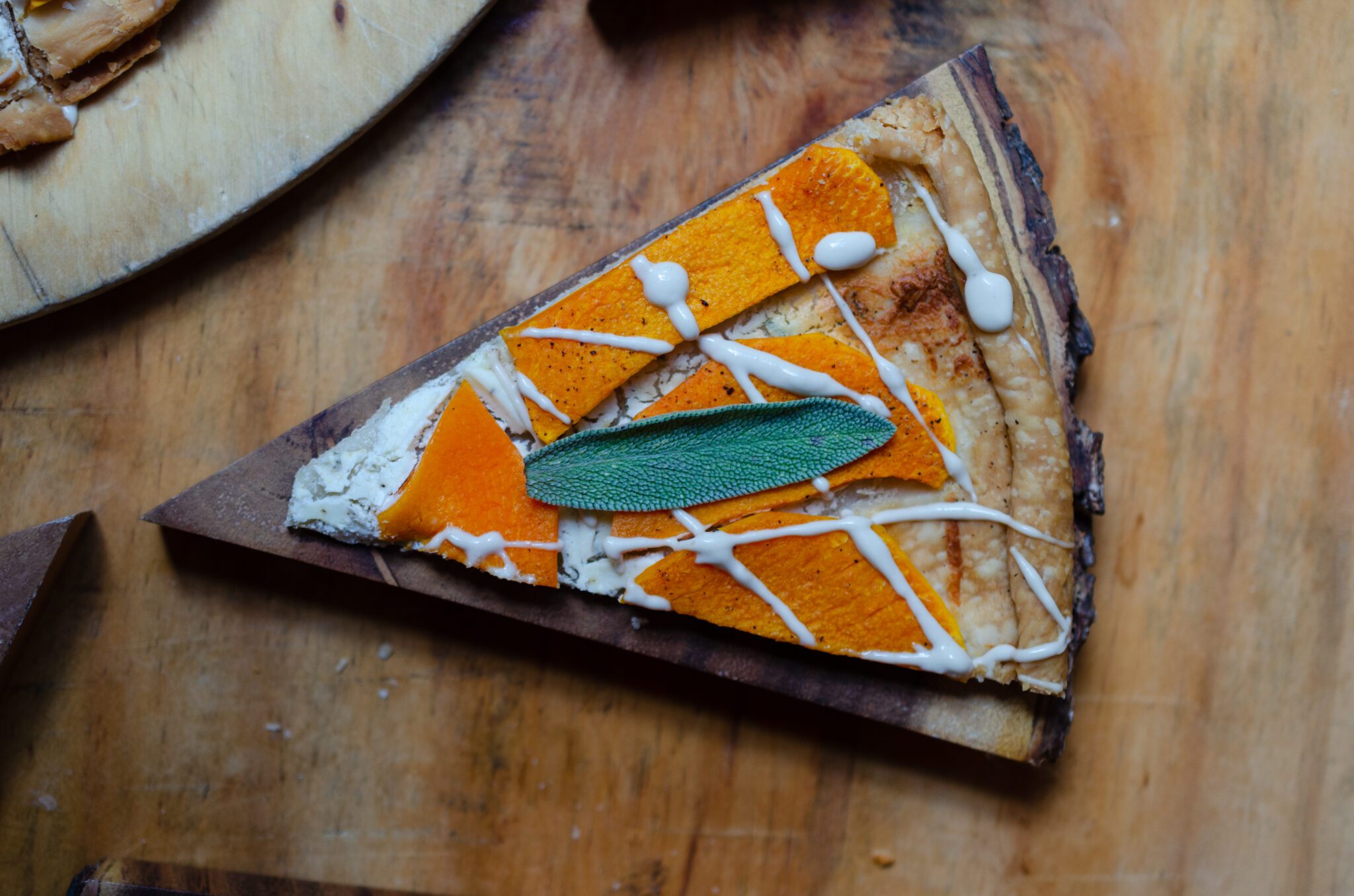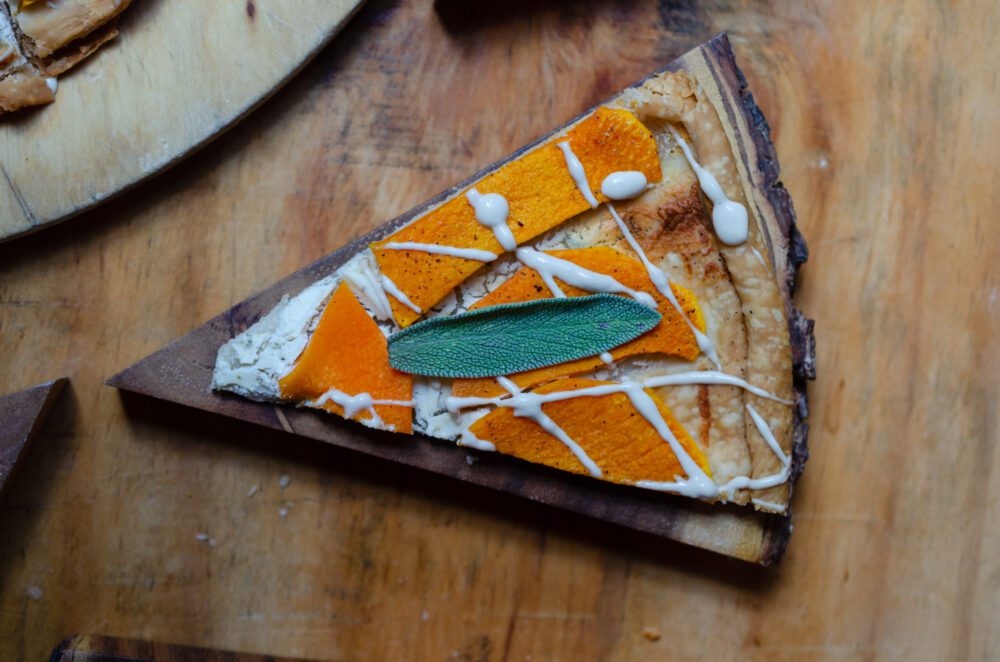 Tender, aromatic butternut squash, goat cheese, herbs, and crisp pastry. This Quick and Easy Butternut Squash Galette is a snap to put together.
Confession! I keep store-bought pie dough sheets for recipe testing and emergency baking situations. Yup. Yes, of course I know homemade tastes better. And, to quote my mentor Nathalie Dupree, if I were the woman I wish I was I would have disks of homemade pastry stacked in my freezer at the ready. But I am not and don't.
I serve this Quick and Easy Butternut Squash Galette as an easy appetizer or pile a mountain of dressed arugula on it and serve it as part of the salad course for company dinner. It can fit in at a tailgate, too.  It's fast, WW-friendly, and satisfying – read on for how to make it.
Winter Squash
Butternut squash is a winter squash and one of the signature flavors of fall.  It's sweet yet earthy. You can mash it, roast it, spiralize it, steam it, microwave it, or puree it into soup. It is one of the easiest of all the winter squashes to work with because its smooth skin just pares away with a paring knife or vegetable peeler. (Check out my video on how to easily cut butternut squash!) Also, they keep well even once they have been cut upon – meaning, I shop for a large one, use what I need, and wrap the rest. It will easily last a week or so and can be carved on and be part of more than one meal.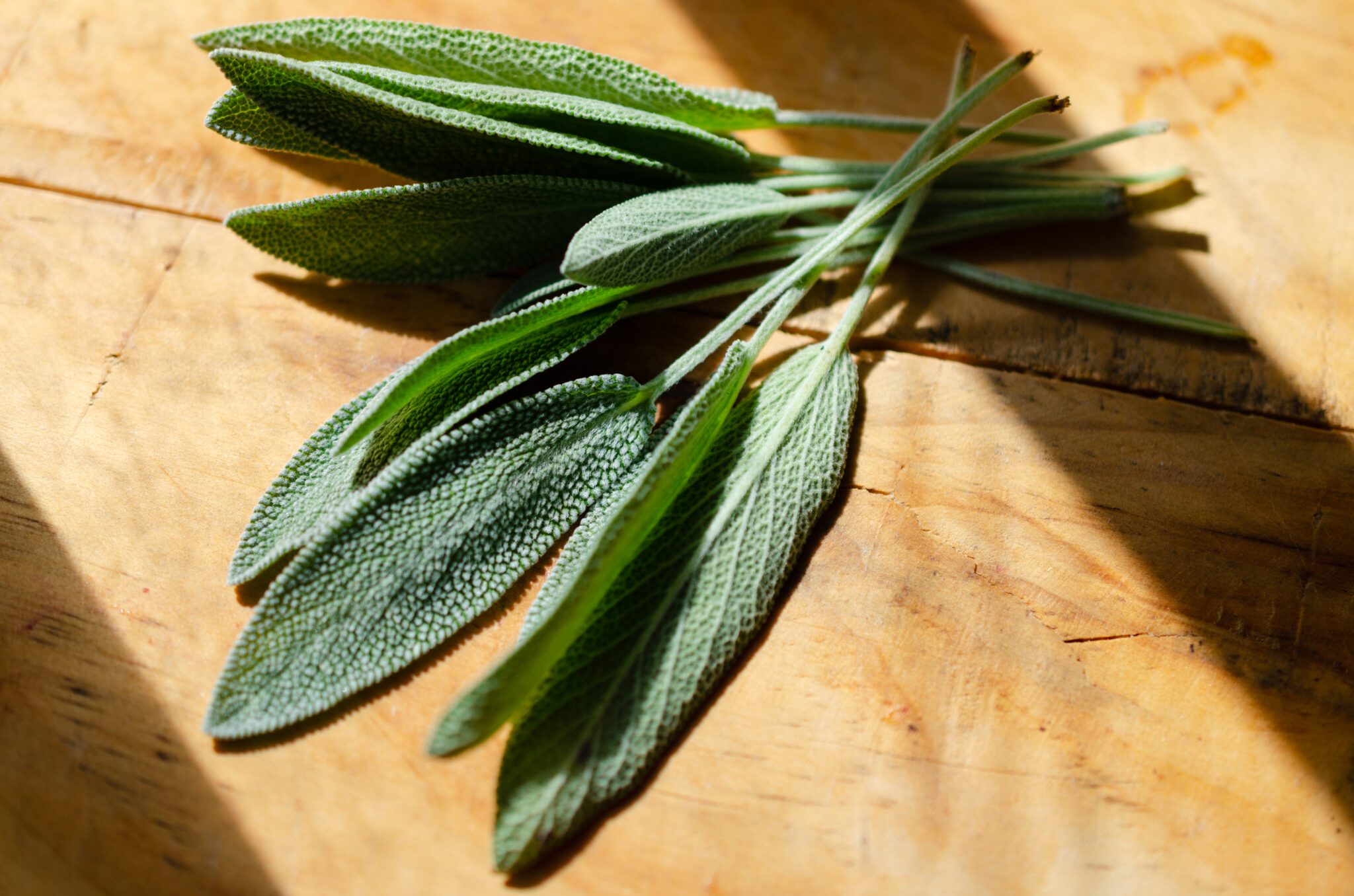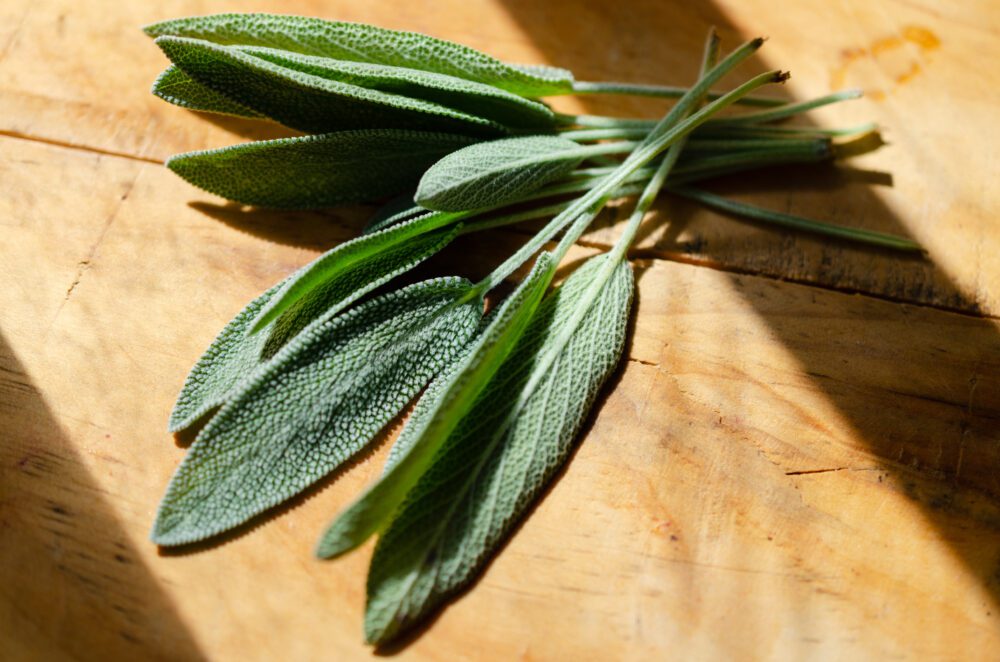 Goat Cheese
Fresh goat cheese is tangy, creamy, and rich. In this Quick and Easy Butternut Squash Galette, it's simply combined with a bit of chopped sage and seasoned with salt and pepper. Other herbs to consider are thyme and rosemary. Soft goat's cheese contains the same amount of fat as brie and is considered a high-fat product – mozzarella and ricotta are lower in fat, as is feta.
I am a huge cheese fan. I love all sorts of cheeses and make room in my eating plan for it. Granted, it's in small amounts. (Unless it's burrata and all bets are off.)  Goat cheese is a versatile cheese with a huge punch of bold flavor — a little goes a long way — helpful when it comes to health.
And,
according to WebMD researchers have found evidence that choosing goat cheese over cow helps people feel less hungry and eat less overall, which is an important factor in weight loss.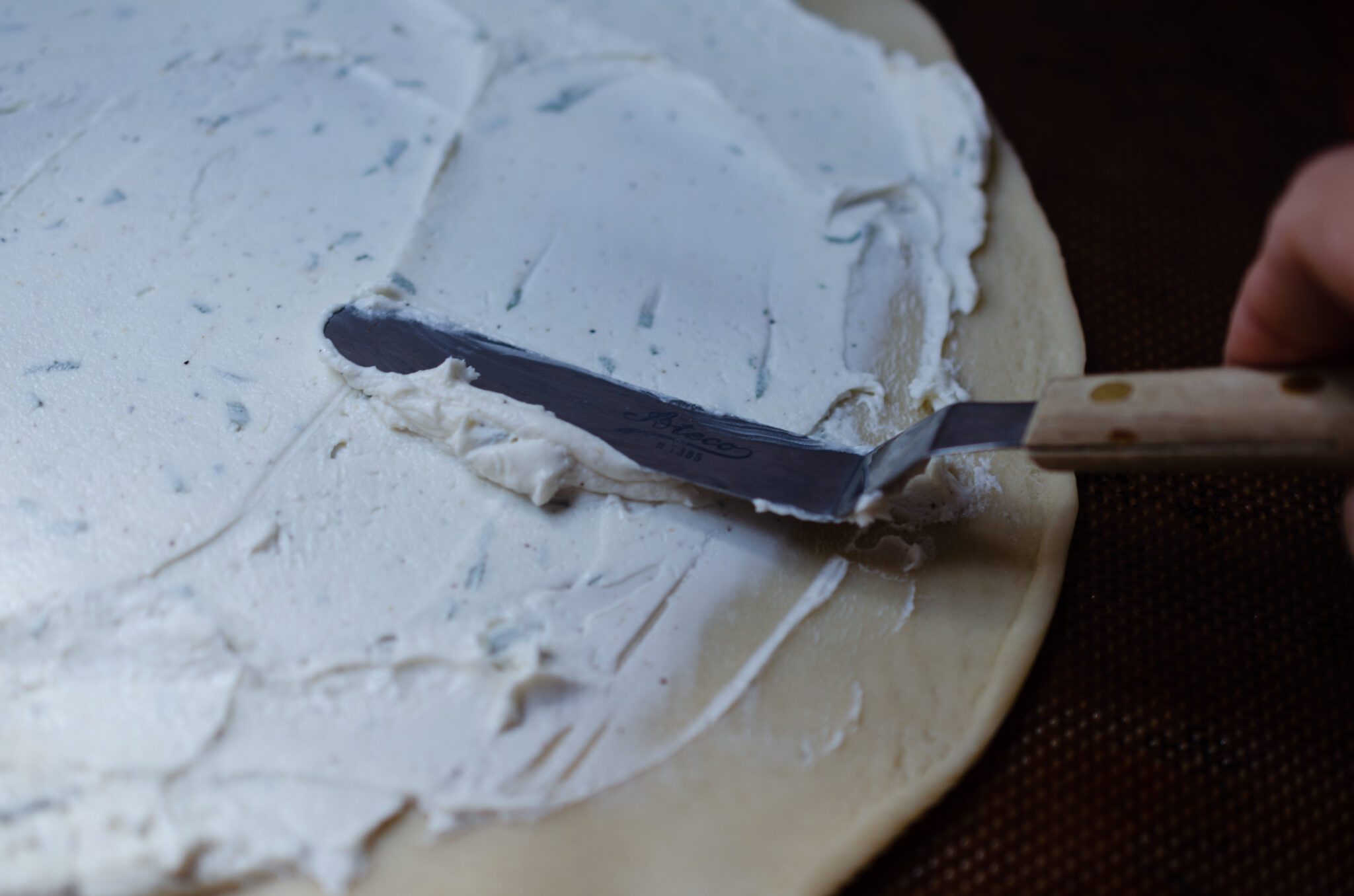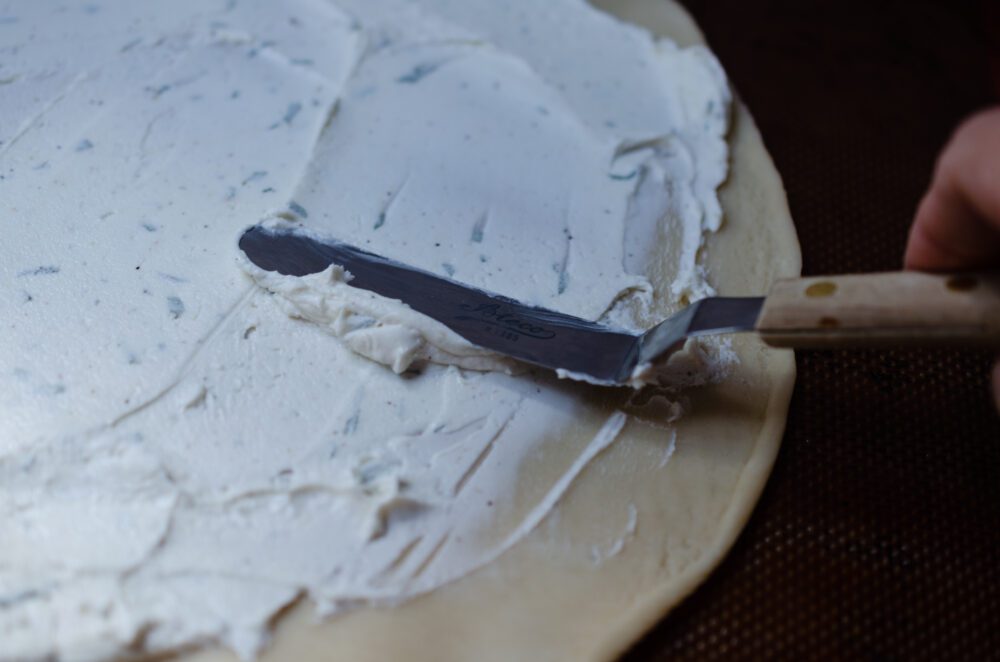 What is a Galette?
The term galette is used to refer to rustic, free-form tarts made with a single crust of pastry or bread dough, like a pizza. They can be crispy, nearly a flatbread, like this one, or made from soft and billowy brioche. Galettes can also be sweet or savory.
Galettes are when best conceived as a worthy vehicle for something singular. Rustic freeform galettes need little adornment and embrace simplicity. Back to that store-bought pastry for a minute. There's no doubt that homemade all-butter pie crust tastes better so if you have a favorite recipe please use it or check mine out here. But the whole nature of this quick and easy recipe is that well, it's quick and easy.
One of the reasons I adore butternut squash is that it is somewhat fruity and when cooked, has melon-like undertones. In this recipe, butternut squash is thinly sliced on the mandoline and baked atop the cheese-topped crust in a hot oven. The resulting slices are tender, but with a toothsome texture and not overly wet.
It's great on its own or you can drizzle it with a light Tahini Dressing, simply tahini and warm water combined. Other drizzles to consider are maple syrup or honey if you want to sway it sweeter.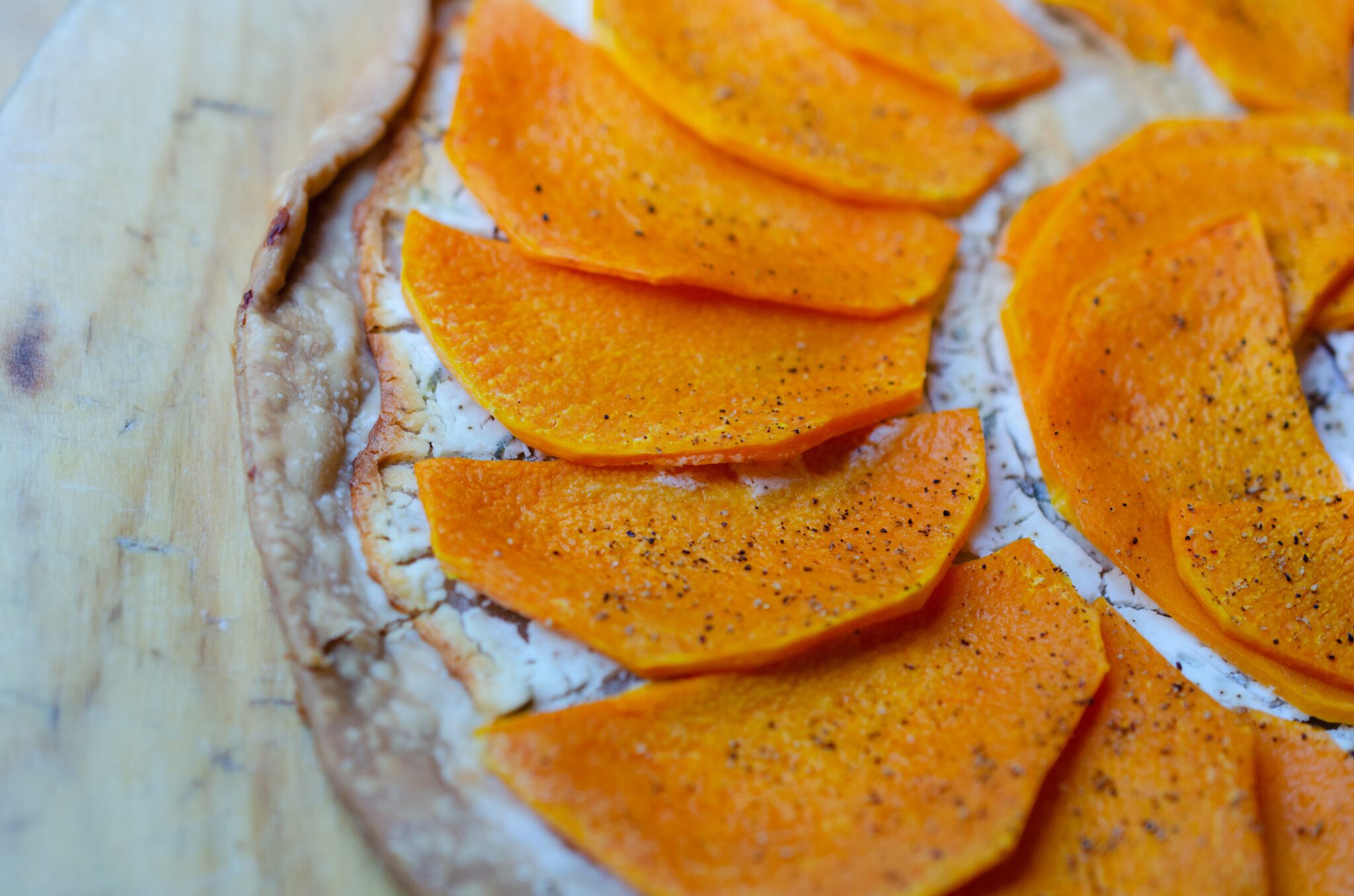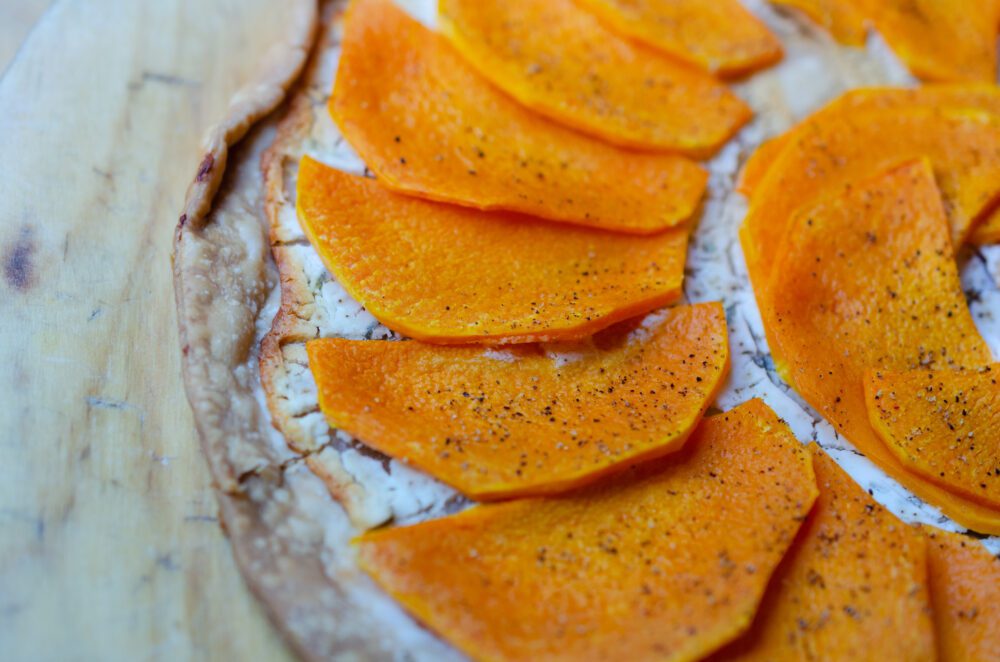 Point it Out
For those of you who follow WW one slice is 5 green plan smart points and 5 blue plan smart points without the Tahini Dressing and let's just round it up and call it 6 each with…..
Thanks so much for reading! I hope you enjoy my Quick and Easy Butternut Squash Galette. If you make it please tag me on social. It's so great to see what's up and I am grateful to be at your table.
Bon Appétit, Y'all
Virginia Willis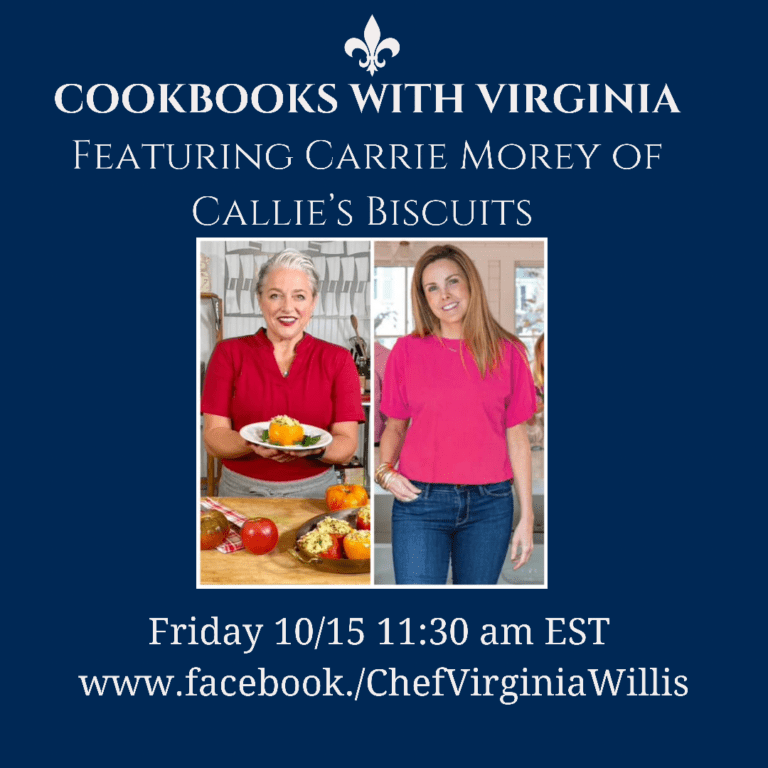 PS Please make sure to tune into Cookbooks with Virginia every Friday at 11:30 am EST on Facebook and YouTube. This week my guest is Carrie Morey of Callies Hot Little Biscuit!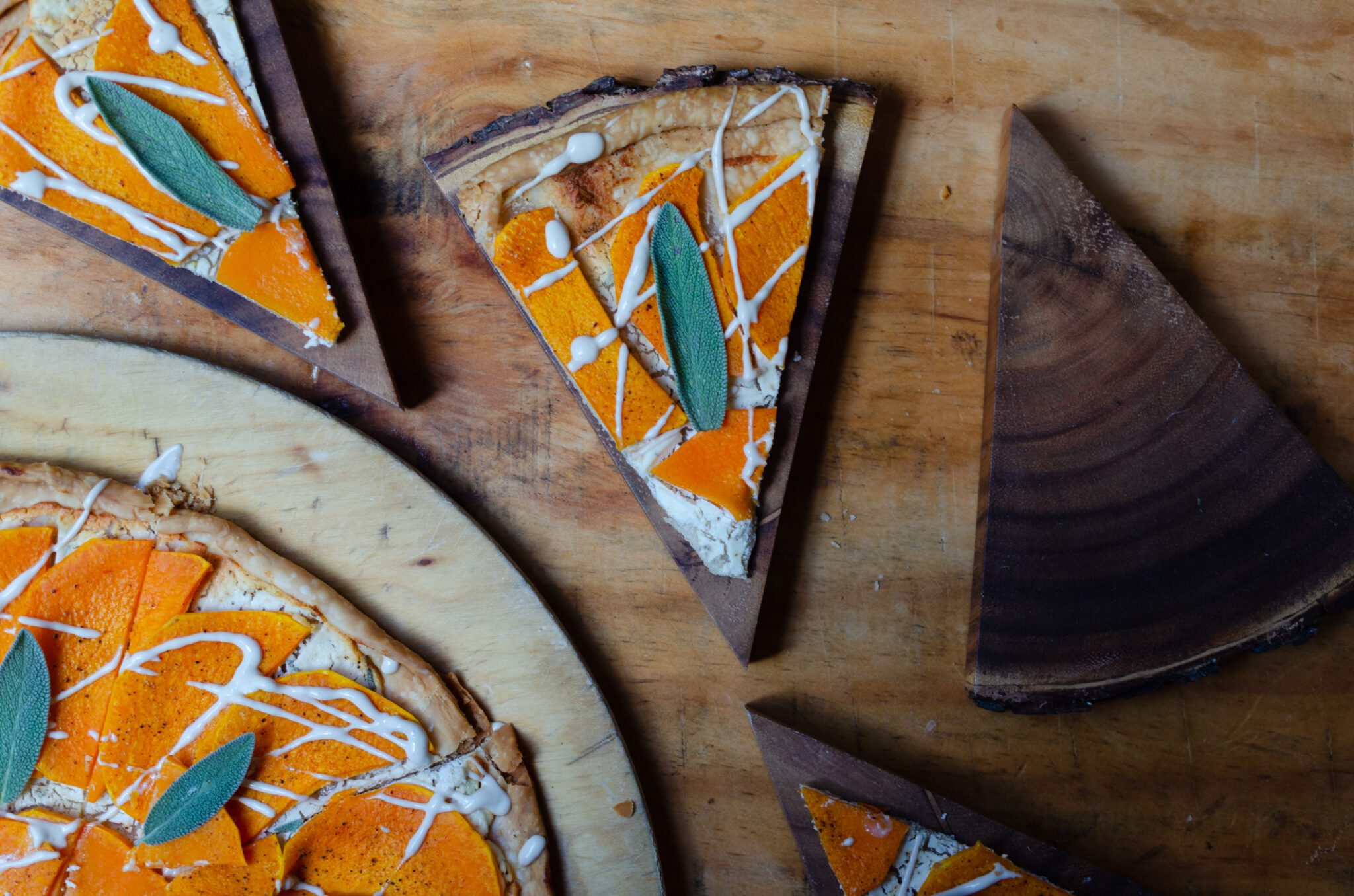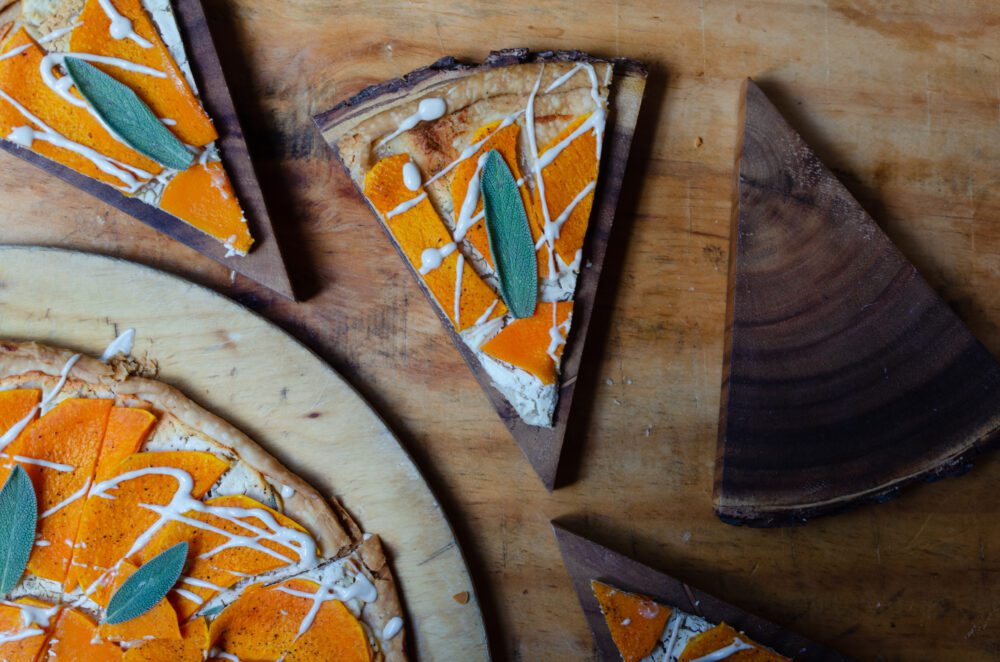 Quick and Easy Butternut Squash Galette
This recipe is great as an appetizer or hors d'oevres, fits in at a tailgate, or can be piled with dressed arugula for a dinner party salad. One slice registers 5 points per slice for the blue and green WW plans.
Ingredients
1

sheet ready made pie dough

2

ounces

soft goat cheese

1

tablespoon

freshly chopped sage

1

clove

garlic

very finely chopped, optional

Pinch

freshly grated nutmeg

optional

2

tbsp

tahini

3-5

tbsp

warm water

Coarse kosher salt and freshly ground black pepper
Instructions
Heat the oven to 400°F. Line a baking sheet with parchment or a nonstick silicone baking mat. Unroll the pie crust and place on the prepared baking sheet. Without a rolling pin, open the dough to flatten.

Meanwhile, combine the goat cheese and sage. (You could also add a bit of garlic and season with a pinch of freshly grated nutmeg here, if you wish.) Season with salt and pepper. Using an offset spatula or the back of a spoon, spread to about 1-inch from the edge of the pie crust. Top with thinly sliced butternut squash slices in a concentric circle. (Remember, it's meant to be quick and rustic.)

Transfer to the oven and bake until the crust is dark golden brown and the squash is tender, about 25 minutes.

Meanwhile, combine the tahini and water. Stir to combine. It should be loose enough to drizzle.

Remove to a clean cutting board. It should be stiff enough to life Let cool slightly then using a chef knife, cut across into wedges. Drizzle with Tahini Dressing Good hot, warm, or cold.
Heads up! I am not a doctor, RD, or health professional nor am I an official WW ambassador or representative. I am simply sharing what works for me. Thanks for reading!
If you are interested in hosting me for a speaking engagement, event, cooking class, or a book signing, let me know! Send an email to jona@virginiawillis.com and we'll be back in touch as soon as possible.
Please note that this post may contain affiliate links and Imay make a commission if you use my affiliate link to buy the product.
Please be nice. Unauthorized use and/or duplication is prohibited. All photos and content are copyright protected. If you wish to republish this recipe, please link back to this recipe on virginiawillis.com. Thanks so much!
Let's connect on Facebook, Twitter, Instagram, and Pinterest!

Please note that this post may contain affiliate links.