Please note that this post may contain affiliate links.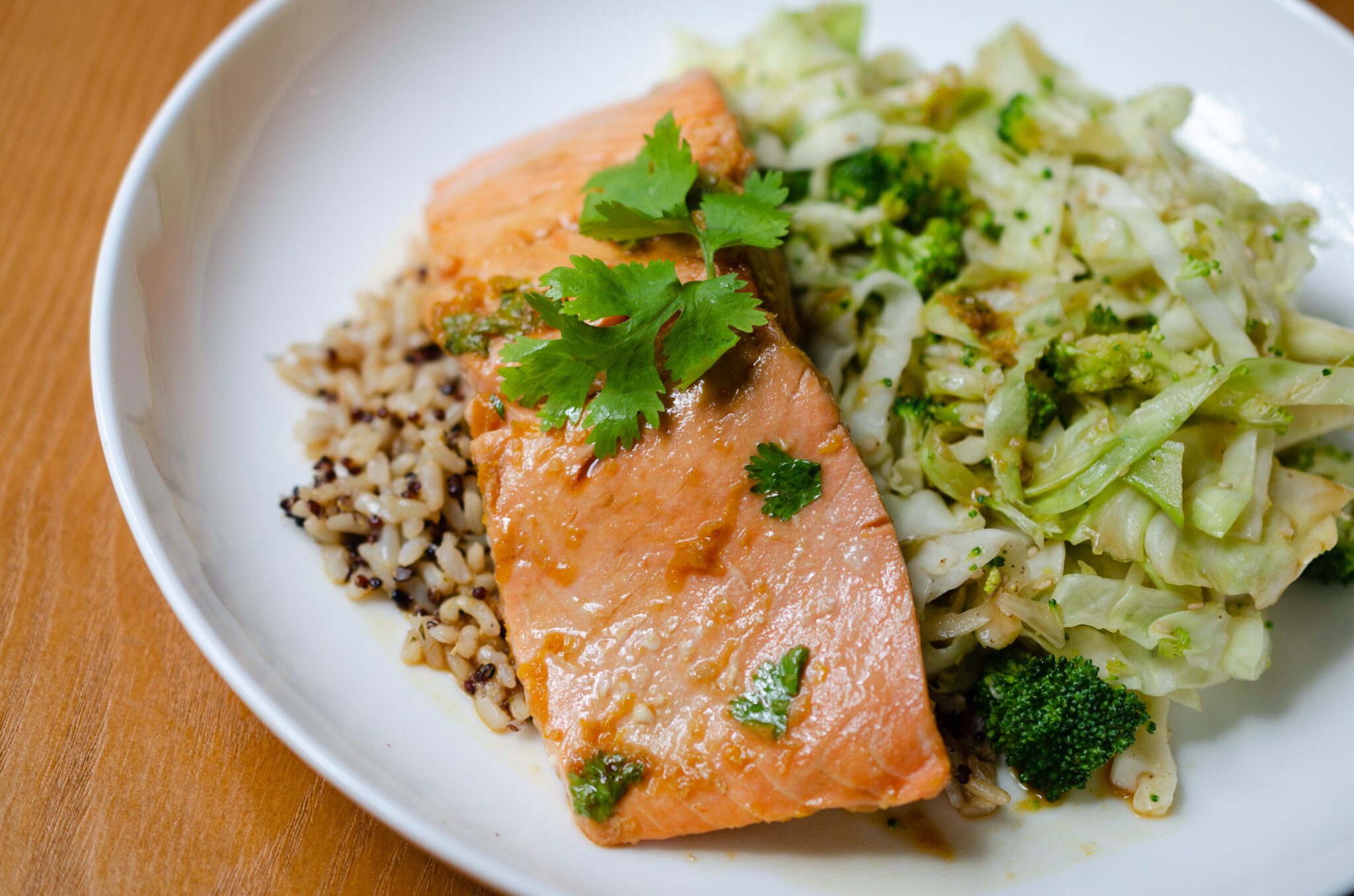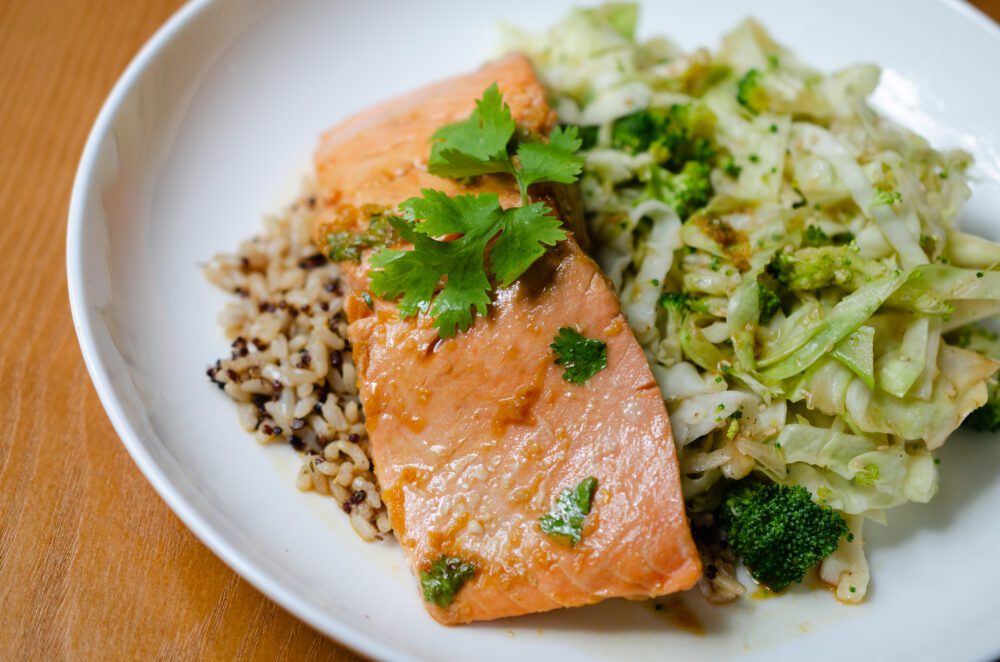 Salmon is a weeknight wonder.  Rich, meaty, and forgiving to cook it is also a nutritional powerhouse. As a sustainable seafood advocate, I know there are many resources for properly managed wild and farmed salmon fisheries. This makes for a winning combination. What about all that as a one-pot dish made in seven minutes start-to-finish? No, this recipe for speedy salmon is not cooked in an air fryer, tricked-out toaster, a chef's alto shaam, or even the dishwasher! It's made in the microwave! The microwave, the solid soldier of the kitchen is not just adept at nuking leftovers, zapping prepacked meals, and popping popcorn. The microwave is an excellent tool for rapidly steaming fish.  Read on for how this cooking method all guarantees a silky smooth and luscious bite.

How to Steam Fish in the Microwave
The microwave is a tool like many culinary tools. It excels at one thing — and we try to make it do others, too. It's not so great at baking cakes and can't broil to save its amp, but it's really, really good at steaming things.
Microwaves cause water molecules in the food to vibrate, producing heat that cooks it. Foods that are high in water content, like fresh vegetables, can be cooked more quickly than other foods. Fish, also high in water, reacts the same. It's a snap.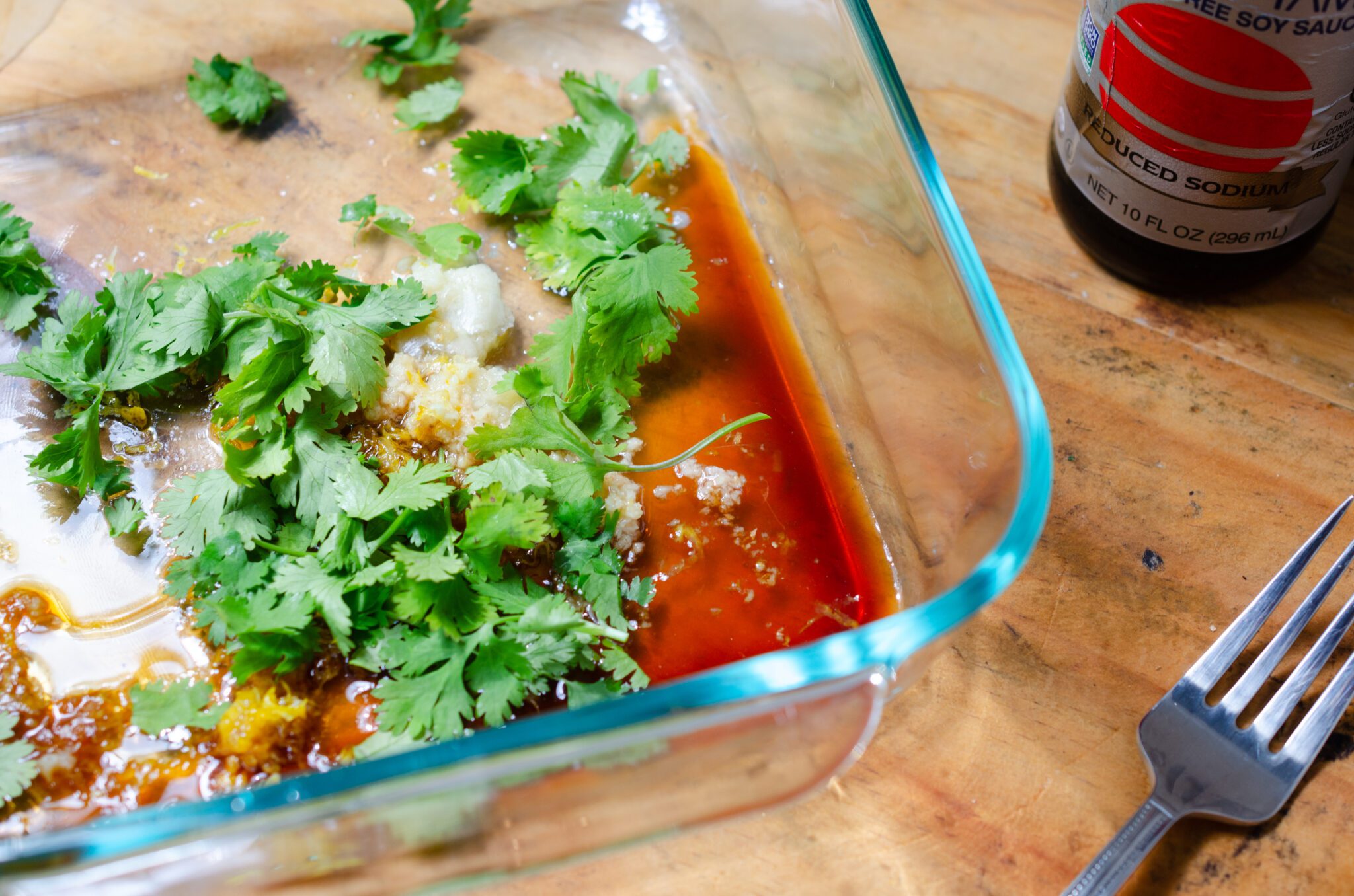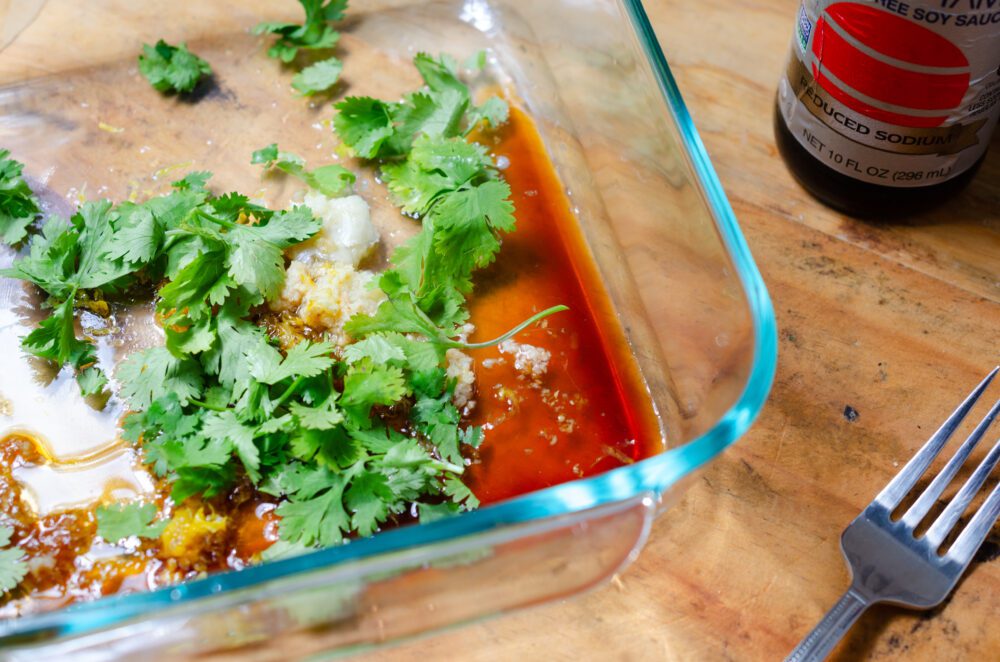 Micro-Steaming
Since a microwave very efficiently and rapidly uses the liquid inside the salmon itself to heat it from the inside, you can micro-steam the fish in a matter of minutes. Combine a few flavorful ingredients to form a liquid medium – here it's garlic, lemon, tamari, sesame oil, and herbs. Add the fish, roll to coat, and seal. Pop it in the microwave and hit go.
Thicker, larger filets may take up to five minutes. But if your fish is thinner, you will want to start checking at the 90-second mark. If the fish does not yet look opaque, continue microwaving it and check the fish every 20 seconds or so for doneness.
Once the salmon appears to be opaque all over, let it rest for a bit with the cover on. Be sure not to skip this step as the resting period allows for some gentle carry-over cooking the fish needs. Still, start to finish, it's seven minutes!
Here I use plastic wrap. I know this is controversial. If you wish, you can steam the salmon in a dish with a lid. (It may take longer depending on the strength of your microwave.)

October is Breast Cancer Awareness Month
Mama and I are great friends and good travel companions. We've tromped up steep, winding stairs in Italy, walked sun-bleached limestone roads in Turkey, splashed in the waters of the Adriatic, fished in the Rockies, and traipsed the cobblestone streets of London. She's joyfully joined me in France for cheese, chocolate, and croissants; been starved, stretched, and sunned at the spa in Mexico. We love to cook, fish, and play cards. We have fun!
Although we now text a lot during the day, for years we called one another at an  unexpected time the immediate greeting was "Nothing's wrong." One day I was in the parking lot of Whole Foods in Sandy Springs. She didn't say those magic words. Instead, the words that no one wants to hear, "They've found something."
A week later my sister and I were grasping hands with Mama in a doctor's office. The surgeon said it had been caught early, it was small, and it was the "kinder, gentler breast cancer." He thought she'd be fine. Thankfully, he was right. Mama had a small lump removed. Her lymph nodes were clean.  Chemotherapy wasn't necessary and she had several months of radiation.
She is now 19 years cancer-free. Her breast cancer was caught by a routine mammogram.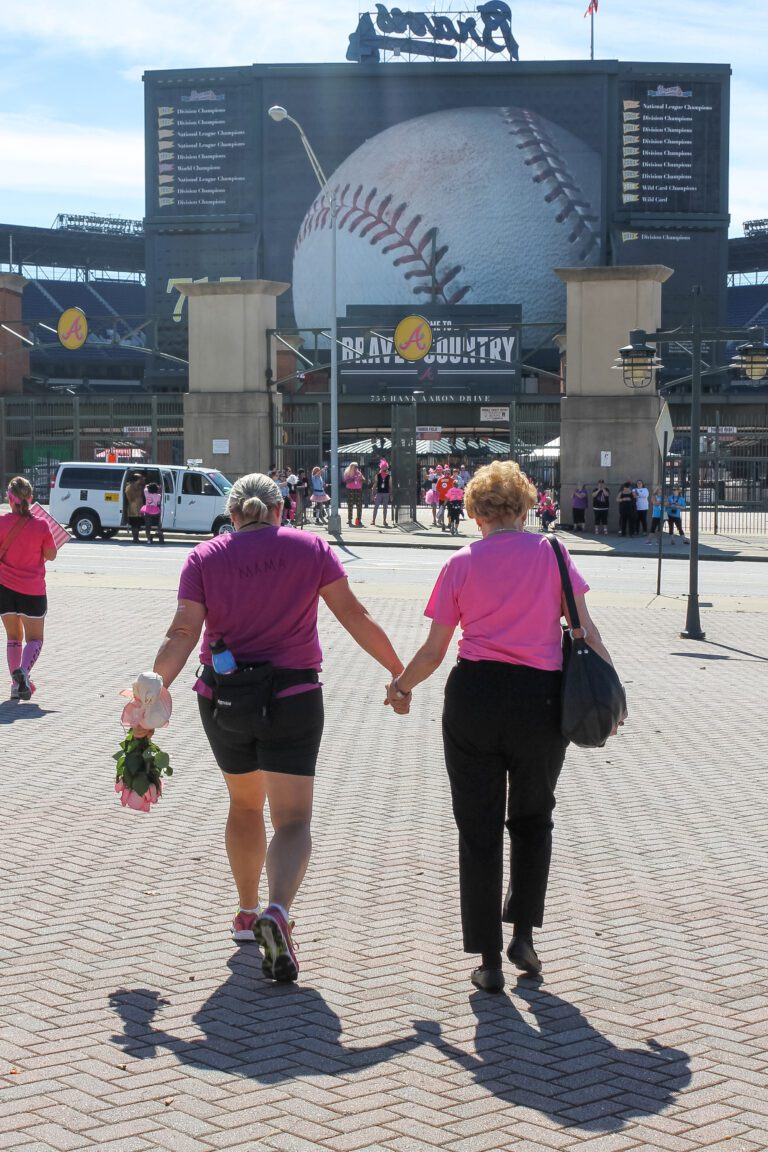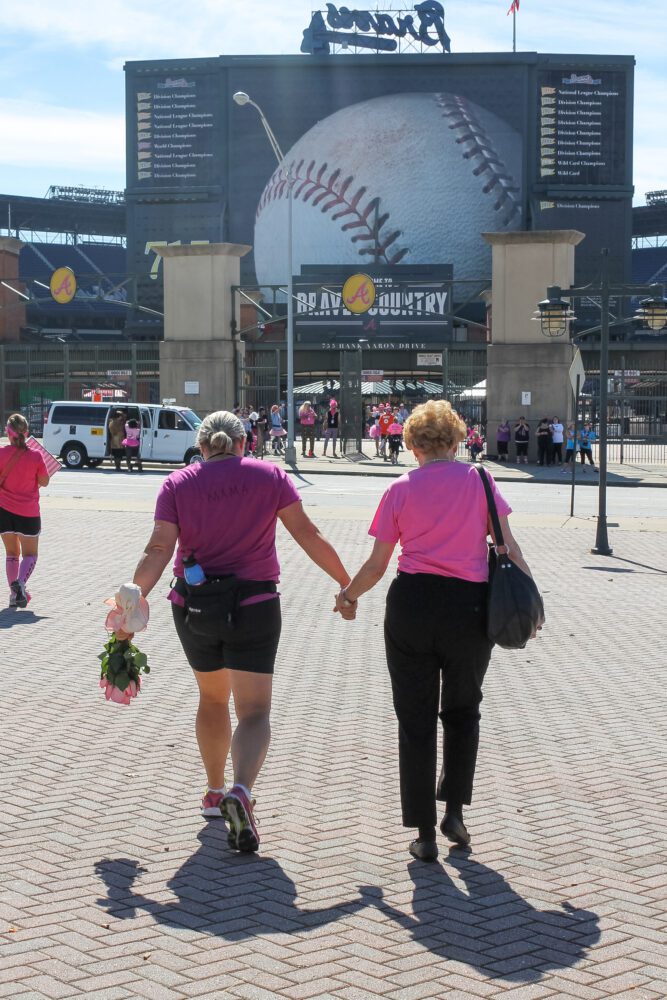 Top Foods For Good Breast Health
Fish is a very important part of a healthy diet. Fatty fish such as salmon are the major sources of healthful long-chain omega-3 fats, rich in vitamin D, high in protein, and low in saturated fat. Our bodies don't produce omega-3s and we have to get them in the food we eat.
(For more information, please check out 9 Foods to Eat for Better Breast Health from Eating Well magazine for more information about foods to include in your diet.)
Did you know that 1 in 8 women will be diagnosed with breast cancer in her lifetime? While you can't prevent cancer, it is important to be proactive about your health. Cruciferous vegetables like broccoli, cabbage, and cauliflower, and oily fish such as salmon are among the top foods for good breast health.  This Seven-Minute Salmon with one of my favorite recipes, Broccoli Cauliflower Slaw checks all the boxes.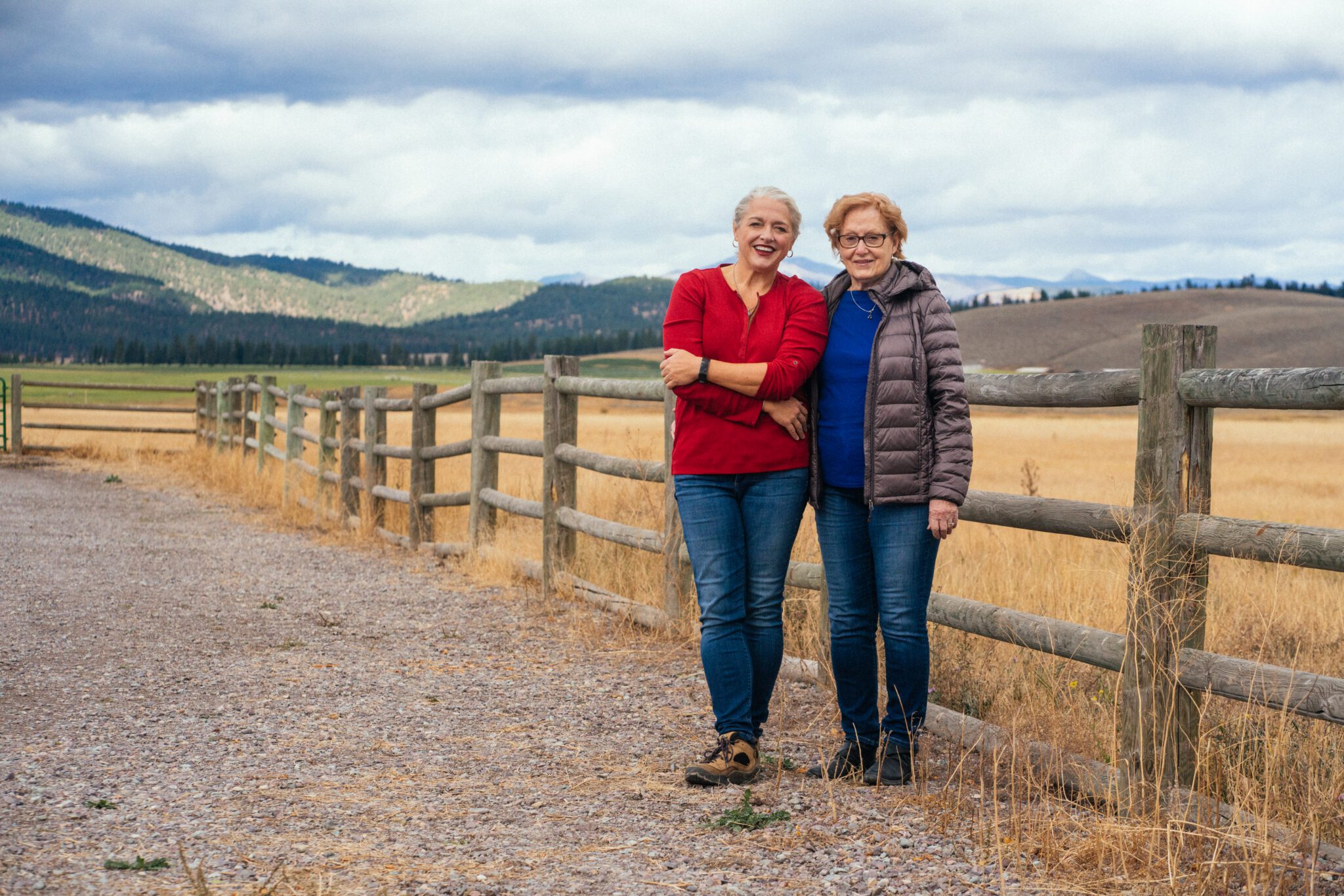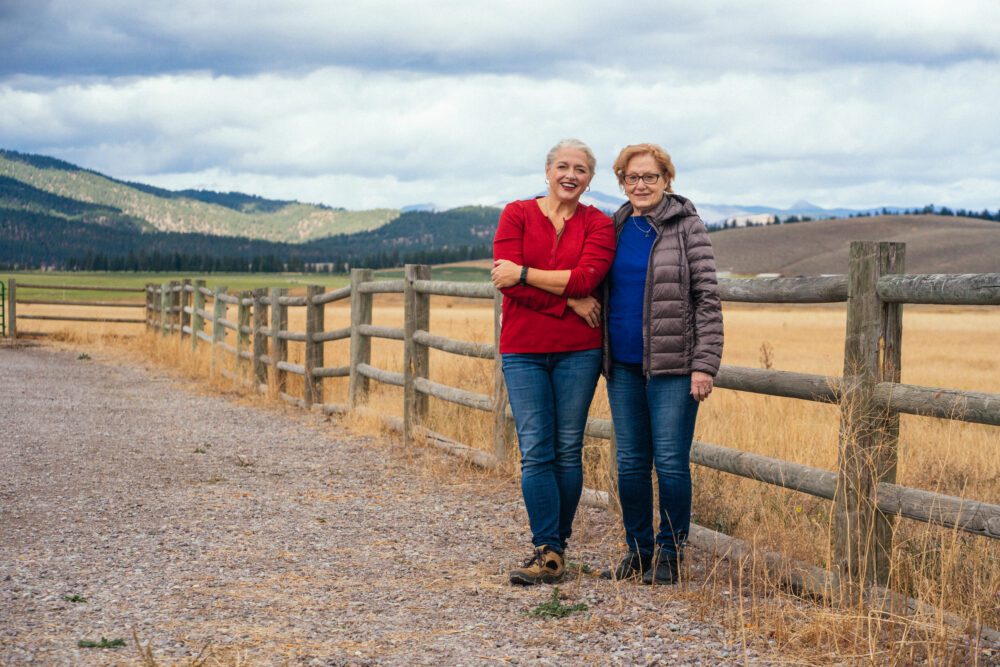 National Breast Cancer Awareness Month
I've had two people I dearly love experience breast cancer. I know how difficult it can be for families. Sadly, I have a friend and former co-worker that died. However, they've come a long way in treatment.
According to the American Cancer Society, when breast cancer is detected early and is in the localized stage, the 5-year relative survival rate is 99%. Early detection includes doing monthly breast self-exams and regular clinical breast exams and mammograms.
If you are 40, go get a mammogram. If you are over 40 and late on your mammogram, call and make an appointment. NOW. You know who you are. Do it. You are loved and the world is a better place with you in it.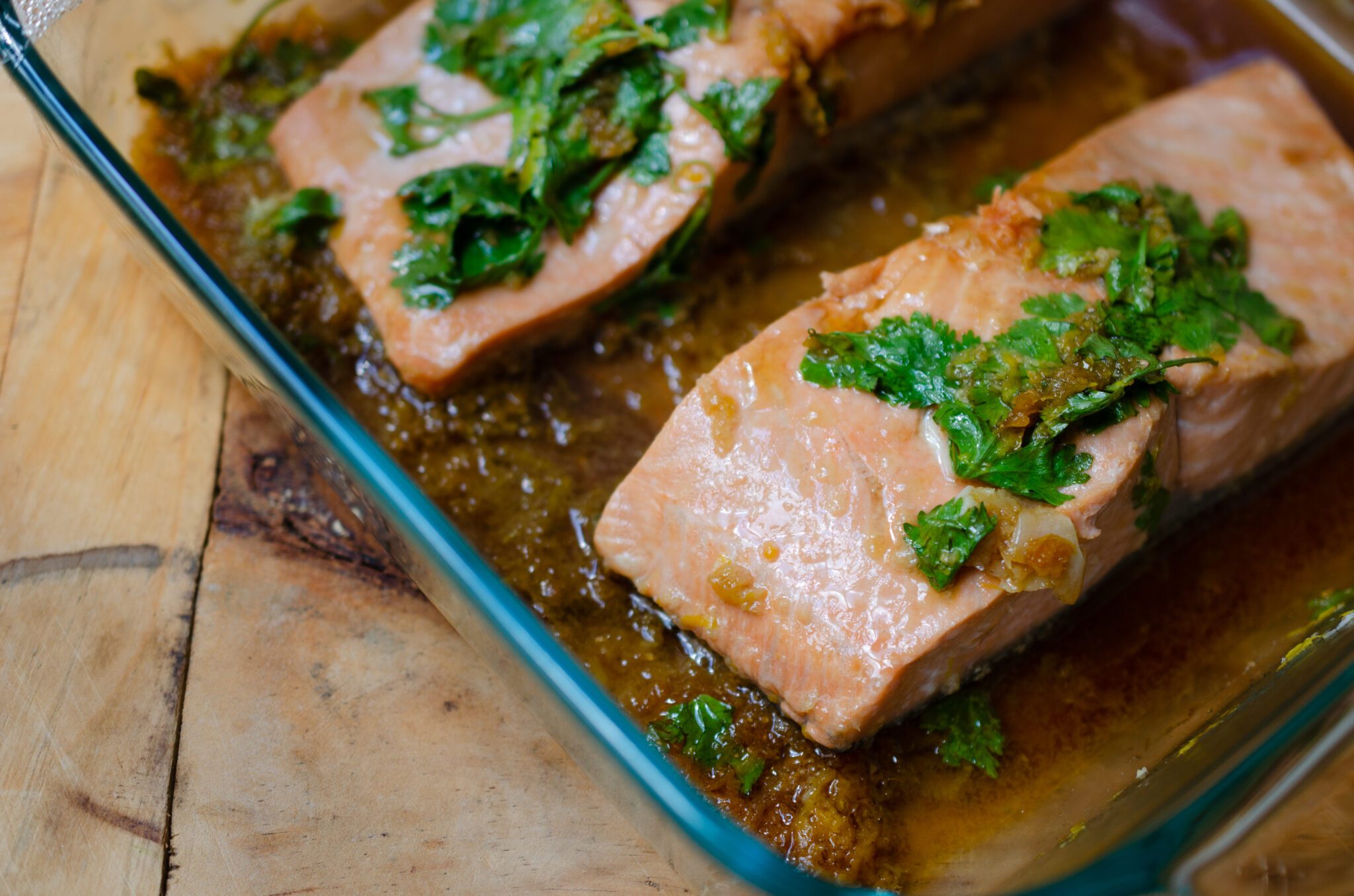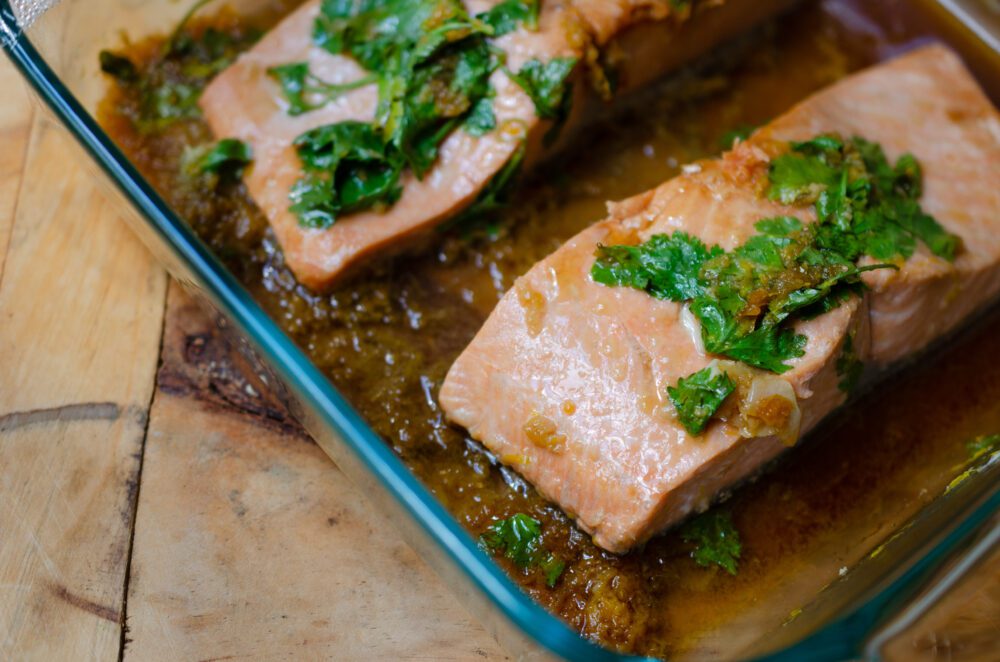 Point it Out
In honor of eating for better breast health, I am sharing this quick and recipe for Five Minute Microwave Salmon. I hope you give it a try! It's great with the Broccoli-Cauliflower Slaw and this ready-to-go Seeds of Change Quinoa and Brown Rice.
For those of you following WW, the salmon has 4 green plan smartpoints and 1 blue plan smartpoint.
Bon Appétit, Y'all
Virginia Willis
I am an affiliate with the Wild Alaska Company, a huge fan of their fish, and a paying customer. If you order a seafood subscription and use the promo code VIRGINIA you will get $25 off your order.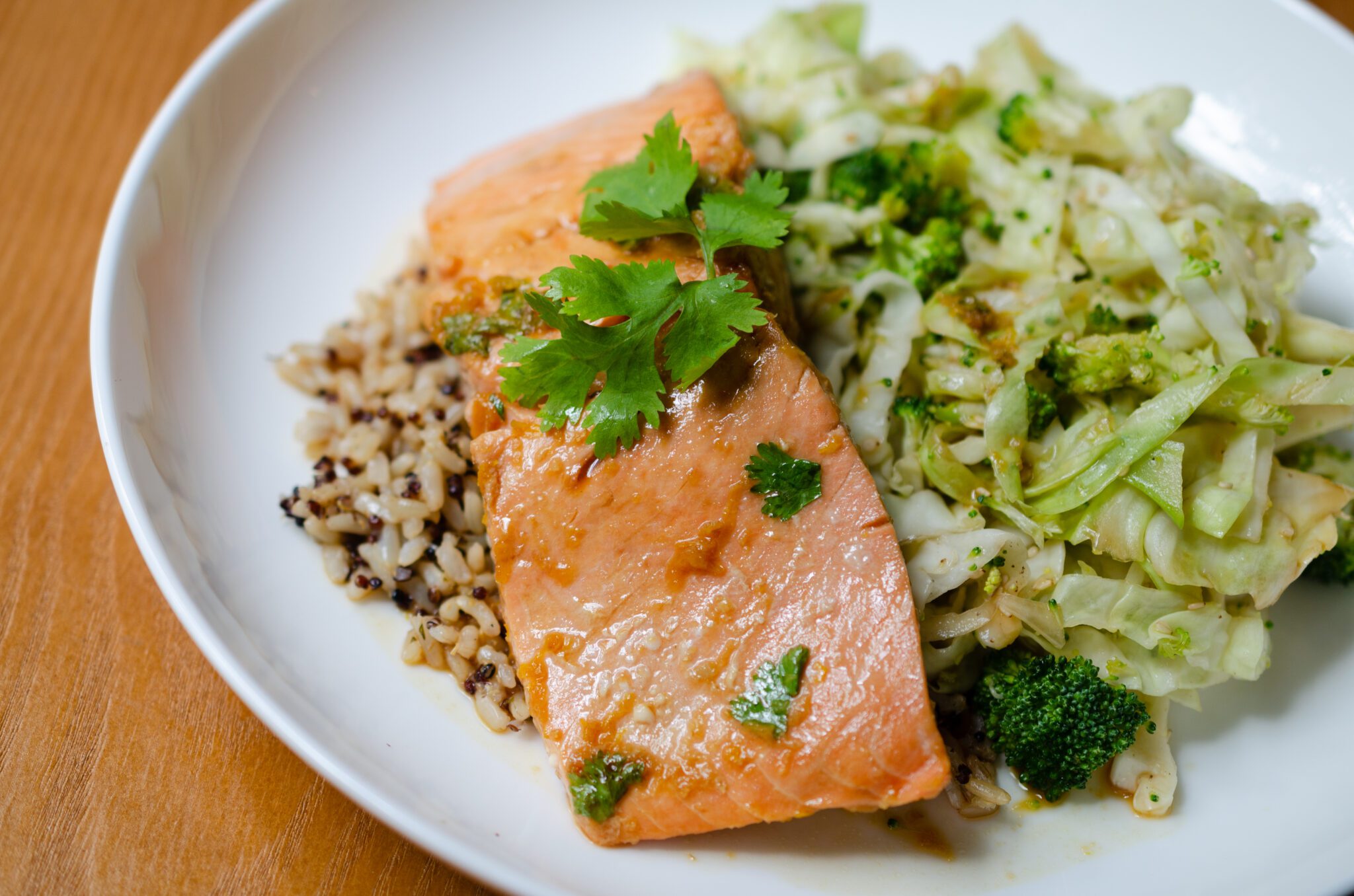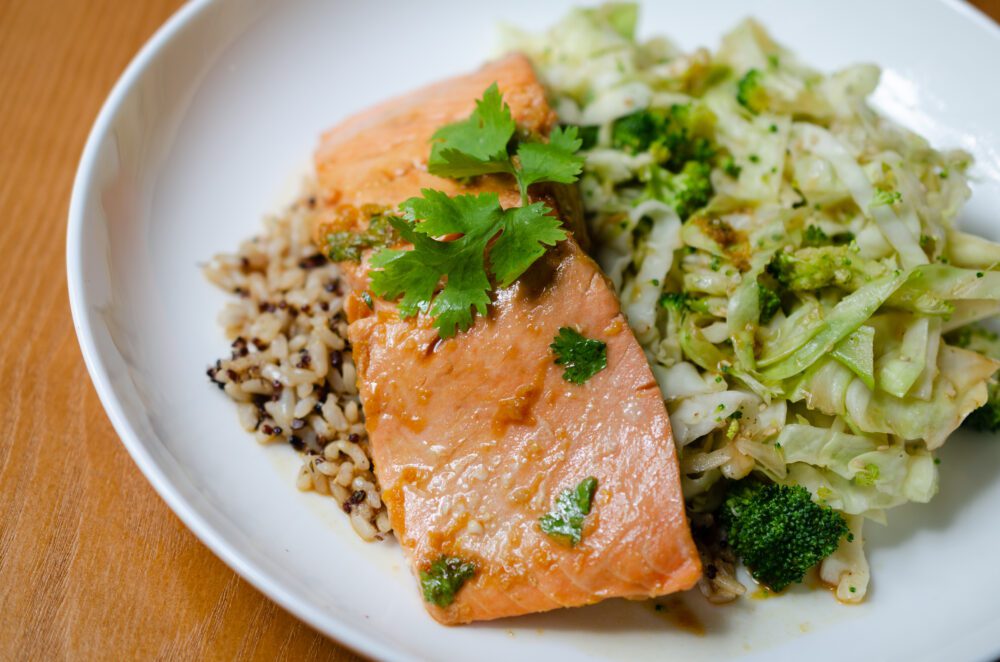 Seven Minute Salmon
This recipe doubles easily. For those of you following WW, the salmon has 4 green plan smartpoints and 1 blue plan smartpoint.
Ingredients
2

salmon filets

6 ounces each

1

clove

garlic

very finely chopped

1

tablespoon

low sodium tamari

2

tablespoons

pulled herb leaves such as parsley or cilantro

1

teaspoon

finely grated ginger

1

teaspoon

sesame oil

Zest and juice of 1/2 lemon

Freshly ground black pepper
Instructions
Place the salmon in a shallow microwavable dish. Set aside. Add garlic, tamari herbs, ginger, oil, lemon zest, and lemon juice in a bowl. Turn to coat. Season with freshly ground pepper.

Cover with plastic film or a tight-fitting microwavable lid. Cook on high in 90 second intervals. Let rest for a moment then carefully remove the plastic to avoid steam. Serve.
If you try this recipe, please let me know! Leave a comment, rate it, and don't forget to tag a photo #virginiawillis on Instagram.
Heads up! I am not a doctor, RD, or health professional nor am I an official WW ambassador or representative. I am simply sharing what works for me. Thanks for reading!
If you are interested in hosting me for a speaking engagement, event, cooking class, or a book signing, let me know! Send an email to jona@virginiawillis.com and we'll be back in touch as soon as possible.
Please note that this post may contain affiliate links and I may make a commission if you use my affiliate link to buy the product.
Please be nice. Unauthorized use and/or duplication is prohibited. All photos and content are copyright protected. If you wish to republish this recipe, please link back to this recipe on virginiawillis.com. Thanks so much!
Let's connect on Facebook, Twitter, Instagram, and Pinterest!

Please note that this post may contain affiliate links.