Please note that this post may contain affiliate links.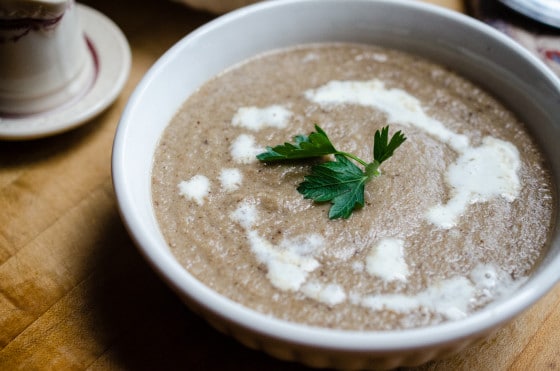 "Cream of Anything Soup" is one of the easiest of soups to make. It can be practical and money-saving, too. Do you have some vegetables lingering in the fridge that are too limp for sautéing or too bruised for salad? Don't toss them in the compost or the trash. They are perfect for "Cream of Anything Soup." Think "Cream of Anything Soups" are too rich and fatty? You actually don't need any cream for velvet-smooth, silky soups other than perhaps an optional few drops at the end. Do you think soups are just for winter – how about Chilled Cream of Asparagus this spring or Cream of Corn or Zucchini Soup this summer? How to Make "Cream of Anything Soup" is a fundamental kitchen technique.
Mirepoix
"Cream of Anything Soup" is as simple as combining fresh vegetables, stock, and puréeing the mixture until smooth. However, it's not about dumping a bunch of things in a pot. There's a formula that consists of a series of techniques.
First, you want to start with the soup base. In its most simple form, the base of a soup can be onion. In French cooking, the combination of onion, celery, and carrot is called a mirepoix. Nearly all cuisines have an assemblage of vegetables that form the base for their soups, stews, and sauces. In Italian and Spanish cooking it's soffrito and sofrito, respectively; in Cajun it's called the Holy Trinity; and when we venture a bit further South into the Caribbean it's called recaíto and is boldly flavored with chilies, garlic, culantro, and cilantro. All vegetable bases are cooked in a little fat or oil to concentrate the flavor of the vegetables and evaporate out some of the moisture, creating a full-flavored soup base.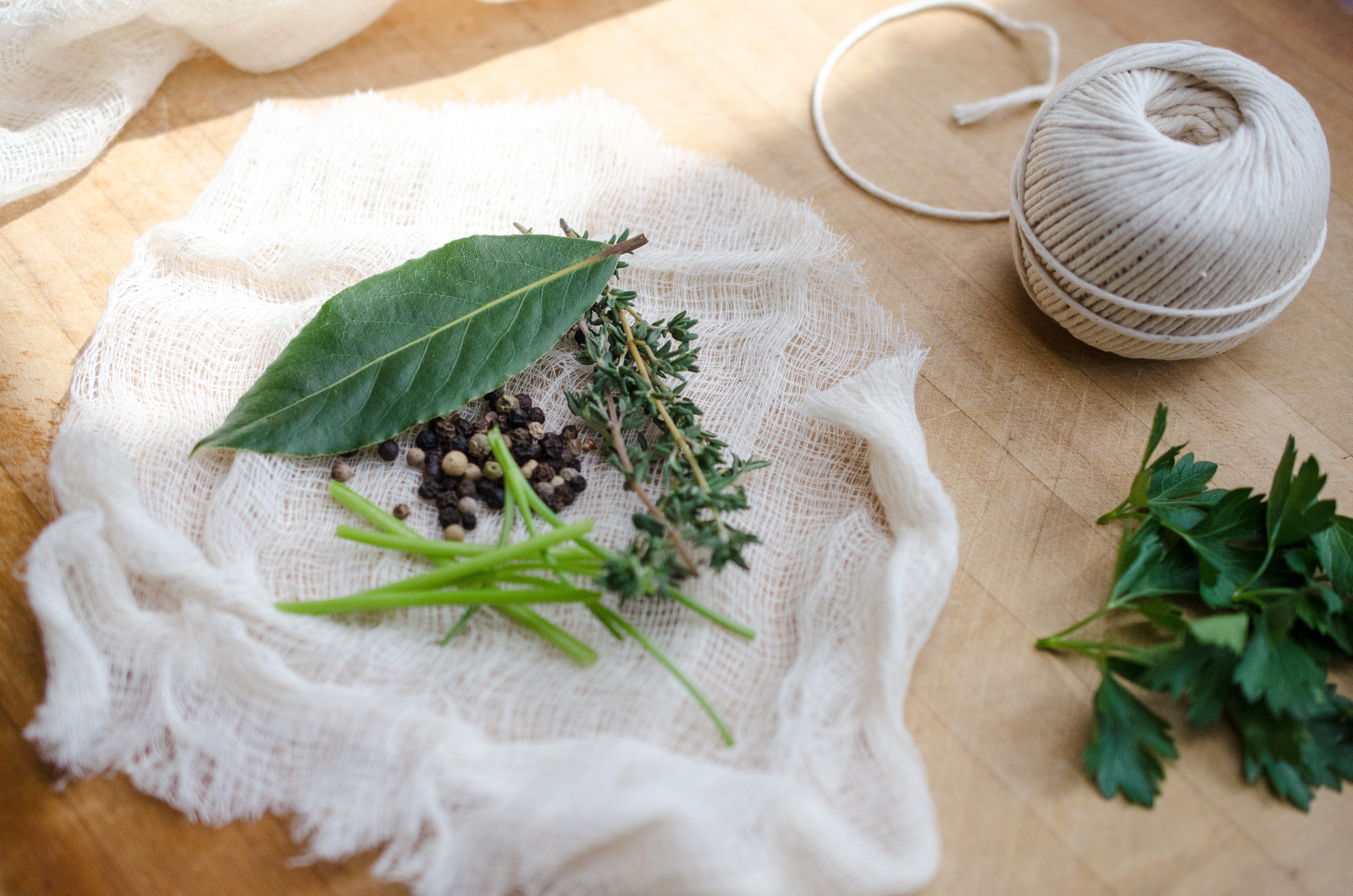 Bouquet Garni
Next up is an optional step, but it can make all the difference in building layers of flavor in your "Cream of Anything Soup." It's a flavoring sachet called a bouquet garni and is traditionally filled with parsley, thyme, peppercorns, and a bay leaf. (Notice I've reserved the parsley leaves and am only using the stems in the bouquet garni. I've reserved the leaves for garnish. It's the most cost effective way to use many herbs and helps prevent food waste.)
This simple combination of herbs and spices is classic for French cooking. However, the flavor combinations are endless. Want to enhance your Cream of Corn Soup with Mexican flavors? Try adding cilantro instead of parsley. How about an Asian influence for your Cream of Carrot Soup? Try adding a piece of star anise to the sachet. The technique is the same regardless of the ingredients.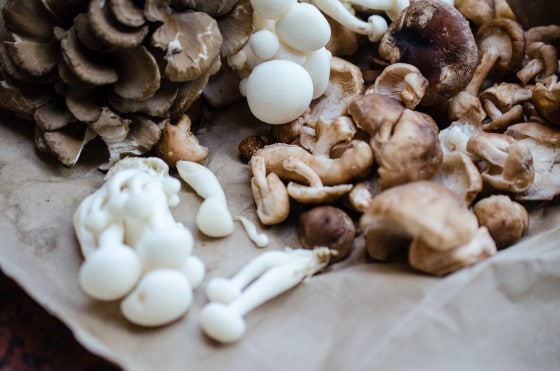 Cream of Mushroom Soup
Even though I want you to consider cooking by formula and not following a recipe, I'm going to share a recipe for Cream of Mushroom Soup. The key ingredient of my "Cream of Anything Soup" dictates what vegetables are used in the soup base. In today's Cream of Mushroom Soup, I didn't want the color of the carrot or the flavor or the celery. I've solely used onions and concentrated their flavor by sautéing them until they are golden brown.
1. Cook the Onions until they are Golden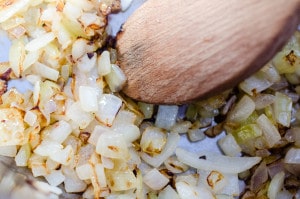 2. Add the Vegetables
Next, the vegetables are added. If the vegetable has a high moisture content like mushrooms, summer squash, celery, or asparagus then they should sautéed to concentrate their flavor and evaporate some of the moisture. If the vegetable is more sturdy and dry such as potato, winter squash, or broccoli then no sautéing is required.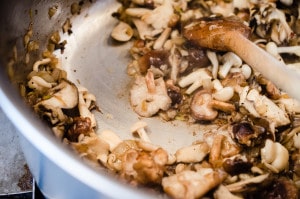 3. Add Stock to Cover
Once the vegetables have cooked off some of their moisture, add stock just to cover. You don't want them swimming in stock. If you think about standing in the deep end of the pool, add stock just up to the "shoulders" of the vegetable. And, remember, you can always add more, but it's not as easy to take out.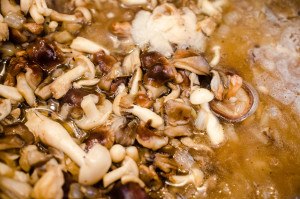 4. Simmer until Tender
Season the soup with salt and pepper and bring to a boil. Reduce the heat to a gentle simmer and cook until tender. How long depends on the vegetable. Mushrooms will take less time than butternut squash, for example. Once the vegetables are tender, the soup is ready to puree. Make sure to remove the bouquet garni before you puree the soup!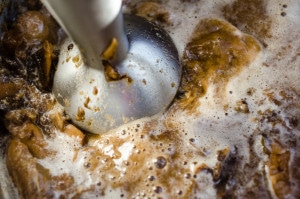 5. Process with an Immersion Blender
I love my handheld immersion blender. If you don't have an immersion blender you can also use a counter-top blender or even a food processor, just be careful not to fill the jar too full with the hot liquid. Leave it coarse for a more rustic soup, or purée it until smooth for a more elegant soup. Taste and adjust for seasoning with salt and pepper and that's it, "Cream of Anything Soup."
Lighten Up, Y'all!
You can serve the soup dairy-free or with a bit of heavy cream on the side. (It's better to use heavy cream, as milk will dilute the soup. And, if you're trying to lighten up, it's better to leave it plain as low-fat yogurt may curdle.)
Need more soup recipes? Check out my Chunky Chicken Noodle — made with rotisserie chicken! You can have it on the table in under 45 mintues! Thanks for reading.
Bon Appétit Y'all!
Virginia Willis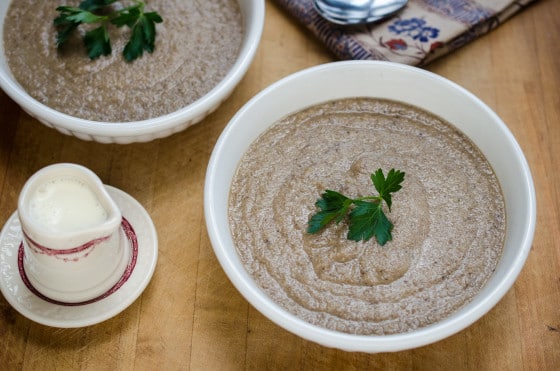 Homemade Cream of Mushroom Soup
Serves 6
Ingredients
2

tablespoons

unsalted butter

1

onion

chopped

2

pounds

mixed fresh mushrooms

such as white button, cremini, shiitake, morel, and chanterelle, sliced

3

cups

homemade vegetable or chicken stock class or reduced fat low sodium chicken or vegetable stock

Bouquet Garni

5 sprigs thyme; 4 sprigs flat-leaf parsley;2 bay leaves, preferably fresh; and 10 whole black peppercorns, tied together in cheesecloth

Heavy cream

optional

Coarse salt and freshly ground black pepper
Instructions
Melt the butter in a large pot over medium heat and add the onion. Cook until the onion is translucent, 3 to 5 minutes. Add the fresh mushrooms and cook, stirring occasionally, until the mushrooms are tender, 5 to 7 minutes.

Add the stock and bouquet garni. Bring to a boil, decrease the heat to simmer. Cook until the mushrooms are very soft, about 30 minutes.

Remove the bouquet garni. Purée the soup with an immersion blender.Leave it coarse for a more rustic soup, or purée it until smooth for a more elegant soup. Add the cream and stir to combine. Taste and adjust for seasoning with salt and pepper. Ladle into warmed bowls and serve immediately.
Please note that this post may contain affiliate links. (That means I make a commission if you use my affiliate link to buy the product.) 
If you are interested in hosting me for a speaking engagement, event, cooking class, or a book signing, let me know! Send an email to jona@virginiawillis.com and we'll be back in touch as soon as possible.
Please be nice. Unauthorized use and/or duplication is prohibited. All photos and content are copyright protected. If you wish to republish this recipe, please link back to this recipe on virginiawillis.com. Thanks so much!
Let's connect on Facebook , Twitter, Instagram, and Pinterest!

Please note that this post may contain affiliate links.