Please note that this post may contain affiliate links.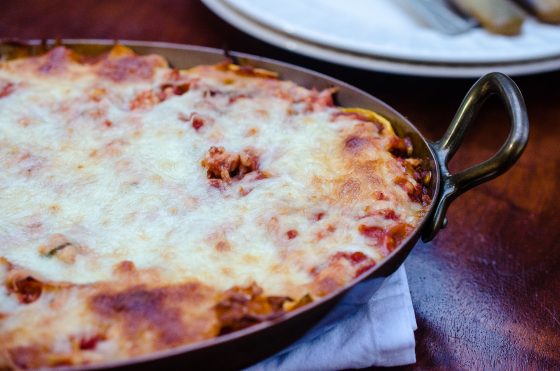 Butternut Squash is one of my favorite winter vegetables. I treat them as a multi-purpose vegetable "roast."  It's actually rare that I cook an entire one at once or halved. Instead, I separate the long thick end of the squash where it meets the spherical orb into two pieces. The longer neck is cooked for one meal or dish and the seed end is cooked for another.

Butternut Squash Recipes
The flesh of the round end of the butternut squash is thin, filled with pulp and seeds. It's fantastic thinly sliced and roasted with a bit of oil and seasoning — skin, seeds and all. The seeds and skin provide both texture and crunch. The solid neck of squash is infinitely modifiable and can be treated in a myriad of ways: neatly diced or cubed, mashed into a delicate purée or shaved into tender, ocherous ribbons, spiralized into noodles, or thinly sliced, as in this recipe, to use as an alternative to sheets of pasta.
It's cheaper to buy a whole squash and do this prep yourself, but many grocery stores carry pre-cut cubed and spiralized noodles. (I want to try this baked gratin with store-bought prepared noodles. I am certain it will work, but didn't have a chance to test it. If you want to give it a try, I still think it is necessary to par-cook the noodles a bit, just like a do with my planks.)

Comfort Food
Comfort food is called comfort food for a reason. Often, warm and melty cheese is married with some form of carb — potato, rice, or the holiest of holies — pasta. Creamy, cheesy supremely satisfying pasta is perhaps the ultimate comfort food.
There's nothing like a bowl of pasta topped with sauce, but baked pasta, in my mind, is on a whole other level. Layers of pasta intermingled with sauce and melted cheese is the culinary equivalent of snuggling into my fluffy white comforter on a cold winter's night.
My trouble is that if I eat too much of that delicious pasta I also look like my fluffy white comforter.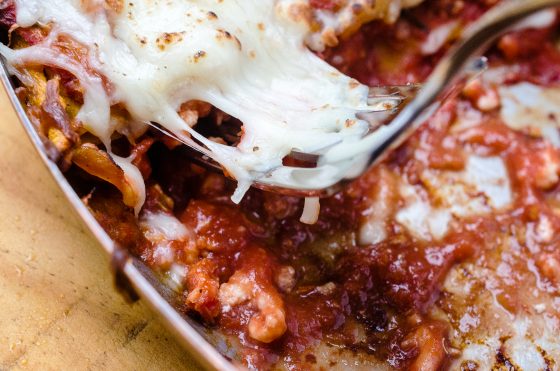 Fiber Optics
Of course, I still want cheesy layers of goodness. How could I go about achieving carb-induced bliss without empty carbs and calories?
Enter butternut squash. Butternut squash is good and good for you. It's a complex carbohydrate that is also high in fiber. Fiber is found in fruits, vegetables, whole grains, nuts, and pulses (dried beans, peas, and lentils). Think of fiber like your body's natural scrub brush, moving through your digestive tract carrying out the bad stuff with it. A cup of cubed butternut squash impressively checks off about 7 grams of fiber, making a sizable dent in the 25 to 30 grams you need per day. Given its high fiber content also means it has zero Weight Watcher points! Woo-Hoo!
So, even though baked pasta was the inspiration for this dish, I don't treat the butternut squash as a pasta substitute. That's not how I look at it; it's just something different. My preference is to consider butternut squash in this recipe as an alternative, not a replacement.
What to Look for in Butternut Squash
Thanks to its smooth surface, easy-to-peel shape, and rich, sweet-savory flavor, butternut squash is my go-to gourd. When shopping, choose one that feels heavy for its size. Butternut squash with a fat neck and small bulbous end will have the smallest seed cavity and will, therefore, yield the most squash. Avoid any squash with soft spots or bruises. This sturdy squash can be kept for 2-3 months in a cool, dry place. And, as I mentioned above, I treat the neck end and bulb end almost as two separate vegetables. Once then ends are separated, wrap any remaining squash and store it in the refrigerator. (For more information on other varieties and storage, check out my post on Winter Squash.)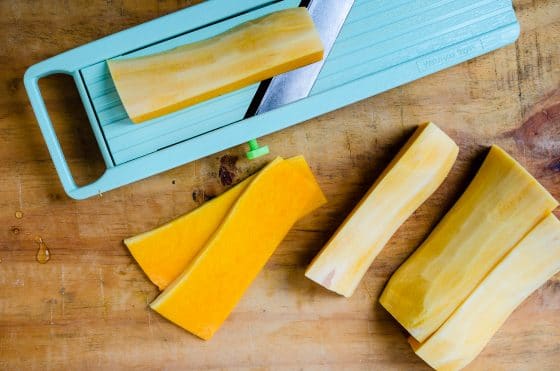 How to Make Butternut Squash and Turkey Gratin
First, peel and slice the squash. I use a mandoline, but you can use a knife, as well. The trick is to try to get it about 1/4-inch thick. (And, it doesn't have to be perfect – remember it's going to be layered. Use the smaller bits and pieces, too.) To make slicing the long, thick neck a bit easier, divide it lengthwise into four equal pieces. This removes the rounded aspect that can be dangerous with a sharp knife and give you a flat surface making it far more simple to slice into thin planks.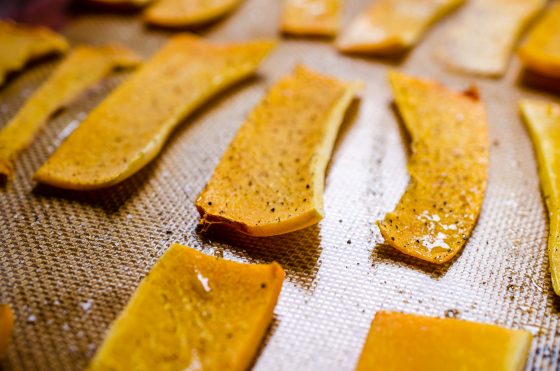 Tomato Turkey Sauce
I decided an easy meat sauce made with ground turkey would be best for layering. Not only is ground turkey lower in saturated fat than ground beef, but it also has a lighter flavor profile, allowing the flavor of the squash to be the star of this comfort food show. A mere shimmer of oil is used along with canned crushed tomatoes, freshly chopped garlic, spicy red pepper flakes, warm nutmeg, and freshly chopped herbs. (Sage is particularly nice with the butternut squash.) Lastly, this Tomato-Turkey sauce is ready in about 10 minutes.

Béchamel Sauce
Béchamel is a white sauce made by adding milk to a fat-flour roux. The thickness of the sauce depends on the proportion of flour and fat to milk. Typically, butter is used in French béchamel sauces. The proportions for a thin sauce are 1 tablespoon each of butter and flour per 1 cup of milk; a medium sauce uses 2 tablespoons each of butter and flour; a thick sauce, 3 tablespoons each.
For this recipe, I chose to use olive oil instead of butter and low-fat milk instead of whole milk or cream, both decisions more flavor-driven than calorie-counting. Sure, fat can be wonderful, but sometimes, too much fat will actually dull the flavor of a sauce or a dish. Instead, I added nutty freshly grated Parmigiano Reggiano to amp up the umami and give my lean cream sauce the kick it needed.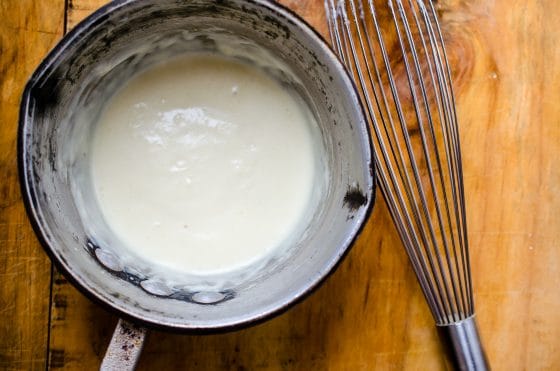 Layers of Flavor
To assemble the gratin, first, spoon some of the turkey tomato sauce into a baking dish and top with half of the roasted squash in a single layer. (I love my copper gratin dishes from France, but a glass pyrex or some other baking dish will do.) Spread a judicious amount of creamy, cheese sauce on top. Add the remaining half of the roast squash in a single layer and then add the last of the tomato turkey sauce is added. (Don't get too worried about how it all is layered. It is, after all, just a fancy casserole.)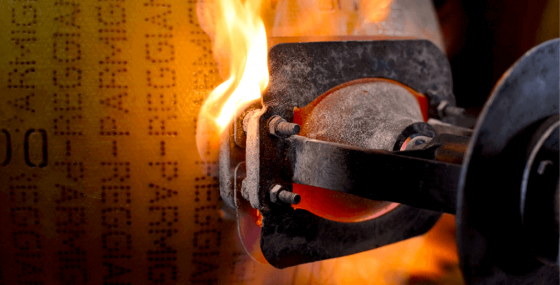 Cheese, Please
Last, but of course, not least is the cheese topping, a blend of mozzarella and Parmesan. Authentic mozzarella a mild, semisoft white Italian cheese, often used in Italian cooking as a melted topping, especially on pizzas. Originally, mozzarella was made from water-buffalo milk, but now most fresh mozzarella comes from cow's milk, both in Italy and here in the United States.
Parmigiano Reggiano is a hard, dry cheese made from skim or partially skimmed cow's milk. These large wheels are aged at least 2 and up to 4 years, resulting in a rich, slightly salty flavor. It's a wonderful cheese to cook with because it's got a lot of flavor, but not a whole lot of fat. True Italian Parmigiano Reggiano is a golden color and has a tattoo. (Check out that photo above from the Parmigiano Reggiano Consortium!)  This is one of my absolute favorite cheeses and is always in my fridge.
In this recipe, I use part-skim low-fat mozzarella and Parmesan for a good combination of melting ability and superb taste. 

What to Cook This Weekend
Assembling this Butternut Squash and Turkey Gratin is a bit more complicated than a typical weeknight supper due to the number of components, but it can be done. It's not hard, mind you, but there are a few separate recipes to manage. My suggestion is that this  would be great for a Saturday night dinner party or Sunday supper when you have a bit more time in the afternoon to get it all together. It's what to cook this weekend!
A side salad and your good to go. Please give it a try and let me know what you think! It's delicious, it really is. My taste testers loved it — and I love the fact that I can have cheesy goodness for only about 4 smartpoints per serving!
Thanks so much for reading.
Bon Appétit, Y'all
Virginia Willis
PS: Join me on Facebook for fun food videos, good food news, and more tips, techniques, and recipes. I've got some really fun things I am about to announce. 😉 Big Smiles! 
PSS: Head over to  Instagram for my weekly #FreeFriday for my Cookbook #Giveaway Contest!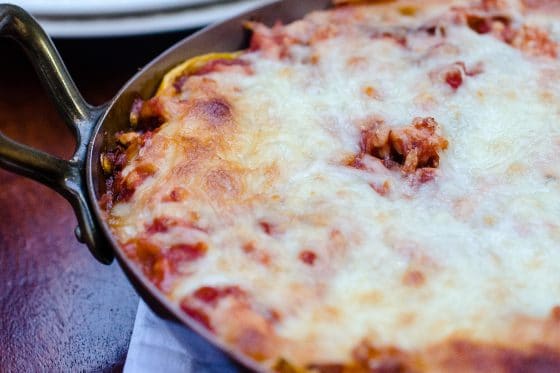 Butternut Squash and Turkey Gratin
Always purchase nutmeg whole so you can grind it yourself for better flavor. This nutty, warm, sweet spice complements the sweet-savory taste of the butternut squash. It is also a common ingredient in beverages, cakes, cookies, and sauces.
Ingredients
1

butternut squash, peeled and cut lengthwise into ¼-inch-thick strips

2

tablespoons

pure olive oil, divided

Coarse kosher salt and freshly ground black pepper

1

tablespoon

all-purpose flour

1/2

cup

low fat milk

¼

cup

plus 1 tablespoon freshly grated Parmigiano-Reggiano cheese

1

pound

ground turkey

1

cup

crushed tomatoes

2

tablespoons

chopped fresh herbs, such as parsley, sage, and thyme

4

garlic cloves, chopped

¼

teaspoon

red pepper flakes

1/8

teaspoon

ground nutmeg

4

ounces

grated part-skim mozzarella cheese
Instructions
Preheat the oven to 425°F. Brush a small baking dish with some of the oil. Set aside.

For the butternut squash: Line 2 rimmed baking sheets with silicone mats or parchment paper. Place the squash on the prepared baking sheets in a single layer. Season with salt and pepper. Roast, rotating the baking sheets once, until the squash is just tender, about 10 minutes. (Leave the oven on after vegetables are cooked.) Remove the baking sheets to the stovetop to cool slightly. You can go ahead and combine the two pans once the squash is cooled just a bit.

For the béchamel: Heat 1 tablespoon of the oil in a small saucepan over medium heat. Add the flour and cook until foaming, about 1 minute. Add the milk and bring to a boil. Reduce the heat to medium and simmer until thickened, about 3 minutes. Add 1/4 cup of the Parmesan cheese. Season with salt and pepper. Set aside.

For the tomato-turkey sauce: Heat the remaining tablespoon of oil over medium heat in a large skillet. Add the turkey and season with salt and pepper. Cook stirring occasionally until the turkey starts to turn white. Add the tomato sauce, garlic, red pepper flakes, and nutmeg. Stir until combined and the turkey is cooked, about 10 minutes.

Place 2 cups of tomato-turkey sauce in the bottom of the prepared baking dish. Layer with half of the roast butternut. Top with the béchamel mixture, spreading with a spoon to cover the squash completely. Top with 1/2 cup of the tomato-turkey sauce and spread to cover. Layer with the remaining squash and top with the remaining cup or so of tomato-turkey sauce.

Top with grated mozzarella and sprinkle over the remaining tablespoon of Parmesan. Transfer to the oven and cook until bubbly and golden brown, about 30 minutes. Remove to a rack to cool slightly, then serve.
Please note that this post may contain affiliate links. (That means I make a commission if you use my affiliate link to buy the product.) 
If you are interested in hosting me for a speaking engagement, event, cooking class, or a book signing, let me know! Send an email to jona@virginiawillis.com and we'll be back in touch as soon as possible.
Please be nice. Unauthorized use and/or duplication is prohibited. All photos and content are copyright protected. If you wish to republish this recipe, please link back to this recipe on virginiawillis.com. Thank you so much!
Let's please connect on Facebook, Twitter, Instagram, and Pinterest!

Please note that this post may contain affiliate links.