Please note that this post may contain affiliate links.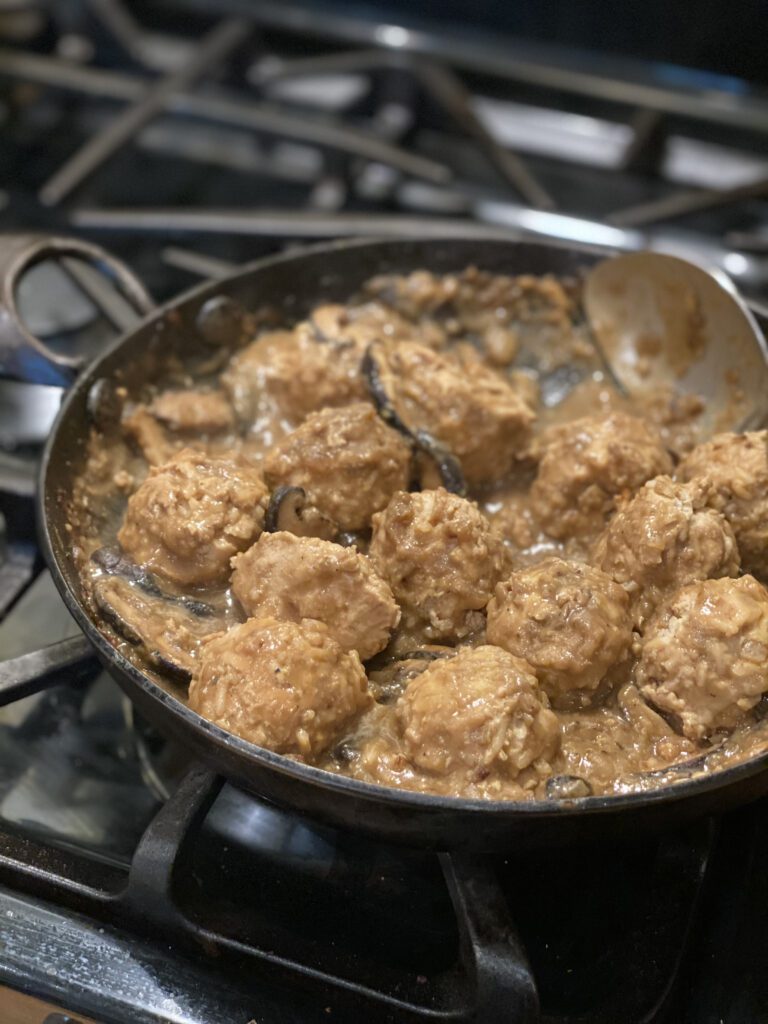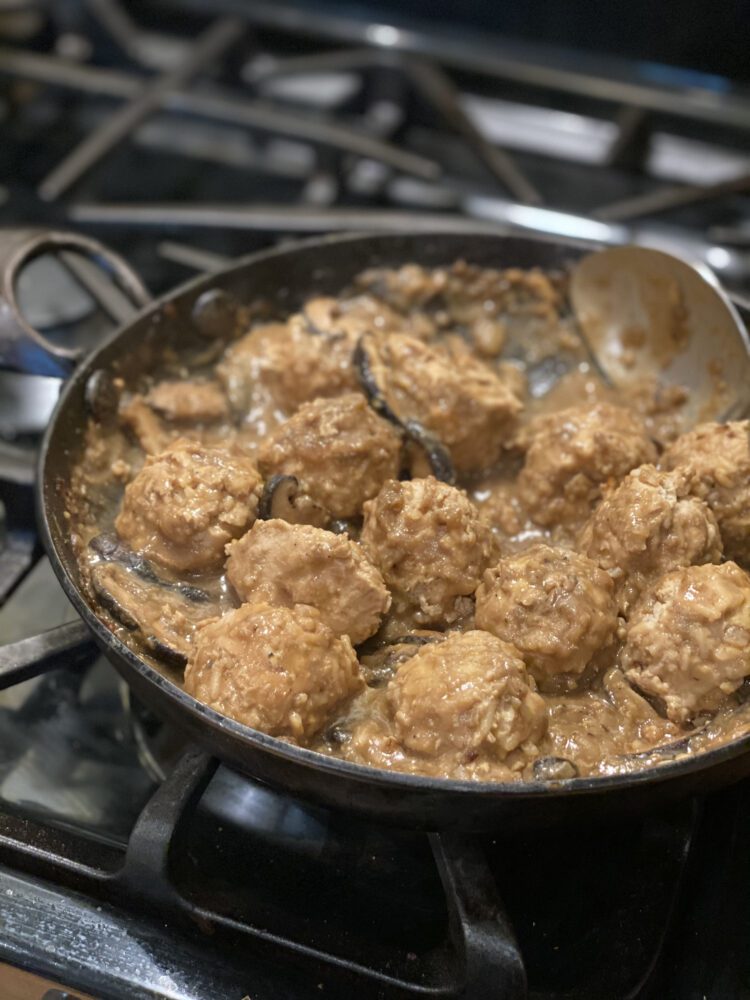 Growing up, my mother made a meatball dish with Rice a Roni called porcupines. It consisted of ground beef, an egg, and a box of the "San Francisco treat." The starchy base of rice and bits of vermicelli was included in the meatball mixture and the flavorful seasoning packet was used to make a savory, salty gravy. Lordy day, it was one of my favorite dishes and processed food at it's finest. What's not to love? Meatballs in gravy? Do you want to learn how to make a more modern porcupine with wholesome, fresh ingredients? Better yet, this Baked Chicken and Rice Meatballs in Mushroom Gravy recipe is mostly hands-off and bakes in the oven. It may not be all that pretty to look at, but you are going to love it! Read on to learn more.

Budget Basics
Porcupines are a family-friendly dish that maintained their popularity throughout the middle of the 20th century, and well into the 1970s. (This is where rice a roni got on the gravy train with their pasta-rice blend.) Porcupine meatballs have long been a popular budget-stretching staple thanks to a shortlist of basic ingredients: ground meat; onion; uncooked long-grain rice (which gives the meatballs their pokey trademark appearance); salt and pepper; and sauce or gravy.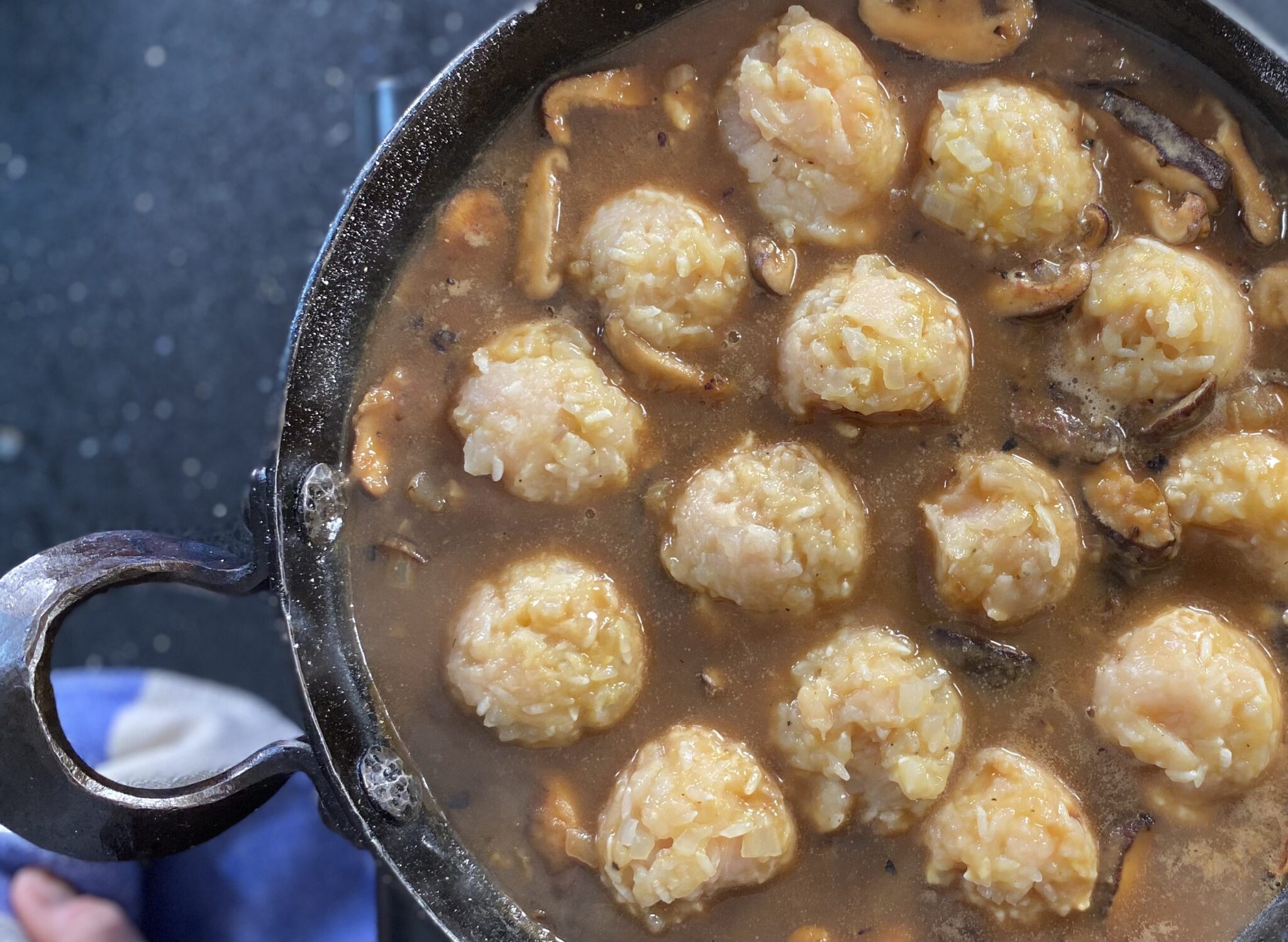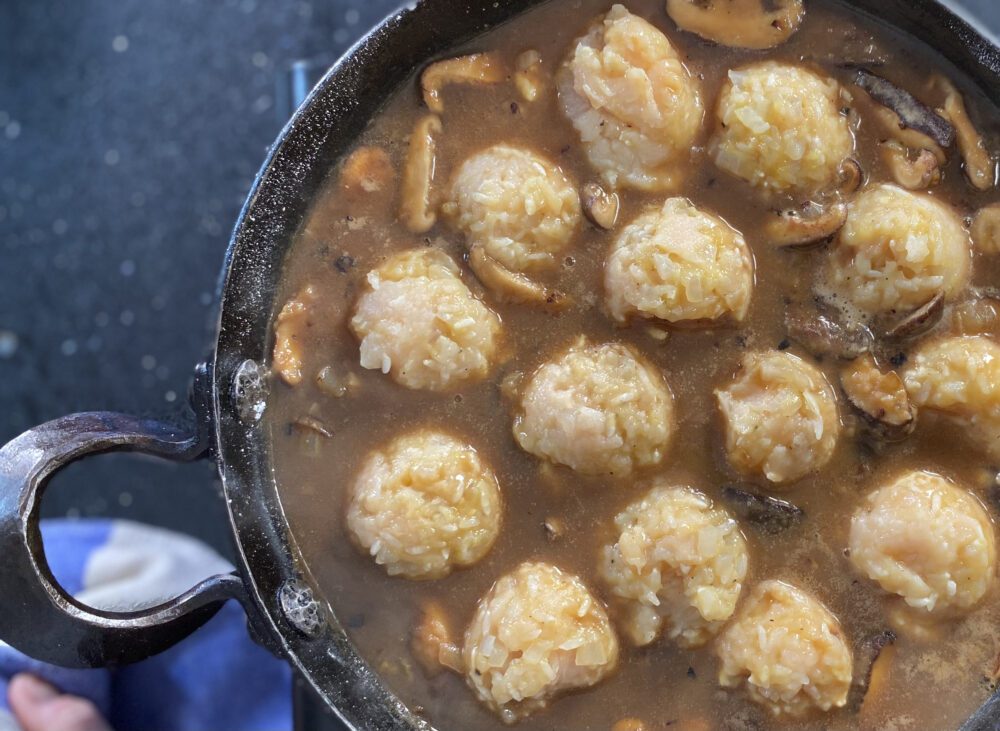 Recipe Makeover
I wanted to make my version of this recipe, but with rice and homemade gravy. Ground chicken is lower in saturated fat than ground beef (and point friendly if you use 99% fat-free meat.) I
know
that the dish would be more healthy with whole grain brown rice. I
know 
that quinoa or millet would be a more modern and healthier version. Still, I wanted to use good old fashioned long-grain rice for both ease and comfort. Chicken and rice is a down-home comfort favorite all over the world.
As a French-trained Southern chef, I adore the concept of the five Fr
ench mother sauces, which clas
sifies hundreds of sauces into a mere five categories: béchamel, velouté, brown or Espagnole, hollandaise, and tomato. Velouté is the closest to Southern gravy and is made by whisking white stock into a roux made from flour and fat. (Technically, the stock has also been used to cook the meat.) However, I'm pretty sure "smothered and covered" doesn't sound nearly as snappy in French. To lighten things up, I am using the merest amount of flour possible and poaching the meatballs in the gravy, not pan-searing or frying, the meat.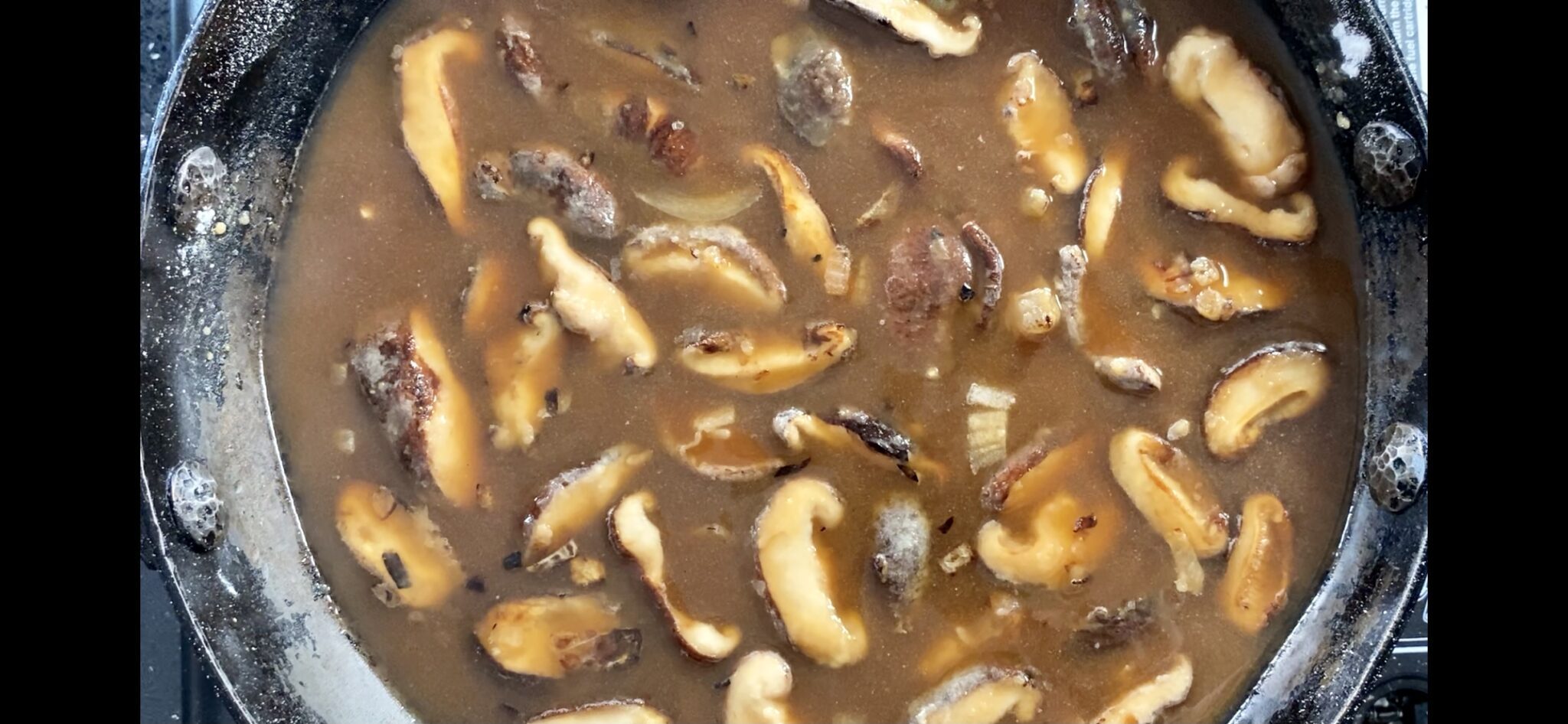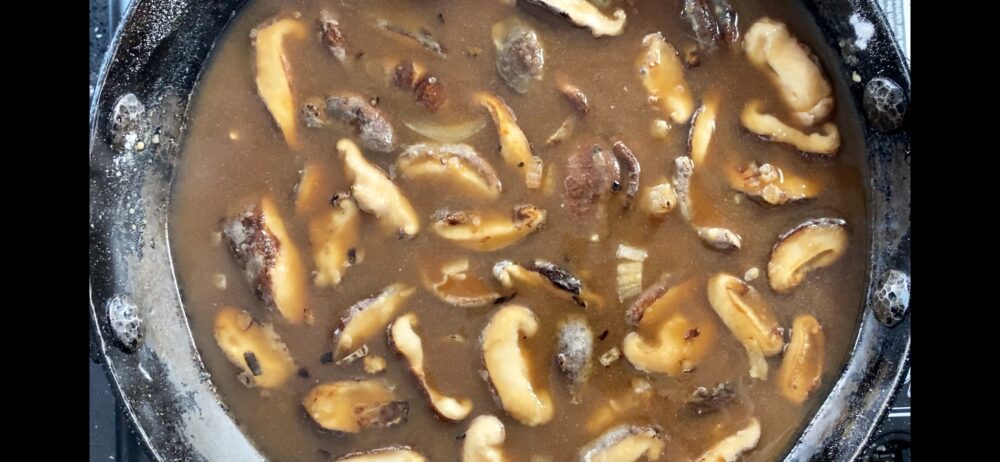 Roux the Day
Rivers of rich, creamy gravy lace through the landscape in my mental version of heaven. I love gravy. Rice and gravy. Mashed Potatoes and Gravy. Biscuits and Gravy. Rolls and Gravy. Heck, one of my favorite lunches is to serve reheated roast chicken and gravy over salad the next day. I like salad and gravy. Gravy and more gravy. Gravy is at its most simple, a combination of fat, starch, and stock. In this recipe,  I use all-purpose flour and you can use fava bean flour for a gluten-free version to thicken the sauce. It's not a traditional roux in that the flour is added to the onions and mushrooms, but the effect is the same nonetheless.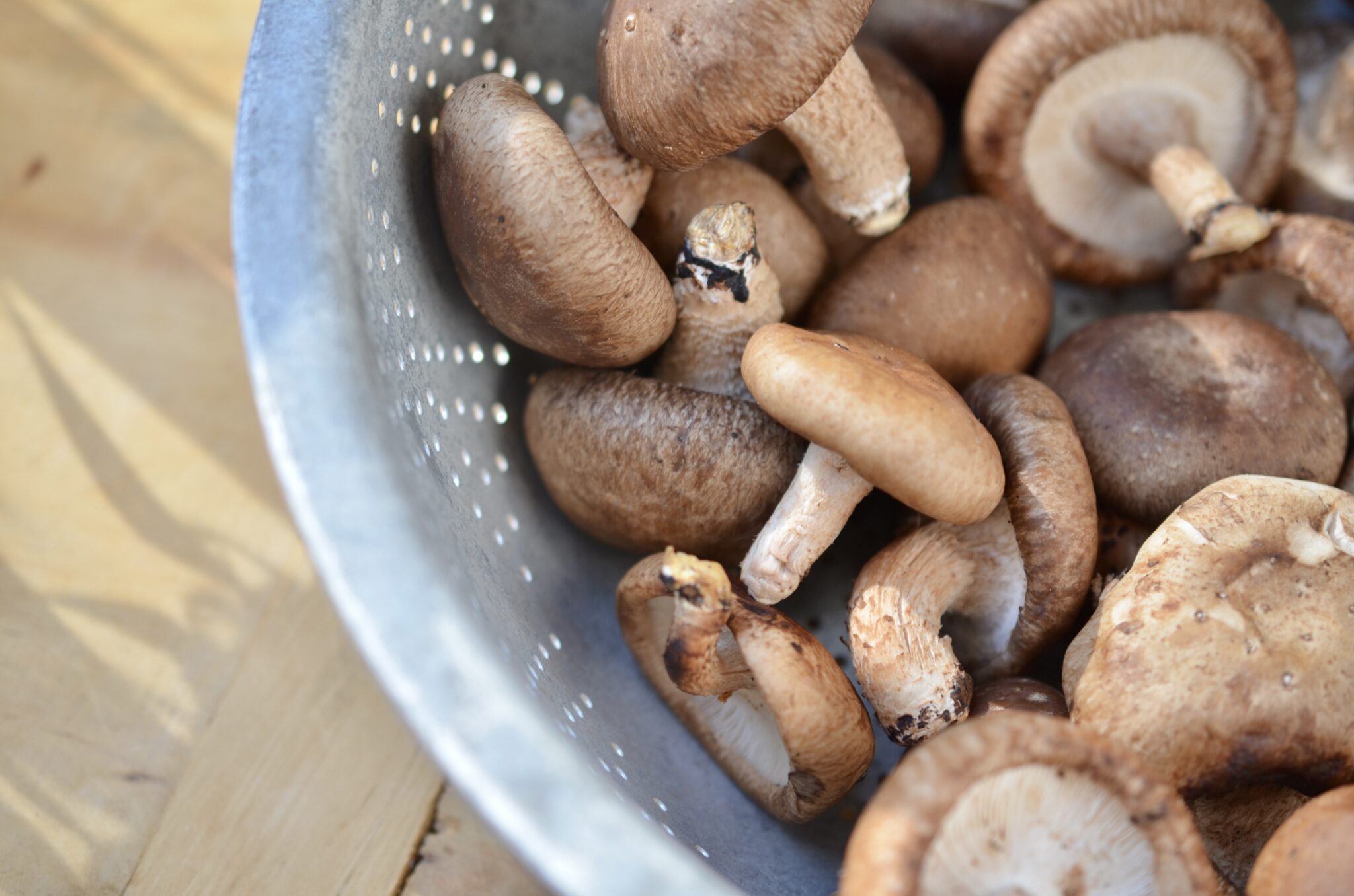 Removing Fat, not Flavor
When you remove fat, you have to replace it with another flavor or the dish will taste flat. Typically, processed foods use sugar or salt –or chemicals. In this recipe, I amp up the flavor with mushrooms. The word
umami 
means "yummy" or "delicious" in Japanese. It's also known as the "fifth taste" and is sometimes described as "savory" to go along with sour, salty, bitter, and sweet. That savoriness comes from the presence of glutamate, amino acids that occur naturally in food. While most often associated with soy sauce, bacon, and other processed ingredients, umami also occurs naturally in whole foods. Think of the robust flavor of cured meats and cheeses, the richly vegetal flavor of winter greens, the natural saltiness of a tomato — and the earthiness of mushrooms.
This is old-style cooking that is more down-home diner than dinner party a
nd great for a simple and inex
pensive weeknight supper.
I hope you enjoy this easy, homey dish. The points calculation will depend on what kind of meat and stock; for my version with fat-free chicken and zero-point stock I calculate a serving to be about 4 points a serving! Lastly, I love my
stainless steel scoop
that makes for both easy clean-up and portion control. Thanks so much for reading!
Bon Appétit, Y'all
Virginia Willis
Disclaimer: Although I have developed recipes for WW magazine in the past and am an avid follower (hence losing 60 pounds!) I am in no way affiliated with WW or an official spokesperson or representative. My point calculations are made by using my app to add up the points and are not sanctioned by WW. Want to join and get a free month? Click

HERE

for more information.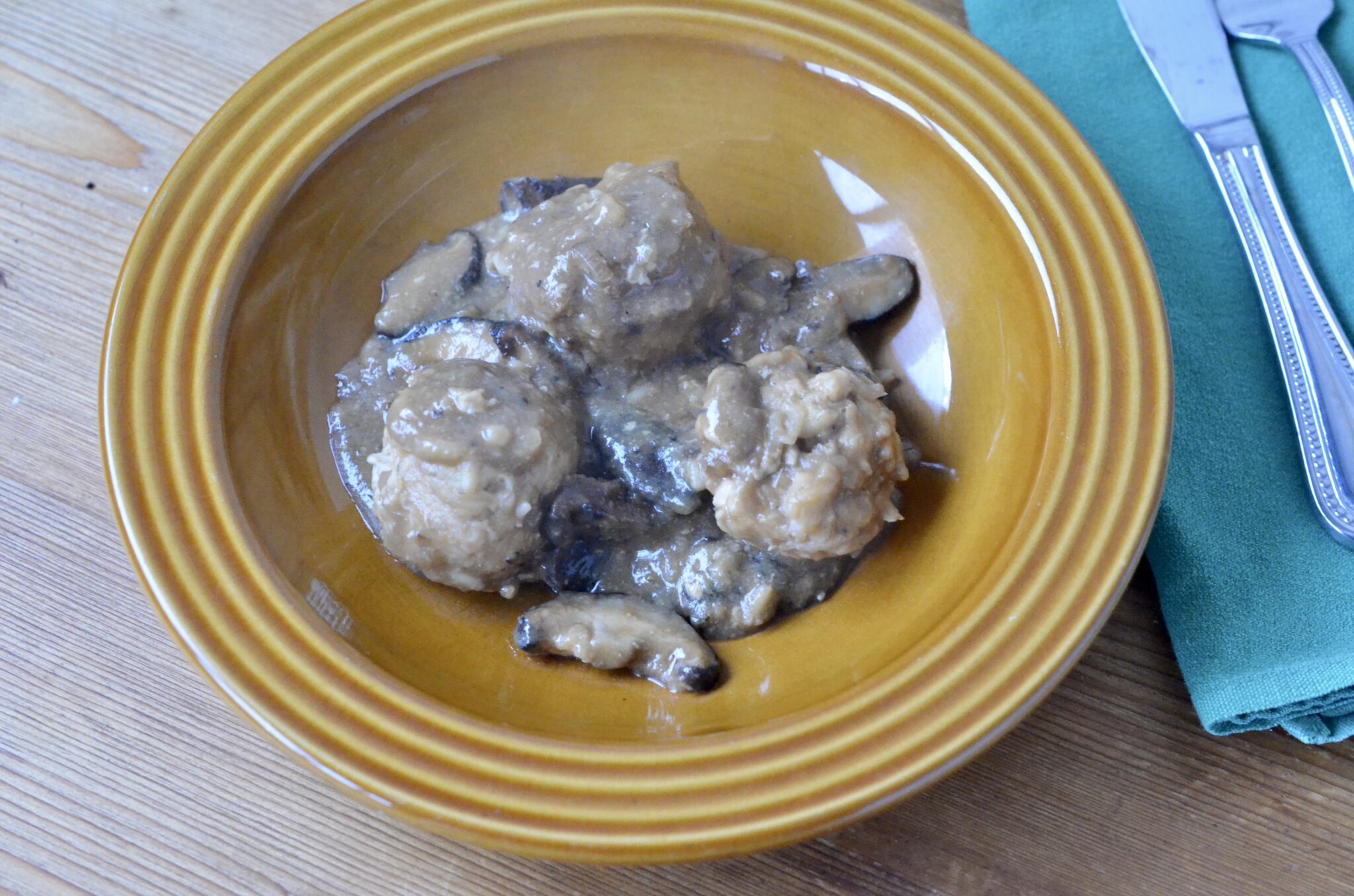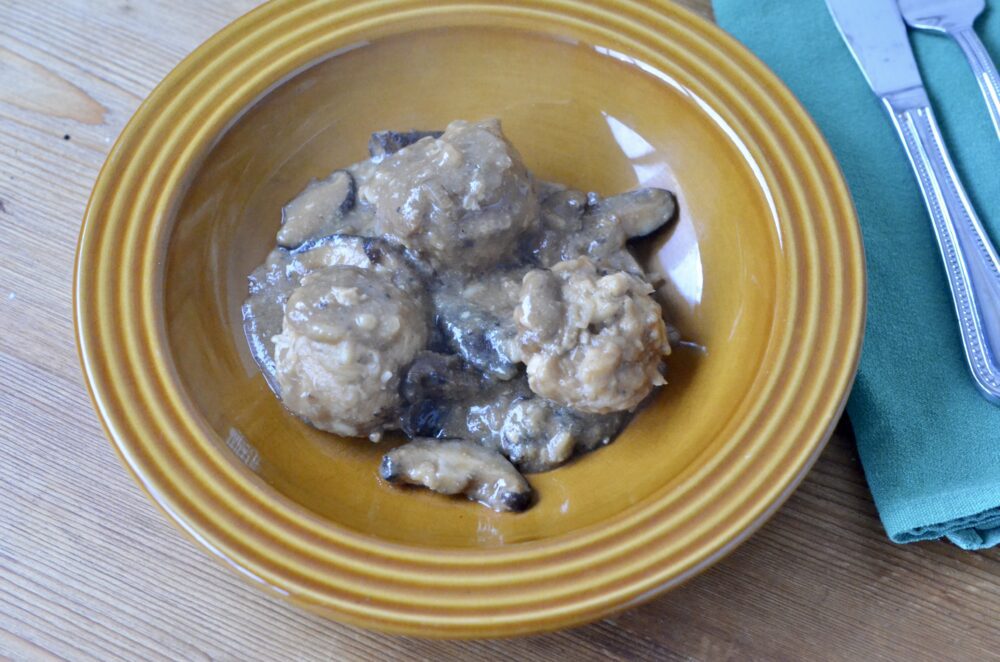 Chicken & Rice Meatballs in Mushroom Gravy
Makes about 16 meatballs
pound ground chicken (preferably 99% fat free)
1 onion (chopped, divided)
¾ cup long grain rice
1 tablespoon garlic powder
1 tablespoon Worcestershire sauce
1 egg
Cooking spray
6 ounces shiitake mushrooms (sliced)
2 tablespoons all-purpose or fava bean flour
2 cups beef (mushroom, or chicken broth)
Coarse kosher salt and freshly ground pepper
Heat the oven to 350°F. Combine the chicken, ½ of the onion, rice, garlic powder, Worcestershire, and egg. Season with salt and pepper. Set aside.
Heat a large skillet over medium high heat and coat with nonstick cooking spray. Add the remaining ½ onion and cook until golden brown, stirring occasionally, 5 to 7 minutes. Add the mushrooms and cook, stirring often, until tender, about 5 minutes. Add the flour and stir to coat the vegetables. Add the stock and stir to combine. Season with salt and pepper.
Reduce the heat to simmer. Scoop the reserved chicken mixture into the simmering sauce. Roll to coat or spoon over some of the sauce. Transfer to the oven. Cook, spooning the sauce over once or twice during baking, until the rice is cooked through and the sauce has thickened, 30 to 45 minutes. Remove from the oven and roll the meatballs in sauce to coat. Serve immediately.
Please note that this post may contain affiliate links. (That means I make a commission if you use my affiliate link to buy the product.) 
If you are interested in hosting me for a speaking engagement, event, cooking class, or a book signing, let me know! Send an email to jona@virginiawillis.com and we'll be back in touch as soon as possible.
Please be nice. Unauthorized use and/or duplication is prohibited. All photos and content are copyright protected. If you wish to republish this recipe, please link back to this recipe on virginiawillis.com. Thanks so much!
Let's connect on Facebook, Twitter, Instagram, and Pinterest!

Copyright © 2021 Virginia Willis Culinary Enterprises, Inc.
Copyright © 2021 Virginia Willis Culinary Enterprises, Inc.
Please note that this post may contain affiliate links.