Please note that this post may contain affiliate links.
How to Cut a Butternut Squash
Today I was chopping butternut squash for a recipe project for an international media brand. The assignment has been a little outside of my creative box and I've been thrilled how exciting it is to stretch beyond my comfort zone. That's how we grow as professionals! While I was prepping the vegetables, we shot this video showcasing a really simple technique on how to cut hard winter squash like butternut, kabocha, and even slightly softer ones like acorn. It works with other hard winter vegetables like rutabaga and sweet potato, as well. The knife technique is all about working smarter and safer — not harder!
Winter Squash
I'm a huge fan of winter squash. Many varieties are available year-round, but their natural season runs from late summer to mid-winter. Many people gravitate towards acorn squash because they are so familiar, but there are many other squashes with different flavors and textures. In fact, except for spaghetti squash, virtually any winter squash, including pumpkin, can be swapped out for another in any recipe, from main dish to side dish to dessert.
Here are a few of my favorite winter squash: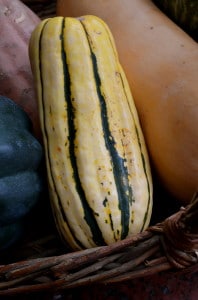 Delicata – Sweet and thin-skinned, this winter squash is quick cooking and very useful. The cream colored skin has ribs of dark green stripes. My favorite way to cook this is to thinly slice it and roast it, seeds and all, to make Delicata Chips. For the chips: Heat the oven to 350°F. Line two rimmed baking sheets with silicone mats or parchment paper. Using a chef's knife, thinly slice the squash into 1/8-inch-thick slices. Place the squash without crowding on the prepared baking sheets and lightly coat with cooking spray. Season with salt and pepper. Transfer to the oven and bake until crisp and lightly charred, about 25 minutes. Serve immediately! You can see them adjacent to the Sinless Seven Layer Dip.
Acorn – Sweet and nutty, the most common acorn squash are dark green in color and tinged with a bit of orange. The flesh is pale yellow. As the name suggests, it is shaped much like an acorn. It has distinct ridges and a fairly tough skin. I love Baked Acorn Squash. For 2 halved and seeded squash, heat the oven to 375°F. Brush the inside of the halves with a bit of room temperature butter; season with salt and pepper. Turn halves upside down on a baking sheet and bake until tender when pierced with a knife, 30 to 45 minutes. Meanwhile, combine 2/3 cup chopped pecans, 2 tablespoons maple syrup, and 1 teaspoon freshly chopped thyme in a small bowl. Turn the squash upright on the baking sheet. Place an equal amount of the pecan mixture in the cavities of the halved squash. Return to the oven and bake until the squash are very tender and the syrup is bubbly, an additional 10 to 15 minutes.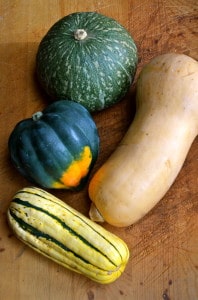 Butternut – This is one of the easiest of all the winter squashes to work with because its smooth skin just pares away with a paring knife or vegetable peeler. (It's the large pale one on the right in the photo.) Also, they keep well even once they have been cut upon – meaning, I shop for a large one, use what I need, and wrap the rest. It will easily last a week or so and can be carved on and be part of more than one meal. Check out my recipe for  Winter Greens and Butternut Squash Gratin on Food Network.
Kabocha – Kabocha is the generic Japanese word for squash. (It's the dark green one at the top of this photo.) It has a green, bluish-gray streaked rind and the flesh is deep yellow. Kabocha squash has a rich sweet flavor, and can be a bit dry when cooked. It could be easily be used in place of butternut or acorn squash — even sweet potato. Here's a recipe by my friend, colleague, and photographer for Basic to Brilliant, Y'all Helene Dujardin (aka Tartelette) in which she adapts my Sweet Potato Soup to feature winter squash.
The How to Cut Butternut Squash video is getting great response. I'm not sure when I figured out this knife technique, but I sure am glad I did. Let me know how the test drive goes with your new knife skill!
Bon Appétit Y'all! 
Virginia Willis
***
Let's connect on Facebook , Twitter, Instagram, and Pinterest!
Please note that this post may contain affiliate links.