Please note that this post may contain affiliate links.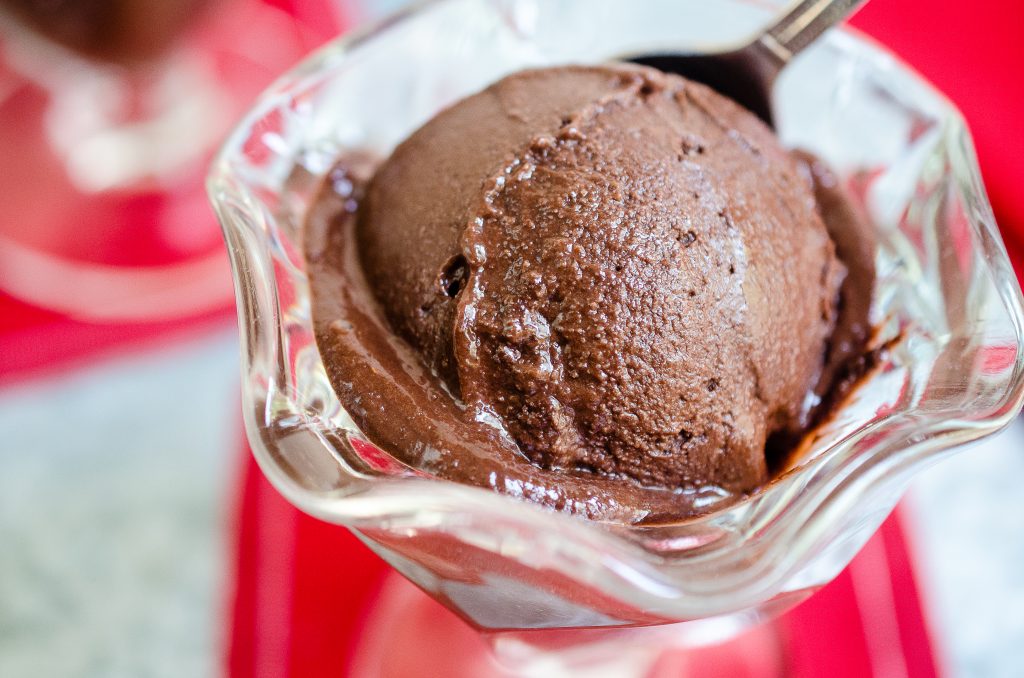 Believe it or not, I am hesitant to call this decadent bowl of delicious dessert chocolate ice cream. It looks like chocolate ice cream, scoops like chocolate ice cream, is cold and creamy like chocolate ice cream, even tastes *a LOT* like chocolate ice cream, but there's nary a drop of cream. There are no eggs and sugar, either. The big news is that it may be one of the most favorite techniques I have discovered in the kitchen in a long while!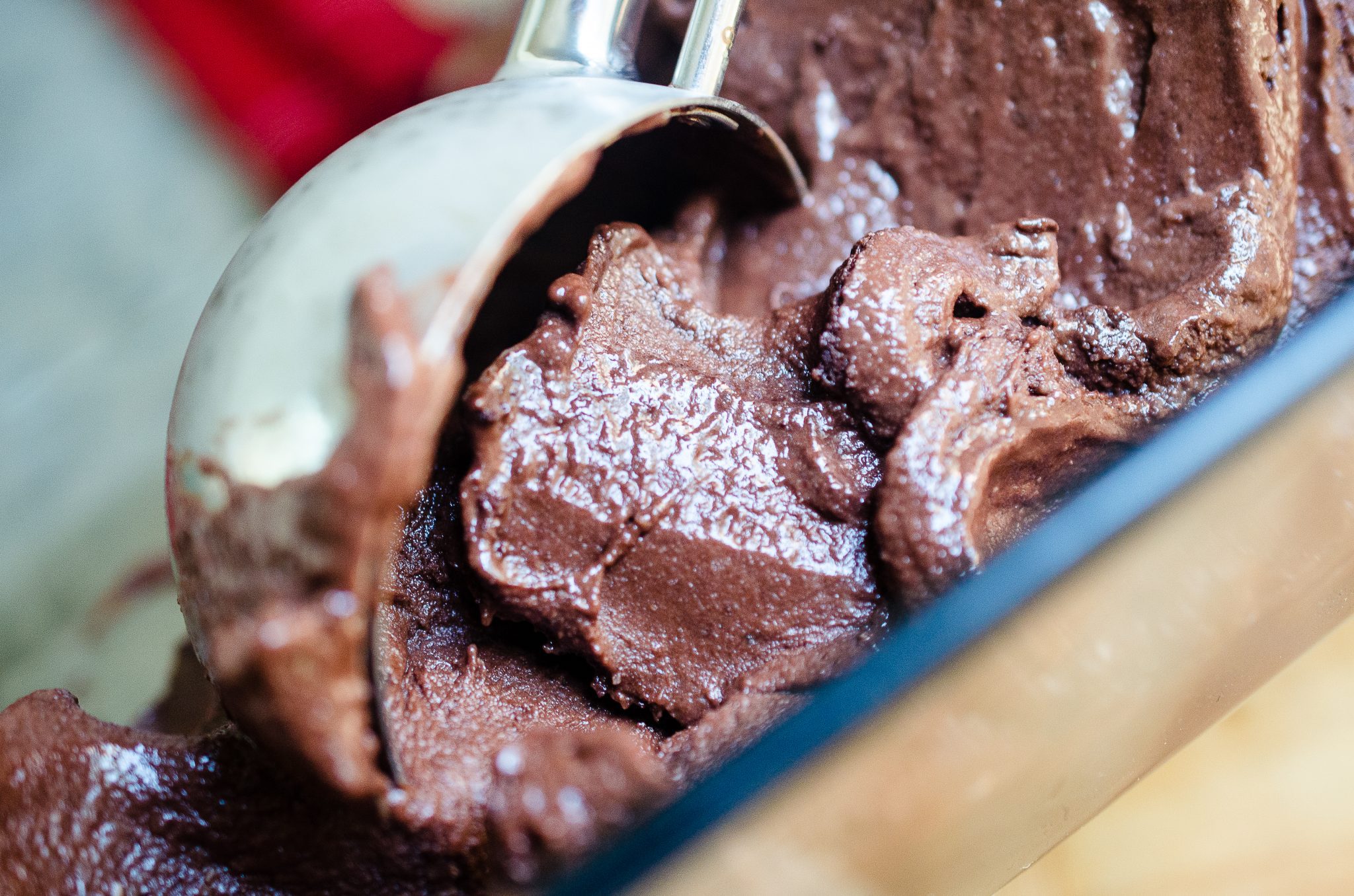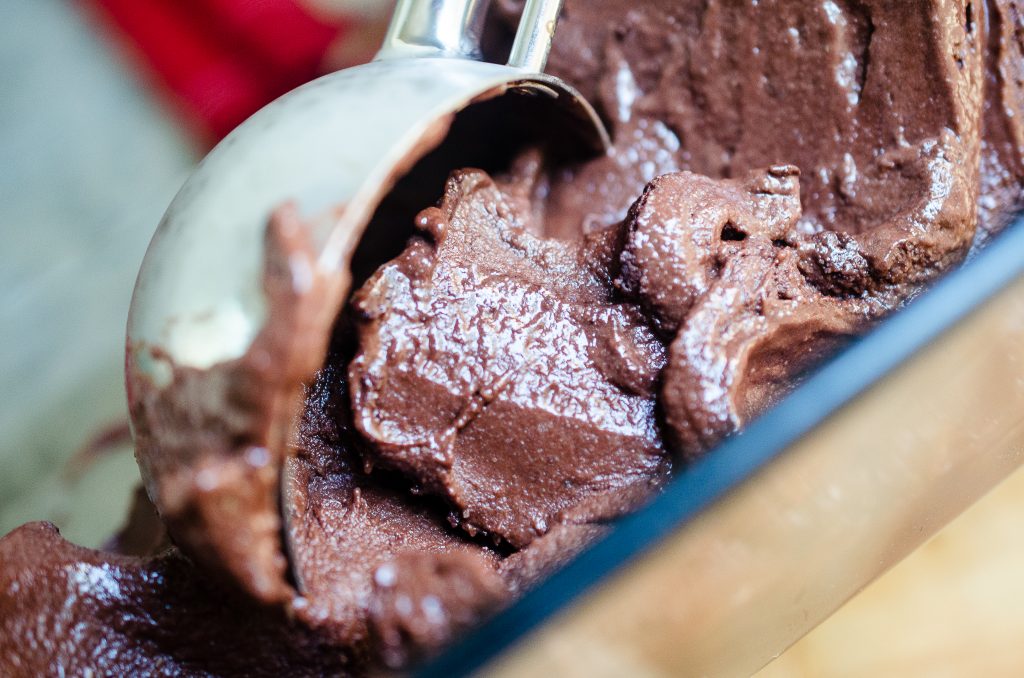 How is this creamy-goodness a dairy-free dessert, other than benefiting from a mere splash of milk? (And, I use unsweetened soy milk.) The smoothness of this luscious confection comes from frozen bananas. The idea of banana "ice cream" has been floating around the internet for a while, but I was intensely dubious. However, my ice cream consumption is up so I was curious. (I know I am not the only one stress eating.) On that note, I am NOT mixing eggs with bananas and topping it with maple syrup. That is not a pancake. Nope. Not happening. I am particular with bananas.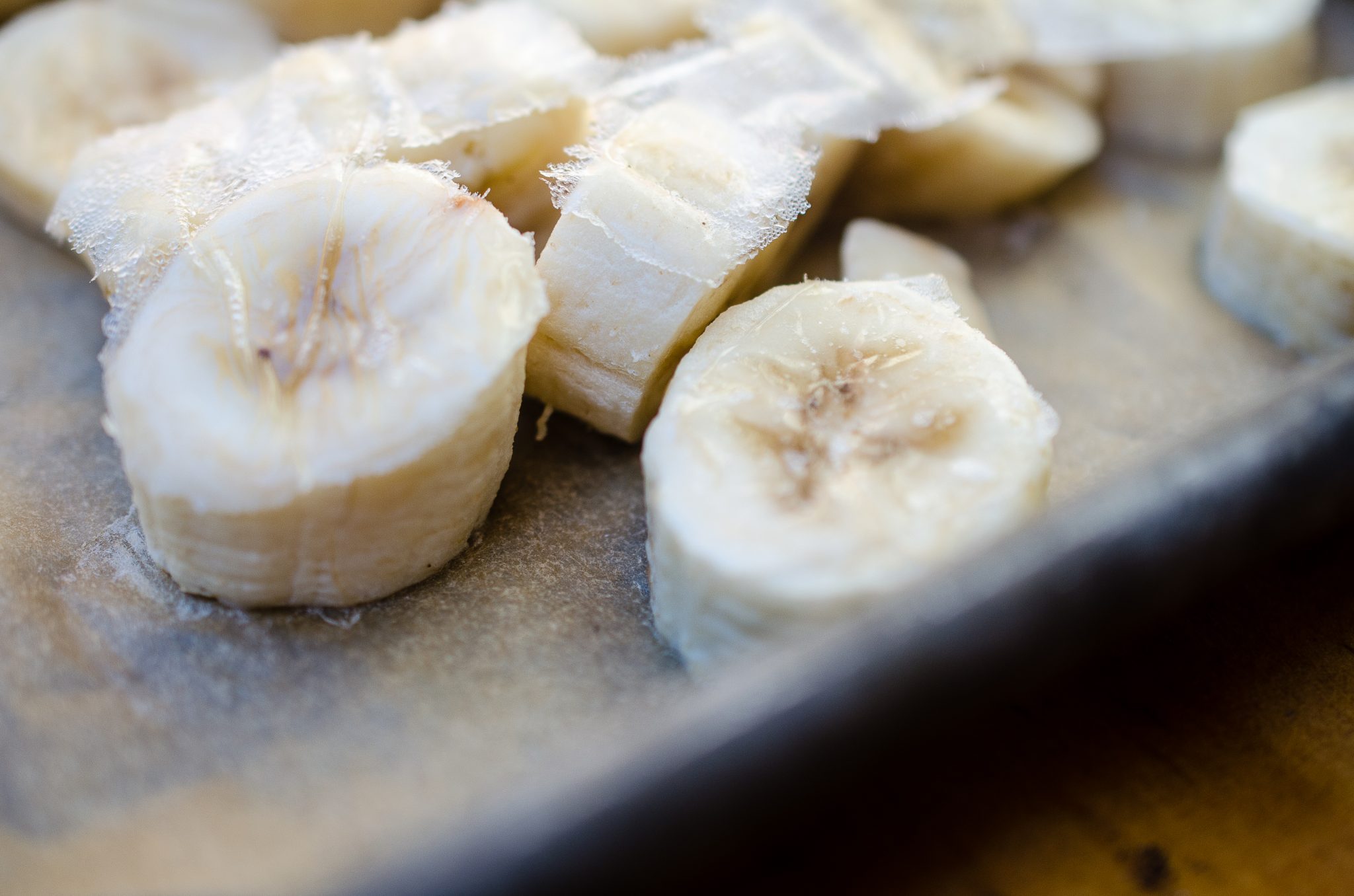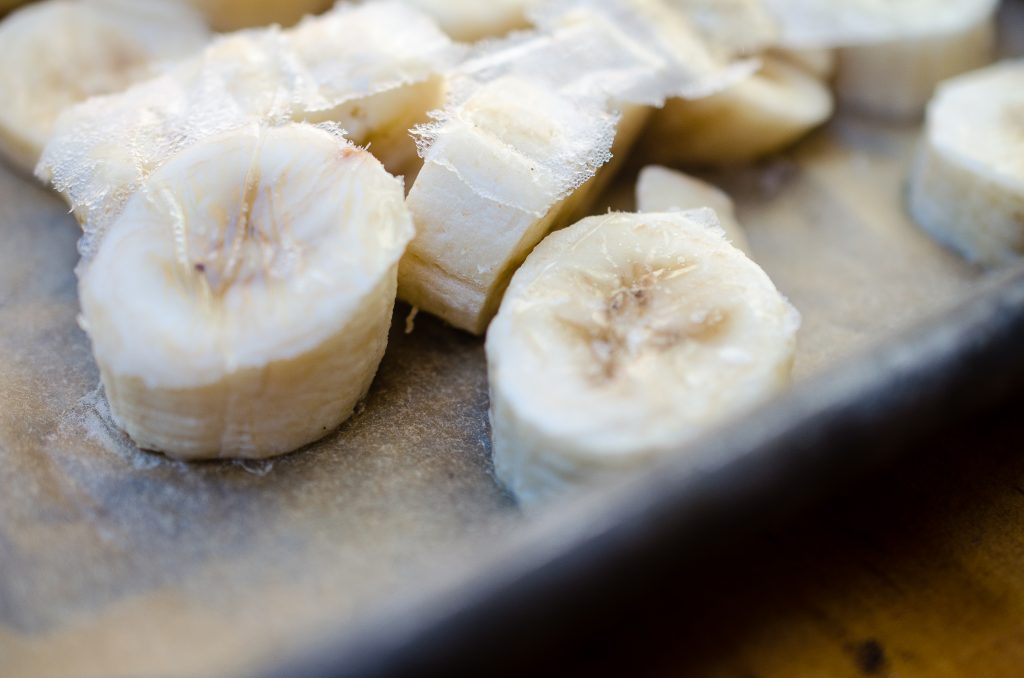 Ripe Bananas
I have to admit I am a fairly recent banana convert. During my childhood, I was administered medicine that was banana-flavored so that it would appeal to children. Instead, it produced an intense loathing of bananas that lasted well into adulthood. ( Even worse, I think it was to treat worms because, like many Southern children that ran around barefoot, we had them. Mama insists I am wrong about the banana part, but admits we did have worms.)
Bananas have to be bright yellow, nearly green, and without a speck of brown or black. Any indicators of ripening move my bananas to the banana bread pile. Clearly, I am not the only one because banana bread production has become rampant in the US with Coronavirus. Banana bread has gone viral because of a virus! I have always liked banana bread – who wouldn't like loaded with sugar, laced with brown butter, and studded with Georgia pecans? Recently, I have developed a muffin recipe that I use all the time as a way to use up nearly any fruit in a muffin to prevent food waste. It's based on a banana bread recipe, but I have used peaches, mangoes, and even smashed pear. Regardless, I still have a couple of extra bananas a week.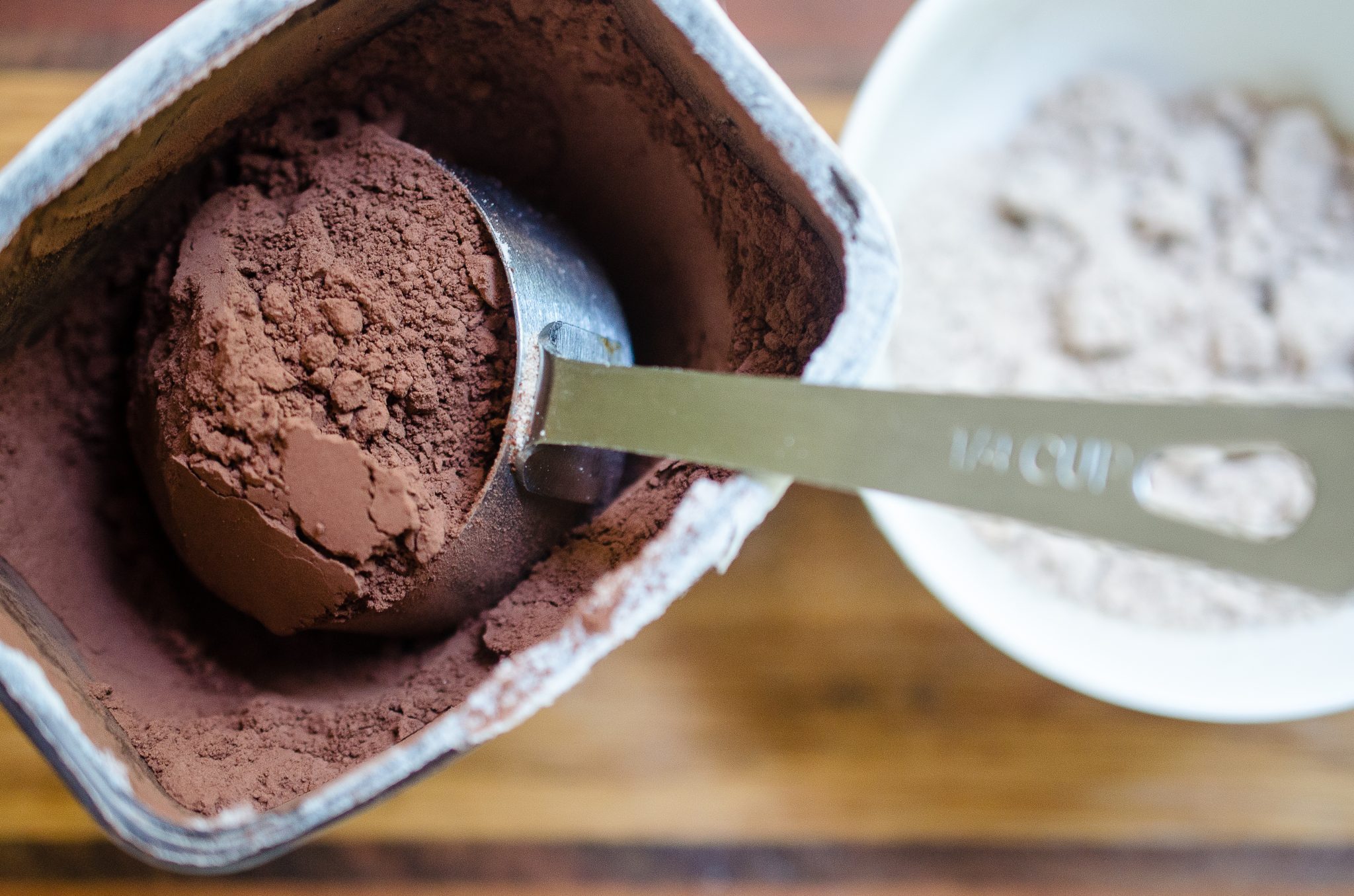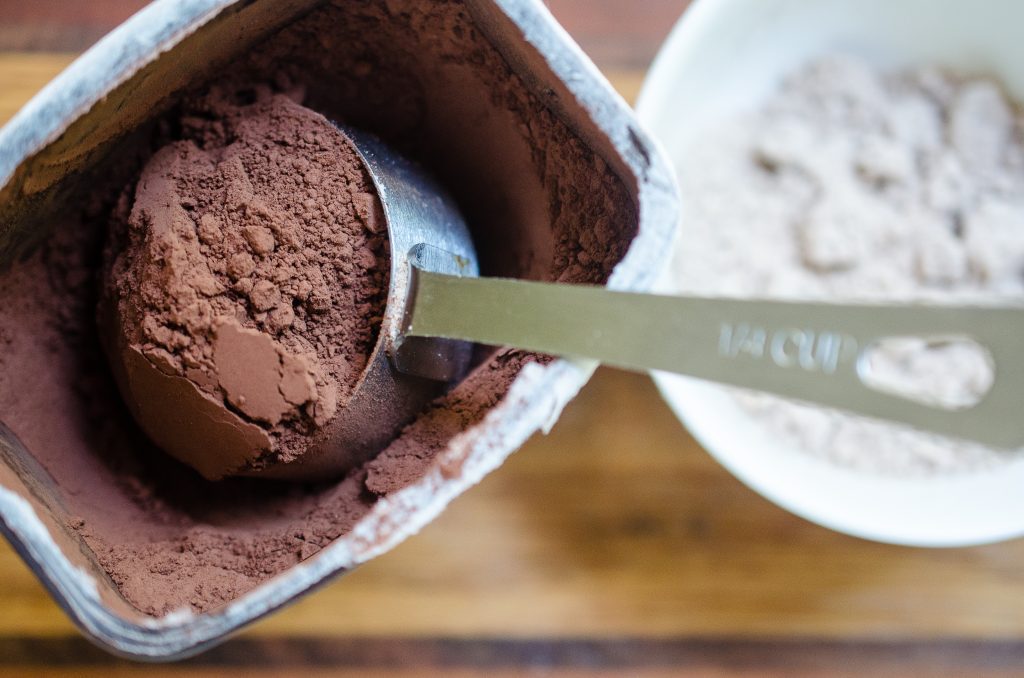 Powder Power
Back to the skinny version of Chocolate Ice Cream. Sure enough, there are plenty of recipes out there, but from the beginning, I wanted to amp it up a bit and concentrate the flavors.
First of all, I used special dark cocoa powder for an even more intense chocolate flavor. Dark cocoa is made from 100% cacao powder. (You can read more about dark chocolate and cacao here.)  Many recipes use peanut butter, which I love, but I used peanut powder. I wanted the concentration of the pure peanut flavor without added oils that would contribute fat and alter the texture. I love both peanut powder and flour in the kitchen. I was turned onto it when developing recipes for Weight Watchers. ( I am a WW believer and have lost 50# using the plan!)
Powdered peanut butter is made from roasted peanuts that have been pressed to remove most of the oil and then ground into a fine powder. It's packed with peanut flavor and protein, but not the fat. I use it to give a boost of umami to wings and make it into a dipping sauce. There are several national brands of peanut powder available. (If you haven't noticed it, peanut powder is adjacent to the peanut butter in most grocery stores.) National brands include Peanut Butter and Co. and PB2.
Oliver Farm
In an effort to support small farms and privately owned businesses, I also recently ordered Peanut Flour from Oliver Farm, a small family farm in Pitts, Georgia. Oliver Farm produces cold-pressed sunflower, green peanut, benne seed, pecan, pumpkin, and okra. The production of cold-pressed oil creates meal or flour.  I love their oils and have used since hearing about them, but was not as familiar with the flour. They sell gluten-free pumpkin, benne, okra, pecan, and peanut flour. (Recently I paid a visit to the farm to write an article about an upcoming issue of Okra magazine. It was fantastic. Amazing products and great people; I'll keep you posted on the article.) The flours are phenomenal and the peanut flour is incredible in this ice cream. Please take a look at their website and do what you can to support them.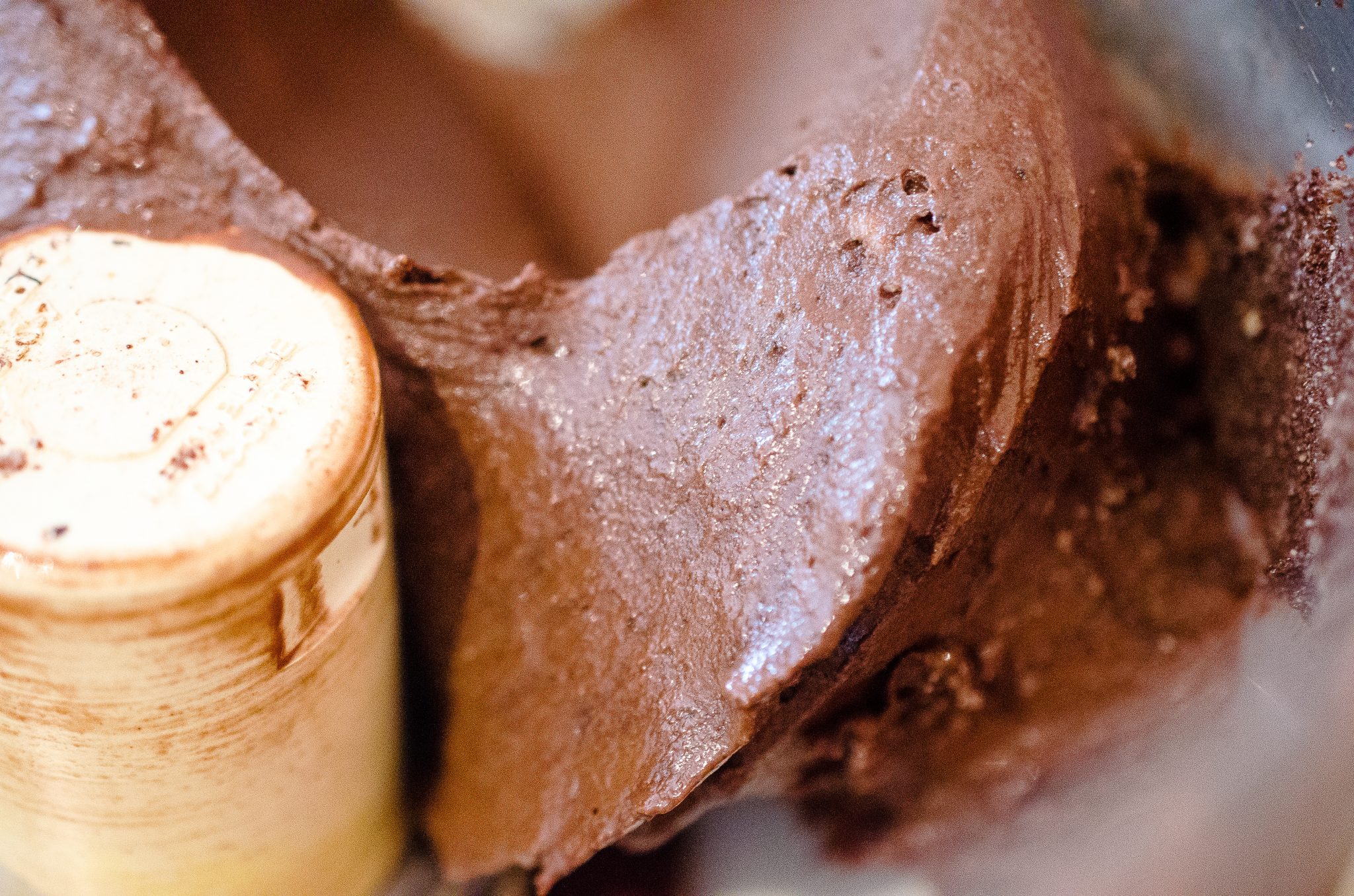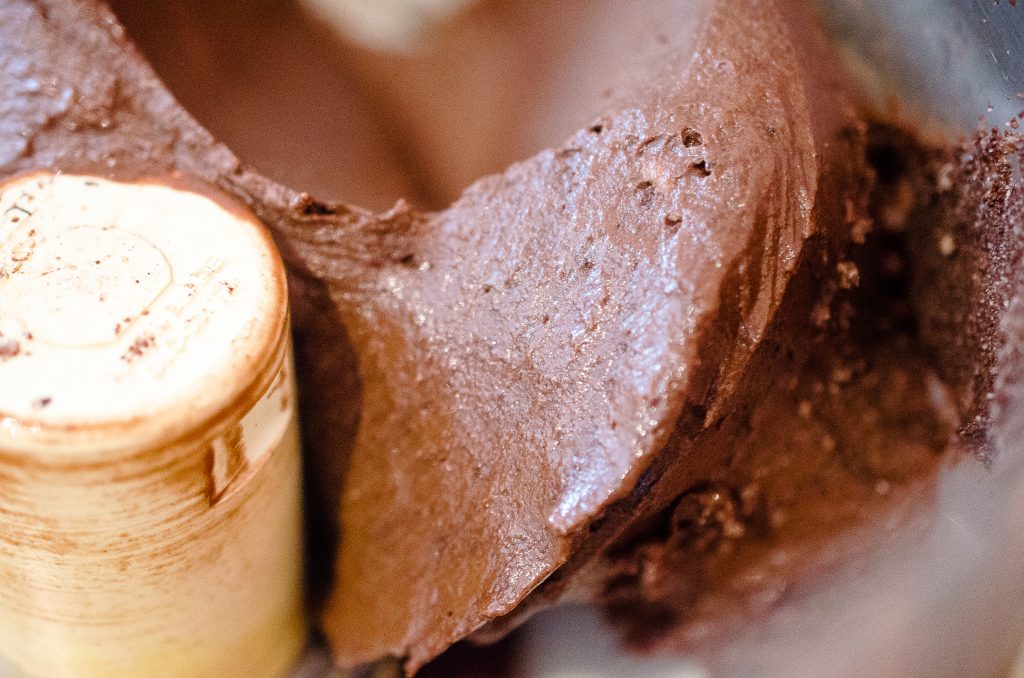 Give it a Whirl
In this rich, creamy frozen dessert bananas are combined with a dash of vanilla, dark cocoa powder, peanut flour, and a splash of milk, dairy or non-dairy in a food processor or blender. The result is the texture of soft-serve ice cream. (I also tried simple banana and strawberry, but it was intensely banana and frankly, not as good.) I think the technique could be open to other flavors, but the key is super ripe bananas that are the sweetest. The intense and deliciously bitter chocolate with the savory, umami-packed peanut powder blends more harmoniously with the banana flavor. It's easy, healthy-ish, and uses up any overripe bananas. I've made it several times and love it. I hope you and your family do, too.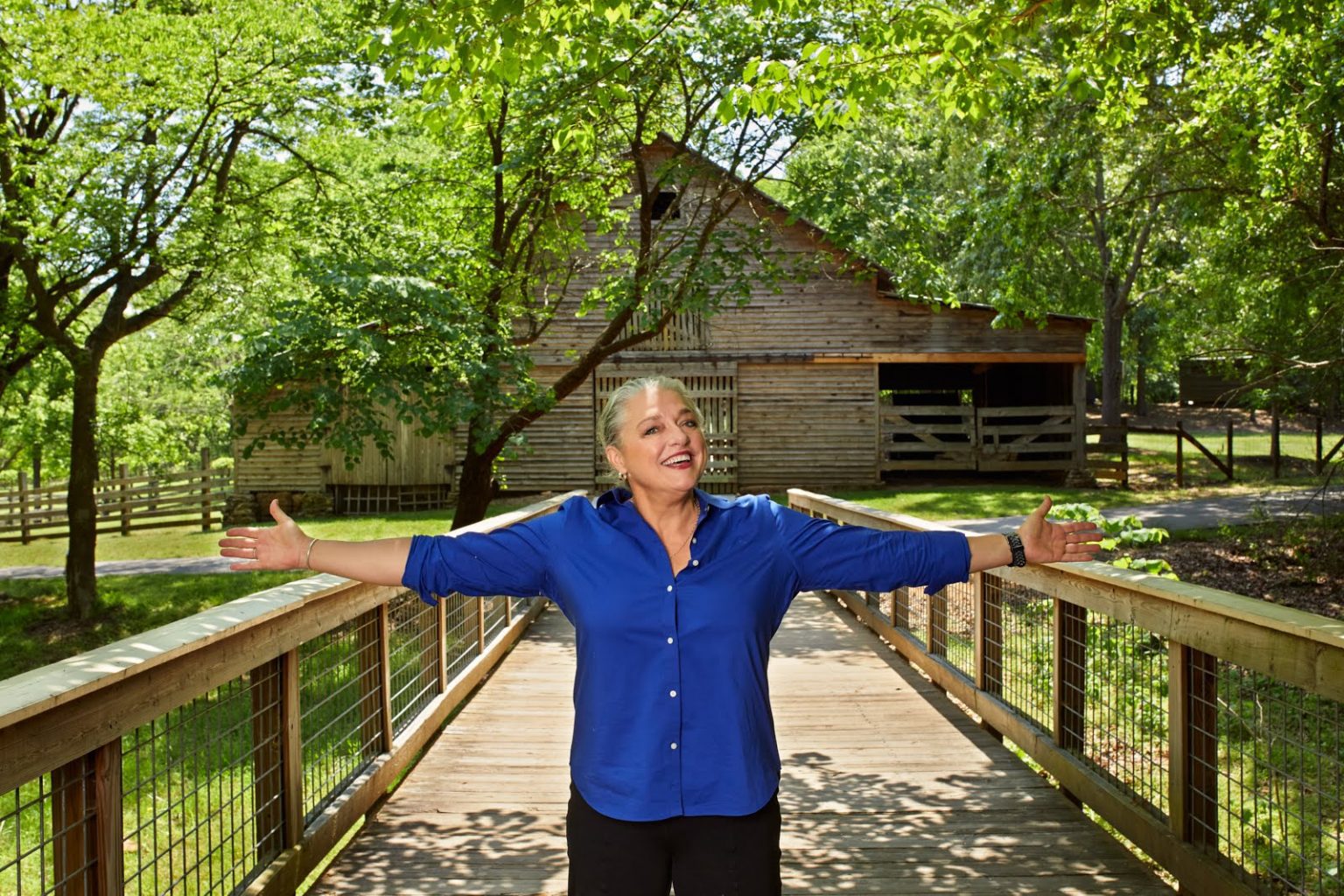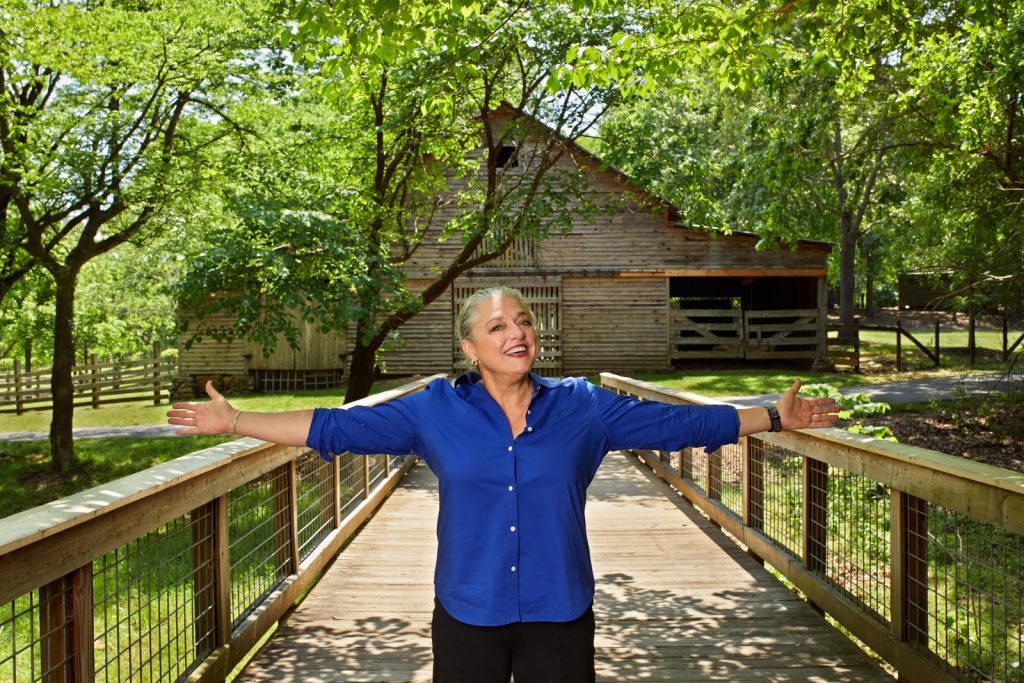 New Beginnings
Lots of housecleaning in my life and career of late! I've chosen to refocus and renew with my arms, heart, and mind wide open. Please take a look around at my new website. I've also started a new business with my dear friend and colleague, Cynthia Graubart called Culinary Media Training that helps food professionals, chefs, cookbook writers, and other culinary professionals tell their story. If you feel stuck and are looking for better results in your life and career—this may be for you. There is no better time to start than now.
On an end note, I know it's weird talking and writing about fake chocolate ice cream and new businesses when so much is happening in our world. I'm worried about the safety of my friends and family. I am anxious about the state of the restaurant industry and my friends that own restaurants. I am sad that there are children in the richest country on Earth going to bed hungry. Last week I wrote about Black Lives Matter in "The Time to Do What is Right is Always Right." I am also worried about my own work, the economy, and the soul of my country. We are in crisis, there is no doubt. There is much work to be done and much more to ride out. It's overwhelming and out of control.
With that in mind, I try to do at least one thing every day that can help someone else. And, I try to stay focused on the positive. I loved this advice in a piece about the killing of George Floyd from Billy Shore, founder and executive chair of Share our Strength,
"Let's stay committed to what we can control: making sure our actions and words, wherever we live and work, whether we show up in person or on social media, have the effect of bringing people together not driving them farther apart."  
Do this and eat more ice cream. Thanks so much for reading. Let me know what you think. Stay safe and well.
Bon Appétit, Y'all
Virginia Willis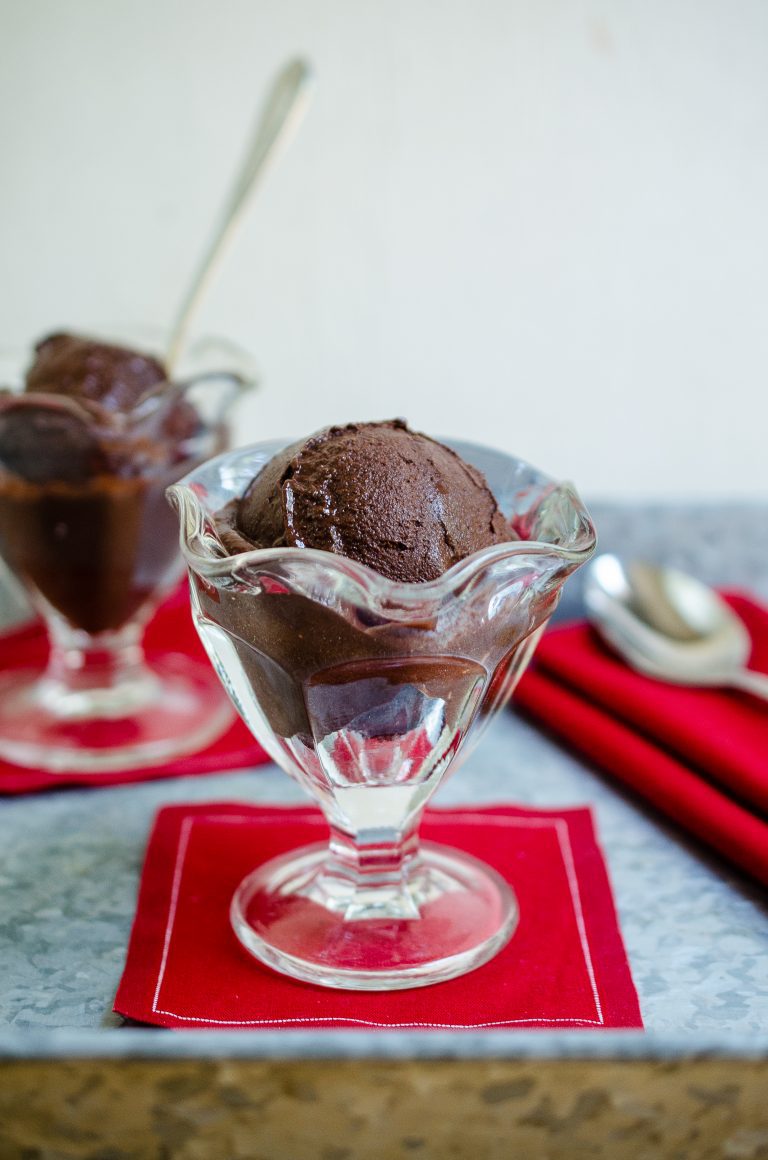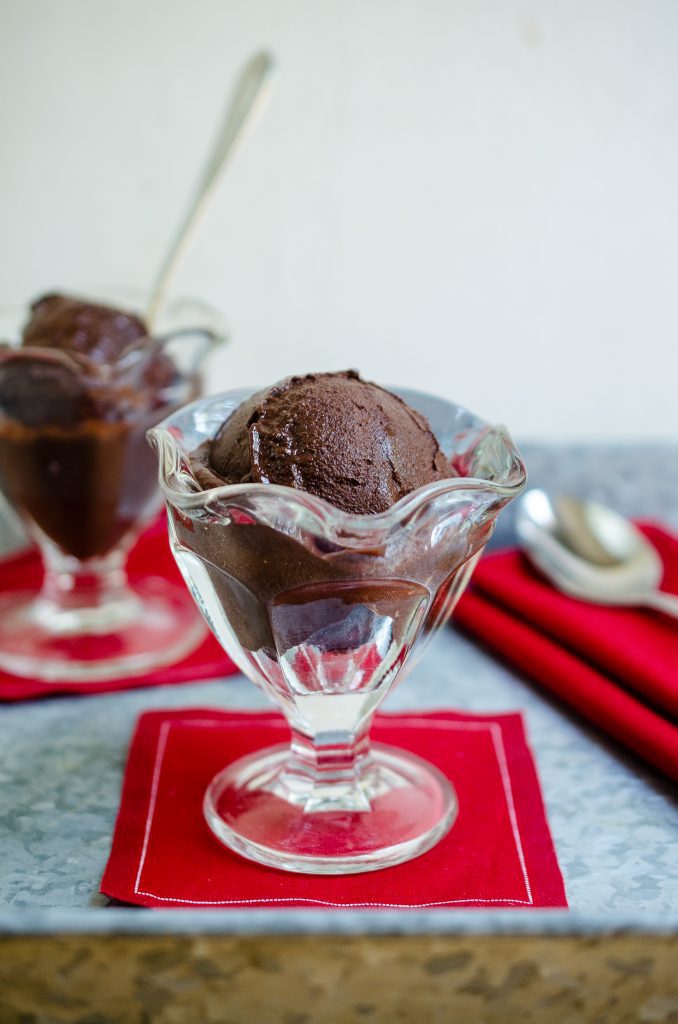 Chocolate Peanut Butter Soft Serve Frozen Dessert
Makes about 3 cups
Ingredients
2

ripe bananas

¼

cup

peanut butter powder

¼

cup

dark cocoa powder

¼

cup

milk

½

teaspoon

pure vanilla extract
Instructions
Line a baking sheet or tray with parchment paper. Slice bananas and place on the prepared tray. Cover with plastic wrap. Transfer to the freezer and freeze until solid, at least 2 hours.

Have all the ingredients measured and equipment ready to go before you remove the bananas from the freezer. Place bananas, peanut butter powder, cocoa powder, and milk in the bowl of a food processor fitted with the blade attachment or the bowl of a blender. Process until smooth and creamy. Serve immediately or transfer to vessel to store and freeze for later
Please note that this post may contain affiliate links. (That means I make a commission if you use my affiliate link to buy the product.) 
If you are interested in hosting me for a speaking engagement, event, cooking class, or a book signing, let me know! Send an email to jona@virginiawillis.com and we'll be back in touch as soon as possible.
Please be nice. Unauthorized use and/or duplication is prohibited. All photos and content are copyright protected. If you wish to republish this recipe, please link back to this recipe on virginiawillis.com. Thanks so much!
Let's connect on Facebook , Twitter, Instagram, and Pinterest!

Please note that this post may contain affiliate links.