Please note that this post may contain affiliate links.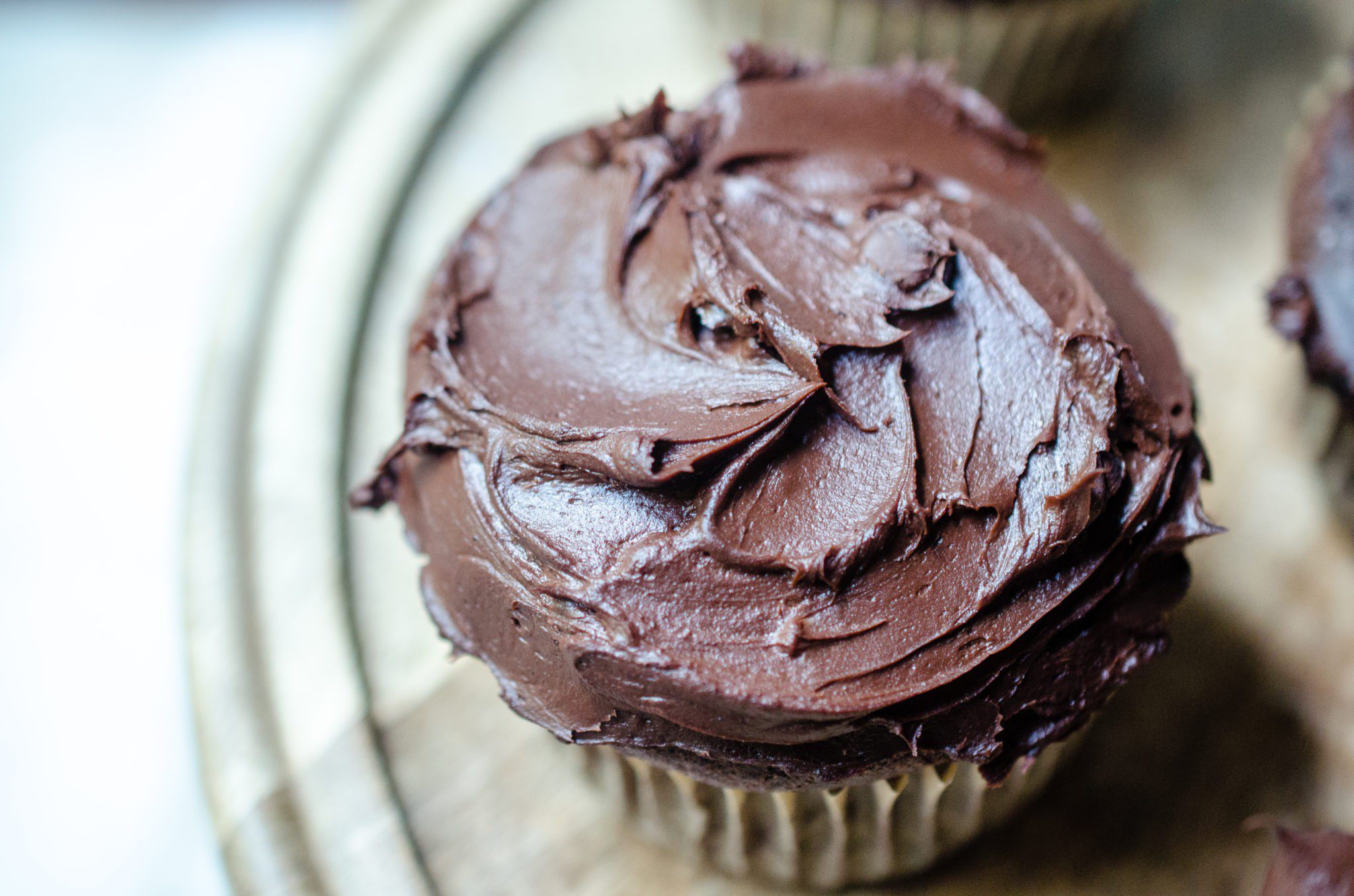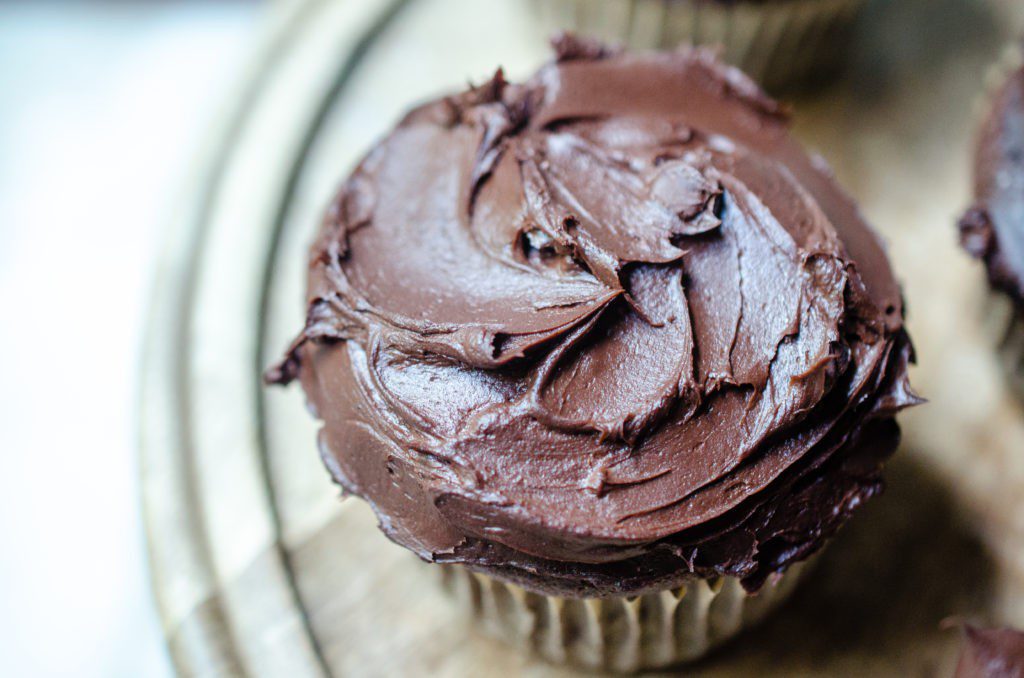 Chocolate Cupcakes can pretty much solve all the world's problems. Well, that might be a stretch. Ok, it's flat out not true. I will say, however, that sometimes it feels like it could be true. Chocolate Cupcakes are the culinary equivalent of a dog wagging its tail — simple, clean pleasure. They cause children to beam with joy and can bring out the kid in fully functioning, (overstressed and anxious) responsible adults. Read on for more info about my healthy-ish Double Chocolate Cupcakes that are lighter in calories and fat, but double the chocolate flavor. You're going to love them!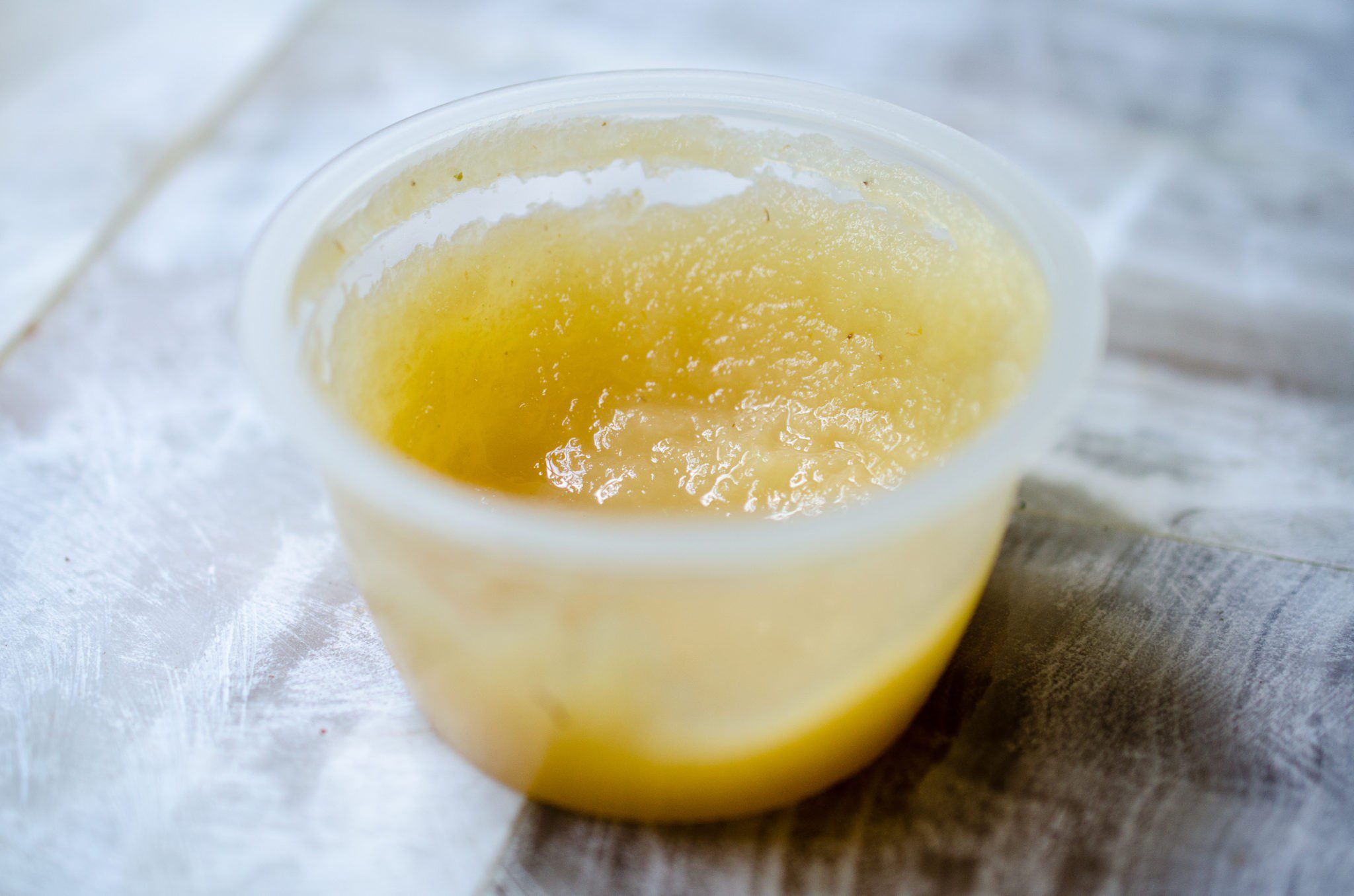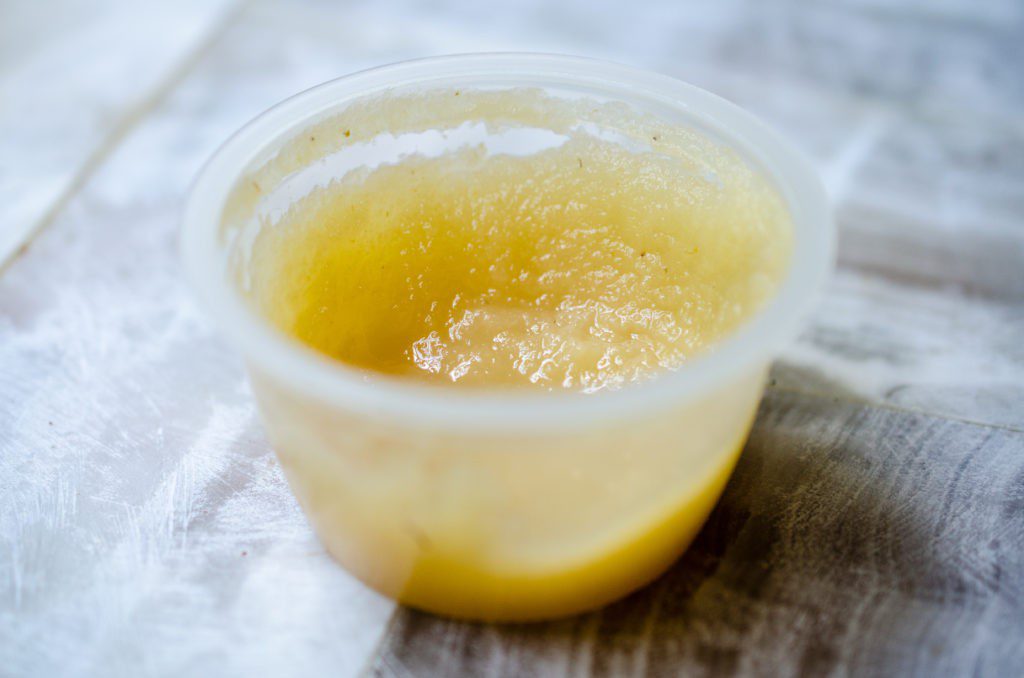 How to Use Applesauce as a Baking Substitute?
How do you achieve a moist chocolatey cupcake without a ton of fat and calories? First up, ditch the oil and butter for applesauce. When substituting applesauce for oil in baking, the ratio is typically 1:1. So if the recipe calls for 1/4 cup of oil, use 1/4 cup of applesauce. This works great with cupcakes, muffins, and quickbreads.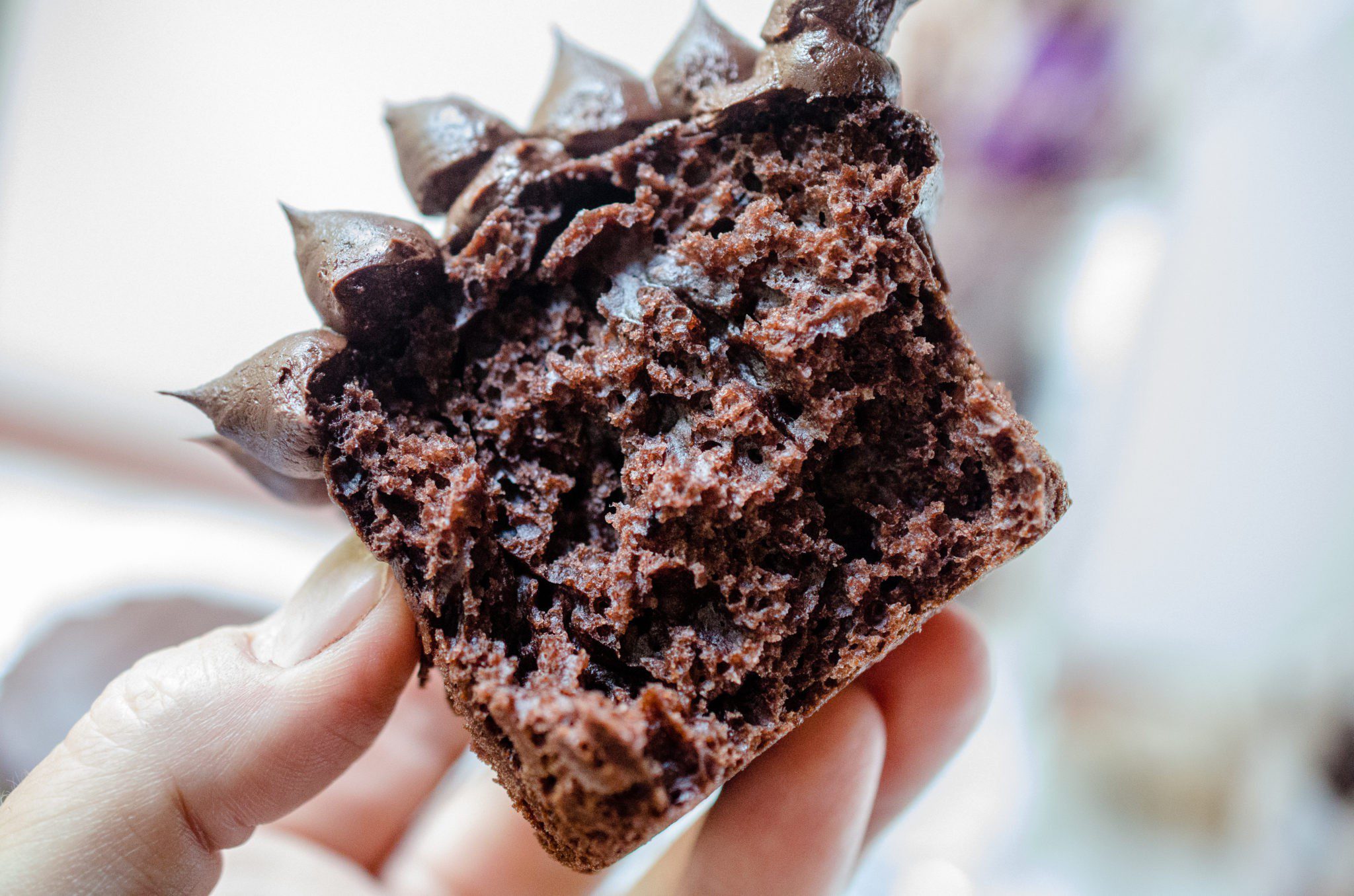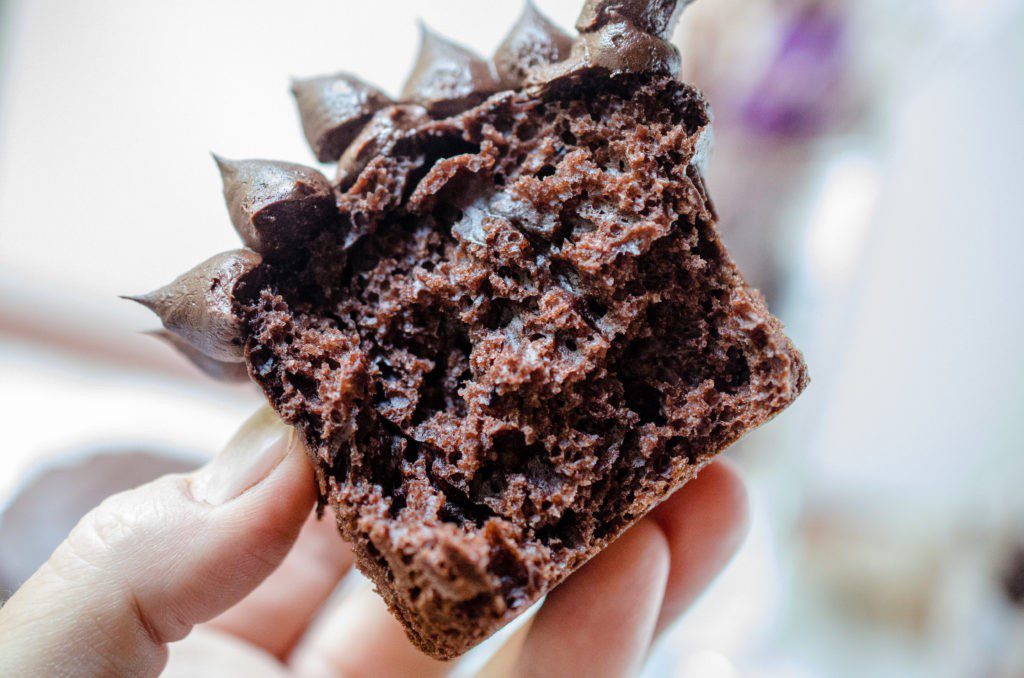 Baking with Buttermilk
Secondly, I use low-fat buttermilk in the batter. Buttermilk owes its success as a baking ingredient to its acidity.  The acid is responsible for buttermilk's thicker consistency, which adds a soft, rich, quality. Buttermilk is not as sour as lemon juice or vinegar, but the lactic acid present in buttermilk helps keep baked goods moist and tender by breaking down the strands of gluten. Even low-fat buttermilk has a thicker viscosity than low-fat milk contributing to the texture of the cupcake. And, the same tartness adds a pleasing, subtle tang to cupcakes, cakes, and pastries.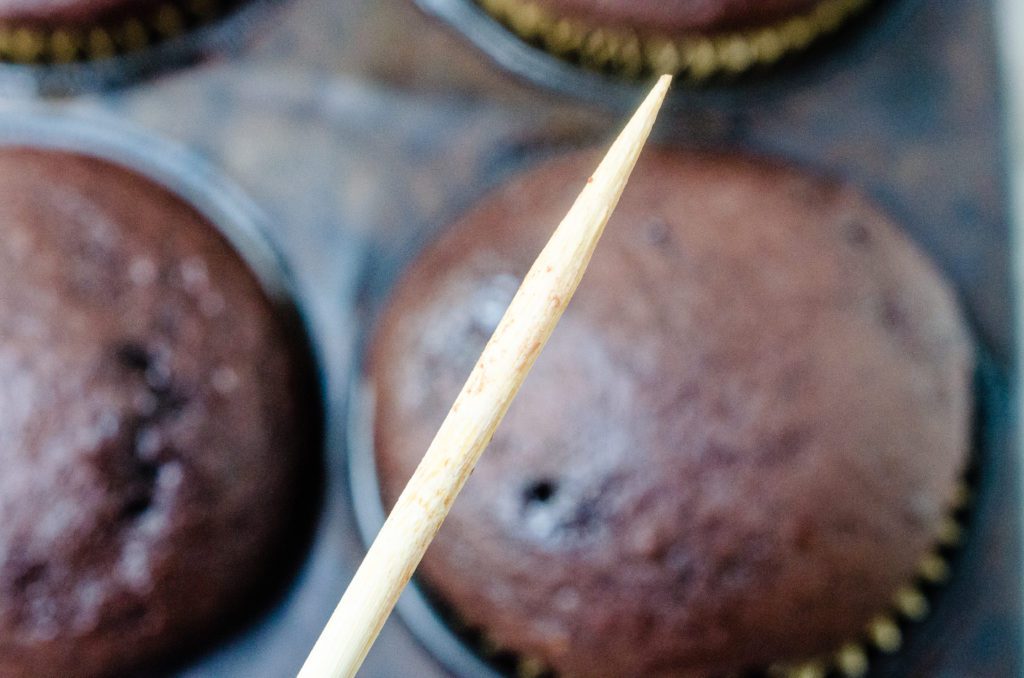 How Do I Tell if the Cupcakes are Done?
Third? Be Goldilocks and get it just right!  Don't underbake or overbake. Overbaked cupcakes are dry and will quickly go stale. Underbaked cupcakes sink in the center. The main reason that cakes sink after baking is that they were not fully cooked. To check if a cake or cupcake is thoroughly cooked, insert a wooden toothpick in the center of the cake. If it comes out clean, the cake is done. Or, gently press the center of the cake with your finger, and if it springs back, it is baked. The edges of a baked cake and cupcake will also pull away from the sides of the pan.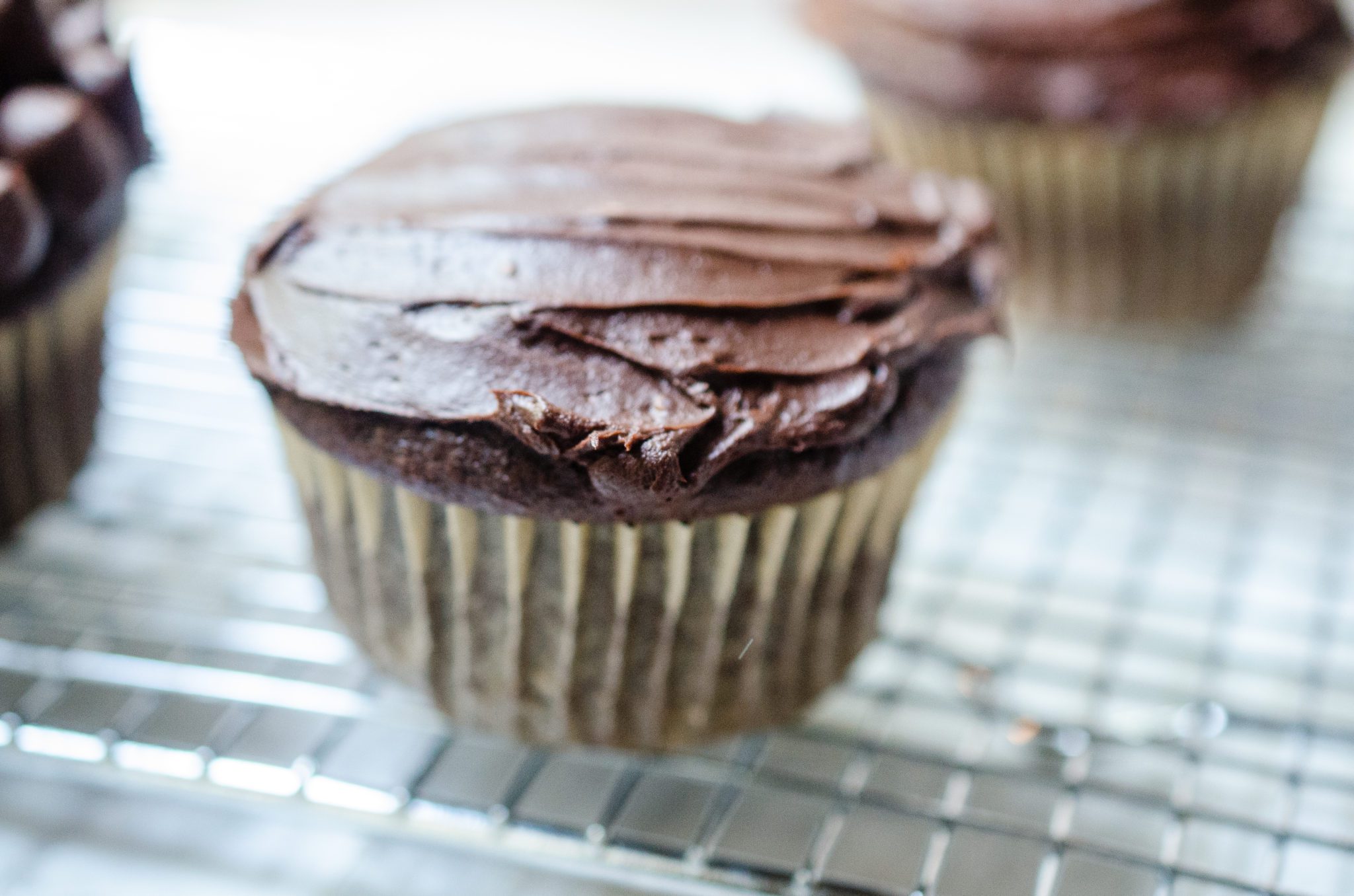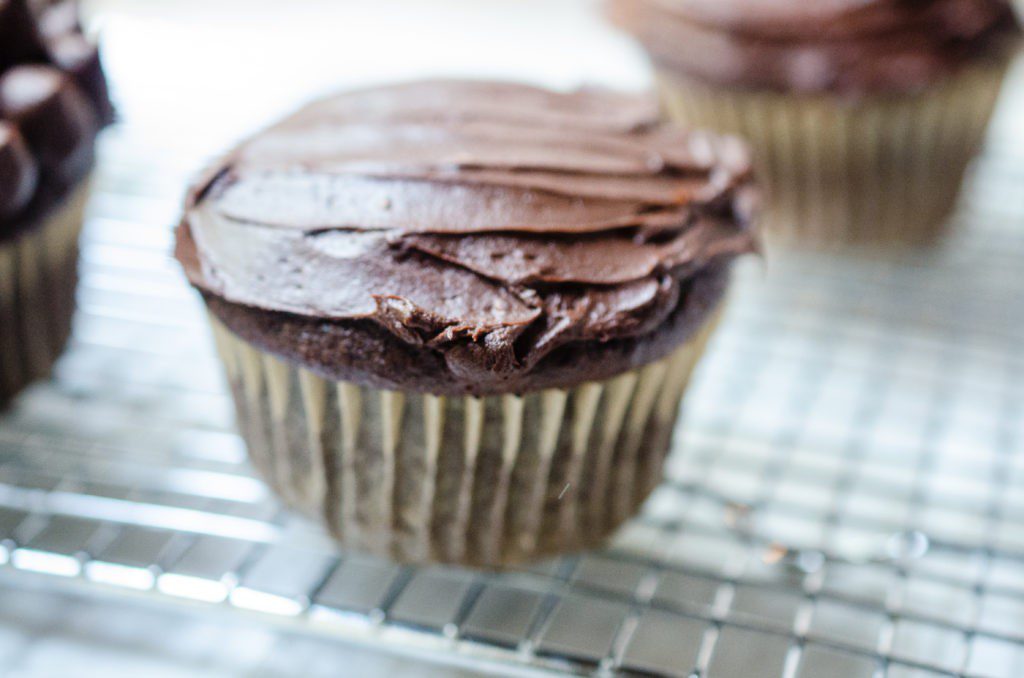 Creamy Chocolate Frosting
Whether you go old-school like the photo above or whip out the piping bag like the photo below, the frosting is key. You can't skip on the frosting. Some of the diet blogs and social media posts absolutely wear me out. Fat-free lite non-dairy frosting with sugar-free chocolate syrup is not frosting. It's a chemical landfill.
In my Creamy Chocolate Frosting, I use Neufchatel — essentially a lower-in-fat cream cheese. Neufchatel is a creamy white cheese made from whole or partly skimmed milk originally in Neufchâtel, France. I've used it for subbing out cream cheese for years. Cream cheese is made with 33% milkfat and Neufchatel is made with 23% milkfat and has a slightly higher moisture content. Despite this difference, it can be substituted in almost any dish that requires traditional cream cheese.
This tangy, creamy cheese is combined with both dark cocoa powder and melted bittersweet chocolate chips. I add just enough confectioner's sugar to sweeten things up. The result is dark, rich, and uber-chocolatey.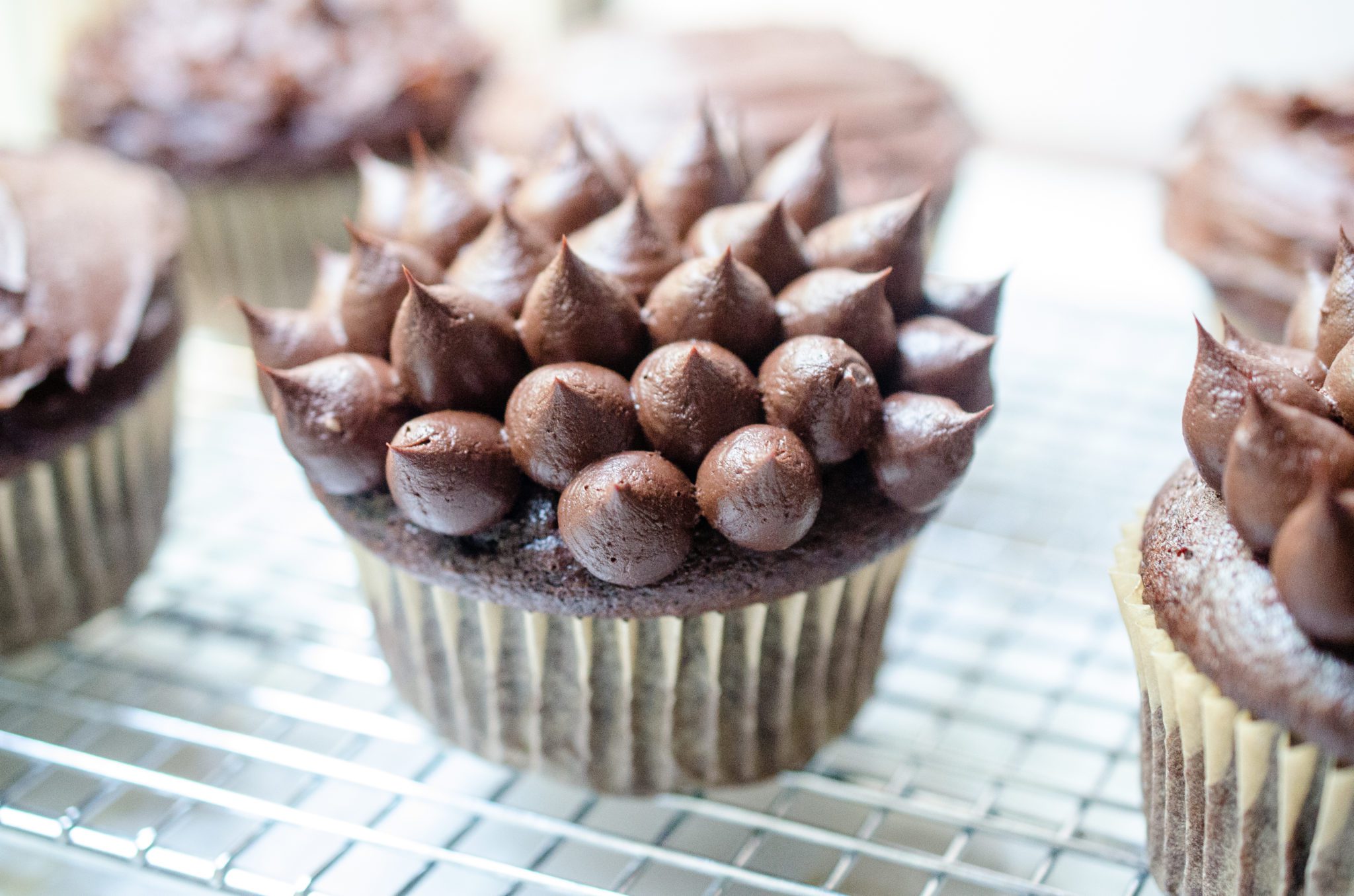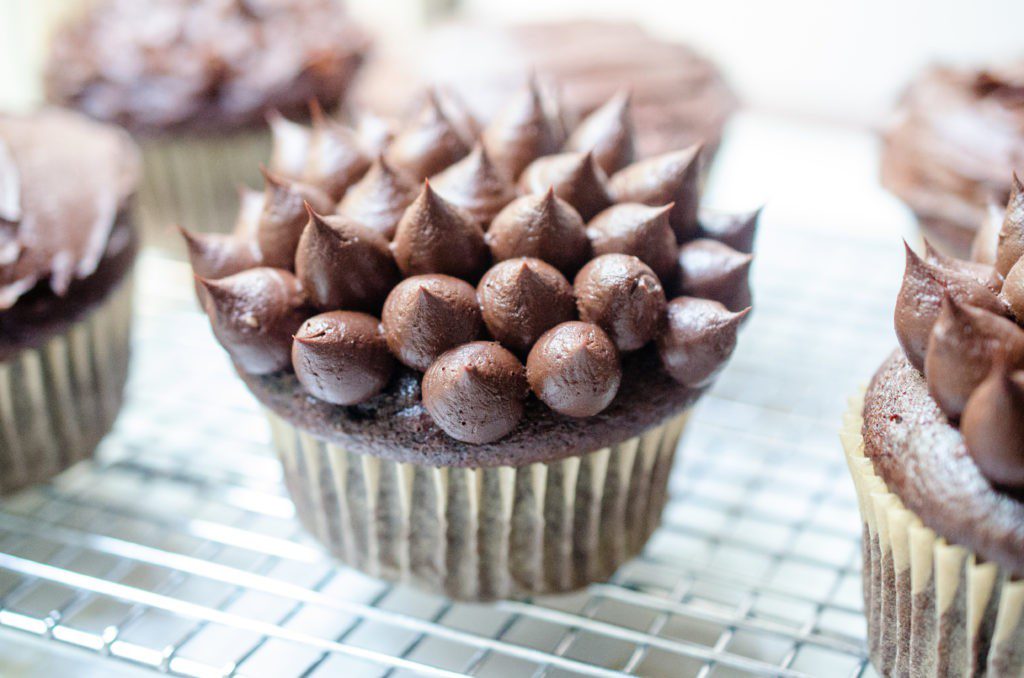 Measured Success
Another secret here is that this recipe makes 1 1/2 cups of batter, enough for 6 regular cupcakes. One of my tips to success with becoming healthier and stronger is not keeping things in the house that are too tempting! Unfortunately, if it's there I want to eat it. So, I like baked goods to be in limited supply. The recipe can be easily doubled if you want to make more. I've calculated that each cupcake is about 10 (green) points. It's not "nothing" but I can feel pretty good about enjoying one of these and being completely satisfied. (I might even wag my tail.)
I spoke to more folks on the phone or in texts this week about Weight Watchers and my success. The response to my before and after picture has been astonishing. And, I am not done yet. I've decided I am looking at losing 10 additional pounds. I want to be super clear – it's not about a number. It's about how I feel and how I feel about my body. I've moved my goal twice.
Happiness and health are not found on a number between your toes — but the former may be found in these Healthy-ish Double Chocolate Cupcakes.
Have a great Labor Day Weekend. Stay safe and well.
Bon Appétit, Y'all
Virginia Willis
PS Join me every weekend for Cookbooks with Virginia! It's my cookbook giveaway on Instagram. I also host a Facebook Live about the featured book every Friday at 11:30 am EST. It's lots of fun — and you can win a free cookbook!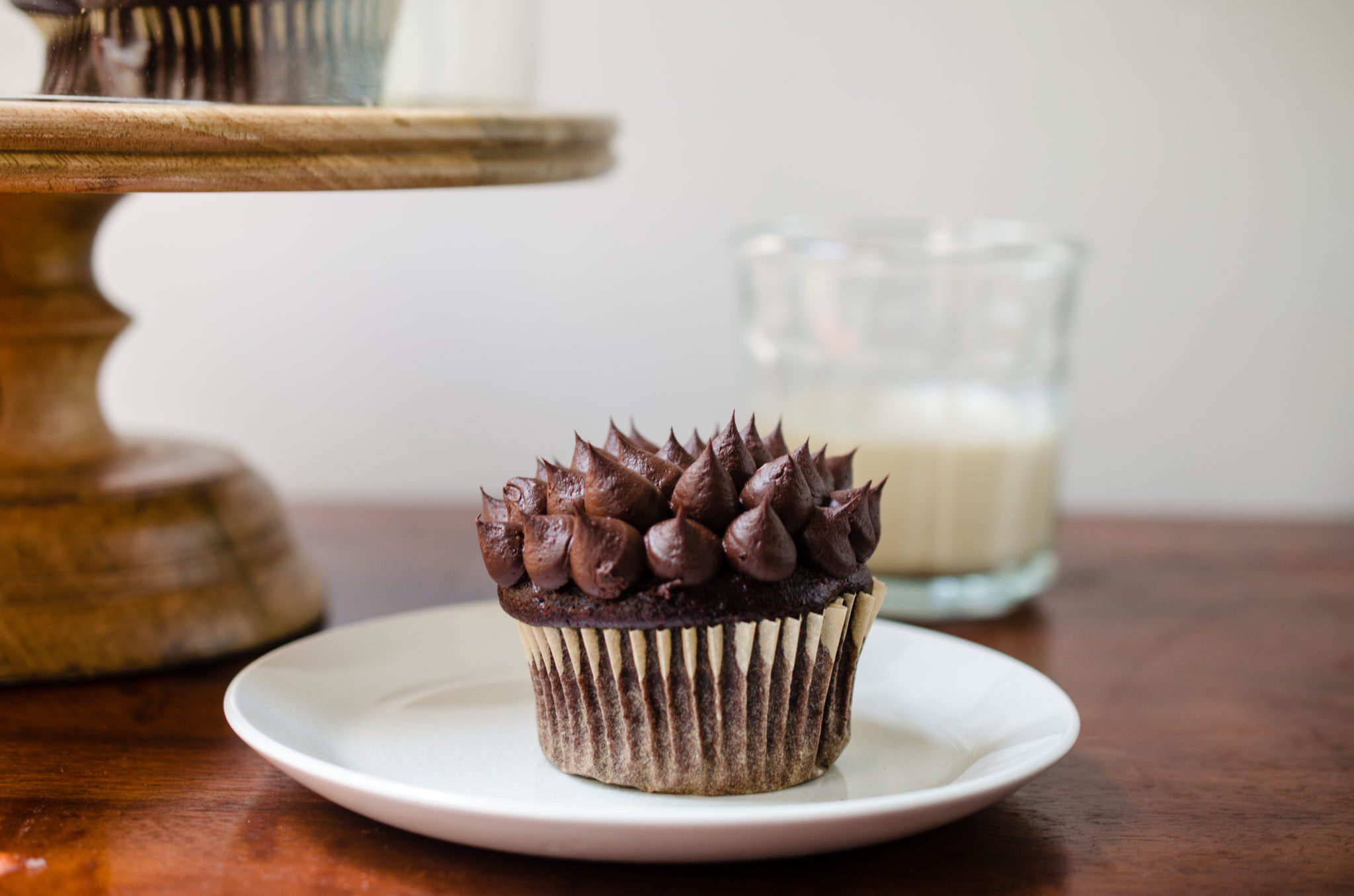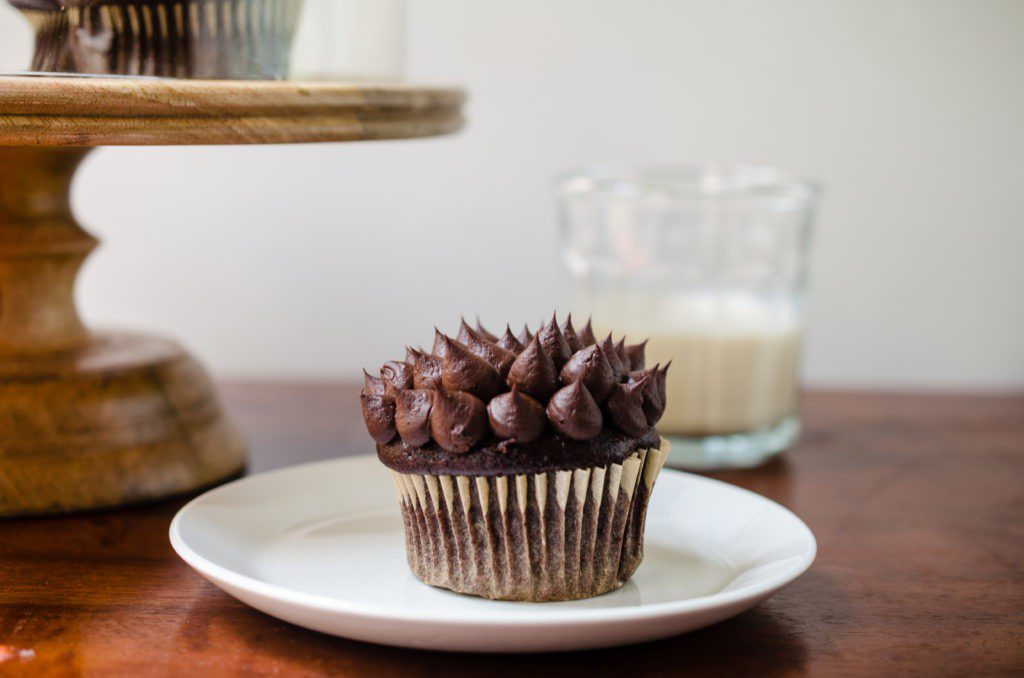 Healthy-ish Double Chocolate Cupcakes
Makes 1 1/2 cups batter to make 6 cupcakes
Ingredients
FOR THE CUPCAKES

1

cup

unbleached all-purpose flour

½

cup

granulated sugar

2

tablespoons

unsweetened cocoa

1/2

teaspoon

baking soda

pinch

fine sea salt

1/3

cup

water

1/4

cup

unsweetened applesauce

1/4

cup

low-fat buttermilk

1

teaspoon

pure vanilla extract

1

large egg

FOR THE FROSTING

2

tablespoons

bittersweet chocolate chips

about 1 ounce

4

ounces

Neufchatel

room temperature

2

tablespoons

dark cocoa powder

2

tablespoons

confectioner's sugar

1

tablespoon

warm water
Instructions
Preheat the oven to 350°F. Line a regular muffin tin with baking cups. Set aside.

To make the cake, combine the flour, granulated sugar, cocoa, baking soda, and salt in a bowl Add the water, buttermilk, vanilla, and eggs; mix well. Pour the batter into the prepared cups. Bake until the center springs back when lightly touched and the sides just start to pull away from the pan, about 13 minutes. Remove to a wire rack to cool.

Meanwhile, prepare the frosting. Place the chips in a bowl and microwave in bursts until melted. Add the remaining ingredients. Stir with a spatula until smooth and creamy. (You can also use a handheld mixer, but if the cheese is warm enough you can certainly do it by hand.)

Ice the cooled cupcakes with the frosting. Serve with a smile.
Please note that this post may contain affiliate links. (That means I make a commission if you use my affiliate link to buy the product.) 
If you are interested in hosting me for a speaking engagement, event, cooking class, or a book signing, let me know! Send an email to jona@virginiawillis.com and we'll be back in touch as soon as possible.
Please be nice. Unauthorized use and/or duplication is prohibited. All photos and content are copyright protected. If you wish to republish this recipe, please link back to this recipe on virginiawillis.com. Thanks so much!
Let's connect on Facebook, Twitter, Instagram, and Pinterest!

Please note that this post may contain affiliate links.