Please note that this post may contain affiliate links.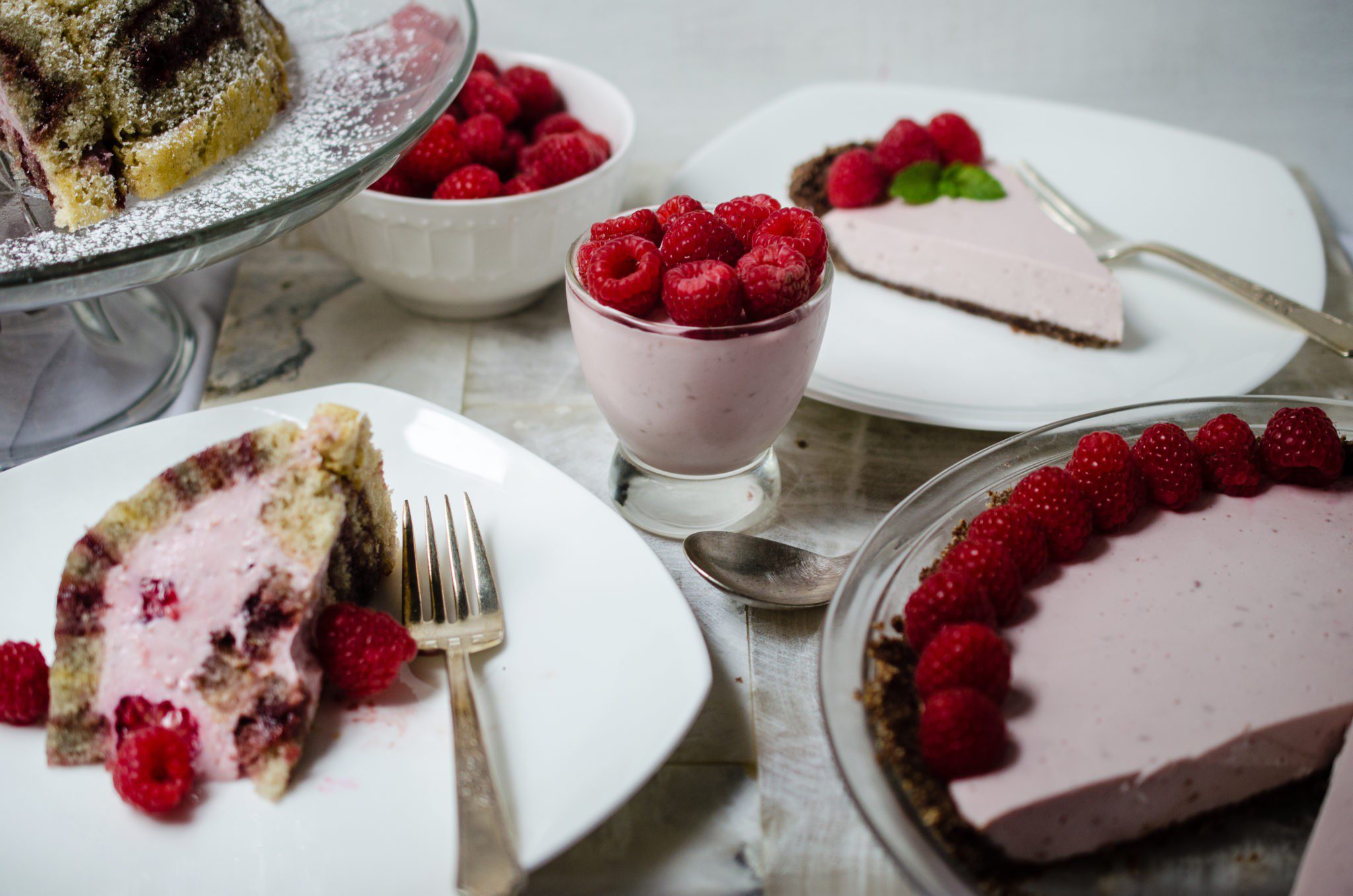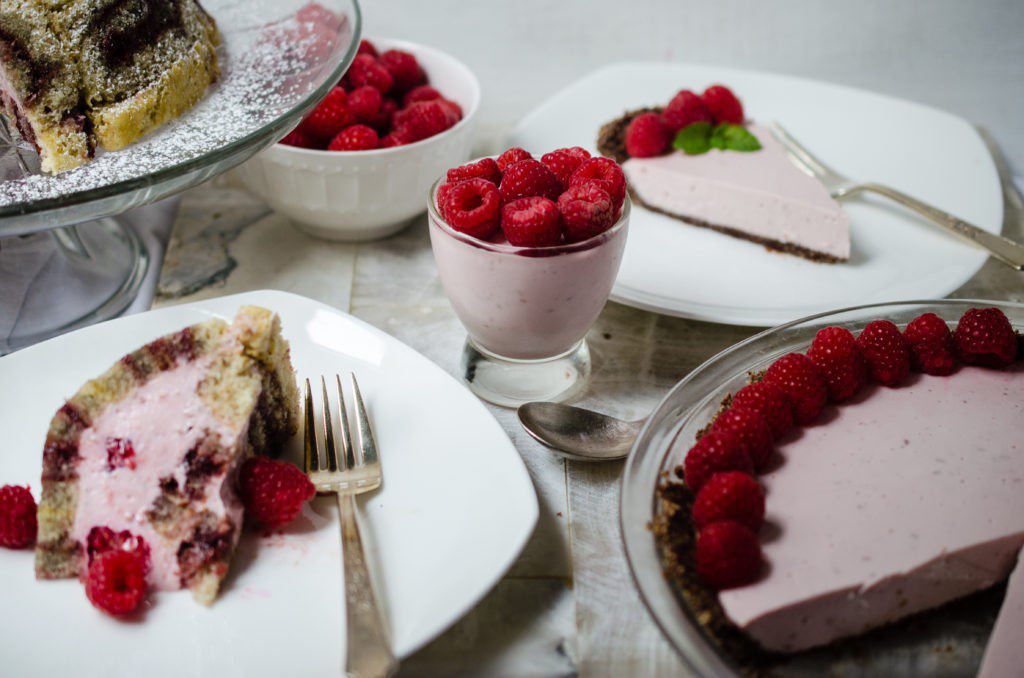 It's hot. Need a dessert? "No-Bake" is the way to go! I hardly want to turn on my toaster, much less the oven.  I'm sharing a recipe for a refrigerated no-bake cream that is super flexible and adaptable. First up, it's served solo, a veritably virtuous Raspberry Yogurt "Mousse." Pour the cream into crisp chocolate cookie crust and it is transformed a delicious, but not too decadent Raspberry No-Bake Cheesecake. And, for kicks and giggles, you can fill a mold lined with slices of sweet cake for a modern yet still pretty fancy Charlotte Royale. Ooh, la la. One filling three ways — and something to satisfy everyone!

Set 'em Up, Joe
Many no-bake desserts rely on whipped non-dairy topping or a can of condensed milk. Mama loves her some Cool-whip, but it's just not my thing. And, condensed milk is really high in sugar and therefore calories. Enter gelatin. I can hear you now and if there was a page to turn, I know you would. Hear me out! Gelatin desserts do not have to be hard like hospital jello blocks or scary wobbly aspics. Gelatin desserts, when set with a proper ration of gelatin to liquid, can be creamy, cool, and refreshing — the perfect antidote to hot summer days and nights.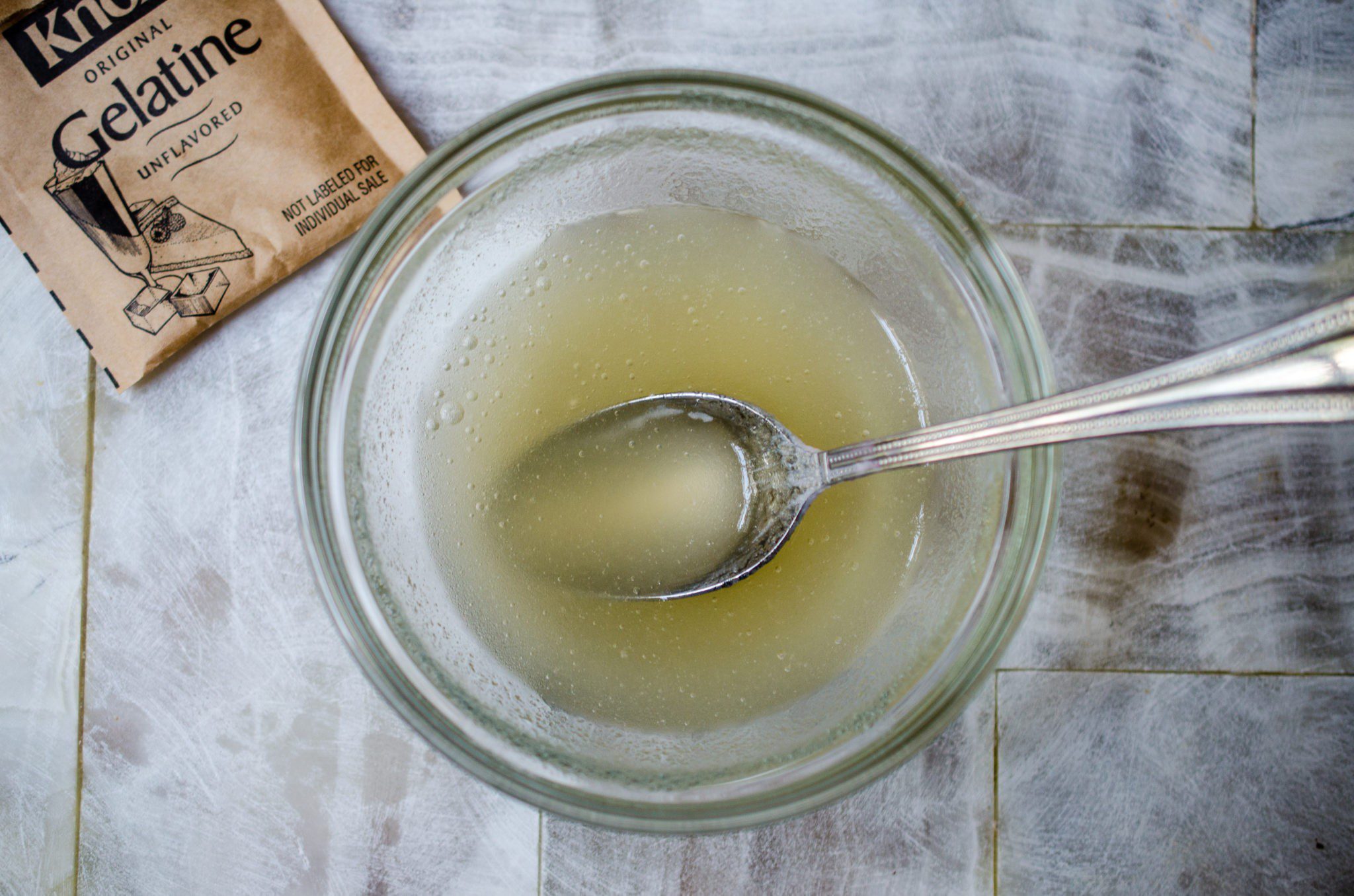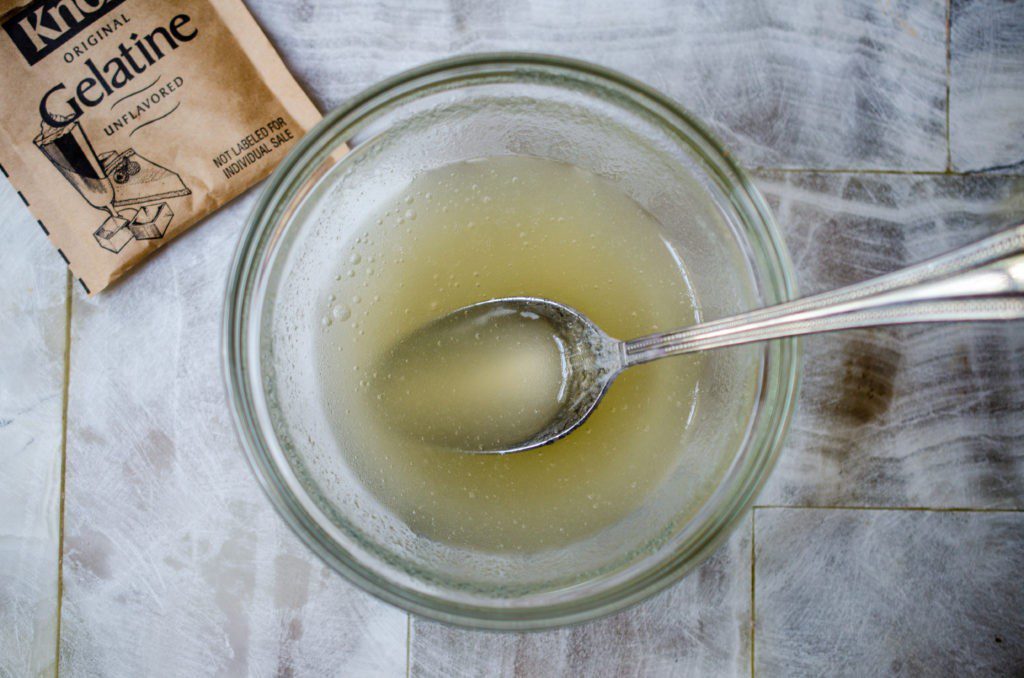 Gelatin
Gelatin is a protein obtained by boiling animal products such as tendons, ligaments, and, or bones with water. It's what makes stock and demiglace rich and unctuous. If you are vegan or vegetarian, gelatin is not for you. Agar-agar can be used to set mixtures, but I will admit my experience is limited.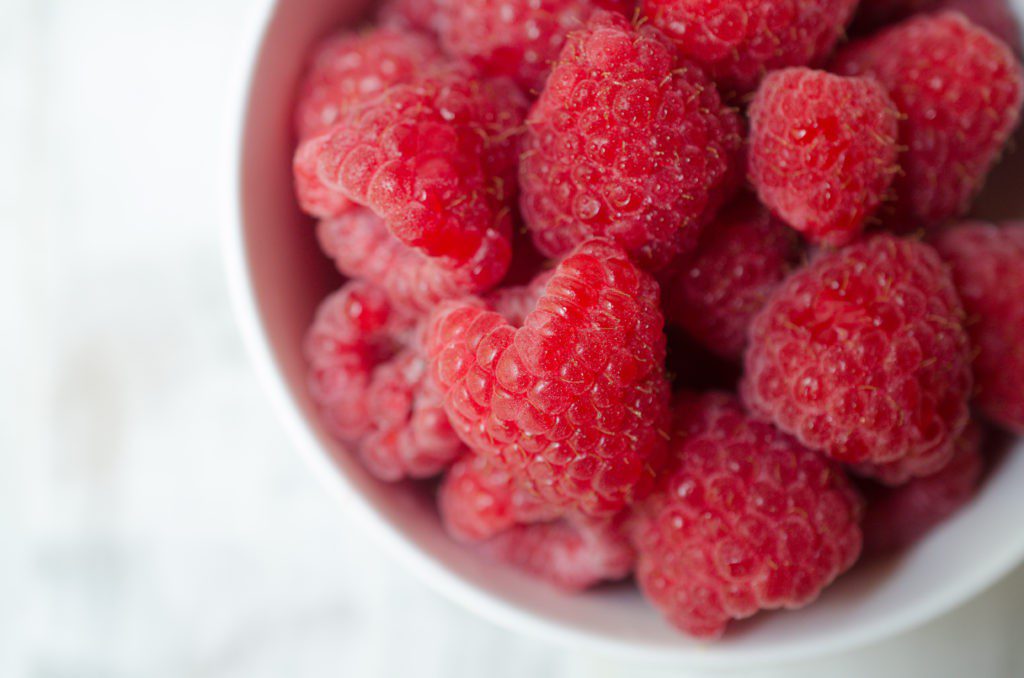 How to Use Gelatin
What seems tricky about gelatin for people is that it has to be rehydrated before being heated. The process is called "to bloom." It's simple. You combine gelatin and water to rehydrate then heat it to melt it.
For this amount of mixture, we're using one packet. Stir to combine the gelatin and water in a microwave-safe bowl, making sure that all of the granules are moistened. Then, simply zap the mixture in the microwave until it's melted. It couldn't be easier. The molten gelatin is blitzed into the fruit-cheese mixture and there you go. In this recipe, I am using raspberries. You could also use pitted cherries, blueberries, blackberries, or strawberries.
The primary brand, Knox, is available in most grocery stores. Some of you may be familiar with gelatin sheets, also known as leaf gelatin.  You can successfully mix and match sheet gelatin for powdered gelatin in any recipe by using the following formula 1 (0.25 oz.) envelope granulated gelatin = 1 tablespoon powdered gelatin = 3 sheets leaf gelatin.
One envelope of powdered gelatin (about 1/4 ounce) is about  2 1/2 teaspoons. One envelope of gelatin will firmly set 2 cups of liquid, enough to unmold a dessert. One envelope of gelatin will softly set 3 cups of liquid. You will not be able to unmold this type of dessert. This is the ratio we are using for our No-Bake Cheesecake.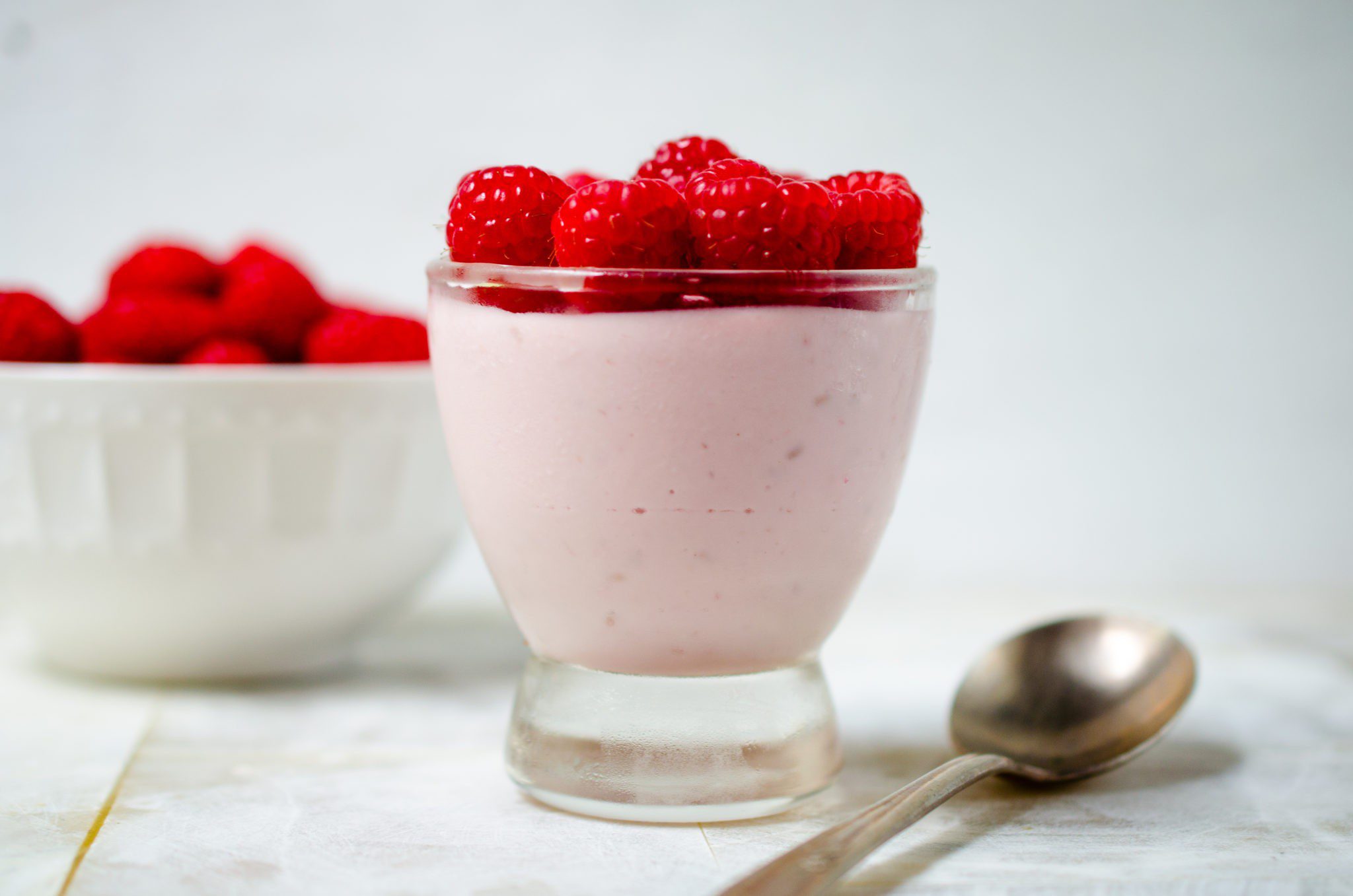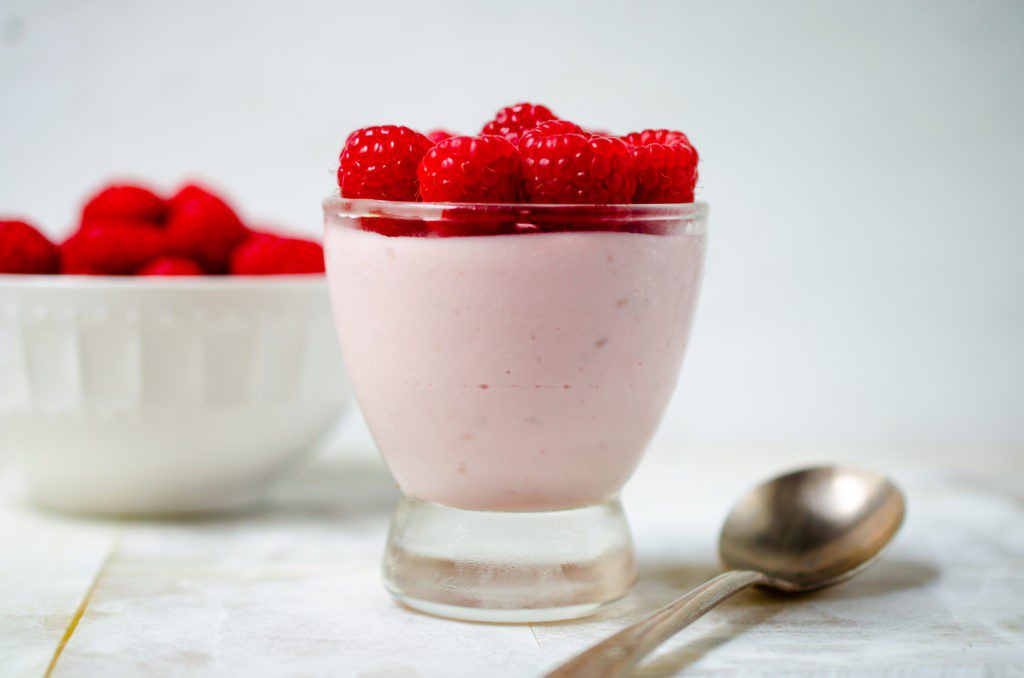 Raspberry Yogurt Mousse
Mousse is the French word for "foam." A mousse is a light and airy, sweet, or savory creamy preparation with a foam-like texture. Perhaps the most famous mousse is Mousse au Chocolat an ethereal confection made from chocolate, eggs, and sugar. As a classically French-trained cook and History Major, I can be pretty particular about tradition. I know this is not a classic mousse. However, whipping the berries into the Neufchatel and yogurt *does* create a light, mousse-like filling.  Fruity, tangy, smooth, and rich, this lightened up mousse is fantastic served on its own, topped with additional berries. Add a crispy cookie or a dreamy dollop of cream for an indulgent treat.  (One half-cup serving is about 5 points.)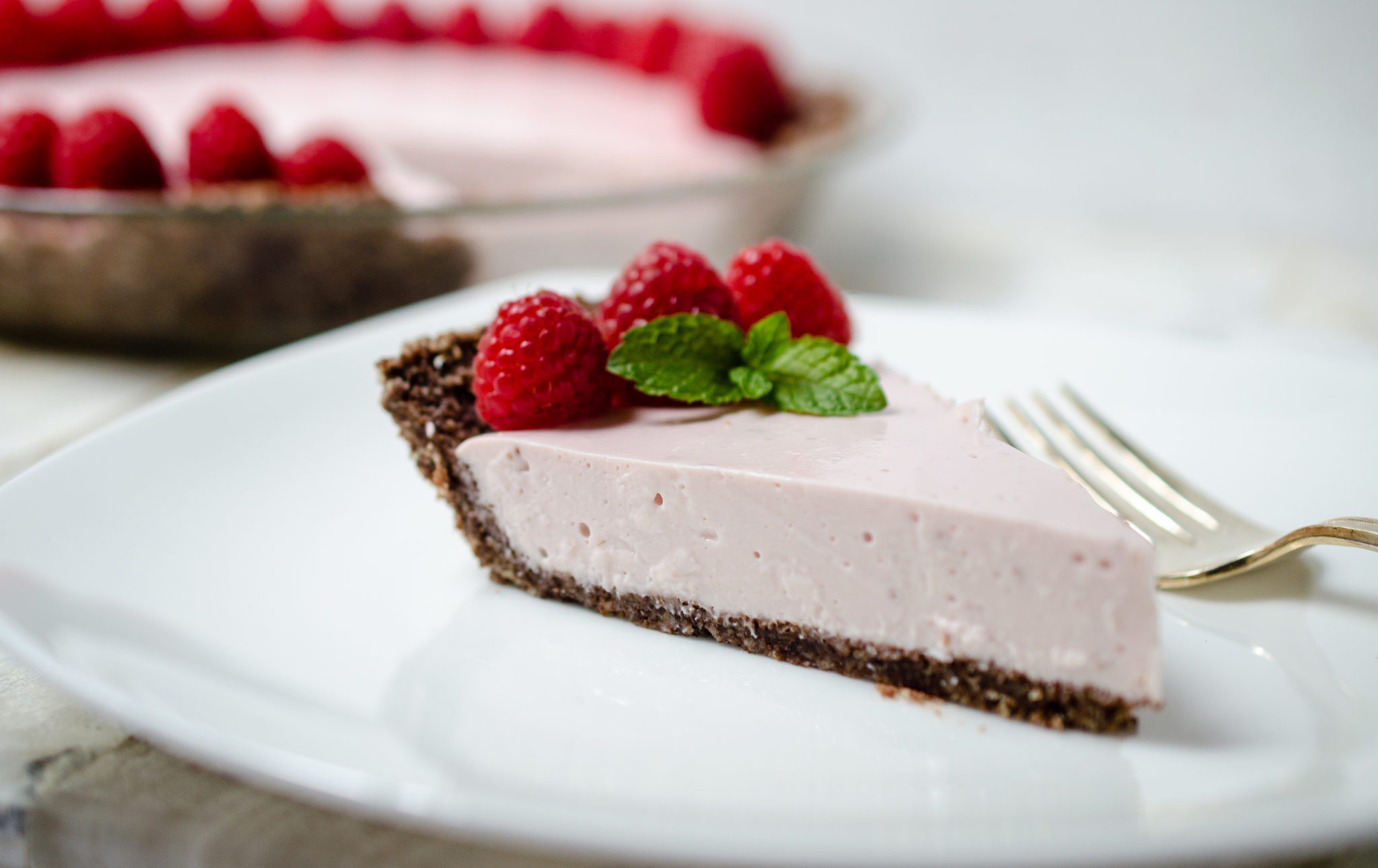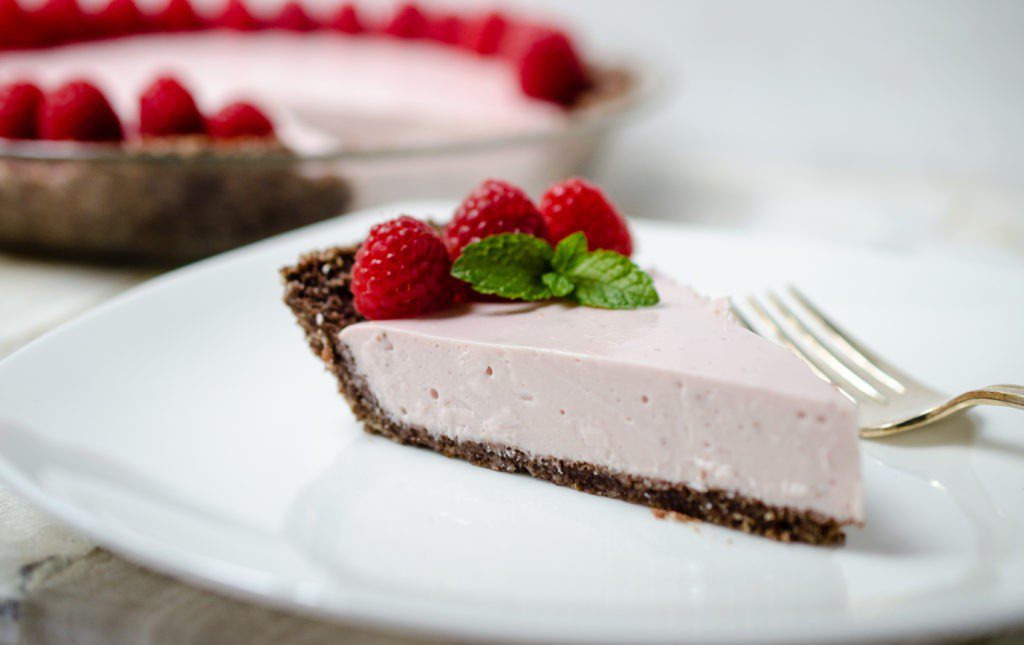 Chill out with Cheesecake
Traditional New York-style cheesecakes are laden with eggs, cream cheese, and copious amounts of sugar.  A baked cheesecake is a special treat and a wonderful thing, there's no doubt. No-bake cheesecake is a very different dessert. Once again, they are often set with a non-dairy topping or condensed milk. Most no-bake cheesecakes also contain heavy cream – and wow do those points add up fast.
Using raspberries, Neufchatel, yogurt, and gelatin make for a creamy filling without all the fat. Neufchatel is simply cream cheese with 1/3 less fat and can be found adjacent to the cream cheese at the grocery store. I'm using a combination of chocolate wafers and almond flour for the crust. The cookies are for the flavor and crunch while the almond flour increases the nutritional density. Chocolate and raspberries are great together! This is truly one of my favorite new recipes and is going into the keeper file. (One 1/8th slice of pie is 12 points and 1/16th is 6 points.)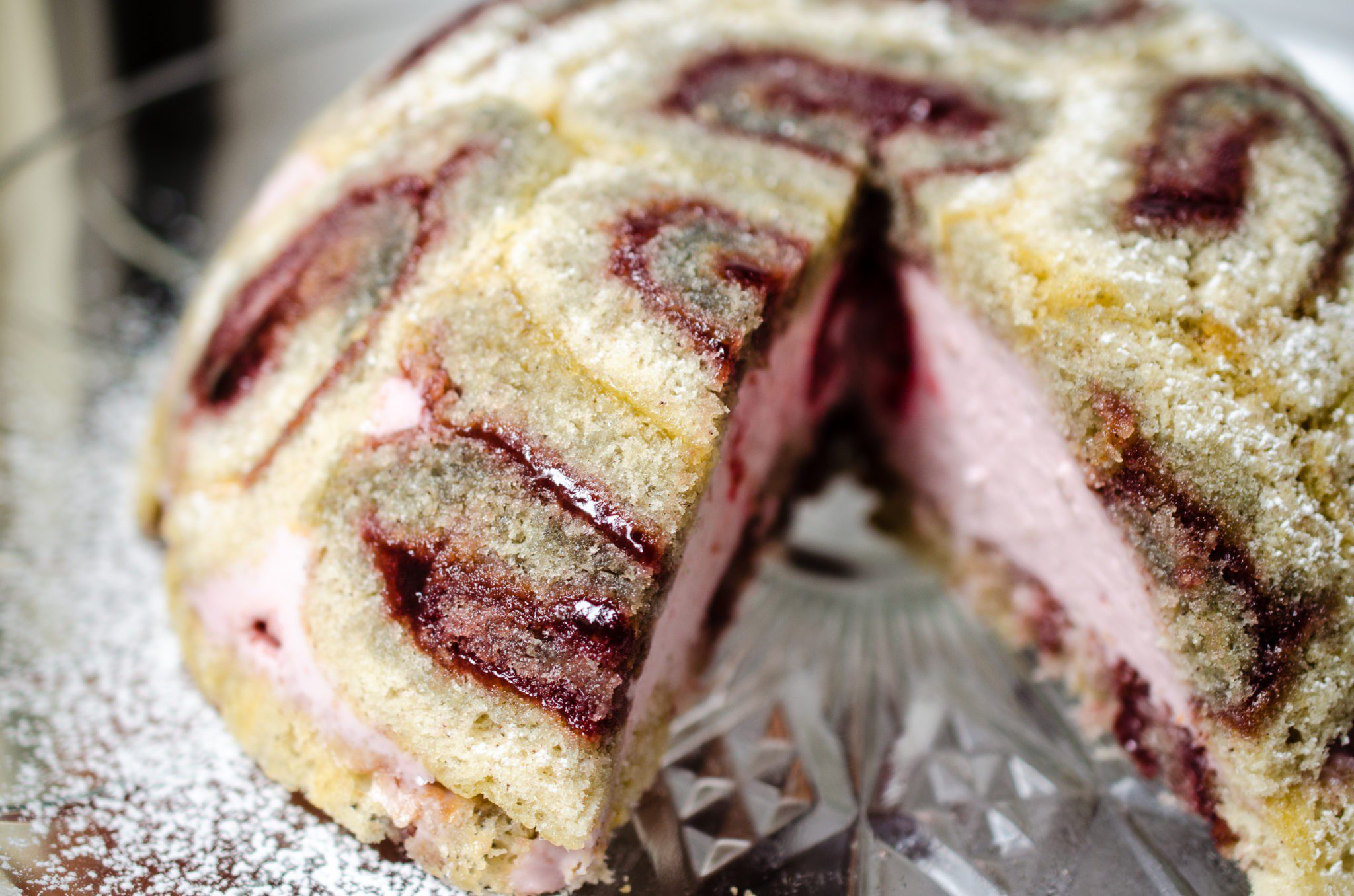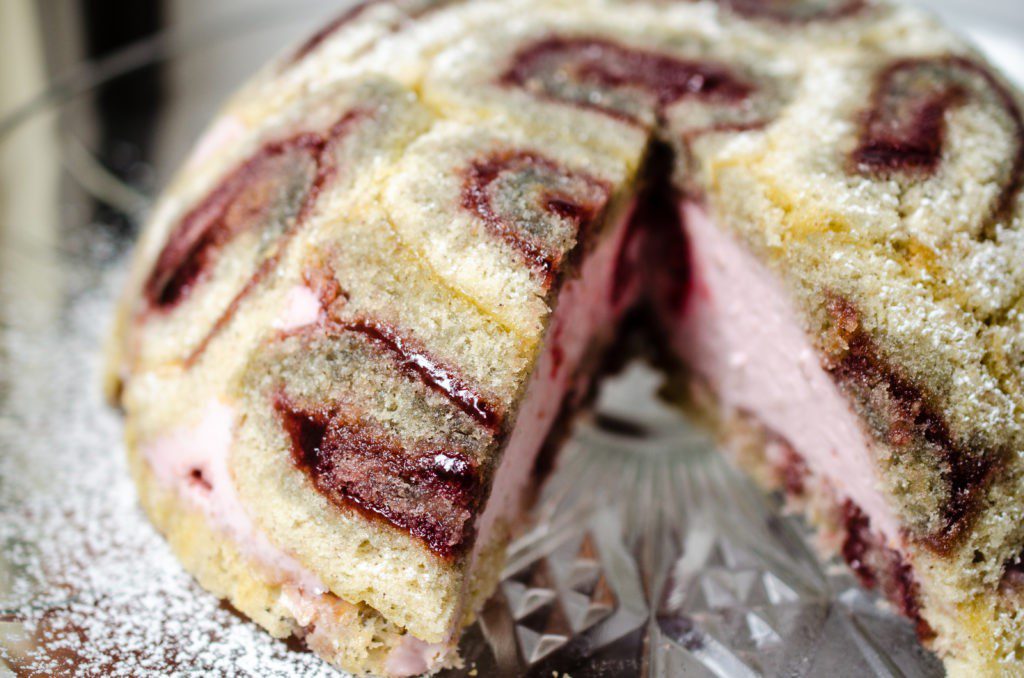 Charlotte Royale
Charlotte Royale is a traditional dessert comprised of a Swiss roll filled with raspberry jam that is sliced and used to line a mold. (A Swiss Roll is simply a rolled, filled cake.) The lined mold is filled with a Raspberry Bavarois – essentially a Creme Anglaise that has been lightened with whipped cream and set with gelatin. Once the Bavarois is set the mold is turned out and you have a fantastic swirly outer layer of cake filled with a rich, creamy mousse. It's one of those multi-component classic desserts that mostly exist in the kitchens of pastry chefs. In this instance, I am subbing out the Raspberry Bavarois with the Raspberry Yogurt Mousse. (Even with some adjustments, 1 slice of the Raspberry Charlotte Royale comes in at nearly 14 points per slice, but look how glorious she is!)
I know this last version is a bit of a culinary stretch, but it's how I think about components of dishes. Once you understand the technique and know the amounts that a recipe makes you can mix and match.
The Raspberry Yogurt Mousse makes 3 cups. It's enough to fill 6 1/2-cup servings of mousse, a 9-inch pie plate for a no-bake cheesecake, and a 1.5-quart bowl lined with cake slices for a Charlotte Royale.  I LOVE looking at recipes this way — knowledge gives you options. Simply put, it's thinking like a chef — even when it's too hot to turn on the oven.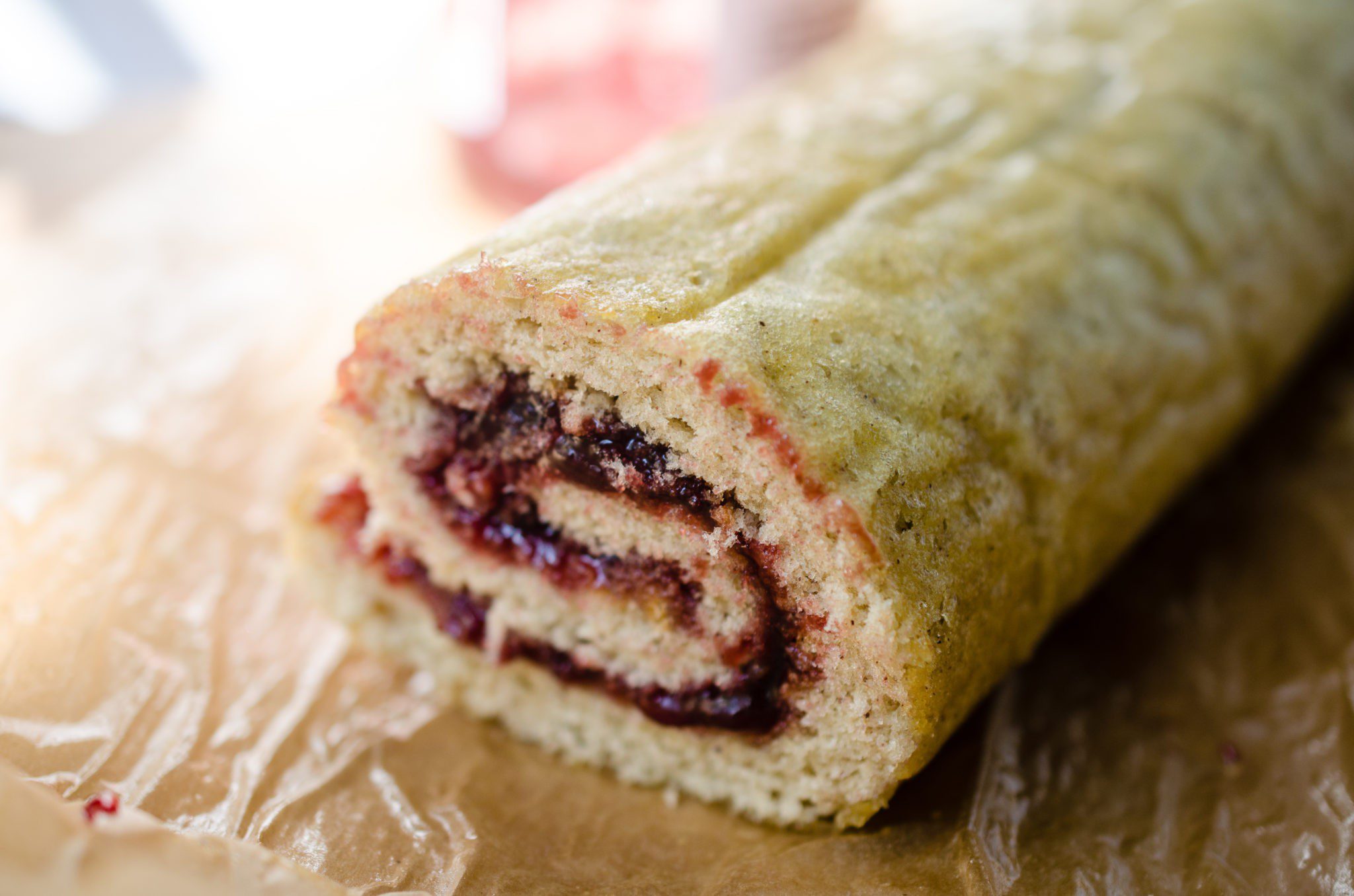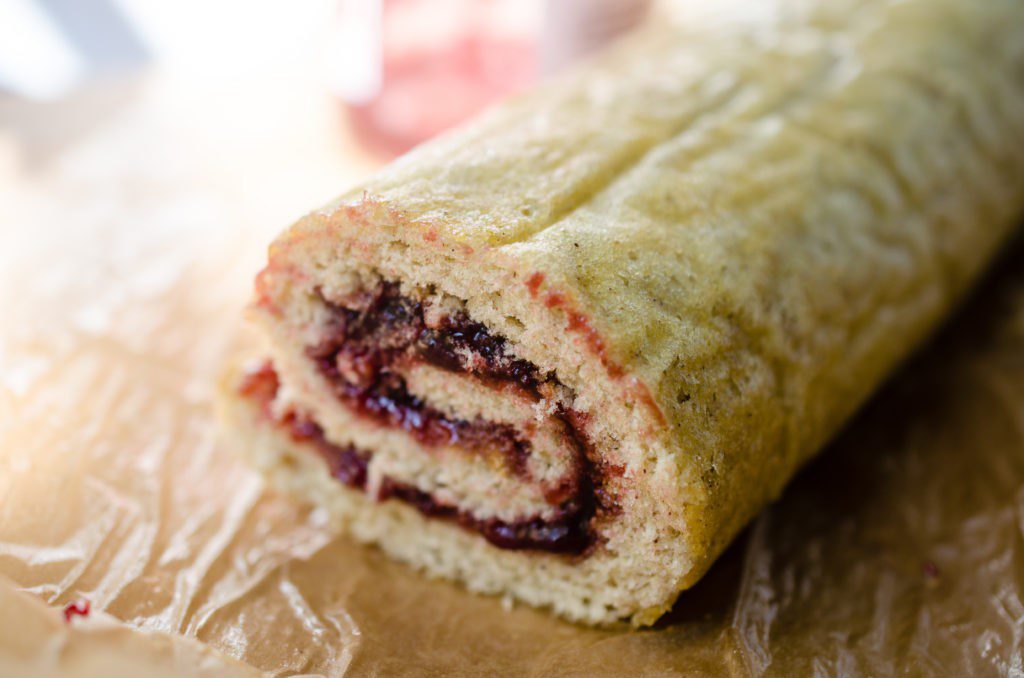 WW for the Win
Many, many of you — an astonishing number, really of people have reached out about my weight loss and their own desire to get healthy and lose weight.
Going forward, I will be taking this into greater account on this blog and in my recipes. I figure I may as well share with you what I really eat!  I follow Weight Watchers and have a more macro approach. I seldom use fat-free and sugar-free, but I do make adjustments where I can. ( I love the 0% Icelandic skyr, for example, but find the Greek 0% too chalky. It all has to taste good!) My recipes are 98% scratch cooking. You'll find chef-inspired recipes that are good and good for you – as well as realistic for home cooks.
My philosophy is that I'd rather eat something really good. And I say don't cut a micro sliver that's just going to irritate you, much less satisfy you. Have a damn piece of cake with the whipped cream or the chocolate pie with the bourbon sauce. Just know that it's all about choices, and maybe the next choice is a zero point piece of fruit. Or, you can also have one of these rich, creamy desserts that's both delicious and healthy, or at least healthy-ish.
Thanks so much for reading. All the comments, emails, and texts have been amazing. I am so happy to share my experiences, both my successes and failures. And, all I have to say is you can do it, too!
Bon Appétit, Y'all
Virginia Willis
PS Need more no-bake desserts? Check out my indulgent  Chocolate Pudding on Food Network or my light and healthy Cantaloupe Popsicles!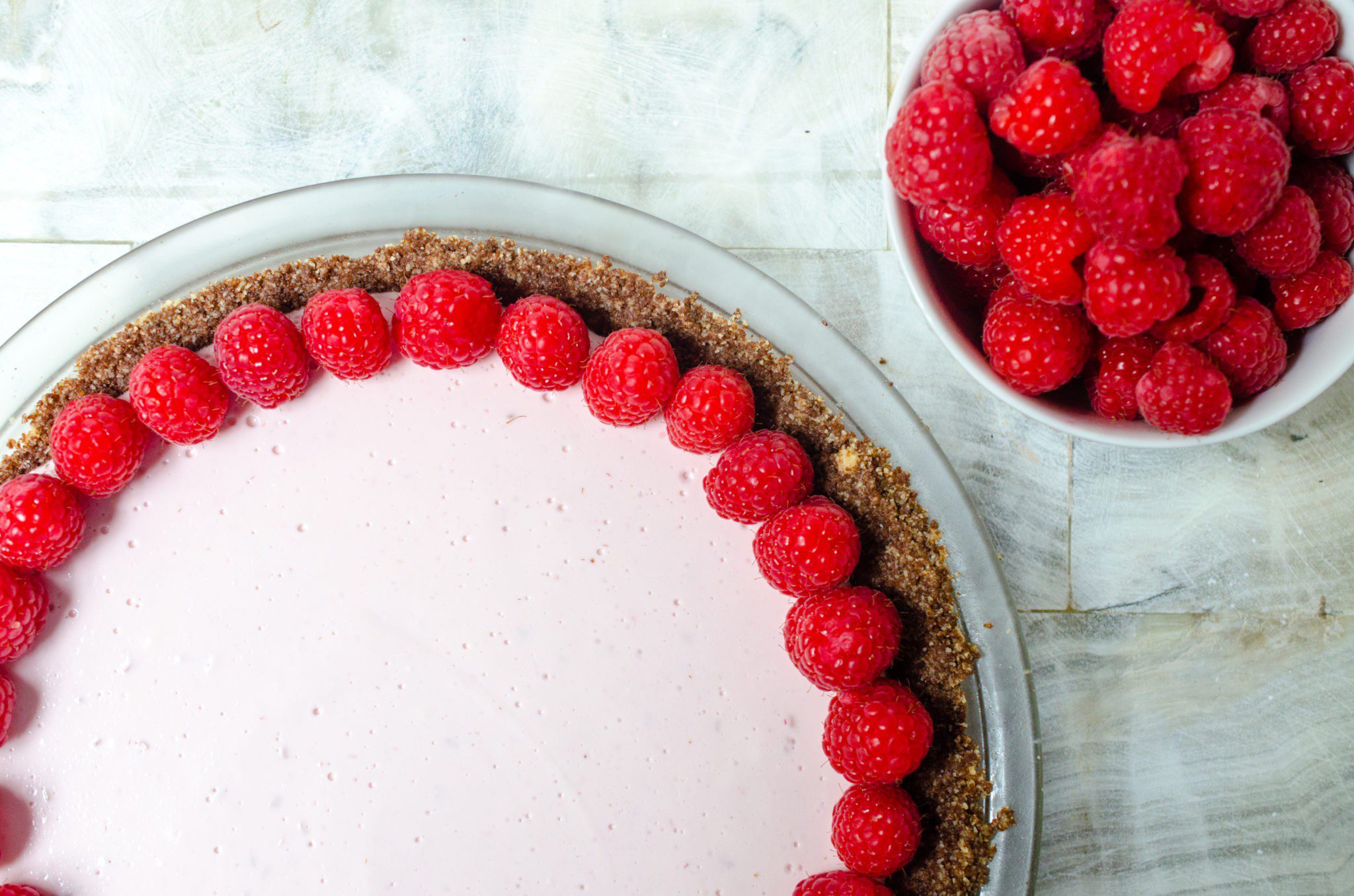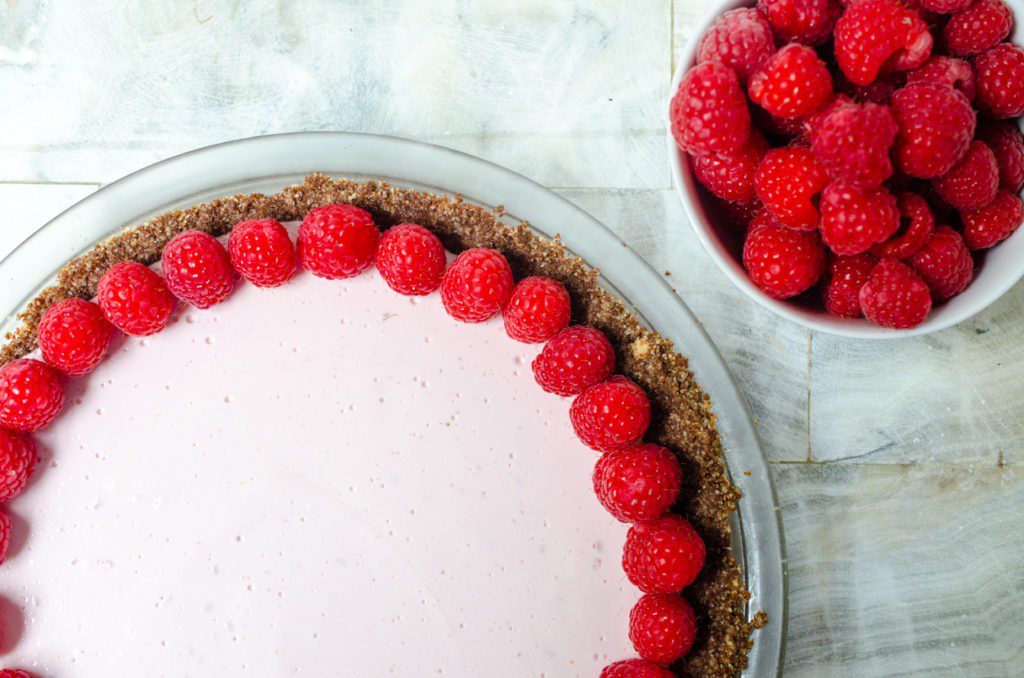 Raspberry No-Bake Cheesecake
One fruity no-bake filling can transform into three distinctive desserts!
Ingredients
For the No-Bake Pie Crust
8-10

chocolate wafers

about ¼ pound/100 grams, crushed

½

cup

almond flour

¼

cup

unsalted butter

1

tablespoon

sugar
For the Mousse
1 .25

ounce

envelope granulated gelatin

¼

cup

water

1 8-

ounce

block Neufchatel

room temperature

1

cup

0% Icelandic yogurt

1/2

pint

raspberries

more for garnish

2

tablespoons

sugar

or to taste
Instructions
If making pie, prepare the piecrust first. Heat the oven to 350°F. In a medium bowl, heat the butter in the microwave until melted. Add the crushed cookie crumbs, almond flour, and sugar. Stir until well combined. Press in an even layer into the bottom of a 9-inch pie plate. Transfer to the oven and bake until set, about 15 minutes. Set aside to cool.

Combine the water and gelatin in a small bowl. Stir to combine. Set aside.

Combine the Neufchatel and yogurt in the bowl of a food processor fitted with the blade attachment. Pulse until smooth. Add the raspberries and sugar.

Zap the gelatin and water in the microwave until liquid, about 45 seconds. With the motor running, add the liquefied gelatin to the whirling raspberry mixture. Process until smooth.
If making Raspberry Yogurt Mousse cups, pour ½ cup into 6 cups and refrigerate until set, at least 2 hours.
If making the No-Bake Cheesecake, pour into the piecrust and refrigerate until set, at least 2 hours.
If making the Charlotte Royale, line the bowl with the prepared cake (see recipe below.) Pour filling into the prepared bowl and top with remaining cake. Refrigerate until set, at least 3 hours.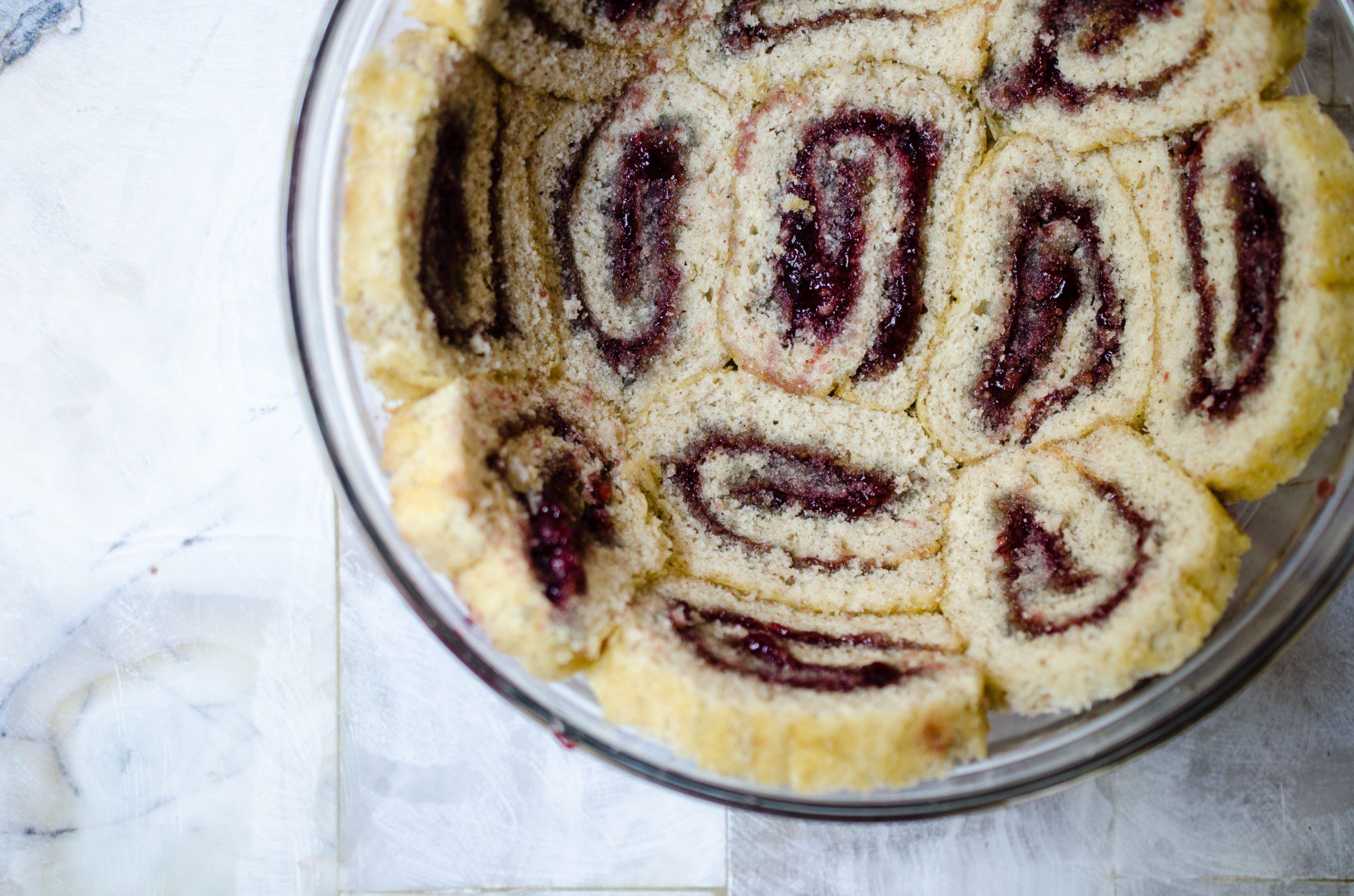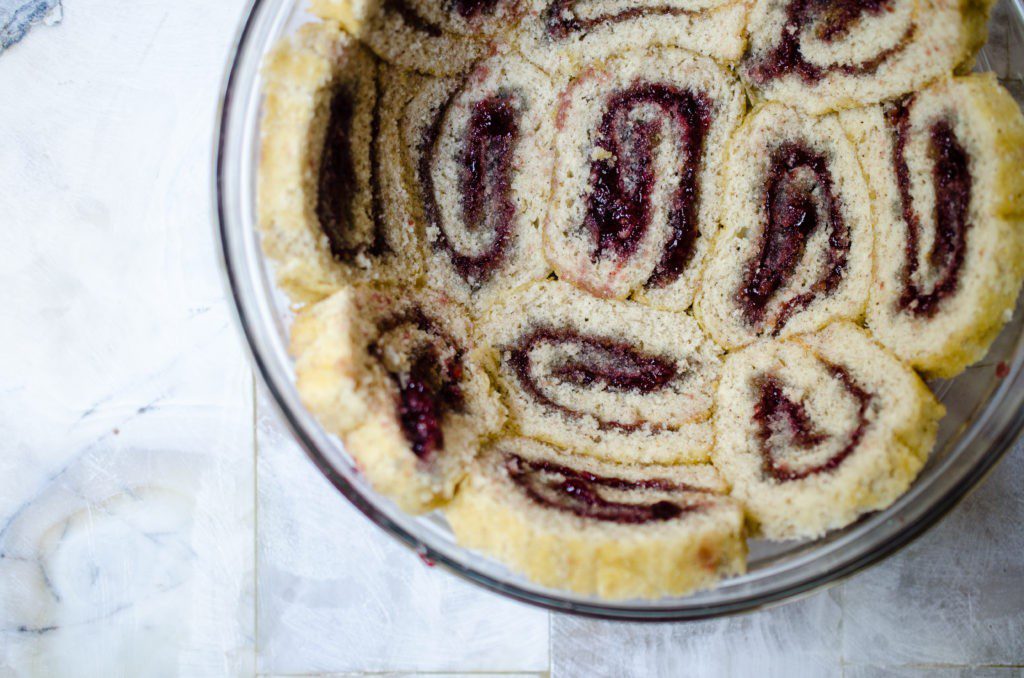 Swiss Roll aka Rolled Cake
Ingredients
Nonstick cooking spray

1

cup

flour

1

teaspoon

ground ginger

½

teaspoon

baking soda

½

teaspoon

plus 1 pinch kosher salt

divided

5

large eggs

room temperature

¾

cup

sugar

1

teaspoon

pure vanilla extract

1

cup

seedless raspberry jam
Instructions
Adjust oven rack to the middle rack. Heat the oven to 325°F. Spray a 18- by 13-inch rimmed baking sheet with nonstick cooking spray. Line with parchment paper. Spray the parchment paper. Set aside.

Whisk the flour, ginger, baking soda, and salt in medium bowl; set aside. In the bowl of an electric mixer fitted with a whisk attachment beat the eggs and sugar on medium high until pale yellow and thick, about 5 minutes.

Sift the flour mixture over the egg foam. Fold until combined, making sure to scrape the sides and bottom of the bowl. Pour the batter into the prepared pan and spread to an even thickness with the spatula. Bake until cake is firm and springs back when touched, about 18 minutes. Before cooling, run a knife around edge of cake to loosen.

Dust lightly with confectioner's sugar. Place a clean kitchen towel on top and quickly flip the cake on to a clean work surface. Lift and remove the pan. Remove and discard the parchment paper, if necessary. Dust lightly with confectioner's sugar. Starting with the long side, carefully roll up the cake in the kitchen towel. Transfer to a sheet pan or plate and place seam side down. Refrigerate until cool, at least one hour.

Once the cake has cooled, return it to a clean work surface. Gently unroll the cake. Spread raspberry jam across the cake to within about ½-inch of the edge. Snugly reroll the cake in the cloth and return to the refrigerator to chill until firm, about one hour. (Cake can be made a day ahead, but will need the added precaution being sealed in plastic wrap.)

When ready to slice, remove from the cloth or plastic wrap and transfer to a clean work surface. Trim the ends then cut into pieces about ¼-inch thick. Tightly line the bowl with the slices of cake. Pour in prepared filling. Top with additional slices of cake. Chill until firm.
Join me every weekend for Cookbooks with Virginia! It's my cookbook giveaway on Instagram. I also host a Facebook Live about the featured book every Friday at 11:30 am EST. It's lots of fun — and you can win a free cookbook!
Please note that this post may contain affiliate links. (That means I make a commission if you use my affiliate link to buy the product.) 
If you are interested in hosting me for a speaking engagement, event, cooking class, or a book signing, let me know! Send an email to jona@virginiawillis.com and we'll be back in touch as soon as possible.
Please be nice. Unauthorized use and/or duplication is prohibited. All photos and content are copyright protected. If you wish to republish this recipe, please link back to this recipe on virginiawillis.com. Thanks so much!
Let's connect on Facebook, Twitter, Instagram, and Pinterest!

Please note that this post may contain affiliate links.