Please note that this post may contain affiliate links.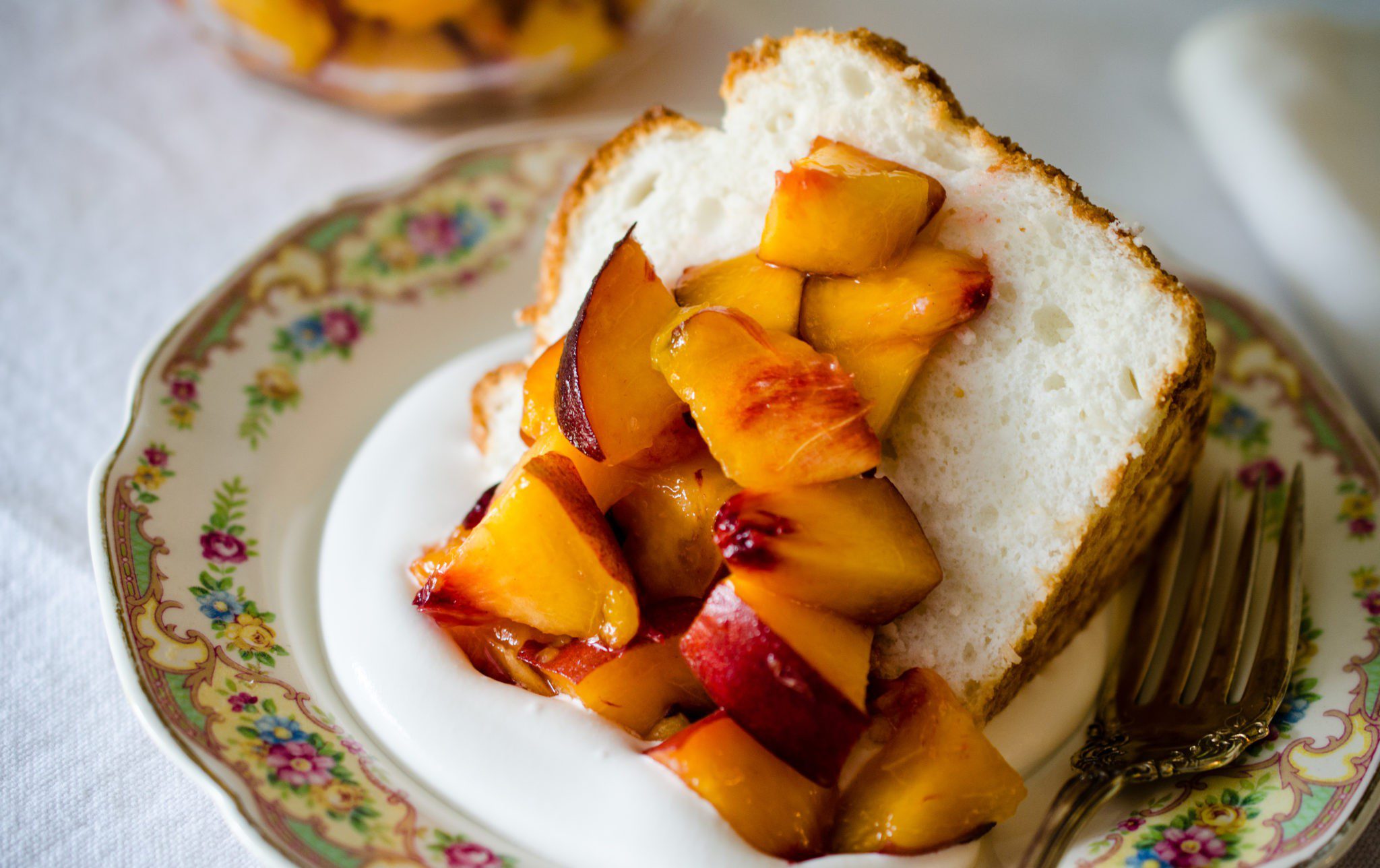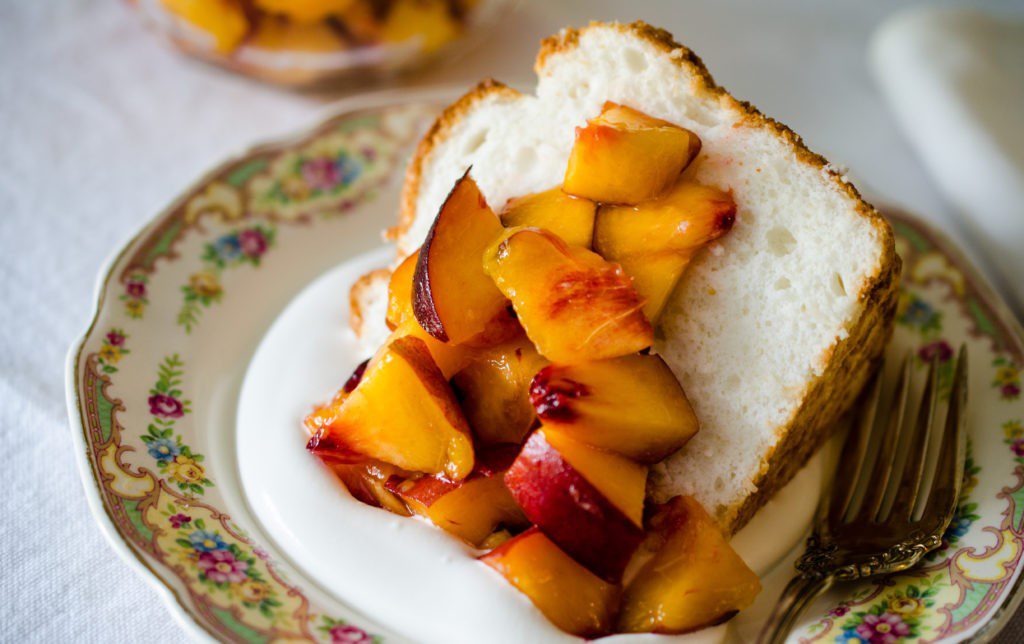 Look at those luscious Georgia peaches! During peach season I love eating them fresh as well as making jams and jellies. Each and every summer Mama peels and slices the peaches and packs them into sealable plastic freezer bags. Most often, they appear later in the year as a topping for Angel Food Cake. Angel Food Cake is a classic cake and one of my favorites. Did you know it is a low fat cake? It's practically health food. Ok, that part's not true, but it is a really good cake and as far as cake goes, it's one of the more healthy cakes. And, that's why you can feel positively virtuous and still serve it with those beautiful Georgia peaches — and decadent dollops of whipped cream.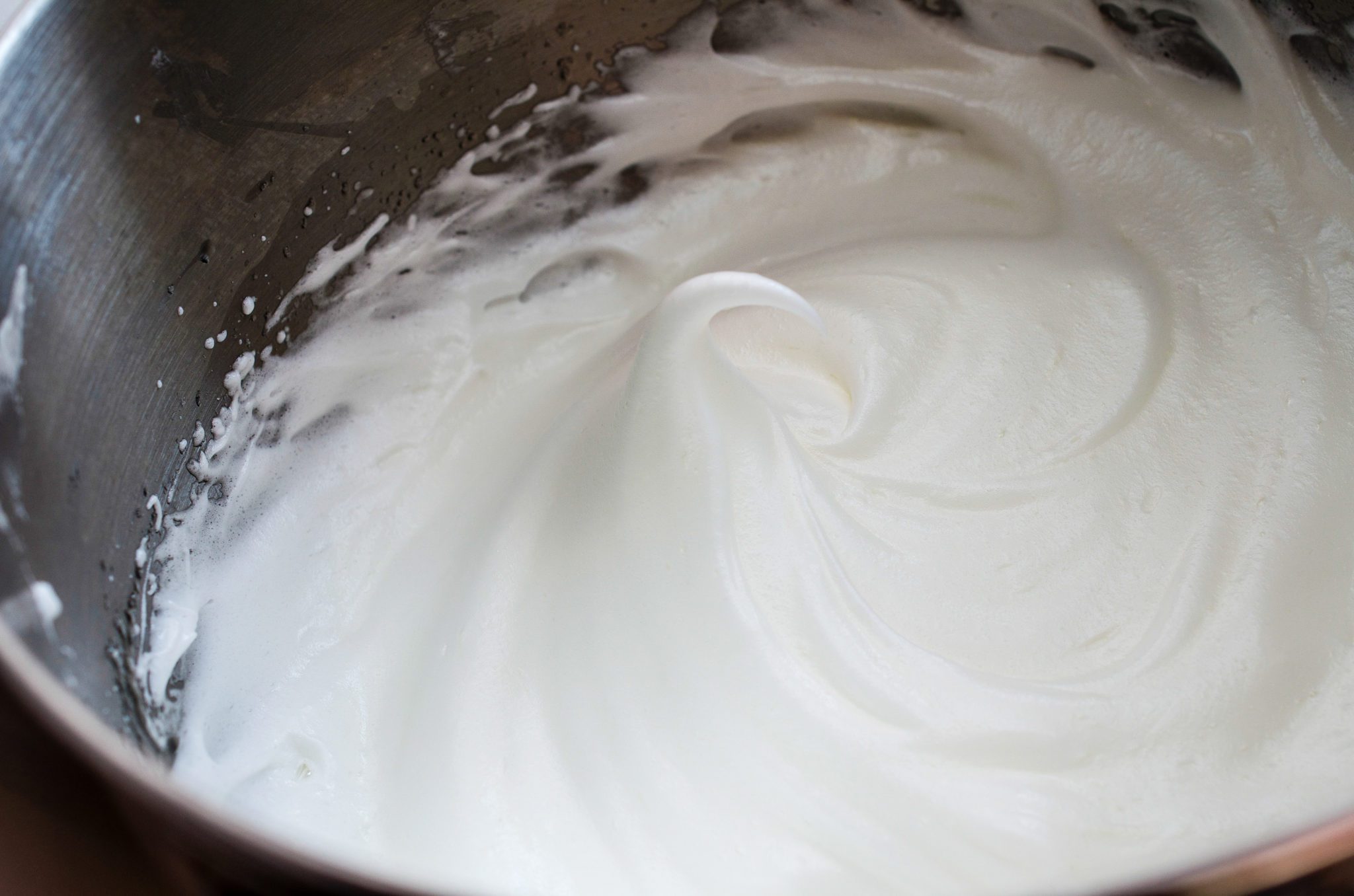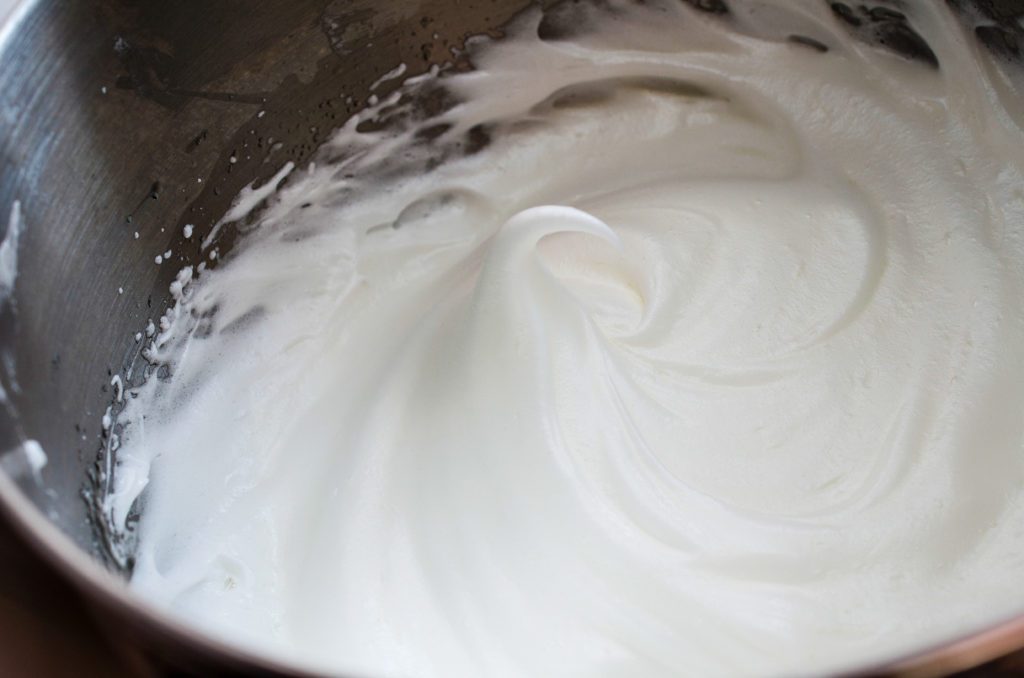 Rise up!
Angel Food Cake is a meringue-based cake. Egg whites are fat free, hence the health halo. Egg whites also are why this cake rises. Baking soda and baking powder aren't the only ways to leaven baked goods: Egg whites are another leavener. And, eggs give structure, too. You know how an egg becomes firm when you fry it in a skillet? That same reaction with the proteins occurs in the baking process, as well. The proteins firm up and give an Angel Food Cake structure.
A meringue is when egg whites have been beaten with sugar to form a thick, stiff foam. A meringue is the foundation of an Angel Food Cake. Different textures are achieved by varying the methods of mixing the sugar and the egg whites, and varying the baking times and temperatures. Meringue can top a lemon meringue pie, cover a retro baked Alaska, or be dried in the oven as a Pavlova or meringue cookie. It can also serve as the foundation for cakes and souffles.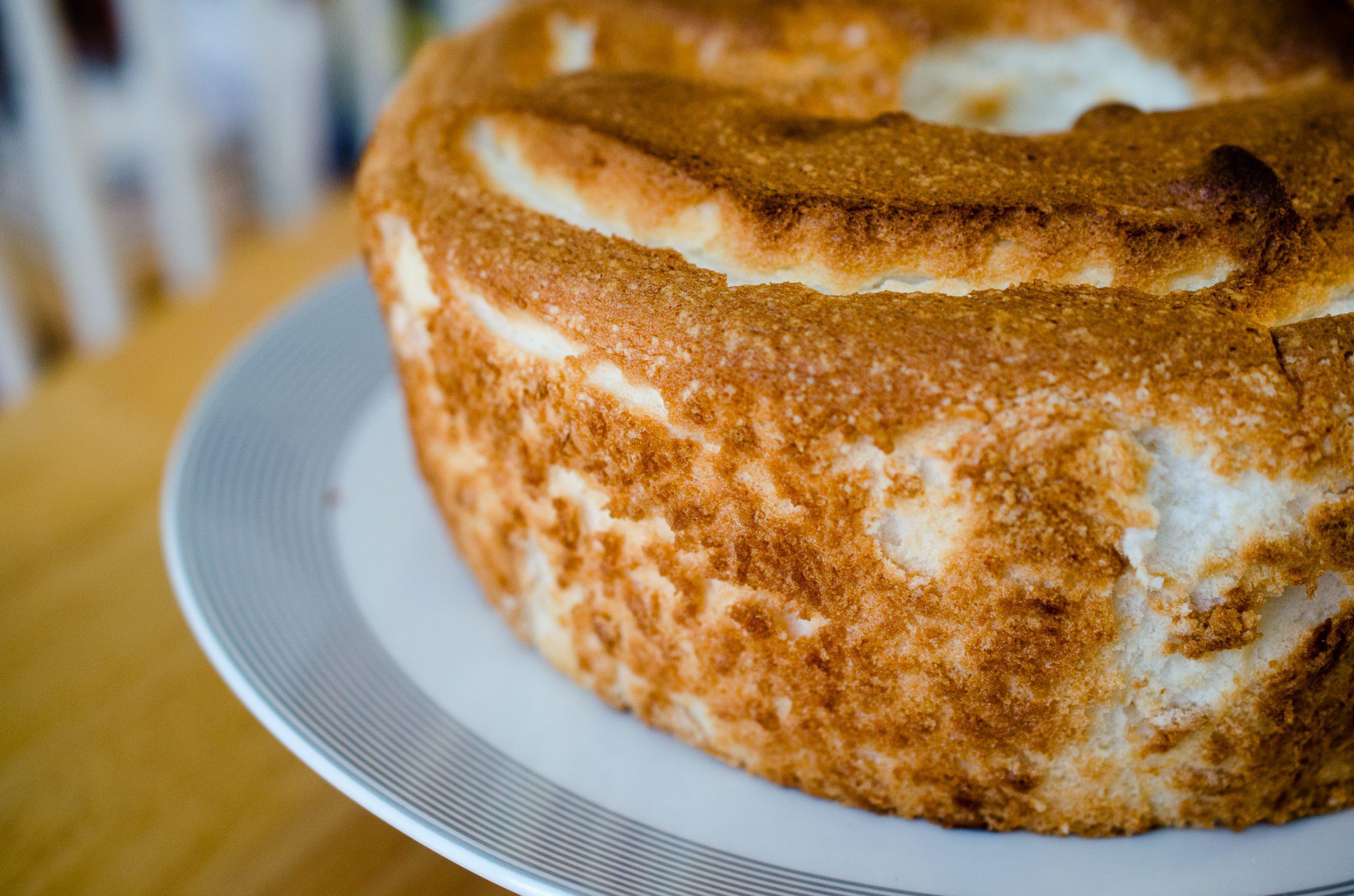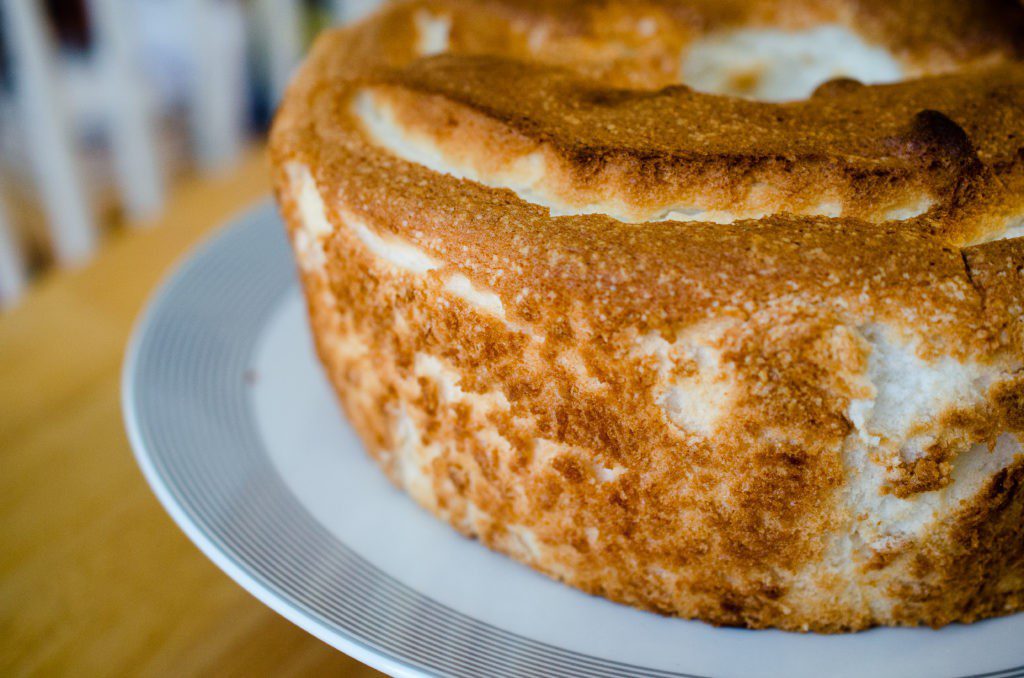 Whip it Good
French Meringue is the simplest meringue and one that most people are familiar with in the pastry kitchen. This type of meringue is the least stable but also the lightest, which makes it perfect for angel food cake.
Check out my video on Facebook for How to Make French Meringue PLUS a recipe for Baked Meringues!
Plant-Based Meringue
Aqua Faba aka "water bean" is the starchy liquid found in canned beans, but what really makes it really fascinating as a baking ingredient is that it whips and creates a foam very similar to an egg white foam. While other bean liquid can be made into meringue, the liquid from canned chickpeas consistently produces the best results. Aqua Faba can be transformed into meringue cookies, used within cakes for structure, or made into vegan mousse. Three tablespoons of aquafaba is equivalent to about one whole egg, while two tablespoons of aquafaba is equivalent to about one egg white. A can of chickpeas yields about 1/2 to 3/4 cup of this liquid, so about eight to 12 tablespoons.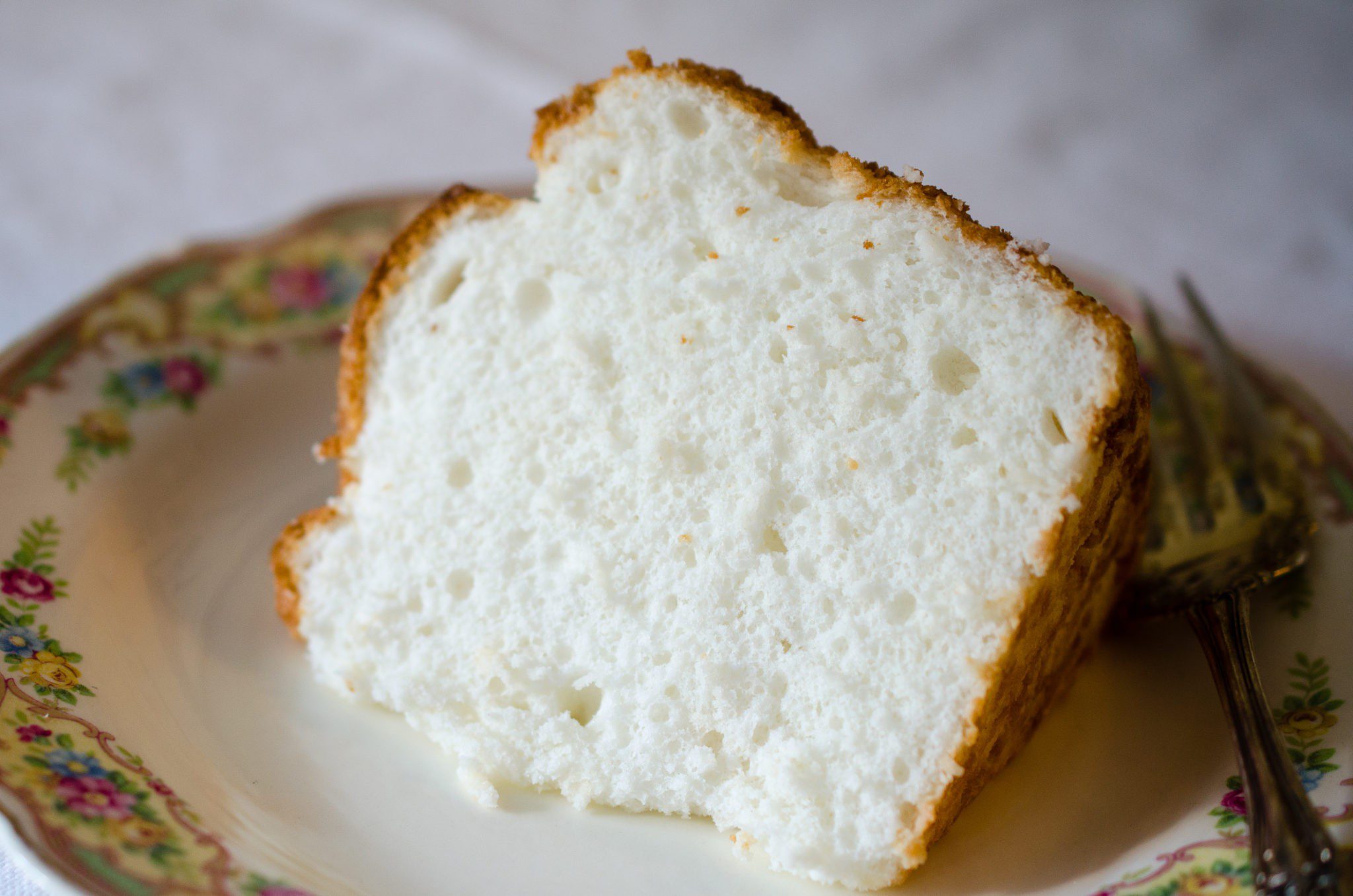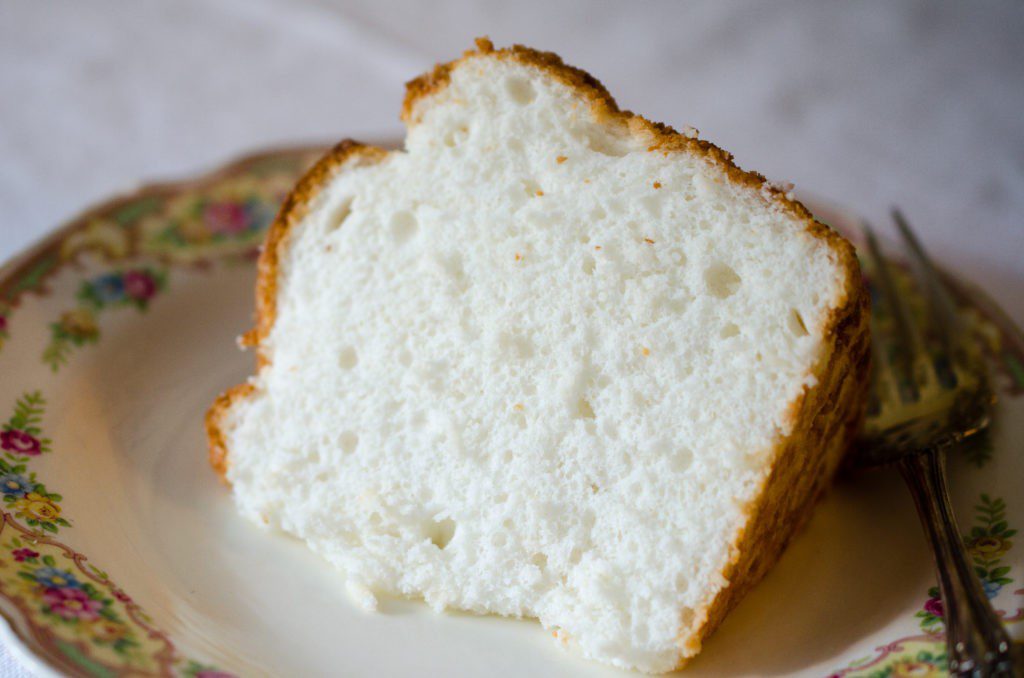 Flour Power
Once the meringue is beaten and stabilized, it is necessary to add the flour. To achieve that angel food texture, it is necessary to sift the flour before measuring it for this cake. This is an anomaly; if flour is sifted at all these days (not that common anymore), most baking recipes call for sifting after it is measured. Here, the flour is sifted once before measuring, then an additional four times with the sugar to prepare this batter. It may seem like overkill, but it is completely necessary to achieve the traditional light-as-air texture of angel food cake.
Cake flour is milled from soft white flour and has lower gluten content than other flour. Gluten is a protein found in wheat flour when liquid is added and mixed. It becomes the framework for any flour mixture and gives cohesiveness to dough. High gluten content is desired when making bread, but low gluten content is desired when making biscuits, cakes, and pastries.
Almost all cake flour is bleached. In delicate cakes, the bleached flour gives a little acidity to a batter resulting in a cake with a crumb that's fine and white. Better grocery stores carry cake flour, but it is in a box, not a bag as regular flour is. (Make sure not to buy self-rising cake flour that already contains the leavener.)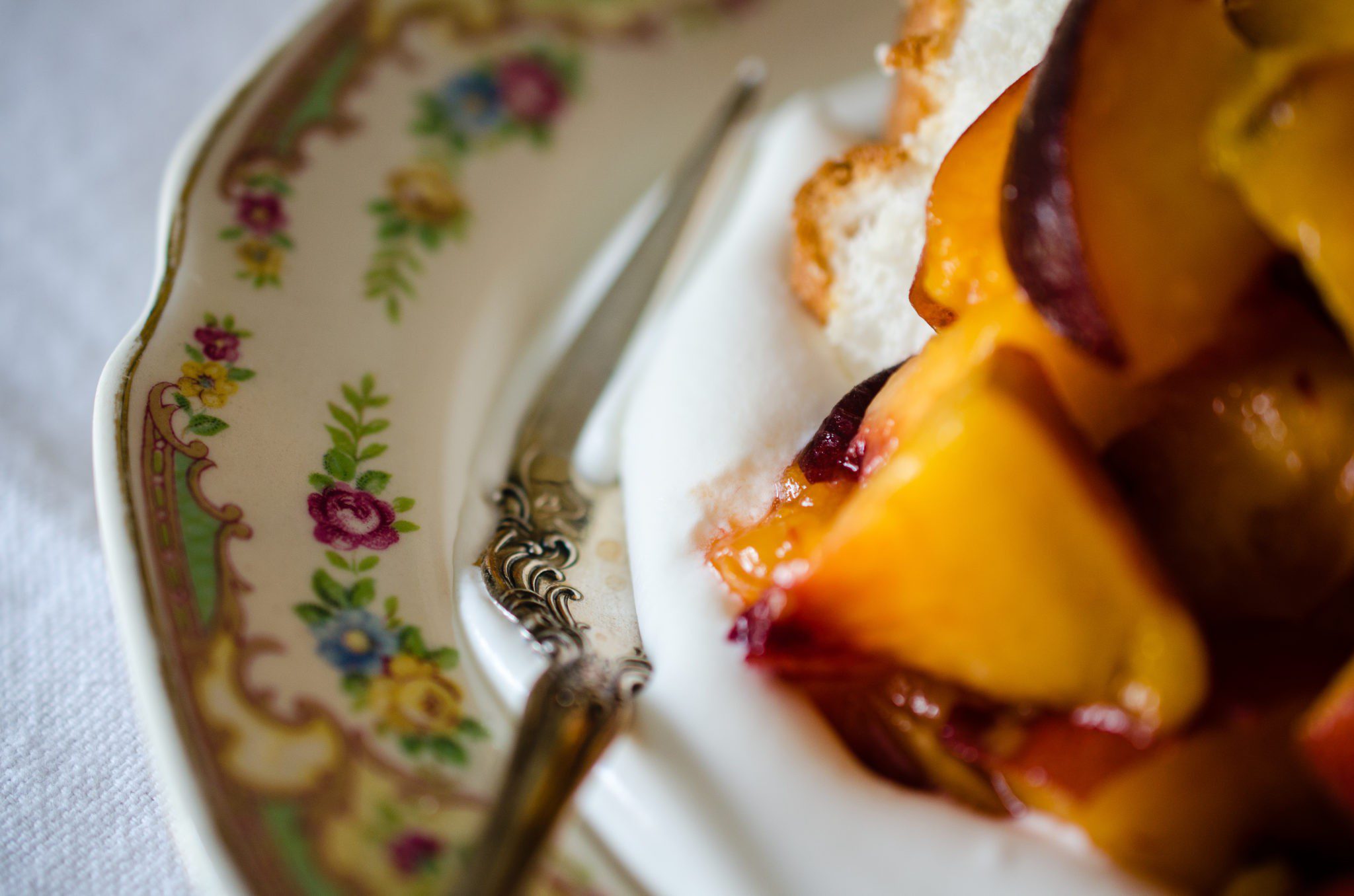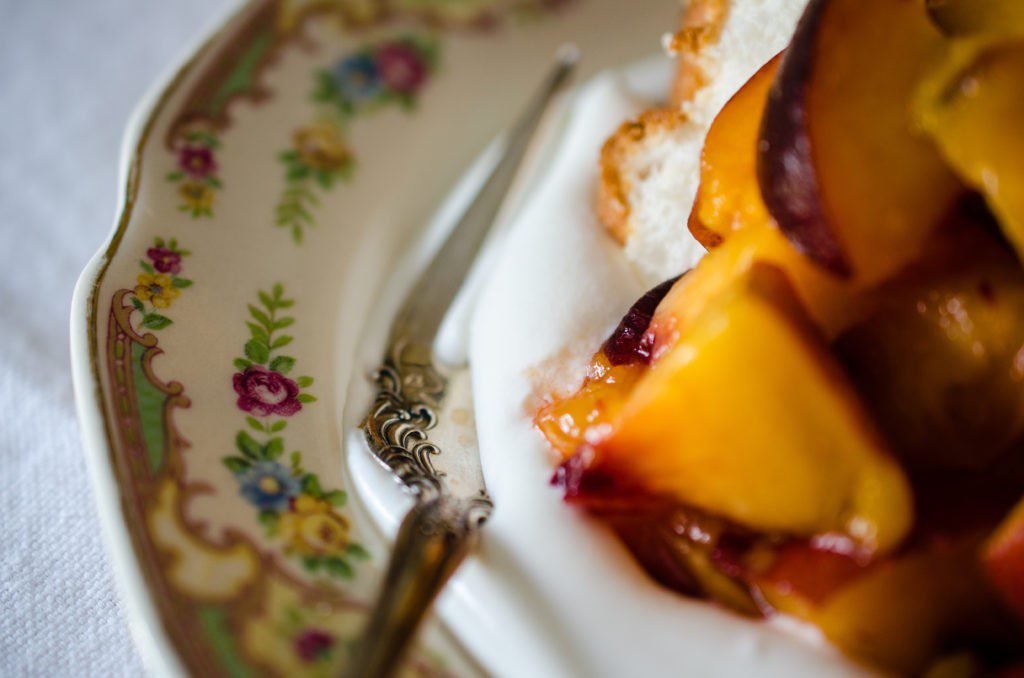 Peaches and Cream
Peaches and whipped cream are iconic. Peaches and cream served with Angel Food Cake is absolutely legendary! Angel Food Cake is a great summer dessert. Don't have a tube pan? Here's a kitchen hack on how to create your own tube pan from Epicurious. I've also baked Angel Food Cake as muffins! You will simply need to reduce the baking time to 15 minutes. I hope you enjoy this lovely treat! Stay safe and well.
Bon Appétit, Y'all
Virginia Willis
Angel Food Cake
Ingredients
1

cup

sifted cake flour

11/2

cups

sifted granulated sugar

12

large egg whites or 24 tablespoons aqua faba, room temperature

1/4

teaspoon

cream of tartar

1/4

teaspoon

salt

1 1/2

vanilla extract

1 1/2

lemon juice

1/2

teaspoon

almond extract
Instructions
Position an oven rack in the lower part of the oven. Preheat the oven to 375°F. Sift the flour with 3/4 cup of the sugar. Re-sift three times. Set aside. Set aside an ungreased 9-3/4 inch angel food cake pan.

Set the remaining 3/4 sugar next to the mixer.

In the bowl of a heavy-duty mixer fitted with the whisk attachment beat the egg whites or aqua faba at low speed until beginning to froth. Add the cream of tartar and salt; beat at medium speed until whites form very soft billowy mounds.

Add the 3/4 cup of reserved sugar, 1 tablespoon at a time on medium speed, until all sugar is added and the whites are shiny & form soft peaks. Add the vanilla, lemon juice, and almond extract and beat until just blended.

Sift enough of the flour mixture in to dust the top of thefoam. Using a spatula, fold in gently. Continue until all of the flour mixtureis incorporated.

Pour the batter into ungreased pan and transfer to the oven to bake, until golden brown, 50 to 60 minutes. Transfer to a rack to cool, preferable upside down. Remove from the pan and serve.
Please note that this post may contain affiliate links. (That means I make a commission if you use my affiliate link to buy the product.) 
If you are interested in hosting me for a speaking engagement, event, cooking class, or a book signing, let me know! Send an email to jona@virginiawillis.com and we'll be back in touch as soon as possible.
Please be nice. Unauthorized use and/or duplication is prohibited. All photos and content are copyright protected. If you wish to republish this recipe, please link back to this recipe on virginiawillis.com. Thanks so much!
Let's connect on Facebook, Twitter, Instagram, and Pinterest!
Please note that this post may contain affiliate links.