Please note that this post may contain affiliate links.

Several years ago a food website interviewed me and asked what I did with my leftover buttermilk. What? That's like asking me what I do with my leftover flour, butter, or sugar! I consider it a kitchen staple that can be used in many different culinary applications. It gives tenderness and a lift to waffles and creamy richness to mashed potatoes. Southern-style Buttermilk Biscuits are a cultural icon. It's found in recipes as varied as  Pound Cake to Vegetable Dip. It tenderizes meats like in this sheet pan supper and works in sweet or savory applications. Read on to learn all about buttermilk!

What is Buttermilk?
What is buttermilk? Once upon a time, cream was fermented before churning into butter.  This controlled fermentation not only improved the flavor, but it also made the butter more resistant to spoilage. The natural by-product of the process was buttermilk. It was once solely defined as the liquid leftover from churning butter. Literally, it was "butter's milk."
I'm in love with the buttermilk aka cultured whey from Banner Butter. It's the real deal just like "once upon a time." Very few dairies follow this expensive and labor-intensive process.
Most modern buttermilk refers to a cultured product, meaning active cultures are added to either low-fat milk or whole milk. It's thicker, sour-tasting milk.  This buttermilk is made from active cultures added to milk, which creates lactic acid, which is what causes the tangy taste.
Gut Health
Buttermilk is now experiencing a renaissance, part of the fermented foods craze. There are levels of varying levels of quality, flavor, and taste. More and more regional dairies making good, cultured buttermilk – seek them out.
Both the widely available cultured buttermilk and "butter's milk" can be used interchangeably, but do contain varying degrees of fat. Live culture buttermilk is excellent for cooking and baking or drinking and eating. You also want to purchase buttermilk that is only milk and cultures — stay away from those with thickeners and stabilizers.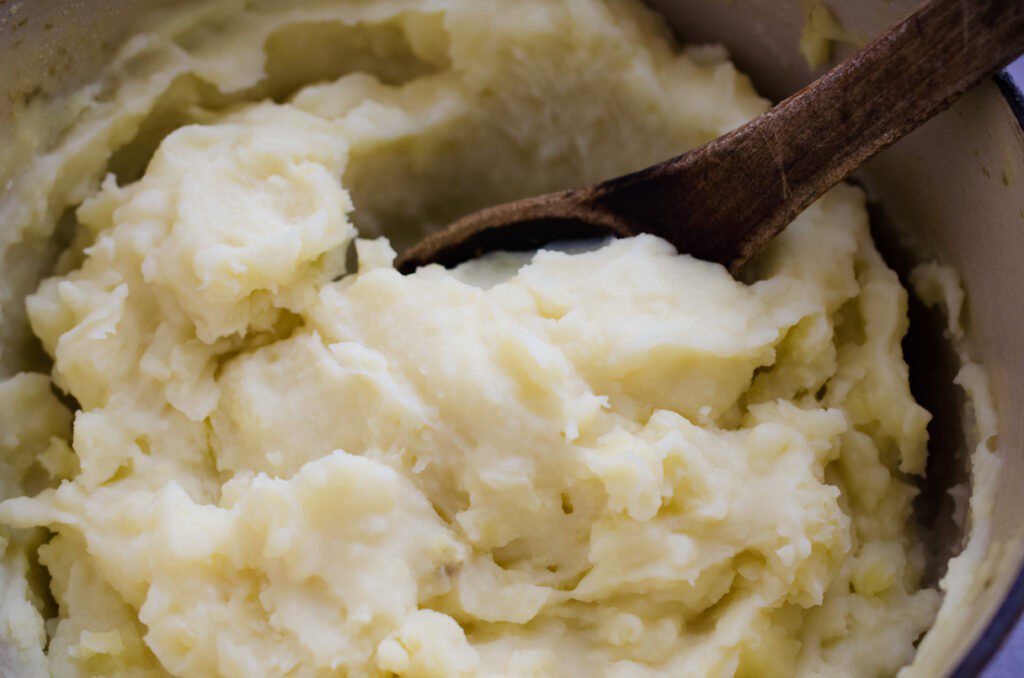 Substitutions for Buttermilk
Most grocery stores carry buttermilk, but if you find yourself in a situation where buttermilk is not available, don't worry — it's easy to make: Add 1 tablespoon of either vinegar or lemon juice for every cup of milk, both cow and plant-based. Let stand at room temperature for 15 minutes and you've got a great buttermilk substitution for baking. (Leave the real stuff for eating and drinking.)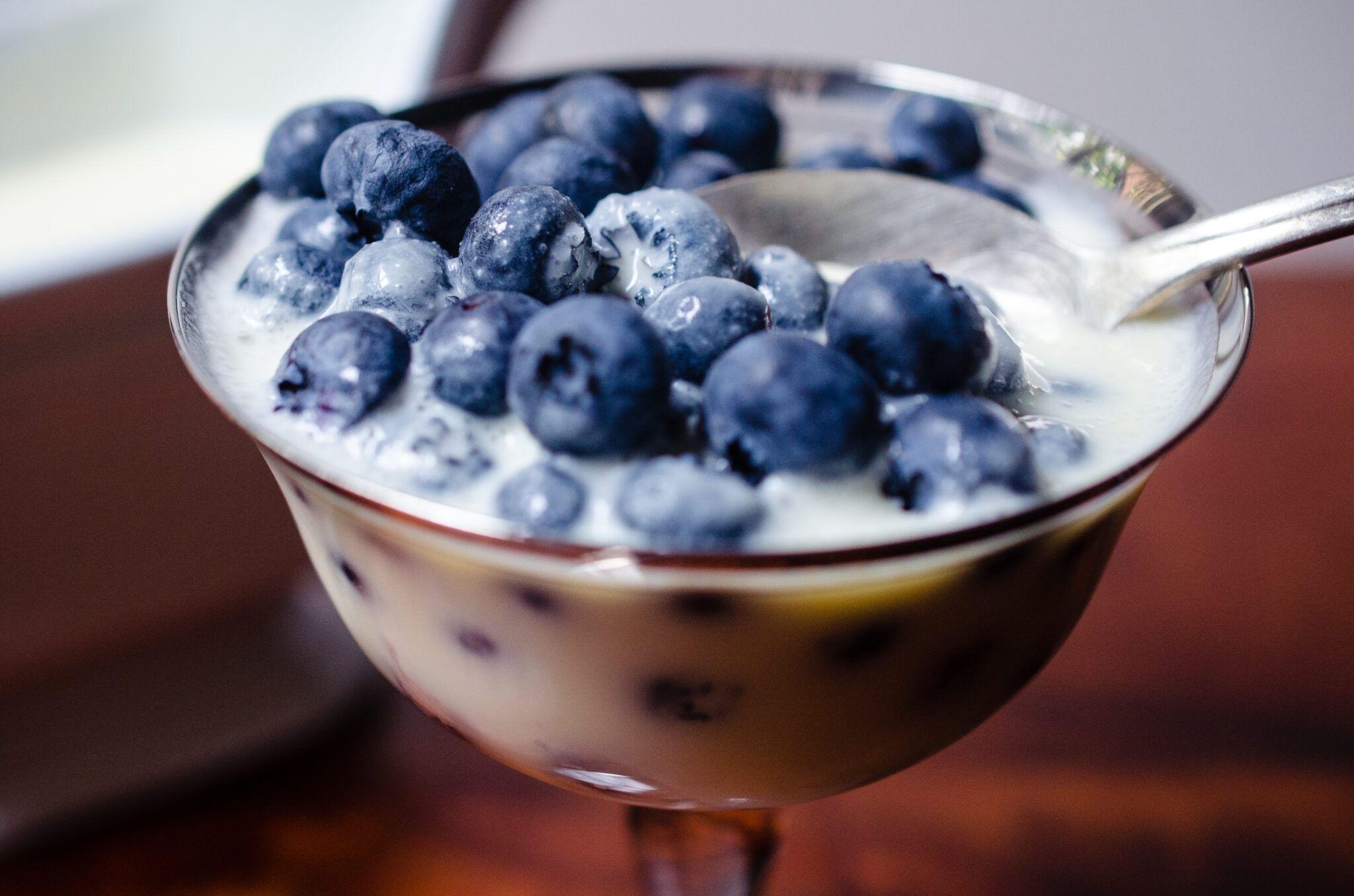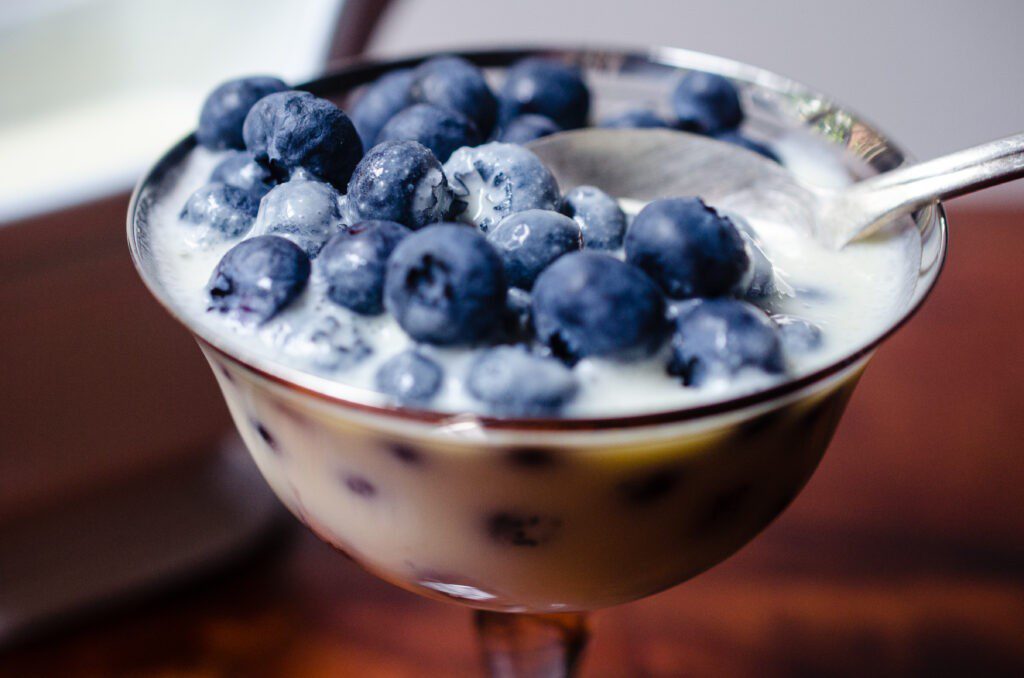 Is Buttermilk Good for You?
The name is deceptive since it contains no butter and is typically low in fat. It's great for a healthy lifestyle. If it seems foreign, just think it has the same flavor profile as yogurt or kefir.  It's great to use instead of sour cream in mashed potatoes or drizzled on top of a baked potato. Low-fat is only 98 calories and 4 WW points per cup. Conversely, skim milk has about the same but is usually thin and watery. (and looks like dirty dishwater.) Some brands of the cultured versions are higher in fat than others, but they are all rich with potassium, vitamin B12, and calcium. If sold with live cultures it is a good source of probiotics. I love it with fresh fruit as breakfast, a snack, or dessert.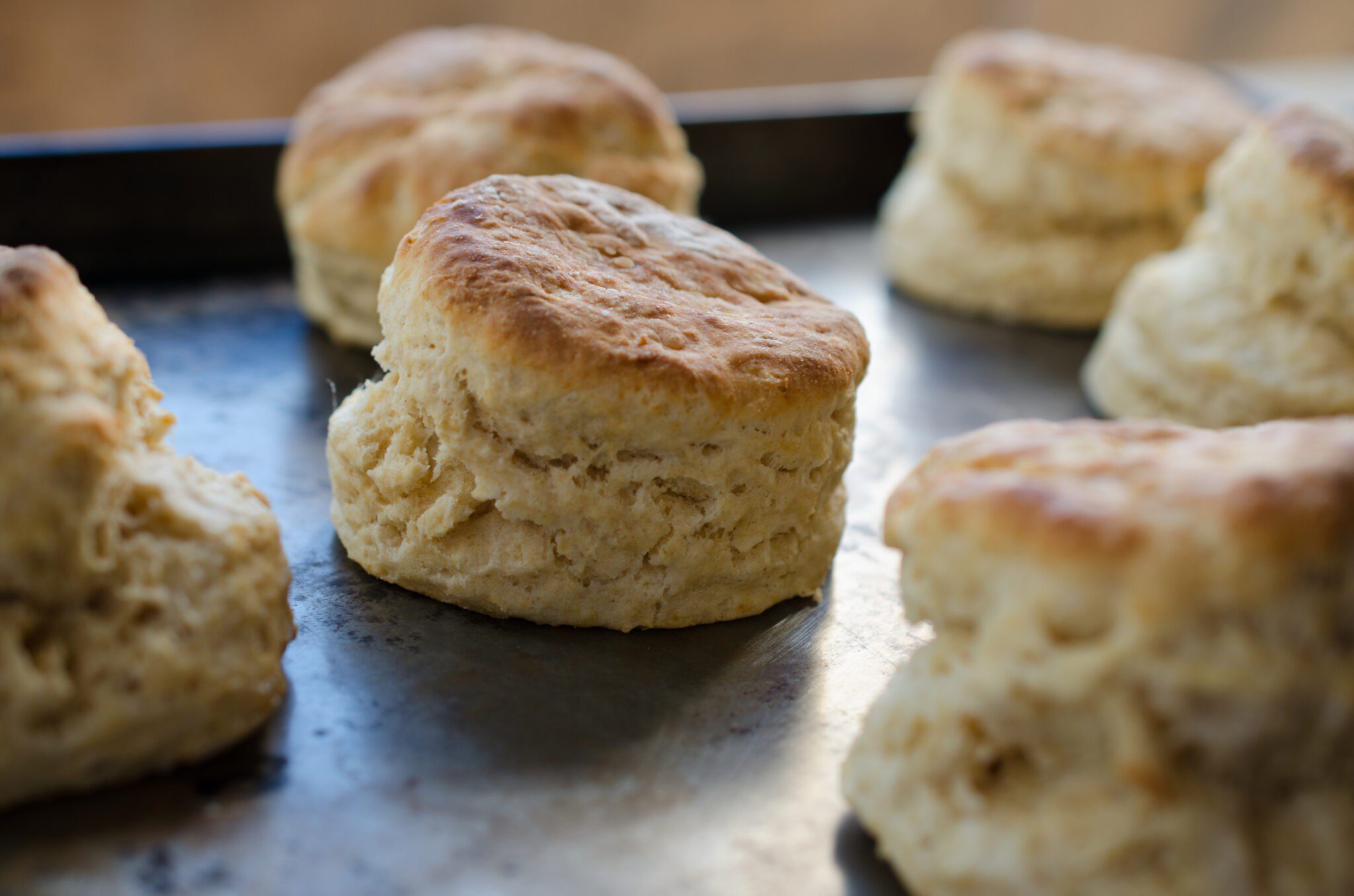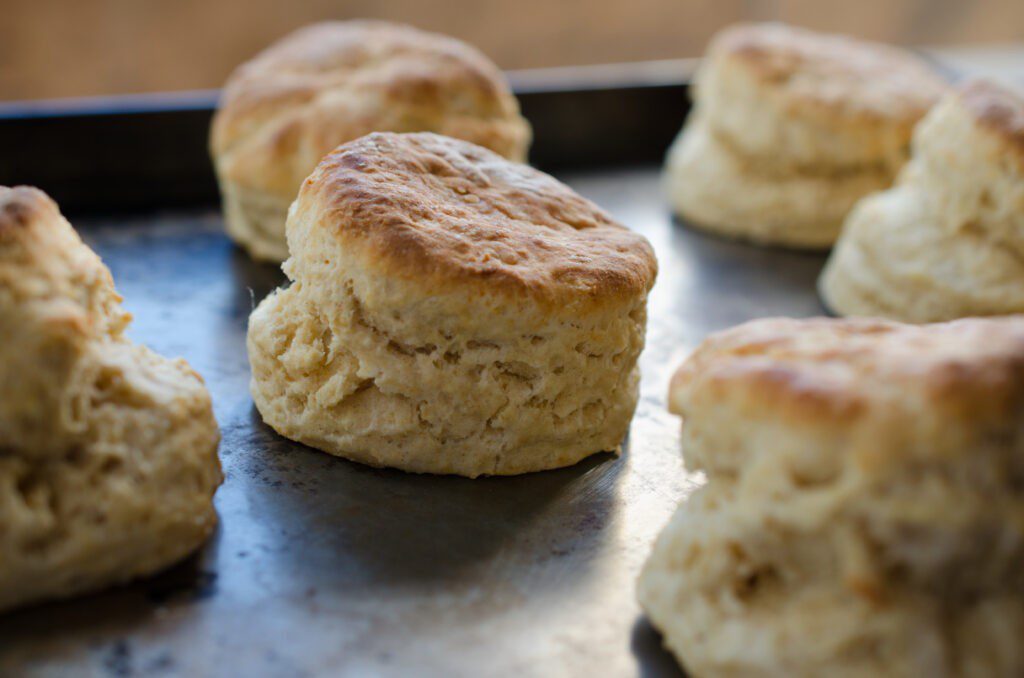 Baking with Buttermilk
Buttermilk is especially wonderful in baking. The recipe for which I use it the most is biscuits. (With cornbread as a close second.) No surprises there! September is National Biscuit Month so please check out my post on How to Make Biscuits: Baking Secrets of Five Recipes. (Hey — I've also got a video coming out soon with White Lily on Instagram so make sure to give both @WhiteLily and @VirginiaWillis a follow if you don't already.)
Buttermilk can give baked goods a fuller body and a hint of tartness due to lactic acid. The lactic acid helps keep baked goods moist and tender by breaking down long, tough strands of gluten. It also produces a chemical reaction when combined with baking soda, producing carbon dioxide gas, contributing to the leavening or rise of many baked goods.
I love the science of baking and while it can be intimidating for some, I promise it just doesn't have to be that hard. Take a look at my new video and recipe series with the National Peanut Board titled Baking is Easy. You guessed it — we start out with buttermilk and a nutty  Two Ingredient Seedy Flatbread. (Please watch my  How-to Video here.) It's a great recipe for any night of the week as a snack, pizza, or quickbread. I am certain you are going to love it.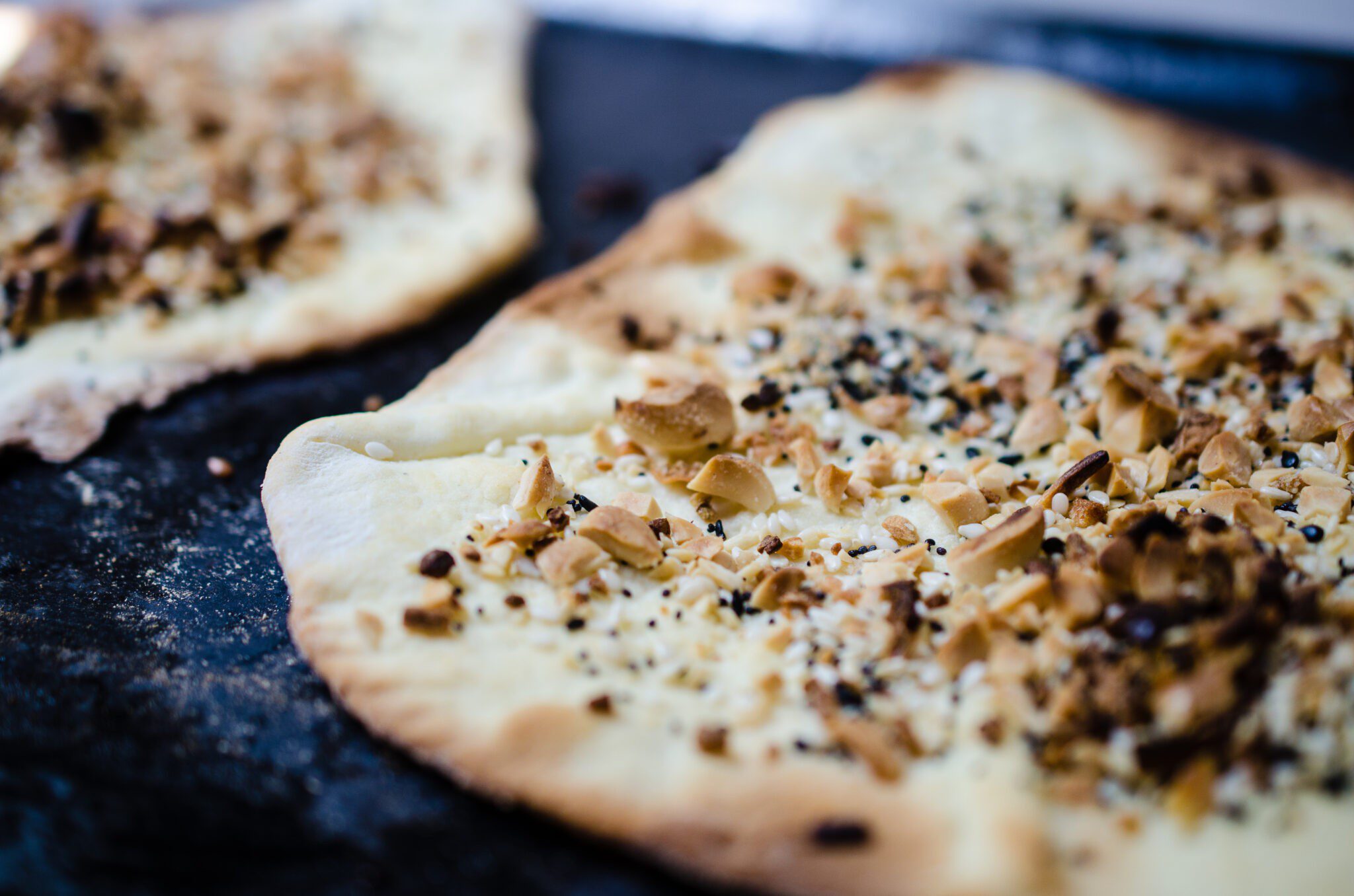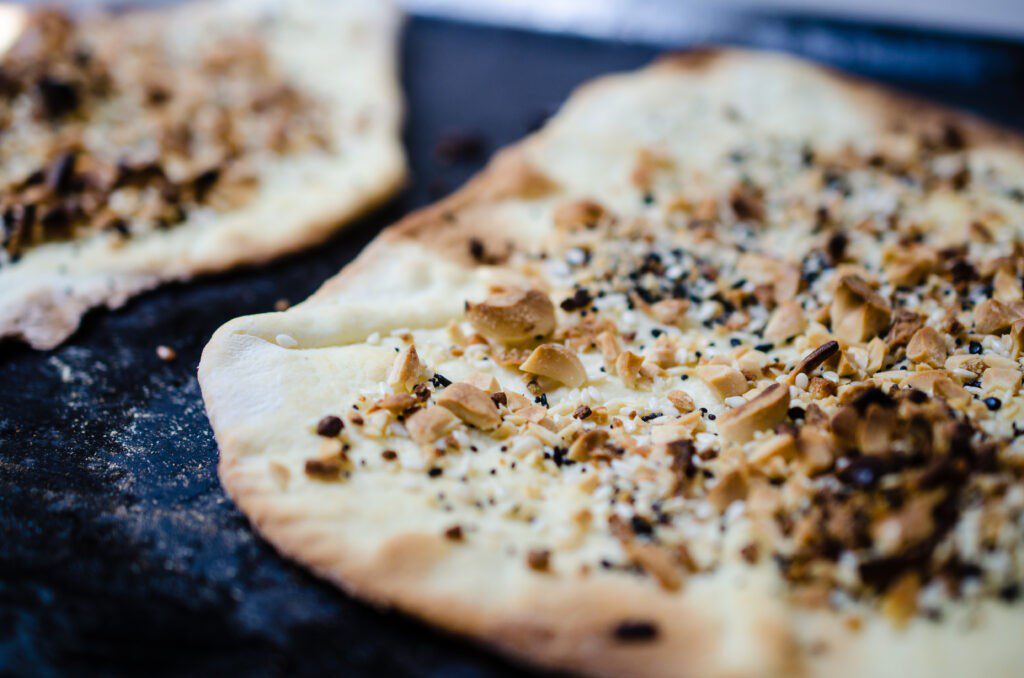 Does Buttermilk Go Bad?
I hope you will give it a try. I'm going to end with my thoughts on whether buttermilk goes bad. Seriously, I should tell you to go by the sell-by date, but what I will tell you I do is that if it is moldy of course, throw it out. But out of date or not —  if it pours, I'll use it. I love it the funkier it gets. Lots of recipes peppered throughout this post. I am ending with a recipe for a good and good for you Buttermilk Multigrain Pecan Waffle. Maybe you will give it a try this weekend?  Thanks so much for reading.
Bon Appétit, Y'all
Virginia Willis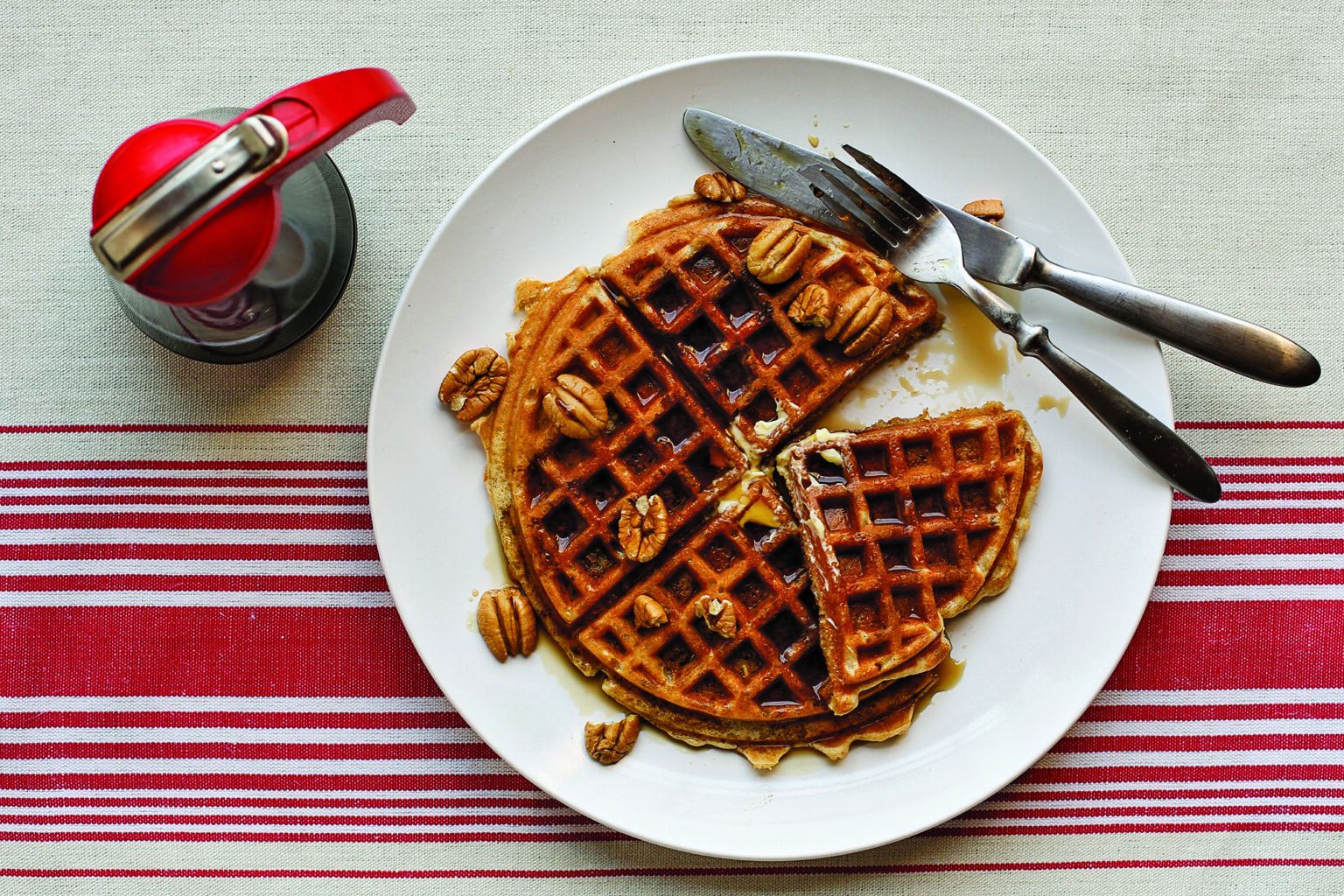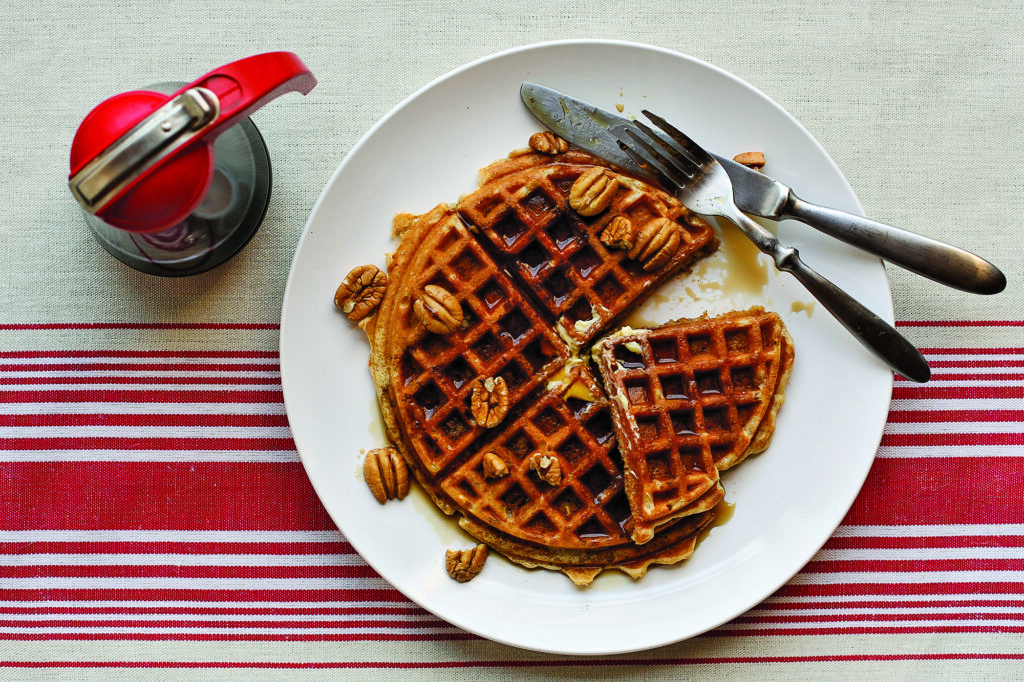 Buttermilk Multigrain Pecan Waffles
Ingredients
2

cups

low-fat buttermilk

1/2

cup

old-fashioned rolled oats

2/3

cup

whole wheat pastry flour (or double up the AP)

2/3

cup

unbleached all-purpose flour

1/3

cup

chopped pecans

1/4

cup

stone-ground cornmeal

1 1/2

teaspoons

baking powder

1/2

teaspoon

baking soda

1/2

teaspoon

fine salt

1

teaspoon

ground cinnamon

2

large eggs

lightly beaten

1

tablespoon

canola oil

2

teaspoons

pure vanilla extract
Instructions
Mix buttermilk and oats in a medium bowl; set aside for 15 minutes while you measure out your other ingredients. Meanwhile, whisk together the whole wheat flour, unbleached all-purpose flour, pecans, cornmeal, baking powder, baking soda, salt, and cinnamon in a large bowl.

Stir the eggs, optional brown sugar, oil and vanilla into the reserved buttermilk-oat mixture. Add the wet ingredients to the dry ingredients; mix with a rubber spatula just until moistened.

Coat a waffle iron with cooking spray and preheat. Spoon in enough batter to cover three-fourths of the surface, about 2/3 cup for an 8-inch round waffle iron. Cook until waffles are crisp and golden brown, 4 to 5 minutes. Repeat with remaining batter. Serve immediately.
If you are interested in hosting me for a speaking engagement, event, cooking class, or a book signing, let me know! Send an email to jona@virginiawillis.com and we'll be back in touch as soon as possible.
Please be nice. Unauthorized use and/or duplication is prohibited. All photos and content are copyright protected. If you wish to republish this recipe, please link back to this recipe on virginiawillis.com. Thanks so much!
Let's connect on Facebook, Twitter, Instagram, and Pinterest!

Please note that this post may contain affiliate links.