Please note that this post may contain affiliate links.
One Pot Wonder Weeknight Family Supper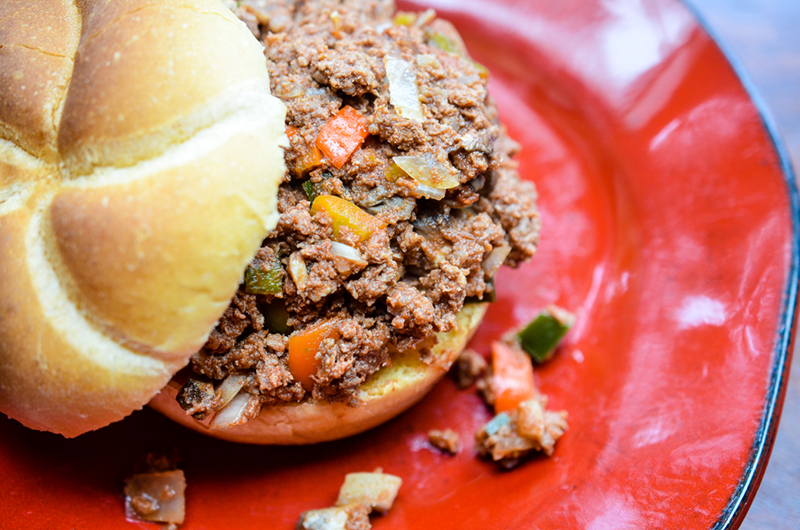 Who doesn't like Sloppy Joes? They are pretty much the absolute best of a juicy hamburger and barbecue sandwich combined. Plus, they're super messy – like run down your wrist and finger-licking good messy. There's something about eating Sloppy Joes that makes you feel like a kid again. 
I was asked by Carusele to participate in the #LaurasLean campaign, sponsored by Laura's Lean. Although I have been compensated, all opinions are my own.

Weeknight Supper
When I was a little girl Sloppy Joe night was a very special treat. Sloppy Joes felt like fast food – a rarity in our household. For the most part, Mama made wholesome, homemade food. We had our share of meat and three plates and often the vegetables were from our garden, a nearby farmer, or "put up" from one of the two to enjoy out of season.
But, every now and then, Mama would pull a can out of the cupboard and make Sloppy Joes. Now that I am an adult I am very familiar with what those days must have looked like for her. You know those days when cooking dinner is just "one more thing" too many. Sloppy Joe suppers were as easy as searing a pound of ground beef, cracking open a can of sauce, and maybe toasting a couple of buns. I am not shaming my mom, but that can of sauce was never completely wholesome, even back then. Now, it contains high fructose corn syrup, a posse of thickening agents, and a host of preservatives.
Healthy and Wholesome
Sloppy Joes are a combination of ground beef and a sweet and tangy tomato sauce. I knew that I could make a healthy and homemade version of Sloppy Joes without a ton of sugar, salt, and chemicals. Health consciousness is what inspired Laura Freeman to found Laura's Lean Beef Company in 1985. Consumers had begun to shy away from beef due to concerns that it was high in fat and cholesterol. Laura set out to find a solution to allow health conscious consumers to continue to eat beef in good conscience. She committed not only to raising beef that was lean, but also without the use of antibiotics or added growth hormones. And, the cattle for Laura's Lean Beef are still farmed that way, today.
The USDA allows beef to be labeled "natural" as long as it is minimally processed and contains no artificial ingredients. So that definition covers most fresh beef sold in grocery stores. Unlike most other "natural" beef, Laura's Lean product is a "Never Ever" offering, meaning their protein is sourced from suppliers that raise their cattle without ever using added hormones or antibiotics and are always vegetarian fed.

USDA Certified
Sloppy Joes are all about the beef so it's important to use the best. Laura's Lean 96% Ground Beef is certified through the American Heart Association heart check program and meets USDA standards for Extra Lean. Consumers now know that beef can be a part of a healthy diet and it's important to consider the amount of saturated fat. The Mayo Clinic recommends ground meat that is lean, with the highest percentage of lean meat ideally being 90 percent or higher, with 10 percent or less fat. Laura's Lean Beef fits the bill!
My homemade tomato sauce is made from regular pantry ingredients and only a tablespoon of brown sugar for a hint of sweetness. I also amp up the sauce with good and good for your vegetables including onion, peppers, and mushrooms which perfectly complement the rich, full-bodied flavor of Laura's Lean Ground Beef.
Oven Roasted One Pot Wonder
Most Sloppy Joes are made in a skillet on stovetop. I've also seen slow cooker and pressure cooker versions. Since this is the perfect meal for a busy day, I wanted to take it one step further and make a one-pot wonder in the oven. Since Laura's Lean Beef is so lean, there's no need to pour off any rendered fat. The ingredients are all combined in the same pan it's baked in, so it's great for clean-up, too. Thanks for reading and please tag me if you give this recipe a try!
Bon Appétit, Y'all,
Virginia Willis
Need a side salad to go along with your Sloppy Joes? Check out The World's Best Salad Dressing.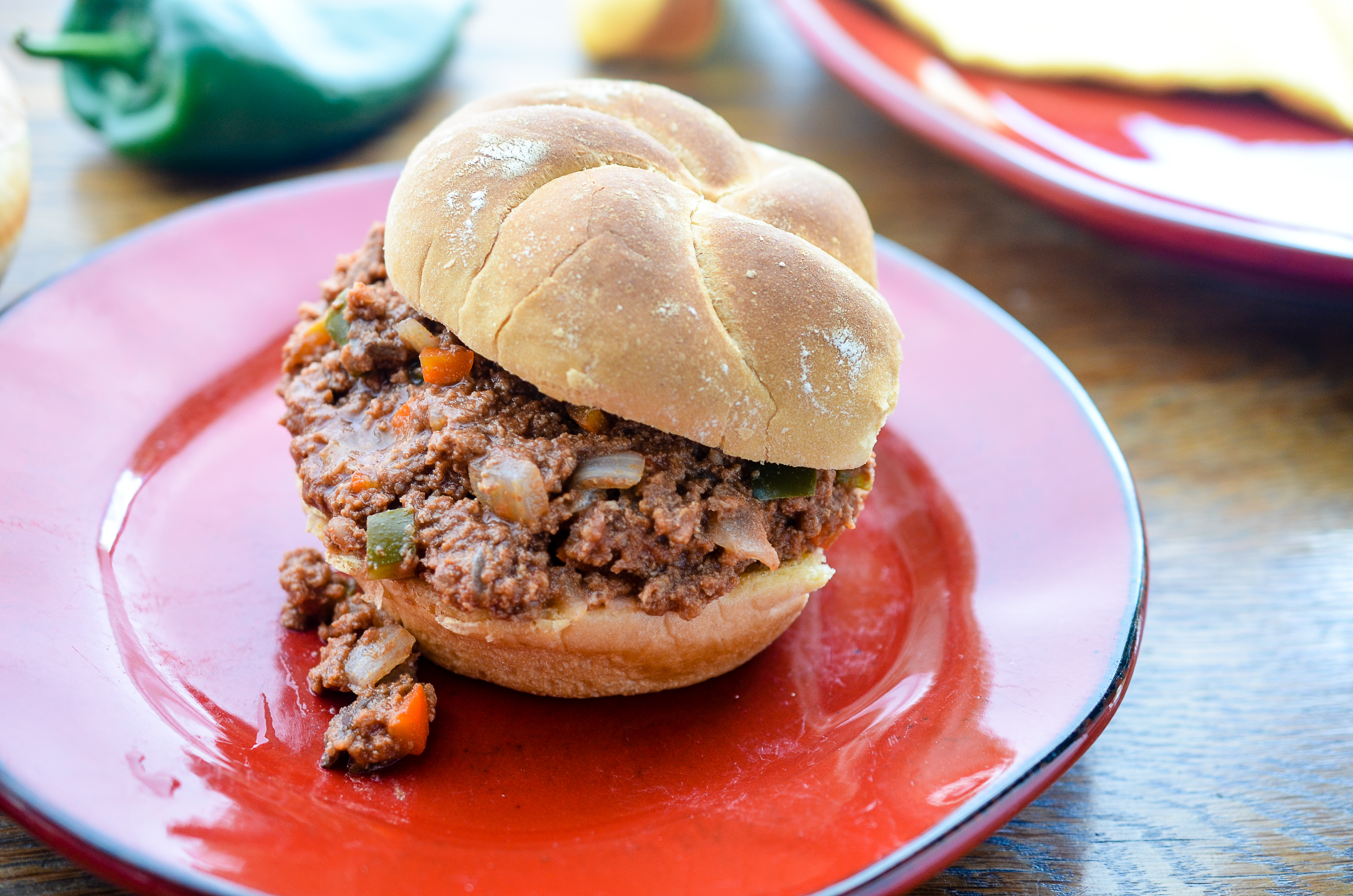 Homemade and Healthy Oven Roasted Sloppy Joes
I find the taste of green bell peppers a little strong and substitute poblano pepper. If you want to take the heat up a notch, you could also add diced jalapeno pepper, as well!.
Ingredients
1

pound

Laura's Lean Ground Beef

1 

onion,

 chopped

4 

ounces 

cremini or white button mushrooms,

 chopped

1

red bell pepper,

cored, seeded, and chopped

1

poblano pepper,

cored, seeded, and chopped

1 1/2 

cups 

low sodium tomato sauce

3 

cloves 

garlic,

 very finely chopped

1 

tablespoon 

mustard

1 

tablespoon 

cider vinegar

1 

tablespoon 

brown sugar

1 

tablespoon 

paprika

1 

tablespoon 

Worcestershire sauce

1 

tablespoon 

tomato paste

Coarse kosher salt and freshly ground black pepper

Hamburger buns,

for serving
Instructions
Heat the oven to 350°. In a medium casserole combine the beef, onion, mushrooms, peppers, tomato sauce, garlic, mustard, vinegar, brown sugar, paprika, Worcestershire sauce, and tomato paste. Season with salt and pepper. (To taste and adjust for seasoning, simply cook a teaspoon or so of the mixture in the microwave.)

Alternatively, to cook on the stovetop: Heat a large skillet over medium high heat. Add 1 teaspoon of canola oil. Add the onion, mushrooms, and peppers. Cook until just tender, about 5 minutes. Add the ground beef and stir to combine. Season with salt and pepper. Add the tomato sauce, garlic, mustard, vinegar, brown sugar, paprika, Worcestershire sauce, and tomato paste. Season with salt and pepper. Taste and adjust for seasoning with salt and pepper.

Transfer to the oven and cook for 15 minutes. Stir to combine. Return to the oven and continue cooking until the meat is cooked through and measures 160°F when measured with an instant read thermometer, an additional 15 minutes. Scoop the Sloppy Joe mixture onto buns and serve immediately.
If you are interested in hosting me for a speaking engagement, event, cooking class, or a book signing, let me know! Send an email to jona@virginiawillis.com and we'll be back in touch as soon as possible.
Please be nice. Unauthorized use and/or duplication of this material without permission is prohibited. All photos and content are copyright protected. Please do not use photos without prior written permission. If you wish to republish this recipe, please rewrite the recipe in your own words and link back to this recipe on virginiawillis.com. Thanks so much.
Let's connect on Facebook , Twitter, Instagram, and Pinterest!
Please note that this post may contain affiliate links.