Please note that this post may contain affiliate links.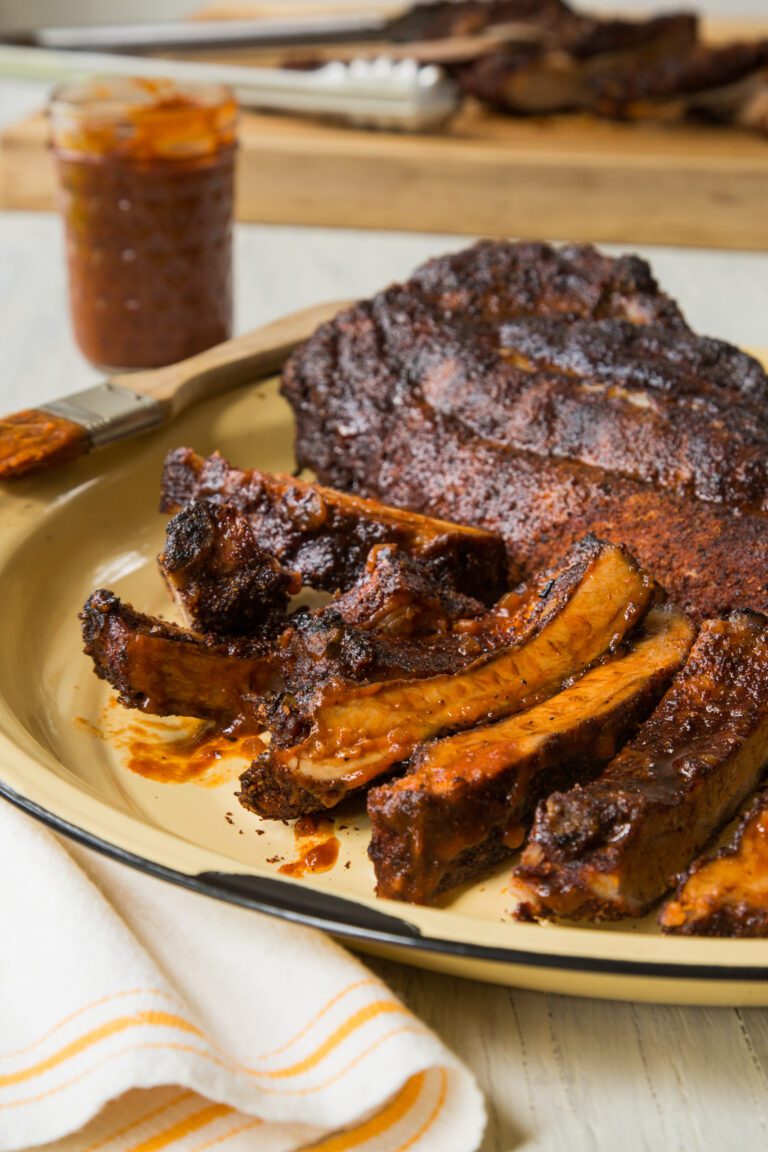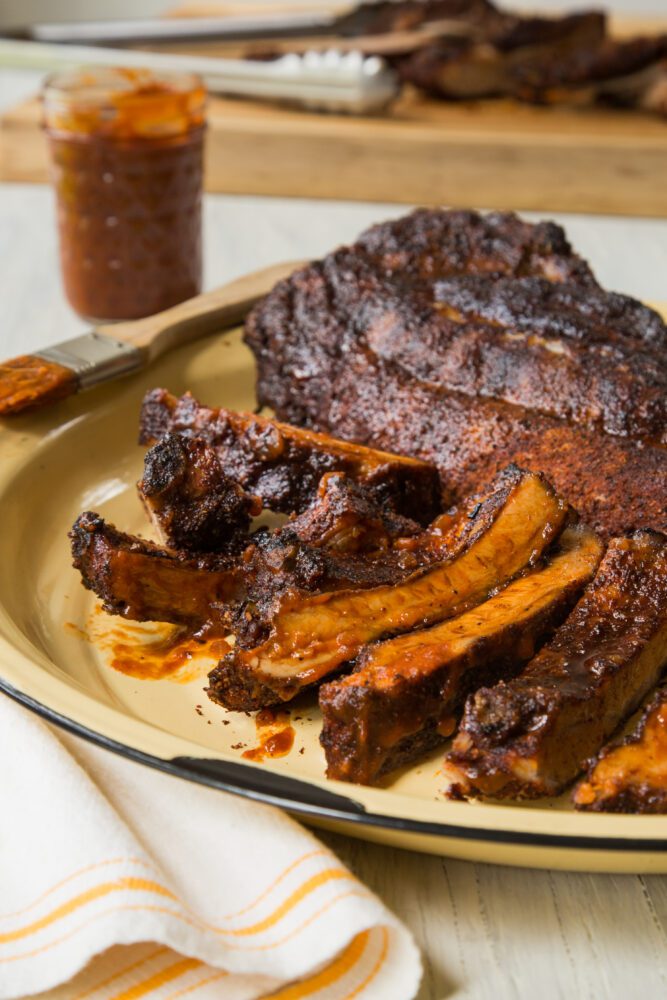 Here's your Rainy Day Ribs recipe since much of the country has grey skies. I saw reports of possible hail in Atlanta later, so thought I'd whip out this quick blog post and email. You *can* make decent barbecue in the oven. Is it the same as ribs slow-cooked over a smoky fire? Nope, it is not, but it's still pretty darn good. And, a heck of a lot better than standing in a thunderstorm with an umbrella. Read on for a super easy recipe for low and slow oven-roasted barbecue baby back ribs.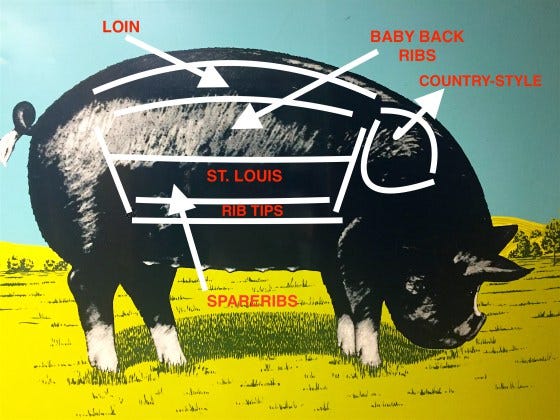 photo credit Angie Mosier
What's the Difference in Baby Back and Spareribs?
When it comes to deciding what type of ribs to cook, you have basically two choices: spareribs and baby back ribs. Spareribs are cut from the ribs closest to the belly and are meaty, bony, and thick. Baby back ribs are cut from where the rib meets the spine. They're only called "baby" because they are shorter and thinner than spareribs; they don't refer to the age of the pig. Each baby back rib rack averages ten or so curved ribs that are 4 to 6 inches long and weighs about 11/2 pounds, which easily feeds two people as a main course. Baby back ribs also usually have a slightly higher price tag, but I think they are well worth the cost, as they are generally leaner, more tender, and quicker cooking.  
Spareribs are the meaty ribs cut from the belly of the pig and are typically larger and heavier than baby back ribs. The Rib-Tips are the bottom portion of the spare rib. St. Louis Style ribs are spareribs with the sternum bone and rib tips removed to create a rectangular-shaped rack. These take longer to cook and require a bit more attention as they contain a bit more fat and gristle, but the meat is highly rich and flavorful.
If you have spareribs and need to punt and cook them in the oven, simply cook them for an additional hour or so. They are thick and meaty and need longer cooking, both on the grill and in the oven

Rub a Dub Dub
Ribs are commonly prepared with either "wet" or "dry" rubs. Ribs basted with sauce during the barbecuing process are called wet. The key is to know when to apply a dry rub, wet rub, or both. Ribs rubbed with a mixture of herbs and spices are called "dry." Dry rubs can be applied just before barbecuing. I will often use a dry rub when I cook ribs in the oven. Some store-bought dry rubs and dry rub recipes contains brown sugar which can burn on the grill, but is less likely to do so in the oven. I find that a dry rub can boost the flavor of oven-cooked ribs that aren't able to get that great smoky grill flavor.
Wet ribs are simply seasoned with salt and pepper, then coated in sauce towards the end of cooking. Yes, it is possible to coat the ribs in a dry rub then coat it with sauce, as well, but that's a lot going on and you can miss out on the actual flavor of the meat. If I dry rub the meat, I most often serve the sauce on the side at the table.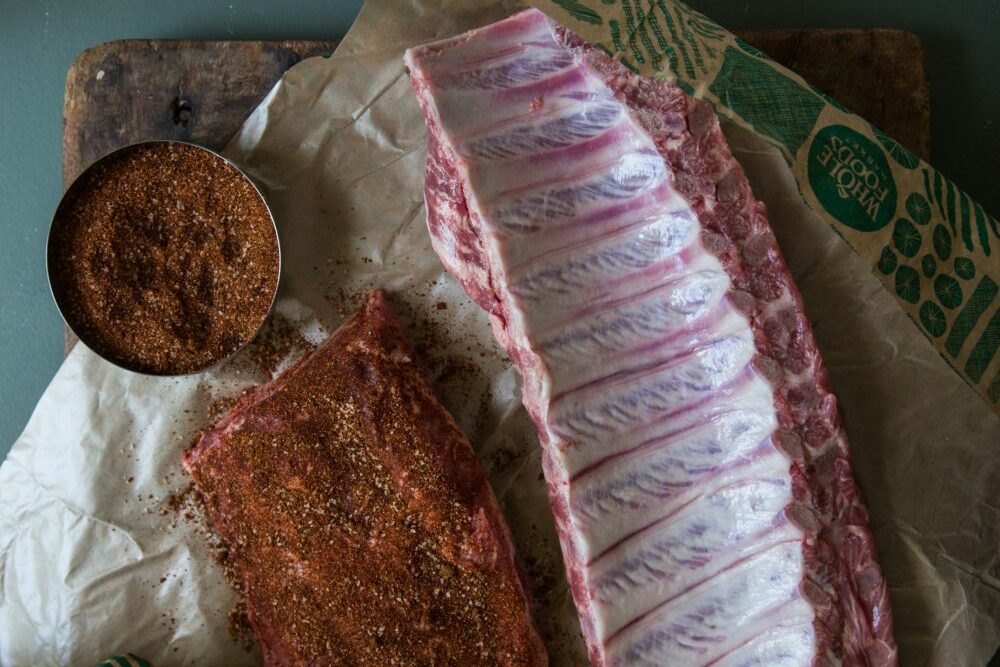 Low-Temperature Roasting
Discovering low-temperature oven roasting was a serious revelation. Yes, of course pork tastes amazing slowly smoked, but long cook times on a grill isn't the only option for succulent ribs. Rainy-Day Ribs with little to no effort also sound good to me. Lifting the meat above the baking sheet on a rack lets the heat circulate on all sides. After a few hours, the meat is tender, nearly falling off the bone, and you'll have finger-licking-good ribs.  
Need some sides to go along with your Rainy Day Ribs? I am in love with this Farro Salad if you really want to mix things up! And, check out this trio of potato salads: Bacon, Southern, and Chef-Inspired Potato Salads if you want to go more old school. Wrap it up with this One Bowl Peaches and Cream Cake.
Have a safe and happy 4th of July!
Bon Appétit Y'all!
Virginia Willis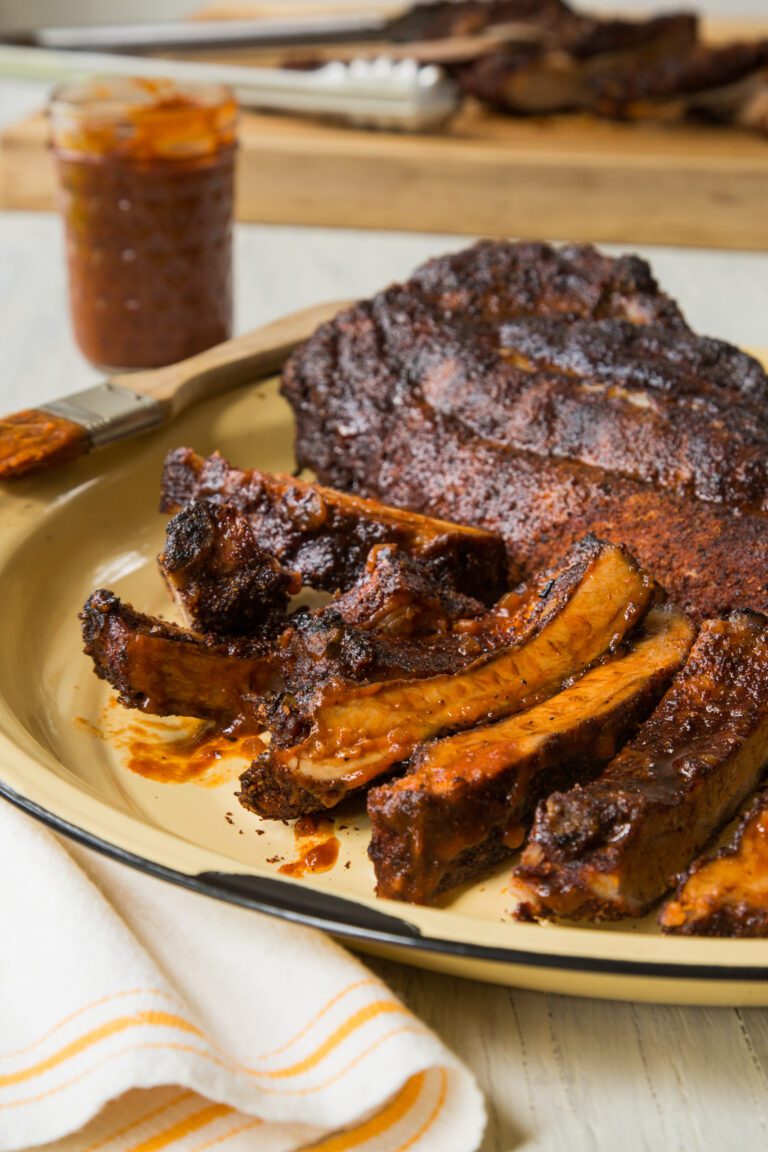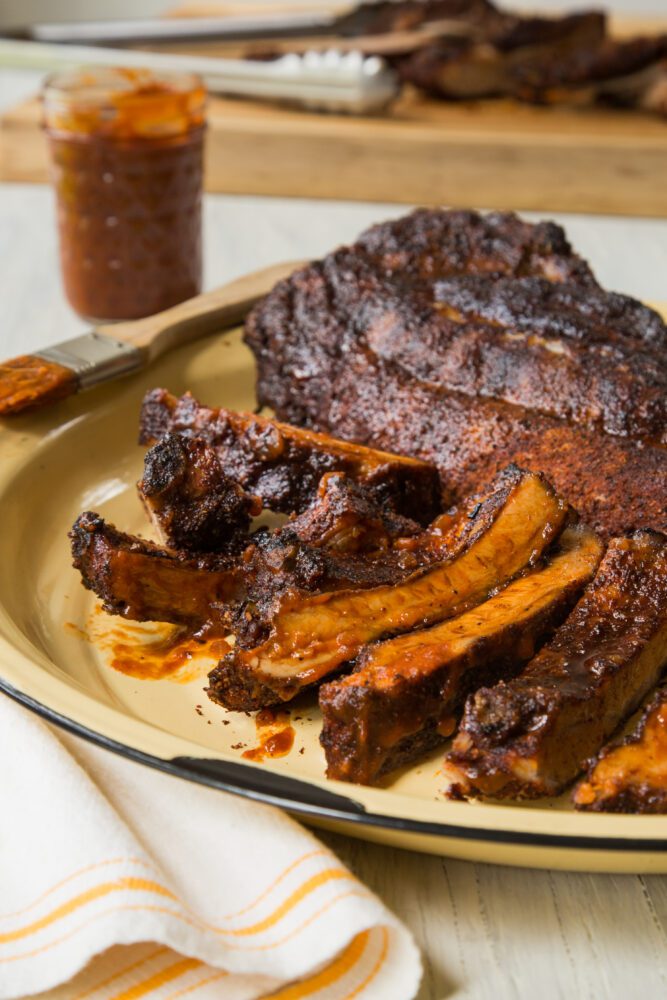 Rainy-Day Baby Back Ribs
Ingredients
Nonstick cooking spray

2

racks baby back ribs

about 31/2 pounds total

1

cup

Tangy Barbecue Sauce

recipe follows, for serving

Sweet Heat Rub

recipe follows
For the BBQ Sauce
2

tablespoons

oil

1

sweet onion

very finely chopped

1

24-ounce bottle ketchup (2½ cups)

2

cups

apple cider vinegar or distilled white vinegar

½

cup

Worcestershire sauce

¼

cup

Dijon mustard

2

tbsp.

firmly packed brown sugar

Juice of 2 lemons

Hot sauce

2

tbsp.

freshly ground black pepper

or to taste

Coarse kosher salt
For the Rub
¼

cup

brown sugar

¼

cup

paprika

2

tbsp.

coarse kosher salt

1

tbsp.

garlic powder

1

tbsp.

freshly ground black pepper

1

tbsp.

piment d'Espelette

Aleppo pepper, or red pepper flakes, or to taste
Instructions
Adjust the oven rack to the middle position and heat the oven to 300°F. Line a rimmed baking sheet with aluminum foil and set a wire rack on the sheet. Spray the rack with non- stick spray.
For the Rub
Combine the brown sugar, paprika, salt, garlic powder, black pepper, and piment d'Espelette in a small bowl.

Rub each set of baby back ribs with 1/2 cup of the sweet heat rub. Set aside to come to room temperature, 30 minutes.(This step can be done a day ahead for deeper flavor: Rub the ribs with the rub and place in a resealable plastic container, or wrap in plastic wrap. If you use plastic wrap, make sure to place the wrapped ribs on a rimmed baking sheet to catch any seeping liquid due to the salt in the rub. Refrigerate to marinate overnight.)
For the Tangy BBQ Sauce
Heat the oil in a saucepan over medium heat. Add the onion and simmer until soft, 5 to 7 minutes. Add the ketchup. Pour the vinegar into the ketchup bottle and shake to loosen all the ketchup from the sides. Pour the vinegar from the bottle into the saucepan and add the Worcestershire sauce, mustard, brown sugar, lemon juice, hot sauce, and pepper.

Bring to a boil, decrease the heat to low, and simmer until the flavors have smoothed and mellowed, at least 10 minutes and up to 30 minutes. Taste and adjust the seasoning with salt and pepper. Store in an airtight container in the refrigerator. The sauce will last for months.
To Cook the Ribs
Place the rubbed ribs side by side on the prepared baking sheet. Transfer to the oven and roast until the ribs are done and a knife slides easily into the thickest part of the rib meat, 2 hours.

Remove from the oven and let the ribs rest, covered loosely in aluminum foil, for about 10 minutes, and then cut between the bones to separate the individual ribs.

Serve immediately with the barbecue sauce for dipping.
Let's cook something up! If you are interested in hosting me for a speaking engagement, event, cooking class, or a book signing, let me know! Send an email to jona@virginiawillis.com and we'll be back in touch as soon as possible.
I am not a doctor, RD, health professional, or WW representative. I am simply sharing what works for me. My blog is for informational or educational purposes only and does not substitute professional medical advice or consultations with healthcare professionals.
Note that this post may contain affiliate links and I may make a commission if you use my affiliate link to buy the product.
Please be nice. Unauthorized use and/or duplication is prohibited. All photos and content are copyright protected. If you wish to republish this recipe, please link back to this recipe on virginiawillis.com. Thanks so much!

Please note that this post may contain affiliate links.