Please note that this post may contain affiliate links.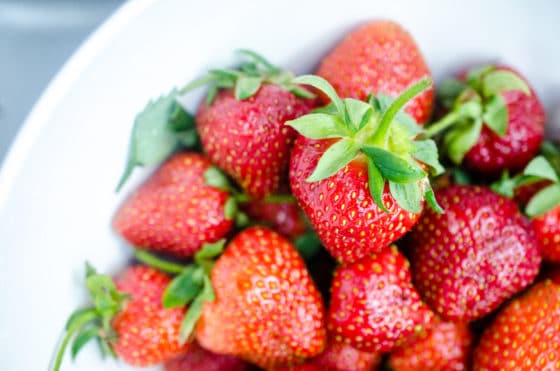 Summer Fruit Desserts
When it comes to summer fruit desserts my go-to recipe is a batter cobbler I learned from my grandmother. When I was a little girl nearly every summer I went camping with my grandparents in their motor home. Over the years we traveled from Georgia all the way to Newfoundland on the East Coast to Saskatchewan in the Northwest. We visited Yellowstone, the Grand Canyon, the Petrified Forest, and Niagara Falls — and everywhere in between. If the weather was nice, my grandfather and I would walk the woods and forage for berries once we made camp. He and I would return with stained hands and mouths and present a precious bucket or bowl to my grandmother. She would use our harvest to prepare a cobbler in her cast iron skillet in the simple, compact kitchen of the camper. I remember enjoying bowls of buttery crust mixed with warm fruit and rivulets of melting vanilla ice cream while sitting at the picnic table listening to the crickets and watching the glow of the fireflies. My grandmother's simple cobbler seemed to be the finest dessert imaginable. So, cobbler is more than just a dessert to me; it represents special memories with family members that I dearly love.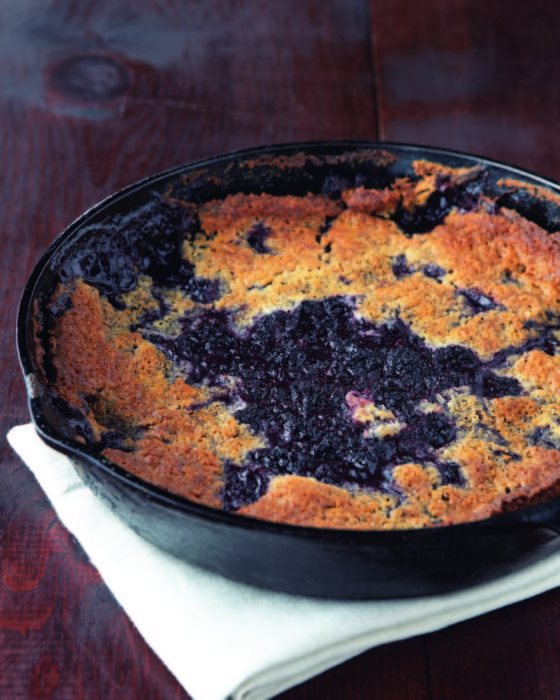 Dump and Stir Cake
The other day I decided to break out of my box and try something new after we'd picked up a quart of fresh local strawberries. I'm not usually a fan of cooked strawberries so I didn't want cobbler and, honestly, felt too lazy to make Strawberry Shortcakes. Whenever I need baking advice I look to Dorie Greenspan for inspiration. I came upon her recipe for Cornmeal Skillet Cake with Strawberries and used it as a jumping off point to create my own recipe. We loved it! Cornmeal Skillet Cake is somewhere between a cobbler and cake. Unlike a cobbler, the fruit is served on the side. And, unlike most cakes, the batter is quickly assembled in a bowl without a mixer or worrying about creaming the butter and sugar, adding the ingredients in thirds, or folding in egg whites. It's a sweet and sturdy version of a yellow cake and would be delicious with strawberries, blueberries, blackberries, or sliced peaches. It's going to be your new favorite dessert to serve with summer fruits.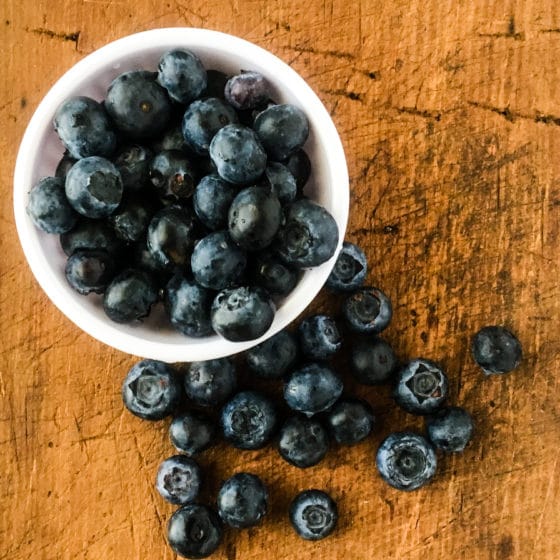 Summer Fruit Desserts
While I am excited about the addition of Cornmeal Skillet Cake to my summer fruit dessert repertoire I want to share a few others, too. Here's my Blueberry Cornmeal Cake from my Southern Living column "Cooking with Virginia." Being a Georgia peach myself, here's my recipe for Peach Upside Down Cake that's currently being featured in Southern Living's Special Collector's Edition of their Best Cakes and Pies. You can check out this video of my grandmother's Blackberry Cobbler on Martha Stewart Living Television and the lighter version of Blueberry Cobbler in Garden & Gun. Lastly, I am certain you will love my recipes for Peach Ice Cream and Meringue Pillows with Strawberries, both of which can easily be adapted for use of other fruits.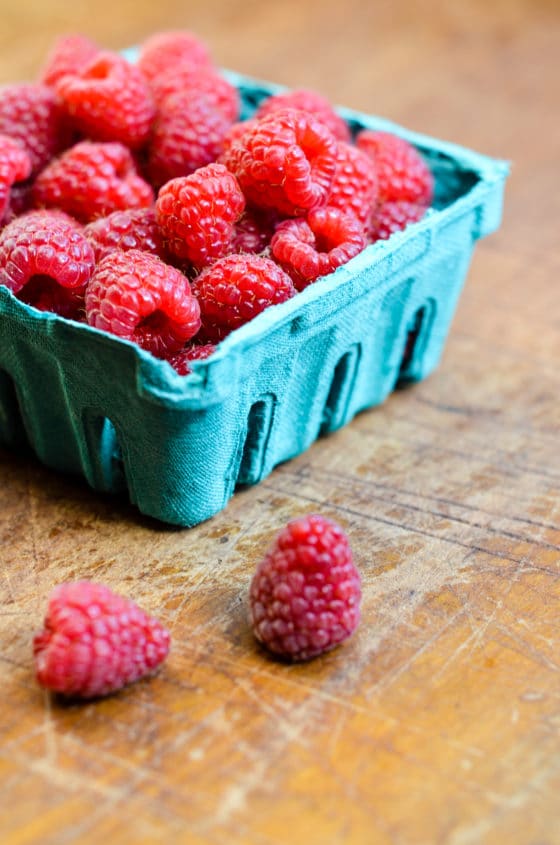 Lighten Up, Y'all
There's something about summer fruit desserts that call for a creamy topping like whipped cream or crème fraîche. Mama always reaches for the Cool-Whip, but I have never been a fan of "non-dairy whipped topping." These days I most often make a sweetened yogurt I call Vanilla Cream as a dessert topping. Now, it's not a replacement for whipped cream — it's something different. My combination of low-fat yogurt, confectionary sugar, and vanilla and more healthful than whipped cream. You'll find the recipe included in the recipe for the Cornmeal Skillet Cake. I hope you enjoy my selection of recipes. If you create any of these delicious dishes please tag me on social media (Facebook, Instagram, Twitter, and Pinterest) — and thanks for having me at your table!
Bon Appétit, Y'all!
Virginia Willis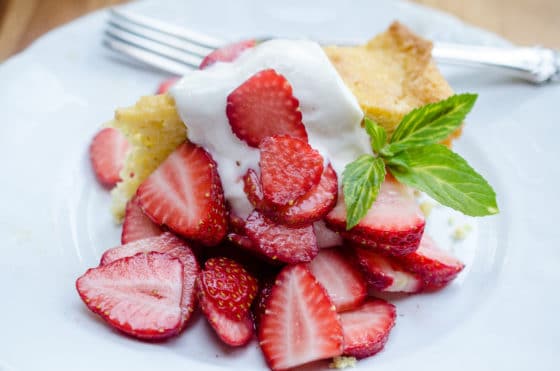 Cornmeal Cake
Serves 8 to 10
Ingredients
For the cake:
8

tablespoons

(1 stick) unsalted butter

1 1/4

cups

all purpose flour

1

cup

sugar

1/2

cup

fine yellow cornmeal

1

teaspoon

baking powder

1/4

teaspoon

baking soda

1/4

teaspoon

fine sea salt

1/2

cup

buttermilk,

at room temperature

3

large eggs,

at room temperature

1

teaspoon

pure vanilla extract
For the berries:
1

quart

fresh strawberries,

hulled and sliced, for serving

1

tablespoon

sugar,

or to taste

1

tablespoon

strawberry liqueur,

optional
For the vanilla cream:
½

cup

plain 2 percent Greek yogurt

3

tablespoons

confectioners' sugar

½

teaspoon

pure vanilla extract
Instructions
Heat the oven to 350 F. Place the butter in the skillet and transfer to the oven. Heat until the butter is lightly browned, 8 to 10 minutes.

Meanwhile, combine all the dry ingredients. Set aside.

Combine the eggs, buttermilk, and vanilla extract. Set aside.

Remove the skillet with the butter from the oven to cool slightly.

Pour the melted browned butter into the dry ingredients. Add the reserved egg-buttermilk mixture. Stir to combine. (The batter will be thick.)

Spoon the batter into the skillet and transfer to the oven. Bake until golden brown and the cake is starting to pull away from the sides of the skillet, about 30 minutes.

Meanwhile, combine the strawberries. Taste and add sugar, as needed. Drizzle over the strawberry liqueur. Stir to combine and set aside.




Combine the yogurt, confectioner's sugar, and vanilla extract.

To serve, once the cake has cooled to warm use a serrated knife to slice into wedges. Serve with strawberries and vanilla cream.



Let's connect on Facebook, Instagram, Twitter, and Pinterest! 

Strawberries, Raspberries, and Blackberries by Virginia Willis
Blackberry Cobbler by Ellen Silverman
Blueberries by Jona Willis
Please note that this post may contain affiliate links.