Please note that this post may contain affiliate links.

World Oceans Day
It's World Oceans Day! On June 8th each year, we celebrate the ocean, its importance in our lives, and how we can protect it. World Oceans Day helps raise the profile of the ocean and inspire more involvement in aiding to conserve this amazing resource we all depend on. The Ocean Project recognizes that there is one global ocean that connects us all. The health of the ocean and its inhabitants depends on what we put in it.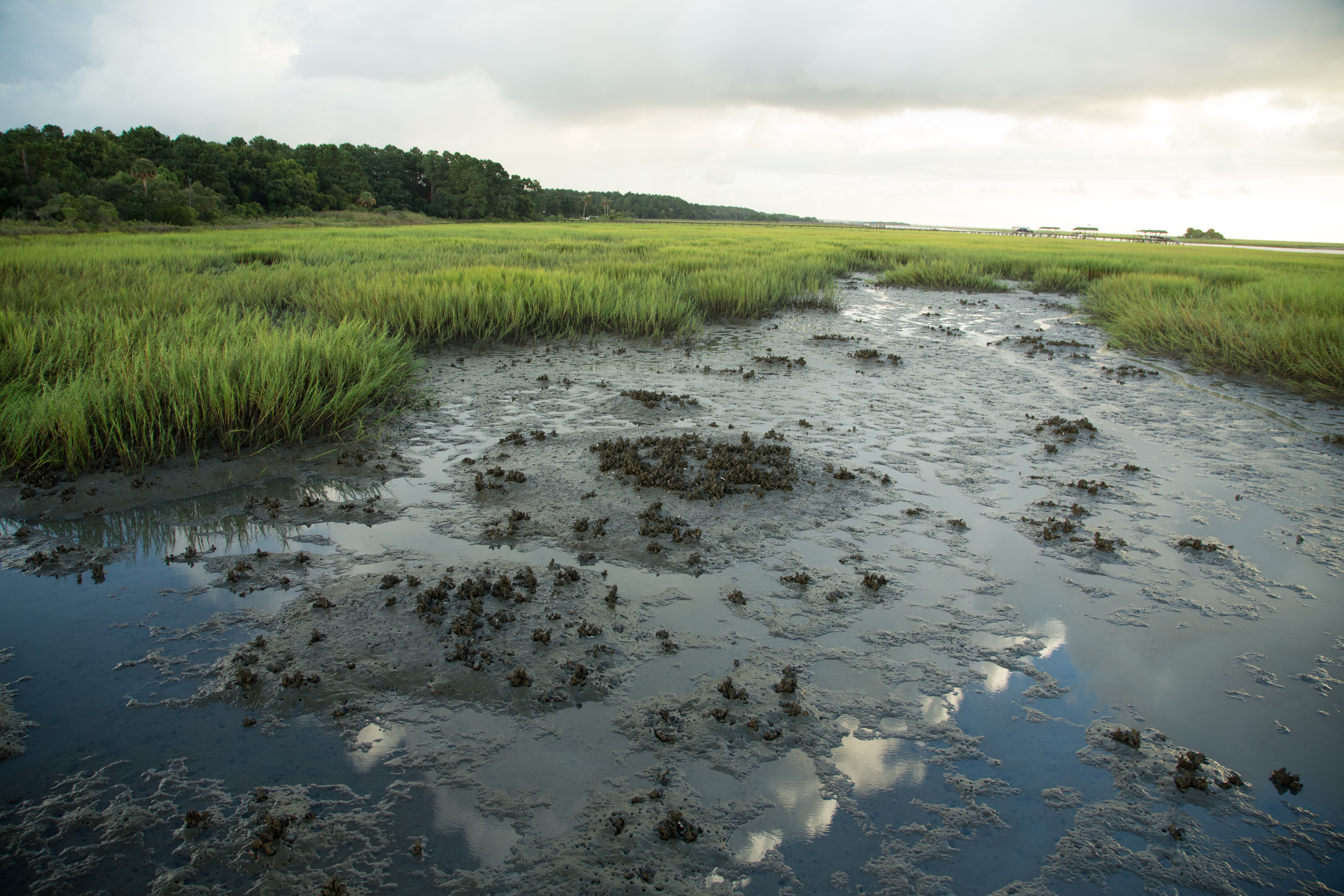 Ocean Awareness
There's nothing as primal and pulling as the ocean. It speaks to humans as powerfully as its antithesis, fire. The lovely photograph above is of Garris Landing within the Cape Romain National Wildlife Refuge, a federally-protected expanse of barrier islands, salt marshes, and intricate coastal waterways that harbors hundreds of at-risk and endangered species. This salt marsh essentially acts as a nursery for the ocean. I grew up crabbing off the docks and jetties, fishing in the ocean —  and pretty much every body of water you can imagine.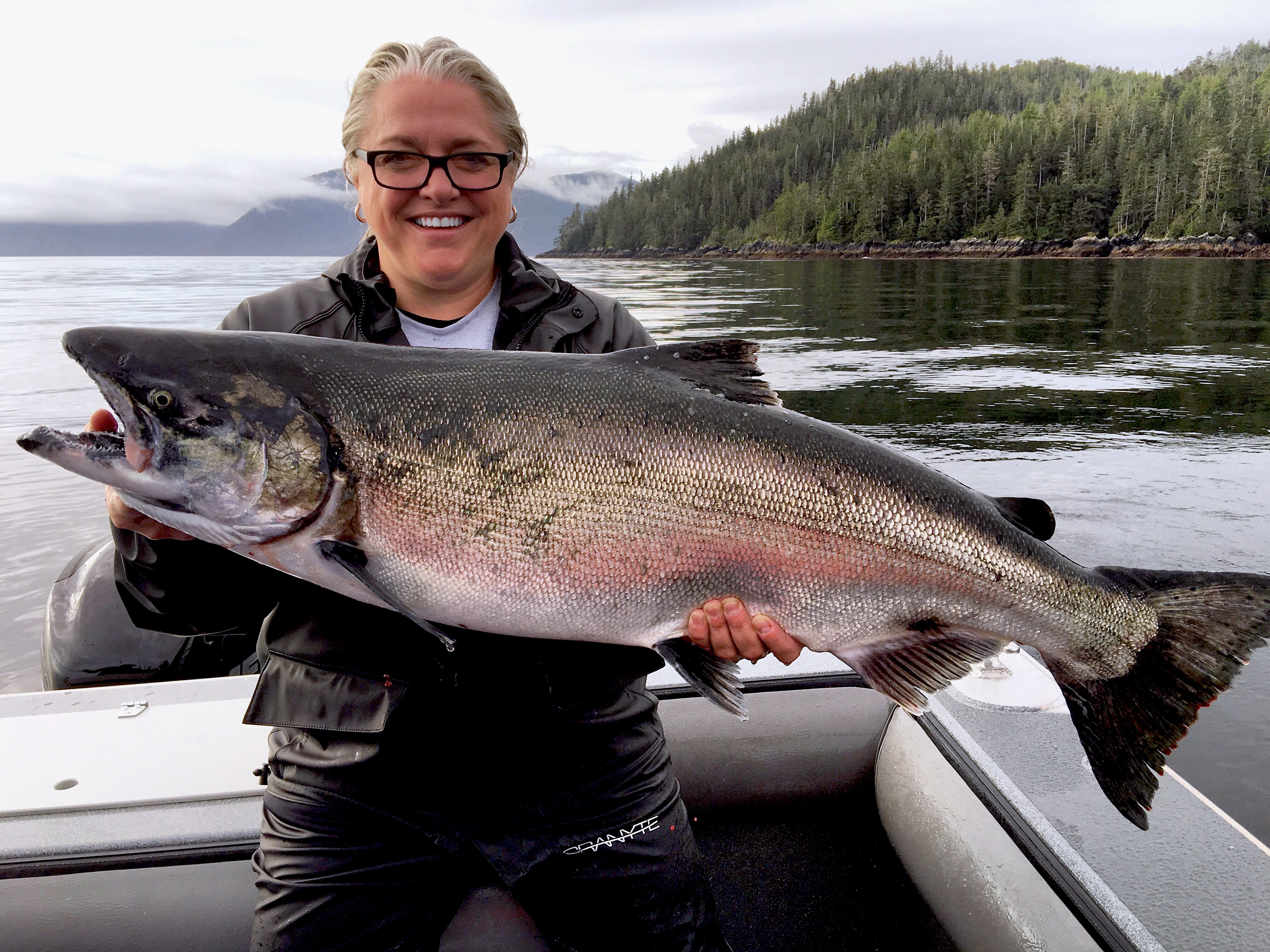 Sustainable Seafood
According to many scientists and scientific organizations like the Monterey Bay Aquarium's Seafood Watch, the Marine Stewardship Council, and the Blue Ocean Institute, we are seriously jeopardizing the health and welfare of the oceans. As a chef, I am wildly passionate about sustainable seafood. I write about it as often as I can in print, online, and through my blog. As a Sustainable Seafood Activist, I am on the Blue Ribbon Task Force for the Monterey Bay Aquarium and a member of Chefs Collaborative. I teach sustainable seafood in cooking classes all across the country, and I only buy, cook, and eat sustainable seafood.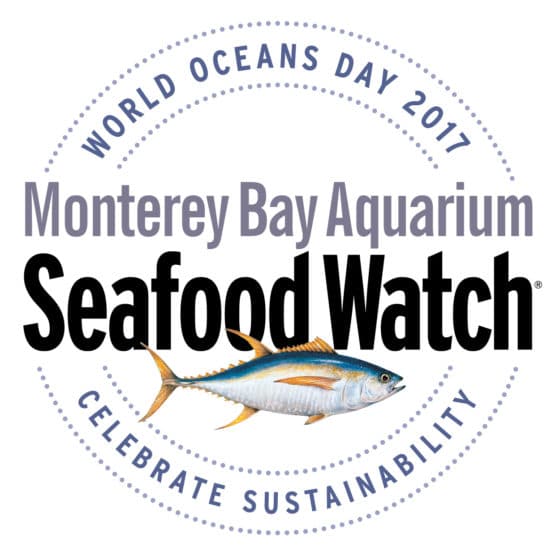 Seafood Watch
According to the USDA, we should be eating seafood twice a week. Seafood and shellfish are high in protein, low in fat, and the omega-3 fatty acids present in fish are good for your heart. As you are making your seafood purchases, make sure to consult the Monterey Bay Aquarium's Seafood Watch guidelines to ensure you are purchasing sustainable seafood. Sustainable seafood is defined as fish or shellfish that is fished or farmed in ways that have minimal impact on ocean health and ensures the availability of seafood for future generations. As a result of technology, we are now consuming fish at a higher rate than ever. The global fishing community's advances and lack of any serious regulation are enabling humans to fish deeper, farther, and for longer periods of time. The global fishing fleet is operating at two and a half times the sustainable level—there are too many boats chasing an increasingly dwindling number of fish. The bottom line is that we are catching and eating fish faster than most species can reproduce. Sustainable seafood is important to consider on World Oceans Day — and every day of the year.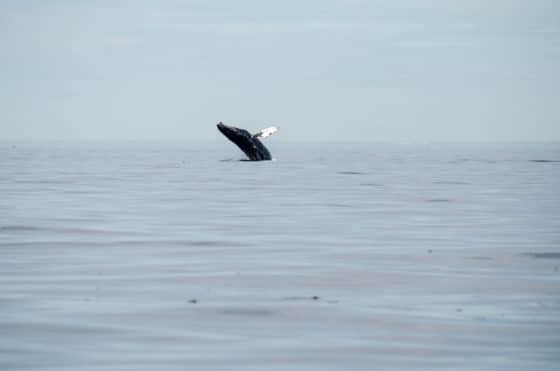 Plastics Pollution
Sustainable seafood is not the only issue to consider on World Oceans Day. Regarding plastics, the primary direct threat to marine life is entanglement or ingestion. Sea turtles, birds, and fish alike accidentally mistake plastic for food and choke or get sick by ingesting it. One in three species of all marine mammals (like the whale above) have been found entangled in marine litter. Plastics pollution poses a threat to human health, kills and harms marine life, and damages habitats. According to PlasticOceans.com the proliferation of plastic products in the last 70 years or so has been extraordinary. We are now producing nearly 300 million tons of plastic every year, half of which is for single use.
More than 8 million tons of plastic is dumped into our oceans every year.
What can you do to help keep plastics out of the oceans and away from ocean animals? Make sure to use reusable shopping bags, refillable water bottles, and stay away from plastic straws. Preventing marine litter will result in a healthier ocean and a better future for our planet.

Back to the Food
To celebrate World Oceans Day I'm sharing a great recipe that's perfect for summer: Pan-Seared Fish Steaks with Cherry Tomatoes and Basil. 
Bon Appétit Y'all!
Virginia Willis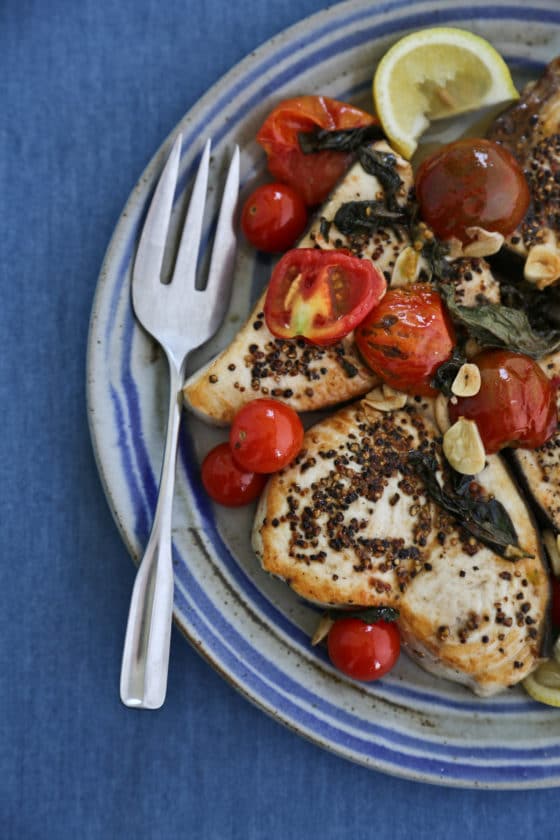 Swordfish Steaks au Poivre with Tomatoes and Basil
Serves 4
Hearty, firm-fleshed fish on the bone is best for this dish. Look for Pacific halibut, wild salmon, or sustainable swordfish steaks. Steaks are pieces of fish cut in cross-section that generally still have skin and sometimes a bone in the center, depending on the size of the fish. A fish fillet is simply a boneless piece of fish. If you are using a fillet, make sure to pepper the flesh side, not the skin side of the fish, or remove the skin all together.
1 tablespoon mixed white and black peppercorns
Coarse kosher salt
1 tablespoon pure olive oil
4 (4-ounce) swordfish, halibut, or salmon steaks, cut 1-inch thick
20 cherry or grape tomatoes
1 cup lightly packed whole fresh basil leaves
Orange or lemon wedges, for accompaniment 
Heat the oven to 350°F. Crush the peppercorns using the bottom of a heavy skillet on a clean work surface or pulse in a spice grinder until just cracked. Set aside. Sift to remove the finest particles of pepper. (They can make the fish far too hot.)
Season both sides of the steak with salt. Rub one side of the steaks with the pepper. Heat the tablespoon of oil in a 12-inch heavy-duty ovenproof skillet over medium-high heat until shimmering. Add the fish steaks, pepper-side down, and cook, without moving, until a crust has formed, 3 to 4 minutes. Using a spatula, turn the steaks and scatter over the tomatoes and basil leaves. Transfer to the oven and cook until the fish is firm, about 4 additional minutes. Remove the skillet to a rack to cool slightly and let the fish set. Serve immediately with orange or lemon wedges on the side.
Let's connect on Facebook, Instagram, Twitter, and Pinterest! 

swordfish and marsh photos by Angie Mosier
sea turtle and whale photos by Virginia Willis
Virginia with salmon photo by Tyson Fisk
Please note that this post may contain affiliate links.