Please note that this post may contain affiliate links.
Spice Up Your Grill with Five Spice Pork Chops with Ginger Plum BBQ Sauce

What's in Season?
Plums, peaches, and apricots are starting to appear at farmer's markets and grocery stores. Peaches are undoubtedly one of my favorite stone fruits. Given that I grew up in the heart of Peach country in South Georgia, my affinity for them may as well be part of my DNA. While they did not grow peaches, my grandparents had a plum tree on their property. I remember standing with my sister and eating plum after plum straight off the tree, sticky juices running down our chins. Those sweet treats were the best plums I had ever tasted — and tasted since, but I am certain nostalgia and food memories are coming into play. Once we'd had our fill of fresh plums Meme would make jelly. She would stew the fruit until it was completely falling apart. She'd then strain the pulp overnight in a linen sack, and the juices would slowly drip into a wide, shallow enamelware bowl. Once the juice was collected, she would cook the mixture with sugar to make jelly. The results were crystal clear, garnet red, and glistening, perfect for a buttery buttermilk biscuit.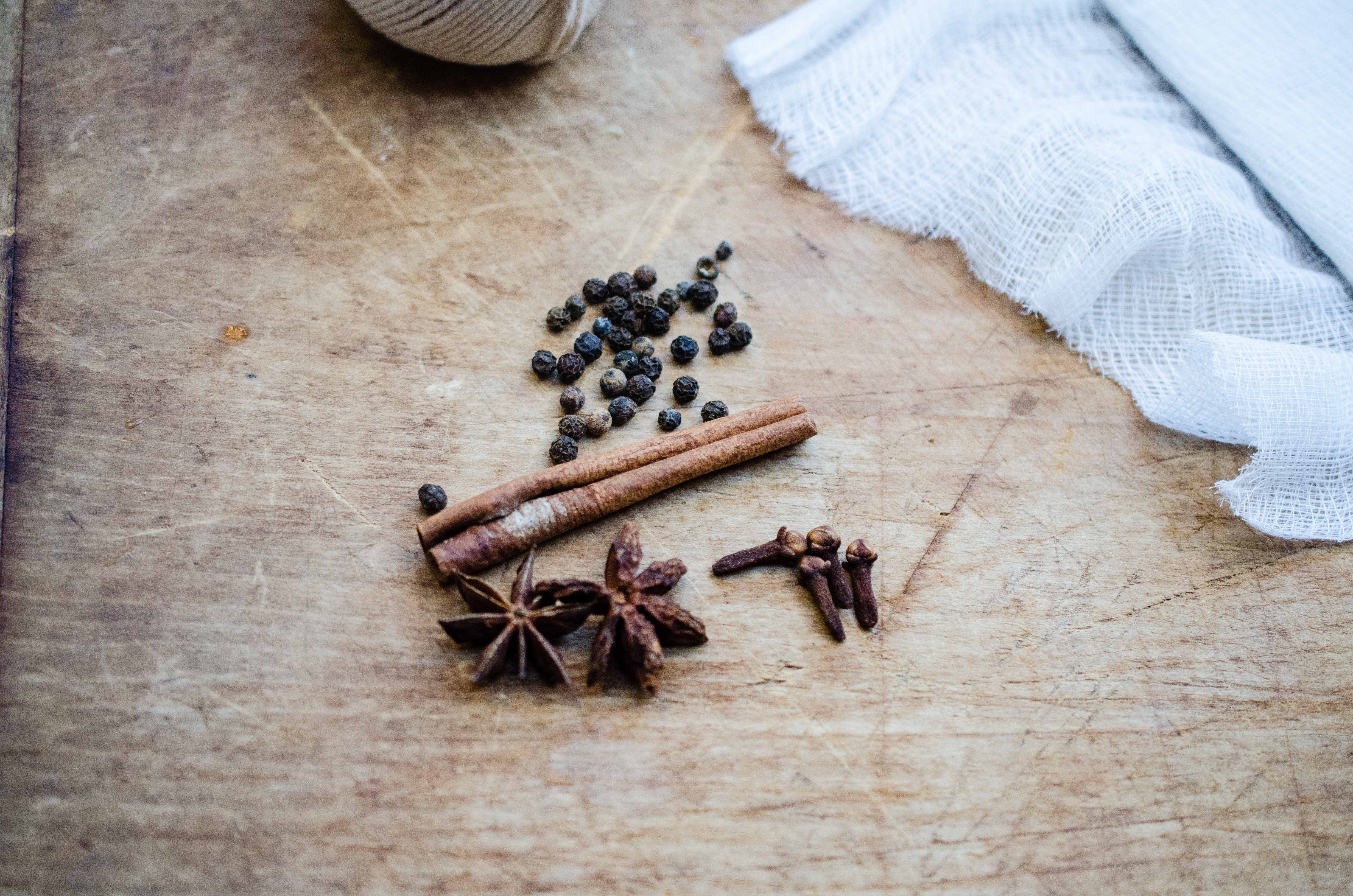 Plum BBQ Sauce
Making jams and jellies are a great way to utilize fresh, seasonal fruits. And, of course, desserts such as cobblers and crisps are delicious, too.  However, don't forget about savory uses for fresh stone fruits! One of my favorite ways to incorporate fruit into the meal is by making BBQ sauce. Fruity BBQ sauces are excellent, especially with pork.

Grill Out
This time of year, I grill out nearly every night. It's nice to be outside and it keeps the heat out of the kitchen. One of my favorite dishes is Bourbon Grilled Pork Chops with Peach BBQ Sauce, but I think this Plum BBQ Sauce is going to give it some competition! The warm spices, the kick of subtle heat, and the punch of the vinegar are incredible.
Thanks for reading. If you give the recipe a try please let me know what you think. And, check out these other summer recipes for corn and tomatoes. 'Tis the season!
Bon Appétit, Y'all!
Virginia Willis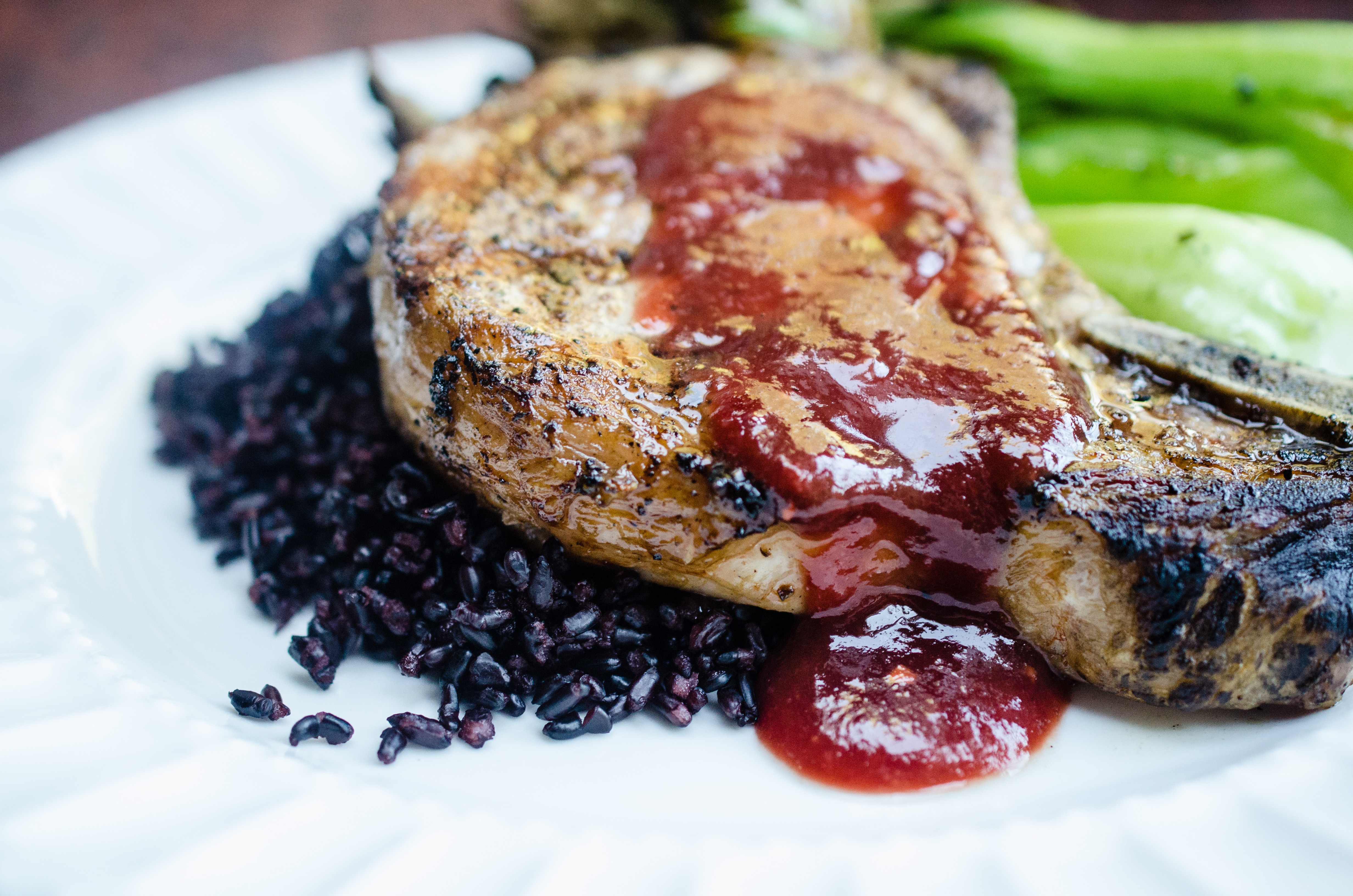 Five Spice Pork Chops with Ginger Plum BBQ Sauce
Makes 2 cups
Ingredients
For the sauce:
4 cloves

2

whole star anise pods

1

whole

(3-4 inch) cinnamon stick

1/2

teaspoon

whole black peppercorns

1 1/2

pounds

plums

, pitted and chopped

1

small onion

, preferably Vidalia, chopped

2

inch

chunk of fresh ginger

, chopped

2

cloves

garlic

, peeled and chopped

2-4

Thai chili peppers

, chopped

1

cup

apple cider vinegar

1/2

cup

Turbinado brown sugar

2

tablespoons

soy sauce
For the pork chops:
¼

cup

kosher salt

2

cups

boiling water

3

cups

ice cubes

4

center cut

, bone-in pork chops, about 1-inch thick, well trimmed (2¾ to 3 pounds)

2

teaspoons

Five Spice Powder
Instructions
For the sauce:

Tie the cloves, star anise, cinnamon stick, and black peppercorns in cheesecloth. Set aside. Combine the plums, onion, ginger, garlic, chili peppers, apple cider vinegar, brown sugar, and soy sauce in a heavy-bottomed, non-reactive pot. Add the reserved spice sachet. Bring to a boil then reduce the heat to simmer. Cook, stirring occasionally, until the plums are falling apart and the mixture is quite soft, about 25 minutes. Remove the bundle of spices and remove from the heat. Purée the sauce with an immersion blender until completely smooth. Return the mixture to a boil, reduce to a simmer and cook until the sauce coats a spoon. Taste and adjust for seasoning with soy sauce and sugar.

For the chops:

Meanwhile, place the salt in a medium heatproof bowl. Pour over the 2 cups boiling water and stir to dissolve. Add the ice cubes and stir to cool. Add the pork chops, cover the bowl with plastic wrap, and refrigerate to marinate, about 30 minutes. (Do not marinate any longer or the pork will be too salty. If you can't cook it right at the 30-minute mark, remove the pork from the marinade and refrigerate until ready to continue.) Remove from the brine, rinse well, and thoroughly dry pat with paper towels. Set aside.

Season the pork chops with pepper and the Five Spice Powder. Prepare a charcoal fire using about 6 pounds of charcoal and burn until the coals are completely covered with a thin coating of light gray ash, 20 to 30 minutes. Spread the coals evenly over the grill bottom, position the grill rack above the coals, and heat until medium-hot (when you can hold your hand 5 inches above the grill surface for no longer than 3 or 4 seconds). Or, for a gas grill, turn all burners to high, close the lid, and heat until very hot, 10 to 15 minutes.

Place the pork chops on the grill and grill for 3 to 5 minutes per side or until the internal temperature reaches 145°F, brushing with Plum BBQ Sauce in the last few minutes. Remove to a plate and cover with aluminum foil to rest and let the juices redistribute, 3 to 5 minutes. Serve immediately with reserved warm sauce on the side.
If you are interested in hosting me for an event, cooking class, or a book signing, let me know! Send an email to jaimee@lisaekus.com and we'll be back in touch as soon as possible.
Please be nice. Unauthorized use and/or duplication of this material without permission is prohibited. All photos and content are copyright protected. Please do not use photos without prior written permission. If you wish to republish this recipe, please rewrite the recipe in your own words and link back to this recipe on virginiawillis.com. Thanks so much.

Please note that this post may contain affiliate links.