Please note that this post may contain affiliate links.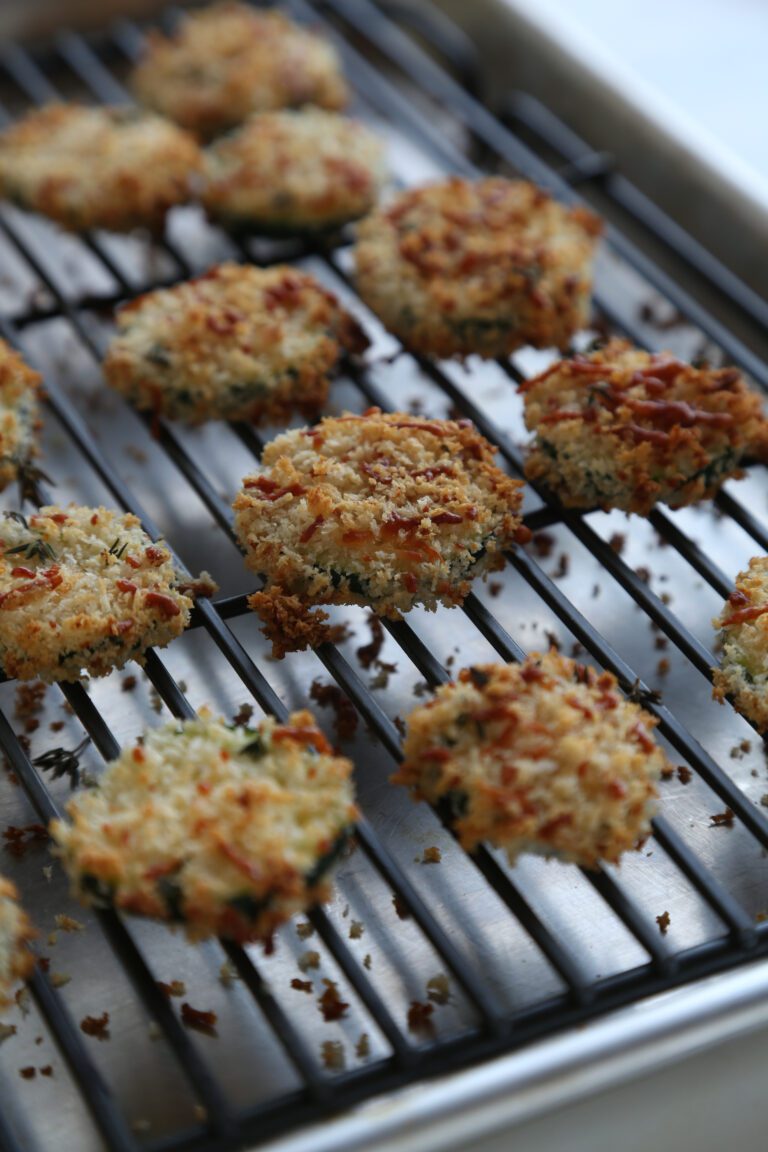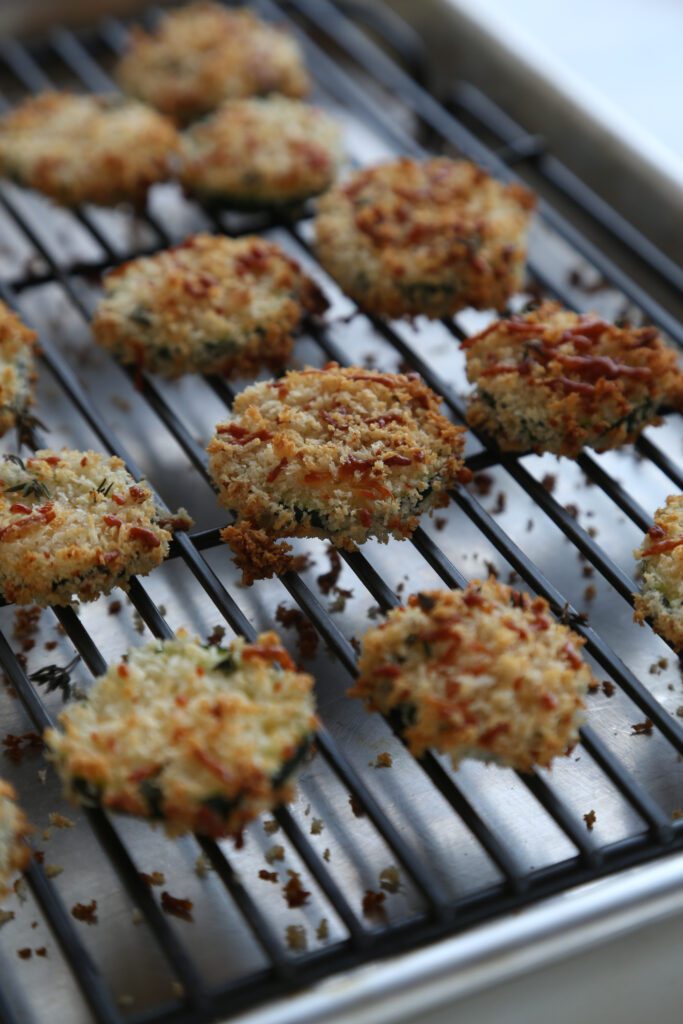 My grandmother used to stand at the stove and fry slices of squash and zucchini in her cast-iron skillet. She'd dip thick rounds of squash in egg then coat them in a combination of seasoned cornmeal and flour. They'd bubble furiously in the fat, transforming from pale yellow disks to golden brown coins. Using her well-worn two-pronged fork, she would transfer them, one at a time, to layers of split-open brown paper bags to drain. It seems they never made it to the table. My sister, cousins, and I would hover around the kitchen table like little birds with mouths wide open, our greasy little fingers scarfing down the crispy rounds as soon as they would cool enough to touch.
I feel *nearly* the same with these Baked Zucchini Crisps and sure you will, too. Read on for more about a round-up of summer squash recipes — and a whole lot of Zucchini Love.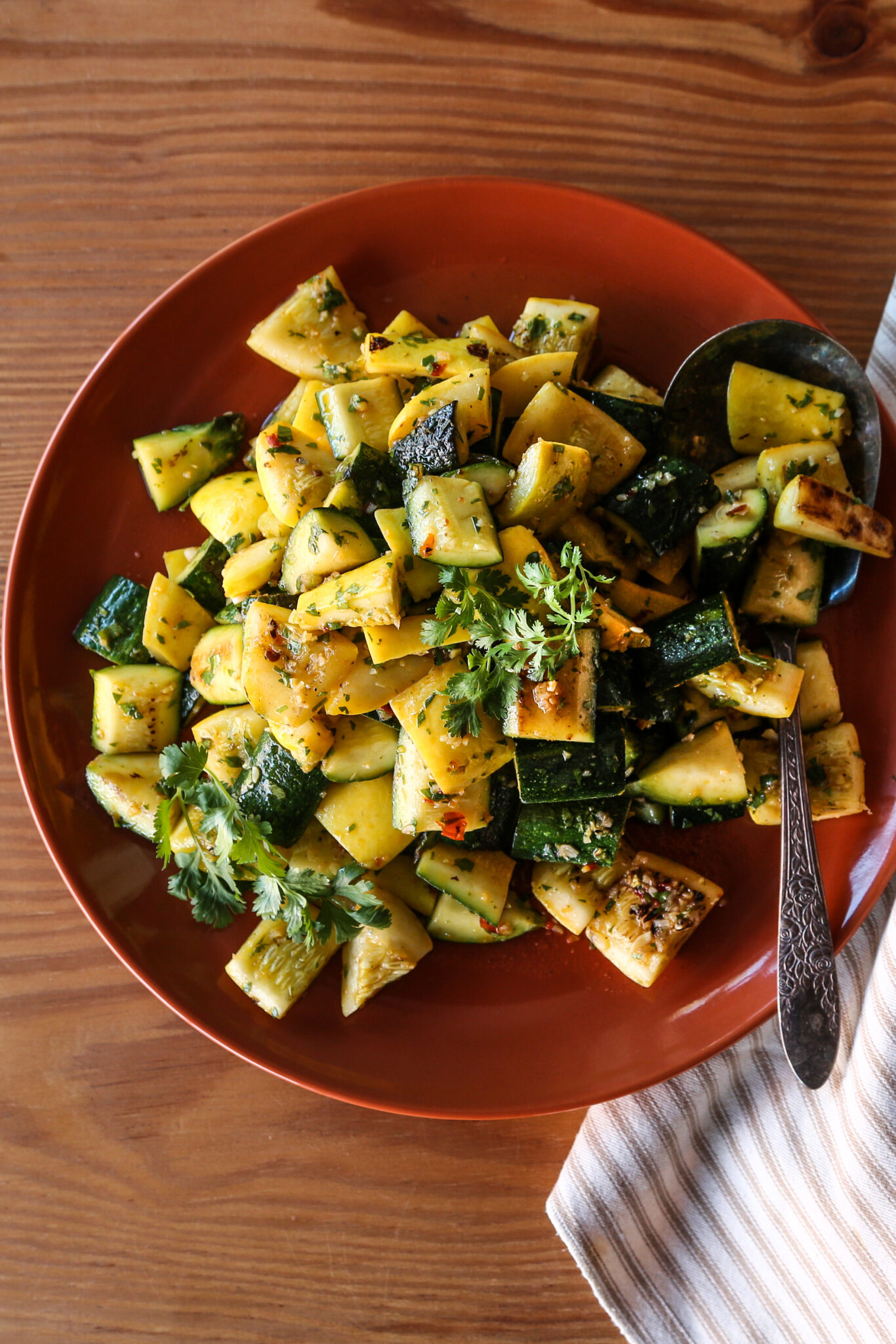 How to Cook Squash and Zucchini
While old-fashioned fried squash is a classic, garden-ripe summer squash is infinitely versatile. It can be served raw, spiralized, grilled, steamed, pickled, and sauteed. It can be pureed into soup or "casseroled," covered in cheese.
Here's a game-changing tip about salting summer squash on Instagram I picked up from my colleague, Chef Ashley Christensen.
Is Zucchini Healthy?
In season, zucchini and yellow squash are some of the finest summer produce has to offer. Yes, they sometimes play second fiddle to uptown heirloom tomatoes and down-home fresh corn, but freshly harvested summer squash recipes are good and good for you. It seems over three-quarters of the year we're exposed to watery and dull summer squash imported in from all over the world. We forget how fantastic zucchini and yellow squash recipes can be.
It's widely known that bananas are high in potassium. Did you know that one medium zucchini has 512 mg of potassium, according to the USDA? Compare that to one medium banana that has 422 mg. Mind blown.
Zucchini is a low-carb green squash with a tremendous amount of health benefits that can be used for sweet and savory dishes alike. It's packed with many important vitamins, minerals, and antioxidants with a high fiber content and a low-calorie count.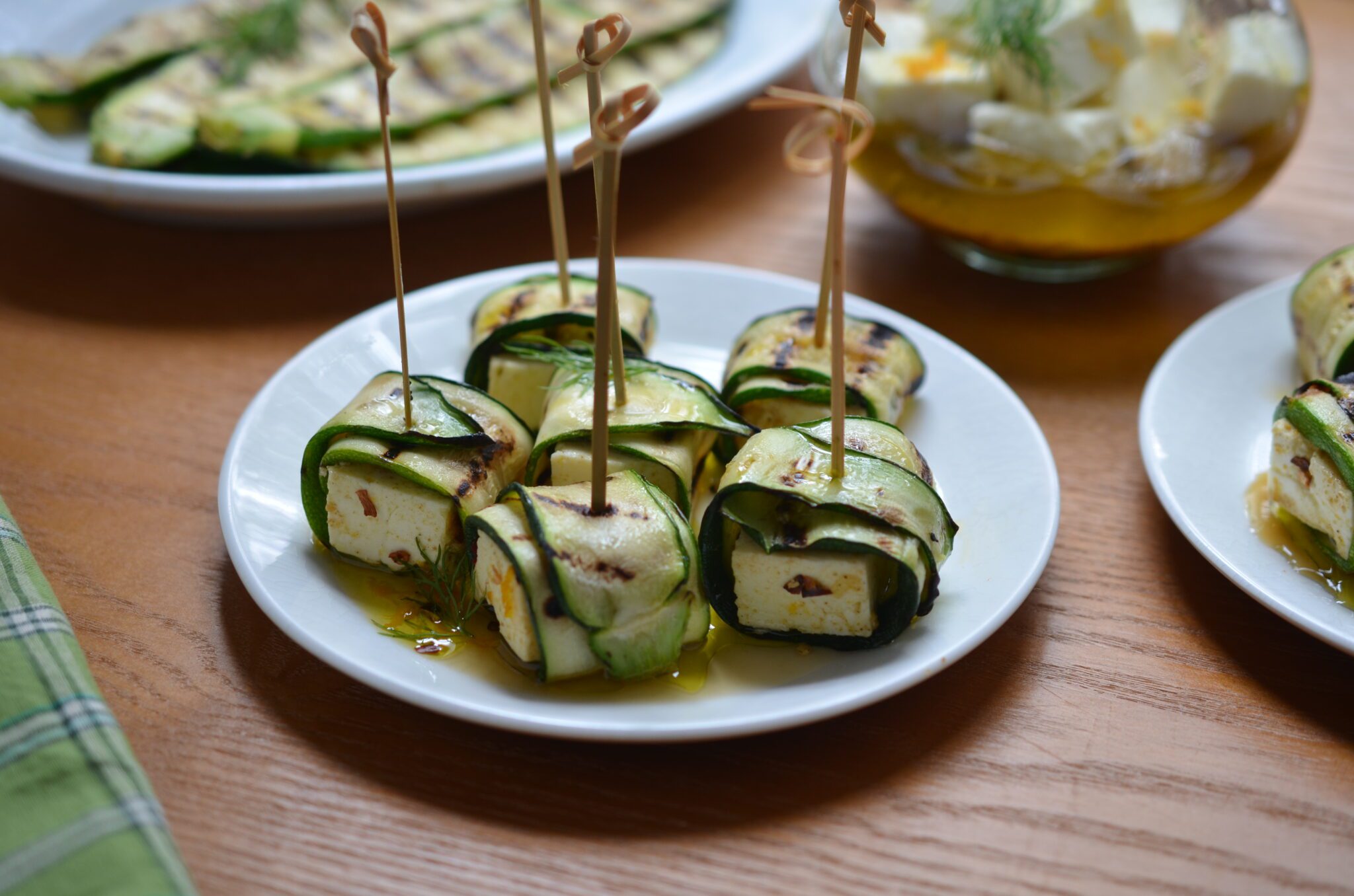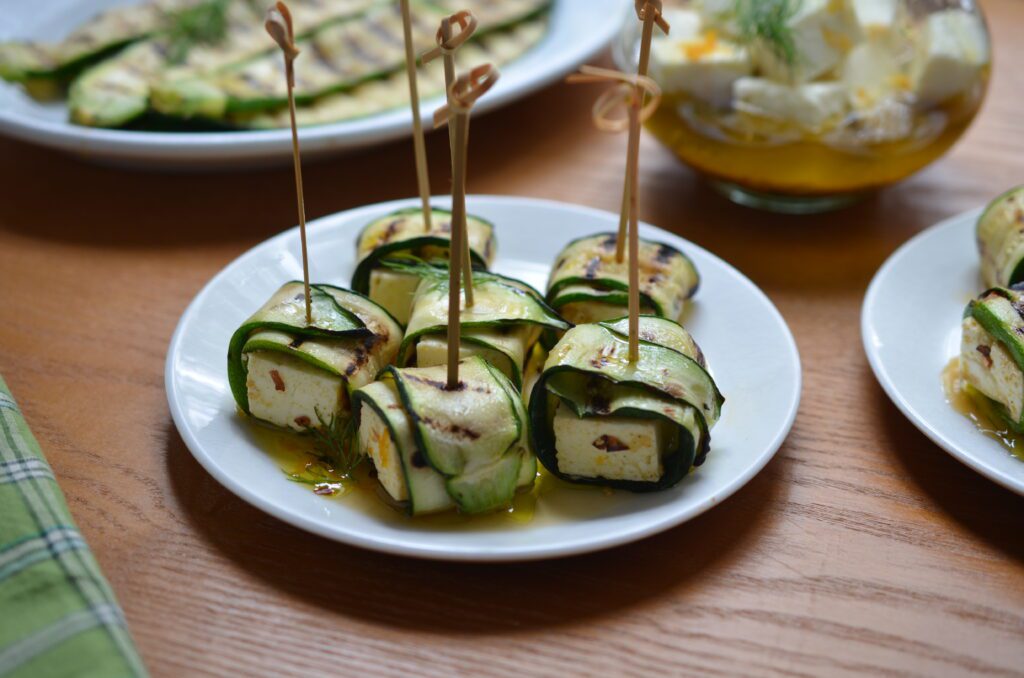 Healthy Zucchini Recipes
Here's a recipe round-up of some of my favorite summer squash recipes: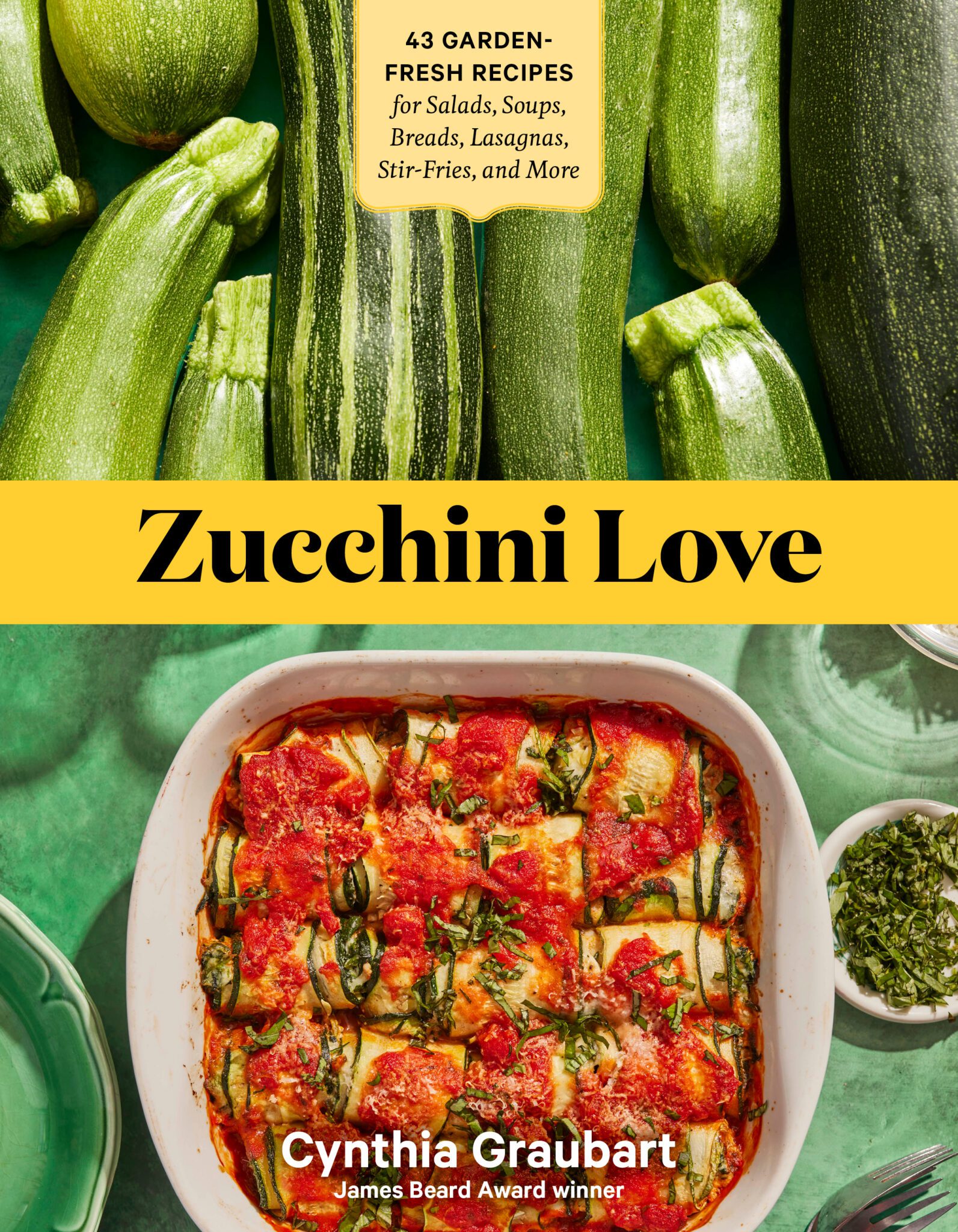 Zucchini Love
For the absolute ultimate recipe round-up of zucchini recipes, you need to check out Zucchini Love, written by my dear friend Cynthia Graubart. Having been fortunate enough to taste many of these recipes, I have to say that Cynthia has done an AMAZING job of assembling a great collection of tasty recipes I know you and your friends and family will love.
This book is a real value at less than 15$ Starters, main dishes, breads, appetizers, and desserts all made with zucchini — it's genius.
Her Zucchini Noodle salad has become my go-to for summer. Love it. It inspired my own version I shared with the 5:30 Challenge for the AJC, Ranch Zoodles with Grilled Shrimp. And, LOVE her Zucchini Ricotta Pound Cake. She's sharing here her Grilled Zucchini and Peach Salad. It is summer on a plate.
Bon Appetit, Y'all!
Virginia Willis
PS Speaking of peaches — super proud of my collaboration with Pearson Farm for Virginia's Georgia Peach Pound Cake. Use cokde CHEFVA for 20% off anything on PearsonFarm.com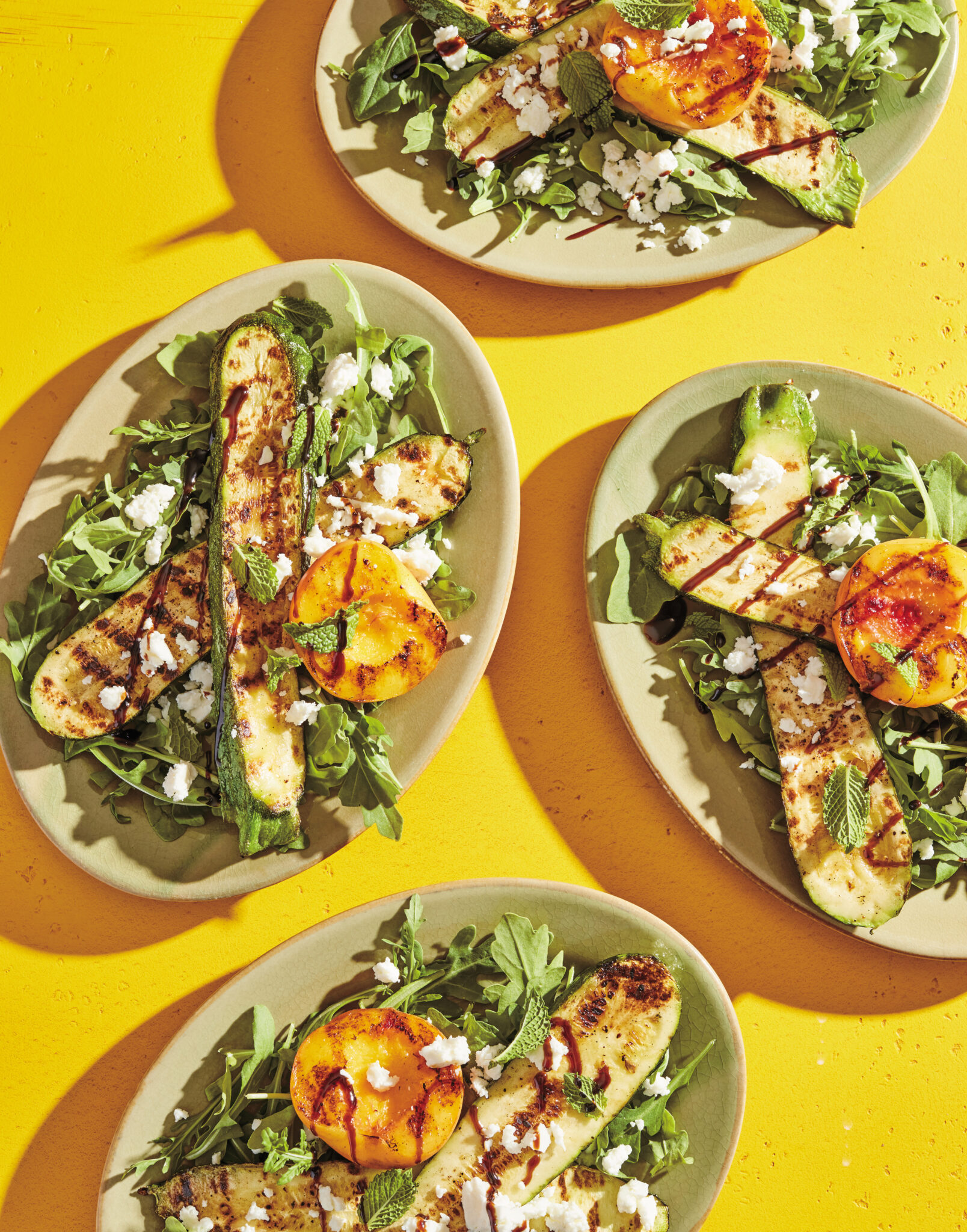 Grilled Zucchini and Peach Salad with Mint
If you can't find balsamic reduction in your grocery store or specialty food market, you can make your own. Heat 1/2 cup balsamic vinegar in a small pan over low heat and cook until reduced to 2 tablespoons.
Ingredients
2

medium zucchini

2

tablespoons

extra-virgin olive oil

Salt and freshly ground black pepper

2

medium peaches

5

ounces

arugula

1/4

cup

fresh mint leaves

finely chopped

1/2

cup

crumbled feta cheese

2

tablespoons

balsamic reduction

see Note
Instructions
Cut each zucchini lengthwise into four slices. Brush the cut sides with the oil and season with salt and pepper. Peel, halve, and pit the peaches.

Heat the grill or a grill pan over medium-high heat. Place the zucchini slices and peach halves cut side down on the grill. Cook, in batches if necessary, until the zucchini is soft and the peaches show grill marks.

Divide the arugula among four plates. Place two slices of zucchini crossed in the center on top of each salad. Place a peach half, grilled side up, on each. Sprinkle with mint and feta. Drizzle with balsamic reduction and serve.
Let's cook something up! If you are interested in hosting me for a speaking engagement, event, cooking class, or a book signing, let me know! Send an email to jona@virginiawillis.com and we'll be back in touch as soon as possible.
I am not a doctor, RD, health professional, or WW representative. I am simply sharing what works for me. My blog is for informational or educational purposes only and does not substitute professional medical advice or consultations with healthcare professionals.
Note that this post may contain affiliate links and I may make a commission if you use my affiliate link to buy the product.
Please be nice. Unauthorized use and/or duplication is prohibited. All photos and content are copyright protected. If you wish to republish this recipe, please link back to this recipe on virginiawillis.com. Thanks so much!

Please note that this post may contain affiliate links.