Please note that this post may contain affiliate links.
How to Cook Asparagus, How to Store, How to Trim, and How to Know When It is Done. 


Spring is starting to kick into high gear! One of the first freshly harvested vegetables to enjoy is asparagus. Pencil thin or thick and hearty is a matter of personal preference. Regardless of size, when buying it in the grocery store look for spears that are firm and bright green, with intact tips.  Cook it as soon as possible as it deteriorates fairly rapidly.  Store it in a plastic bag with a damp paper towel wrapped around the stems.  It will last 3 to 4 days.
The ends of fresh asparagus can be tough and woody. I prefer to slice off the last inch or so of the stem instead of snapping it off where the spear breaks naturally. Not only is it more visually appealing when all the spears are exactly the same size, but they will also cook at the same rate of speed. Large spears are more mature, less tender, and also need to be peeled.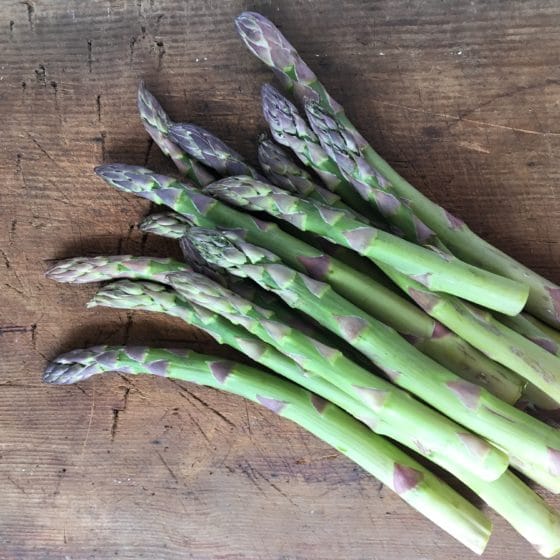 Asparagus Pee
Yep, I said it. Asparagus pee has long been the subject of scientific debate. The issue is that if you ask people if they can smell asparagus in their urine after eating it, half the people will reply yes, and half the people will look at you like you have lost your mind.
Scientists used to believe people metabolized this vegetable differently and some folks produced urine that smelled and some did not, but they were wrong. We now know that it is not that individuals excrete the chemicals that make the urine smell, it is the smellee, the person, who can smell them or not. How's that for news you can use?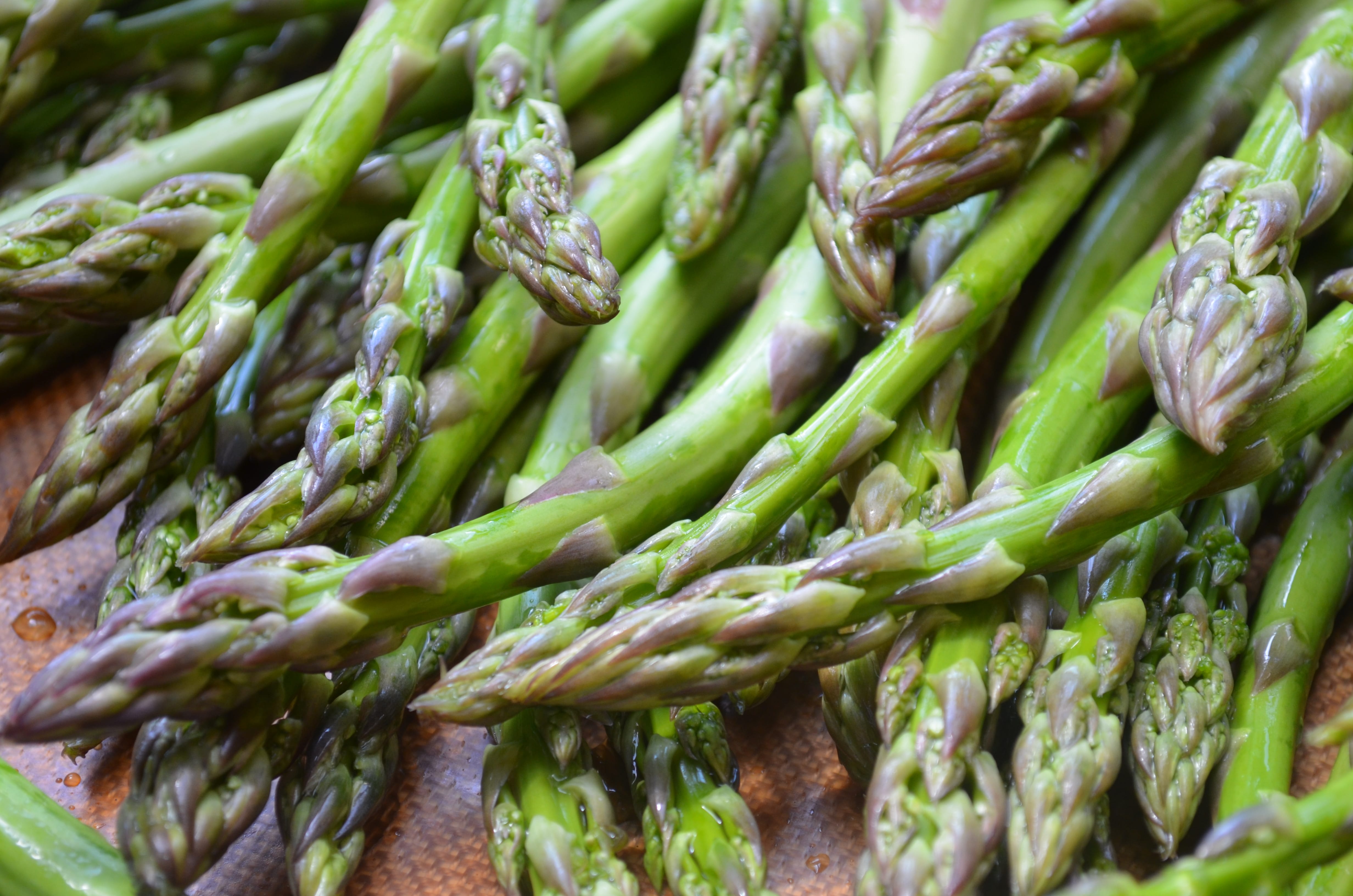 Spring Vegetables
My grandmother, Meme, liked what she called "Asparagus Salad" but there wasn't anything to preparing it other than opening the familiar shiny silver can. And, even though I know the flavor of canned cannot compare to freshly cooked, I truly relish that taste memory. But, I have a confession: I actually like canned asparagus. And, I have a bigger confession: I never really liked fresh asparagus.
Well, I always thought it was just okay and considered it to be an overrated, snobby vegetable that is most often served with banquet food beef tenderloin or over-cooked salmon at catered events or so-called "fancy" restaurants. It has always been ubiquitous and seemingly season-less.
But, of course it has a season — spring! And, now I know better. Seek it out at your market or farmer's market. When freshly harvested and prepared, it's delicious. I hope you enjoy this simple recipe for Asparagus with Fresh Mozzarella.
Bon Appétit Y'all!
Virginia Willis
PS Here are a handful of other great recipes:
Can you eat raw asparagus? Yes, you can! Check out this Raw Asparagus and Lemon Salad.
Celebrate spring with this Asparagus and Baby Vidalia Onion Salad 
Here's a round up of 12 great Vegan Asparagus recipes curated by my friend and fellow cookbook author, Kathy Hester.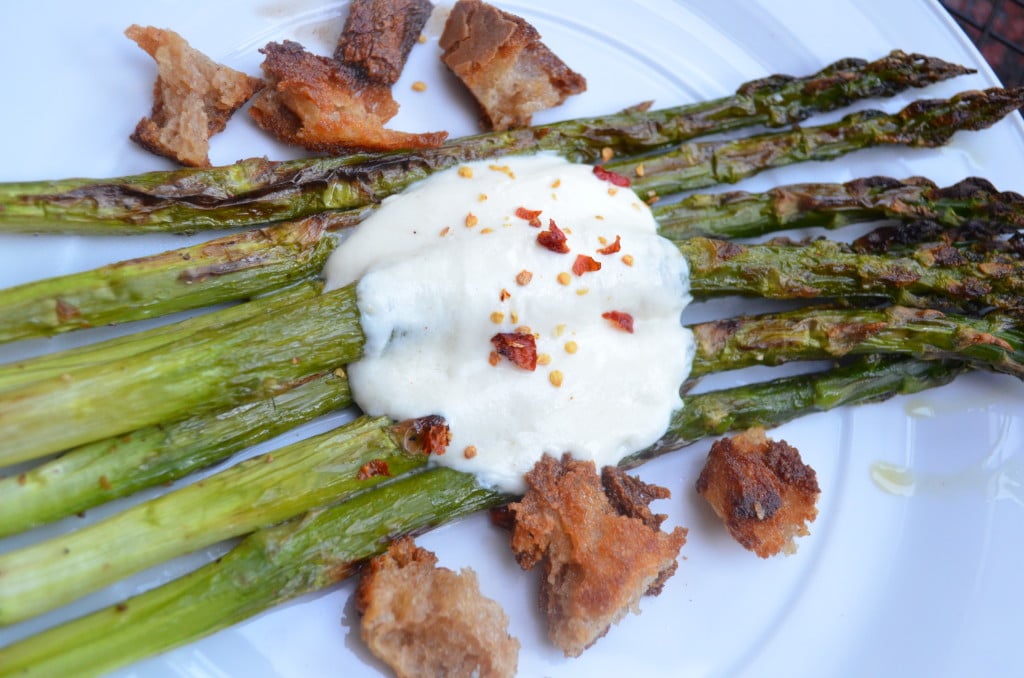 Asparagus with Fresh Mozzarella
Serves 4
Ingredients
1

pound

 asparagus

ends trimmed

2

tablespoons

 extra virgin olive oil

1

slice

country bread

torn into bits

1-2

balls fresh mozzarella

sliced 1/2-inch thick

1/2

teaspoon

red pepper flakes

or to taste

Coarse kosher salt and freshly ground black pepper
Instructions
Preheat the broiler. Spread out the asparagus spears in a single layer on a rimmed baking sheet lined with a nonstick silicone baking sheet. Drizzle with 1 tablespoon of oil and shake the pan to evenly coat the spears. Season with salt and pepper. Divide into 4 equal portions on the baking sheet. Set aside.

Heat the 1 tablespoon of remaining oil and 1 tablespoon of butter in a small skillet over medium high heat. Add the bread bits and season with salt and pepper. Cook until golden brown, 2 to 3 minutes. Set aside and keep warm.

Broil until the spears are just tender, 4 minutes for thin and up to 10 minutes for thick asparagus. In the last few minutes of cooking, top each individual bundle with a slice of mozzarella. Return to the broiler and cook until melted and bubbly, about 2 minutes, depending on the strength of your broiler. Transfer the bundles to warm plates. Sprinkle over toasted bread and red pepper flakes. Serve immediately.

Please note that this post may contain affiliate links.