Please note that this post may contain affiliate links.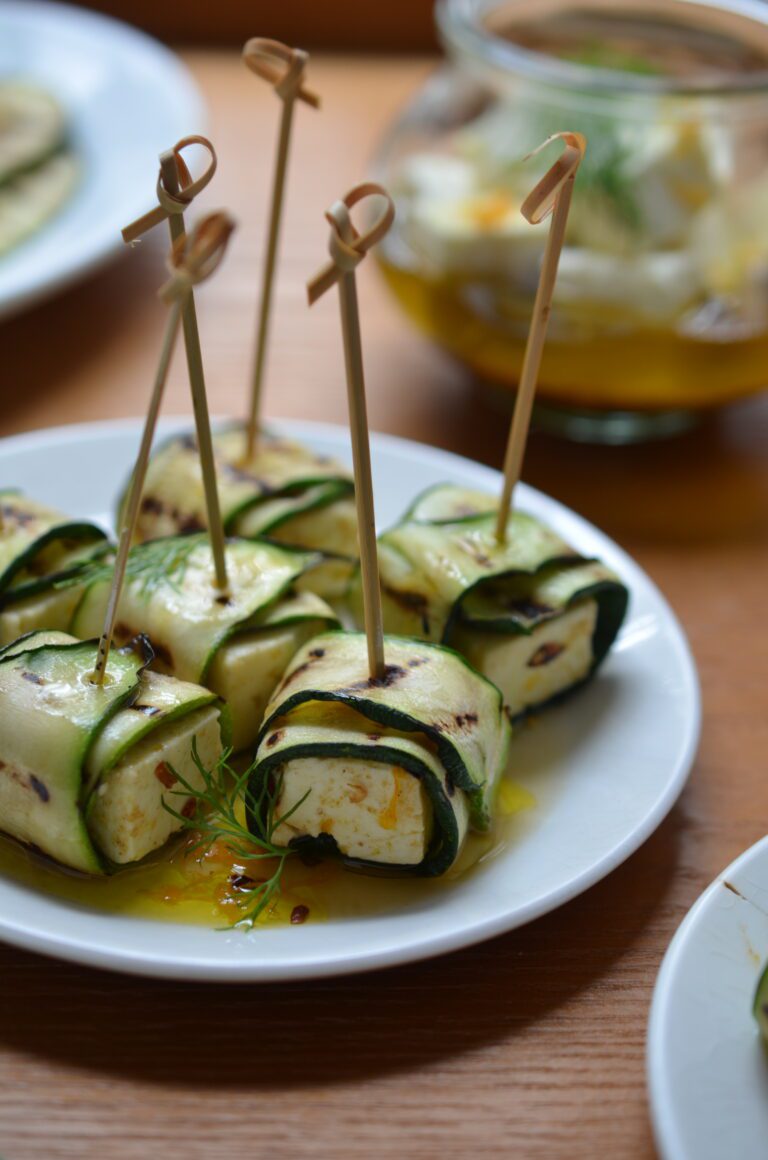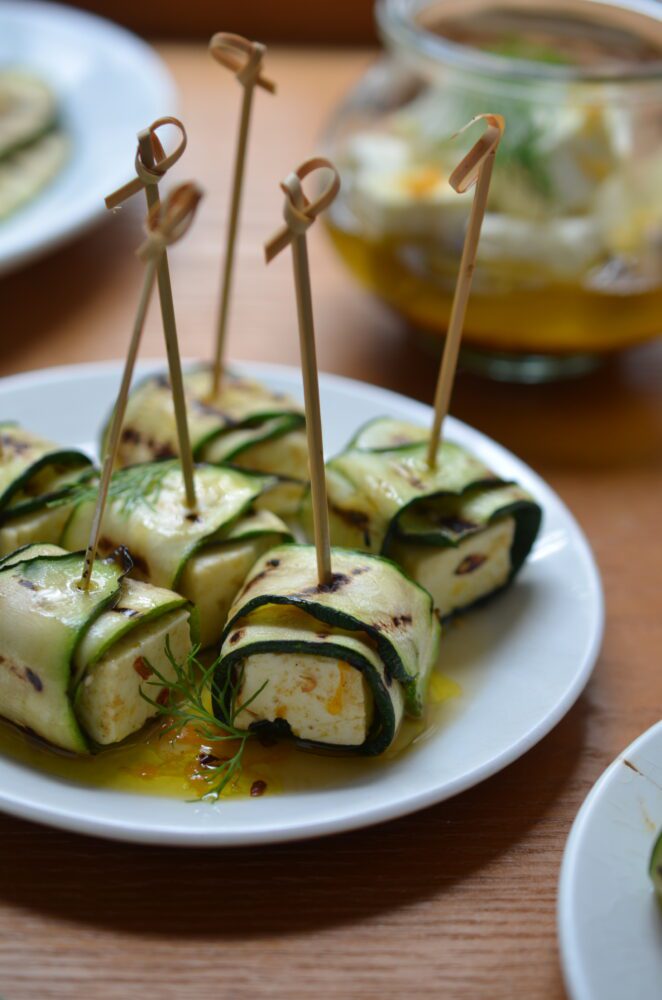 Eat cheese, lose weight. Wait, what? YES! Ok, it's not carte blanche to eat as much as you want or can. However, Feta PDO is big on flavor but low in fat and calories. It's a great fit and feta has long been one of my favorite cheeses. Feta PDO is a lot of "bang for the buck." Its full flavor means you don't need as much as you would with many other types of dairy products. Earlier this summer I was able to visit Greece and learn all about this amazing cheese. Read on to learn more!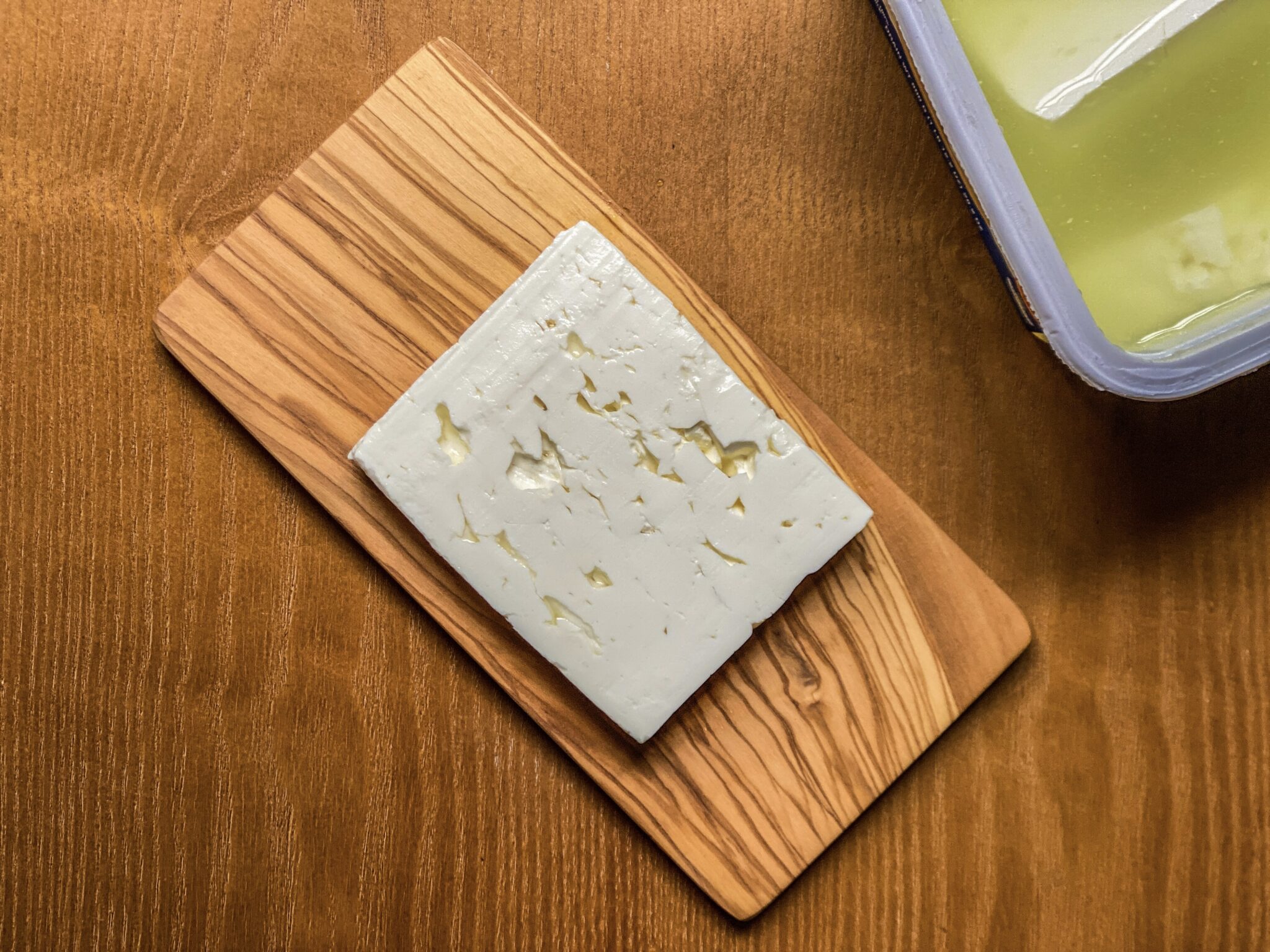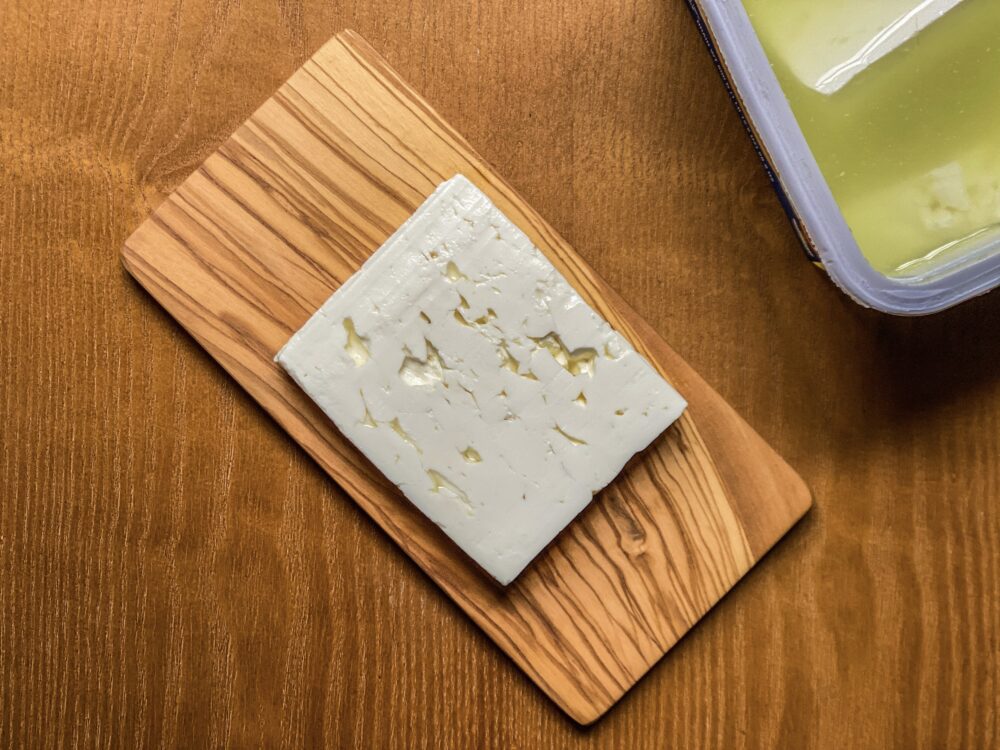 What Does PDO Mean?
First up, what's PDO? PDO means Protected Designated Origin.
The simplest way to explain this is to consider Champagne. Only sparkling wine from the region of Champagne, France can be called Champagne. Sparkling wine from anywhere else cannot be legally nor rightfully be called Champagne. The European Union, made of 27 countries, each with multiple culinary and agricultural traditions, has codified many of these into rules and regulations based on the often ancient and time-honored history of the making of these products.
The Protected Designation of Origin (PDO) indication identifies a product originating from a certain region, area or, in some exceptional cases, a country and whose quality or characteristics are mainly, or exclusively, due to the particular geographical environment.
The end result is that you want to only buy Feta PDO. Frankly, in my mind, eating fake feta or non-Feta PDO is the equivalent of using the "green can of parmesan" instead of Parmigiano Reggiano. Yes, I said it.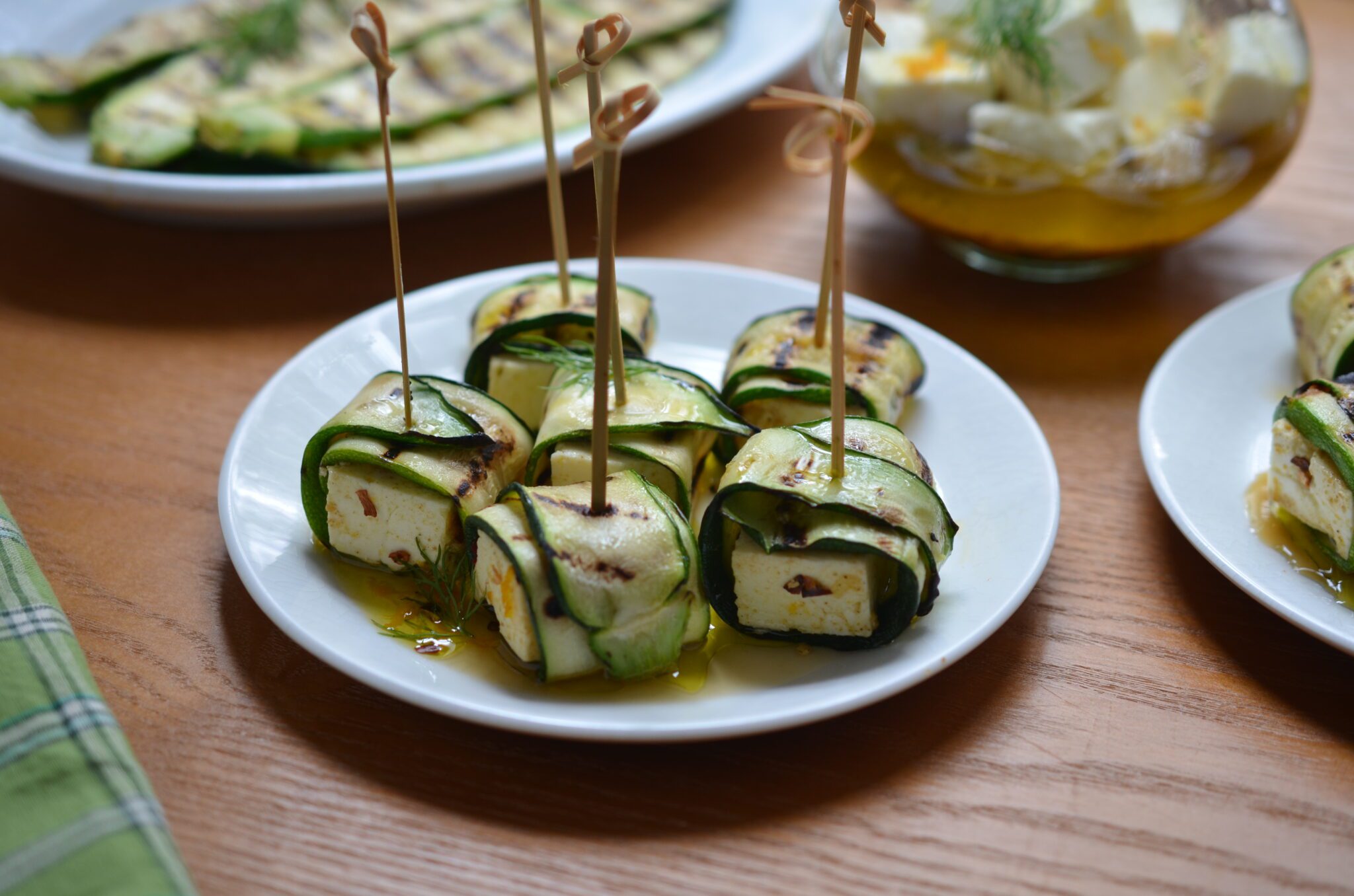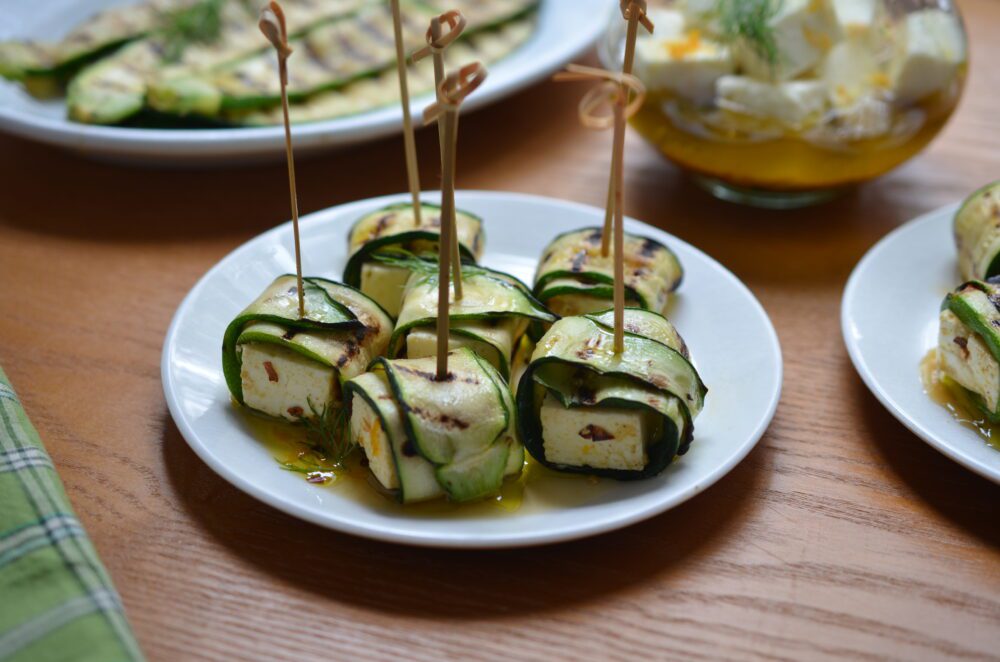 What Kind of Cheese is Feta?
The traditional method of producing Feta PDO is linked directly to the specific climatic conditions of Greece. With its steep mountainsides and its hot and dry climate, there was little land suitable for widespread cattle rearing. Instead, the Greek people turned to hardy sheep and goats that could thrive in these difficult conditions. Feta PDO, authentic Greek feta, is made from fresh or pasteurized sheep's milk or sheep's milk and up to 30% goats milk. These kinds of milk, more robust in flavor than cow's milk are what give Feta PDO a slight peppery taste.
Last year the world lost its mind when a tiktokker baked a block of feta with cherry tomatoes and added pasta. Not kidding, there were dairies in Greece that ran out of Feta cheese. Salty and slightly acidic, Feta PDO is a cheese with a history as rich as its taste. A true product of its environment, its recipe and production method reflect the unique terrain of Greece and are grounded in the cumulative know-how of more than two thousand years. Yes — Feta cheese is mentioned in Homer's Odyssey! It is one of the oldest cheeses on record.
What are the Health Benefits of Feta PDO
Other than its rich and long history, what are the health benefits of Feta PDO? Feta is lower in fat than many other kinds of cheese and is a good option to eat in moderation. Because it's not traditionally made from cow's milk, but with milk from sheep and goats, it's also easier to digest.
Feta PDO is:
Great source of calcium – For women, especially this is important. According to Johns Hopkins, "As you age, your nutritional needs change. Before menopause, you should have about 1,000 mg of calcium daily. After menopause, you should have up it to 1,200 mg of calcium per day."
High in protein — I find that a high protein snack can quell my munchies quick.
Feta cheese contains beneficial microbes including yeasts and bacteria which may help support gut health. Good gut health is key to losing weight.
Yes, you can eat cheese and lose weight or maintain a healthy weight — or any weight you want! My approach is to being "healthy and strong" is to eat what I want within reason, in reasonable amounts, and to eat the best possible version of that food that I can. It works for me. This is a real-life recipe of mine that's an example. While feta cheese provides you with an excellent source of nutrients like calcium and protein, it also contains high amounts of sodium and saturated fat. So, remember all good things in moderation.
To learn more about Feta PDO please check out my video on Instagram!
Point it Out
If you are a WW follower, 1 ounce of Feta PDO is about 3 points. I don't mind splurging a bit with these zucchini roll-ups because they are soooo good. The marinated Feta PDO is a great nibble to keep in the fridge even without the zucchini.
I've got few contests going on to celebrate my new column, Simple Sides in Allrecipes magazine. Head over to Instagram and enter to win a copy of my little book Fresh Start + a subscription to Allrecipes! For those of you not on IG, you can simply sign up to subscribe to this blog. The contest lasts until 8/31/22. Thanks for reading!
Bon Appétit Y'all
Virginia
PS Need another zucchini recipe? Check out my Turkey Meatballs with Zoodles!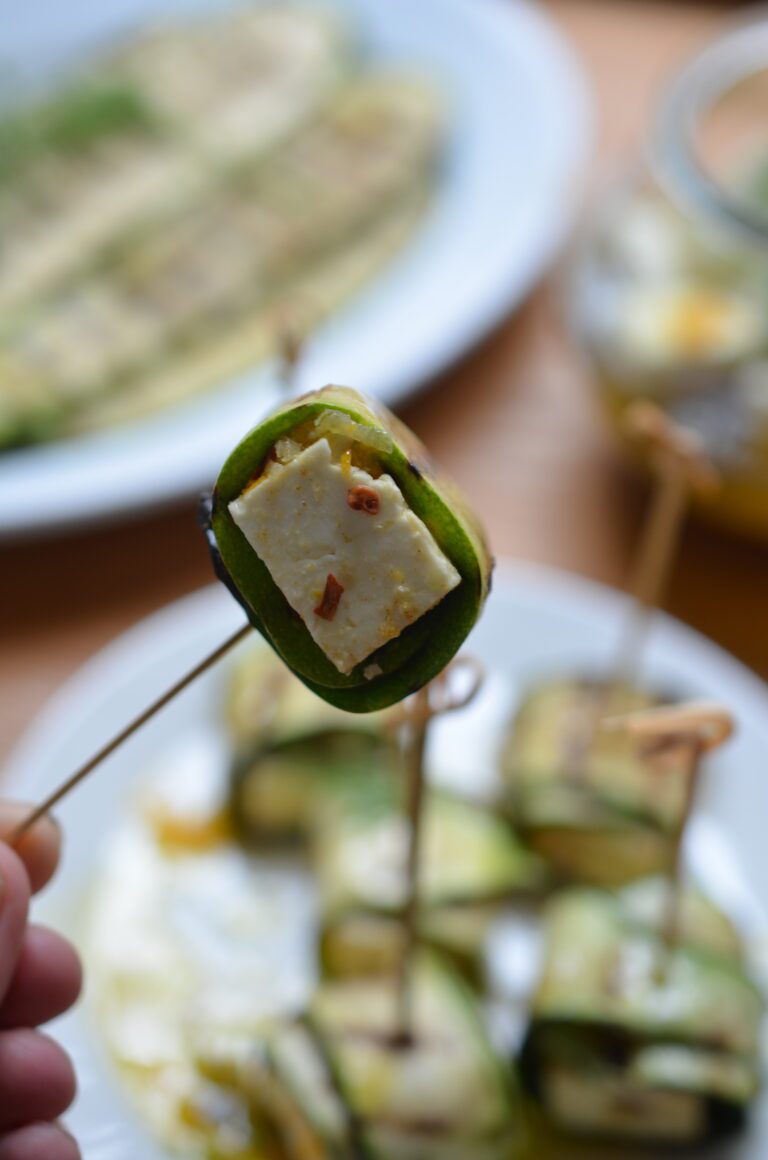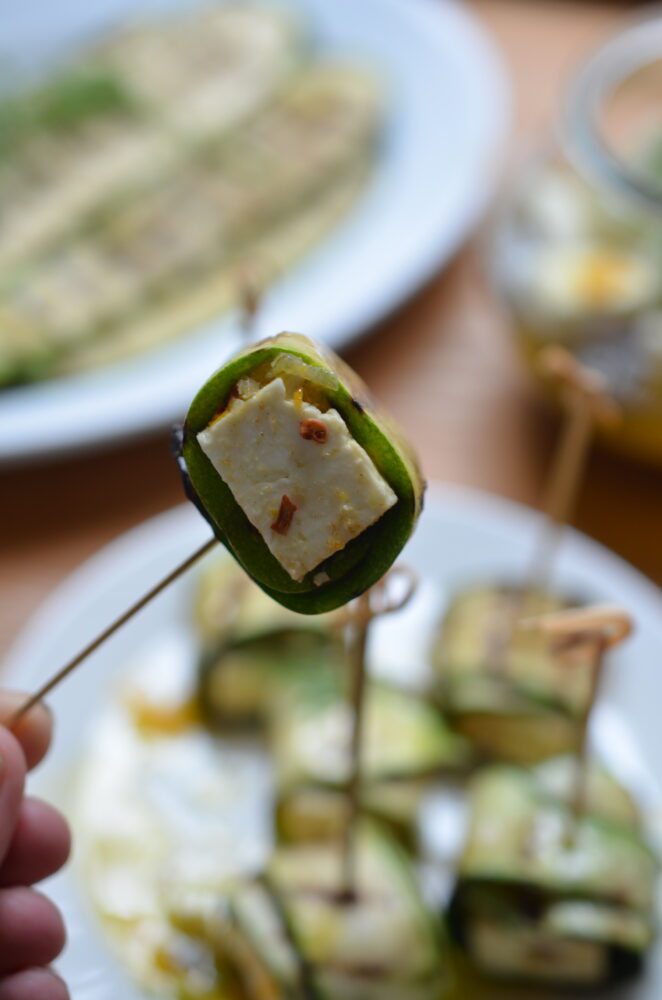 Marinated Feta and Grilled Zucchini Roll Ups
Ingredients
8

ounces

Feta PDO cheese

cut into 1-inch cubes

1

teaspoon

ground cumin

1

teaspoon

ground coriander

1/2

teaspoon

red pepper flakes

or to taste

Finely grated zest of 1 orange

1

garlic

finely grated or chopped

1

cup

best-quality extra-virgin olive oil

2

sprigs dill

more for serving

2

fresh bay leaves

4

small zucchini

Coarse salt and freshly ground black pepper
Instructions
Place the feta in a sealable airtight container or glass jar. Add the cumin, coriander, red pepper, orange zest, garlic, and olive oil. Tuck in the dill and bay leaves. Tilt or stir to coat and combine. Cover and refrigerate overnight.

Meanwhile, prepare a charcoal fire using about 6 pounds charcoal and burn until the coals are completely covered with a thin coating of light gray ash, 20 to 30 minutes. Spread the coals evenly over the grill bottom, position the grill rack above the coals, and heat until medium-hot (when you can hold your hand 5 inches above the grill surface for no longer than 3 or 4 seconds). Or, for a gas grill, turn on all burners to high, close the lid, and heat until very hot, 10 to 15 minutes. Lastly, heat a grill pan over medium high heat.

When ready to grill, slice 4 small zucchini lengthwise into even strips about 1/2 inch thick. Brush both sides of each strip with some of the seasoned feta oil. Season with coarse salt and freshly ground black pepper.
Let's cook something up! If you are interested in hosting me for a speaking engagement, event, cooking class, or a book signing, let me know! Send an email to jona@virginiawillis.com and we'll be back in touch as soon as possible.
I am not a doctor, RD, health professional, or WW representative. I am simply sharing what works for me. My blog is for informational or educational purposes only and does not substitute professional medical advice or consultations with healthcare professionals.
Note that this post may contain affiliate links and I may make a commission if you use my affiliate link to buy the product.
Please be nice. Unauthorized use and/or duplication is prohibited. All photos and content are copyright protected. If you wish to republish this recipe, please link back to this recipe on virginiawillis.com. Thanks so much!

Please note that this post may contain affiliate links.