Please note that this post may contain affiliate links.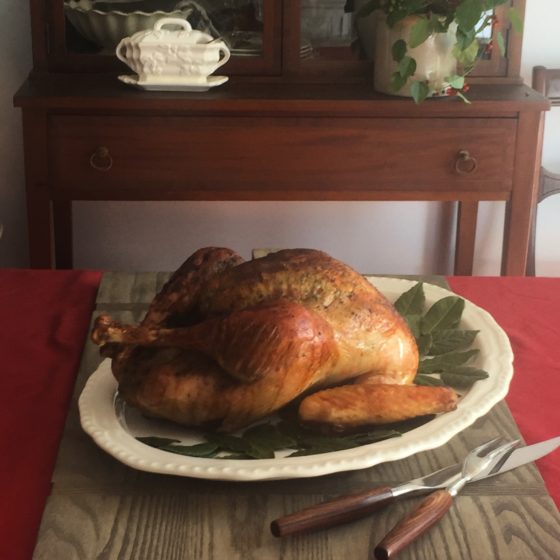 The first time I ever brined a turkey was over 10 years ago. I had read about it in Cook's Illustrated and was pretty curious, so we thought we'd give it a try. We made an overnight brine with salt, sugar, and spices. The result was a moist and tender bird with the most beautiful caramel-colored golden brown skin. I've wet-brined my turkey ever since! That's step #1 for Turkey 101.
BRINING
What's all this business about brining? Brining – soaking meat in a saltwater solution – is the key to a juicy, tender turkey. Salt causes the food proteins to form a complex mesh that traps the brine so the muscle fibers absorb additional liquid during the brining period. Some of this liquid is lost during cooking, but since the meat is juicier to begin with, it cooks up juicier at the end.
The size of the salt grains used in a brine is very important. Grains of table salt are very fine, while those of kosher salt are larger. The crystals of the two most widely available brands of kosher salt, Morton's and Diamond Brand, differ. Half a cup of table salt is equal to 1 cup of Diamond Brand kosher salt or 3/4 cup Morton's kosher salt. My recipes call for Diamond Brand because the conversion is easy at 2:1.
There's no hard-and-fast rule for brining – it all depends on how long you want to brine. However, keep in mind that the stronger and more concentrated the brining solution and the smaller the piece of meat, the shorter the brining period. A turkey is best brined in a weak solution for a longer period of time. For smaller pieces of meat, my philosophy is to use a strong brine that takes an hour or less.
I recommend an overnight brine for a turkey. Since most of us don't have a refrigerator to place a turkey in a 5-gallon bucket, I suggest using a cooler with ice and ice packs. With a 10 to 14 pound turkey, dissolve 1 cup Diamond Brand kosher salt and 1/2 cup sugar in 1 gallon of hot water. Stir until dissolved, then add 1 gallon of ice water to cool the solution. Pour the brine into the bucket or cooler. Add the turkey and if that's not enough liquid to submerge the turkey, repeat the process in a second container and pour the cooled brine over the bird. Store overnight in a cool place. If you store it outside, make sure to weigh down the lid of the cooler so a curious raccoon or other critter doesn't take a peak, look-see, or nibble.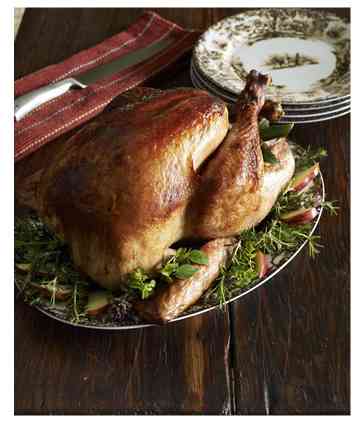 ROASTING
What about Roasting? That's my step #2 for Turkey 101.  I roast at a higher temperature to start, then reduce the heat to finish cooking. In general, the main point about roasting a big bird is food safety. I suggest using an instant read thermometer. Instant-read thermometers are indispensable when cooking a large piece of meat because, while the doneness of steaks and chicken breasts can often be gauged by touching the meat and feeling for firmness, a large piece of meat such as a turkey needs a thermometer to really register what's inside. The plastic pop-up timers found in many turkeys are unreliable, often resulting in an overcooked bird. A whole turkey is safe when cooked to a minimum internal temperature of 165 °F as measured with an instant read thermometer. (I swear by my Thermapen.) Check the internal temperature in the innermost part of the thigh and wing and the thickest part of the breast.
Here's a general guideline for cooking times for  unstuffed birds: 
8 to 12 pounds 2¾ to 3 hours
12 to 14 pounds 3 to 3¾ hours
14 to 18 pounds 3¾ to 4¼ hours
18 to 20 pounds 4¼ to 4½ hours
20 to 24 pounds 4½ to 5 hours
 
CARVING
First, once the turkey has reached the correct temperature, wrap it tightly in foil and let it rest for about 30 minutes to let the juices redistribute.
When carving a turkey, let the bird guide the way. That's my step #3 for Turkey 101. This may sound a bit odd, but the parts should separate at the joints with little or no effort. If the bird is fighting you, the knife is not in the right place.
Place the turkey breast side up on a cutting board, preferably with a moat to catch the juices.  If the bird is hot, I use a clean kitchen towel to protect my hand and fingers instead of a carving fork, but you can use a fork or a set of tongs. I prefer to use the towel because it doesn't tear the skin.
Pull the leg and thigh back to expose the joint that attaches it to the body.  Use a sharp knife to sever the thigh from the body, cutting through the separated joint. As you separate the leg, using the tip of the knife, be sure to get the "oyster," a yummy nugget of delicious dark meat toward the back of the turkey, just above the thigh. Halve the leg quarter into the drumstick and thigh. Repeat the process with the other leg and thigh.
Place each leg quarter on the cutting board, skin side down. Use a chef's knife to cut through the joint that connects the leg to the thigh. (It should be fairly easy to cut through the joint.) Look for a line of fat, and if the knife meets resistance, your knife is hitting bone and is not placed at the joint, which is easy to carve through. So, reposition the blade slightly and try again.
With the turkey breast still breast-side up on the cutting board, feel for the breastbone, which runs along the top center of the carcass. Begin separating one side of the breast from the body by cutting immediately alongside the breastbone with the tip of your knife. (You are removing the breast from the carcass, not cutting the breast on the carcass.) Work from the tail end of the bird toward the neck end. When you hit the wishbone, angle the knife and cut down along the wishbone toward the wing, then make a cut between the breast and the wing.
Finish separating the breast by simultaneously pulling back on the meat and using short strokes of the knife tip to cut the meat away from the carcass. Place the whole breast on the cutting board. Slice the breast into 1/4-inch thick slices. (Do the same to remove the breast meat on the other side.)
Find the joint where the wings connect to the body and bend until the joint pops apart. Use a sharp knife to sever the wing from the body, cutting through the separated joint. Using a chef's knife or your hands, remove whatever meat remains on the carcass. (Reserve the carcass for stock.) Arrange the legs, thighs, wings, and meat on a platter, pour over any accumulated juices to moisten the meat, or use in pan sauce, and serve.  (If you need more information, here's a great video by Chef Brendan Walsh from the CIA on how to carve a turkey – he's a fellow Blue Ribbon Advisory Board Member for Seafood Watch!)
Giving Thanks
Whether this will be your 1st bird or your 50th, I wish the best for you and yours. I am most grateful for my family, friends, and my many blessings.
Everyone has their "must-have" dish for Thanksgiving and for me, it's Cornbread Dressing. My thoughts and suggestions on Cornbread Dressing are included in this piece by Kim Severson in the New York Times.  I'm also excited for my holiday feast that's featured in Weight Watchers magazine this month – it's on the newsstands, now!
Lastly, as you start your holiday shopping, please know that my cookbooks are on sale online. For more information, check out my cookbooks page.  I'm happy to send you a signed and personalized bookplate if you shoot me a note to info@virginiawillis.com with "bookplate" in the subject heading.
Happy Thanksgiving and Bon Appétit, Y'all!
Virginia Willis
ROAST TURKEY WITH APPLE CIDER GRAVY
Serves 8 to 10
1 cup kosher salt, more if needed
1/2 cup sugar, more if needed
1 gallon hot water, more if needed
1 gallon ice water, more if needed
1 12 to 14-pound turkey, neck reserved for stock
2 stalks celery
2 onions
1 carrot
5 cups chicken stock or water
1 apple, halved
2 sprigs fresh parsley
2 sprigs fresh thyme
4 fresh sage leaves
2 sprigs rosemary
1 bay leaf, preferably fresh
¼ cup (1/2 stick) unsalted butter, room temperature
Coarse salt and freshly ground black pepper
Apple Cider Gravy, recipe follows
Using a cooler or a 5-gallon food-safe bucket combine hot water with kosher salt and sugar as directed above. Add ice water and stir until combined and quite cold. Add the turkey, cover and chill for 8 to 10 hours. If using a cooler, make sure to add additional ice or frozen reusable ice packs to keep the turkey about 35°F.
(FYI – Make sure to place the ice packs in a sealable plastic bag before placing in the brine so there's no chance of the ice pack rupturing and contaminating the turkey.)
Place the turkey neck in a medium saucepan and cover with chicken stock or water. Coarsely chop 1 stalk of the celery, 1 onion, and 1 carrot; add to the stock. As you prepare the remaining vegetables, add the stems and skins to the saucepan. Bring to a boil over high heat. Reduce the heat to simmer and cook until fragrant and flavorful, about 1 hour.
Heat oven to 425°F, place oven rack in lowest position. Remove the turkey from the brine and rinse inside and out with cold running water. Pat dry and season turkey inside and out with freshly ground pepper. Place remaining celery and onion, apple, parsley, thyme, sage, rosemary, and bay leaf in cavity. Working from large cavity end, run fingers between skin and flesh of breast to loosen skin without tearing. Put 2 tablespoons butter under skin and spread butter evenly. Tie drumsticks together with kitchen string and fold wings under the body. Place the turkey on rack in a large roasting pan. Add 1 cup of the stock to the roasting pan. Brush remaining 2 tablespoons butter over turkey, roast 30 minutes. . Reduce oven temperature to 350°F. Baste turkey with pan drippings and continue roasting, basting every 30 minutes, until a thigh registers 165°F on a thermometer, and additional 2 to 2 1/2 hours.
Carefully tilt turkey to release any juices from inside cavity into roasting pan. Transfer turkey to serving platter. Discard celery, apple, parsley, thyme,  sage, rosemary, bay leaf and onion from cavity. Allow turkey to rest 30 minutes before carving. Serve with Apple Cider Gravy.
APPLE CIDER GRAVY
1 cup hard cider
4 cups turkey stock (see above)
2 large onions, finely chopped
¼ cup (1/2 stick) unsalted butter, more if needed
4 fresh sage leaves, chopped
1/3 cup all-purpose flour
Remove rack from roasting pan and pour pan juices through a sieve into a 1-quart glass measure. Place roasting pan across two burners over high heat, add cider and deglaze pan, stirring and scraping up any brown bits on the bottom of the pan. Cook until reduced to 1/2 cup, about 5 minutes. Pour cider through sieve into glass measure with pan juices, skim fat, reserving 1/4 cup. Add enough turkey stock to drippings to equal 4 cups.
Using a large sauté pan over medium heat, add butter. Sauté onions, stirring occasionally, until golden brown, about 10 minutes. Add sage and cook, 1 minute. Add turkey stock mixture and any turkey juices accumulated on platter and bring to a boil. Using a small bowl whisk together flour and reserved 1/4 cup fat. Whisk into gravy, reduce heat and simmer, whisking occasionally, until thickened, about 10 minutes. Taste and adjust for seasoning with salt and pepper.
Please be nice. Unauthorized use and/or duplication of this material without permission is prohibited. Feel free to excerpt and link, just give credit where credit is due and send folks to my website, virginiawillis.com. Thanks so much.
Want to keep up with my culinary wanderings and wonderings? Lets connect on  Facebook , Twitter, Instagram, and Pinterest.

Please note that this post may contain affiliate links.