Please note that this post may contain affiliate links.
How to Grill Chicken

Grilling and Chilling
The aroma of chicken on the grill is one of the most tempting smells of summer. Our attraction to the scent of meat cooking on fire is basic; the wafting gray smoke seems to awaken some sort of primordial urge buried deep in the recesses of our carnivorous brains.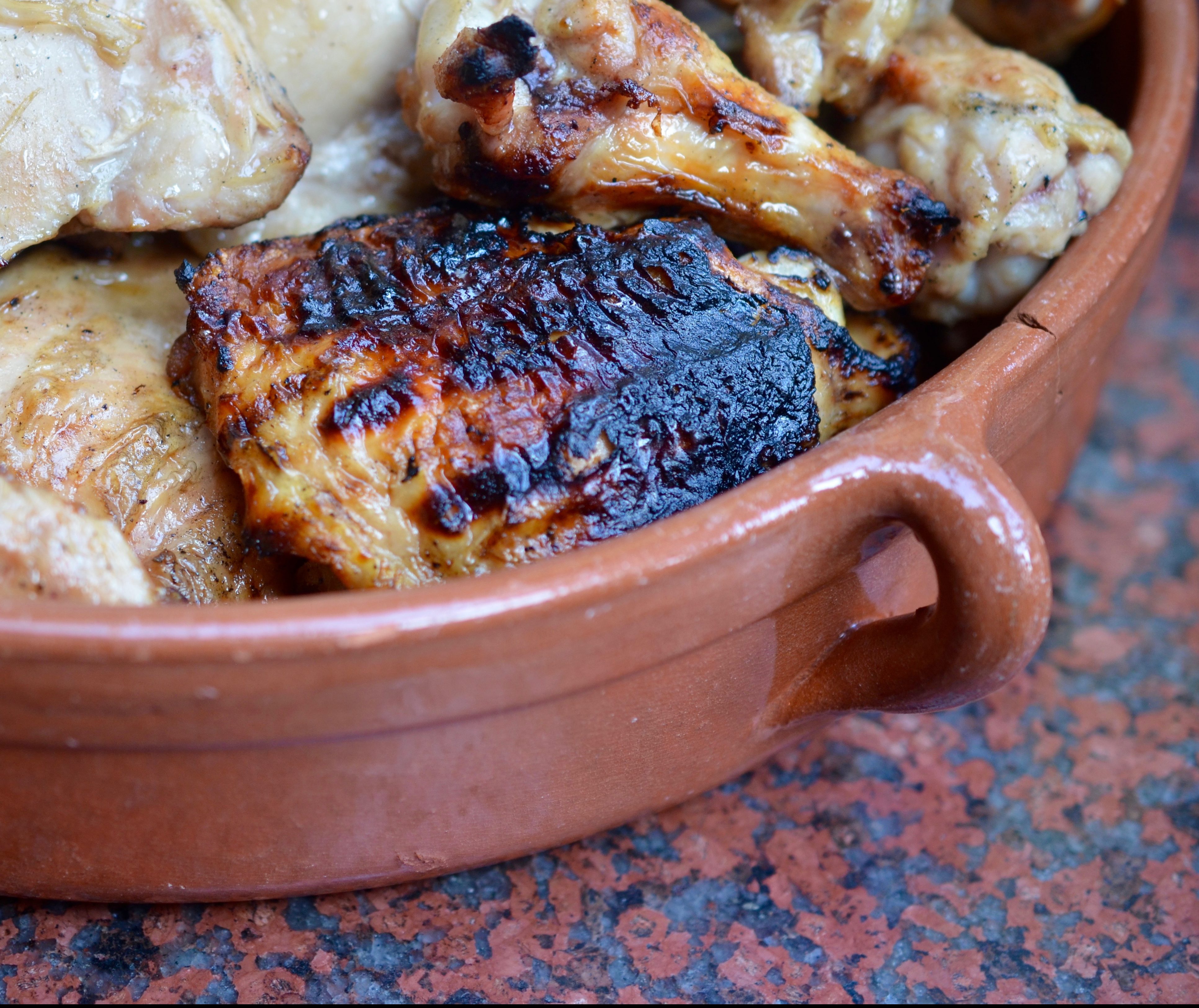 Chicken Little
In the United States, chickens are classified according to their best uses and you'll need to use the right size for best results.
Broiler-fryers are young chickens up to seven weeks old that weigh three to five pounds. This is the best size for grilling.
Roasters are three to five months old and weigh six to eight pounds.
Stewing chickens are breeder hens no longer able to produce eggs. These older hens, ten to eighteen months old and weighing five to six pounds, are less tender because of their age. This makes them suitable for long, slow, cooking.
A Capon is a castrated rooster that weighs anywhere from four to ten pounds and is especially meaty and tender.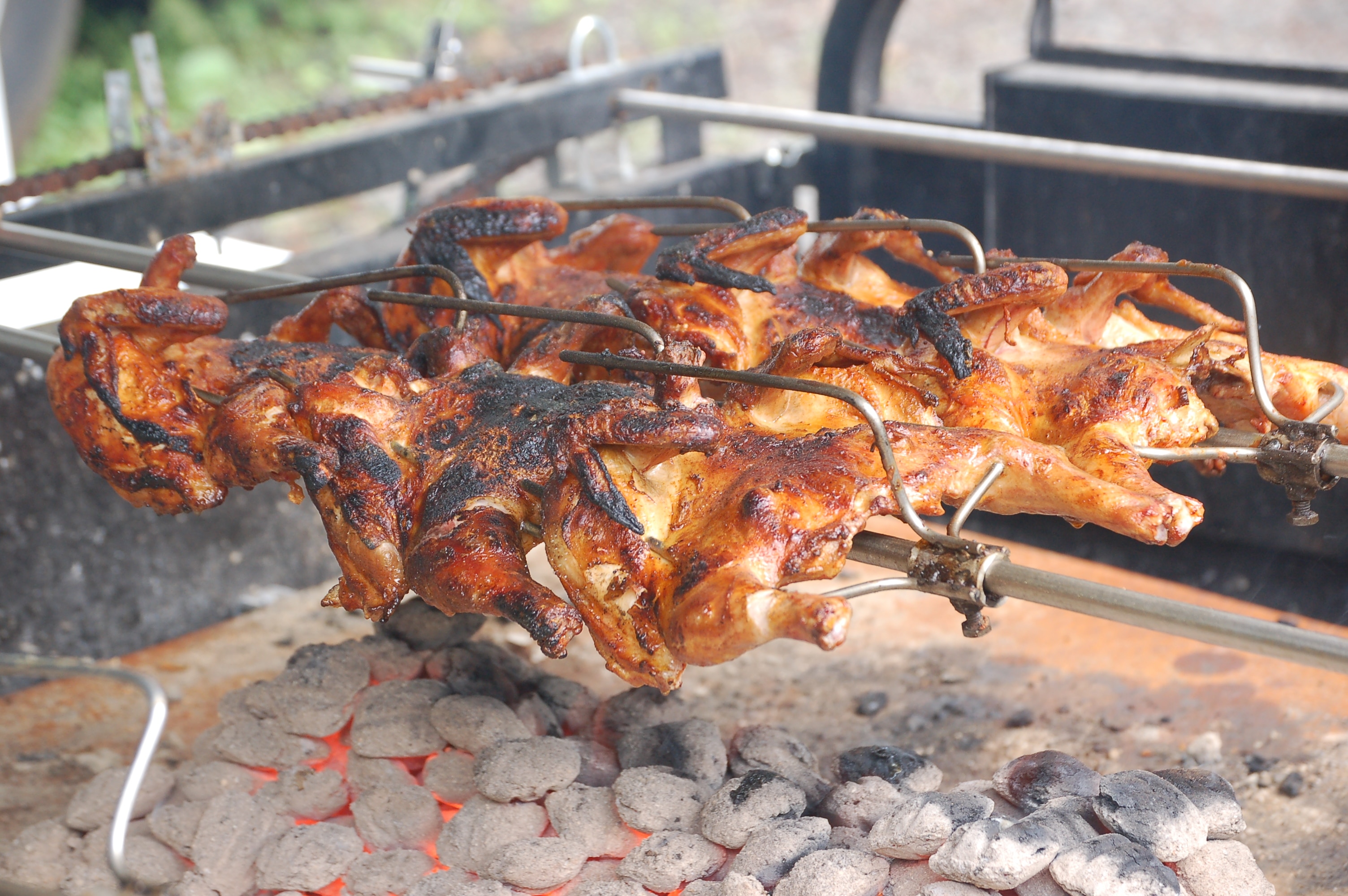 How to Cut Up a Chicken
My grandmother washed her chickens inside and out before cutting them into pieces, removing every last bit of fat, overlooked feathers, and any bruise, blemish, or bloodspot. That bird was sanitized — or so she thought. I would never argue with my grandmother, but according to the USDA washing chicken is not necessary. If the bird is contaminated, dangerous bacteria are not going to be affected by cold tap water! Washing the chicken actually increases the chance of cross contamination by splashing around water that has touched the chicken into the sink. So, don't wash the chicken and simply pat it dry with paper towels before proceeding to cut it up.
Brining 101
Brining, or soaking poultry in salted water before cooking, is the answer to dry, tasteless white meat and rubbery dark meat: brined poultry loses only half as much moisture during cooking as unbrined. Salt causes the food proteins to form a complex mesh that traps the brine so the muscle fibers absorb additional liquid during the brining period. Some of this liquid is lost during cooking, but since the meat is juicier to begin with, it cooks up juicier at the end. Think of a cup filled "over the rim."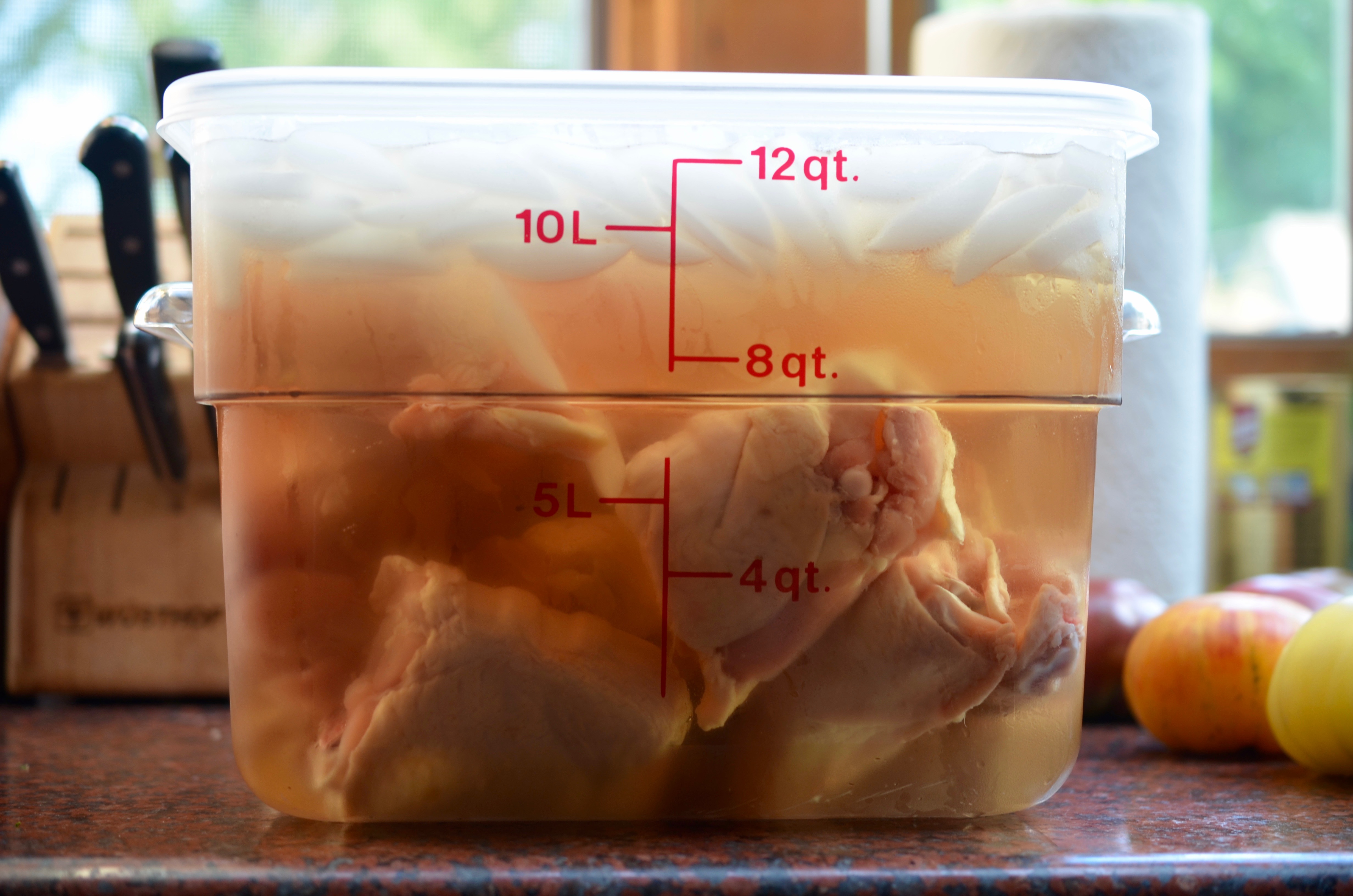 Size Matters
The size of the salt grains used in brine is important. Grains of table salt are very fine, while those of kosher salt are larger. The crystals of the two most widely available brands of kosher salt, Morton's and Diamond Brand, differ. Half a cup of table salt is equal to 1 cup of Diamond Brand kosher salt or 3/4 cup Morton's kosher salt. My recipes call for Diamond Brand because the conversion is easy at 2:1.
The brining solution takes care of the dryness and for flavor, I spritz the chicken while it's cooking with a potent vinegar bath, a recipe from my grandfather, whom I called Dede. Apple cider vinegar is slightly diluted with water and combined with Worcestershire, hot sauce, and oil. It produces a pungent, meaty odor and sends out billowing clouds of steam and smoke as it chars on the grill. It's delicious! 
Thanks for reading! Let me know what you think and if you give this recipe a try.
Bon Appétit, Y'all! 
Virginia Willis
Apple Cider Grilled Chicken
Serves 8 to 10
Ingredients
Brine

1

gallon

hot water

1

cup

kosher salt

1/3

cup

light brown sugar,

firmly packed

8

cups

ice,

plus more if needed

2

whole chickens,

cut into pieces or 20 pieces of chicken of your choice such as thighs, drumsticks, and breasts

Cider Spritz

1/2

cup

water

1/2

cup

apple cider vinegar

1/4

cup

canola oil,

plus more for the grate

2

tablespoons

hot sauce

2

tablespoons

Worcestershire sauce

1

tablespoon

kosher salt,

plus more for seasoning the chicken

Freshly ground black pepper
Instructions
To make the brine: Combine the hot water, salt, and brown sugar in a large plastic container and stir to dissolve. Add the ice and make sure the brine is well-chilled. Add the chicken pieces; cover and refrigerate for 4 to 6 hours.

To make the cider spritz: Once the chicken has finished brining, combine water, vinegar, oil, hot sauce, Worcestershire sauce and salt in a food-safe spray bottle. Set aside.

Prepare a charcoal fire using about 6 pounds of charcoal and burn until the coals are completely covered with a thin coating of light gray ash, 20 to 30 minutes. Spread the coals evenly over the grill bottom, position the grill rack above the coals, and heat until medium-hot (when you can hold your hand 5 inches above the grill surface for no longer than 3 or 4 seconds). Or, for a gas grill, turn on all burners to high, close the lid, and heat until very hot, 10 to 15 minutes.

Apply some oil to the grill grate. Place the chicken on the grill, leaving plenty of space between each piece. Grill until seared, 1 to 2 minutes per side for legs and thighs, and 3 or so minutes for breasts. Move the chicken to medium-low heat or reduce the heat to medium; continue to grill, turning occasionally and squirting with the marinade, until the juices run clear when pierced and an instant read thermometer registers 165 degrees, about 35 minutes total. Remove the pieces from the grill as they cook and transfer to a warm platter. Give them a final squirt of sauce for flavor and serve immediately.
Let's connect on Facebook ,Twitter, Instagram, and Pinterest!
If you are interested in hosting me for an event, cooking class, or a book signing, let me know! Send an email to jona@virginiawillis.com and we'll be back in touch as soon as possible.
Please be nice. Unauthorized use and/or duplication of this material without permission is prohibited. All photos and content are copyright protected. Please do not use photos without prior written permission. If you wish to republish this recipe, please rewrite the recipe in your own words and link back to this recipe on virginiawillis.com. Thanks so much.

Please note that this post may contain affiliate links.