Please note that this post may contain affiliate links.
DEVILED EGGS WITH BACON, DEVILED EGGS WITH RELISH, WHAT ABOUT DEVILED EGGS WITH A SECRET INGREDIENT?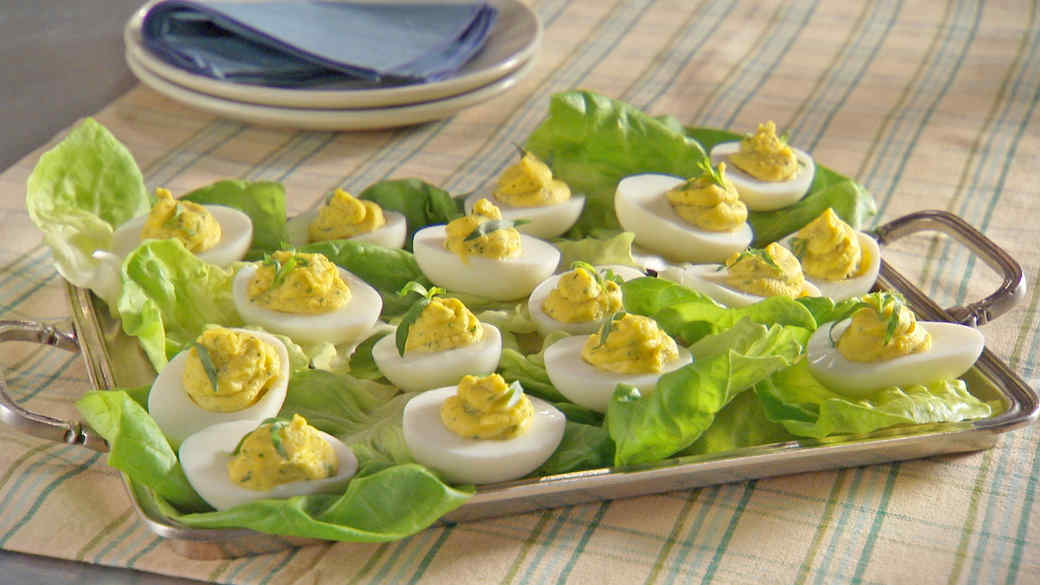 These deviled eggs are amazing. They have kind of developed a life of their own and can be found on MarthaStewart.com, Food52.com, and a slew of other blogs. It's because I have a secret ingredient….. Nope, I am not telling you, yet! The ingredients are important, but the consistency is key, too. It's very important to puree the yolk mixture completely, and  I prefer using a sieve or tamis for making the mixture silky smooth. This prevents lumps and makes the mixture so much creamier as well as prettier. This is another one of those recipes that there are very few ingredients which makes the technique is so important.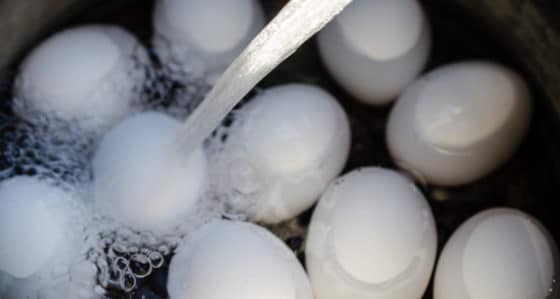 How to Hard Cook Eggs
Perhaps the most important tip is correctly cooking the eggs in the first place. Hard cooked vs. hard boiled. If you actually hard boil an egg you are fairly likely to have overcooked, sulphurous eggs with shattered shells, tough plumes of rubbery white, and a green ring around a chalky yolk. To hard cook, also known as coddle, is the best technique for cooking eggs in the shell. The process involves bringing the eggs to a boil, removing the pan from the heat, covering the pan, and setting a timer. Soft eggs are barely set at 4 minutes. Mollet eggs are allowed to set for 5 to 7 minutes; the white is set and the yolks are warm, but runny. Mollet eggs are perfect with crisp fingers of buttered toast. At 10 minutes of coddling, the whites are firm and set, and the yolk is firm, yet barely soft at the center, excellent for creamy egg salad. For deviled, Easter, and sieved eggs for mimosa garnish, let them coddle for 12 minutes; any longer and the egg will begin to overcook.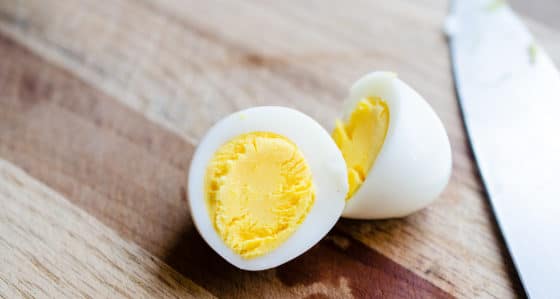 How to Peel Eggs
Very fresh eggs are difficult to peel. Buy and refrigerate eggs about seven days in advance of cooking. This allows the eggs to take in air, which helps separate the membranes from the shells. To peel the eggs, tap each egg gently on the counter or sink to form cracks all over the shell. Roll the egg between your hands to loosen the shell. Peel, starting at the large end, while holding the egg under running cold water; this facilitates peeling and also removes any stray shell fragments. (And, fear not — if your eggs are too new and don't peel properly, you can always make egg salad!)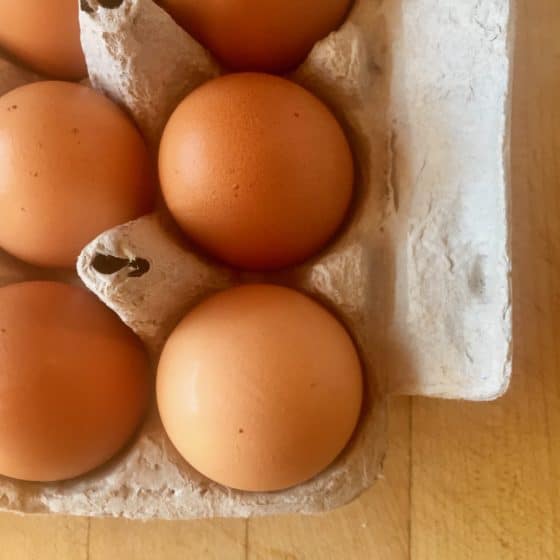 Southern Deviled Eggs
I've got a Tupperware carrying case and a slew of special deviled egg plates. (Along with a serving piece obsession.) If you don't have a specially designed plate for serving deviled eggs, with cuplike indentations to keep the eggs from rolling, simply trim off a sliver from the bottom of the cooked white before you fill the eggs with the yolk mixture. Garnish the platter with leaves of butter lettuce or herbs and nestle the filled eggs in the greenery. Hey — before we get to the recipe, please consider signing up for my blog for tips, techniques, and other great recipes that work!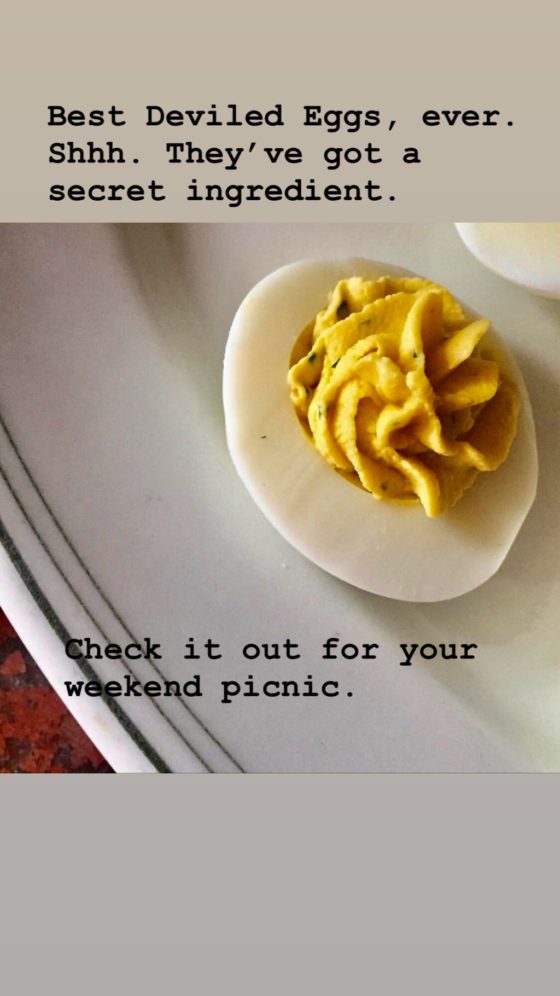 Ok, now for that secret ingredient? It's butter. Butter makes the yolk mixture very smooth, creamy, and absolutely delicious. If you want to skip the herbs and add relish, bacon bits, or other add ins, go ahead — but don't leave out the secret ingredient!
Bon Appétit, Y'all!
Virginia Willis
Deviled Eggs
Unpeeled hard-cooked eggs can be refrigerated for up to 1 week. Or prepare the eggs, but don't assemble, up to 8 hours in advance of serving; refrigerate the whites covered with a damp towel in an airtight plastic container. Store the egg-yolk mixture in the piping bag with the tip also covered in a damp paper towel. Knead the yolk mixture slightly to soften before filling the yolks. The eggs may also be assembled and stored covered in the refrigerator for up to 2 hours. Any longer and the yolk mixture starts to form a crust.
Ingredients
12

large eggs

1/3

cup

mayonnaise

2

tablespoons

unsalted butter

at room temperature

1

tablespoon

Dijon mustard

Pinch

of cayenne pepper

Coarse salt and freshly ground white pepper

2

tablespoons

finely chopped fresh tarragon

chives, or chervil, plus leaves for garnish
Instructions
To hard-cook the eggs, place the eggs in a saucepan and add water to cover them by 1 inch. Bring to a boil over high heat (you will see bubbles around the sides of the pot). Remove from the heat, cover, and let stand for 12 minutes. Drain the eggs and rinse them under cold running water. Set aside to cool completely.

To peel the eggs, once the eggs have cooked and cooled, remove the shells by tapping each egg gently on the counter or sink all over to crackle it. Roll an egg between your hands to loosen the shell. Peel, starting at the large end, while holding the egg under running cold water; this facilitates peeling and also removes any stray shell fragments.

To prepare the filling, halve the peeled eggs lengthwise. Carefully remove the yolks. Set the whites aside. Pass the yolks through a fine-mesh strainer into a bowl or place them in the work bowl of a food processor fitted with the metal blade. Blend the yolks, mayonnaise, butter, mustard, and cayenne, and mix until smooth; season with salt and pepper. Add the finely chopped tarragon.

Place the mixture in a piping bag fitted with a large star tip, or use a medium sealable plastic bag with one of the corner tips snipped off.

To assemble the eggs, when ready to serve, pipe the yolk mixture into the whites. Garnish with additional herbs and serve immediately.
If you are interested in hosting me for an event, cooking class, or a book signing, let me know! Send an email to jaimee@lisaekus.com and we'll be back in touch as soon as possible.
Please be nice. Unauthorized use and/or duplication of this material without permission is prohibited. All photos and content are copyright protected. Please do not use photos without prior written permission. If you wish to republish this recipe, please rewrite the recipe in your own words and link back to this recipe on virginiawillis.com. Thanks so much.
photography by Virginia Willis
Want to keep up with my culinary wanderings and wonderings?
Lets connect on Facebook , Twitter, Instagram, and Pinterest!

Please note that this post may contain affiliate links.