Please note that this post may contain affiliate links.

Cool-weather and the current full-time, heightened need for comfort food make me think of braised meats. I love beef stews, braised short ribs, and pot roasts. However, like many comfort foods -they can be rich, decadent, and not super healthy. How about a tender, meaty bowl of goodness paired with silky strips of onions and peppers and packed with flavor, not fat? Read on for more!

What is Flank Steak?
The answer is flank steak. Flank Steak is a lean and boneless cut of beef with lots of intense beef flavor. With only 160 calories and 3 WW points per 3 ounce serving, it's one of the healthier cuts of red meat you can eat.
The name "Flank" comes from its anatomical location, the Flank area of the carcass. The cut is located below the loin, essentially the back belly portion of the cow.
With all four-legged mammals, the parts that get the most exercise are the toughest. They also have the most flavor, but need long slow cooking to become tender. Conversely, the muscles that get the least exercise are the most tender and respond well to quick cooking — these are the more expensive steaks along the back such as the rib-eye, loin, and tenderloin.

How to Cook Flank Steak?
Flank Steak is also known as Beef Flank, Flank Steak Filet, Jiffy Steak, and London Broil. It's best when marinated and grilled, sliced thin and stir-fried, or braised with vegetables like onions and peppers as in this recipe like pot roast until it is falling apart.
Ropa Vieja, which means "old clothes" is the national dish of Cuba. It's flank steak braised with vegetables and aromatics until it falls apart or is easily pulled into strands. This is simple, rustic cooking perfect for less expensive tough cuts of meat.
This technique is found throughout Central America and the Caribbean. In Colombia, it's called carne desmechada and in Venezuela, when served on the traditional corn cake the dish is known as  "hairy arepas" with a nod to the beef's stringy appearance. (Check out the recipe for Hairy Arepas  from my last cookbook, Secrets of the Southern Table.)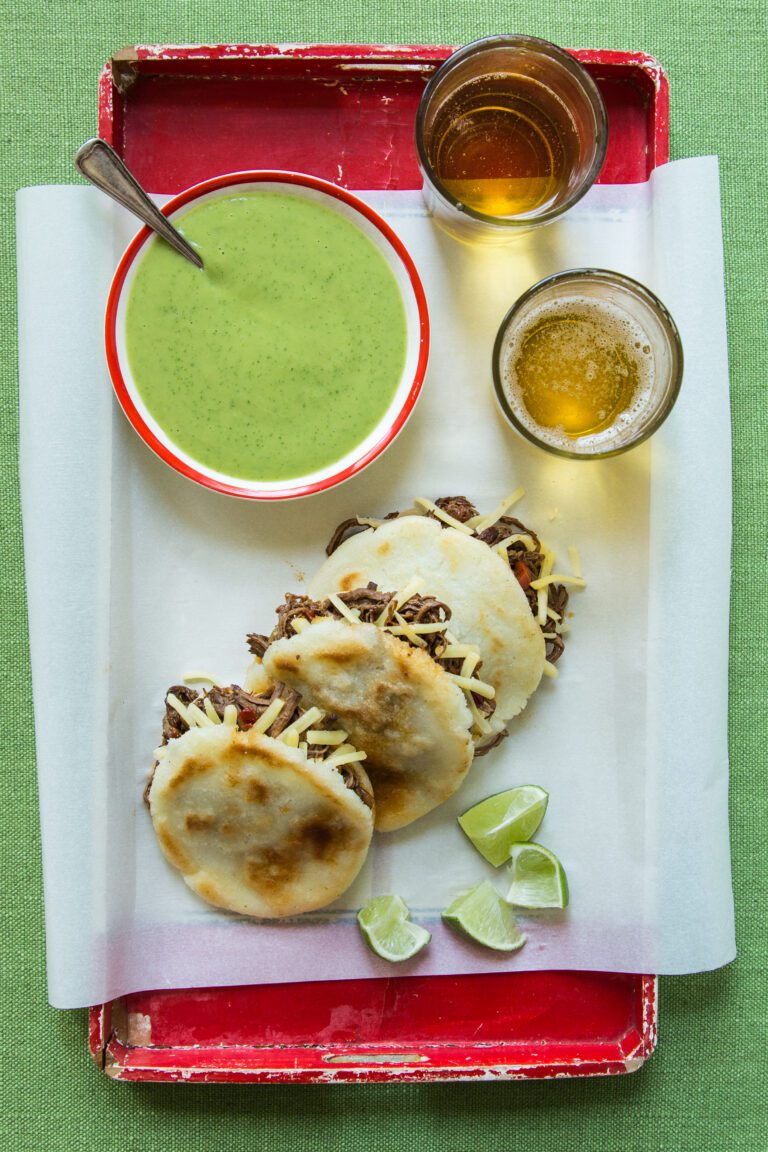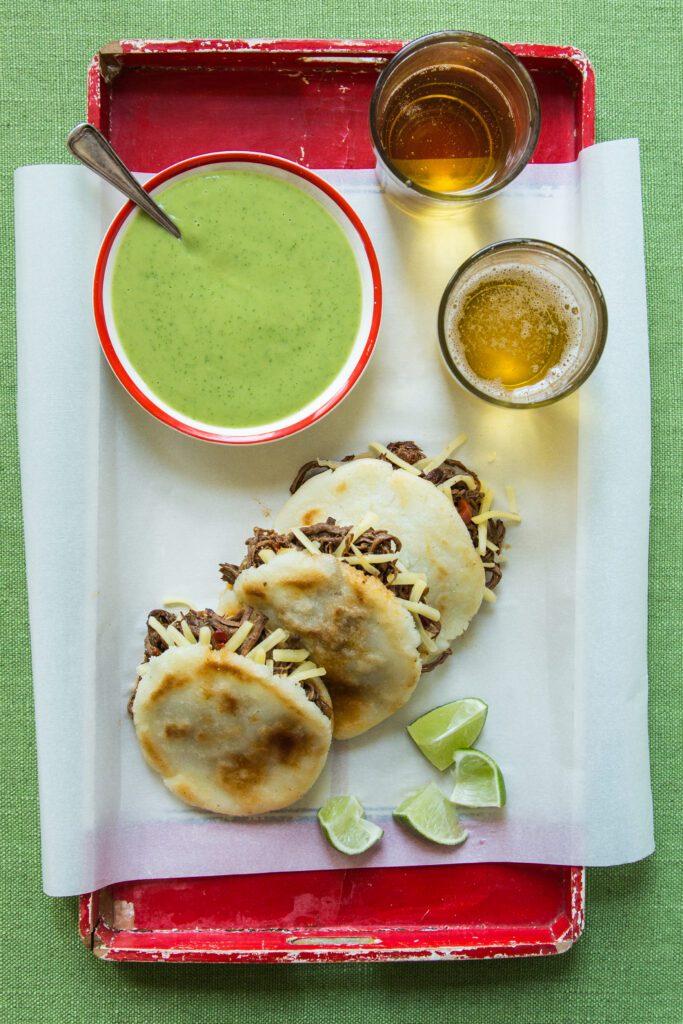 What is "Against the Grain?"
"Against the grain" is persistently used in instructions in cookbooks, blogs, and food magazines. It makes perfect sense – unless you have absolutely no clue what it means. Grain? I thought meat was gluten-free…..
All meat, including this flank steak, is made of long muscle fibers lined up parallel to each other. You can see clearly see the muscle fibers in flank steak. The "grain" is the direction that the muscle fibers are aligned.
Some muscles, like those from which the tenderloin and rib-eye come, are finely grained, you almost can't tell which way they are aligned. They will be tender almost any way you cut them.
However, the muscles that are tough as a result of working harder, such as flank steak, have thicker muscle fiber bundles and a coarser grain.
Cut with the grain, you cut long strips of muscle fiber that are chewy, stringy, and tough.
Cut against the grain, and you cut short muscle fibers that are tender.
The key with recipes such as this for braised flank steak is to cut the meat into smaller pieces so the long stringy pieces are just long enough. You want smaller chewable pieces, not long strands of beef spaghetti.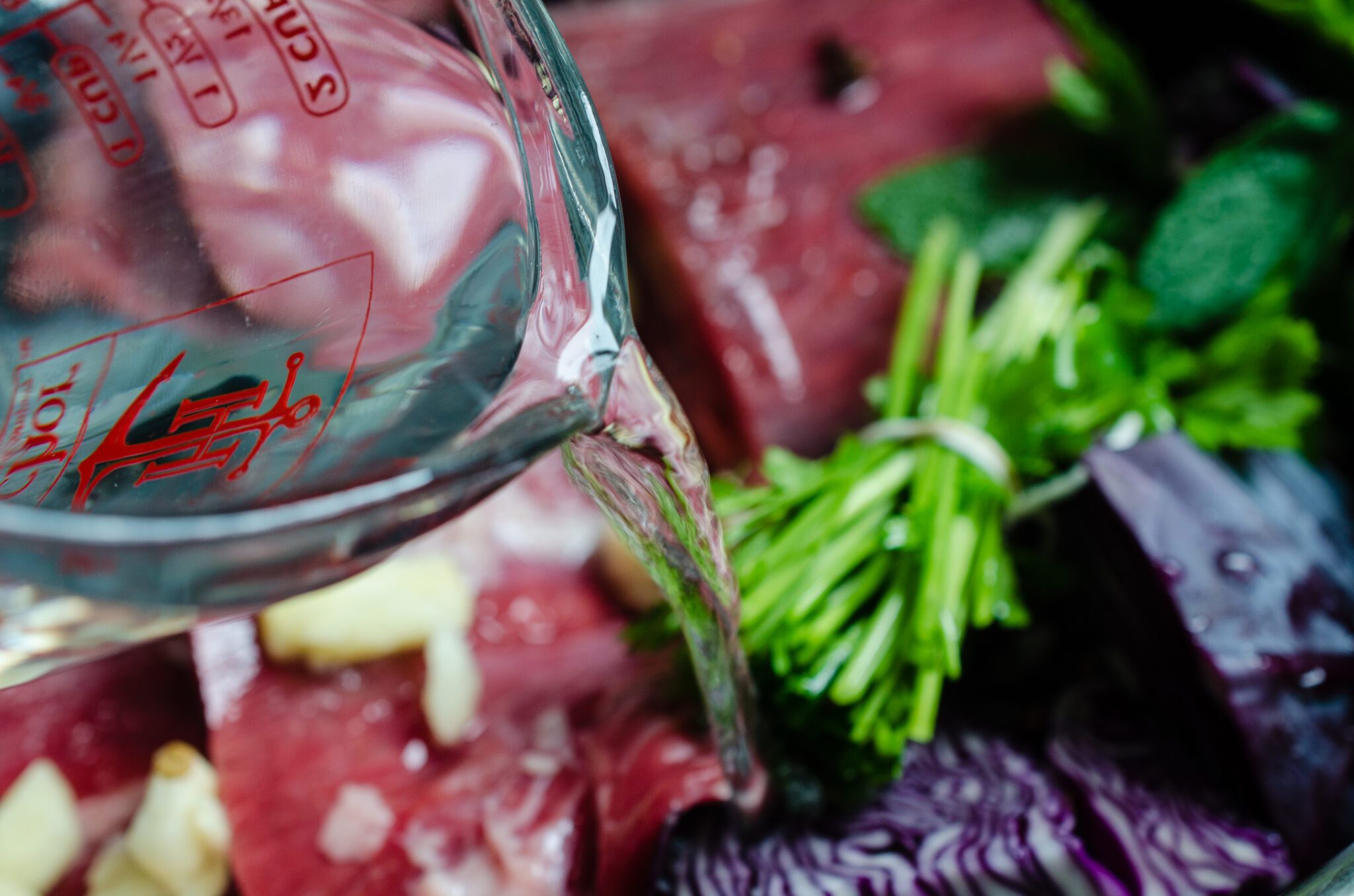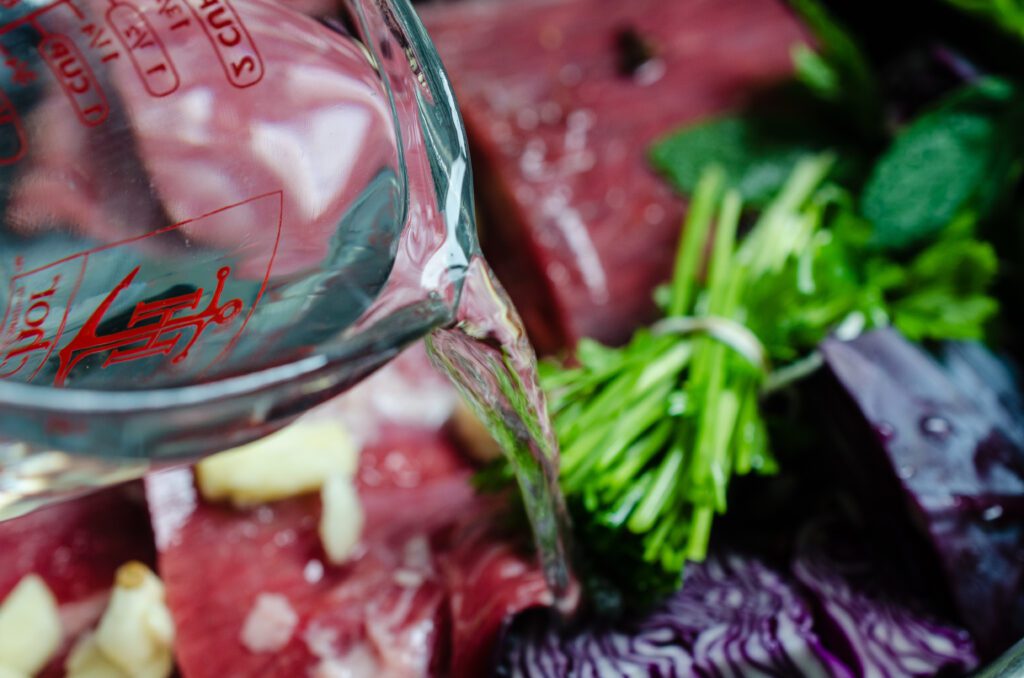 Is Flank Steak Expensive?
Beef prices have gone up! Flank steak has long been one of the "butcher's cuts," one known for both value and flavor. This recipe also simmers in a combination of vegetables and aromatics with water instead of beef stock. It truly is simple country cooking at its finest, inexpensive, and guaranteed to satisfy.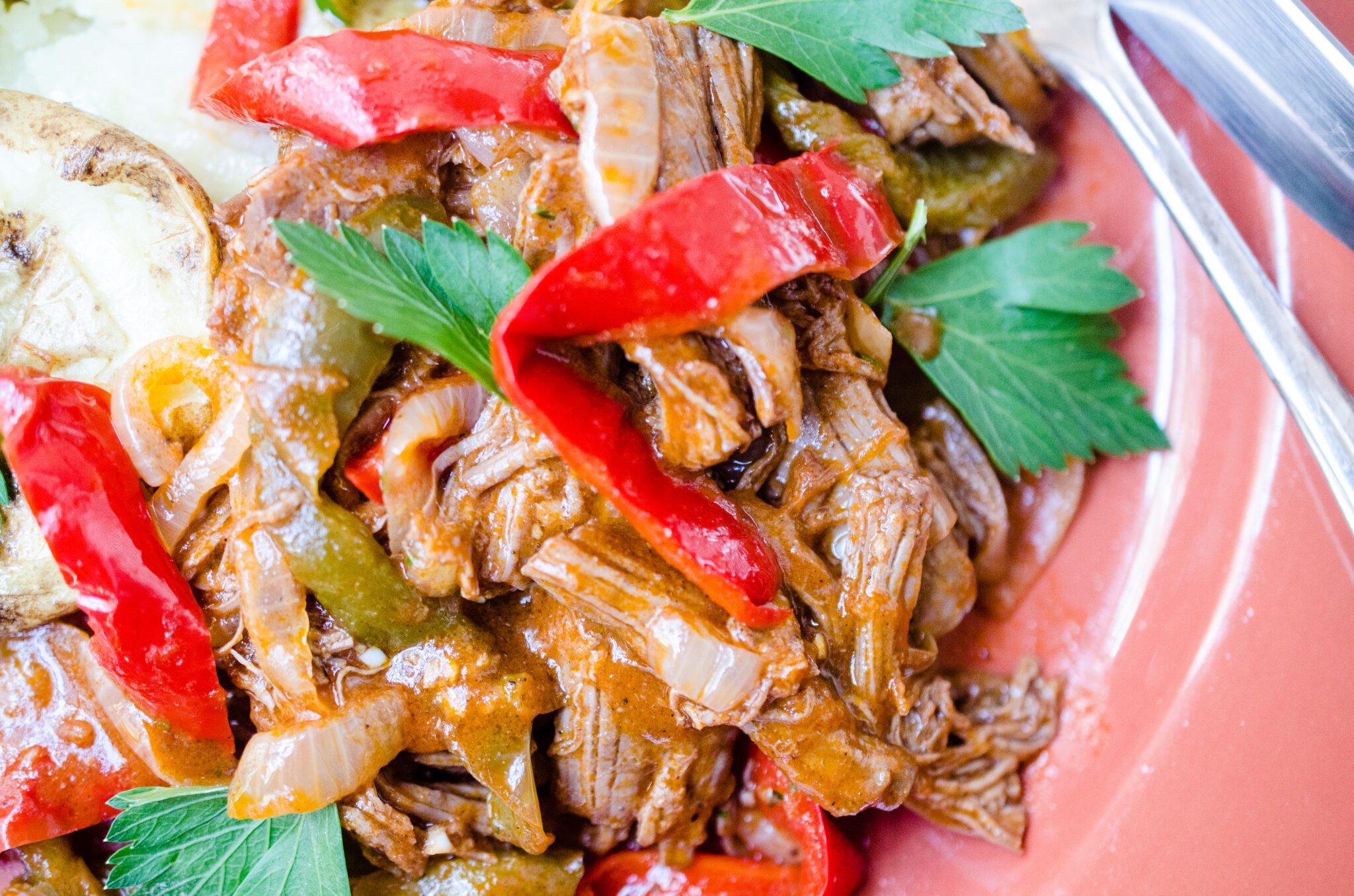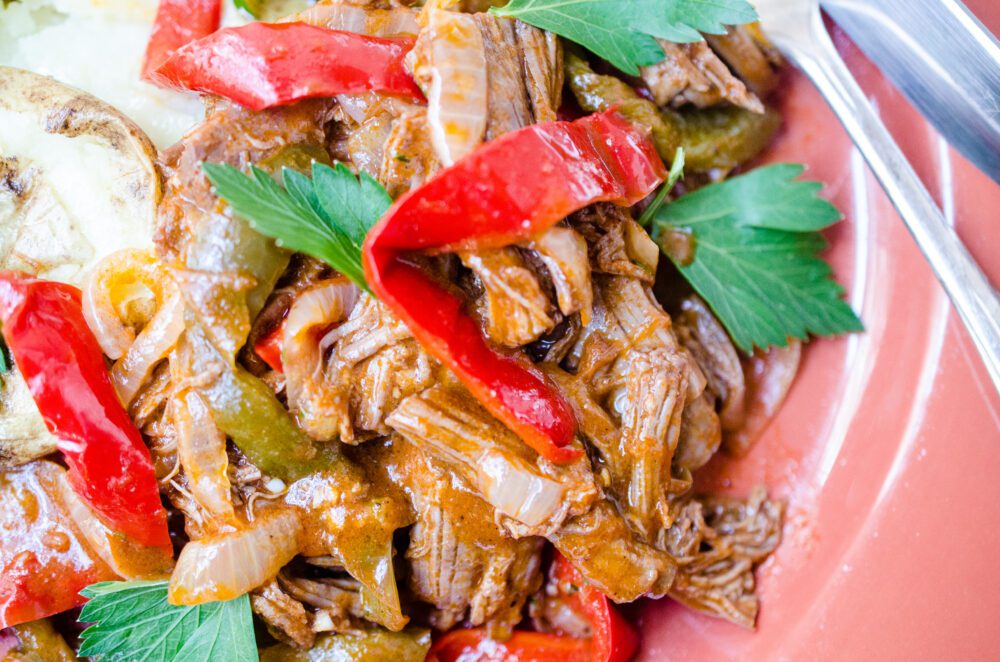 Thanks so much for reading. If you give this recipe a try, please let me know!
Bon Appétit, Y'all
Virginia Willis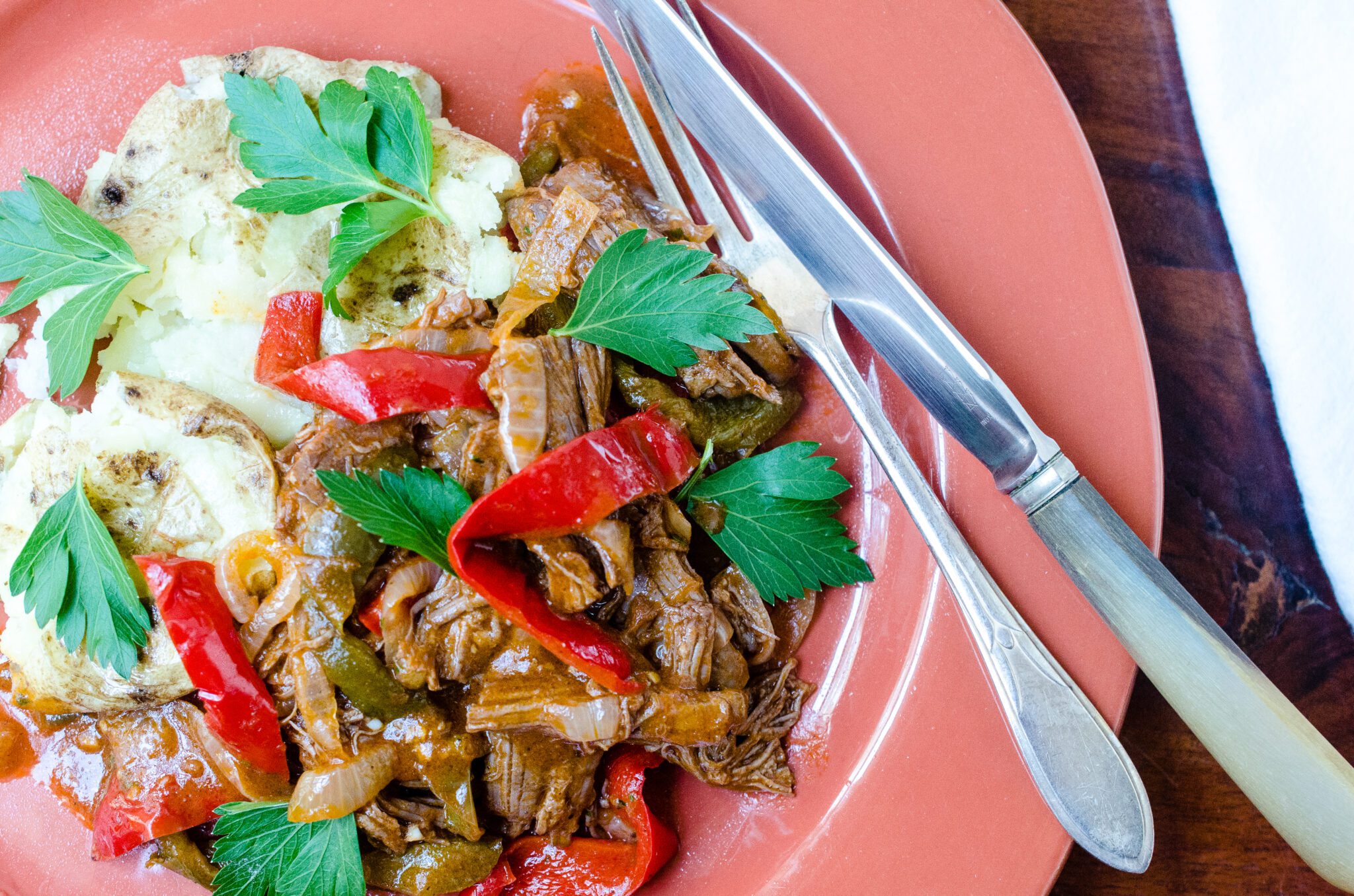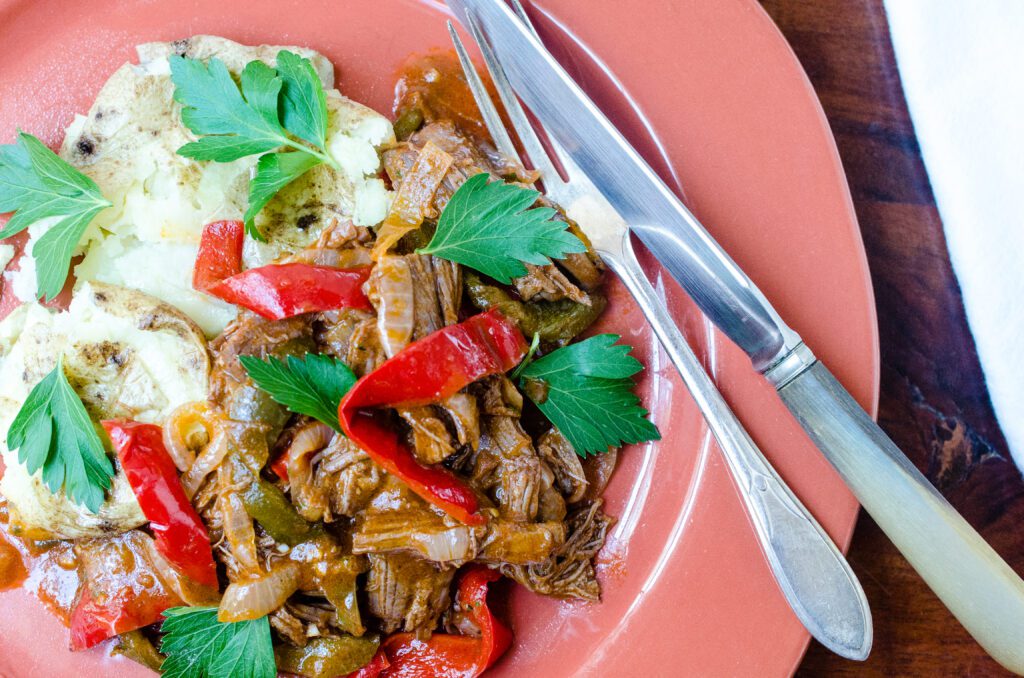 Braised Flank Steak with Peppers and Onions
This recipe sometimes includes roasted red peppers at the end instead fresh peppers. I streamlined things a bit by using fresh peppers and cooking all the peppers together at once.
Ingredients
2

pounds

flank steak

cut into 4 pieces

1

large carrot

peeled and cut into chunks

1/2

small red cabbage

quartered

2

sprigs fresh mint

1/2

small bunch fresh flat-leaf parsley stems

leaves reserved for garnish

4

large garlic cloves

peeled and smashed

1

teaspoon

whole black peppercorns

1

teaspoon

coarse kosher salt

2

bay leaves, preferably fresh

divided

1

tablespoon

olive oil

1

large onion

sliced

1

large green bell pepper

cored and sliced

1

red bell pepper

cored and sliced

4

large garlic cloves

very finely chopped

1

large pinch ground cloves

1/2

teaspoon

ground allspice

1 1/2

cups

canned tomato puree

Coarse kosher salt and freshly ground black pepper
Instructions
Place beef, carrot, cabbage, mint, parsley stems, garlic, peppercorns, and 1 teapsoon of salt in a large pot with water to cover (about 6 cups.) Add one of the bay leaves. Bring to a boil, reduce the heat to simmer. Cover and cook until the beef is tender, about 1 1/2 hours.

Remove from the heat and remove the beef from the broth. Reserve 1 cup of the broth for the vegetables. Strain and keep the remaining for another use. Discard the solids. When cool, remove the beef and shred by hand. Set side.

To prepare the onions and pepper, heat the oil in a large skillet over medium heat. Add the onion and bell peppers; cook until the onion is soft, 5 to 7 minutes. Add the garlic, ground cloves, ground allspice, and remaining bay leaf. Stir to combine. Add the tomato puree, reserved broth. Bring to a boil over high heat.

Add the shredded beef and stir to combine. Reduce the heat to simmer, and cook, stirring occasionally until the flavors are married, about for 15 minutes. Taste and adjust for seasoning with salt and pepper. Serve with rice or potatoes.
Please note that this post may contain affiliate links. (That means I make a commission if you use my affiliate link to buy the product.) 
If you are interested in hosting me for a speaking engagement, event, cooking class, or a book signing, let me know! Send an email to jona@virginiawillis.com and we'll be back in touch as soon as possible.
Please be nice. Unauthorized use and/or duplication is prohibited. All photos and content are copyright protected. If you wish to republish this recipe, please link back to this recipe on virginiawillis.com. Thanks so much!
Let's connect on Facebook, Twitter, Instagram, and Pinterest!

Please note that this post may contain affiliate links.